Coffee is one of the world's biggest delicacies, and single-serve coffee machines have become the most popular way to brew coffee. Whether you like them or hate them, coffee pods are here to stay, and the single serve coffee market generated $16 billion in sales last year. But, there's a real environmental impact of coffee pods.
We wanted to find out how big is the single serve coffee market, and the waste created by coffee pods. To do so, we asked over 2,500 people across two surveys to see if they use and recycle coffee pods. Here's what we found:
The single serve coffee market generates $16 billion of revenue annually, primarily from Nespresso and Keurig.
62 billion pods are consumed annually in North America and Europe.
Only 27% of people recycle coffee pods, so 45 billion pods go to waste.
123 million pods go to landfills daily.
The pod waste weighs 326,000 tons; that could make 2,700 full airplanes!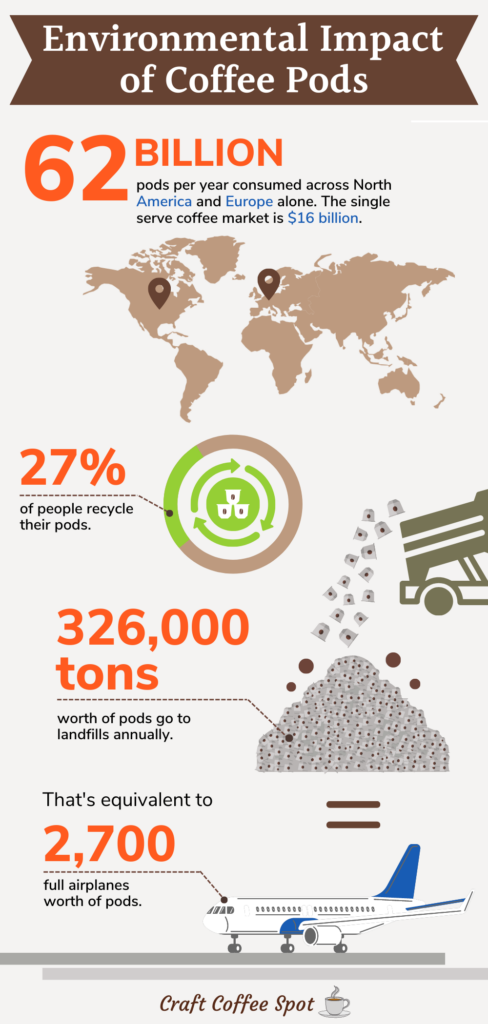 The waste statistics are alarming. We also investigated why people choose to recycle and generally found people are happy to recycle if it is easy.
We hope this article raises awareness about the issue. We have recommended some single serve machines and believe sustainability is important. We hope the data encourage companies and consumers to recycle more frequently.
Here's a detailed breakdown of who recycles, the environmental impact of pods, and how the single-serve coffee market has grown in the last decade. We encourage readers to reach out to us with any questions.
The Size Of The Single-Serve Coffee Market
We didn't start using billions of pods overnight. The idea didn't exist in 1975 when Eric Favre, a Nestle engineer, was on holiday in Rome. He visited a popular Italian espresso bar and noticed the baristas were pulling the lever continuously to create more crema. Favre was inspired by his visit and worked for ten years to create a simple device that mimics the dynamics of an espresso machine. The device, Nespresso, was launched in 1986 — a machine that added pressurized air into the water and coffee grounds to create an espresso with a thick layer of crema [1].
Single-serve coffee machines started to grow in 1990s. There was the emergence of Keurig in the US, where its large coffees appealed to US coffee drinkers. Nespresso, backed by Nestle's large marketing budget, was more dominant in Europe.
The single-serve coffee market surged in the 2010s as coffee pod machines became ubiquitous. Nespresso and Keurig remain the two biggest manufacturers of pods and machines in North America.
Today, we estimate that 46% of households use a single-serve coffee machine in North America and Europe (where data is readily available). About 38% of US households use a single-serve machine, 43% of Canadian households, and over 50% of Europe. This amounts to 49 million coffee pod machines in US households, 6 million in Canada, and 113 million pod machines in the EU (including the UK). In all, there are 168 million pod machines in the EU+UK and North America, and some countries can have as high as 71% household penetration.
Our findings match another one of our surveys, where we found 41% of consumers said pod machines were their primary method of brewing coffee at home.
We reviewed public reports by Keurig and Nespresso and found that Nespresso had $6.8 billion in sales in 2022, with Keuring following at $5.0 billion. The total revenue for Nespresso and Keurig for both pods and brewers in 2022 was $11.7 billion, which is unchanged with 2021 and an increase from $10.7 billion in 2020. The market has declined a bit as people have consumed more coffee away from home after two years of pandemic lockdowns.
Today, there are about 400 competitor capsule brands, including big coffee names such as Starbucks and Costa Coffee, which add to the total market size. We believe the total market value of Nespresso, Keurig, third-party pods, and brewers is currently $16 billion.
Technology innovation and improved coffee quality are driving the single-serve coffee market, and it isn't showing signs of slowing down. Keurig alone has been growing its installed base by 10% per year to 38 million active US households.
The Environmental Impact of Coffee Pods
Given our data on the market size of brewers and assuming consistent usage of approximately one pod per day, it means there over 62 billion pods are consumed in the US and Europe per year.
Assuming the average pod weighs 5 grams, this is 653 million pounds of pods. To put it into perspective, the amount of pods consumed per year is equal to 2,700 airplanes worth of pods.
We commissioned a survey of 1,500 US adults to see who actually recycles their coffee pods. We found only 27% of people recycle their coffee pods in the US.
Using our data, 45 billion pods end up in landfills yearly, or 123 million pods daily. This means we're sending 2,700 planes worth of pod waste to landfills every year.
The numbers are concerning. Seven US states will run out of space in landfills in the next five years. Nationally, the US has 62 years until all its landfills are filled to the brim, which leads us to the importance of recycling. [2]
Who Recycles and Why? Surprising Information On What Matters
We ran another survey targeting Nespresso users. It was an open survey of Nespresso lovers on FaceBook, which skews the sample a bit, but the results were surprising nonetheless. Of the 1,100 users who responded, 84% recycled their pods.
Even more surprising was the consistent feedback from all respondents. When we asked why people recycle pods, we repeatedly heard: it's easy. Here are some of the replies:
Want More Coffee Tips?
Join the email list for exclusive coffee insights and deals that only subscribers get. You'll get two coffee discounts just for joining.
No spam, ever. We respect your privacy and unsubscribe anytime.
"It's easy, free, and good for the environment"
"It's legitimately the easiest thing I could possibly do."
"The recycling program is actually my main reason for using this machine"
"It's so easy to recycle capsules"
"We tried recycling in the beginning and ended up just throwing them away…it's just not convenient."
Ease was a common reason for people who do not recycle too. The most common reasons for throwing pods away were distant drop-off points or couldn't get a Nespresso recycling bag.
People are happy to recycle when it is accessible. There was only one respondent that suggested they simply didn't care enough to recycle.
What does that say to the coffee companies to increase recycling rates?
What Can Be Done to Increase Coffee Pod Recycling?
The biggest thing coffee pod manufacturers can do to get users to recycle their pods is to make things easy. Fortunately, both Keurig and Nespresso are moving in this direction.
Nespresso's latest sustainability report states: "In further pursuit of our vision for the circular use of aluminium, we launched our first-ever capsules made using 80% recycled aluminium. The ambitious goal now is for all our Original and Vertuo capsules to be produced using 80% recycled aluminium content by the end of 2021." [3]
Nespresso's coffee capsules are completely recyclable through Nespresso's recycling program. You need a free Nespresso recycling bag. Fill the bag with used pods and drop it off at one of Nespresso's boutiques or UPS.
However, there are some areas where Nespresso could improve its recycling. The biggest is making recycling bags more widely available. The only way to get a recycling bag is to buy the pods in a Nespresso boutique or order the pods online. If a user buys from Amazon or other retailers like Target, they don't get a recycling bag, and the pods cannot be recycled without the bag. Even on Nespresso's website, people must add bags to their baskets to get them.
Nespresso should include bags with all of their branded sleeves and try to get partner retailers to serve as additional drop-off locations for easier recycling.
Keurig also has a recycling program, but the process is messy. You need to wait for the pod to cool after use, peel the lid (which can be a struggle), empty the used coffee, remove the paper filter at the bottom, and rinse the pod. Only then can you toss the pod with your other recycling. This process takes more time than brewing the coffee.
Keurig is making progress and said in their Corporate Responsibility Report: "To support our workplace customers in reducing waste, we continue to offer our K-Cycle recycling and composting program. Working with recycling partners, this service collects high-volume bins of brewed K-Cup pods and recycles the pod plastic and aluminum lid. The coffee or tea and filter become organic compost. Since the inception of the program in 2011, nearly six million pounds of pods collected through the program have been kept out of landfills." [4]
It's good that both companies are making changes, especially Keurig. Even though their recycling program is far from perfect, they are making inroads. For example, the switch to using plastic #5 (recyclable polyurethane) instead of #7 was a huge move and made the pods recyclable in most facilities. Still, Keurig could do more to make the process even easier.
It follows the class nudge principle that people take action when made easier and more aware [5]. Public reminders, default opt-in programs and small rewards can trigger significant behavioral changes.
We found if coffee pod companies make recycling as straightforward as possible, the users will recycle. If Nespresso and Keurig included incentives for recycling, recycling rates could increase substantially.
About Our Data And Research
We surveyed over 2,500 people across two surveys to understand how many pod users recycled their coffee pods and why they do it. We also spent countless hours reviewing publicly disclosed information from Nespresso, Keuring, and JDE Peets (the main manufacturer of pod machines). Finally, we tried Nespresso's recycling program to see how it works, its pros and cons, and read what Keurig users had to say.
This research aimed to quantify the coffee pod waste to prompt more users to recycle. We won't get everyone to stop using single-serve coffee machines and use Nespresso machines ourselves. We have to acknowledge all coffee creates waste (espresso may have the largest carbon footprint with electricity-intensive machines). But, we can make people more aware of data in hopes they make better decisions for the environment.
Please contact us at [email protected] to learn more about our research. All images are free to reproduce with attribution under Creative Commons 2.0 licensing.
Other Sources