So, you're looking for an espresso machine? Breville is bound to pop up in your search. Breville manufactures great consumer-level machines with quality heating systems, ergonomic design, and a sleek aesthetic. However, with a dozen options are different price points, it's not easy to choose.
I've tested most of the Breville espresso machines myself and will rank the models based on their espresso quality, milk frothing, and ease of use. I'll lay out a Breville espresso machine comparison in this article, so you'll have all the necessary info to make your choice.
Overall, my top picks for the best Breville espresso machines are:
How To Compare Breville Espresso Machines
Breville has 11 different models of espresso machines, from the no-frills Bambino to the luxurious Oracle Touch. The nice thing about Breville is they segment their lineup for different needs. But, that's also the hard part…Each machine has different features at different prices, which makes the decision difficult.
For a graphical summary, you can look at this table comparing every Breville model by feature, including grinder, milk frothing, heating system, display, and price range. This makes it easy to compare the Breville espresso machines.
There are a couple of factors to think about when deciding.
Heating System
An espresso machine's heating system is very important, as a consistent, near-boiling water temperature is the most factor to good espresso. These aren't easy to make either and Breville has stood ou with their three options: thermocoil, thermojet, and dual boiler.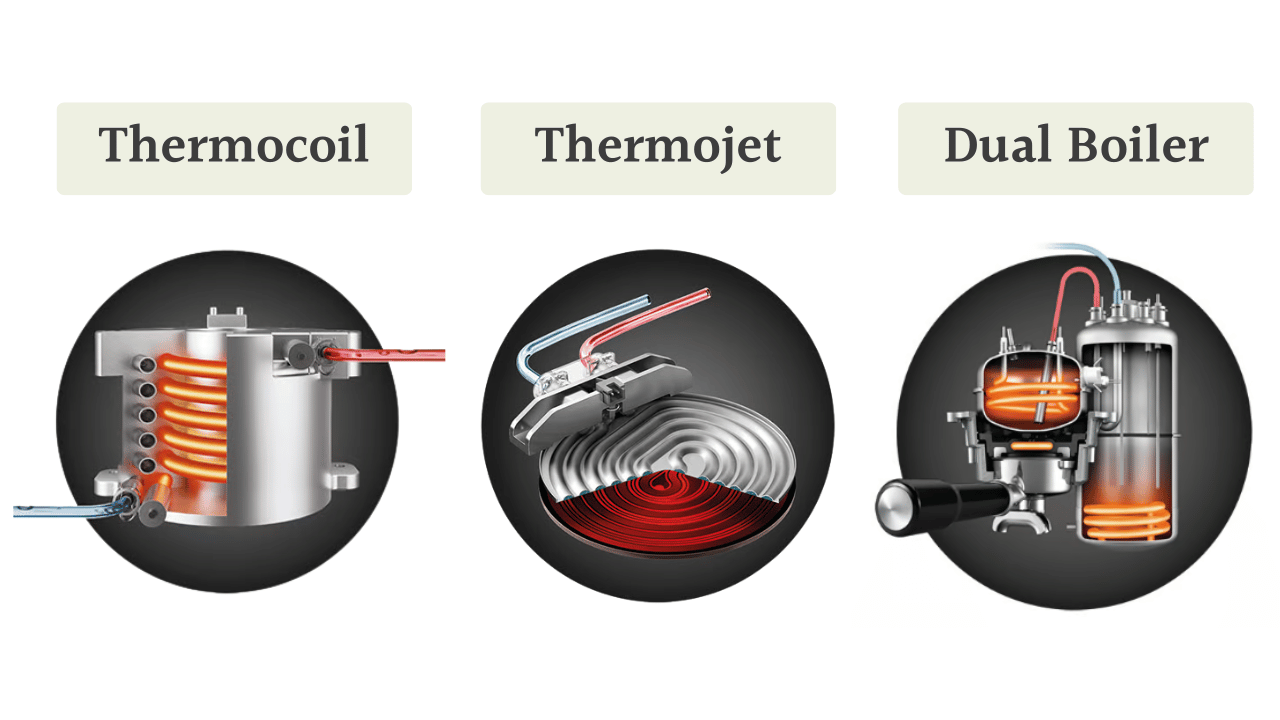 The thermocoil and thermojet are both thermoblocks, a common system found on all the models through the Barista Touch. Piping runs through a heated metal block that draws in cold water and sends out hot water.
The difference between Breville's two style is the Thermojet is much thinner metal. The newer design has a very fast 3-second start-up time. I also found the Thermojet has more stable water temperatures, as the heat transfer is very efficient on this thin substrate material. That's important as the espresso came out smoother on Thermojet models.
The dual boiler is the most advanced heating system, and it can brew espresso and steam milk simultaneously. The separate heating unit dedicated to espresso makes it easier to keep the temperature just right. Also, Breville has a heating system in the group head (the front of the machine) to make sure the whole machine is perfectly heated. I've been really impressed by the dual boiler, but it's only on the most expensive models. Also, it takes a solid five minutes to heat up, which is precious time in the morning.
I recommend a Thermojet model because the stability leads to better espresso, and the faster start-up time is easier in the morning. Also, there are models at reasonable prices. Meanwhile, the dual boiler is great if you're ready to upgrade.
Important note: an espresso machine is only as good as its barista. Your skill and practice will outweigh premium features, and don't expect to buy your way to perfection.
Integrated Grinder Or None?
Another big decision is whether to choose a Breville model with an integrated grinder or one without a grinder.
You need a grinder to make espresso, and Breville's integrated grinder models make grinding coffee very easy. All you have to do is put your portafilter in the cradle, push the button, and the machine doses a preset amount of grounds. It's easy to change the grind size and dose on any of the Barista models.
However, you might already have a grinder at home. Also, there are better grinders than what Breville offers. You can get a premium espresso grinder, which will improve your espresso a lot. However, it will be less convenient than an integrated grinder. You have to transfer the portafilter from a standalone grinder, which will take up more space and another outlet in your kitchen.
Consider how much you prefer ease of use. If this machine will be a gift for someone, definitely get an integrated option to make it easy. If you don't mind an extra step, consider a Bambino and choose an espresso grinder from our list.
Ease Of Use
Breville is known for its intuitive designs, and premium models offer a host of bells and whistles, like automatic steam wands, touch screens, and self-tamping.
These are all nice upgrades to have. But, the entry-level models can make espresso and steam milk just like high-end models, assuming the heating system is the same.
You should ask how much an upgrade matters to you. Personally, I'm terrible at latte art, hence the Barista Touch is attractive to me. But, I've made microfoam on the entry-level Breville Bambino too, as can you with practice.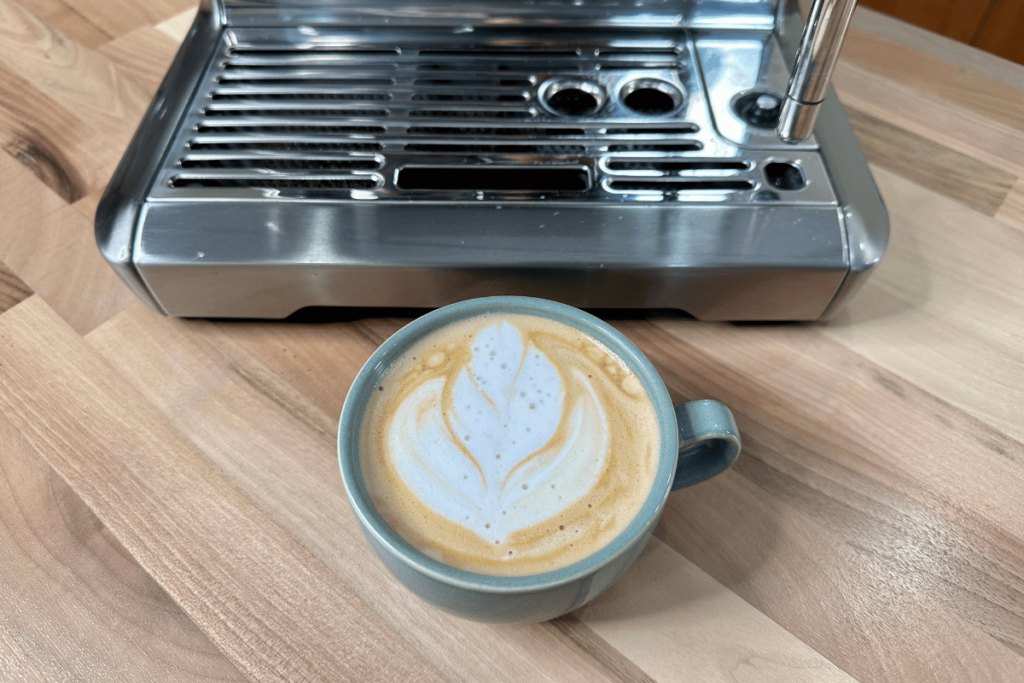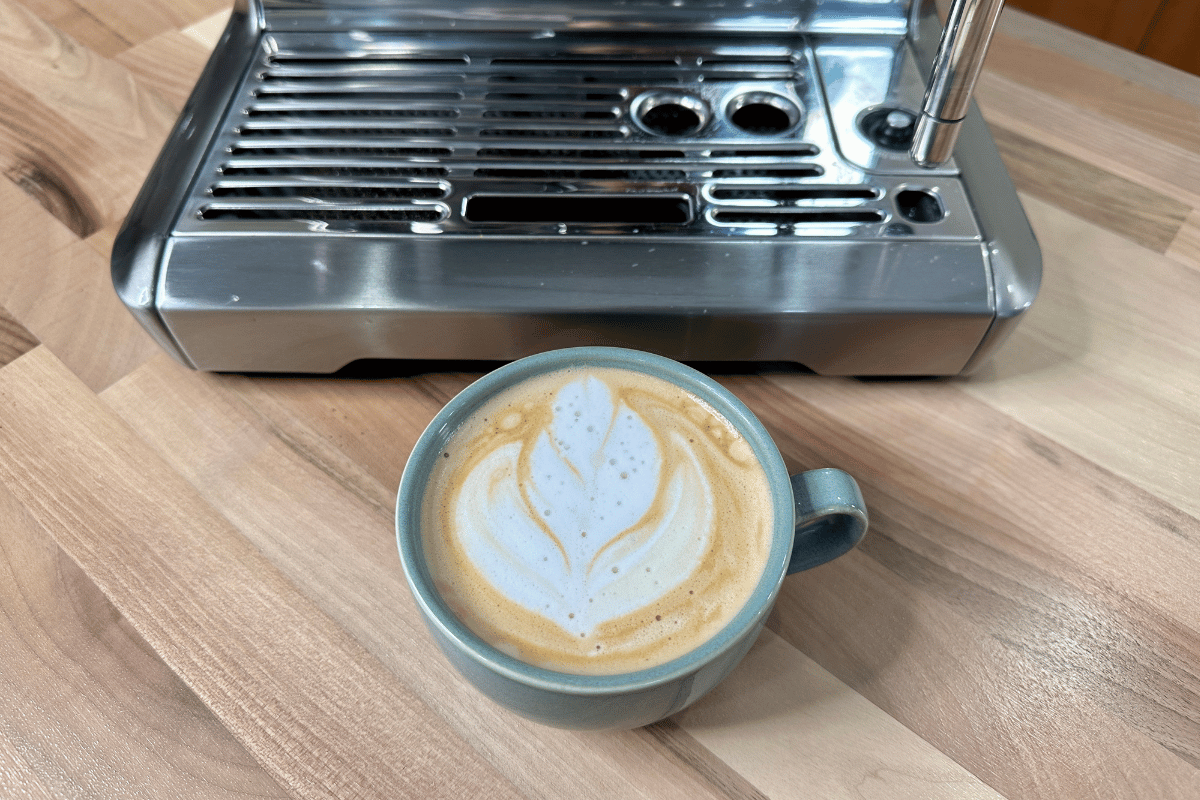 Budget
The table assumes the following price ranges:
Budget: <$500
Mid-range: $500-$1,000
Premium: >$1,000
Prices increase when the espresso machine has an integrated grinder, touch screen, automatic steam wand, or dual boiler. Price increases even more when there are multiple add ons.
I recommend you think about how much you want to spend and what features matter most to you. Then, go back to the table and select the options that fit. then read on to see the top picks.
If you want to see every model, I compare every model and how to choose in this video:
---
Our Top Three Breville Espresso Machines
Product
Name
Features
Price

Top Overall

Built-in burr grinder with 30 settings
Powerful steam wand
3 seconds heat up time

Check AmazonCheck Breville

Budget Pick

Compact size
Latest Thermojet technology
One-hole steam wand

Check AmazonCheck Breville

Upgrade pick

Dual boiler provides extreme temperature stability
Advanced OPV for smooth extraction
Drier steam for better milk froth and texturing

Check AmazonCheck Breville
Breville Barista Pro
Breville Barista Pro highlights:
Built-in burr grinder with 30 settings
Powerful steam wand
3 seconds heat-up time
The Barista Pro is our favorite for a reason. It offers an upgrade in several areas: heating system, grinder, display, and the steam wand. And it ranks in the middle of the price range, so it's the best choice if you're starting out and want a fully integrated machine.
Barista Pro has a Thermojet heating system and a PID temperature control, so there aren't fluctuations in the temperature, and you can get perfect extraction. It's ready to brew in an impressive three seconds. This comes in handy when you want coffee first thing in the morning.
Another thing that helps Barista Pro pull a delicious shot is low-pressure pre-infusion. Pre-infusion hydrates the coffee grounds initially so your puck is in the perfect state to extract the most flavor and get a rich crema. Almost every Breville model has this, but it's possible to program on the Pro.
There is also a built-in, conical burr grinder with 30 settings. There are more settings on this grinder than other machines, including The Barista Express and Express Impress. That's really important, as extra settings give you flexibility when dialing in. There's the timed dose straight into your portafilter, which means you get the exact amount of coffee you need with no mess.
The steam wand has another small upgrade: a four-hole tip. It's a manual steam wand and the Thermojet delivers higher pressure compared to its legacy counterpart. The wand is ready for steaming in 10 seconds, and the total milk frothing process takes about 45 seconds.
The Pro comes with a nicer LCD interface. The Breville Barista Pro display makes it much easier to program settings like grind size, coffee volume, and water temperature.
Another thing that I like about the Pro is the angled hot water spout. There's no need to move the cup when making an Americano. This is a small thing, but it comes in handy and shows the nice touches here.
One downside of the Barista Pro is the need for a blank shot. While the Thermojet heats quickly, it doesn't heat the brew group. So if you don't run water through the group head, you'll get a sour espresso.
Check out our Breville Barista Pro review.
Pros
3 seconds heat-up time
Steam wand with high pressure
LCD display for easy programming
Cons
Brew head has to be flushed before each shot
Espresso often comes out sour if not flushed
No cup warming tray
---
Breville Bambino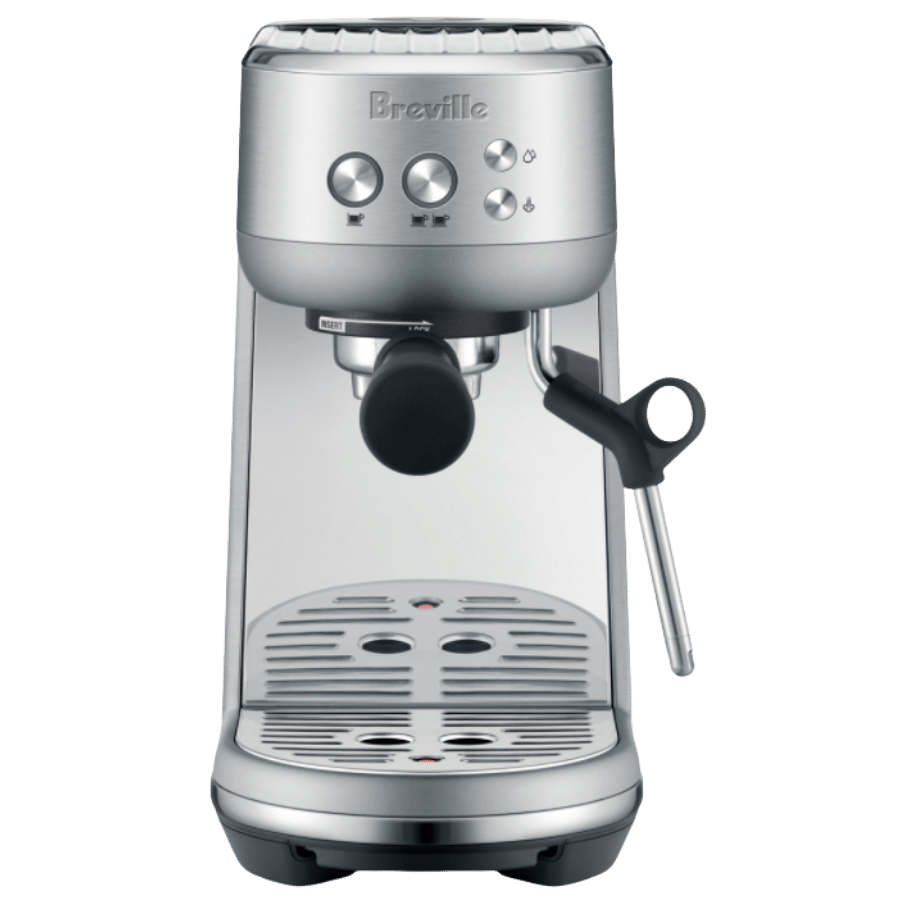 Breville Bambino highlights:
Compact size
Great value for money with the latest Thermojet technology
Easy maintenance
If you're looking for an espresso machine that's smaller and affordable but still has Breville's latest technology, the Bambino is your choice. It's actually Breville's least expensive semi-automatic espresso machine.
Breville Bambino is a good option if you are limited on kitchen counter space. It'll fit anywhere at 7.7 in x 12.6 in x 12.2 in. This espresso machine has a water reservoir of 47 ounces, which is smaller than other espresso machines. However, you can brew a dozen espressos with one water tank, which is plenty with an easily removable water tank.
Bambino comes with the newer Thermojet so it can pull a delicious espresso shot. It has a low-pressure pre-infusion that primes the ground coffee before the extraction and there's also PID for temperature control.
The steam wand is simple on the Bambino. It has a manual steam wand with a one-hole tip. It'll take over a minute to fully froth milk, but it is easier to learn because you have time to get the aeration and stretching. I could make a microfoam (which says something given my latte art skills!). The thermojet means there's no wait time between brewing and steaming. Also you can dispense hot water from the steam wand too for an American or hot tea.
You can choose between one ounce single shot or two ounces double espresso shot. There is a default volume for each button, and Bambino lets you program each option manually. You'll have to hold the buttons until they flash, then push a button to start and stop the shot to reprogram, which allows you better dial in each shot.
This espresso machine doesn't have a grinder, which is the biggest drawback for ease of use. There are other options available and I've initially got by with a Baratza Encore and pressurized baskets.
Overall, this is a good semi-automatic machine for beginners who are on a budget but still want high-quality espresso.
See our Bambino vs Bambino Plus comparison.
Pros
Easy to use
Fast heat-up time with latest Thermojet
Small size
Cons
No automatic milk frothing
Plastic tamper
Small drip tray
---
Breville Dual Boiler
Breville Dual Boiler highlights:
Simultaneous brewing and steaming with dual boilers
Auto-on timer
Drier steam for better milk froth and texturing
The Breville Dual Boiler is another step up in performance from the other models. It has two independent boilers – one is for brewing and the other for steaming milk. This means that there's no wait time between heating and steaming the milk — you can do it simultaneously.
The real advantage of the heating system is the extreme temperature stability. Good espresso is all about consistency and the Dual Boiler excels here. The brew head is even pre-heated and you can control the temperature to one-degree increments. If you're looking for the next level in espresso, dual boiler is a great option.
The boiler for brewing coffee has PID control plus an over-pressure valve (OPV), which ensures the temperature and pressure are ideal. This prevents your espresso from tasting bitter. I've noticed the pressure rarely goes above nine bars and is very stable – something usually found on much more expensive espresso machines.
You'll also get drier steam with a second boiler dedicated to steaming milk. This creates a creamier texture in your froth with less water due to the hotter steam wand.
The Dual Boiler has two modes — semi-automatic operation, where you use the shot clock to time your extraction, or pre-program, where you choose the volume for single and double shots, and brew with a press of a button.
Another handy feature is the auto-on timer, which ensures your espresso machine is ready to go in the morning. You'll love this option if you can't function in the morning without a caffeine kick.
One thing to keep in mind is that Dual Boiler doesn't come with an integrated grinder, and this is already an expensive machine…Also, this is a big machine that barely fits under your counter. Needless to say, the dual boiler is a commitment, but a very rewarding one
Pros
Extreme temperature stability
Has an OPV valve for ideal pressure
Drier steam for better milk frothing and latte art
Cons
Expensive and need a grinder
No bottomless portafilter
Large build
---
The Other Breville Models
Barista Express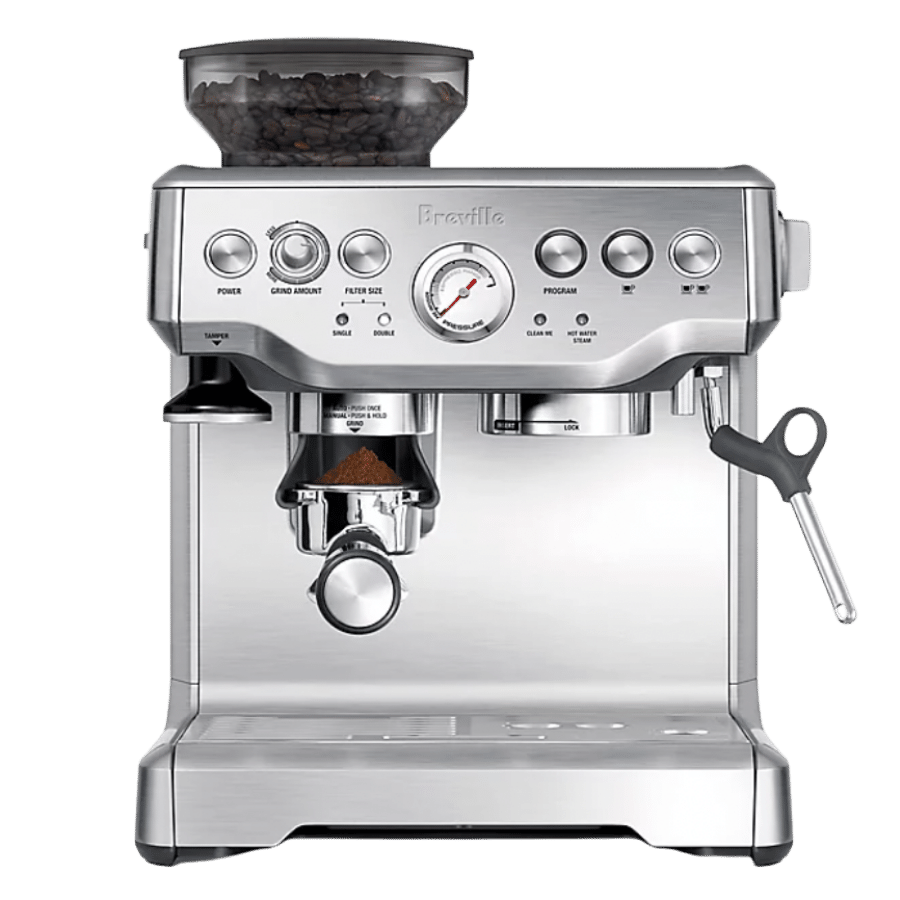 Barista Express highlights:
Good espresso machine for beginners
16 grinder settings
Cup warmer on top
No best Breville espresso machines list is complete without Breville Barista Express. This espresso machine has been a fan favorite for decades, and it's still going strong.
It has an integrated conical burr grinder with dose control grinding — the grinder grinds on demand and delivers the exact amount of coffee grounds straight into the portafilter. This means less room for a mess and less cleaning for you. The Grind Amount dial allows you to control the amount of beans you'll dispense for each shot.
However, Breville Barista Express has fewer grind settings compared to Pro — 16 to Pro's 30. Another thing to keep in mind is that Express has a loud grinder, which isn't the best option when you want some caffeine first thing in the morning.
A delicious espresso flavor is also achieved with the PID temperature control and 1600-watt thermocoil heating system. These allow optimum extraction and rich flavor. Like the Barista Pro, the Breville Barista Express also has low-pressure pre-infusion, which gradually increases the pressure, and helps achieve even flavor extraction.
A big plus is the auto-purge. Breville Barista Express automatically adjusts the temperature after it steams, which means less wait time between brewing coffee drinks.
The single-hole steam wand isn't as powerful as the four holes on the Pro, but it creates good microfoam for lattes and thick foam for cappuccinos. You can also work on your latte art. A separate hot water tap gives you hot water for Americanos and teas. Keep in mind you'll have to move the mug to the right, which isn't the case with the Pro.
The Barista Express has a set of buttons and an analog pressure gauge, which makes it look outdated compared to other espresso machines with a LCD display.
Overall, Barista Express is beginner-friendly, and it's a good entry into the world of semi-automatic espresso machines.
Check out our Breville Barista Pro vs. Express comparison.
Pros
Durable stainless steel build
Easy operation
Plenty learning opportunities
Cons
Needs regular maintenance
Bulky size
Can be noisy
---
Breville Barista Express Impress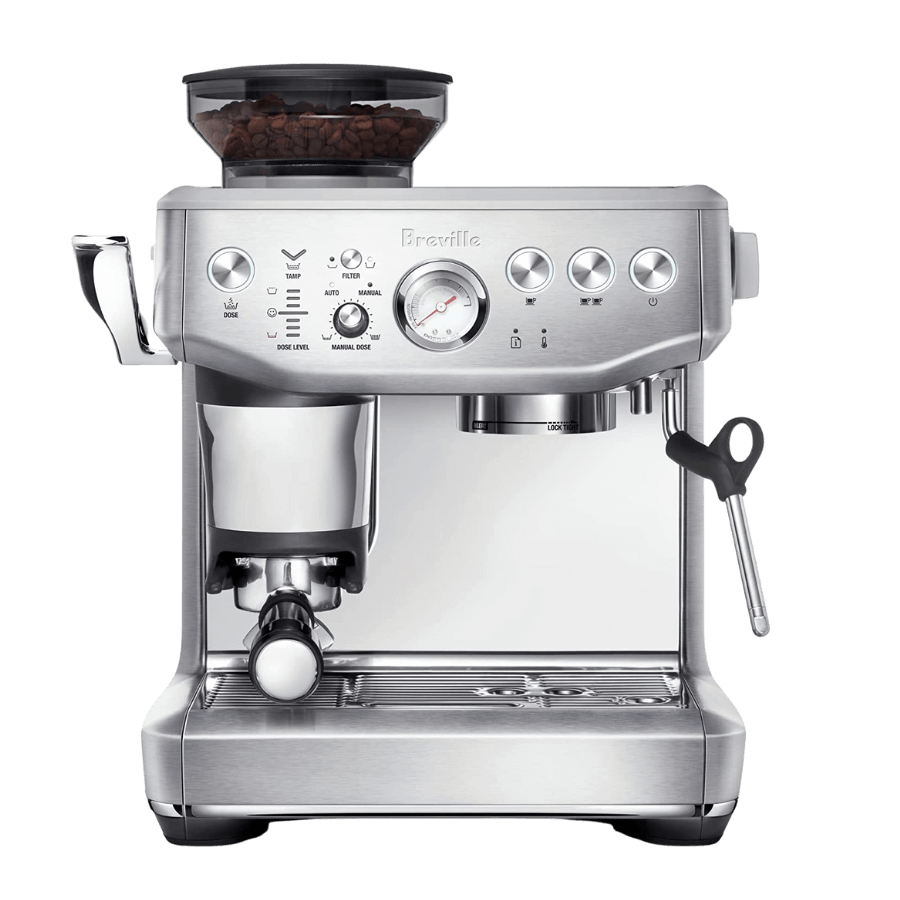 Breville Barista Express Impress highlights:
54mm portafilter
Assisted tamping
Conical burr grinder with 25 settings
Breville Barista Express Impress is the newest addition to the Breville line-up and has a lot to offer. It's an improvement to the Barista Express and is intended for new espresso machine users.
The feature that helps it stand apart is assisted tamping. Express Impress has a cylindrical part on its left side, which does the tamping. You pull a slot arm to press down the tamping piston and tamp the coffee grounds so you get a nice, even puck. No work on your part except for pulling the lever and transferring the portafilter to the brew head. The Impress system doesn't allow for special dosing tools, but it's infinitely easier than doing the tamping yourself.
Another feature that contributes to the ease of use is the dosing control which checks the bed depth of the puck after tamping. You'll see a row of lights on the display that indicates the puck's height. If the puck is too high, you can use Breville's Razor tool that comes with the machine. Or, if it's too light, the machine will ask you to grind again. In case the puck bed height is good, you'll see a smiley face. This is how the machine learns how much coffee it needs.
Apart from these, there's a conical burr grinder with 25 settings, which is more than the Barista Express. More settings mean a higher chance of getting the grind right. The steam wand is the same as on the Barista Express. It's a weaker steam wand within the Breville line, but you can make a microfoam.
Finally, the heating system is the Thermocoil, which means you'll have to wait a little for the machine to switch between steaming and brewing.
Read our Breville Barista Express Impress review.
Pros
Assisted tamping
Controlled dosing
Conical burr grinder with 25 settings
Cons
No advanced heating system
Cannot do manual redistribution
---
Bambino Plus
Breville Bambino Plus highlights:
Automatic steam wand
Compact size
Additional accessories like the razor dosing tool
Bambino Plus is a more high-end version of Bambino. It has fewer plastic parts. For example, there's no plastic tamper with the Bambino Plus home espresso machine.
Bambino Plus has a slightly larger build compared to the Bambino — 9.6 in x 16.3 in x 16.9 in. It also features a larger water reservoir — 64 ounces, which means you can brew more cups of coffee before refilling.
The biggest difference between these two espresso machines is in the steam wand. Both Bambino and Bambino Plus have a thermojet heating system, so there's no lag time between brewing and steaming. But, the Plus has an automatic steam wand, not a manual one like the Bambino. This means you can place the milk container on the tray with the wand inside, press a button, and the machine will do the job for you. The Bambino Plus steam wand has four holes compared to only one on the Bambino, so it can steam milk 20 seconds faster.
There are temperature sensors in the drip tray which tweak the temperature. You also have the option to choose the texture and milk temperature via three buttons (50, 70, or 90 degrees). This means it's easy to get microfoam for a latte or thicker foam for a cappuccino.
One drawback is the Bambino Plus does not have an obvious hot water outlet, like the Bambino. To get hot water with Bambino Plus, you'll have to simultaneously push the one cup and milk texture button. This makes it slightly harder to get an Americano.
In terms of espresso performance, the Bambino and Bambino Plus are quite similar. Both machines will pull a local coffee shop quality espresso. They have low-pressure pre-infusion, PID temperature control, a thermojet heating system, and a 15 bar Italian pump design.
However, the Breville Bambino Plus semi-automatic machine has a razor precision dosing tool, which helps you control how much coffee is loaded into the portafilter.
Go for the Bambino Plus if you want a guaranteed result, an easier frothing process, and more accessories.
Check out our Breville Bambino vs. Bambino Plus comparison.
Pros
Automatic steam wand
Large water reservoir
Razor precision tool
Cons
You'll have to buy a separate grinder
Small drip tray requires constant emptying
You'll have to re-program double espresso settings
---
Breville Barista Touch
Breville Barista Touch highlights:
Five pre-programmed drinks and the option to save eight drink recipes
Conical burr grinder with 30 settings
Choose between automatic or a manual milk frothing
Breville Barista Touch semi-automatic machine gets its name from the intuitive touch screen display. This machine features modern technology that makes use easier. You can scroll through pictures of programmed coffee drinks and get your coffee with a press of a button. Or, you can change the settings and program your preferences into the system. Essentially, Touch gives you the best of both worlds — automatic features and the option to use the espresso machine manually.
Touch lets you choose between five pre-programmed coffee options, or you can save up to eight drinks. When saving your preferences, you can choose between the grind, brew, and milk to adapt the strength and drink temperature.
Touch has one of the best steam wands I've used. It works similarly to the Bambino Plus — you place the milk pitcher on a temperature sensor under the wand. You can choose between automatic or manual frothing and between a range of temperatures and textures. This means you can get extra thick foam for a cappuccino or thin microfoam for a latte. The auto-purge feature keeps the wand clean and means less work for you.
Similar to other Breville machines, Touch has pre-infusion, PID temperature control, and thermojet technology that has the espresso machine ready to brew in three seconds. The machine can also brew fast — my espresso shot was done in about 25 seconds.
Breville Touch is a single boiler system, so you can't brew and steam simultaneously. However, there's minimum lag, thanks to the machine's fast heating time.
Like the Barista Pro, the Barista Touch has an integrated conical burr grinder with 30 settings. This lets you choose how fine you want the ground coffee to be. The grinder is high-quality, and it achieves consistent grind size, which is important for good flavor extraction.
Touch has another option — you can set the amount of ground coffee per serving. Just place the portafilter under the grinder, and hit the button. You'll get a full basket with no mess.
Check out our full Breville Barista Touch review.
Pros
Empty me sign pops up when it's time to empty the drip tray
Can brew various drinks
Fast brewing time
Cons
Manual tamping
Some users complain of lukewarm espresso
Expensive compared to machines with similar features
---
Breville Infuser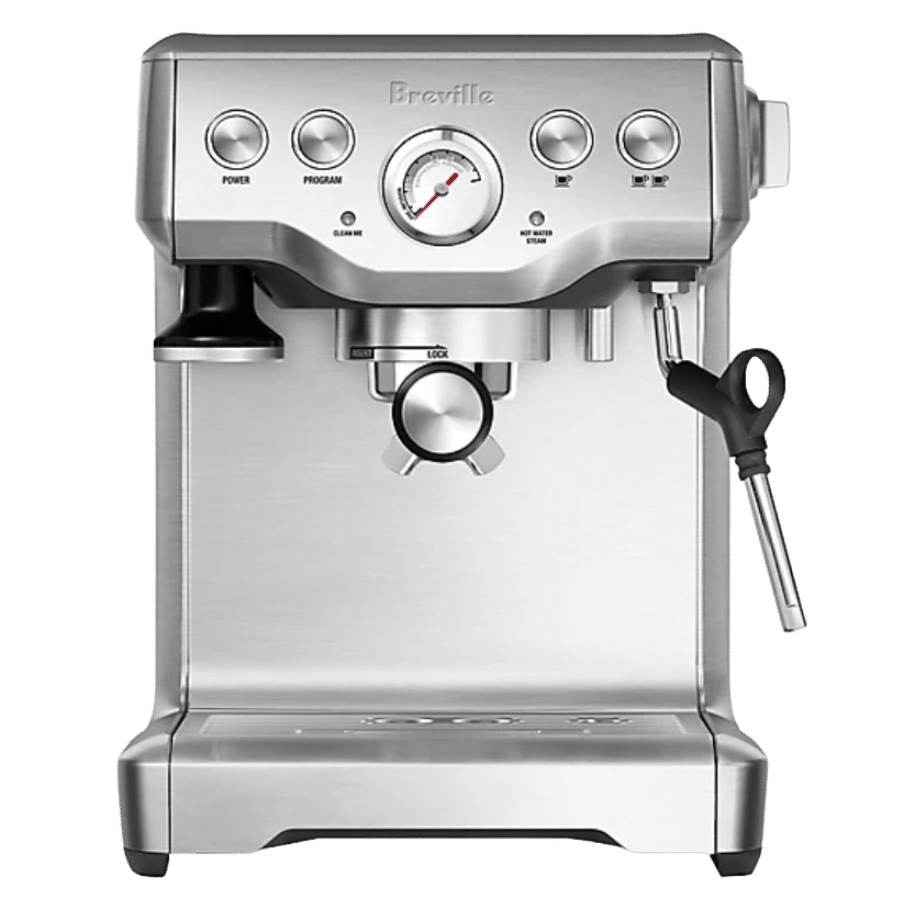 Breville Infuser highlights:
Provides pre-infusion for best extraction
Has volumetric control
Has electronic PID control
The Infuser, as the name says, is all about the low-pressure pre-infusion. This machine uses steady, low pressure on the coffee grounds before the brewing process starts at a higher pressure. This helps extraction, and your espresso will have a good flavor balance.
You can brew a single or double shot with a push of a button. The buttons will use the same amount of water each time, so you'll get a consistent brew. You won't have to change the settings each time you brew coffee.
Another feature that makes the Infuser stand out is the volumetric control. It allows you to program the amount of espresso. You can change the volume of each pour. You can always pull an espresso according to your exact preferences — choose between bitter, sweeter, or a more acidic espresso. It's completely up to you.
All Breville machines I talked about so far have had a PID controller, which keeps the temperature stable without any input from you. Breville Infuser has an electronic PID controller, which means you can change the temperature yourself up to four degrees in two-degree increments. This is another option that gives you more control and better temperature stability.
There's also the auto-purge option — when you switch from steaming to pulling a shot, the water is too hot for brewing, so the machine purges water into the drip tray. This helps you have optimal extraction temperature.
The Infuser is easy to clean. It has a "clean me" indicator that lights up when it's cleaning time, which happens when grinds and oils build up around the brew head.
Check out our comparison between Breville Infuser vs Duo Temp Pro.
Pros
Comes with single-wall and double-wall baskets (non-pressurized and pressurized)
Auto-purge function helps regulate the temperature
Comes with a steel jug
Cons
No integrated grinder
Pre-infusion time can only be altered in the manual mode
Uses dials instead of a display
---
Breville Oracle Touch
Breville Oracle Touch highlights:
Fully-automatic machine
Automatic tamping
Integrated grinder with 45 settings
Breville Oracle Touch is another espresso machine with dual boilers, which allows dual brewing and steaming.
But, compared to Dual Boiler, Oracle Touch has more automatic features. What sets Oracle Touch apart is the built-in automatic tamper — you don't have to tamp, as the machine does it for you. Together with the pre-infusion, this provides precise extraction, and it means less mess for you to clean. There's also a built-in conical burr grinder with 45 settings that has dose control grinding — it automatically grinds, doses, and tamps 22 grams of coffee.
Oracle Touch has a touchscreen display. You can scroll through the images and tap to pick your preferred cup of coffee. The display also takes you through how to make different drinks. For example, if you tap on a cappuccino, you'll be shown the grinding, brewing, and frothing steps. Tap the button each time you're ready to complete the step, and you'll brew your drink. You can save your preferences for up to eight drinks and get your ideal drink with a push of a button in the future.
But, its modern technology goes further than that. The machine's computer always monitors the temperature, including the steam temperature, and adjusts it as needed. This means, no matter if you use chilled milk straight from the fridge or room temperature milk, Oracle Touch will adjust the steam temperature and pressure and froth the milk, so you get optimal temperature.
This Breville espresso machine has an automatic self-cleaning steam wand. It automatically froths the milk according to your liking, and it self-cleans once it's done. However, I noticed the milk bakes on the tip, which didn't get cleaned during the auto clean. You'll have to take off the wand and clean it after each use yourself.
Oracle Touch also comes with a water filter. For a long time, this water filter was nonreplaceable. Luckily, the company fixed this issue in newer models. Still, keep this in mind if you decide to get an older used unit.
Pros
Color touchscreen
Save up to eight drink profiles
Heated group head
Cons
Very expensive
Bulky and heavy
Older versions come with a nonreplaceable water filter
---
Breville Cafe Roma
Breville Cafe Roma highlights:
15-bar pump
Comes with several accessories
Stainless steel build for an affordable price
The last Breville semi-automatic espresso machine on this list is the Cafe Roma.
This is a budget and beginner-friendly espresso machine that features recognizable Breville build and features. It's a good choice if you aren't ready for a big investment and want to build your skills on something more affordable.
Cafe Roma has a 15-bar pump that produces good pressure for extraction and espresso crema. This isn't a boiler but a thermoblock heating system that adjusts and extracts the espresso at the correct water temperature. The thermoblock also adjusts the temperature between brewing and steaming.
This machine comes with a dual-wall portafilter, which barista beginners find easier, as it helps you achieve good pressure when extracting. Cafe Roma doesn't come with an integrated grinder, which is to be expected considering its affordable price. Pressurized filters will also come in handy if you don't have a burr grinder and can't have fine coffee grounds. These work better with coarse grounds. You'll also get a filter that works with pods, so you can try different pod flavors.
Cafe Roma comes with a steam wand, so you'll be able to make milk-based drinks. The wand spits out some water before developing steam at the correct temperature. To avoid water in your milk, steam first into an empty cup, and then switch to the milk pitcher. The o-ring on the wand lasts a few months the most, so you'll have to invest in replacements if you want to continue steaming milk.
I was pleasantly surprised to discover the machine comes with several accessories: a measuring spoon, tamping tool, and a frothing pitcher, which means less expense for you.
This is another compact machine and a good choice if you have limited counter space. It comes with a 40.6-ounce water reservoir, which can last a couple of days if you mostly brew espressos. Both the reservoir and the drip tray are removable, so it's easy to clean them.
Pros
Indicator lets you know when it's time to refill the water tank
Works with ground coffee and pods
Small footprint
Cons
Wand can only froth a small amount of milk
Steam wand can't always achieve adequate pressure
No burr grinder
---
About Breville Espresso Machines: What To Expect
Breville was founded in 1932 in Sydney, Australia. They started by manufacturing radios during WWII. The company soon switched to home appliances, and their sandwich toaster was a big hit. They entered the world of espresso machines in the 2000s.
Today, Breville has a wide line-up of espresso machines, all of which have a recognizable Breville design — a timeless stainless steel look paired with modern technology.
Breville is known for their consumer-level machines that are perfect for beginner home baristas. No matter which Breville espresso machine you opt for, here are a few reasons why Breville machines are a synonym for good quality:
Great technology — Breville's heating systems include modern technology to produce consistent pressure and temperature for excellent espresso. There are PID sensors that control temperature and their thermoblock design is second to none for consumer machines.
Durable build — I mentioned that Breville machines are made of stainless steel. This makes them easy to clean and very durable. You can expect your espresso machine to last for years to come.
One-year warranty — Breville espresso machines have a guaranteed warranty of at least one year. If there's something wrong with the machine, or a part breaks, the company will fix it for you.
Customer service — Breville is known for its knowledgeable and friendly customer service. I have first-hand stories of a broken part getting replaced easily and without question. Breville listens to its users and even includes remarks and suggestions when designing products.
Frequently Asked Questions (FAQ) When Buying a Breville Machine
How long do Breville machines last?
Breville machines can last between three to five years if used correctly and regularly cleaned. They have a one-year warranty, but you can expect them to last longer.
Why choose Breville?
Breville is known for their good customer service, stainless steel build, and one-year warranty, which makes their machines a good choice.
Which Breville machine is best for money?
Breville Barista Pro is best for money. It's a good option for barista beginners and experienced users. It has features that make high-quality coffee, it's easy to use, and it comes at an affordable price.
Best Breville Espresso Machine: Final Thoughts
All machines I've listed are among the best Breville espresso machines. However, my top three choices are Barista Pro, Bambino, and Oracle Touch. Barista Pro is the best overall, and it has the best value for money. Bambino is a great compact, budget-friendly choice, and Oracle Touch is a fully automatic beast that brews coffee with a push of a button.
If you'd like to check out something different, DeLonghi is an Italian manufacturer of top-notch machines. Check out our round-up of the best DeLonghi espresso machines.