I thought I tried every Breville espresso machine…until Breville released the latest model, the Breville Barista Express Impress. I'm happy to report the machine's pronunciation is much more difficult than the actual use.
Express Impress coffee machine automates some of the most difficult parts of the espresso brewing with automatic coffee measuring and assisted tamping. This is a great machine for home use, and it's perfect for users who don't want to spend weeks perfecting their espresso technique.
Here's my initial Breville Barista Express Impress review with a breakdown of features and where it falls in the Breville lineup.
Breville Barista Express Impress Product Overview
As soon as you take the Espresso Impress out of the box, it's clear this is a Breville espresso machine. It has brushed stainless steel housing that looks sharp and modern. The pressure gauge and controls give it a vintage vibe. It's on the larger side, so it'll take up a fair amount of your kitchen counter space.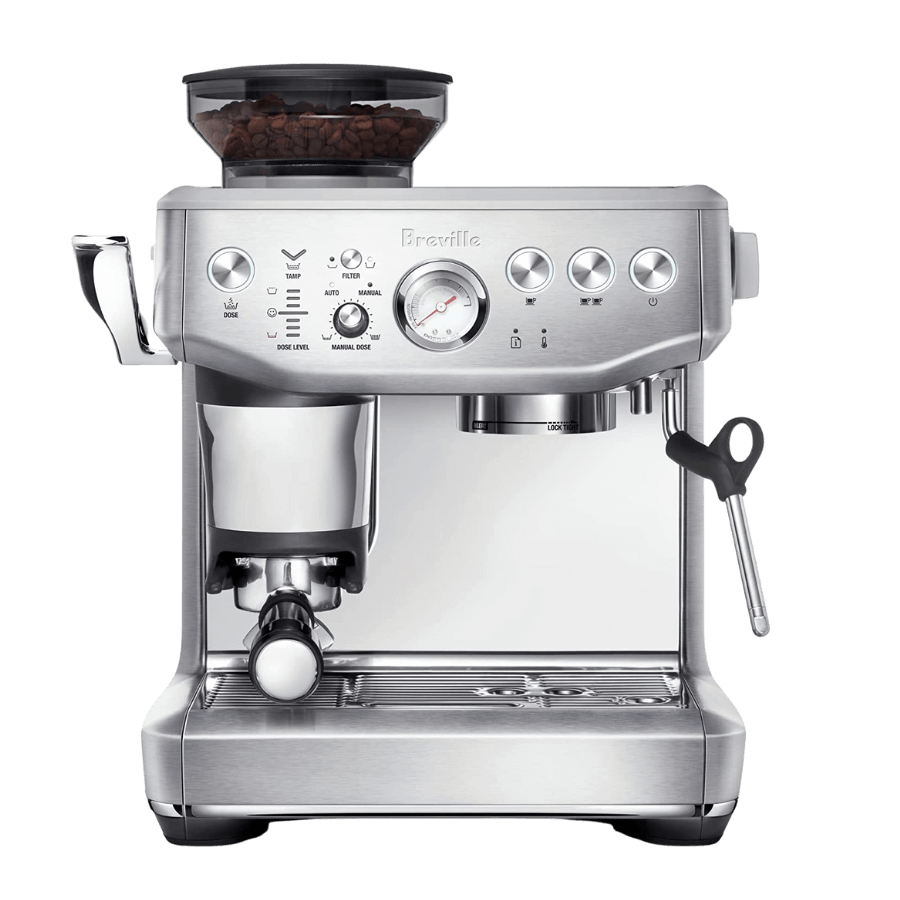 Breville Barista Express Impress Features:
Assisted tamping
Automated dosing
Integrated stainless steel conical burr grinder with 25 settings
54 mm portafilter
68 oz water tank
Breville Barista Express Impress
Espresso Quality & Brewing System
7.5
This espresso machine was intended as a step up from the hugely popular Barista Express, so the machines share many features. They both have a stainless steel conical burr grinder, a 68 oz water tank, and a 54 mm portafilter. However, the Express Impress has more grind settings and an Impress Puck System with assisted tamping. There's also a row of lights that light up and give feedback during the brewing process (red or green lights and a smiley face for a correct or a wrong coffee dose).
The machine monitors and remembers data from each shot, so dose amounts are based on the previous one. You can make adjustments to your liking, so you always get the best espresso shot.
The dosing and auto-tamping features eliminate a lot of first-time errors, so espresso newbies will love this machine. However, it may be a downside for more experienced espresso lovers. Still, the Barista Express Impress lets you take control over a fair amount of the brewing process.
Pros
Beginner-friendly with assisted tamping and dosing
Customizable grind, tamping, and extraction
Internal automatic tamper
Grinder with 25 settings
Cons
Large footprint
Cannot redistribute or WDT grounds
Legacy thermocoil heating system
---
Breville Barista Express Impress Breakdown
Design and Build
Breville Barista Express Impress isn't the most compact espresso machine I've seen. Its dimensions are 12.9 x 14.9 x 16.1 in, so you may struggle to fit in under the overhead cabinets. I recommend measuring your space before purchasing this machine. The good news is you won't need extra space for a coffee grinder, as this is a hybrid machine.
I have no complaints about the build quality. It looks and feels high-end, like all Breville machines. It's made of stainless steel, so it's durable. Moreover, the machine design is straightforward. There's the bean hopper, grinder, and tamping on the left, and the steam wand and the grew group on the right. The cup warmer on top feels spacious. However, I admit the auto-tamping pod is huge and makes the left side of the machine feel crowded.
The user interface is clear and well-labeled, and the buttons for selecting filter basket size and the number of shots are easy to use. Plus, there's an LED indicator scale that gives feedback on your dose. Overall, the buttons and dials fit nicely into the machine's design.
Luckily, the tamping handle is metal, which is great is this part of the espresso machine has a high-frequency touchpoint.
There's a large removable water reservoir, hot water outlet, and useful storage compartment behind the drip tray.
Assisted Tamping
The biggest feature of Breville Barista Express Impress is assisted tamping. Tamping is the compressing of the coffee grinds in the portafilter. You need a firm and even tamp, so the espresso extracts properly from the puck. If you tamp too lightly or unevenly, the water goes through the coffee grounds too quickly, and you have weak espresso. If you tamp too hard, the water struggles to pass through the grounds, and you'll have a bitter espresso. Overall, tamping is fickle and prone to error, so Breville automated this step of the brewing process.
Breville Barista Express Impress has a fairly large cylindrical part, which is the tamping piston. This espresso maker has assisted tamping function that applies 22 pounds of pressure each time. You press down on the slot machine arm, and the tamping piston automatically aligns with the portafilter basket and tamps the coffee grounds into the puck.
If the tamping is right, you'll see a smiley face on the display. In case the tamp isn't right (under or overdose), the machine gives feedback to itself, so it corrects it the next time. It may take a couple of tries to recalibrate, especially when you change beans, so you may need to sacrifice a shot or two. Still, it's much easier than doing it yourself.
One downside is you must use the tamping system, which rules out "advanced" redistribution techniques. I use a WDT for espresso prep, and many espresso aficionados use levelers and other tools to perfectly distribute their coffee. These tools help, especially as the Breville grinder creates clumpy grounds. But, this "advanced" distribution takes time and is complicated.
Overall, assisted tamping makes tamping easy and consistent. It streamlines the espresso machine use and gets you 80% of great espresso in a fraction of the time.
Dosing Control
Another key part of pulling a good shot is having a consistent coffee dose every time, which is difficult for a machine to deliver. Most espresso machines (including other Brevilles) dose based on time. However, the needed grind time relies on how coarse or fine the coffee grind is, where a finer grind takes longer.
Breville Barista Express Impress has a system that focuses on the bed depth of the puck when tamped. You set the portafilter in the grinder cradle, push a button to start the grinding process, and the tamper lever is pulled down to tamp the coffee.
You'll see a row of lights called Dose Level, which shows the puck's height. If the tamping is right, you'll see a smiley face on the display. If the dose is too high, the machine will automatically dose less coffee the next time your grind. If it's too low, the machine will ask you to grind more coffee and tamp again.
Effectively, the Barista Express Impress "learns" how much coffee to grind. The machine also calibrates time when you change the grind size. It's a unique system for this espresso machine.
Overall, Barista Express Impress delivers the same pressure with every lever pull and relies on feedback to adjust the amount of dosed coffee. It pairs the assisted tamping and dosing control, which eliminates the two most difficult steps in espresso brewing for a new barista.
Espresso Quality
The Espress Impress makes solid espresso. The espresso machine reaches nine bars of pressure to extract coffee. Breville Barista Express Impress has a 54 mm stainless steel portafilter and single and dual wall baskets. The PID ensures precise temperature control and optimal water pressure, and the low-pressure pre-infusion reduces channeling and helps you have even extraction. Once the grind is set up, the espresso has a thick crema and a strong aroma.
Breville opted to use the older thermocoil for this model. Newer models, like the Barista Pro, use the latest ThermoJet, which heats in three seconds and has better temperature stability. It's not a huge loss if you're starting out, but it's a downgrade. 
My biggest worry is the inability to do "advanced" distribution, as said before. I feared this could be an issue because redistribution is an important step in puck preparation, and with Express Impress, it's physically impossible to remove the portafilter from the cradle before tamping. In reality, it doesn't matter much. I didn't have issues with consistency or channeling, but I still like my WDT.
Overall, even if you have little espresso brewing experience, it won't take long until you're making excellent shots. The buttons let you choose between single and double espresso options, so if you're a caffeine addict, a caffeine kick is just a few buttons presses away.
Milk Frothing
Breville Barista Express Impress is a thermocoil machine, so it needs some time to switch between steaming and brewing. Here, the older thermocoil means there's a longer wait time to steam compared to the faster Thermojet heating system on the Barista Pro. It takes about 30 seconds to get proper steam.
The steam wand rotates 360 degrees and can create silky microfoam. This isn't the most powerful steam wand I've used, but it has enough power to create a good microfoam. It looks like it's the same as on most other Breville espresso machines, so it takes about a minute to steam for one drink. This is an advantage for beginners, as they can practice their technique on a less powerful steam wand with a single-hole tip. Also, props to Breville for including a stainless steel milk pitcher with this coffee machine.
Other Features and Accessories
Here's what you should know about other features and accessories of the Breville Barista Express Impress.
Let's start with the baskets. The machine includes the standard one-cup and two-cup baskets for both pressurized and non-pressurized (also known as dual wall and single wall). I recommend starting with pressurized and quickly transitioning to non-pressurized with a finer grind size for better espresso.
Next up is the grinder. I already talked about the automatic grinding, but it's important to mention the Express Impress has a stainless steel conical burr grinder with 25 grind settings. It's less than the Breville Barista Pro but more than the Express. Overall, more grind settings are better as it allows you to dial-in the proper shot, and the Impress is an upgrade to the original Express.
The bean hopper is located on the top and holds 8.8 oz of beans. It has UV tinting, which keeps the beans fresh.
The water temperature is controlled by a digital PID. The PID monitors the water temperature and ensures it's always delivered at 200 degrees. You can also make small adjustments to the water temperature, which more experienced baristas will like. Even a few degrees can make a huge difference in the final shot.
Finally, Breville Barista Express Impress comes with a long list of accessories: a portafilter, stainless steel milk jug, single and dual wall filter baskets, water filter holder, the razor trimming tool, and various cleaning accessories. You'll have everything you need to use the espresso machine.
Value
Breville Barista Express Impress provides a good price for money, especially for a beginner audience. It has a premium design with all the essentials for making delicious-tasting coffee.
Overall, this coffee machine gives good value, although the price point is high because of the simplicity of use and automation. You're paying more than for the Barista Express, but you get a simpler workflow.
If you're new to the world of espresso and don't want to spend hours adjusting the brewing parameters to find what works for you, this is excellent value. But, if you want to learn how to prepare a puck yourself, save money by getting the Barista Express.
---
Recommendation: Who Is It For
Breville Barista Express Impress is a great option for someone who's just getting interested in home espresso and doesn't want a new hobby and learn acronyms like WDT. This is a great machine for beginner baristas because it provides good workflow, good espresso coffee, and ease of use.
This is not a commercial espresso machine that can be used in a coffee shop, nor is it an "end game" machine by any means. Instead, it's the best option for people who want help with the most difficult parts of pulling a shot but don't want a completely automated machine.
Alternative Options: Comparing The Breville Barista Lineup
Breville Barista Express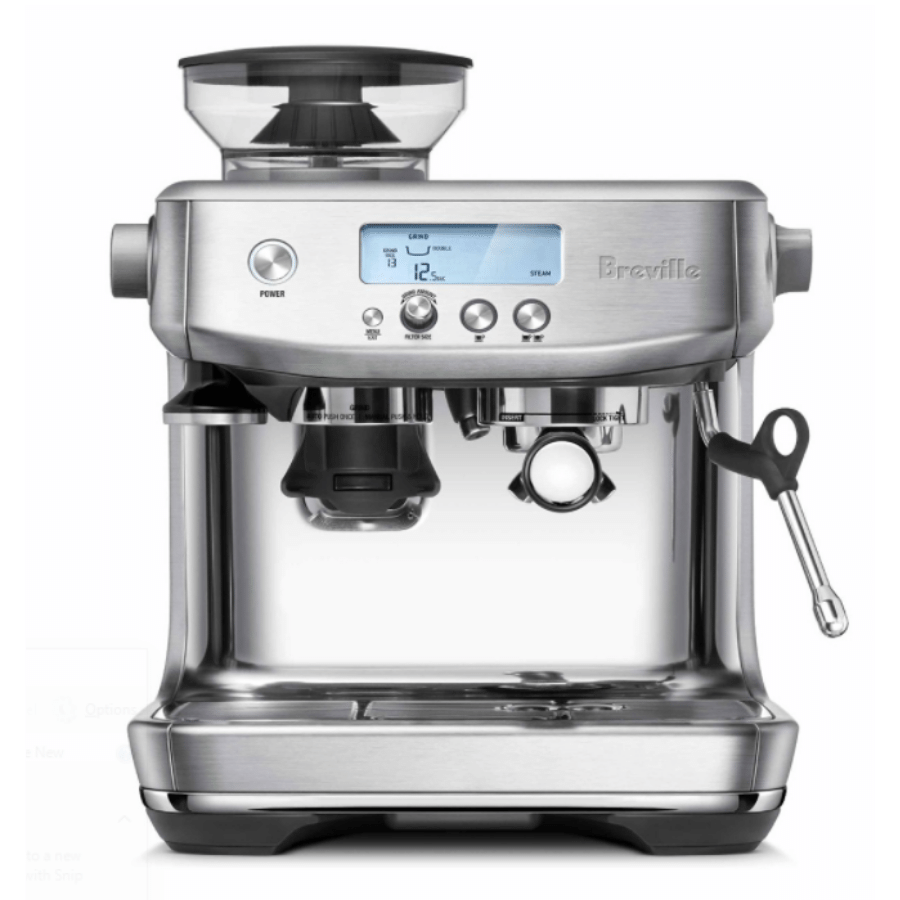 Breville Barista Express highlights:
Thermocoil: 30 second heat up
One-hole steam wand
Burr grinder with 16 settingsds
Breville Barista Express and Express Impress share many of the same features and construction, which you can guess from a similar name.
The Express is more affordable than Express Impress because it doesn't have automatic tamping and dosing. Instead, it needs much more input from you. But it also means you have more control over the espresso-making process.
Both machines have the same conical burr grinder, but the Express Impress has 25 grind settings, while the Express has only 16. Higher grind variety means more freedom in getting the espresso you like, and it's great for adjusting the settings when you get new coffee beans.
Both machines have the same steam wands and heating systems. Overall, if you don't care about internal tamping and grinding, Barista Express is a great, more affordable choice.
Barista Pro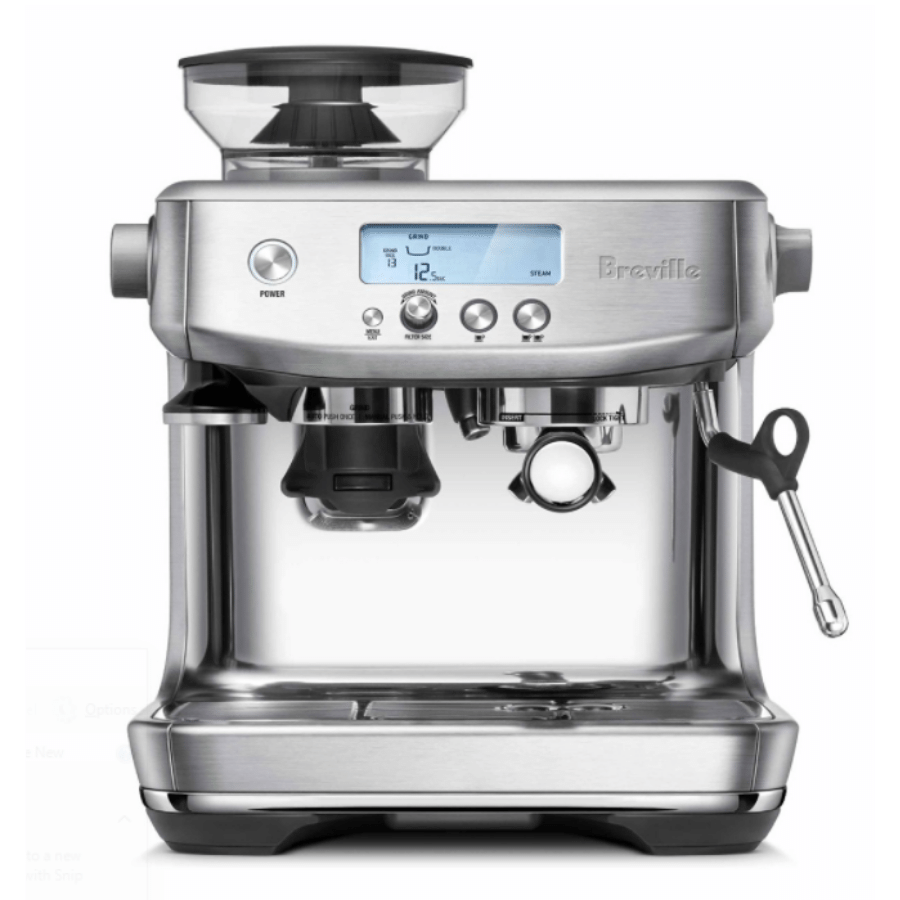 Barista Pro highlights:
Thermojet: 3-second heat up
Four-hole wand for better quality microfoam
Burr grinder with 30 settings
Barista Pro has an improved ThermoJet heating system with an impressive 3 seconds heat up time. This means you don't need to wait for the machine to heat up in the morning, nor do you have to wait between the coffee steaming and brewing. To me, the heating system is significant as the ThermoJet has better temperature stability.
Another significant difference between the Express Impress and the Barista Pro is the grinder. Same as the Breville Express, the Express Impress, and the Pro have a conical burr grinder. But the Pro is a clear winner. Its grinder provides more control and personalization because it has 30 grind settings. This means you have a better chance of getting exactly the grind you want.
The Pro has a built-in timer and a display screen that's easy to understand and use. You use a combination of a dial and shot buttons to make changes.
Finally, the Pro lets you change the shot volume, water temperature, and pre-infusion time. You have a much higher level of control than with Express Impress, but there's also a higher learning curve.
| | Breville Barista Express | Breville Barista Express Impress | Breville Barista Pro |
| --- | --- | --- | --- |
| Heating system | Thermocoil: 30 second heat up | Thermocoil: 30 second heat up | Thermojet: 3-second heat up |
| Steam wand | One-hole wand | One-hole wand | Four-hole wand, better microfoam |
| Grinder | Burr grinder with 16 settings | Burr grinder with 25 settings | Burr grinder with 30 settings |
| Internal tamping | No | Yes | No |
| Dosing control | No | Yes | No |
Is Breville Barista Express Impress for You?
Breville Barista Express Impress is a great choice if you're an espresso newbie and don't want a huge learning curve. The most difficult parts of making espresso are taken care of — the machine does the internal tamping and has great dosing control. Overall, this is great value for money, and you'll have delicious espresso with little work.
But, if you want a machine with more control or you want to check other Breville espresso machines, here's our round-up of all Breville espresso models.