If you're looking to get a new espresso machine, you're bound to come across Breville Barista Express. It's the most popular Breville machine and one of the most popular espresso machines on the market.
On paper, it has it all — a grinder and a steam wand, so you can make espresso and milk-based drinks. But this machine is a decade old, and Breville has released a bunch of more modern machines since then. 
I checked how the Breville Barista Express (BBE, for short) fares again other espresso machines on espresso quality, ease of use, grinder, and steam wand. Spoiler alert: it's still a solid choice for an espresso newbie and an excellent value, but it has drawbacks, such as the legacy heating system and limited grinder settings. You can do well with the BBE, but we recommend the Barista Pro instead. I'll cover all this, so you can decide.
Breville Barista Express Product Overview
Breville is a relatively new brand in the world of coffee, but they've been around since 1932 and is based in Australia. The company quickly made a name for itself in coffee, largely thanks to the Breville Barista Express. Their espresso machines are a great choice for users who want to learn how to make good espresso at home.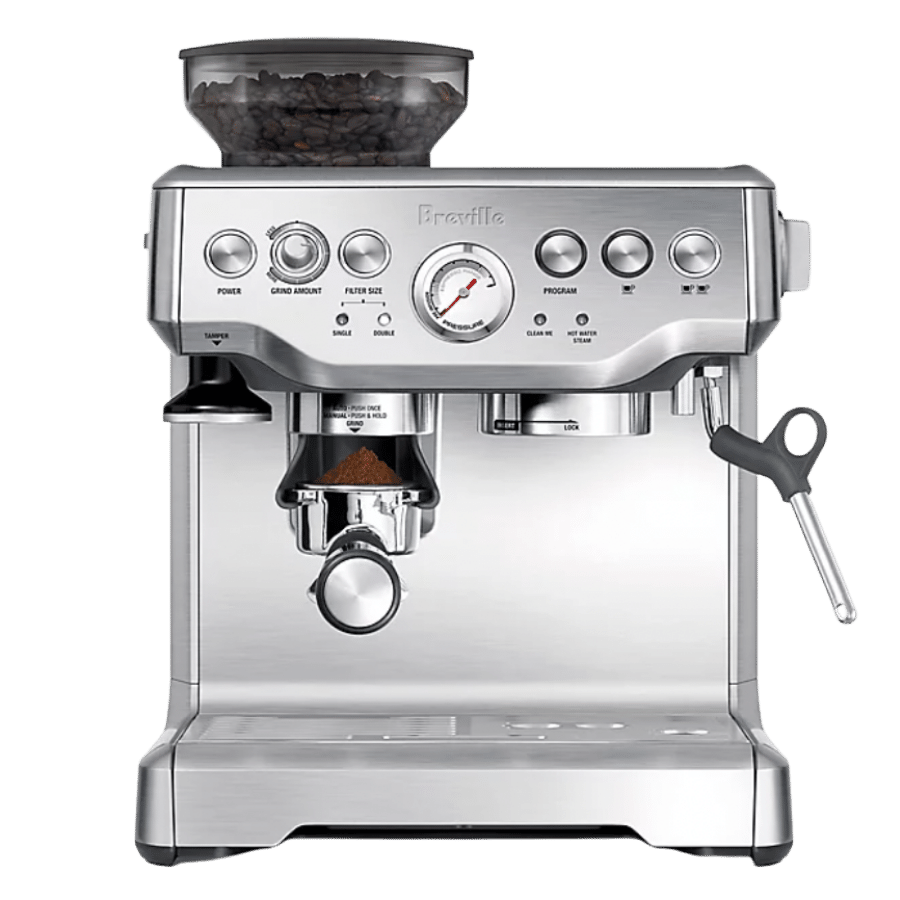 Breville Barista Express highlights:
Conical burr coffee grinder with 16 settings
Thermocoil heating system
67 oz water tank
Single and dual wall filter baskets
54 mm integrated tamper
8.1 oz hopper capacity
Breville Barista Express
Design and Functionality
8.5
Pros
Suitable for espresso beginners
Integrated conical burr grinder and easy dosing
Digital temperature control
Programmable shot volume
Cons
Inconsistent brewing temperature
Steam wand is not very powerful
Limited number of grind settings
The Barista Express is an all-in-one espresso machine. It has a built-in grinder, a steam wand, and a digital temperature control system. It lets you grow your skills and learn the art of espresso. The complete package made this model stand out, as it requires no add-ons, modest training, and comes at a really reasonable price.
The Barista Express has a recognizable "Breville look" with lots of stainless steel and a large pressure gauge on the front. The built-in grinder may make you think this is an automatic espresso machine in disguise. However, it's more work than just pressing a button. You need to learn puck prep (like tamping and design), which offers more control over the machine without feeling overwhelmed. 
Overall, if you're an espresso enthusiast and want to substitute coffee shop espresso with a home one, Breville Barista Express is a capable machine that can bring your espresso game up. However, it has some drawbacks. The grinder doesn't give you much room for dialing in, and the heating system is problematic. Here's a breakdown of everything I did and didn't like about this machine.
---
Breville Barista Express Breakdown
Design and Build
Breville Barista Express has a brushed stainless steel exterior, much like all other Breville espresso machines. It's equipped with a half-pound bean hopper, a 67 oz water tank, and 54 mm portafilter baskets for single and double shots (you can use either freshly ground beans or pre-ground coffee).
Breville Barista Express measures 12.5 x 13.8 x 15.9 in. and fits on most countertops and under cabinets. However, remember you'll have to access the bean hopper and the water tank in the back. The Express fits under any standard cabinet. The construction is mostly steel. However, there's a plastic casing around the base.
I liked how the accessories were conveniently placed. For example, the tamper is magnetic and easily stowed away in its designated spot on the machine where it doesn't interrupt the workflow when not in use. The same goes for the steam wand. It's a 360 degrees swivel wand. You can turn it in all directions, including away from the machine to steam milk and point downwards when not in use, which makes the machine compact. There's also a storage tray behind the drip tray for your filter baskets.
Overall, the build is solid, even with the plastic parts, and this espresso machine can last for years. The design is uniquely Breville and has a very polished look.
Espresso Quality and Heating System
A consistent and hot temperature is critical to good espresso. Cold water (sub-190 degrees) will lead to sour espresso, boiling water will add bitterness, and variability will create both. The Barista Express uses a thermocoil to heat water. Thermocoils (or thermoblocks) are popular on consumer machines, and Breville gets credit for making thermoblocks quite usable for the masses.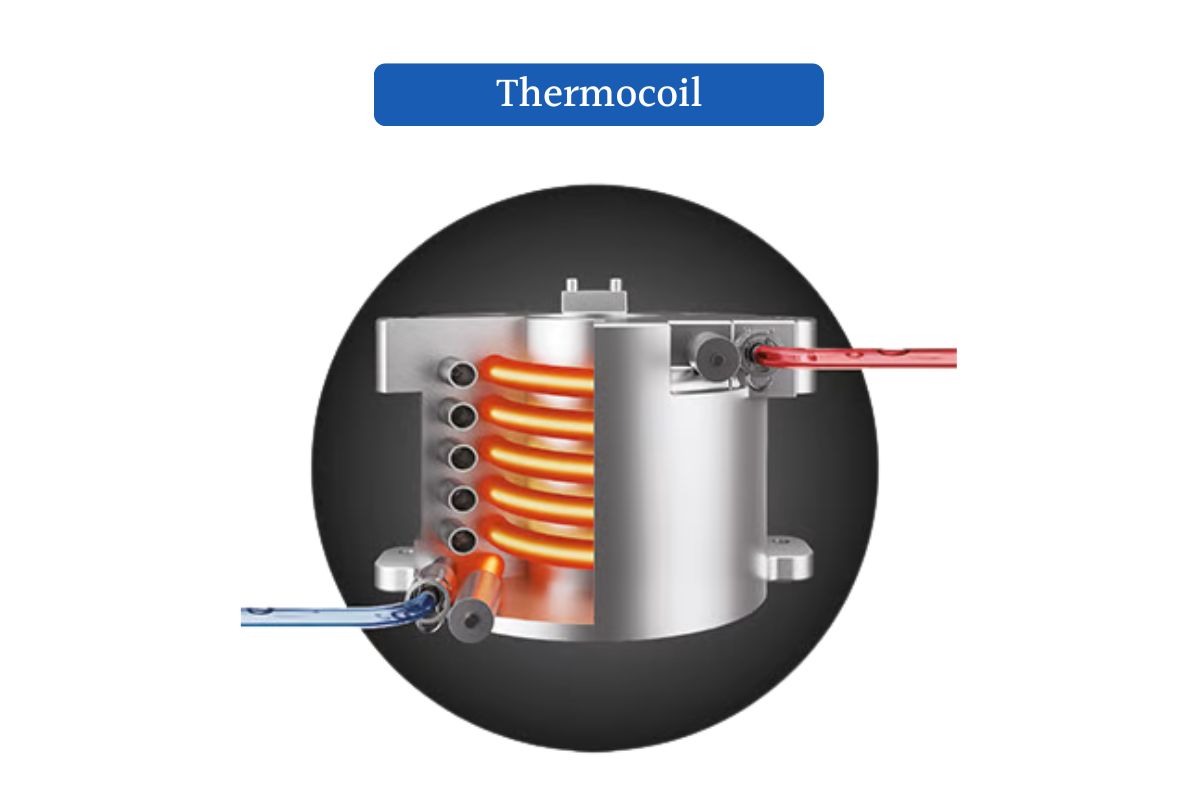 The Barista Express has an older thermocoil heating system, which heats the machine in about 30 seconds. Plus, the thermocoil system heats the top of the machine. You can place your mugs there and preheat them, so you'll have a hotter espresso.
However, the shots aren't as consistent as on newer models, such as the Barista Pro, and this is largely because of the older heating system on the Barista Express. Newer machines, such as the Barista Pro, have a Thermojet system that heats the device in only three seconds.
Another way to tell the Thermocoil isn't consistent is that the machine will "growl" at you. After you pull a shot or finish steaming, you'll hear a rumbling noise and see steam coming on the drip tray. This is because the thermocoil is discharging hot water. The thermocoil is too hot, and it needs to run water through it to cool it off. You don't quite get that on the Barista Pro.
However, the Barista Express has several extra functions that ensure good espresso quality.
Let's start with pre-infusion. The machine slightly dampens the coffee beans during pre-infusion, which lets the coffee bloom and distributes the grounds evenly. That way, the espresso is evenly extracted when the pumps ramp to the full nine bars of pressure. Overall, it results in a more flavorful espresso and better extraction. 
Moreover, you can adjust the pre-infusion time to suit your taste. For example, I prefer a longer 10-second pre-infusion. This is a major plus for the Barista Express and the Barista Pro, while some other more expensive Breville machines don't have adjustable pre-infusion (Barista Touch, I'm looking at you). This is easily done on the Barista Express — hold down the brew button to start the pre-infusion, then release the button, and the machine will go to full pressure.
A second feature that contributes to espresso quality is the digital PID temperature control. PID monitors and maintains the temperature of the brew head and ensures it remains consistent without large spikes. Essentially, it's a sensor that checks the temperature and ensures consistent extraction. Moreover, you can adjust the water temperature between 187 and 205 degrees. It might seem like a small interval, but even a change of two degrees can greatly influence the final brew result.
Overall, it's not top-of-the-line heating, but the extra features make it quite usable, especially for a beginner machine.
Note: I recommend pulling a blank shot so the group head and the portafilter have time to warm up. Or wait longer than 30 seconds.
How To Make Espresso On The Barista Express
The process of pulling a shot is straightforward. The machine grinds straight into the portafilter (more on the grinder below). You can use the little brush that comes with the espresso machine to clean off excess grinds, tamp with the provided tamper, which conveniently slots into its storage space via a magnet when not in use, lock the portafilter in place, select single or double espresso, and monitor the extraction via the pressure gauge.
The trick is to adjust your grind size based on the pressure gauge. If the pressure gauge reads too high = grind coarser. If the gauge doesn't get into the "espresso range" grind finer.
You can also use time as a guide for grind size, as a good shot should finish in 25-35 seconds. Too short = grind finer, too long = grind coarser.
Barista Express pulls a decent espresso. The espresso has rich crema on top and is not too acidic.
However, espresso on the BBE is somewhat sharp and bitter, and the flavor changes from shot to shot. That reflects the heating system on the BBE, as the thermocoil gets too hot and the temperature oscillates too much. Precise temperature is not easy and that's why the newer models are more effective. The newer Thermojet is a step up and why we like the Barista Pro.
Also, espresso quality also depends on the coffee beans, and they should be fresh. Remember, every bean requires some "dialing in" so don't be surprised if you get a wildly different flavor when using the same preset grind and brew time with a different roast.
Tip: Always brew espresso first, then steam milk. Otherwise, the water will be too hot, and you'll get bitter espresso.
Integrated Grinder
One of the biggest features of Breville Barista Express is the built-in grinder. The grinder has 40 mm conical burrs calibrated for espresso. This is a decent grinder for espresso newbies, especially given the integrated nature of it. However, you'll feel a need to upgrade sooner or later.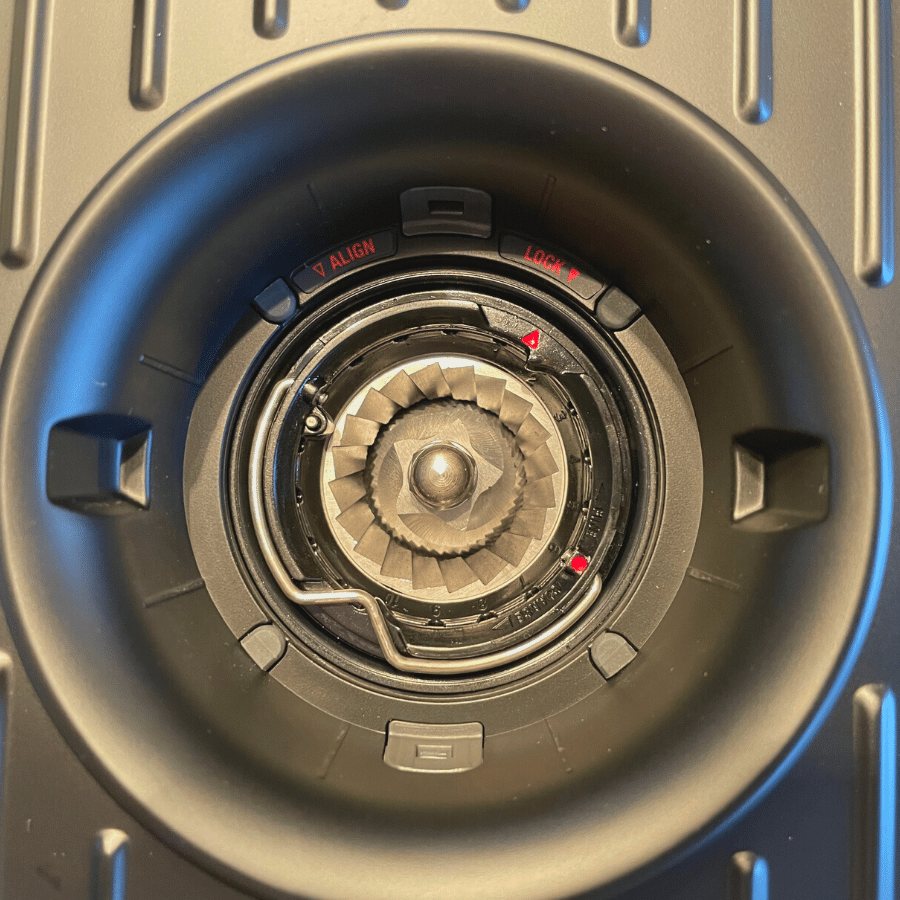 The built-in grinder saves a lot — both on ease of use and cost. Buying a separate one can be a significant expense. An espresso machine with a grinder also means you'll have to dedicate less counter space to your coffee equipment (and one less outlet to use in the kitchen).
The dose is automatically calculated based on time, and the espresso machine grinds the correct amount of coffee without any input from you, which espresso newbies will love.
However, there are some downsides to the Breville Barista Express grinder. First, the grounds tend to come out quite clumpy, and you need to use a WDT tool (aka needle tool) to break up the grounds. 
Moreover, the Barista Express grinder has 16 settings, which is limiting for espresso. Espresso is a nuanced drink, and you need lots of settings to get the grind just right. For comparison, we tested some hand grinders that have over 400 settings.
Overall, the grinder is more than passable for an entry-level machine. However, it doesn't have precise micro-adjustments between clicks, which makes it difficult to achieve precision and dial in exactly how you want.
Milk Frothing
The Breville Barista Express is a single boiler machine, which means you can't brew and steam at the same time. You'll have to wait a little for the thermocoil to heat the water and turn it into steam. The steam wand is a one-hole, 360 degrees swivel wand, and the frothing is easy because you can move the wand in all directions. This lets you angle it off to the side or move the jug up and down to steam the milk.
To steam milk, make sure the Hot water/Steam light has stopped blinking, and turn the dial on the right side of the machine to steam. I recommended placing the wand over the drip tray to catch any liquid coming out, as it tends to dispense lukewarm water first. Once it's spewing out pure steam, turn off the steam briefly, place the wand in the milk pitcher, and switch it on. 
You'll need some practice to get the hang of using the wand. For example, you want the steam wand tip barely beneath the surface to hear a hissing noise. Also, hold the jug at a slight outward angle to create a vortex. You should keep moving it until you have airy, fine bubbles for a cappuccino.
Overall, this isn't an automatic wand that does the work for you (that is the Barista Touch or Bambino Plus models). You'll have to learn how to steam milk. Also, it isn't the most powerful or the fastest wand. It takes time for the thermocoil to produce steam, and you'll need about a minute and a half to froth milk (for comparison, Barista Pro takes about 40 seconds). Finally, you can't control the milk temperature or the texture.
Interface and Programming
The Breville Barista Express interface has controls that are clearly labeled, and the control panel is easy to navigate. The Barista Express interface is more traditional looking compared to the more modern LCD displays on newer machines. Some call this dated, some call this retro chic. I actually learn towards the latter and like the analog pressure gauge.
There's an analog pressure gauge in the middle and three buttons on both sides. The machine has plenty of programmable features, but the interface isn't very intuitive, so I had to read through the instruction manual fairly often to get the hang of the features. You can program the shot volume, water temperature, and pre-infusion time by using the buttons in a specific order.
The pressure gauge is becoming an outdated feature, but I'm a fan. As said earlier, it's a check on grind size, as it shows if the internal pump is pushing hot water through the ground coffee at optimal pressure. I liked its location in the middle, and I think it provides valuable feedback during the extraction process that can help you dial in the espresso shot.  
Other Features and Accessories
Here are a few other features that make use easy on the Breville Barista Express:
Removable bean hopper — It's easy to quickly access the burrs to clean or calibrate them.
Hot water outlet — There's a separate hot water outlet when you want tea or an Americano.
Hidden storage compartment — You can slide out your drip tray to pull out a storage compartment for extra filter baskets.
Water temperature — You can change the water temperature for brewing, which can enhance your shots if it's too bitter (go cooler) or too sour (go hotter).

To change the water temperature on a Barista Express, hold the program while the machine is off, wait for the machine to light up, then push any one of the buttons to set the temperature. The left-most button (power) is the coolest temperature, and the right-most (two-cup) is the hottest temperature.
The machine comes with accessories, such as pressurized and non-pressurized filter baskets, the razor tool (to trim excess coffee grounds off the filter basket), a cleaning disc, tablets, a coffee scoop, a tamper, and a stainless steel milk jug. Overall, everything you need to make espresso and maintain the machine is included.
My model also came with a dosing funnel. This was a nice surprise, as it helps keep the grounds clean when dosing. If you didn't receive a funnel, try registering your product with Breville and ask.
Value
Breville Barista Express is good value for money. This semi-automatic espresso machine is reasonably fast and easy to use. It retails for under $800, which is a reasonable price, especially compared to newer Breville machines whose prices go over a thousand dollars and up.
The value is a big standout for this machine. It's hard to find something fully integrated — grinder, heating system, and steam wand – that works consistently. Barista Express espresso machine makes decent espresso, makes milk-based drinks, and you don't need to buy a separate grinder. Overall, you have everything you need to make coffee in one device.
---
Recommendation: Who Is Breville Barista Express For
Breville Barista Express is a great espresso machine for people looking to get into the world of coffee. It's a one-in-all package that lets you learn how to dial in and make milk-based drinks without having to spend thousands of dollars.
It's also a good choice if you're on a budget, you aren't scared of putting in the work, and you aren't looking for a forever machine but a machine that lets you grow into your barista skills.
Alternative Options: Comparing The Barista Lineup
There are four models in the mid-range Barista line. We still prefer the Barista Pro the most, given it has the newer features yet costs just more than the Express:
Product Title
Heating system
Heating system
Thermocoil
Thermocoil
Thermojet
Thermojet
Grinder settings
Grinder settings
16
25
30
30
Milk frothing
Milk frothing
Manual
Manual
Manual
Automatic
Interface
Interface
Buttons, pressure gauge
Buttons, pressure gauge, assisted tamping
Buttons and LCD display
Touchscreen
Barista Express Impress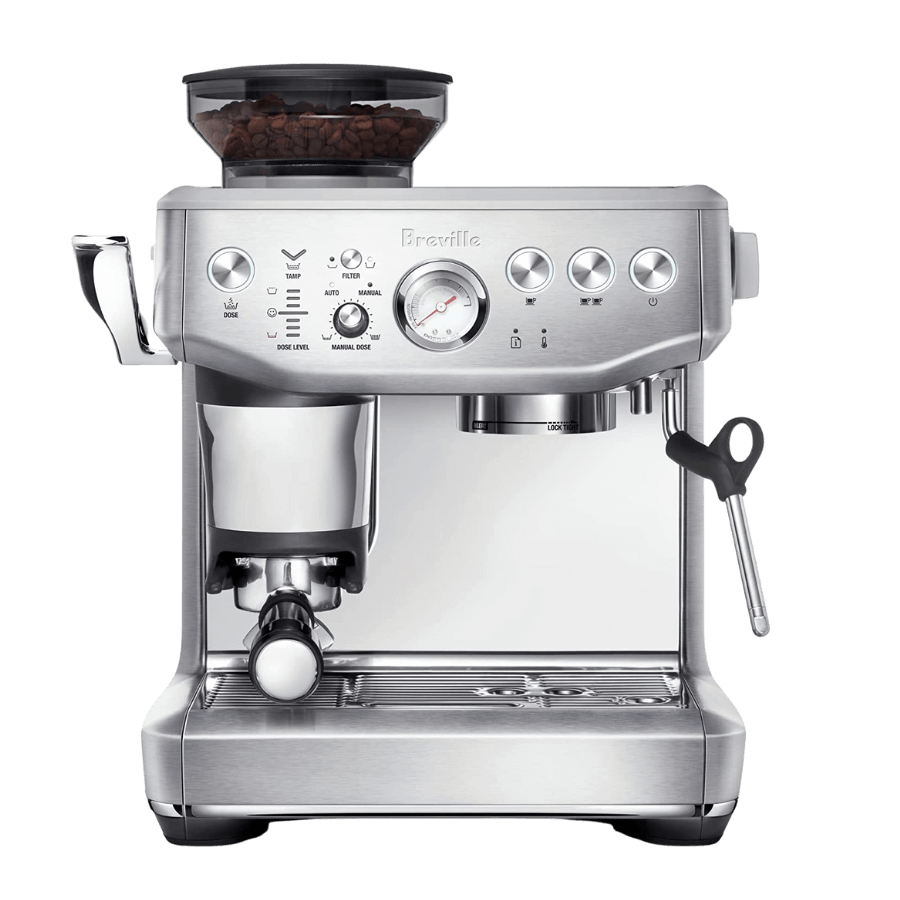 Breville Barista Express Impress Features:
Assisted tamping
Automated dosing
54 mm portafilter
68 oz water tank
Barista Express Impress is essentially an improved version of the Barista Express. The areas I'd like to see the most improvement in — the heating system and the steam wand — remain the same. However, the Express Impress has automatic tamping and dosing. This espresso machine removes the work and mess of tamping. However, this also means you don't have as much control over the espresso shots.
Another big difference is that the Express Impress has 25 grind settings, which is a big improvement compared to the 16 settings found on the Barista Express. However, the Impress comes at a big premium, and the Barista Express is the better value, especially if you don't care about the automatic internal tamping.
Barista Pro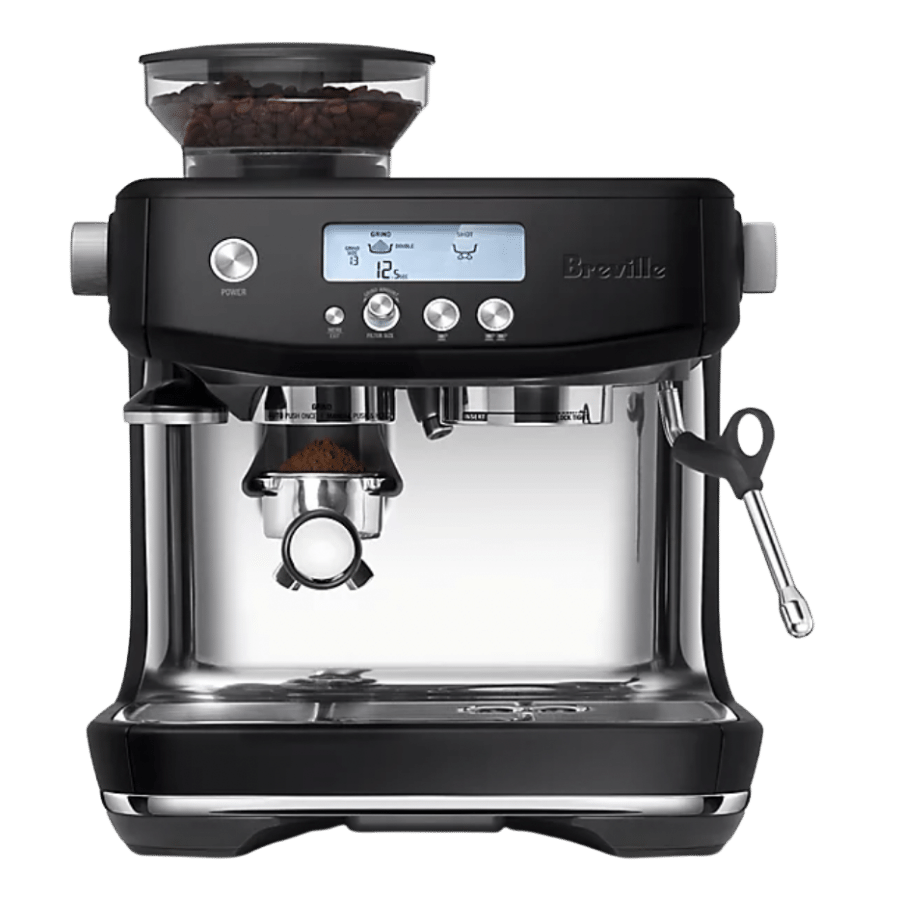 Breville Barista Pro highlights:
Integrated conical burr grinder
2-liter water reservoir
ThermoJet heating system
Intuitive LCD digital interface
Barista Pro has a ThermoJet heating system that heats the machine in only three seconds. You don't need to wait as long between steaming and brewing, and this system has better temperature stability. Overall, the heating system is a significant improvement over the Barista Express.
Another big difference between the Pro and the Express is the grinder. Pro has a better grinder with 30 settings, which means a higher chance of getting the exact grind you want. The grinder has dose control, so the machine grinds the exact amount of coffee you need.
Finally, the Pro is a more modern machine. It has an LCD display that's easy to use and is more intuitive than the buttons on the Express. The Pro also has a four-hole steam wand, which makes excellent microfoam, and you can work on your latte art.
Overall, Barista Pro is a better choice than Barista Express. Even at the premium, it's well worth the better heating system, grinder settings, and steam wand.
Barista Touch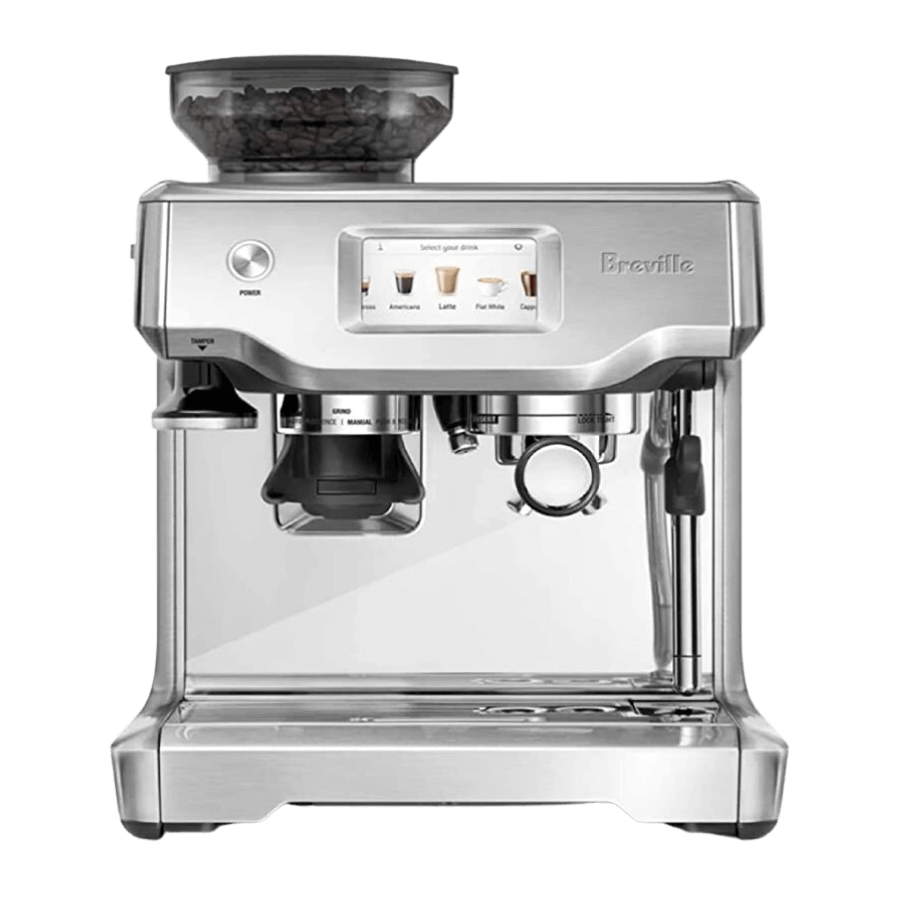 Breville Barista Touch highlights:
ThermoJet heating system heats up in 3 seconds
Conical burr grinder with 30 settings
Automatic Panarello wand
15 bar Italian pump
Breville Barista Touch is a great machine for coffee lovers who want ease of use and convenience. This coffee maker makes the entire brewing process more automated. You still need to tamp the puck yourself, but that's as far as the work required from you goes.
The machine has a color touchscreen display. You control every aspect of the machine, from the display, and customize the drinks according to your preferences. This espresso machine also has a fully automatic steam wand with a built-in temperature sensor on the drip tray. You can choose between eight texture settings and five pre-programmed drinks or create eight custom drinks with their own names and icons.
Finally, the grinder has an impressive 30 settings, which means more space to dial in. Overall, this machine is a great choice if you want to customize your drinks and don't want to froth the milk yourself.
Is Breville Barista Express for You?
Even a decade after it first came out, Breville Barista Express remains a solid espresso machine. The heating system and the grinder could be improved upon, but you'll still get solid espresso shots. This machine is a good choice if you're looking for your first espresso machine and want more value.
However, if you'd like something more advanced, consistent, or easier to use, check out our round-up of the best Breville espresso machines. We've reviewed every single Breville machine, so you have all the info in one place.