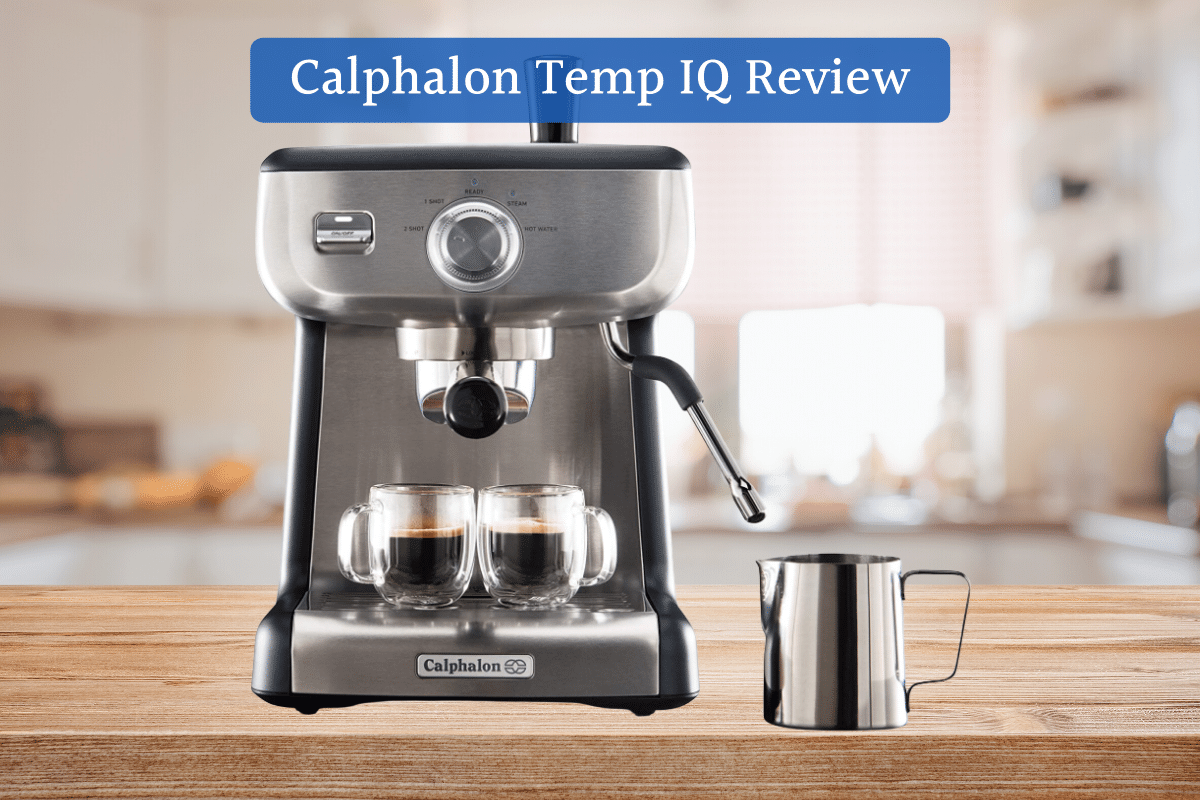 I used to think Calphalon Temp IQ was one of the best entry-level espresso machines. On paper, it looked great: good heating system, commercial-size brew head, and a nice steam wand.
But, after more testing recently, I am less enthused. My espresso wasn't quite hot enough, the interface is annoying, and it only includes pressurized filter baskets. Don't get me wrong, Calphalon Temp IQ still has strong points going for it, and it is a good starter machine.
I'll review the pros and cons with recent updates and explain why I think the Breville Bambino and DeLonghi Dedica are better options at the price point. Let's get into all things Calphalon Temp IQ.
Quick Highlights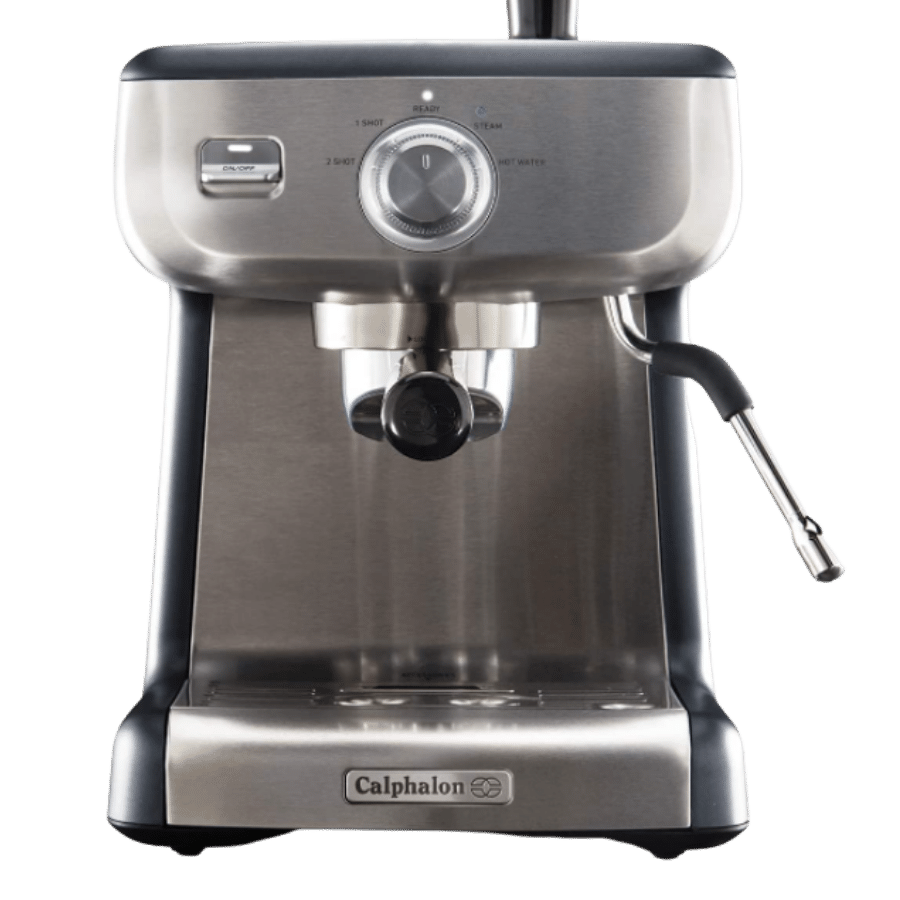 Calphalon Temp IQ highlights:
Dimensions: 13.9 x 11.6 x 15.3 in
Weight: 15.4 pounds
Heating system: Thermoblock with PID
Controls: volumetric shot control
2-liter water reservoir
Full metal steam wand
Accessories: 58mm portafilter, two pressurized filter baskets, and milk jug
Calphalon Temp IQ: Craft Coffee Spot Rating (no grinder option)
Performance and Espresso Quality
5.5
Here are the main pros and cons I found.
Pros
58mm brew head similar to commercial machines.
Fast transition between brewing and steaming.
Steam wand can make textured milk for lattes and cappuccinos.
Cons
Brewing temperature is cooler than normal, leading to flatter taste.
No way to adjust preset brewing volumes
Only pressurized (dual wall) filter baskets.
Feature Breakdown
The Calphalon Temp IQ espresso machine features PID temperature control, a 58 mm brew head, a thermoblock heating system, and many other characteristics that make this espresso machine easy to use. Here's a detailed breakdown of each of them, with an explanation of why they matter.
Design
Calphalon Temp IQ espresso machine has a stainless steel exterior with chrome accents.
Apart from the stainless steel, there's black plastic on the top and sides. In my opinion, the plastic doesn't detract from the design but compliments the stainless steel look nicely.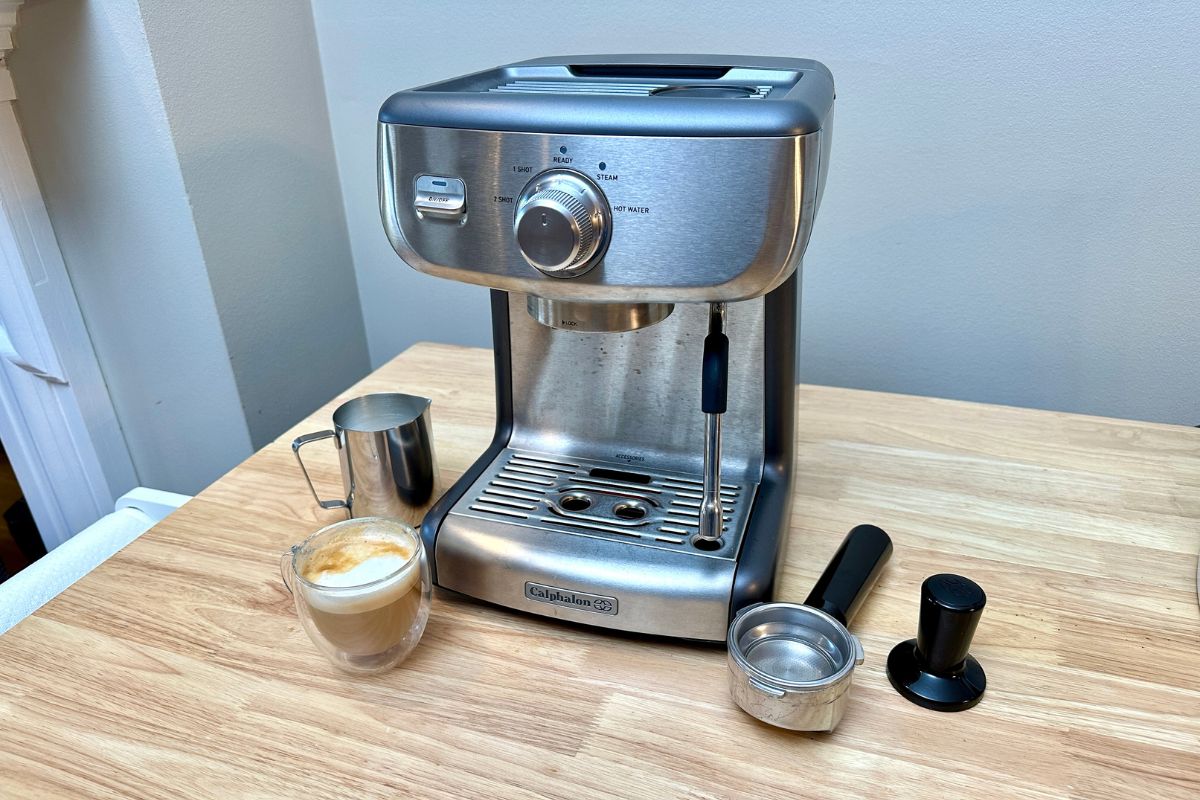 This semi-automatic espresso machine has a steam wand on the right and a pouring spout in the center. It can fit two espresso cups. Above the pouring spout, there's a control panel, which has:
A dial button (right above the spout). You use it to choose between one or two espresso shots, turn on the steam wand, and start hot water dispensing.
Toggle to turn the machine on and off.
Above the control panel, there's a spot for the tamper and a cup warming tray. The tray has space for two espresso cups and comes in handy for warming them.
The removable water reservoir is on the back of the Calphalon Temp IQ espresso machine.
The machine doesn't look quite as high-end or modern as newer espresso machines (again, I'm looking at the Bambino and Dedica). The mechanical looking dial doesn't give it any design points either.
Moreover, the two cup is on the same dial and you need to rotate the dial past one cup. For example, if you usually use the two-cup option and stop early on one cup by accident, your shot will be too short.
Overall, I found the interface annoying with a single knob, and there's also no way to reprogram the drink options.
Want More Coffee Tips?
Join the email list for exclusive coffee insights and deals that only subscribers get. You'll get two coffee discounts just for joining.
No spam, ever. We respect your privacy and unsubscribe anytime.
58mm Portafilter
Every espresso machine has a brew head — the part where you attach the portafilter. Most home machines have a smaller size, but the Calphalon Temp IQ espresso machine is 58mm, which is the standard size for commercial machines.
The brew head is the first place the water is pumped into before it reaches the tamped coffee grounds in the portafilter basket. A wider diameter brew head means the water soaks and extracts the coffee grounds more evenly. A larger brew head improves brewing espresso, and most espresso machines opt for a 51mm or 54mm brew head.
Calphalon Temp IQ machine has a 58mm portafilter that's about 2.5 in deep. This makes it cafe-sized and helps achieve even water dispersion and optimum extraction. The portafilter's ability to hold coffee grounds means your espresso will have a more robust flavor.
All in all, I was satisfied with the portafilter. The only drawback I found is the bottom of the interior is plastic and not stainless steel.
Filter Baskets
This coffee machine also has two pressurized (dual wall) filter baskets — for single and double espresso shots. Pressurized baskets are a good choice for beginner home baristas, as they give more leeway across different grind sizes.
Even if your espresso grounds are too fine or too coarse, there's a higher chance you'll get a good espresso drink. This is especially significant as this version of Calphalon Temp IQ doesn't come with a coffee grinder.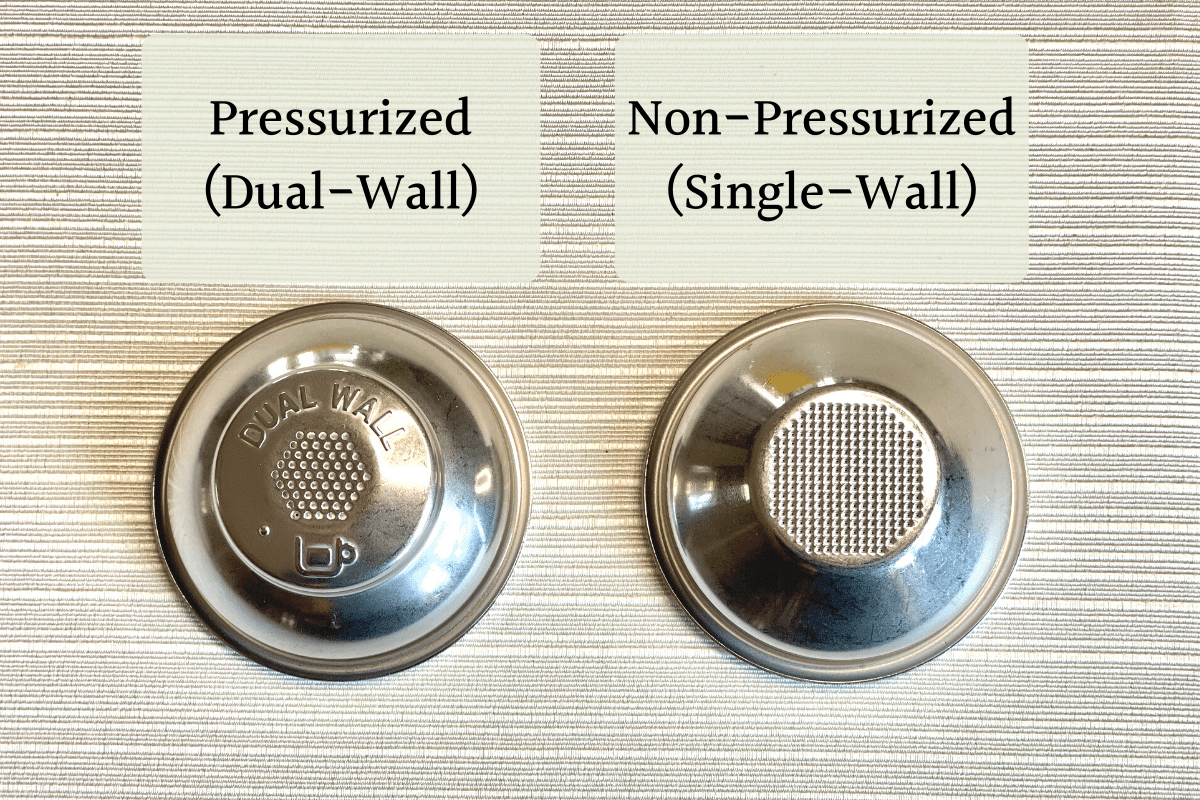 That being said, I prefer non-pressurized baskets, and you'll reach for these as your brewing skills progress.
I tested the Calphalon Temp IQ with both types of baskets and had different results. I used grind size 24 on my Baratza Encore ESP grinder. The taste was acceptable, but somewhat bland and cooler temperature. Then I tried 17 grind size in a non-pressurized basket. The results were better – my shot had some flavor and acidity, but was still cool and had a thin body.
Interestingly, the Calphalon Temp IQ can work with a lot finer grind in a single-wall basket compared to the Bambino (the Bambino was stuck on the grind size 20 while Calphalon worked fine with 17). However, Bambino still produced a richer and darker flavor with coarser grounds.
Thermoblock
Calphalon Temp IQ espresso machine has a thermoblock heating technology, which heats the water quickly and consistently.
I like thermoblocks, which are aluminum blocks with a stainless steam pipe wrapped around inside. The water comes in one end and gets heated quickly in the piping system of the thermoblock.
Thermoblocks are considered more energy efficient than boilers, as they only heat the water when in use. Also, the Calphalon Temp IQ espresso machine is fast, and the start-up time is around one minute.
However, the low temperature was one of the biggest issues I had with this machine. It gets up to 160 degrees at most, which results in a thin and flat espresso flavor. For comparison, the ideal espresso temperature is between 190 to 196 degrees, so Calphalon falls significantly short.
PID Temperature Control
PID temperature control goes hand-in-hand with thermoblock technology. Together, they provide the optimum temperature.
PID stands for a proportional–integral–derivative controller, and it's used to regulate temperature and pressure in an espresso machine. The water that reaches the tamped ground coffee is the exact temperature needed for optimum oil extraction.
This feature is usually found in higher-end espresso machines, as it guarantees even heat during espresso extraction. I was pleasantly surprised to find the Calphalon Temp IQ also has it.
PID is considered the most stable controller in a thermoblock heating system.
Pump and Espresso Quality
The Temp IQ espresso machine has a 15-bar Italian pump with a pressure relief system that prevents over-pressuring and helps achieve even extraction.
Bar measures atmospheric or barometric pressure at sea level. This pressure is used to push water through the grinds in espresso machines. As water goes through the coffee grounds, it extracts oils, flavors, and other coffee components, which are released through a spout and into a cup.
Always get an espresso machine that generates 9 to 15 bars of pressure for a rich and creamy espresso. Everything under and over this can result in a weak or burnt espresso.
I pulled consistent espresso with a nice crema, so the pump does its job well. Once the extraction is done, the dial goes back to the ready position, and any remaining pressure gets released into the drip tray.
Steam Wand
The Calphalon Temp IQ espresso machine comes with a commercial-grade steam wand. It does a good job of frothing milk for my morning lattes.
I found the steam wand to be decent. It starts in 15 seconds and sends out a lot of steam with a one-hole tip. I could froth 200 g of milk in just over a minute. The milk turned out fine, but not amazing. Overall, the steam wand isn't as powerful as on the Bambino or on the Dedica Arte, and doesn't aerate as much. It warms the milk, but the texture is thinner and more watery.
Once you're done frothing, the machine purges itself to cool down. I usually run some water to cool it down further so I can brew again.
The steam wand is manual, so you have to climb the learning curve as a beginner before making latte art. The nice part is this wand comes on a ballpoint and is easy to rotate. It's easy to position the stainless steel milk pitcher for proper stretching and aeration.
The Calphalon Temp IQ uses a thermoblock heating system, it takes about 15 seconds to transition from brewing to steaming modes. It's a little longer than boiler systems, and you can't brew and steam simultaneously. That said, the Temp IQ is still faster than many other espresso machines I've used.
The coffee machine also comes with a 6oz frothing pitcher. This is on the small side, so I recommend looking into a bigger alternative. You don't want your milk to overflow and make a mess.
Volumetric Shot Control
With Calphalon Temp IQ, you can choose between single and double shots. All you have to do is turn the dial to the shot of your choice. The auto-shot volumetric shot control will pour the exact amount of water needed to pull the shot, and then automatically stop.
This feature is useful because it means there's less work for you. You won't have to calculate the coffee-to-water ratio, i.e., dial in the shot, to get a delicious espresso.
Warming Cup Tray
I mentioned that Calphalon Temp IQ has a cup warming tray on top. This comes in handy for keeping the cups dry, as a wet cup can cause breaking surface tension when doing latte art.
The only downside is that this is a plastic cup warming tray, so it won't get as hot as a metal one would.
Cleaning
Temp IQ espresso machine doesn't differ a lot from other espresso machines when it comes to cleaning.
Both the portafilter and baskets should be hand-washed. The drip tray has a floater that indicates when it's full. I liked that the drip tray can be removed, which makes the cleaning easier. The tray easily slides out, and parts snap apart. It also has to be washed by hand.
Both the portafilters and baskets were easy to clean. It's enough to hand wash them. I liked that the Calphalon comes with a cleaning pin in case the filter basket gets clogged, and you have to unblock it. However, this never happened while I used this espresso machine.
Make sure you always clean the steam wand right after every use! That'll prevent future clogging and messier clean-ups later.
The cleaning tool (and the baskets) fit nicely behind the drip tray, so you won't have to fear you'll lose it.
Value
The Calphalon Temp IQ espresso machine has a good price-to-value ratio. It's available at a lower price range compared to many other coffee machines.
This is a good choice for you if you're looking for an affordable option, already have a standalone burr grinder, and don't mind a little weaker coffee and pressurized baskets. Otherwise, there are better-performing machines at a similar price point.
How to Use the Calphalon Temp IQ
Temp IQ is an entry-level espresso machine, so it's fairly easy to use. Here's a step-by-step guide:
Use the toggle to turn it on. When the indicator light flashes, you'll have to wait about 40 seconds for the espresso machine to pre-heat. You can start coffee brewing once the "ready" light is on.
Put the filter basket in the portafilter. Choose between a single or double shot.
Fill the filter basket with ground coffee beans and use the tamper to tamp evenly.
Attach the portafilter to the head. You'll need some strength to do this, and the espresso machine may move on the counter, so place one hand on it to keep it in place.
Turn the dial to one or two shots. This will start the pre-infusion, and after a couple of seconds, you'll see coffee come out of the spout.
That's all. Temp IQ espresso machine is easy to use, mostly thanks to the pressurized portafilter and volumetric shot control.
You can also brew other espresso-based beverages. For example, to brew an Americano, brew your espresso, turn the dial to hot water, and place the cup beneath the steam wand. The hot water dispenser will pour over the espresso.
Of course, you can also brew milk-based coffee drinks by frothing the milk after pulling an espresso shot.
Calphalon Temp IQ Review: Our Recommendation
The Calphalon Temp IQ espresso machine is a good choice if you're on a budget, want a solid steam wand, or don't mind a weaker coffee and pressurized baskets.
Otherwise, I recommend checking out Bambino and DeLonghi models. You'll get more for your money.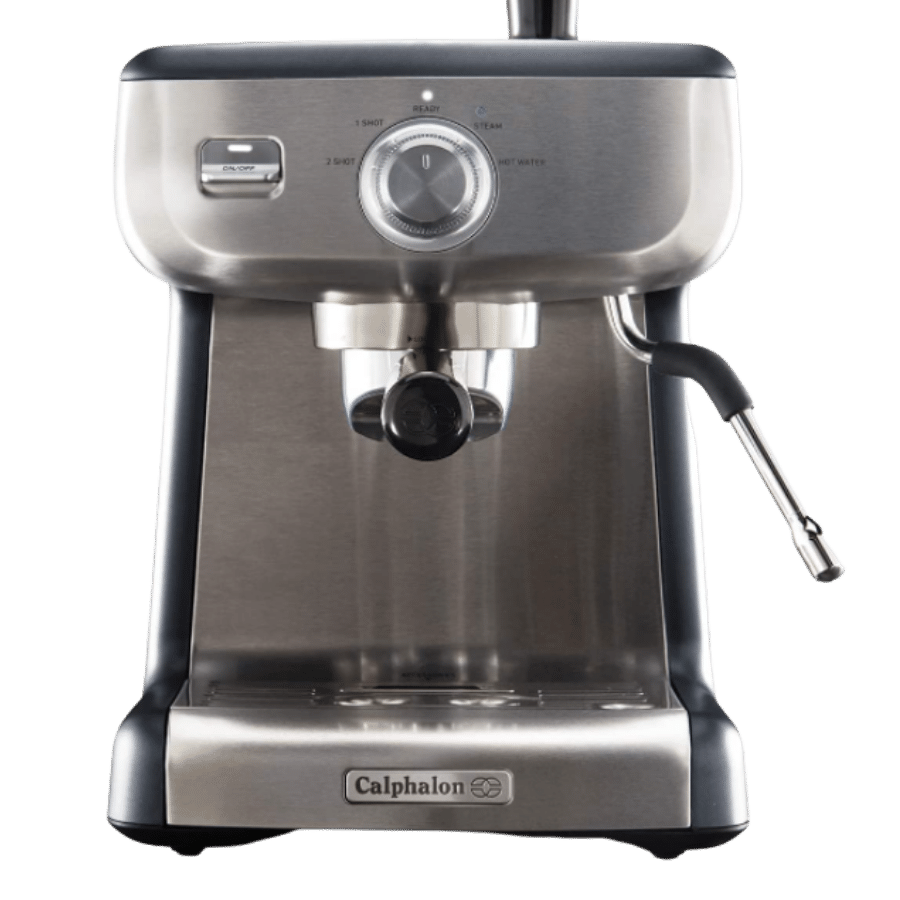 Calphalon Temp IQ is a solid option for home baristas. It's easy to use, operate, and clean. It's a little noisy and inserting the portafilter can be tough, but if you switch to non-pressurized baskets you can get decent espresso.
If you want to get an entry-level machine to hone your espresso-making skills and work on latte art, this is a good choice.
However, if you absolutely need a coffee grinder, this isn't the option for you. We always recommend using a burr grinder to grind coffee right before brewing. Quality coffee grinders don't come cheap. It can be more affordable to get an espresso maker that has an integrated burr grinder.
Alternative Choices to the Calphalon Temp IQ
Breville Bambino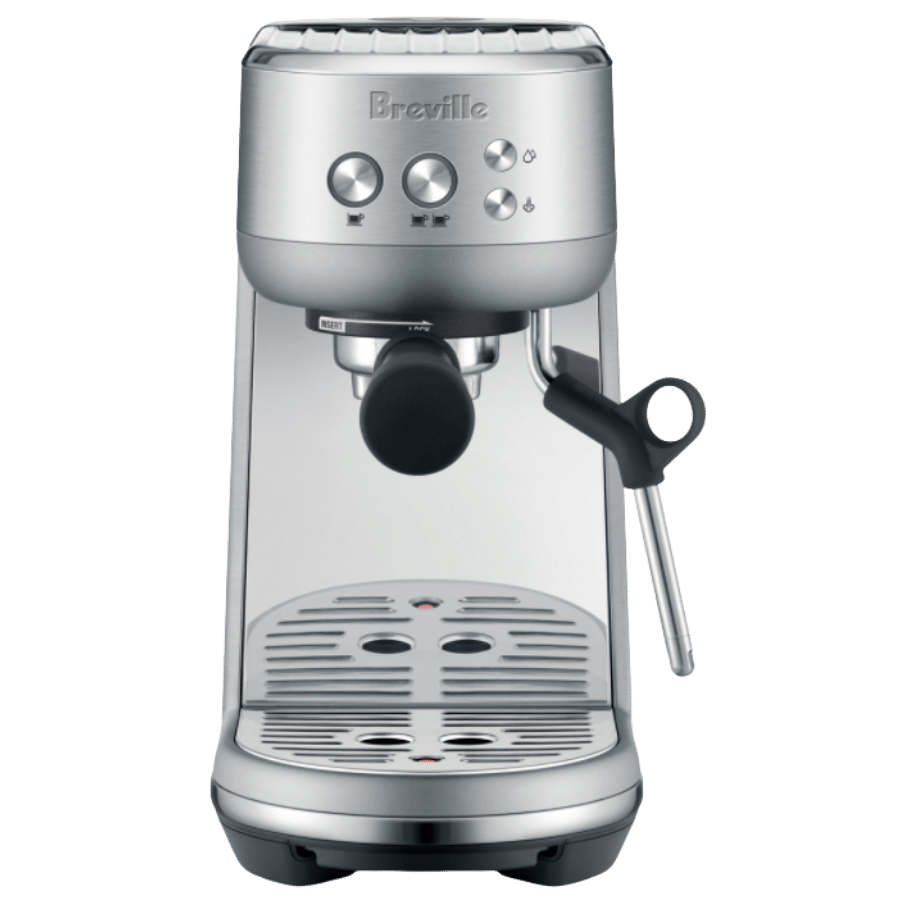 Breville Bambino highlights:
Thermojet heating system heats the machine in 3 seconds
Manual steam wand with 360 rotation
54 mm portafilter with pressurized baskets
Check Amazon
Check Breville
Breville Bambino is an excellent alternative to the Calphalon Temp IQ. The Bambino has a new Thermojet heating system, which heats the machine in an impressive three seconds.
Moreover, the Thermojet means the steam wand is more powerful compared to the Calphalon. The Bambino features a manual steam wand. The wand is on a ball point and swivels completely, allowing for easy positioning in the milk jug.
Most importantly, the Bambino has better espresso performance. The Bambino ensures a quick heat-up time of 3 seconds and no lag between espresso shots and milk steaming. It also features a 15-bar Italian pump and digital temperature control (PID) for consistent temperature and optimal espresso extraction.
Overall, the Bambino is simple and easy to maintain and produces better espresso drinks. It offers preset options for single and double espresso shots and includes a direct, push-button hot water function, which is great for Americano-style drinks.
DeLonghi Dedica Arte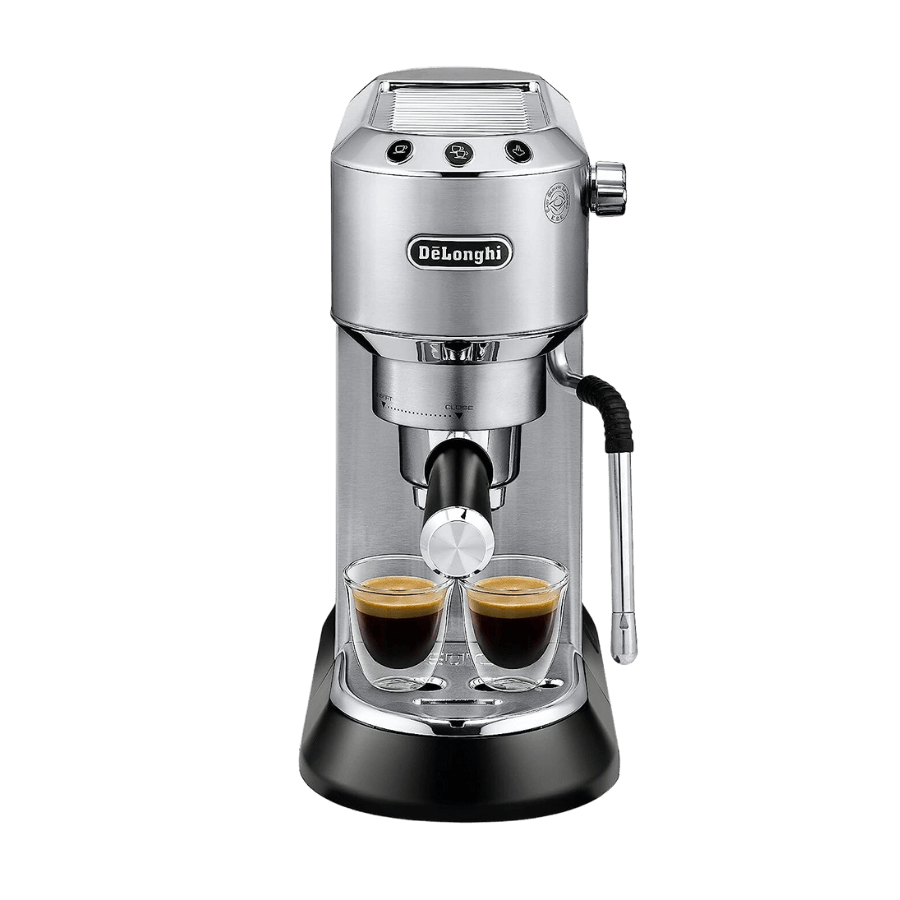 DeLonghi Dedica Arte highlights:
Thermoblock heating system heats the machine in 40 seconds
Single-tip manual steam wand
51 mm portafilter with pressurized baskets
Check Amazon
The DeLonghi Dedica espresso machine is another compact and budget-friendly option that beats the Calphalon Temp IQ.
The Dedica Arte model has a stainless steel finish with hard plastic, making it durable yet lightweight (8 lbs). The machine is easy to use, with a simple three-button interface for single and double espresso shots and steam function. However, it can be tricky to attach the portafilter to the brew group due to its lightweight design.
Espresso quality is generally good, but the machine comes with a 51 mm portafilter and pressurized baskets, which can lead to over-extraction and bitterness. My advice is to upgrade to non-pressurized filter baskets straight away for improved flavor and crema.
Another tip for better espresso results is to pull a blank shot first to warm up the portafilter and brew group.
Finally, the steam wand is more powerful than on the Calphalon and is effective for frothing milk and creating latte art.
Calphalon Temp IQ: Final Thoughts
Calphalon comes with many of the features of a high-end espresso machine. These include the 58mm brew head, PID control, thermoblock heating system, volumetric shot control, and high-quality steam wand. Despite all of these, there are better espresso machines at a similar price point.
If you're looking for a beginner espresso machine, check our buying guide for beginners, which includes a buying guide and our expert recommendations. We've also rounded up the 7 best espresso machines under $500.