DeLonghi is known for making some of the most reliable machines for home use. With Dinamica ECAM35025SB, they've pushed the envelope even further. This is the world's first automatic espresso machine that brews iced coffee. But is it worth your investment?
I recommend the DeLonghi Dinamica. I've been a fan of DeLonghi for a long time, and I've used and tested many of their semi-automatic machines, so I was thrilled to get my hands on this automatic coffee machine. Dinamica has a patented TrueBrew Over Ice technology that makes a full-bodied iced coffee using a combination of preinfusion, lower brewing temperature, and a special recipe for iced coffee. But, don't think DeLonghi Dinamica is only good for brewing iced coffees; Dinamica also brews high-quality espresso drinks.
In this DeLonghi Dinamica Review, I'll talk more about the iced coffee-making process, impressive grinder, steam wand, and other notable features. I'll also explain why I didn't like the bean hopper's lid, and I'll provide some coffee machine alternatives. Let's start!
DeLonghi Dinamica Pros Summary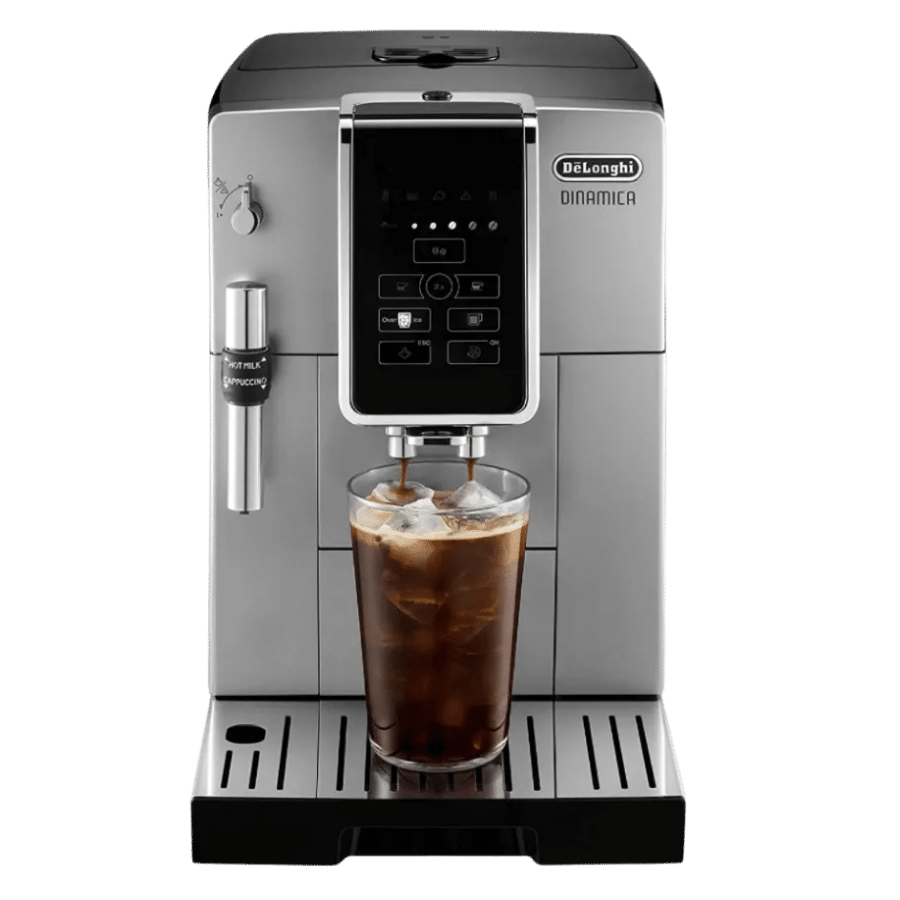 DeLonghi Dinamica highlights:
Dimensions: 16.9 x 9.3 x 13.7 in.
Weight: 24.4 lbs
Integrated steel burr grinder with 13 settings
Stainless steel boiling system
15 bar pressure pump
Beans Container: 250oz
Water Reservoir: 60oz
Heat-Up time less than 40 seconds
Removable brew head and dishwasher-safe drip tray
Adjustable milk frother
Overall, I have good things to say about DeLonghi Dinamica. The design is a matter of preference, but I liked its sleek look. I would prefer it if it was a stainless steel build, but I didn't experience any issues with plastic while using it.
One part I didn't like is that the bean hopper isn't removable and has a loose lid. You won't have freshly ground beans if they're exposed to sun and air.
I liked that there's a stainless steel boiling system, and it has the machine ready to go in 40 seconds. The steel burr grinder is top-notch. The 13 settings provide more than enough opportunities to find the setting that works for you. 
If you want your coffee ready with a press of a button and don't mind frothing milk manually, DeLonghi Dinamica is the coffee machine for you.
DeLonghi Dinamica ECAM35025SB: Craft Coffee Spot Rating
Espresso Quality & Brewing System
8.5
Pros
The super-automatic espresso machine brews multiple drinks, including drip coffee.
Comes with a top-notch burr grinder with 13 settings.
Brews full-bodied iced coffee with the TrueBrew system.
Water tank is easy to remove.
Maintenance and cleaning are easy.
Cons
Doesn't have an automatic milk steamer.
Difficult setup when first installing the machine.
Reading the manual is obligatory to understand how the super-automatic espresso machine works.
Feature Breakdown
Here are all the features of the DeLonghi Dinamica. I'll explain what to pay attention to and how the machine worked for me during the months I've used it.
Design and Specifications
Dinamica ECAM35025SB looks sleek and modern. It comes in two colors, silver and black — that's what the S/B at the end of the name means.
My machine had a black finish with chrome accents. Both frame and housing materials are made from metal and plastic. While plastic isn't ideal, it keeps the price down. Also, it feels sturdy. I had no issues with chipping or scratching the parts while washing and using the machine.
The display and buttons were well thought out. The front screen is easy to use to select the drink you want. You can choose between coffee strength (1 to 5) and drink type (more on those later). There's also a frothing milk button for making lattes and cappuccinos.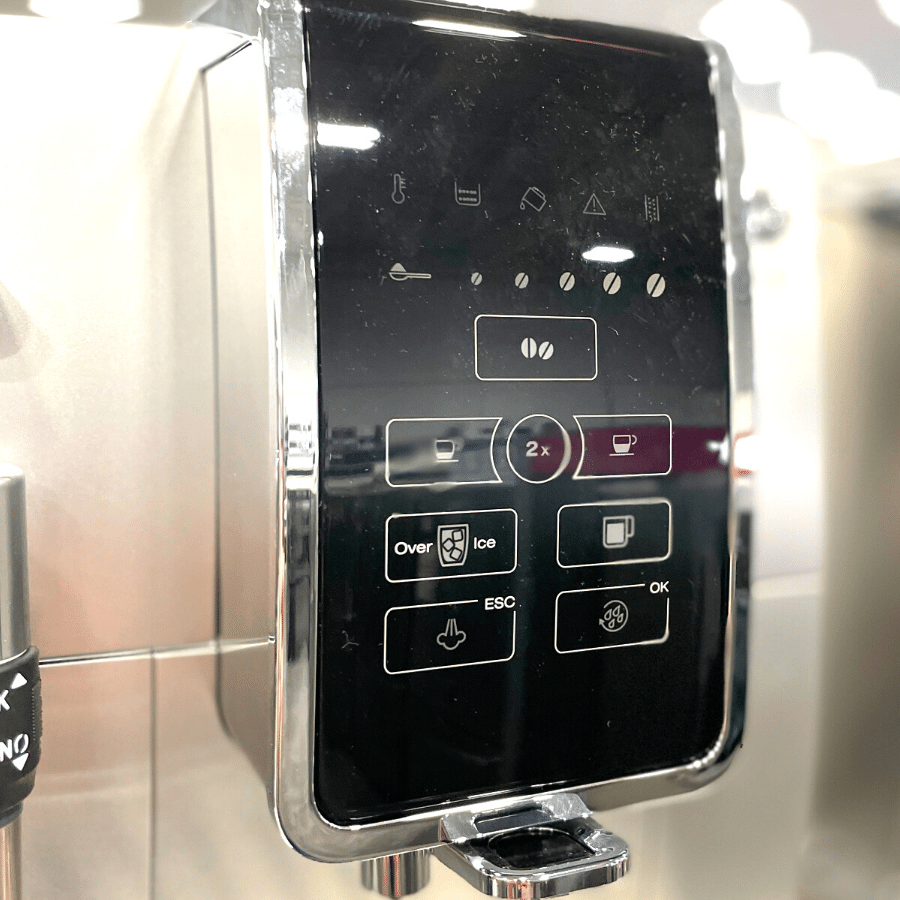 Below the display and the spout, there's a drip tray that catches a fair amount of liquid. Still, as the machine does an initial rinse when turned on and a final rinse when turned off, I recommend placing a glass underneath the spout so it's easy to dispose of the water. Dinamica also doesn't have a warming cup tray, so this is a convenient way to heat your cup before brewing.
I also appreciated the size of Dinamica. Compared to other super-automatic machines, it's a compact size, which is important if you're short on kitchen counter space. Its dimensions are 9.3 x 16.9 x 13.7 inches, which is small enough to slide under a kitchen cabinet (keep in mind you'll have to slide it out to add coffee beans).
The Dinamica has a large water tank — 60oz. But, what I liked even more than the size, is that the water tank slides in the front, and it comes with a water filter and a hardness test strip. You'll be able to adjust the dial on the machine based on the result of the water hardness test. Also, a water filter means less descaling, as there will be less calcium deposit. Less descaling means less work for you.
One design aspect I didn't like was the plastic bean hopper. The hopper holds 10.6oz of coffee beans and you load them from the top. My main gripe with the hopper was that it has a loose lid, which means it doesn't seal out air and light, which makes it difficult to have fresh coffee beans. You need to keep beans sealed to contain freshness and the Dinamica could've done a better job here.
Also, the warning that the bean hopper is empty didn't work. I wasn't happy when I found out I was out of beans in the middle of making my espresso. I admit, from then on, I became a little paranoid and checked how many beans were left daily.
Intregated Burr Grinder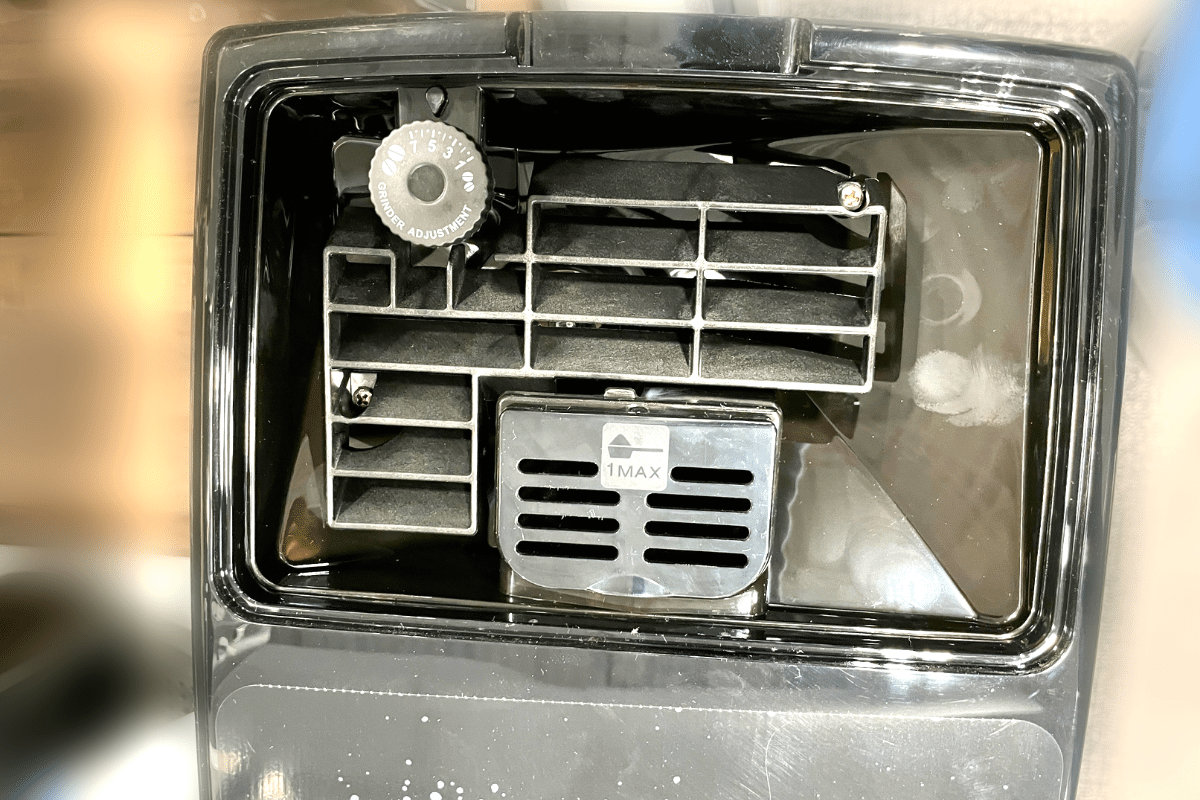 DeLonghi Dinamica super automatic espresso machine comes with a built-in coffee bean grinder. The grinder has 13 settings which are changed by turning the dial on the bean hopper. The 13 settings allow you to experiment and find the optimum extraction for your espresso.
This isn't the quietest grinder I've come across, but it's on par with other espresso machines.
This is a conical steel burr grinder, which means it'll last long and grind your beans to a uniform size. My favorite part is Dinamica's coffee management system. This espresso machine has a tubeless grinding chamber, which, together with the burr grinder, grinds the perfect amount of coffee. There'll be none or minimum leftover coffee grounds for the next shot.
When the machine is done brewing, the ground coffee goes into a removable coffee grounds container. This makes it easy to clean, and you can use the grounds for compost.
I don't recommend using oily beans for this grinder. You'll know beans are oily if they are shiny. Oily beans will leave residue on the grinder, which can clog it over time.
Another important feature is the bypass grind function, which means you can also use pre-ground coffee. The espresso machine comes with a scoop, so getting the correct amount of ground coffee is easy. This is a great feature when you're in the mood for a cup of decaf coffee.
Boiler System for Brewing Espresso
DeLonghi Dinamica super automatic espresso machine has a single boiler system, which helped DeLonghi keep this machine on the smaller side, and in a lower price range for automatic coffee machines.
The boiler does its job well. It has rapid steam technology, so it takes about 40 seconds from when you press the on button until the espresso machine is ready to start brewing. You'll also have to wait for the boiler to switch between brewing and steaming, but Dinamica does this in a matter of seconds.
Overall, I didn't have any issues with the boiler. I like that it's made of steel, so it'll last a long time.
Milk Frothing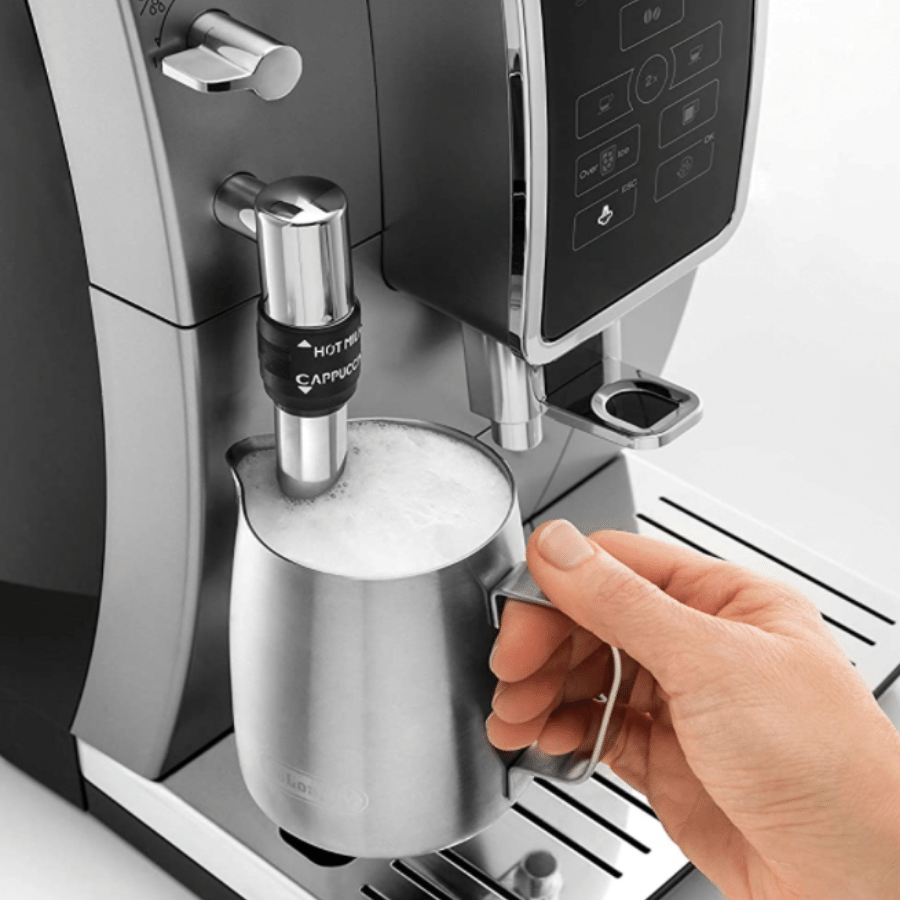 While DeLonghi Dinamica is an automatic espresso machine, it doesn't have an automatic milk frother but a manual one. This means the espresso machine won't steam the milk for you, so you have to do it yourself.
De'Longhi Dinamica has a Panarello steam wand. Panarello wands have little holes in the bottom so the air can go through, and you can get a good foam. This is a good steam wand for beginners, as you don't need much technique.
Dinamica's milk frother has two options: hot water and steam. Apart from frothing the milk for cappuccinos and lattes, you can make tea and hot chocolate with the hot water option.
I was able to achieve good microfoam consistency for my lattes. I also liked that you can choose between thick, medium, and relatively thin consistencies. This allows you to experiment and mix different consistencies. While you won't be able to make flat whites with any of these, the medium setting is perfect for lattes.
I also noticed how quiet the milk frothing process is, which is especially helpful if you're frothing milk first thing in the morning.
One mistake I made with the milk frother is not cleaning it after each use. This led to clogging and crusted milk inside the pipe. To make sure this doesn't happen to you, clean the wand after every use.
Different Coffee Drinks with the DeLonghi Dinamica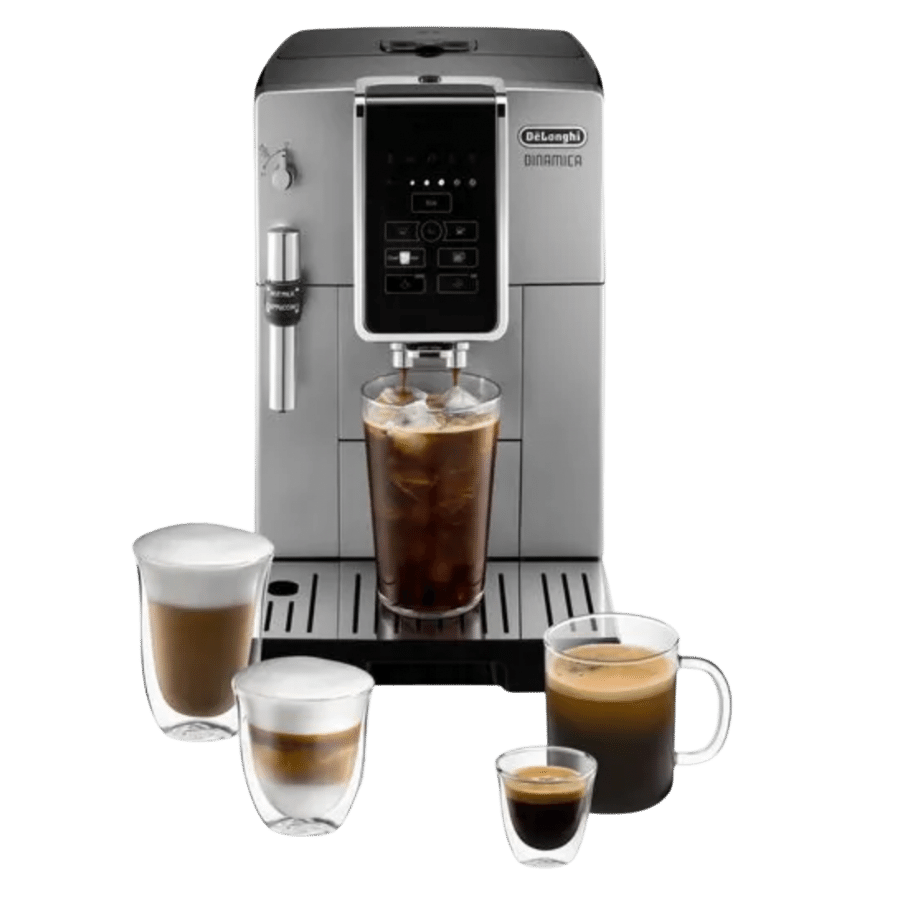 While this is primarily an automatic espresso machine, it can create several other beverages apart from espresso drinks. The spout is adjustable, so you can fit a longer glass depending on your drink choice.
TrueBrew Iced Coffee
One of the key differentiators of the Dinamica is the TrueBrew iced coffee function. This fully automatic machine uses a brew over ice method.
The way the TruBrew works is by modifying the brewing process a little bit to get a smooth taste without dilution from the ice.
It takes a little longer for the coffee to come out of the spout as there's a longer grinding time. You'll also have a higher dosage of coffee to compensate for the amount of ice. Then, there's also a longer preinfusion, which achieves a more concentrated espresso and a longer extraction.
The result is a full-bodied iced coffee!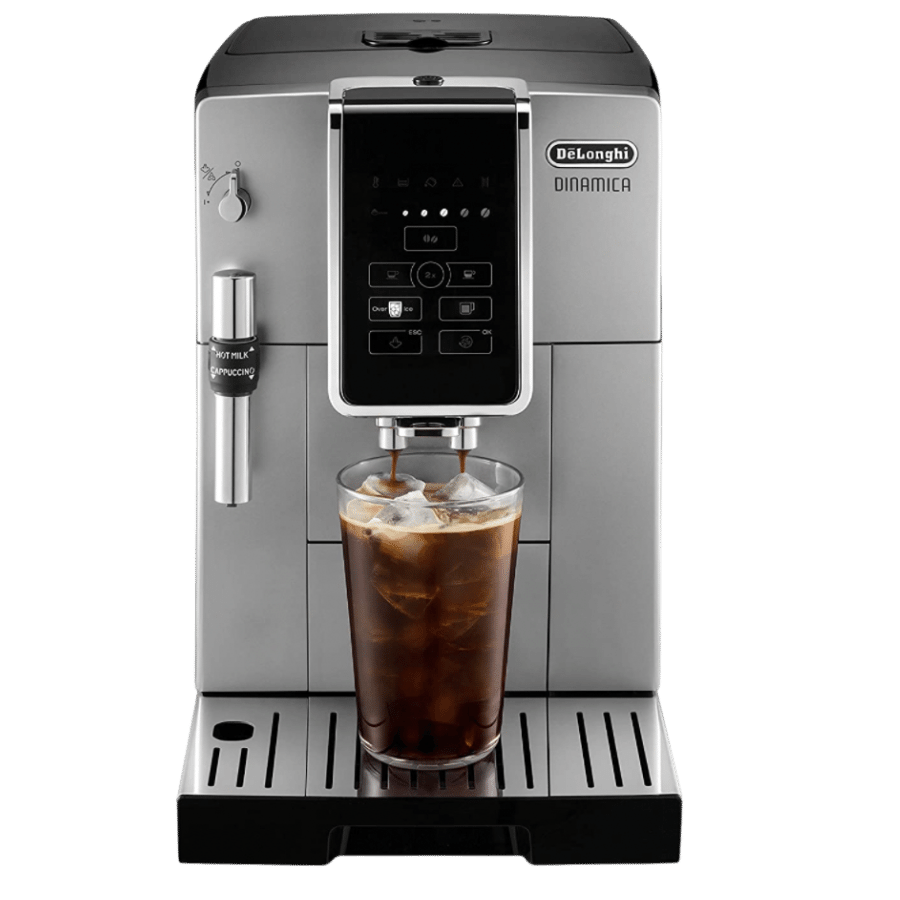 To this day, I'm amazed that ice doesn't affect the coffee flavor. This is a huge game-changer after suffering through countless cups of diluted iced coffee.  We all know the summer iced coffee or cold brew coffee that's actually poorly flavored coffee water. The Dinamica really creates a perfect iced coffee.
Espresso
You can pick between five coffee strengths — from 1 (very mild) to 5 (you'll be on a caffeine high for hours). These are available on the coffee button. Next, press the espresso button. DeLonghi Dinamica will automatically stop brewing when done, as there's a preset volume.
Cappuccino and Latte
To make a latte or a cappuccino, you have to pull an espresso shot first, which the coffee machine does for you. Then you have to froth the milk yourself.
Pour cold milk into your chosen container. As mentioned, DeLonghi Dinamica can't brew and steam simultaneously, so you'll have to wait about 20 seconds to switch from brewing to milk frothing. Once the coffee machine reaches the right temperature, you can hit the steam button and start frothing.
Regular Coffee
Regular coffee or drip coffee is also available with a press of a button.
Finally, you can choose if you want one or two espresso shots for both espresso and lungo — an espresso shot with double the amount of water an espresso has.
Cleaning and Maintenance
DeLonghi Dinamica is designed to make the coffee brewing process easy, and this also goes for the cleaning.
The drip tray is removable and dishwasher safe. The ground coffee container is removable, as well as the brew head. To clean them, just give them a quick rinse in warm water. Keep in mind that you have to power off and unplug the Dinamica before removing the brew head.
The water tank is removable as well. I mentioned that it comes with a water filter, so you can expect to do less cleaning and descaling. Dinamica will let you know when it's descaling time. You'll see a light on the display, so you don't have to keep track of descaling yourself. Just pour the descaling solution into the water tank, and follow directions from the manual.
Finally, don't make the same mistake I did, but clean the milk frother after each use. Wipe the pipe with a damp towel and purge with steam for a few seconds to avoid clogging and spoilage.
Comparing Different DeLonghi Dinamica Models
DeLonghi has several espresso machines in their Dinamica range.
DeLonghi ECAM37095TI has a Coffee Link App which lets you save up to 3 personalized espresso recipes. The Smart-One-Touch feature will show your most frequently selected drinks, so you'll always have your favorite coffee with a touch of a button. It also comes with a conical burr grinder.
DeLonghi ECAM35075SI Dinamica with LatteCrema can make 18 espresso and other coffee beverages. This machine stands out due to its automatic LatteCream milk frothing system. You'll always have the perfect microfoam for lattes and cappuccinos.
DeLonghi ECAM35020W also has the TrueBrew technology, so you'll be able to enjoy your iced coffee. It's slightly smaller (the difference is barely noticeable), and it comes with a 15 bar pump, burr grinder, and a manual milk frother.
Product Title
Available Colors
Available Colors
Titanium
Silver
Black & White
Black & White
Dimensions
Dimensions
16.9 x 9.3 x 13.7 in
16.9 x 9.3 x 13.7 in
16.9 x 9.3 x 13.7 in
Weight
Weight
23.3 lbs
23.2 lbs
24.9 lbs
24.9 lbs
# of Coffee Beverages Can Brew
# of Coffee Beverages Can Brew
16
18
5
5
Special Features
Special Features
Coffee Link App
Dual Thermoblock system
TrueBrew Over Ice Technology
TrueBrew Over Ice Technology
Milk Frothing System
Milk Frothing System
Automatic Latte Crema
Automatic Latte Crema
Manual Steam Pipe
Manual Steam Pipe

Recommendation: buy the Dinamica if you make different espresso drinks
If you want a machine that will brew single or double espresso with a press of a button, this could be the one for you. Thanks to the fast heat-up time, it'll be ready to go in less than a minute. It's also a good option if you're always in a hurry or just don't want to wait long before having caffeine in your system.
If you can't survive warmer months without iced coffee, you'll love Dinamica. It makes good quality iced coffee that isn't diluted. Also, if you want to make drip-style coffee, lattes, and cappuccinos, you should consider DeLonghi Dinamica TrueBrew. Keep in mind that while it brews the espresso automatically, you'll actually have to steam the milk yourself.
If you'd like to develop your craft, this isn't the option for you. Dinamica requires minimum input from the user. Apart from experimenting with coffee beans, you won't be able to make significant changes to your cup of joe. If you'd like more control and room to experiment and learn latte art, you should go for a semi-automatic espresso machine.
Decide the perfect espresso machine for you
Dinamica ECAM35025SB has a lot to offer. Good coffee quality, fast heat-up time, and a powerful steam pipe for frothing milk, to list just a few.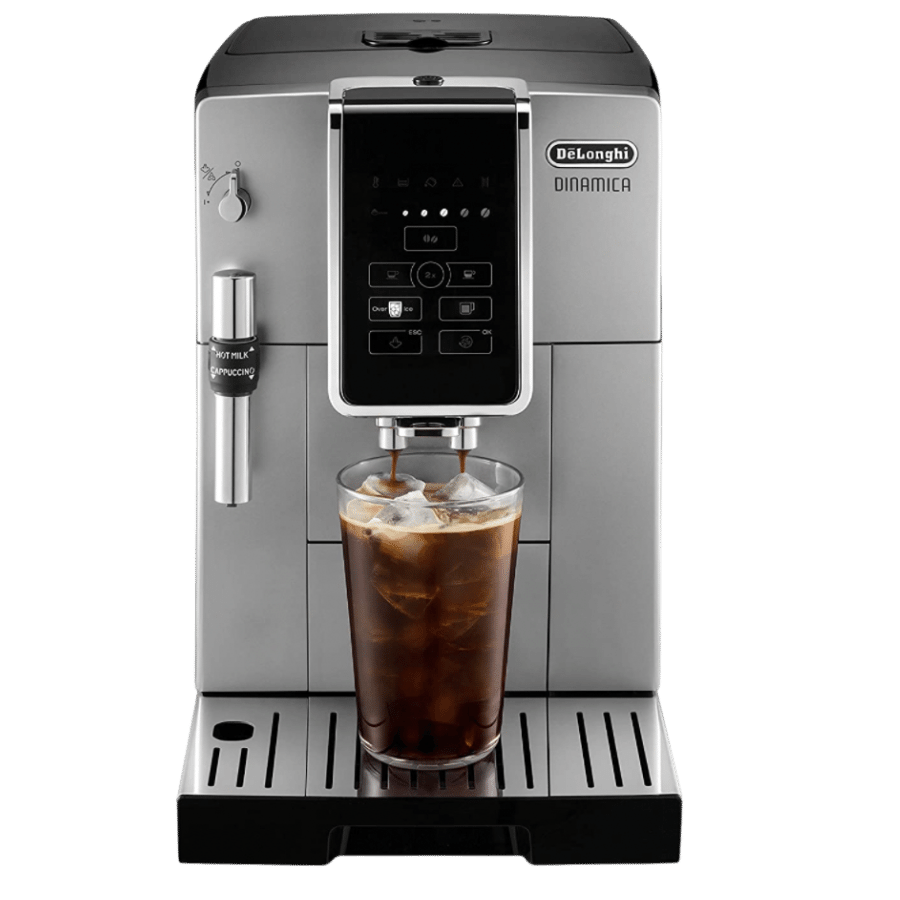 DeLonghi Dinamica ECAM35025SB is a super-automatic espresso machine can brew five drinks, including iced coffee and regular drip coffee. It is easy to clean with a removable brew head and dishwasher-safe drip tray. It has a 13 settings on the grinder and a single boiler system for consistent espresso.

But, if you'd like a machine that gives you more control while brewing and comes at a lower price point, check out our Breville Barista Pro review.