DeLonghi ECP3420 is one of the most popular espresso machines for coffee drinkers on a budget, so I decided to try it. It's definitely a starter machine that'll either get you hooked or leave you as a casual user.
It has an attractive design, a small footprint, and a fast heating time that makes solid espresso. However, it also has shortcomings: the steam wand is weak, and the pump isn't powerful enough to work with fine grind sizes. Don't expect perfect crema or fine microfoam like your local coffee shop. But hey, it's really affordable and if that works for you, keep reading!
I'll delve into the DeLonghi ECP3420 features and share my personal experience. I recommend the DeLonghi Dedica or Bambino for long-term options.
Since the original review, my model started leaking. I added a section on this with my updated thoughts.
Summary Features
DeLonghi ECP3420 highlights:
Dimensions: 9.6″ x 11.9″ x 7.3″ (WxHxD)
Stainless steel boiler
15 bar pressure pump
Panarello steam wand
Removable 37-ounce water tank
Can use ESE pods with 3-in-1 portafilter
DeLonghi ECP3420: Craft Coffee Spot Rating
Design and Functionality
6
Pros
Compact size and great value
Boiler heating system; gets to high temperature
Easy maintenance with removable drip tray and water tank
Great value for an espresso coffee maker.
Cons
Weak milk-steaming abilities
Too fine grind or over-tamping can easily clog the portafilter.
Can leak water over time!
Overview of the DeLonghi ECP3420
Here's an overview of important De'Longhi characteristics, so you can decide if this espresso machine suits your needs.
Design
DeLonghi ECP3420 is a budget-friendly machine, so it makes sense that it's not made with stainless steel. Instead, this coffee maker is made with durable ABS plastic. Overall, I was satisfied with the materials and the build. It feels sturdy.
Even though it's not entirely made of stainless steel, the build quality and materials are fine (more on that later). Plus, the coffee maker does have some stainless steel accents. These elevate the machine's look and help it fit into any kitchen decor.
However, I would prefer if important parts, such as the tamper and portafilter, were stainless steel instead of plastic. The plastic tamper, in particular, is a downside for me. I found plastic tampers don't make a nice flat, puck of coffee grounds in the portafilter.
One plus of the plastic body is that this coffee maker is lightweight. It weighs 9 pounds, which is easy to move around the kitchen. It will come in handy when moving, redecorating, or even just cleaning coffee grounds around the machine.
Finally, it's a compact machine — 9.6″ x 11.9″ x 7.3″. The small footprint allows this coffee machine to fit into any kitchen space.
Want More Coffee Tips?
Join the email list for exclusive coffee insights and deals that only subscribers get. You'll get two coffee discounts just for joining.
No spam, ever. We respect your privacy and unsubscribe anytime.
Espresso Performance and Quality
DeLonghi ECP3420 has a 15-bar pressure pump and a pressurized portafilter. It's important to get an espresso machine that generates at least nine bars of pressure. You need to get optimal pressure to extract the full flavor from espresso and get a rich crema.
I also liked that the portafilter is a 3-in-1 holder for single shots, double shots, or easy-serve coffee pods.
This espresso machine has manual brewing only, so you need to turn the knob to start and stop the pump. You'll have to keep an eye on it and stop the brewing process on time.
The DeLonghi ECP3420 starts in about one minute from the start. You'll see the red light turn on initially, then the green "ready" light will turn on to start brewing.
This machine uses a boiler system to heat water, but it's not very powerful. It's a small boiler that generates a lot of heat and pressure. However, it works best with a pressurized basket. I found it's not powerful enough to work for non-pressurized baskets.
Also, be careful not to overpack the portfilter or use very finely ground coffee, or the water won't flow. This is one of the main issues that came up.
Keep in mind, the DeLonghi comes with a smaller 51mm portafilter. What this means for you, is that 51mm portafilter is harder to fill with coffee and can easily overflow and make a mess.
You can't pull perfect ristrettos with this machine. Make sure to use a medium-fine or medium-grind size so the machine doesn't get jammed.
Finally, my biggest tip for getting good espresso on this machine is to let it heat up for several minutes. Don't start pulling the shot right away when it says ready. If the boiler heats up for longer it ensures all the parts are hot.
Ease of Use
Even though this is a fairly manual espresso machine, it's user-friendly. It's a good choice for barista beginners as it's easy to brew an espresso shot.
It has a dial that's used to brew delicious espresso shots. Turn the dial to "on" to heat, then switch to the brew. You'll have to time the brew to make sure you're getting the desired amount. I recommend getting a scale or a two-ounce glass to make sure you're getting consistent espresso shots.
You can use coffee beans or coffee pods in this machine. Keep in mind that De'Longhi ECP3420 doesn't use Nescafe and Nespresso pods, but E.S.E. soft pods, such as Illy ones.
The machine has a self-priming setting, which is great when you're in a hurry. It means DeLonghi ECP 3420 will be ready to use in about a minute, and you can start brewing the espresso beans quickly.
The water reservoir is easy to access. It's only about 37 ounces or 4.5 cups, which is less than high-end espresso machines. That's still decent enough – you'll have to refill it twice per week. It's also a removable water tank, which is easy to refill.
You can take out the drip tray and there is a second underneath, so you can accommodate larger cups of coffee. This is useful for brewing different kinds of coffee drinks.
Steam Wand
This DeLonghi machine comes with a steam wand to foam the milk and create espresso-based drinks. In my opinion, the wand is the biggest drawback of the De'Longhi ECP3420.
The biggest issue is the wand turns cool rather quickly. It runs out of pressure within 30 seconds, which isn't enough time to heat milk. The machine starts steaming with a lot of pressure, but the pressure drops fast. The steam turns lukewarm, enough that I could even run my hand under it (don't try this at home!).
Because of the pressure time-out, you have to do a second round of steaming to steam milk with the ECP 3420. Turn off the steam, let the machine heat up again (wait for the green "ready" light to turn on), then do steam again to get to a proper 150o F temperature.
Also, the nozzle is too short for a proper milk jug. The ECP3420 comes with a plastic sheath that extends the nozzle, but it doesn't submerge the milk for proper aeration. You either need to add more milk to the jug (which makes an already long process even longer) or use a short cup.
Then, the nozzle tends to spit out water. It waters down the espresso drink and doesn't produce microfoam. You can make a big foam for a cappuccino, but certainly not a proper latte.
Sometimes, you get what you pay for.
Does This Machine Start Leaking?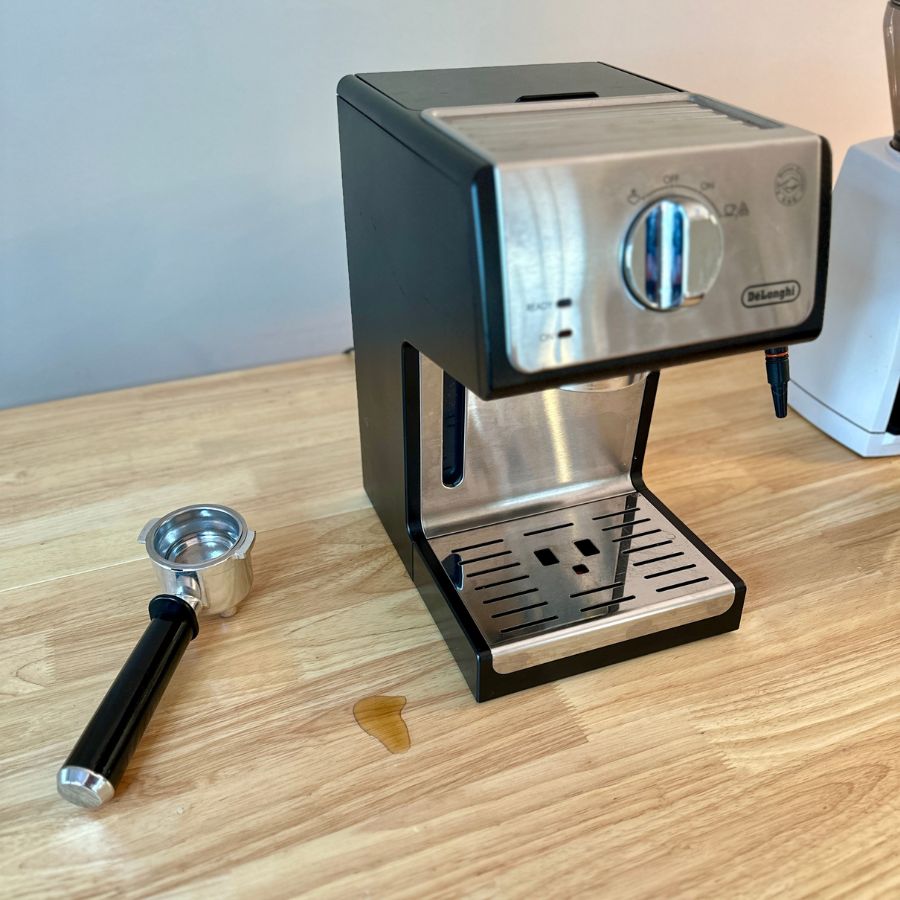 I did have one problem after using this machine for a few weeks: it started leaking.
The leak would appear after I was done using the machine. I would brew a few espressos and get decent results, but a few hours later, I'd notice a little puddle of water directly under my machine.
This didn't come from a full drip tray either as that was still dry. It seemed to come from the bottom of the machine under the water tank.
I'm not sure exactly what caused this leak. Perhaps it's the heavy plastic build, or high boiler pressure may cause internal piping to warp, as the leak was most severe when I did several rounds of milk steaming.
The irony is I am still willing to recommend this machine despite a leak. Why? Because of the price! I've had this machine for years, most of which time it was in the closet or loaned to my parents. So, I'm not bothered that now (one year after the original review) the DeLonghi ECP 3420 started leaking. I got my money's worth.
Yet again, remember that this is a "starter machine" to learn espresso.
---
Our Recommendation: Should You Buy The De'Longhi ECP3420?
Yes – I recommend the DeLonghi ECP3420. BUT, it's not for everyone. Consider buying if you fall into one of these camps:
You're on a budget — This is a great value and one of the most affordable espresso machines you'll come across.
If you have limited space — It has a small footprint, and it's lightweight, so it can fit into any kitchen space.
You're a beginner barista — If this is your first espresso machine, and you want to give something a try. It's also good for infrequent espresso drinkers. It can make a drink a week easily.
You don't have a lot of time for preparing coffee — It brews espresso quickly, and when it's ready, you can make multiple drinks.
DeLonghi ECP3420 is a budget starter machine. It has a small footprint, adjustable drip tray, and 3-in-1 portafilter that takes ESE pods. The price tag comes with lesser internals – don't expect perfect microfoam, and be careful not to overpack the portafilter.
I would NOT recommend the DeLonghi ECP3420 machine if you want a daily espresso machine go-to for the next ten years. If you want to start brewing exceptional espresso and lattes, check out our Breville Barista Pro review.
Overall, the DeLonghi ECP3420 is the cheapest way to get started brewing espresso, which is a great option if you're not committed. But, you'll want to step up your coffee game within a few months of daily use.
Alternative: Other Comparable Machines
If you want to check out some other budget espresso machines, here are two alternatives.
Breville Bambino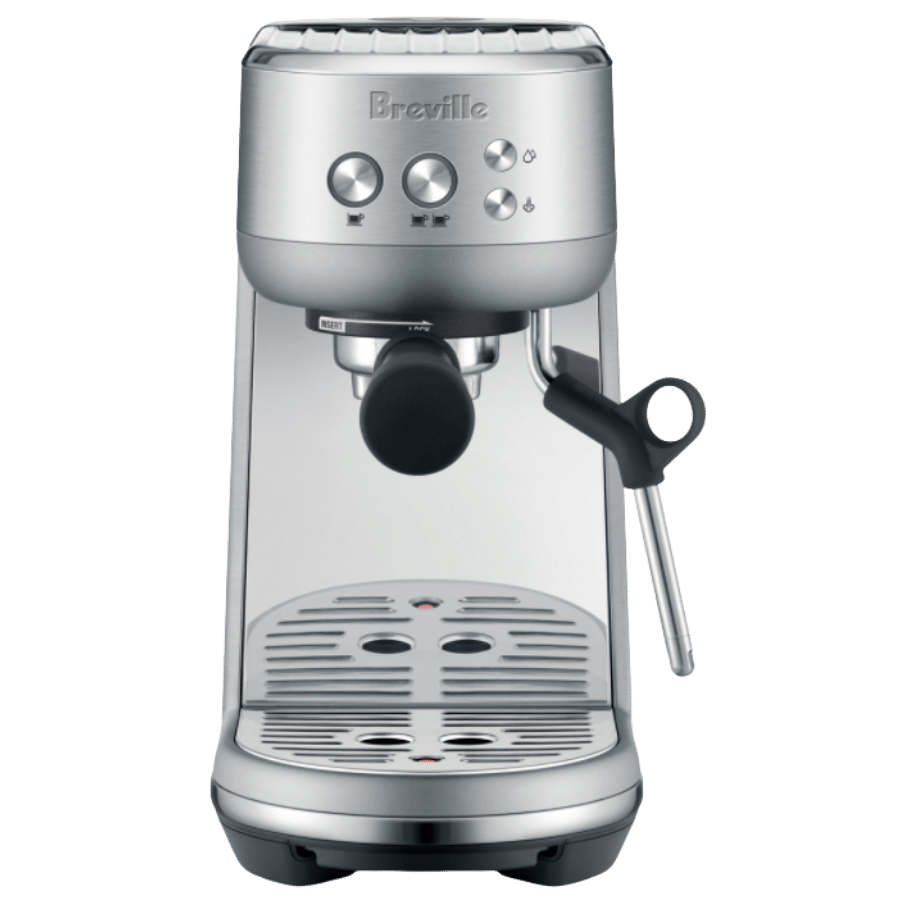 Breville Bambino is our favorite entry-level espresso machine. The Thermojet heating system starts in three seconds, and the PID controller creates a consistent espresso extraction. The steam wand is powerful too. It's a great price point to get started with a small footprint.

Breville Bambino is an affordable machine that will give you high-quality espresso. It also doesn't have a lot of bells and whistles, which makes it easy to use. You'll love this if this is your first espresso machine.
The Breville Bambino uses the ThermoJet heating system, which heats water in three seconds. It generates the pressure you need every time. There's also a powerful steam wand that can switch on in a few seconds of brewing espresso.
The Bambino can also make hot water and has a small footprint.
DeLonghi Dedica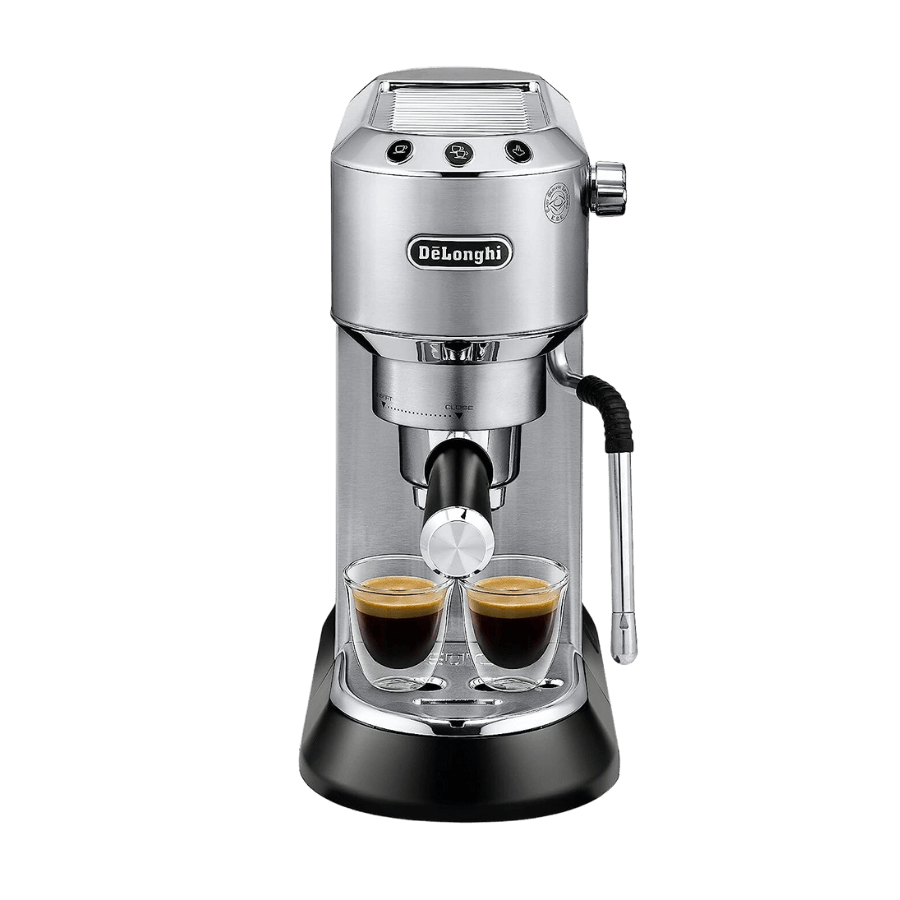 Delonghi Dedica Arte highlights:
15 bar pump
Thermoblock heating system
35 oz water tank
Check Amazon
The DeLonghi Dedica espresso machine is another compact and budget-friendly option for novice baristas. It stands out for its solid brewing performance and space-saving design. Key features include a 15 bar pump, Thermoblock heating system, 35 oz water tank, and a 51 mm filter basket. 
Read the full DeLonghi Dedica review.
DeLonghi Dedica is easy to use and has a more powerful steam wand than the ECP3420. However, it also comes with the 51 mm portafilter with pressurized baskets, which can lead to inconsistent espresso quality.
The Dedica heats up in about 40 seconds, and I recommend to pull a blank shot to warm up the portafilter and brew group before brewing. The machine comes with three filter baskets for single, double shots, and ESE pods, and includes a heavy metal tamper (unlike the ECP 3420 which features a plastic one). Plus, if you upgrade to non-pressurized filter baskets, you'll have much better espresso quality.
The steam wand, named My LatteArt, is capable of creating nicely textured milk foam for latte art.
Overall, the Dedica is great value for money, especially for its powerful steam wand and espresso-making capabilities, despite some limitations.
DeLonghi ECP3420: Final Thoughts
If you're looking to start making espresso, The DeLonghi ECP3420 has an unbeatable price, and it works. But, you get what you pay for – it tends to start leaking, and the steam wand cools quickly.
That said, it's a great option to start and you can upgrade later. The ECP3420 espresso machine's fast heat time, stainless steel water boiler, and adjustable drip tray are all features that will make daily use and pulling espresso shots simple.
If you're ready for something a little more expensive and much more reliable, check out our favorite espresso machines for under $500.