Most baristas will say semi-automatic espresso machines pull better espresso shots than automatic machines. That's generally true because super-automatic machines can't dial in espresso like a human-controlled semi-automatic. That is, except for Jura's automatic coffee machines.
Jura loves giving fancy names to their machine features: Intelligent Water System, Pulse Extraction Process, Intelligent Pre Brew Aroma System, and so on. But, these features aren't just clever marketing tricks. They really do make a difference when pulling a shot.
In my Jura S8 review, I'll cover all of these and how they work to pull espresso. I'll also explain where S8 falls in the lineup of Jura machines and compare Jura S8 with other espresso machines, so you can decide on the best espresso machine for you.
Jura S8 Summary
S8 belongs to Jura's mid-range of luxurious coffee machines. It costs less than Jura's high-end espresso machines, but you get many of the same features and quality build.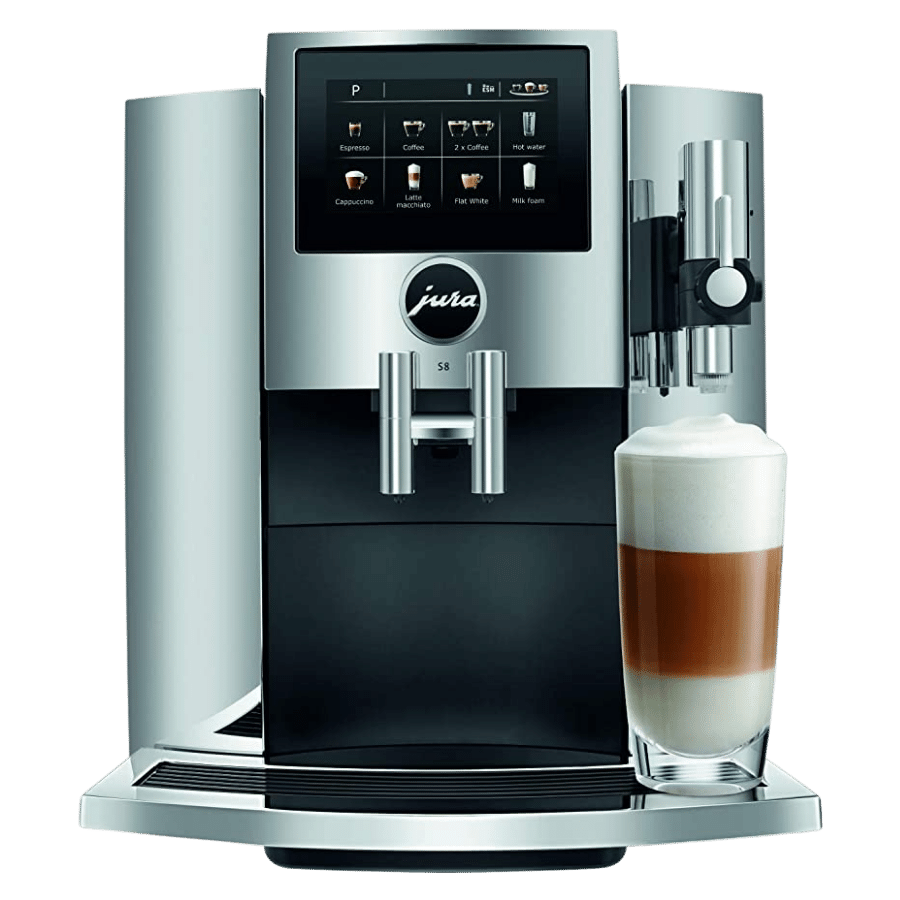 Jura S8 Features:
Super-automatic coffee machine
Aroma G3 grinder
Pulse extraction process
Thermoblock boiler
15 programmed coffee drinks
3 temperature control levels
Ten coffee strength settings
Jura S8: Craft Coffee Spot Rating
Espresso Quality & Brewing System
9.5
Pros
Large touchscreen display
12% more aroma thanks to P.E.P and Aroma G3 grinder
HP3 milk system with adjustable microfoam
Intelligent water filter system
Cons
Expensive
Fewer drink options than the more affordable Jura E8
Shorter cup clearance compared to other Jura coffee machines
Fixed brew head
Jura S8 can brew delicious coffee with a press of a button. The large color display makes it look elegant and modern, plus it's extremely easy to use.
Every aspect of making a coffee drink on Jura S8 is automated — from brewing coffee and frothing milk to self-cleaning when you're done pulling a shot. You can sit back and sip your coffee — the machine will do most of the work.
Jura S8 stands out thanks to the Pulse Extraction Process (P.E.P), which pulses hot water through the ground coffee in short bursts, and the Aroma G3 grinder, which is two times faster than the previous version. More on these and other features below.
The main downside is a relative point: you can get the features of the Jura S8 and then some on a Jura E8 for a lower price. The main upside of the S8 is the larger touch screen.
Feature Breakdown
Here's everything you should know about Jura S8's features and how it brews coffee.
Espresso Brewing and Performance
Jura S8 gets the highest marks for brewing and performance. It brews well-extracted espresso that is better than most any other automatic espresso machine.
You have to fill the bean hopper with coffee beans before the machine starts brewing. The bean hopper can hold up to 10oz of beans, and they are kept fresh via the chrome bean container lid. The chrome lid works better than the plastic ones many other coffee machines have and keeps the beans fresh for longer.
Want More Coffee Tips?
Join the email list for exclusive coffee insights and deals that only subscribers get. You'll get two coffee discounts just for joining.
No spam, ever. We respect your privacy and unsubscribe anytime.
The brewing process starts with the Aroma G3 grinder, which grinds the beans to perfection (more on the grinder below), and the process continues with Jura's innovative technology.
An important part of the brewing process is the Intelligent Pre-Brew Aroma System or IPBAS. The coffee grounds are immersed in water, which ensures the aroma is released. The IPBAS system also calibrates the right ratio of water to coffee grounds every time so the Pulse Extraction can work its magic.
The Pulse Extraction Process is how the beans are brewed. The beans aren't soaked in water to extricate the flavor as other coffee machines do. Instead, there are strong bursts of water (or, as Jura calls it, pulses), which preserve the aroma of the beans and produce rich-tasting coffee.
Water is another important part of the brewing process. After all, coffee is largely made up of water, and filtered water makes a difference in coffee flavor.
Jura S8 has an Intelligent Water System, which uses RFID technology and a Claris Smart filter to keep the water clean. Jura S8 lets you know when to change the filter and minimizes the need for descaling.
Overall, I don't have any complaints about the brewing process and performance. Jura S8 can create barista-quality coffee.
Ease of Use and Programming
A fully automatic coffee machine is generally easy to use, but I was worried Jura S8 might be a tough nut to crack due to all its latest tech. Luckily, the espresso machine is streamlined and user-friendly.
There's a very large color touchscreen display that shows the eight most common coffee drinks, and you can access the rest of the drinks from the button in the top right.
For example, to brew a latte, make sure you have milk, water, and coffee beans loaded. Place the cup under the frother, and select the latte option.
That's it. The machine will do all the work, from brewing to frothing and cleaning afterward. You can also adjust the amount of milk and foam you want. I got the settings wrong once, but S8 makes it easy to cancel or adjust the settings as the machine pours, so I was able to avoid overfilling.
Jura S8 makes programming easy as well. Press and hold any drink on display, or hold the P icon and change the saved settings. You can choose between 10 coffee strengths, adjust the temperature, coffee volume (you can lower the volume to a half shot of 0.5oz), milk amount, type of milk (froth or steam), and crema.
Moreover, you can rename each drink, copy, delete, or add new coffee recipes. Essentially, pressing the P does everything — it takes you to the cleaning options, coffee settings, and even statistics and instructions.
I liked that you can program two different presets for one drink on the Jura S8, which comes in handy if you share your coffee machine with people who like their lattes with more or less milk.
If you're a technophile, you can get Jura's Smart Connect feature, which plugs into the machine, so you can download an app and control the coffee machine via Bluetooth. This allows you to prepare drinks from the couch.
Cleaning the Jura S8 is mostly straightforward, thanks to the RFID system and filters, and doesn't require much work on your part. I didn't like that the brew group isn't removable, so you can't rinse it underwater and get rid of coffee grounds residue.
However, I used Jura's tablets to clean the machine regularly and didn't have any issues with the flavor or the machine's functioning.
Drink Options
Jura can brew 15 specialty coffees: espresso, coffee, ristretto, cappuccino, latte, macchiato, latte macchiato, flat white, milk foam, hot milk, hot water, and hot water for green tea. You can choose between single or double shots for these coffee drinks.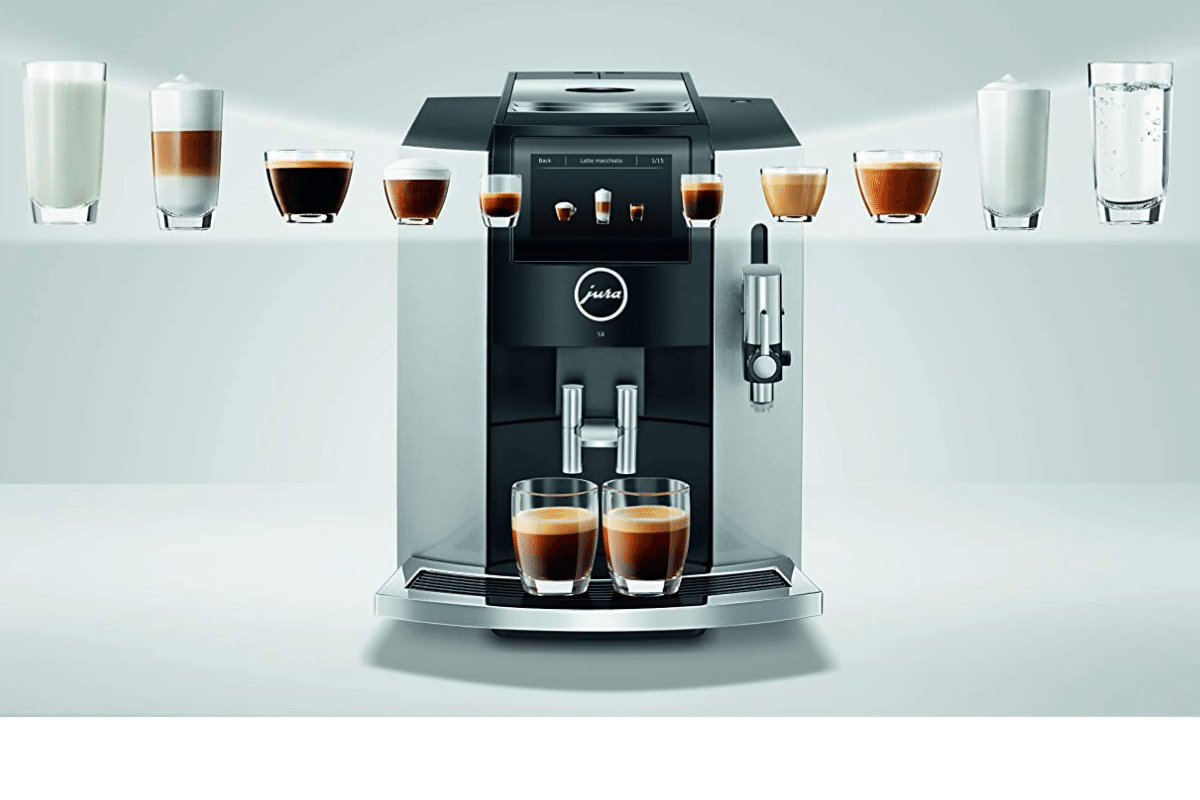 As I mentioned, you can adjust different settings according to your preferences, everything from 3 brewing temperatures, ten coffee strength settings, and coffee and milk foam volumes. The amount of personalized drinks is almost limitless with this coffee machine.
You can even adjust the milk foam, but more on that below. Finally, you can create up to 15 custom drinks using these options.
Jura S8 drinks are rich and bold, thanks to the high coffee dosing. You can use up to 16g of coffee grounds per drink. I found this really makes a difference with milk-based drinks, as espresso with a lower amount of coffee grounds can get lost in the milk.
I was very satisfied with the quality of each drink option. Each cup came rich and robust with a nice crema.
Grinder
Jura S8 coffee machine has a stainless steel conical burr grinder, or as Jura class it, the Aroma G3 grinder. It's two times faster than its predecessor, the G2, and it preserves delicious coffee aromas. I'm a big fan of burr grinders, as they can crush the coffee beans gently and preserve the flavor.
I was impressed with how fast and quiet it is, which I appreciated first thing in the morning. Most importantly, it produces consistent coffee grounds.
The grinder has seven settings to choose from. You access them from the top lid. Jura recommends you only change the grind size while the grinder is running. It's counter-intuitive to change the grind size mid-dose, but Jura claims that's better for grinder longevity.
There's also a bypass doser compartment next to the grinder, where you can add ground coffee. It's nice if you want a cup of decaf coffee.
Milk Frothing
If you ask me, adding foamed milk makes any drink better, and Jura S8 does this perfectly. The foamed milk is added straight from the machine into the cup via a tube system. The frothing system can pick up milk from any container via a tube and deposit it into the frother.
There's an adjustment lever so you can dial the milk foam as you like. This gives you an impressive amount of control over the frothed milk, more than other super-automatic espresso machines. Both milk and coffee spouts are adjustable with up to 6 in of space for tall glasses.
I was happy with the foam, especially since I could customize it. I used the lever to get a fine froth for a latte or an airy one for a cappuccino. Finally, you can set a pause time after frothing, which lets the milk separate, so you get those instagrammable three levels of latte macchiato.
Jura S8 even switches to pouring milk or coffee first, depending on the drink. For example, milk goes last in flat white and first in a latte macchiato. Jura S8 leaves the foam to settle for 30 seconds in a latte macchiato and then pulls the shot.
This wasn't the case with my previous super-automatic espresso machine, which steamed and brewed in the wrong order (I'm looking at you Philips).
Jura S8 doesn't come with a milk container, which I admit is a minus considering the price of this coffee machine. However, you can get Jura's milk accessories, such as thermally insulated containers with built-in refrigeration, which keeps the milk at the desired temperature.
You can make milk drinks at any time without waiting for the machine to froth. Overall, the milk frothing system on Jura S8 saves space, and it's easy to clean, as it doesn't have many parts.
Jura coffee machines do come with a container that holds the cleaning solution and catches the rinse water. This comes in handy, as Jura S8 runs an auto rinse of the frother about 15 minutes after using it.
Value
I'll be honest: Jura S8 is essentially Jura E8 with a touchscreen. Yes, there are some minor differences, such as monitoring bean hopper status, 10 coffee strength settings instead of eight, which the E8 has, and three temperature settings instead of E8's two.
So, if this is the super-automatic espresso machine for you, it comes down to if you want a touchscreen or if you prefer buttons. Ask yourself this: do you want to pay $500 more for a touchscreen?
Overall, Jura S8 is more expensive compared to other mid-range coffee machines, but if you're considering getting a Jura, this could be the one.
The high-quality build, Professional Fine Foam Frother, 15 coffee drinks, P.E.P., and Intelligent Water Systems result in a barista-quality coffee, so the high price tag is worth it.
At the same time, can you get the same or similar coffee brewing quality with a more affordable Jura coffee machine?
Yes, you can. Consider a refurbished version if you've got your heart set on Jura S8, but you don't want to break the bank to buy it. It's much more affordable, and you'll also have a coffee machine that brews top-notch coffee at an affordable price.
I also recommend checking Seattle Coffee Gear, because they have a price match option which can potentially save some money.
Alternative Options
Jura E8 vs. S8
We have a full breakdown of the two, but here's the summary: Jura S8 has 15 coffee drink options, while E8 has 17. The E8 espresso machine has a smaller touchscreen plus six physical buttons, which S8 lacks.
E8 coffee machine also has fewer customization options — eight coffee strengths and two temperature settings vs. 10 and three on S8.
Finally, Jura E8's fully automatic coffee machine is more affordable than Jura S8. The biggest difference is the touchscreen display, which is only on the Jura S8.
Jura Z8 vs. S8
Jura Z8 is Jura's premium espresso machine. It has all the most significant features as the S8, such as the Professional Fine Foam Frother and the Pulse Extraction Process, plus a couple more touches that make the machine extremely user-friendly.
Z8 has a Smart Mode that reorders beverages on the display screen based on how often you brew them. It can brew even more drinks compared to S8 — 21 vs. S8's 15. 16 of these are programmed.
Z8 has an adjustable spout that fits higher glasses —3.2'' to 6'', while the S8 spout is 2.8'' to 4.6''.
Most importantly, Z8 is a dual thermoblock heating system and two pumps, which means you can brew and steam simultaneously or make an Americano and a latte at the same time.
Finally, Z8 has a One-Touch Americano function that uses a special prep method — the coffee and hot water are combined during the extraction process, so you get a full-bodied, light Americano.
Of course, these functions come with a higher price tag, so you'll have to shell out significantly more money for Z8.
| | E8 | S8 | Z8 |
| --- | --- | --- | --- |
| Bean monitoring | No | Yes | Yes |
| Water tank | 64oz | 64oz | 64oz |
| Bean hopper capacity | 9.9oz | 9.9oz | 9.9oz |
| Milk frothing | Automatic fine foam frother | Automatic fine foam frother | Automatic fine foam frother |
| Touchscreen display | No | Yes | Yes |
| Beverage options | 17 | 15 | 21 |
| Temperature control | 2 | 3 | 3 |
| Pulse extraction process | Yes | Yes | Yes |
| Dimensions | 11 × 13.8 × 17.6 in | 11 × 13.8 × 17.3 in | 12.6 x 15 x 17.7 in |
| Weight | 23 lbs | 21 lbs | 29.5 lbs |
Jura S8 Review: Final Thoughts
Jura S8 is one of the best espresso machines I've used. This coffee maker has Jura's smart technology — P.E.P., plenty of coffee strength and temperature settings, a powerful milk frother, and an Intelligent Water System. Most importantly, it brews barista-quality drinks.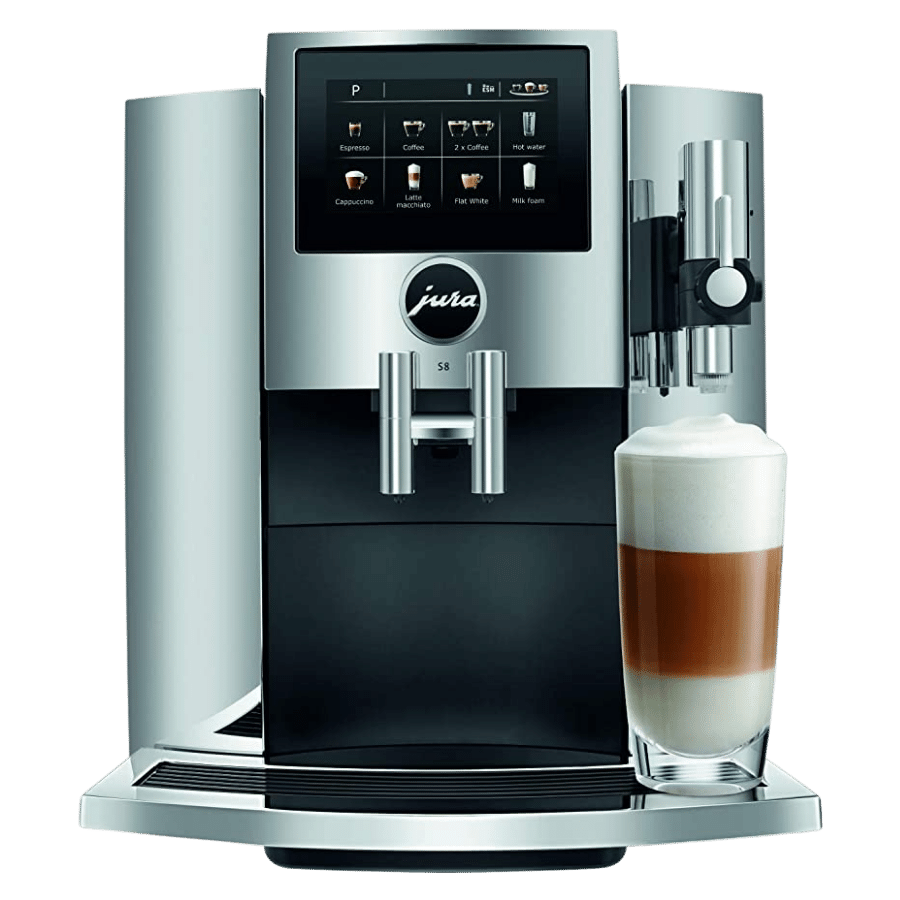 The Jura S8 comes with technology that few automatic espresso machines can match: Pulse Extraction Process, Aroma G3 grinder, and Intelligent Water System. It also comes with a 4.3″ touch screen with programmable drink options
But, if you'd like to see a coffee maker that does the same for less money, check out our Jura E8 review.