Philips is a well-established name in the home appliances niche, but how good are their espresso machines, specifically Philips 3200 LatteGo?
I've tested several automatic espresso machines — from DeLonghi to Calphalon — and decided to give Philips a try. I fell in love with the intuitive display, the LatteGo milk frothing system, and the ceramic burr grinder. It's one of the best entry-level fully automatic machines out there.
In my Philips 3200 LatteGo review, I'll explain everything I liked about the Philips 3200 features, as well as some design flaws I feel could be improved upon. I'll also provide alternatives and explain who this machine is best suited for.
The Philips 3200 LatteGo Super Automatic Machine
Our Rating and Quick Overview
Philips 3200 LatteGo is a super automatic machine. Do I recommend this machine? Yes! It's a fully automatic espresso machine that won't break the bank, is easy to maintain, and brews several espresso drinks.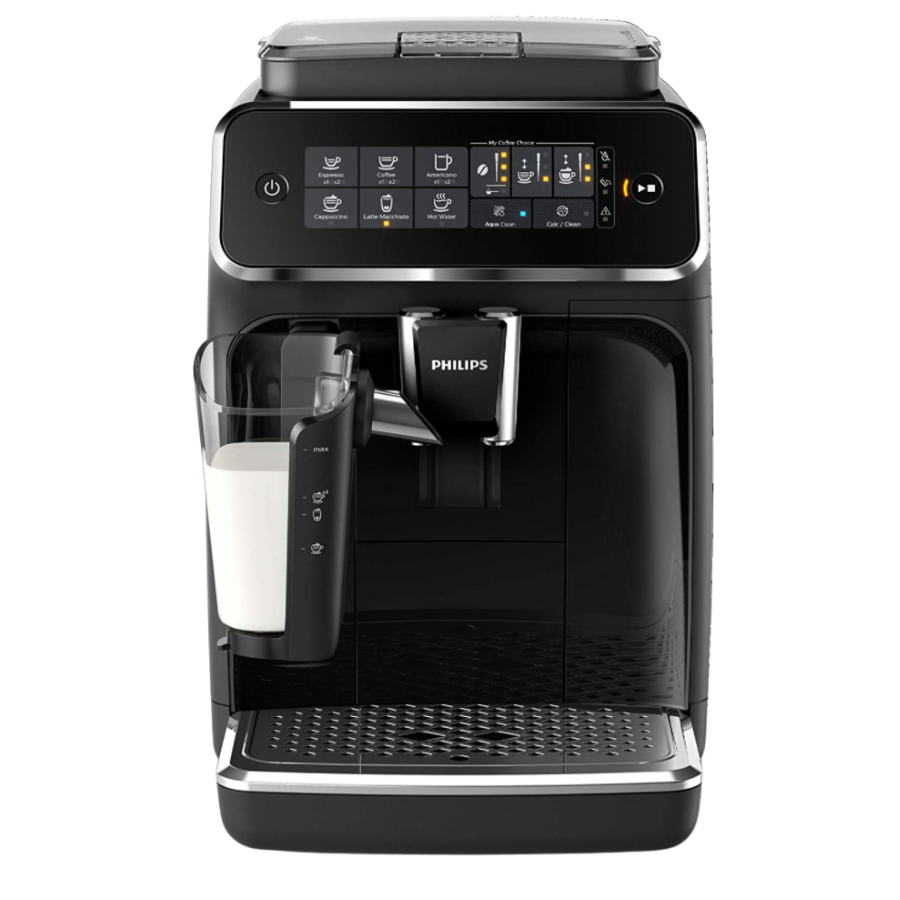 Philips 3200 LatteGo Features:
Dimensions: 20.2 x 19.5 x 12 in
Weight: 21.06 lbs
Fully automatic milk frother
Easy to clean and maintain: AquaClean water filter allows you to brew up to 5,000 cups before having to descale
Brew 5 different types of coffee beverages
Intuitive Touch Display allows you to customize to your liking: aroma strength, coffee quantity, and amount of milk froth
Ceramic grinder with 12 settings
Temperature: 3 different temperature settings
Philips 3200 LatteGo: Craft Coffee Spot Rating
Design & Functionality
9.5
Espresso Quality & Brewing System
8
Philips 3200 has a fully automatic milk frother, so you'll have milk foam and steamed milk at the press of a button.
It's easy to clean and maintain thanks to removable elements located at the front and sides of the machine. Philips 3200 comes with an AquaClean filter that requires a descale after 5,000 cups. That means you won't need to descale for about 5 years, even at three cups per day! You'll struggle to find another machine in this range with this feature.
Finally, you can brew 5 different espresso drinks and get hot water. There are 4 programmed recipes that will allow you to drink your favorite brew in under a minute.
Pros
The LatteGo system makes dense milk foam for cappuccinos and is very easy to clean.
Preprogrammed options for five drinks plus hot water
Easy maintenance with removable parts
AquaClean system only requires descaling after 5,000 cups
Cons
LatteGo milk system makes thick foam that is hard to make latte art
Grinder and LatteGo system as loud
Drip tray gets full quickly due to the initial rinse off
Refresher On The Different Types Of Espresso Machines
If you're new to the world of espresso, or you'd like to brush up on your knowledge, here's a breakdown of semi-automatic vs. super-automatic coffee makers.
Semi-automatic coffee machines give you more control in the espresso brewing process. You control how long to brew espresso and usually can control pressure, temperature, and volume. Essentially, you have much more control over how the espresso will taste.
You also have to do more work with the semi-automatic, including grinding, tamping, and loading the portafilter.
Super-automatic espresso machines, also called fully automatic (or even just automatic), require less input from you. These machines have preset options, so all you have to do is loads the coffee beans and press a button, and the machine will brew your coffee beverages. If you want the machine to do the majority or all the work for you, go for a super-automatic espresso machine. However, semi-automatic machines can make a more nuanced drink and they are cheaper.
Note: Semi-automatic and fully-automatic machines have some similar functions, such as the grinding presets and temperature shut-off for the milk wand. But, you'll have more work to do for semi-automatic machines. Most importantly, you'll need to place coffee grounds in the filter basket, tamp, and load the portafilter.

Philips 3200 LatteGo Feature Detail
Here's a full breakdown of all the Philips 3200 LatteGo features.
Design
Philips 3200 LatteGo has a modern design. This machine has a plastic build with chrome accents — the front panel has a stainless steel wrap.
It's compact — 20.2 x 19.5 x 12 in and 21.1 pounds and fairly lightweight, which comes in handy if you plan to redecorate the kitchen or have to move the coffee machine. I stored it under my kitchen cabinet.
The water tank holds 60 ounces and is conveniently located in the front, on the right side of the machine. I liked that I didn't have to pull out the espresso machine every time I wanted to refill the water tank.
The bean hopper and grinder are located at the top. The hopper can hold a pound of beans.
I struggled with the hopper lid on some other coffee machines. Many manufacturers don't pay enough attention to it, and the lid can be loose, which affects coffee beans' freshness and espresso quality. Philips did a great job here. The lid seals up well and doesn't let in air and sunlight when closed.
There is also a bypass doser for ground coffee. It is located to the front of the Philips espresso machine, and it's removable together with the drip tray.
I really liked the display. It's a LCD and there are buttons that flash to let you know it's time to refill the water tank, change the filter, or if some other error is occurring. More on that later…
One of my favorite design features is the adjustable coffee spout. I've used my fair share of coffee machines where my glass wouldn't fit, or the spout is too short and the drink splashes everywhere. Philips 3200 has an adjustable spout, so I can lower and raise it depending on the type of beverage I am brewing. I'm happy to report there are no splashes with this spout.
LatteGo Milk System
The LatteGo milk system is one of the major selling points for the Philips 3200 machine. The company even included it in the espresso machine name. The LatteGo is automatic, which means you get frothed milk with a push of a button.
The LatteGo system is a plastic container that you have to fill with milk. Then clip it to the black holder that dispenses the milk and press a button to start frothing. When you choose the milk froth level, the frother mixes milk and air at high speed in the frothing chamber. Once it's done, the machine dispenses a layer of milk foam into your cup.
I like that the holder has notches that indicate how much milk you should pour and that there aren't any tubes or other parts where milk can go into and spoil. I admit that I'm guilty of not regularly cleaning steam wands, resulting in crusted milk inside. This doesn't happen with Philips 3200 LatteGo. The container is completely detachable, and you can quickly rinse underwater.
Philips promises the machine will distribute the milk into your coffee cup without any splashes. This is true if you line up the mug with the milk dispenser. The first time I used it, I placed my mug too far back and was left with half the milk outside of my drink.
One thing I didn't like about the LatteGo container is the lid. There's no hinge or rubber to keep the lid secure, but it just rests on the top of the milk container. I usually kept the milk container in the fridge and took it out when I wanted frothed milk, so the lid got knocked off almost every time.
Another con of the LatteGo system is that it only creates very creamy and thick foam. No matter how much milk I used, I got consistent thick foam. That's good for making a nice cappuccino.
However, the milk frother doesn't create microfoam for milk-based drinks, which rules out the possibility of making latte art. You'll need a manual steam wand to create a thinner foam, like on the Breville Barista or Breville Bambino models.
Finally, the LatteGo system is loud. There's a whistle that resembles what you might hear in coffee shops, which is a little too loud first thing in the morning.
Espresso Quality
I was satisfied with the Philips 3200 espresso quality. The Philips 3200 series is aimed at beginners, so it's easy to brew a decent quality espresso. You start by selecting the beverage button. Then, you can customize the shot volume and temperature.
I used dark roasts for the Philips 3200 automatic espresso machine. Any coffee beans will work, but you'll have to dial in the brew with the correct grind size. If the espresso is too watery, you can grind coffee beans on a finer setting, increase the brew strength, and lower water volume.
Once you find the settings for the best espresso flavor for you, this automatic espresso machine will consistently brew a good espresso with a rich crema.
Another thing I liked is that Philips 3200 LatteGo brews espresso quickly, and the double shot is a true double shot, where it puls twice the coffee grounds, not just twice the water (like an espresso long shot). The espresso was always hot enough for me, but if you want, you can make your drink hotter or cooler by choosing a normal, high, or max temperature.
Ceramic Grinder
Philips 3200 LatteGo has a ceramic flat burr grinder with 12 grind sizes. It's not as granular as the Barista Pro, but you'll be able to dial it in with coffee beans of varying coarseness. Philips says their ceramic grinder can brew up to 20,000 cups.
There is debate about flat vs. conical burr grinder users and ceramic vs. steel. Ceramic flat grinders have a better reputation and are found on much more expensive espresso machines.
The Philips 3200 series ceramic grinder is extremely precise and has 12 settings to dial-in the right grind size.
I tried a standalone ceramic grinder, and the Philips grinder is durable with fantastic consistency. Ceramic burr grinders are costly, so most other automatic espresso machines at this price range have a stainless steel conical burr grinder. Philips 3200 LatteGo gets major points for including a ceramic grinder in their automatic espresso machine.
Note: The machine will come set up for the best espresso taste results, and Philips recommends not to change the grinder settings for the first 100 to 150 cups. After this, you can adjust the grind settings via a wheel located on the bean hopper.
One negative about the grinder: it's loud. Flat burr grinders are typically loud although this is noticeably louder than other super-automatic espresso machines. It'll definitely give you a jolt in the morning when you're making espresso.
Apart from grinding your own coffee beans, you can also use pre-ground coffee. A chute (or bypass doser) for pre-ground coffee is on top of the machine right in the middle by the main hopper.
Display Panel and Drink Options
Philips 3200 LatteGo has a front panel that lets you choose between five coffee drinks: espresso, cappuccino, latte macchiato, Americano, and black coffee. Plus, when you remove the LatteGo system, you can draw hot water.
These beverages are preset and available with a touch of a button. It takes about a minute to brew the drinks on this fully automatic espresso machine.
You can also choose to brew a double size of espresso, Americano, or regular coffee from the front panel as well. You choose the larger size and the Philips 3200 brews two drinks, one after the other.
You can customize drinks. For example, the machine will add more water when you want a longer shot. There are three options: low 4oz, medium 5oz, and high 6oz. You also have to adjust the brew strength separately from the drink size. I didn't do it, so my 4oz drink had the same amount of coffee as 6oz.
Overall, the display panel was easy to understand and use, and Philips 3200 LatteGo coffee maker has a solid choice of 5 drink options that can be customized to your preferences.
AquaClean Filter
Philips 3200 LatteGo coffee maker comes with an AquaClean filter. According to the company, you won't need to descale the machine for about 5,000 cups. This means you'll be able to brew several coffee beverages daily and only have to descale the machine every five years or so.
The catch is you have to replace the AquaClean filter every 50 tanks, or about every 3 months. You'll know it's time to replace the filter when the filter light changes from blue to flashing orange.
Overall, the AquaClean system is extremely convenient and another big plus for Philips 3200 LatteGo. Most espresso machines need a substantial descale every few months or the machine won't operate.
Temperature Control
Philips 3200 LatteGo has three temperature settings, which means you can change how hot your coffee is.
This feature is a little hidden, and to make it easier for you, here's how to change the temperature:
Press the on/off button to turn off the machine
Press and hold the coffee quantity button when the Philips 3200 LatteGo is switched off.
Press the icon and select normal, high, or max temperature when the lights are up.
Press the stop/start button
Press the on/off button to turn the machine back on
Philips 3200 LatteGo Setup
You'll need a few hours and the manual to set up the Philips 3200 LatteGo. I turned to Philips YouTube videos, as the manual was very photo-heavy. Luckily, once you get used to using the machine, it's pretty intuitive.
The first steps include rinsing the machine, activating the AquaClean filter, and testing the water hardness. You can use a test strip to determine water hardness and input your results. How hard your water is will determine how often you'll have to descale (harder water = more frequent descale), but the AquaClean filter makes it very infrequent.
When you start the machine, it takes two minutes to warm up. The machine will do an automatic rinsing cycle. You'll know it's ready for use when all drink icons are lit up.
Once these setup steps are done, you can start experimenting with different coffee drinks. The machine will take about five brews to adjust to the correct coffee-to-serving ratio. The first few cups I brewed were decent coffee cups but a little weak, so remember to give it some time.
When you're done setting up, you can also adjust drink preferences, such as strength, quantity, and grind settings, and add cold milk to make milk-based beverages.
One unique thing is the order in which the Philips 3200 series makes a latte or a cappuccino. It first froths the milk and then adds the espresso. This isn't how cappuccino and latte are traditionally done, and a coffee snob won't agree with this (that's not how we are at Craft Coffee Spot), but the order doesn't affect the coffee flavor.
Cleaning and Maintenance
Philips 3200 LatteGo is easy to clean as it has a lot of detachable parts:
Brew head — Removable brew group is accessed via a door at the back of the water tank. Rinse once a week to remove excess grounds.
Drip tray — The drip tray has a shut-off that tells you it's time to empty it. However, by the time the shut-off is activated, the tray is very full. I regularly spilled water when removing it, so I recommended not waiting for the full indication but emptying it regularly.
Used coffee grounds container — Pulls out together with the drip tray and can hold 12 servings.
Water tank — front-loading water tank is easier to refill and replace the water filter.
LatteGo milk system — It's just two parts -container and lid – and can be rinsed under water after each use.
Overall, Philips 3200 LatteGo is extremely easy to clean. A lot of its parts, such as the drip tray, LatteGo milk system, and the coffee grounds container, are also dishwasher safe.
The exterior is easy to maintain as well. Just wipe it with a wet cloth.
You'll have to do some maintenance to keep the machine running well. You should apply lubrication to the brew unit every two months. I liked that Philips provides a grease tube with 3200 LatteGo, so you get everything you need.
Value
Considering Philips 3200 LatteGo is a super-automatic espresso machine, it's affordable. Other super-automatic models go for two and three times the cost.
Philips 3200 is made of durable plastic and has impressive descaling options, an automatic steam wand, and temperature control. You're unlikely to find another automatic coffee machine with this many features at this price.
It's a good investment that will deliver decent coffee for years to come. Plus, you'll save money as you won't have to run to the coffee shop daily for your caffeine fix.

Philips 3200 LatteGo Vs. Other Philips Products
Philips has a line of espresso machines, where the functionality increases with the number. The main difference between models is the number of drink options and display quality. The milk frothing system, heating element, and grinder are the same, and you can usually find models with and without the LatteGo system.
I included a table comparing the mid and low end Philips models, in case you want to find a better value. We've also written about the high-end Philips 5400 with a more detailed comparison table in that article here.
| | Philips 3200 LatteGo | Philips 2200 LatteGo | Philips 1200 (Carina) |
| --- | --- | --- | --- |
| Color | Black and silver | Black | Black |
| Build material | Plastic with stainless steel accents | Plastic with stainless steel accents | Plastic |
| Water tank capacity | 60oz | 60oz | 60oz |
| Drink options | Espresso, cappuccino, coffee, latte macchiato, americano, and hot water | Espresso, cappuccino, regular coffee, and hot water | Espresso, regular coffee, hot water |
| Milk frothing | LatteGo milk system | LatteGo milk system | Classic milk frother |
| Grinder | 12 settings adjustable ceramic burr grinder | 12 settings adjustable ceramic burr grinder | 12 settings adjustable ceramic burr grinder |
| Extra features | 3 aroma settings, 4 coffee recipes, 3 temperature settings, AquaClean filter | 3 aroma settings, 2 coffee recipes, AquaClean filter | AquaClean filter, The Aroma Extract system allows optimum extraction by keeping the temperature between 194 and 208°F. |
| Dimensions | 20.2 x 19.5 x 12 in | 22 x 20 x 16 in | 17 x 14.5 x 9.5 in |
| Weight | 21.1 pounds | 23.2 pounds | 22.5 pounds |
| Availability | Check Price at Amazon | Check Price at Amazon | Only available at Seattle Coffee Gear |
Comparing the Philips LatteGo models
Philips 3200 LatteGo: Final Thoughts

Philips 3200 is an excellent machine for brewing coffee. You'll consistently get good quality espresso and four other drinks: Americano, latte macchiato, cappuccino, and coffee.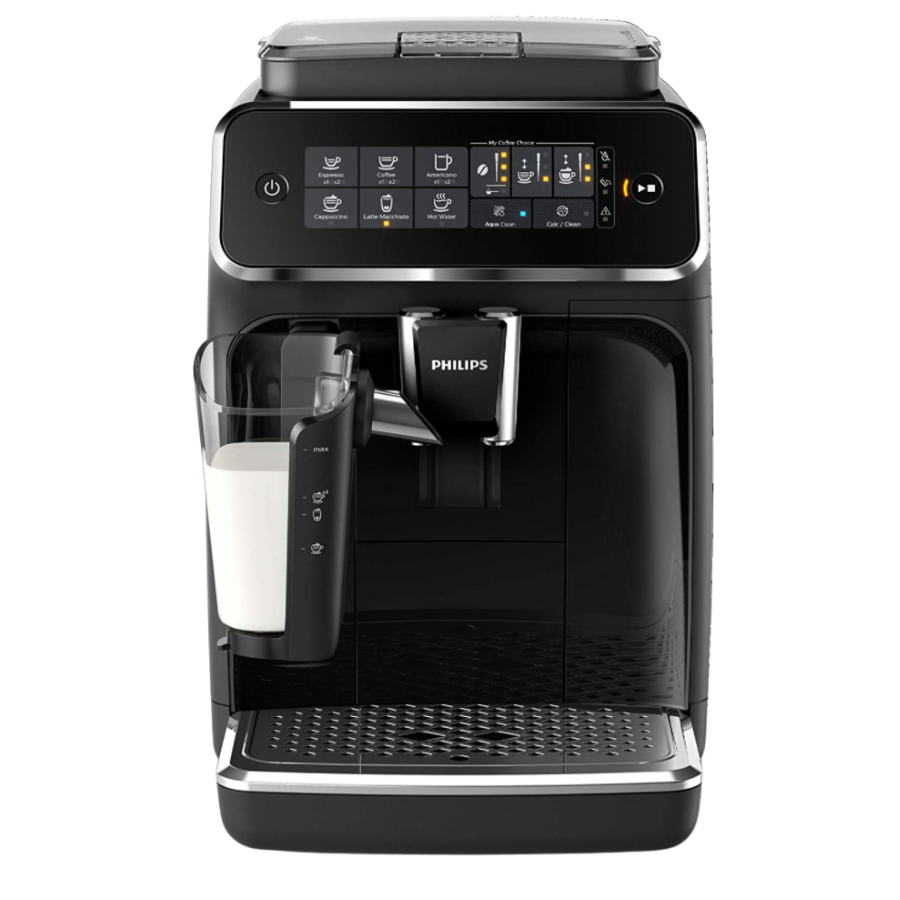 Bottom line: The Philips 3200 LatteGo is a perfect starter super-automatic espresso machine.
Five espresso drink options with a bright-lit display
Options for temperature, aroma, coffee quantity, and milk froth
LatteGo milk frother makes one-touch cappuccinos
AquaClean system requires descaling after 5,000 drinks
High-quality flat, ceramic burr grinder
It's extremely easy to clean, thanks to the removable brew head and other removable parts located at the front. You can rinse them underwater or use your dishwasher. The LatteGo system will froth your milk with a touch of a button, and AquaClean will keep your machine going for years without having to stop the brewing to descale.
But, if you'd like a coffee machine that allows you to grow your barista skills, have more control over the brewing process, and create latte art, check out our Breville Barista Pro Review.