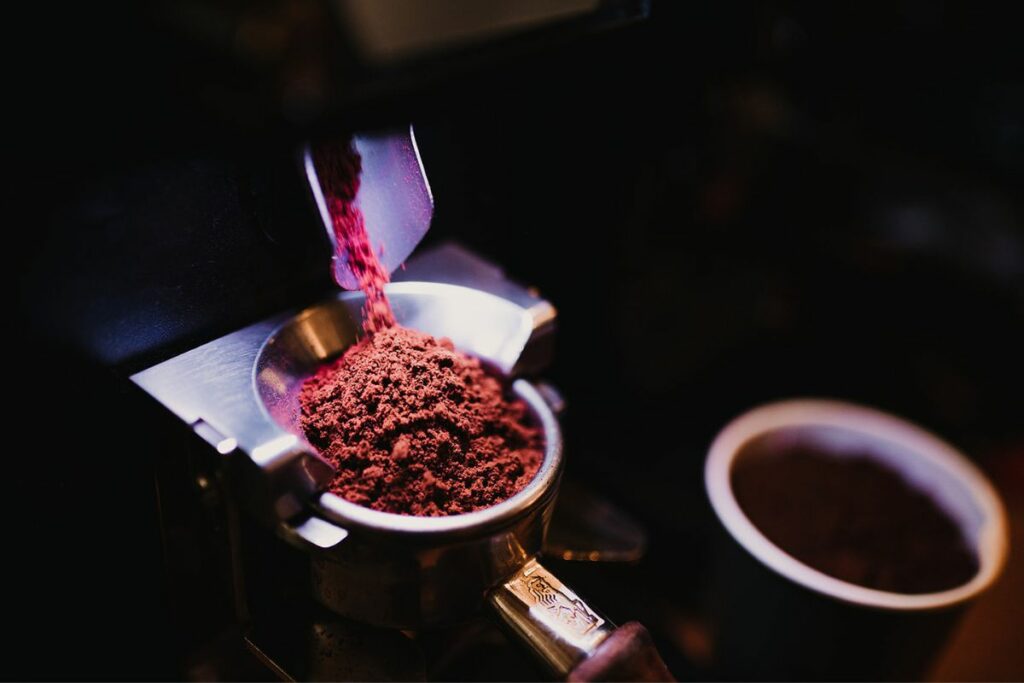 If you're making espresso, the grinder is as important, or more, than the espresso machine itself. Espresso requires a very specific grinder, one that is capable of grind settings that most grinders can't do.
The good thing is more grinders have launched for espresso, and I've used several of them. My favorites for exacting espresso standards are:
In this coffee grinder roundup, I'll cover these coffee grinders (and more!) and dive into their strengths and weaknesses. I'll also describe who each grinder is suited to and what you should consider before buying.
What Makes An Espresso Grinder Stand Out?
Making espresso requires a highly specialized coffee grinder with three important capabilities.
First, it needs to be able to grind coffee beans extremely fine. Espresso is brewed under pressure, and a fine grind prevents water from running through the coffee grounds too quickly. Water contact time is one of the most important factors that affect extraction. Grinding coffee that looks like fine sand is the first step in controlling contact time effectively.
Second, an effective espresso grinder has many settings in that fine grind range. Just being able to produce a fine grind isn't enough to brew great espresso. To understand, think of espresso as the magnifying glass of coffee. Variables that make a small difference in flavor in brewed coffee can radically affect the taste of an espresso shot, because of the very concentrated brew.
This includes the fineness of the grounds. On a regular coffee grinder, changing the grind by just one setting can be the difference between a shot that's enjoyable and one that's undrinkable. Minute, subtle adjustments are required to properly dial in espresso. I'm talking tens of microns here, which is the width of a human hair!
Third, an espresso grinder must be consistent. One hundred grind settings don't count for much if they produce too much variability in particle size. It's also unhelpful if the same setting can't consistently deliver the same result. Without a high degree of confidence in grind consistency, every attempt to pull a flavorful shot may be a shot in the dark (pun intended).
Individual Reviews: Best Coffee Grinder for Espresso
---
1. Best Overall: Eureka Mignon Specialita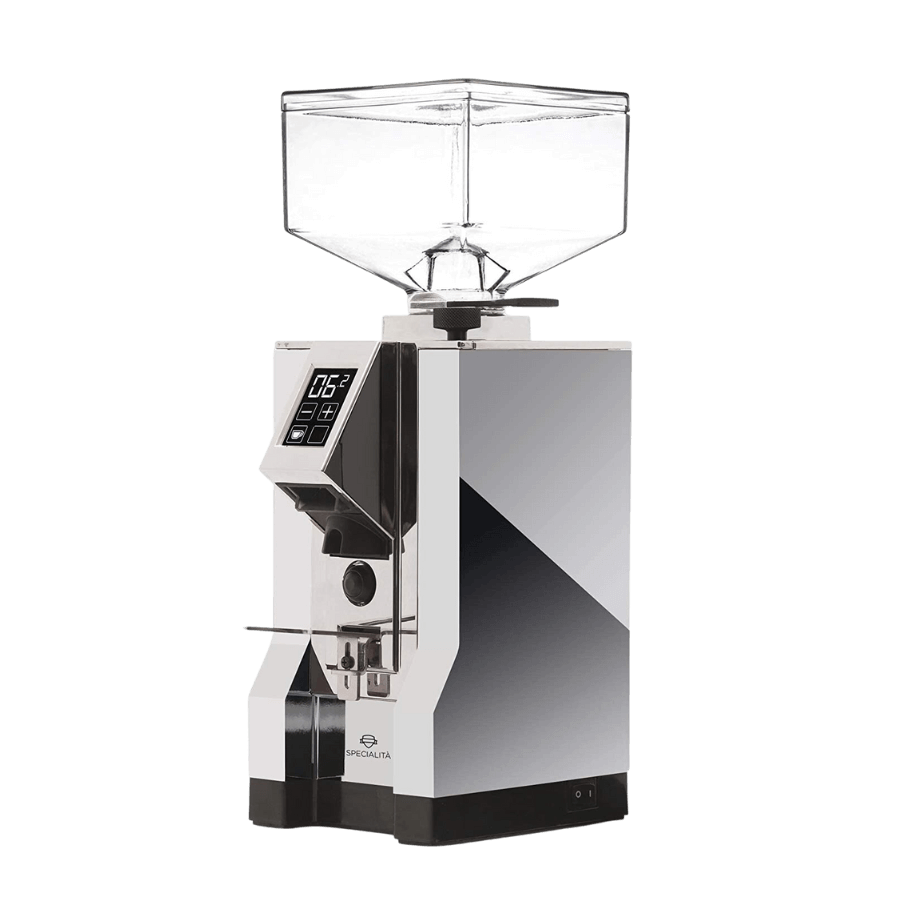 Eureka Mignon Specialita highlights:
55mm hardened steel flat burrs
Stepless grind adjustment
Insulated body for quiet grinding
The Eureka Mignon Specialita is the holy grail of espresso grinders. While it is capable of brewing for something like pour-over or French press, it was built with espresso in mind. This specificity in its design has led to one of the most capable home espresso grinders on the market.
The stepless grind adjustment allows for minute, detailed adjustments that let you dial in your espresso shots with extreme precision. Adjusting is as simple as turning a small dial in front of the hopper. The dial is easy to change, but I wish it were bigger so I could tell the minute settings.
Once you have your coffee dialed in, the Mignon Specialita has two time-based programmable presets. This lets you recreate a consistent dose at the push of a button. There's also a portafilter holder for easy dosing and minimal static.
The flat burrs create a very consistent grind that leads to rich, clean, flavorful espresso. The only thing that rivals the even grind distribution is the repeatability of a given setting. Once you have an espresso recipe set, you can have confidence that the same setting will consistently reproduce the same results.
Want More Coffee Tips?
Join the email list for exclusive coffee insights and deals that only subscribers get. You'll get two coffee discounts just for joining.
No spam, ever. We respect your privacy and unsubscribe anytime.
This is all accomplished with an eerily quiet burr mechanism. The steel casing around the motor provides sound insulation that makes the Mignon Specialita one of the quietest coffee grinders in its class. That's especially impressive, considering flat burr grinders are notoriously loud.
The quality of this coffee grinder comes with a high price tag. For being one of the most capable coffee grinders of its kind, it's also one of the most expensive. It's certainly not a budget-friendly option, but it's also worth every penny. For those willing to spend the money, it's hard to beat the grind consistency and precision of the Eureka Mignon Specialita.
Pros
Quiet
Great grind consistency
Programmable time-based dosing
Cons
Expensive
Small grind dial is hard to operate
Not ideal for other brew methods
---
2. Best Conical Burr Grinder: Niche Zero
Niche Zero highlights:
63mm hardened steel conical burrs
Stepless grind adjustment
Zero retention design
The Niche Zero is one of the most in-demand conical burr grinders available. It's versatile in its ability to grind for filter brew methods while still delivering a precise and consistent espresso grind. The small footprint makes it an ideal home coffee grinder capable of fitting most countertop setups. More than anything, the Niche is a beautiful device with a rounded, minimalist look and perfect wooden accents.
As a single-dose coffee grinder, the Niche Zero requires you to weigh out the precise amount of coffee you want to use before putting it in the grinder. There's no need to factor in waste or trapped grounds because the Niche Zero is truly a zero-retention grinder. Niche claims that grounds lost during grinding never total more than 0.2g.
Using the Niche Zero is as simple as inserting your desired dose and flipping the power switch. Ground coffee is dosed into a cup that fits neatly into a standard 58mm portafilter. The low static of the conical burrs and the dose cup make it a clean and tidy coffee grinder to use.
This grinder's precision is maintained on its espresso, pour-over, and French press settings. While it makes for a rich and flavorful shot, it also produces crisp, clean brewed coffee. This makes it a great one-stop shop for all your coffee grinding needs, not just espresso.
Its versatility makes the Niche Zero a very popular grinder, and that has led to some supply chain problems. There are periods of time when buyers have to sign up for a waitlist because there simply aren't any grinders available at any distributor. It's also an expensive coffee grinder. While it earns its high price for grind consistency, versatility, and beauty, I don't blame anyone for passing due to waitlist and cost.
Some espresso aficionados may also be turned away by the conical burr setup of the Niche Zero. For the same price, you could get a flat burr espresso grinder that might deliver more consistency on fine espresso settings. For a catch-all coffee grinder that can do espresso and filter coffee, the Niche Zero is top of the line. As a dedicated espresso grinder, some may prefer flat burrs.
Pros
Versatile grind settings for espresso and filter coffee
Beautiful design
Low grind retention
Cons
Expensive
Conical burrs may be less consistent than flat burrs
Suffers from occasional supply issues
---
3. Best Value: DF64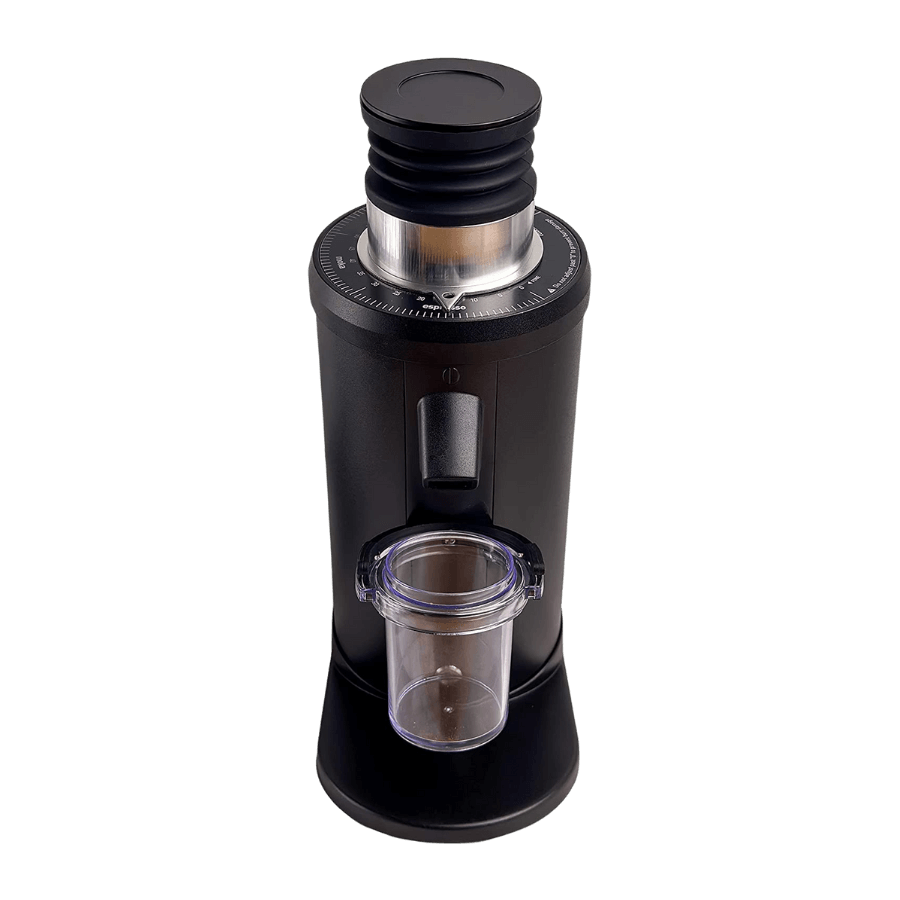 DF64 highlights:
64mm stainless steel flat burrs
Stepless grind adjustment
Bellow for improved grind retention
For those looking to get the most bang for their buck, the DF64 offers great functionality at a more affordable price. It's a single-dose, stepless adjustment grinder billed as a cheaper alternative to the Niche Zero (hence, the nickname "Niche killer"). It has a slightly smaller espresso range than the Niche Zero but is still a capable espresso grinder. It's also several hundred dollars cheaper than its competitors.
The flat burrs of the DF64 lead to higher grind retention than its conical burr counterpart. However, there's a bellow over the grind chamber that forces air through the burr assembly and pushes out stuck grounds. This addition gives the DF64 the precision and consistency of a flat burr grinder and the low retention of a conical burr grinder. It's the best of both worlds.
One of the cool things about the DF64 is how easy it is to modify. Nearly every part of the machine, from the dose cup to the burrs, bellow, or declumper, can be easily removed and replaced. There's no shortage of crafty baristas selling custom-built DF64 parts on Etsy. You can easily find high-end SSP burrs as well. You can customize the grinder to your exact liking with a little effort.
The downside to this is that some parts of the base DF64 almost require modding to be functional. The rubber declumper, for example, often does more to clog up the machine than to prevent grounds from clumping. Also, The DF64 generates a lot of static and can create quite a mess if you don't spray your coffee beans with a little water before grinding.
It's well worth putting up with minor annoyances for the value the DF64 offers. Its capability rivals the most expensive espresso grinders while staying in a mid-tier price range.
Pros
Excellent value
Highly modifiable
Low grind retention
Cons
High static
Poor internal declumper
---
4. Best Programmable Coffee Grinder: Baratza Sette 270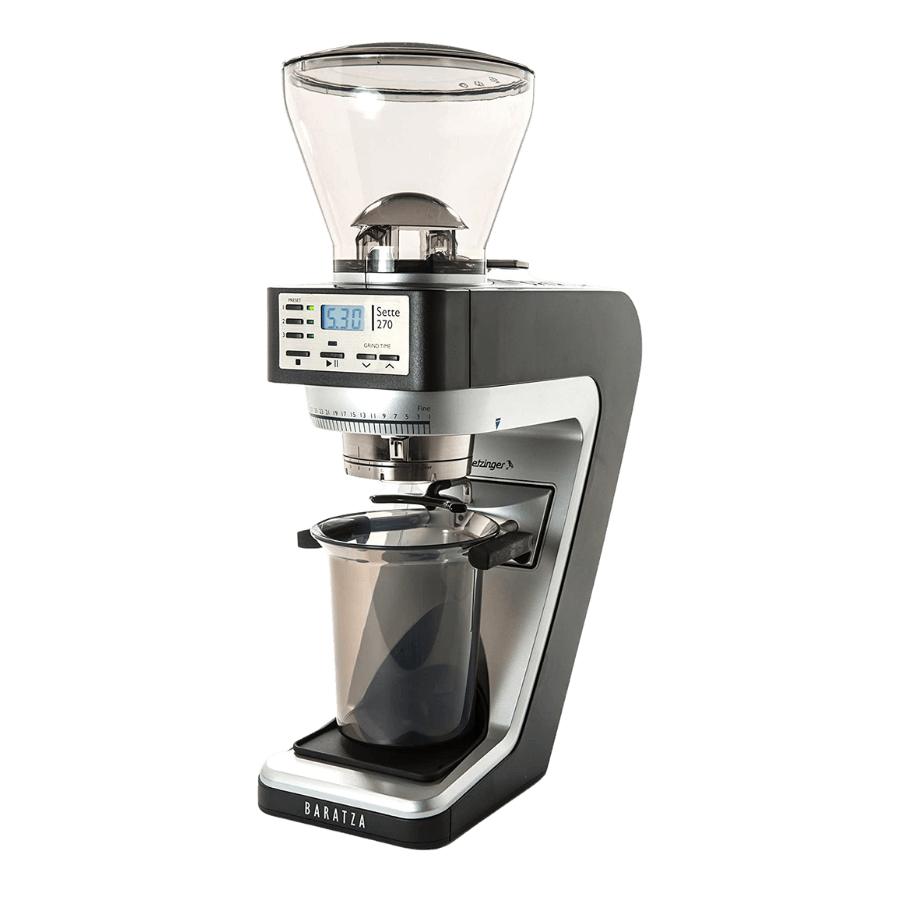 Baratza Sette 270 highlights:
40mm stainless steel conical burrs
270 grind settings
3 programmable dose settings
The Baratza Sette 270 is a stepped adjustment coffee grinder with programmable timed doses. The "270" in its name comes from its 270 grind settings – several dozen of these settings are in the espresso range. Adjustments are made via an upper macro adjustment ring and a lower micro adjustment ring for more subtle changes. This makes dialing in espresso an intuitive process.
The Sette works differently than its peers, as the upper burr spins while the lower burr is stationary, contrary to most grinders. This leads to a very fast grind time, and there's low static as well. The burrs have a more helical shape which pulls down beans for a consistent and quick grind.
The downside of this design is the Sette 270 is also very loud. The noise is enough to overpower any conversation being had near the grinder. It's certainly enough to wake up a sleeping house early in the morning. Thankfully, it's also a fast grinder, so the noise doesn't last for long.
A major draw of the Sette 270 is its ability to save three different dosing presets and still dose manually. The base Sette 270 uses time-based dosing, but the upgraded 270wi has a built-in Acaia scale that doses by weight. Personally, I don't think you need weight-based dosing.
You can program doses for a double shot and ristretto or save recipes for different coffees. The clearly labeled adjustment dials and click settings make it easy to switch grind settings for each preset. The results across all fine settings is a consistent, uniform grind.
To keep that consistency, though, the Sette 270 requires a shim adjustment after it grinds its first few pounds of coffee. It's a simple adjustment to make, but it's essential to maintaining the functionality of the Sette 270's finest settings.
The Sette 270 is an affordable option, especially for its grind capabilities, which rival commercial grinders in my experience. That accessibility, along with the abundance of settings, grind consistency, and programmability, make the noise and required shim adjustment worth it.
Pros
Easily programmable
Multitude of fine settings
Upgraded model uses weight-based grinding
Cons
Extremely noisy
Requires shim adjustment for espresso
---
5. Best Budget Burr Grinder: Breville Smart Grinder Pro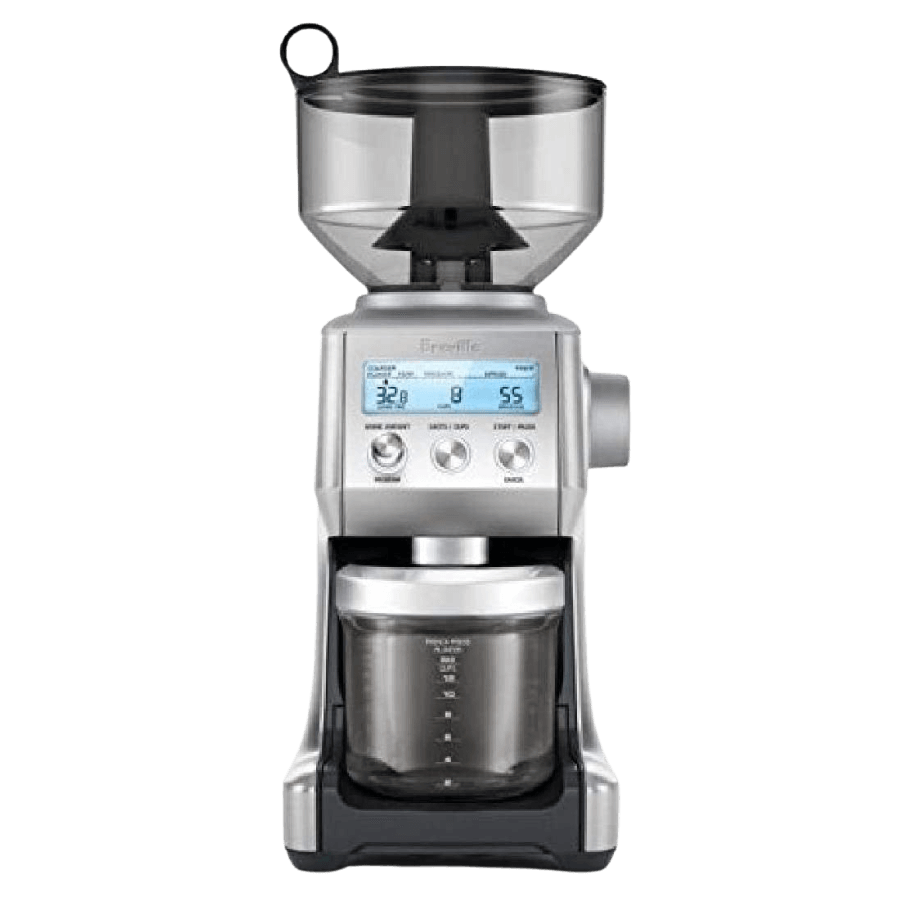 Breville Smart Grinder Pro highlights:
40mm stainless steel conical burrs
60 grind settings
LCD adjustment display
If cost is your most pressing concern, the Breville Smart Grinder Pro is an affordable option for a home espresso grinder. It can't compete with top-tier grinders in its precision, but it still has a decent range of espresso settings that make for an enjoyable shot.
There's an easy-to-read LCD screen that tells you what brew method is ideal for the current setting. Dosing is time-based, and you use a dial on the front of the grinder to adjust the grind time to achieve the desired dose. A button allows you to switch the dose program between espresso shots and cups of coffee when switching between espresso and other brew methods.
There are 60 total grind settings ranging from espresso to French press. That means that only about 10 settings are usable for espresso, so it limits how precise you can be when dialing in. However, the Smart Grinder Pro is about one-third the price of high-end espresso grinders. At that price, it's impressive that it has such a wide range of settings while still having a workable espresso range.
The Smart Grinder Pro is an entry-level grinder that will allow you to dip your toes in the water of espresso without breaking the bank. It's easy to use and understand, has a decent number of espresso settings, and is one of the most affordable electric grinders available.
Pros
Affordable electric grinder
Intuitive display and adjustment
Cons
Fewer settings than most similar grinders
Limited espresso range
---
6. Best Manual Grinder: 1Zpresso J-Max
1Zpresso J-Max highlights:
48mm titanium-coated steel conical burrs
450 grind settings
Portable hand grinder
The 1Zpresso J-Max is the ultimate hand grinder for making espresso. 1zpresso makes a wide line of manual grinders, and J-Max is their espresso specialty. It's compact, sturdy, easy to use, and delivers consistent precision in grinding espresso. The J-Max is great as a cheaper alternative to an electric coffee grinder or a portable option when counter space is limited.
The J-Max has a durable steel and aluminum alloy body. It can survive most bumps and scrapes, and it feels solid in your hands when using it. It has a chamber capacity of up to 40g, but it works best as a single-dose grinder.
The titanium-coated burrs are built to last. They're able to deliver a consistent grind at the finest settings while maintaining their sharpness and detail. The life cycle of this grinder, between the sturdy body and long-lasting burrs, is impressive.
The ability to fine-tune the grind setting of the 1Zpresso J-Max is staggering. There are 90 click settings per burr rotation, and there are five total rotations possible. That allows for 450 grind settings. It can grind for all sorts of brew methods, but usable espresso settings are between about 100 to 150 clicks. That leaves plenty of room for precisely dialing in the perfect shot.
The downsides of the J-Max aren't unique to this grinder. It has the same tradeoffs as any hand coffee grinder. The most obvious is the manual labor required. On the finest settings, it takes some work to grind a full shot of espresso. It can also take a fair amount of time, up to and over a minute in some cases.
The other inconvenience of the J-Max is the ability to read the adjustment dial and recall previous settings. The external dial on the J-Max is easier than the vast majority of manual grinders, and it's on the outside of the body rather than at the bottom of the burr assembly. However, there's still some ambiguity that most electric coffee grinders don't suffer from. If you can't figure out what setting you're on, your only choice is to go back to the beginning of a rotation and start over.
If you're familiar with hand grinders, these issues shouldn't sound exceptional. If you're on a budget or just prefer using hand grinders, the J-Max is the best manual coffee grinder around for making espresso.
Pros
Portable
Affordable
Wide range of grind settings
Cons
Poor setting recall
Requires substantial manual effort on the finest settings
---
7. Best Basic Coffee Grinder: Rancilio Rocky
Rancilio Rocky highlights:
50mm steel flat burrs
55 grind settings
Commercial-grade construction in a home grinder
The Rancilio Rocky is a very utilitarian option for grinding coffee. It accomplishes the basics well but doesn't have the bells and whistles that other coffee grinders in its class do. It's not for those who want extra feature with their coffee grinder, but it's a good basic machine for getting the job done.
Rancilio is better known for its commercial grinders, and they brought that same build philosophy to the Rocky. The 50mm burrs are the same commercial-grade burrs that Rancilio uses in their larger machines, so they're quick and effective. The powerful motor that drives those burrs is heavy, and the whole machine weighs close to 20 lbs. Despite the speed and power of the Rocky, it's a surprisingly quiet grinder. It's not silent, but it doesn't suffer from the obscene noise that most flat burr grinders do.
The Rocky has 55 grind settings that range from espresso to French press. About 10 of those settings are usable for espresso. That allows for some precision for dialing in, but not nearly as much as other coffee grinders in the same price range.
Adjusting the grind setting can be a chore. There's a locking mechanism that you have to hold down while twisting the hopper. That means it requires two hands to adjust. If you're storing coffee in the hopper, it's advised that you run the grinder while adjusting it to keep coffee beans from jamming in the burrs. That's an extra step (and potentially an extra hand) that can make adjusting the Rocky feels like a puzzle or a test of dexterity.
The biggest problem the Rocky suffers from, however, is its price. For about half the cost, the Smart Grinder Pro comes with five more grind settings, an LCD screen, and a dose timer. For about the same price, the DF64 has a stepless adjustment and a bellow for improved grind retention.
Considering the cost of the Rancilio Rocky, you'd expect there to be more features or capabilities. What it seems you're paying for is the commercial build quality. It truly is a durable and powerful grinder. Whether it's a good value for the money depends on if you value that build quality more than grind precision.
Pros
Quiet for a flat burr grinder
Sturdy and durable design
Cons
Bare bones in terms of features
Difficult to adjust the grind setting
Mixed value for price
Very heavy
---
What to Consider When Buying Coffee Grinders
Many of these espresso grinders have similar capabilities in their basic functionality. What makes a grinder "the best" depends on a few notable considerations that suit different needs.
Burr Type
Espresso grinders can be split into two broad categories: conical burr grinders vs. flat burr grinders. Neither burr set is inherently better than the other, but each has its strengths and weaknesses. Flat burrs are more consistent, but conical burrs are quieter and have lower grind retention. Consider which is a higher priority for you when choosing your espresso grinder.
A conical burr grinder uses gravity to help pull coffee down between an inner burr and an outer burr that act as a funnel. A flat burr coffee grinder uses a high-speed motor to force coffee out from between two parallel burrs.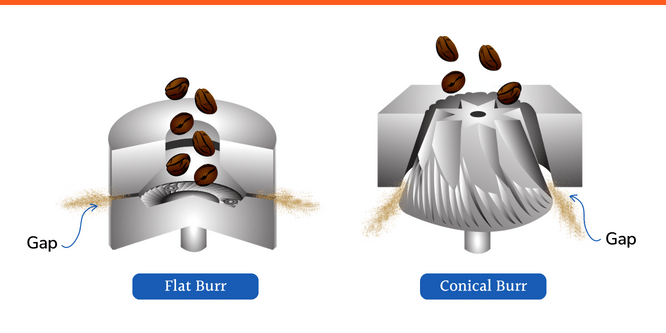 The different burr types affect the grinder in several key ways. The first that most people notice is the noise level. A conical burr grinder is often quieter than a flat burr grinder (except for the Baratza Sette 270). This is because the higher RPM (rotations per minute) required by a flat burr grinder generates more noise.
However, that fast-spinning motor also produces a unimodal grind size distribution. This means that on a flat burr grinder, the vast majority of ground particles will be just one size. Conical burr grinders produce a bimodal distribution. This means the particles are divided between two different sizes. The result is an espresso that can sometimes be muddy or bitter due to the inconsistencies in grind size. Flat burrs, then, are often more consistent and produce a cleaner flavor.
Conical burr grinders outperform flat burr grinders on grind retention. That's because the conical burr has gravity on its side to help move coffee through the burrs. A flat burr assembly has to force coffee out the sides of the burrs without the help of gravity.
Flatt burrs try to compensate for this with its high spin rate. A higher spin rate creates more friction, which creates more static, which allows coffee to be trapped in the grinder. This means that flat burr grinders are more likely than conical burr grinders to allow old, trapped coffee grounds to be mixed in each new dose. This can create more dull, muted flavors in a shot, as well as a subtle stale aftertaste.
Manual vs. Electric
Whether a hand grinder or an electric grinder suits you best depends on your needs and your preferences.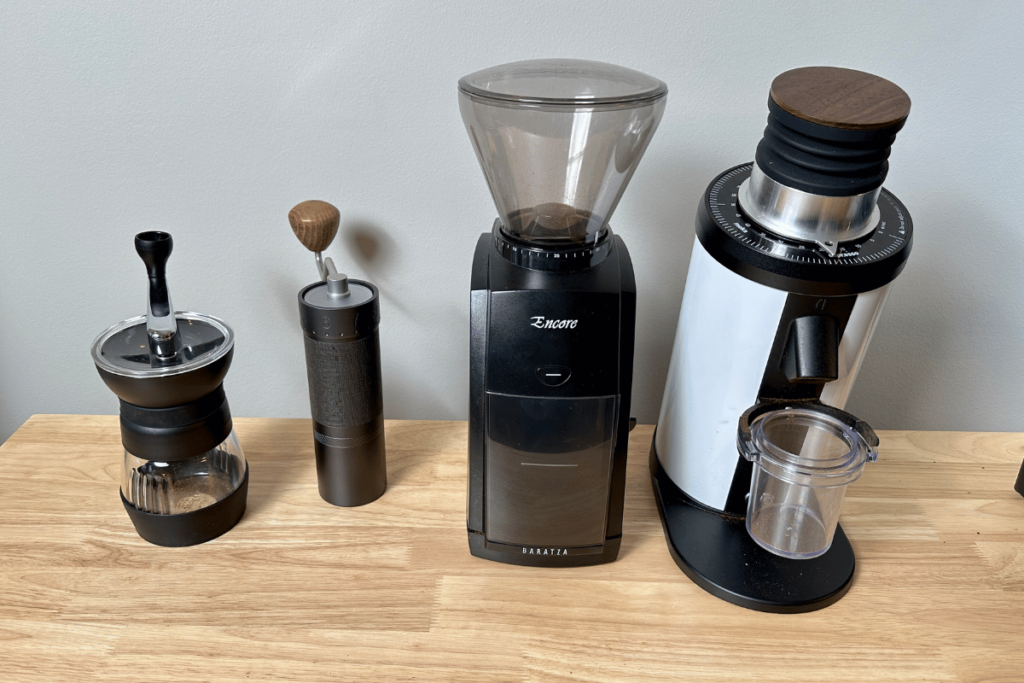 Manual grinders are some of the quietest around, and they have a smaller footprint than their electric counterparts. They store and transport easily, so you can take your grinder with you when traveling. These features make manual grinders very unobtrusive pieces of coffee equipment. They're also far less expensive, typically one-third to half the cost of a comparable electric grinder.
Electric coffee grinders, on the other hand, require less work to operate. Coffee goes in, and espresso grounds come out with no manual labor needed. An electric coffee grinder also has better setting recall than a hand grinder. It's more intuitive to find and return to a previous grind setting, which makes dialing in multiple coffees much easier.
If counter space or portability are high priorities, a manual grinder will suit your needs well. If ease of use is more important than footprint or noise, an electric grinder is better.
Hopper-Based Dosing vs. Single Dosing
How coffee beans are dosed into a grinder may seem like a minor difference, but it's an important consideration, particularly for espresso.
A hopper on top of the burr assembly allows you to store coffee on the grinder, and the dose is determined by the grind time. By contrast, a single-dose grinder can only hold the exact amount of coffee for that dose (hence, single-dose). To grind 20g of coffee beans, you have to put 20g in the grinder.
A hopper is a convenient add-on, especially if you make espresso with the same coffee every day. If you don't have a scale, grinding by time is a fairly reliable alternative that you can achieve with a hopper.
However, the beans stay in the hopper, and you'll get the old beans if you change the grind size. This means some partially ground coffee will always be left in the burrs and will be mixed into the next dose unless you purge the grinder.
A single-dose grinder pushes out every bean for every dose, so it doesn't require constant purging. Your beans are always fresh with single dosing with less waste. However, it's more work. You have to weigh out your coffee prior to grinding for each use, which takes a little more time and effort.
Personally, I prefer single-dosing and do it with all my grinders, hopper or not. For convenience and speed, hopper-dosing allows for quick and easy grinding. For guaranteed freshness and precision, a single-dose grinder is ideal.
Budget
A typical budget for espresso grinders would fall into these categories:
Budget: <$250
Mid-range: $250-500
High end: >$500
A higher price tag usually means better burrs (more consistent grind), better ease of use, and reduced noise.
If money is no object, then it's worth considering the best machines from the Eureka or Baratza with large-diameter flat burrs and stepless dosing.
That said, getting a quality espresso grinder while on a budget is possible. One easy way to save is with a manual grinders, which are cheaper than nearly all electric grinders. Obviously, they require "sweat equity" to use and grind adjustments are as intuitive as something like the Sette 270. Meanwhile, the Niche Zero is even more expensive than the Sette 270 but has a stepless grind adjustment compared to the Sette 270's limited settings.
Our advice is to write down your budget first, then what you want in terms of features, then select the best options. You should always ask what features you consider essential for your needs and which ones you can do without.
Completing Your Espresso Setup
Once you've chosen your preferred coffee grinder, you just need an espresso machine to use it with! For a rundown of some great entry-level machines, check out our article on the best espresso machines for beginners.