When we surveyed over 4,000 Americans about their coffee habits, we found interest in pour-over coffee has grown 37% to 7% of home brewing. If you are making pour over, you'll need a quality grinder.
A pour-over coffee grinder has to produce consistent grind size, have adjustable settings for different brew methods, and be durable. Our top three choices with these characteristics are:
I'll review our top six grinders for pour-over coffee, including each key feature with a guide that explains everything you should look for when shopping for coffee grinders. Let's get into all things pour-over coffee grinders.
What Makes A Grinder Good For Pour-Over?
Consistency is the most important factor, as more consistency means more clarity in your cup.
Extraction (aka flavor) depends on the grind size. Generally, every coffee grinder creates fines (micro coffee grounds) and boulders (large coffee ground pieces). While some inconsistency is unavoidable, most of the coffee grounds should be similar in size for a well-extracted cup.
The goal of using a pour over is to get more control over the brew with a manual pour to get more extraction from the grounds. Inconsistent grind size will alter the taste of your pour over coffee, and will ruin the quest for a pristine filter coffee. Too many fines will lead to an over will taste bitter (over-extracted), while too many boulders will taste sour (under-extracted).
Consistency is also important to make your brew repeatable; you don't want a V60 with perfect clarity one morning and then taste bitter the next.
Another important factor for a pour-over coffee grinder is control. Remember, the proper grind size varies based on your brewing method, as a V60 has a finer grind than a Chemex and lighter roasts should be ground finer than darker roasts. Not to mention, your individual preferences will determine grind size (I grind a little more coarse for a lighter body). A grinder with various adjustable settings gives you more control over your final brew.
Finally, a burr grinder is better than a blade grinder for pour-over coffee. I'll discuss that later, but a burr grinder produces consistent grind size. Blade chops the coffee beans while burr grinders crush them between two burrs. The result is a more uniform grind.
Individual Reviews: Best Coffee Grinder for Pour-Over Coffee
---
1. Fellow Ode Gen 2 — Best Overall
Fellow Ode Gen 2 highlights:
Burr size: 64 mm
Grind settings: 31
Hopper capacity: 100 g
Fellow Ode Gen 2 is our top choice for a coffee grinder. This is an upgraded version of Fellow Ode. It fixes all problems the original version had. For example, Ode Gen 2 has a larger hopper than the original version with a steeper hopper slant to avoid jams, and it removes the annoying beep post-grinding. This is great for making a two-cup batch of filter coffee.
The biggest change in the Gen 2 is the new burr design. The Ode Gen 2 has 64 mm flat burrs that went through numerous iterations from the predecessor model. The flat burrs are an upgrade from the conical Fellow Opus model.
Also, the burr teeth produce a very uniform grind size, and I had good clarity without even seasoning the burrs. You can use high-end SSP burrs on this model, but James Hoffman found the grind distribution was surprisingly similar between SSP and stock burrs. That says a lot.
31 grind settings give you plenty of options for dialing in pour-over coffee, and 64 mm burrs produce consistent grind size, so you have even extraction and a balanced flavor profile.
The coffee grounds go into the catch cup, which is magnetic and easily clicks into position. The interface is user-friendly, and the dial you use to adjust the grind size is intuitive. Fellow Ode Gen 2 is an electric grinder that can create grinds for different kinds beside pour over coffee as well. Specifically Aeropress, pour-over, drip coffee, French press, and cold brew. Fellow claims to do espresso, but it doesn't get fine enough here.
The Fellow is known for their eye-catching design, and Ode Gen 2 is no different. It's made of steel and aluminum and has a sleek and modern design. Its matte black casing fits well with every kitchen decor and doesn't take up a lot of counter space. One downside is the hopper only holds 100 grams of beans. You can't fit an entire bag in there, but I don't mind, as I use it as a single-dose grinder. That way the rest of the bag stays fresh.
Read our full review of the Fellow Ode Gen 2 here.
Pros
Modern design
Flat burrs create uniform-sized particles
Very quiet
Fast grinding
Cons
Single-dose grinding
Limited fine settings
---
2. 1Zpresso JX Pro — Best Manual
1Zpresso JX Pro highlights:
Burr size: 48 mm
Grind settings: 200
Hopper capacity: 35 oz
1Zpresso JX Pro is my best manual coffee grinder. This manual burr coffee grinder has 48 mm conical burr and 40-click options, which means you can customize your grind and use the coffee grinder for various brewing methods. The 48 mm conical steel burrs are large for a manual grinder and more common for electric coffee grinders, so this is a nice feature. The larger size provides a good surface area for coffee grinding.
Unlike other manual coffee grinders I used, it's easy to change the settings on the JX Pro. The dial is located inside the hopper, which is a more convenient location compared to the bottom (you don't have to remove the catch cup, hold the handle and turn the knob on the JX Pro). You simply turn the dial to get to the desired setting.
The build is solid, and it feels durable. The grinder has a wide rubber across most of its body, which I found provides excellent grip. This was especially useful, as JX Pro's diameter is pretty large. I also liked the ergonomic handle design with the wooden knob on top. It makes the grinder look stylish and also makes the grinding easier.
Its main downside is the weight. It's a pretty heavy coffee grinder and requires a lot of work from you.
The hopper capacity is 35 g, which is the standard size for most manual coffee grinders. However, if you make pour over for two people, it's barely enough. Luckily, the grind speed is quick at 1 gram per second, so it won't take you too much time to do a second grind.
Finally, unlike the Fellow Ode Gen 2, JX Pro can be used for espresso. It has over 200 grind sizes, so you can dial in and make fine adjustments for grinding for espresso and Turkish coffee. This is nice if you like variety in brewing methods.
Read our full review of the 1zpresso JX Pro here.
Pros
Fast grinding time
Very quiet burr grinder
Flat burrs create uniform particles
Plenty of grind settings
Cons
Limited capacity to one cup pour overs
Needs a lot of strength to grind
---
3. TIMEMORE Chestnut C3 — Best Budget
TIMEMORE Chestnut C3 highlights:
Burr size: 38 mm S2C
Grind settings: 24
Hopper capacity: 25 g
Timemore C3 is completely made of aluminum. There's a rough texture on the outside along the entire body of the grinder, which I found provides a better grip.
The burrs are 38 mm stainless steel and provide good grind consistency. The 38 mm burrs have a patented design called S2C, or "spike to cut." This means the inner burr has an additional set of teeth that run along the length of each spiral. These teeth give you better speed, grind consistency, and efficiency. Plus, there's very little static. You can gently tap the grinder, and the few fines fall seamlessly out.
In our testing, the TimeMore C3 Pro did very well when it came to pour over coffee. It produced a nice clarity with pour over coffee, with few fines from the S2C burr. However, there was some muddiness on finer grind settings. You'll notice that more on a flat-bottomed pour over, which produces a more earthy taste.
One downside is the limited grind adjustments, so it lacks some precision. In theory, there are several dozen clicks to choose from. In practice, you can't use all of them. For example, espresso starts at seven clicks, but if you go finer than that, the burrs can get damaged. 20 clicks are the coarsest setting Timemore recommends using for the French press. If you go coarser than 20, the burrs start dissembling. So, you're left with few options for dialing in.
Also, you have to manually count clicks, since the adjustment dial isn't numbered. Luckily, there's a diagram on the dial that lets you know directions for coarse and fine grinds.
The value is the biggest selling point. The C3 is cheaper than premium manual grinders and cheaper than electric options. You can find a more budget C2 model, but we prefer the C3 over the C2 because of the better S2C burr.
Overall, the Timemore C3 coffee grinder has excellent build quality, good value for money, and easy grinding experience. It's an all-purpose grinder, so you'll likely switch between grind settings. However, as with most other hand grinders, this is a complicated process.
Read our full review of the Timemore C3 grinder here.
Pros
Aluminum construction
Textured body provides excellent grip
Compact design
Cons
Very small hopper capacity
Limited grind settings
---
4. Baratza Encore — Best Ease of Use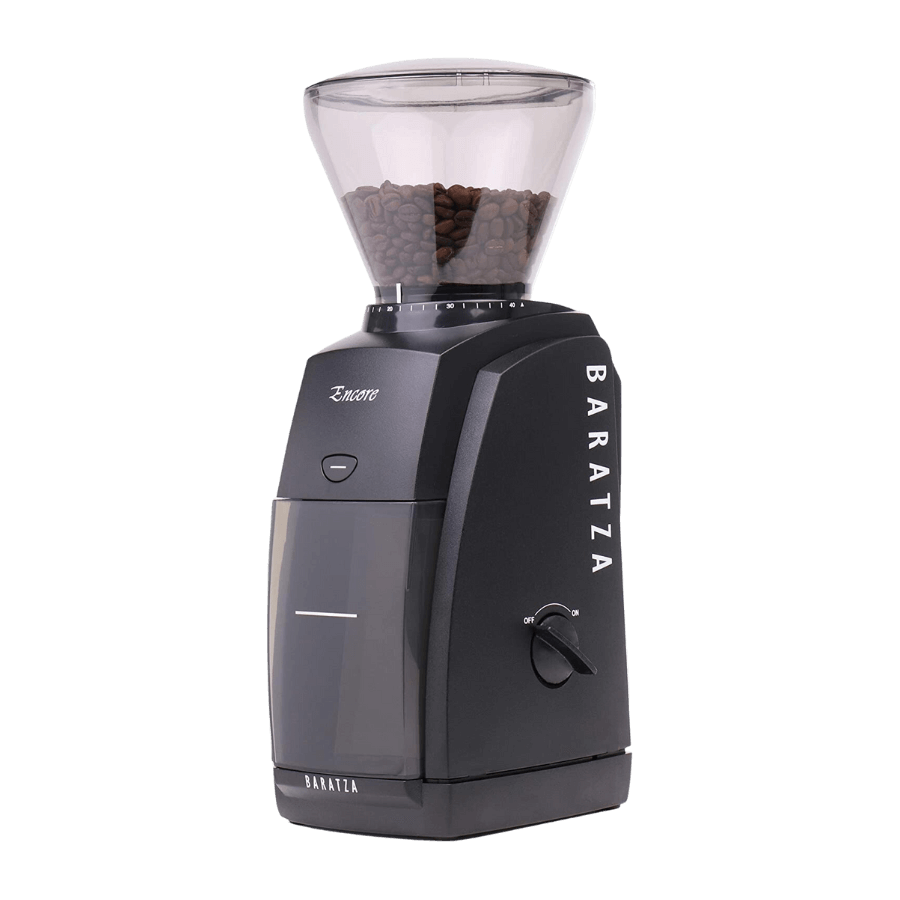 Baratza Encore highlights:
Burr size: 40 mm
Grind settings: 40
Hopper capacity: 10 oz
Baratza Encore is a great coffee grinder for beginners, and it's easy to use — you change the grind settings by twisting the hopper.
This grinder has 40 mm conical burrs with micro and macro adjustments for fine-tuning the grind size. It has 40 grind settings — 20 fine settings spaced closely and 20 coarse settings spaced out. For example, compared to the JX Pro, this is a simple system that makes it much easier to switch settings and dial in.
Unlike the previous burr coffee grinders, the Encore is made of plastic, with a metal adjustment collar and the base. Still, I didn't have any issues with the plastic build, and I see no reason why it wouldn't last for years. The downside of the construction is the Encore produces more noise, which is common on Baratza grinders.
The grinder has a catch bin that slides under the burr. There tends to be a decent amount of retention on the encore, and you'll spill some ground around the bin. The upside is that the bin can hold 100 grams easily, which is nice for a large brew. The new Encore ESP model includes a dosing cup, so you can grind straight into the 54 mm dosing cup. That makes the ESP a good all-around electric grinder for both pour over and espresso. The bean hopper is 10 oz, and the catch bin is 5 oz, so you can grind for more than one serving.
The Encore is an electric grinder, which means less work for you. The motor spins at 550 RPM and doesn't overheat. Overheating is one of the main issues of electric grinders, so it's great it's not an issue for this one.
Overall, Baratza Encore is a great conical burr grinder that's straightforward to use. You'll have fine, high-resolution grinding and a wide range of grind settings — from coarse to fine enough for espresso.
Pros
Easy grind setting adjustment
Magnetic catch cup or dosing bin
Grinds for all brewing methods
---
5. Baratza Sette 30 — Best Conical Burr
Baratza Sette 30 highlights:
Burr size: 40 mm
Grind settings: 30
Hopper capacity: 300 to 400 g
Baratza Sette is a great electric grinder at a value. It only has 30 settings, which is far less than most others, but it's plenty for pour over brewing as the Sette focuses on medium sizes.
The highlight at the Etzinger-designed burrs on the Sette, which are comparable to commercial grinders in our experience. The burrs have a helical shape, which produces uniform size and nice distribution. You get a clear cup in your pour over, but it also has a nice range of flavors. It's not too acidic, not too bright, and certainly not lacking flavor, either.
Sette 30 electric grinder has 40 mm conical steel burrs designed to run differently than other conical burr grinders — the outer burr rotates around the fixed inner cone burr. The result is a fluffy grind and a fast grinding rate. It grinds 3.5 to 5.5 grams per second, depending on your roast and fineness.
This burr coffee grinder has a LED display on the front, which makes it easy to use. The start/stop button lets you precisely dose the amount of coffee for each brew. There's also a convertible device holder, so you can grind straight into a static-reducing bin or portafilter that nicely sits under the burrs.
The hopper holds 300 to 400 g of coffee, and there's a hopper valve that allows you to closer the hopper, in case you want to switch beans or purge the burr assembly without using more beans.
Finally, this coffee grinder has very low retention, which means no lost coffee grounds.
Read our review of the Baratza Sette 270wi, which is similar to the Sette 30.
Pros
Grinds into a portafilter or a dosing bin
Large hopper capacity
Fast grinding time
No retention
Cons
Extremely loud
Plastic build
Limited grind settings
---
6. OXO Conical Burr — Best for a Large Number of Coffee Drinkers
OXO Conical Burr highlights:
Burr size: 40 mm
Grind settings: 15
Hopper capacity: 12 oz
OXO Conical burr grinder provides great value for money. It's compact and durable and has 40 mm steel burrs that provide reliable grind consistency. This grinder has a timer, which makes it easy to use and delivers a consistent dose every time.
Its hopper capacity is 12 oz, the largest on this list. This capacity is enough for about 12 cups of coffee. It means it's great to use in a household of coffee drinkers or at a workplace. 12 oz also means you can pour a whole bag of coffee beans. The transparent hopper lets you see how many beans you have left. You don't have to worry if the sun will make your coffee stale faster because the hopper is UV tinted.
OXO burr grinder has 15 grind settings. This is fewer than other coffee grinders but gives you enough options to dial in pour-over coffee. Plus, there are multiple micro settings, which turns out to be about 40 options for dialing in, which is decent. It's easy to adjust the settings. Simply turn the hopper left or right.
The OXO will not compete in grind consistency with the other burr grinders on this list. If you want to bring out the sweetness of an Ethiopian Yirgacheffe, choose something else on this list. We leave this here as more of an entry-level grinder at a low cost.
Another thing to keep in mind is the noise levels. This is a loud grinder. Moreover, some users complain it emits a hum even when not in use if plugged in, which can be annoying.
The design is compact but tall — it's 16 in tall, so it can be a tight fit under your cabinets. Also, keep in mind the hopper is located on the top, so you need space to remove the lid and pour the beans.
Pros
UV-tinted bean hopper
Huge hopper capacity
Has a timer
Cons
Noisy
Not static-free
Only 15 grind settings
---
What to Consider When Buying Coffee Grinders
Burr Grinders Vs. Blade Grinders
I'll cut straight to the chase: burr grinders are better than blade. Here's why.
Blade coffee grinders can't achieve consistent size the same as burr grinders can. These coffee grinders have a doble-pronged blade in the center (similar to a blender or a food processor). You press a button, and the blade chops the beans. This isn't ideal because fine grounds fall down, and the blade chops them repeatedly. The larger pieces stay on top and don't get hit by the blade as frequently. The result is uneven grounds and bad-tasting coffee.
Plus, blade grinders tend to create a lot of heat when the blade spins, which results in burnt coffee and lost flavor. On the upside, they are more affordable and easier to use than burr coffee grinders.
Burr coffee grinders are better because they create better consistency and uniform grounds. A burr coffee grinder has two revolving burrs, which can be made of ceramic or stainless steel. The beans are gravity-fed into the space between the burrs. The burrs go in opposite directions and crush the beans between them. The size of the coffee grounds is determined by the distance between the burs, which you can adjust according to preference.
However, their downside is that they are more expensive than blade ones and need more time to grind. But they don't create as much heat during spinning, which means no burnt coffee.
Note: Manual burr grinder is always a conical burr. You have to turn a handle to grind the coffee. These grinders require some strength and effort from you.
Manual or Electric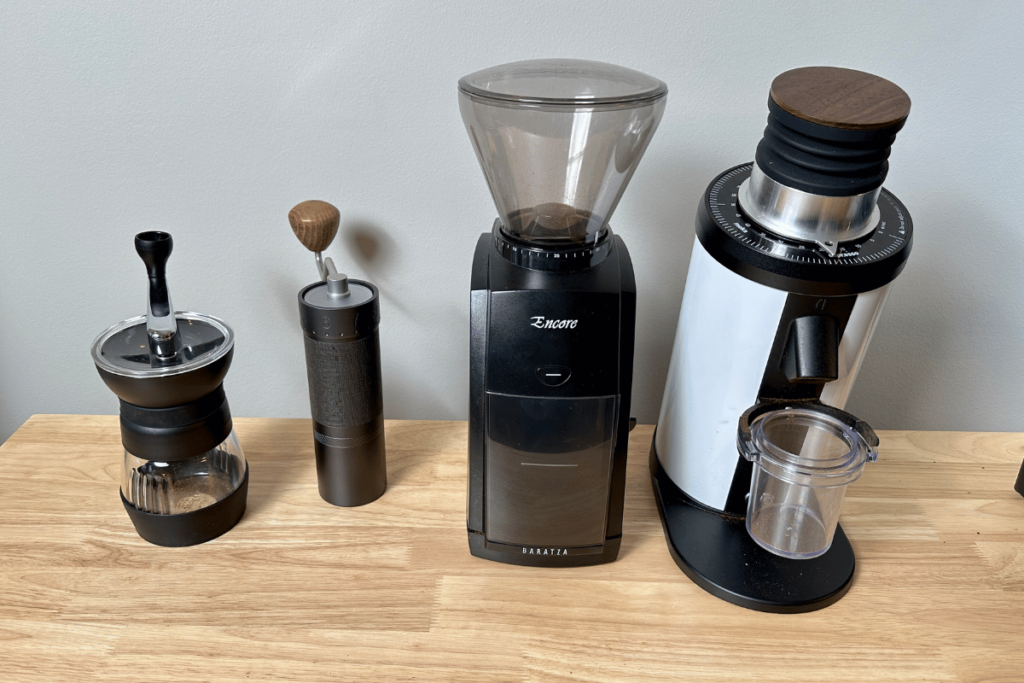 A manual coffee grinder is more affordable than an electric. They have few moving parts, which reduces the cost and need for maintenance and repairs. However, they require more effort from you because they are manual (obviously).
They are also slower than eclectic grinders because they are operated by hand. However, the slower grinding speed means the burrs barely heat up, eliminating the "pre-brewing" effect for a better coffee. Manual grinders are also much quieter than electric ones. There's no loud motor, but the only thing you hear is the turning of the hand crank.
Manual grinders have smaller footprints and are easier to take with you on a trip. However, they usually have more complicated grind setting adjustments, and getting the hang of this requires practice and patience.
Finally, manual grinders have smaller hoppers. They are usually single-dose grinders and are best for one to two people. If you have a large household of coffee drinkers, they may not be the best choice.
Electric grinders do the work on their own. You pour the beans, choose the grind setting, press the button, and the grinder does the rest of the work. These grinders have fewer grind settings compared to manual ones. They are also larger, which means they take up more space in your kitchen. Plus, they need an electric output, which limits where you can use and keep them.
Electric grinders are LOUD. Yes, there are quiet models (such as the Fellow Ode Gen 2), but most of them are not. On the plus side, they are faster than manual grinders. You can have ground coffee in as little as 30 seconds (or less with a Baratza Sette). Some can even grind straight into the pour-overs paper filter, which means less mess.
Finally, electric grinders are a better choice if you make a large batch of coffee. These grinders can make enough grounds for several cups at once, which is an important factor in a large coffee-drinking household.
Flat or Conical Burr
There are both pros and cons to flat and conical burrs. In the end, there's no clear winner between the two designs.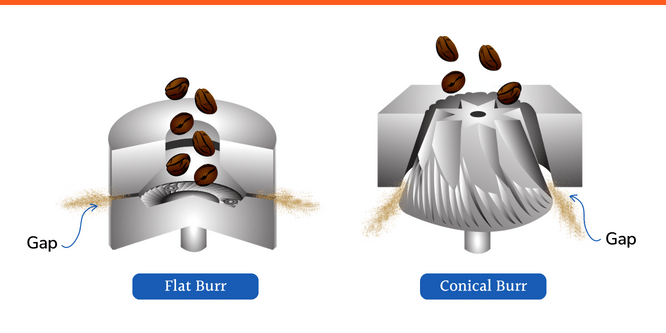 Conical burr grinders use two cone-shaped burrs to crush coffee beans. These grinders don't create much heat, which means no risk of burnt coffee. However, the beans tend to have a wider distribution with more fines (but it's still much better than a blade grinder).
Conical burr grinders are usually slower, more expensive, and harder to maintain, as the parts can be difficult to find and replace.
Flat burr grinders use two circular-shaped burrs with sharp edges. They create more uniform grounds compared to conical burrs. However, they tend to heat up more and have retention. Leftover grounds can even make the burrs jam, in which case you have to take apart the grinder to clean it.
Overall, the choice of flat or conical burr is up to you. There are pros and cons to each. That being said, I recommend a conical burr coffee grinder for pour-over coffee and a flat burr for espresso.
Grind Settings
The more settings a grinder has, the more control you have. You want a grinder with more settings because different brewing methods require different ground coffee. For example, espresso requires very fine grounds, pour-over needs medium grounds, and French press requires a coarse grind.
More settings ultimately give you more freedom to experiment and have better coffee. This is where manual grinders have an advantage over electric ones. Some manual grinders have 400 grind settings, while electric ones usually have much less.
That being said, think about your brewing method. You don't need 500 grind settings if you aren't going to use them. This will only make the use unnecessarily complex.
Pour over coffee doesn't require a huge of settings like espresso, and I recommend finding something with 20-50 settings, focused on the medium range. That will give you space to dial in. If you use more brewing methods than filter pour over style, consider something with a wider range.
Ease of Use and Maintenance
Manual grinders are more difficult to use compared to electric ones. Not only do they need more strength to use, but they have more complex grind settings. You need to remove the lid or hopper and find the adjustment mechanism. This can be a knob, dial, or screw and can be located on the top or the bottom. You turn the mechanism to adjust the grind size.
This is more easily done on an electric grinder. There's usually a knob or a dial on the side of the grinder, which you turn to adjust the size. Most grinders have numbered settings that correspond to grind sizes — a lower number means a coarser grind, and a higher number means a finer grind.
You also need to do regular maintenance of your burr grinder. Coffee oils and ground particles build up inside the grinder over time. Cleaning these requires some manual work. You should clean the burrs with a brush. Look for a grinder with removable burrs, so you can take them out and clean them. Otherwise, you'll have to stick your hand inside a grinder.
Another removable part you should look for is the bean hopper, so it's easy to rinse and remove coffee residue.
Budget
Coffee grinders come in a huge range of prices, which depends on the grinder type, brand, and features.
You can find blade grinders for $15 to $50. However, while extremely affordable, these grinders don't provide precise grind sizes and consistency.
A manual burr coffee grinder provides better ground size and consistency compared to blade ones and is also affordable. Their prices range from about $20 to $200. Electric burr grinders are the most popular, and their prices range from $50 to $500. Finally, there are high-end grinders used in commercial settings by professional baristas, which can go up to several thousand dollars.
Overall, think about how much money you can spend on the grinder, your specific needs, and brewing preferences, and choose the best coffee grinder in your price range.
What's the Best Pour-Over Coffee Grinder for You
My vote for the best pour-over grinder goes to Fellow Ode Gen 2. You can use it for all kinds of brew methods, and 31 settings give you enough options to dial in your pour-over coffee. Most importantly, it produces a uniform and consistent grind size for a flavorful cup.
If you want more manual grinder options, we've rounded up the best 1Zpresso grinders, or check out our Fellow Opus vs. Baratza Encore comparison for quality, affordable electric grinders.