A manual coffee grinder is a great tool for coffee lovers on the go or who want portability, a small footprint, and – most of all – exceptional value. In recent years, the number of manual grinders on the market has exploded, so which is the best option?
These three are my top picks for different needs:
Best Overall: Kinu M47
Best Value: 1Zpresso JX
Best Budget Option: Timemore C3
In this roundup of the best manual coffee grinders, I'll detail what makes the best manual grinder and my top choices. I'll also discuss a few alternative hand grinder options that fit different setups.
Why Choose a Manual Coffee Grinder?
A hand grinder is a very different animal than an electric grinder. The latter requires almost no manual labor, often has a litany of extra features (like dosing presets), and has a variety of flat and conical burr options. However, they can also be loud, bulky, and more expensive.
A hand grinder, on the other hand, is easy to take almost anywhere, is virtually silent, and takes up very little room in a kitchen drawer or travel bag. If noise and counter space are major concerns, a hand coffee grinder is an ideal piece of coffee equipment. Also, manual grinders are less expensive than electric peers, with minimal tradeoffs in performance.
I'll survey my favorite hand coffee grinders and see how they stack up in each of these categories.
Best Manual Coffee Grinders
Image
Product Name
Features
Price

Best Overall

47mm coated steel conical burrs
Stepless grind adjustment
35g capacity

Check Amazon

Best Value

48mm stainless steel conical burr
35g capacity
120 grind settings

Check Amazon

Best Budget Option

38mm stainless steel conical burrs
13 grind settings
25g capacity

Check Amazon

48mm titanium-coated steel conical burrs
450 grind settings
40g capacity

Check Amazon

Makes full-bodied iced coffee
Brew up to 18 espresso drinks
Heat-up time less than 40 seconds

Check Amazon

39 ceramic conical burrs
16 grind settings
60g capacity

Check AmazonCheck Seattle Coffee Gear
1. Kinu M47
Kinu M47 highlights:
47mm coated steel conical burrs
Stepless grind adjustment
35g capacity
The Kinu M47 is one of the most capable manual coffee grinders around. It was designed to be powerful and user-friendly as well. The whole body is made of stainless steel, making it one of the toughest and most durable grinders on this list.
The Kinu M47 boasts several features that simplify the user experience. The first is a thumb stop just below the top of the grinder. This thumb stop makes it easy to grip the otherwise slick body. There's no fear of slippage while grinding. It also keeps your hand near the top of the grinder and away from the magnetically attached grinds cup. This prevents you from ever accidentally knocking the cup off while grinding.
To adjust the grind setting, you simply unscrew the locking mechanism on the grind handle, turn the adjustment dial, and screw the lock back down. Unfortunately, there's no indicator on the dial to show which direction makes the grinds coarser or finer. Once you know the direction of the adjustment, changing grind settings is a breeze.
The stepless grind adjustment allows you to dial in espresso with minute precision. The shots you can pull from the Kinu M47 are some of the best a manual grinder has to offer. On coarser grind settings, the M47 loses some clarity, but it's still a great all-purpose grinder that does espresso and filters coffee very well.
That level of quality comes with a high price tag. The Kinu M47 is the most expensive grinder on this list, even if it earns that price from its exceptional capability. The nice thing is that the stainless steel construction means that it could last a lifetime, no matter how often you drop it. It's a worthy long-term investment for its durability, consistency, and precision.
However, the downside of the durable construction is the weight. The Kinu M47 weighs over 2 lbs., which is very heavy for a hand grinder. If portability is a high priority, you may be turned off by such a heavy grinder. I don't mind it, as it still has a small footprint, and the weight is worth it for the M47's other qualities.
The price and weight are the only negatives I have to offer for this grinder. In every other sense, the Kinu M47 is a top-tier manual grinder. It's user-friendly and precise and produces excellent coffee for most brewing methods.
Pros
User-friendly
Great for espresso
---
2. 1Zpresso JX
1Zpresso JX highlights:
48mm stainless steel conical burr
35g capacity
120 grind settings
The 1Zpresso JX isn't the cheapest grinder or the most precise, but it is the best combination of value and performance. From the outside, the JX looks very simple. Its aluminum body is 2 in. across and about 6 in. tall and features a rubber grip.
The JX has 120 settings – 30 settings per rotation of the adjustment dial and four possible rotations. These settings range from coarse to very fine, making it a versatile and precise manual coffee grinder. Making an adjustment can be annoying since the adjustment dial is an internal mechanism that requires removing the grinds cup. Tracking the changes is easy, thanks to the numbers on the dial. However, you need to remember the rotation.
The upgraded JX Pro has even more grind settings and fixes the adjustment dial location of the base JX. On the JX Pro, there are 200 settings, and the dial is on top of the grinder, not hidden above the grinds cup. The Pro costs slightly more than the base model, but I think those improvements are worth it.
The 48mm stainless steel burrs are larger than most manual coffee grinders and deliver consistent grinds no matter the setting. You can brew a clean, balanced pour-over and dial in a good espresso shot.
The most appealing element of the JX to me is the value. At well under $200, the 1Zpresso JX easily outperforms other grinders in its price bracket. Its sturdy aluminum body, large burrs, and grind versatility should put it in the same price range as the Comandante C40. Instead, you can get the JX for half the price of the C40.
I like the 1Zpresso JX as an all-around grinder that performs well across the grind size spectrum. It punches well above its weight in terms of its price, and it's a great value for the performance you get from it.
Pros
Versatile
Great value
Cons
Internal adjustment dial
Basic design
---
3. Timemore C3
Timemore C3 highlights:
38mm stainless steel conical burrs
13 grind settings
25g capacity
The Timemore C3 balances affordability with functionality. The C3 looks, feels, and functions like a premium hand grinder but costs less than almost all grinders in its class.
The body of the C3 is aluminum and has a rough texture that makes it easy to grip. The handle detaches easily, although the C3 Pro model has a collapsible handle that makes it easy to store without removing the handle.
The C3 is slim, so the grind chamber can only hold about 25g, although I've found that you can get up to 30g in one grind. It's an ideal travel companion because of its size and aluminum construction, but you will have to grind more than once if you plan on making coffee for two.
The 38mm steel burrs feature Timemore's patented S2C design. These burrs have an extra set of teeth that run the length of each spiral on the inner burr. The burrs do a better job catching and clicing the beans as they fall into the burr. On other grinders, you can get a bouncing or popcorn of the beans, but not with Timemore's S2C burrs.
The result is a grind consistency that's impressive for the C3's low price. It's also fast, and I usually grind 25g of coffee in about 40 seconds, averaging close to 1.5g/second on most settings.
That consistency is limited to coarse and medium settings, though. The C3 struggles with espresso settings, as only two settings work for espresso. While manual tells you there are 20 clicks, it also warns you not to use any settings between 0-6. This effectively limits the total settings to 14, which limits the C3's precision and versatility.
The adjustment dial on the bottom of the grind chamber tells you which grind settings work best for each brew method (and reminds you that the finest recommended click is "7"). Since most manual coffee grinders have a grind adjustment system that's difficult to navigate, the visual aid on the C3 was a welcome surprise.
For French press and drip coffee, the C3 produces a balanced, rich coffee that I've thoroughly enjoyed every time I use it. It's good but not as clean or crisp as other, more expensive coffee grinders.
I love the C3 for its effective burr and affordability. It's basic and poor for espresso, but for all other brew methods, you'd be hard-pressed to find a more consistent grinder for the price of the C3.
Cons
Limited grind settings
Difficult to use on espresso
---
4. 1Zpresso J Max
1Zpresso J Max highlights:
48mm titanium-coated steel conical burrs
450 grind settings
40g capacity
The 1Zpresso J Max is like an older, more elegant brother to the JX. It improves on the JX, particularly for espresso, while still being a great value.
The J Max is a little bulky at over 7 in. long, but that gives it a larger coffee bean capacity of up to 40g. The body is an aluminum and stainless steel alloy, and it forgoes the rubber grip in favor of a textured silicone sleeve. The magnetic grinds are much easier to use as it easily snaps into place. It cup can pop off if you hold the grinder too low, but just keep your hand on the sleeve while grinding.
The 450 settings of the J Max offer almost endless precision to dial in any brew method. It's not a stepless grinder, but it might as well be with 8.8 microns per click. You can get a coarse, cold brew grind while still being able to make detailed adjustments for espresso. The J Max does it all, and it does it all well. The titanium-coated burrs resist dulling, and their large cutting area creates a consistent grind distribution across all settings. There isn't a use case that the J Max isn't well suited for.
The adjustment dial is on an external ring near the grind handle, which is very convenient. To see the rotation, the dial gradually covers up more and more of a coffee grounds diagram, the finer the setting. This is nice but isn't perfect (no grinder is), as the diagram makes it hard to figure out which rotation you're currently on.
The harder part is changing from espresso to pour over given the high number of settings to rotate through. You don't need that much precision for a Chemex, and the J Max is best suited for espresso.
On the finest settings, the J Max is also quite slow. It requires a lot of effort over a long period to grind for espresso. That's especially annoying since its espresso consistency and precision is one of the J Max's strengths. If you have this grinder, you'll probably be using it for espresso quite a bit.
Despite these inconveniences, the J Max is, like the JX, an excellent value. It still costs well under $200, making it a little over half the price of the Comandante C40, but with almost 10 times the settings of the base C40. It closely matches the Kinu M47 in functionality but costs less than half of the M47.
The 1Zpresso J Max is a great deal, and it's a grinder I would choose for espresso.
Pros
Wide grind range
Excellent value
Cons
Slow on fine settings
Hard to transition from espresso to pour over
---
5. Comandante C40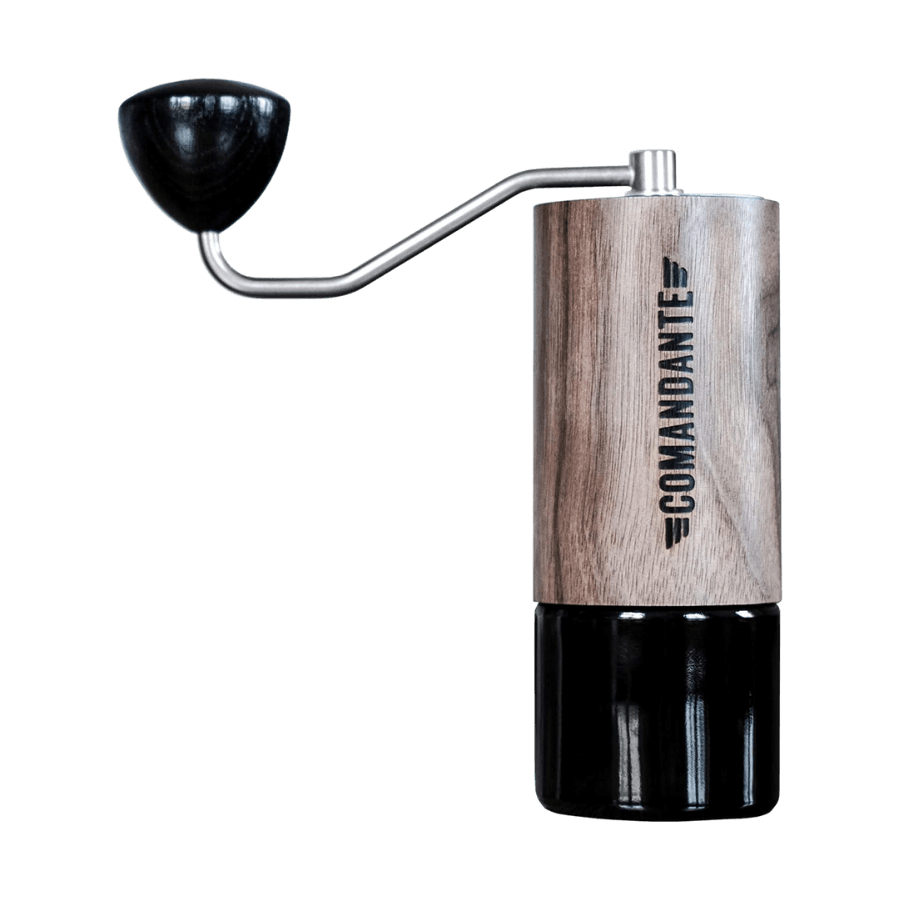 Comandante C40 highlights:
39mm stainless steel conical burrs
40 grind settings (80 with Red Clix upgrade)
50g capacity
The Comandante C40 MK4 is, as the name implies, the fourth iteration of the C40. Each new version has steadily improved on its predecessor, and the latest model is a manual coffee grinder that's versatile, consistent, and sturdy.
Its stainless steel body is about 6 in. long with a 2.4-inch diameter. This makes it bulkier than other coffee grinders in its class, but it also gives it a greater bean capacity. The C40 can hold up to 50g of coffee in the grind chamber. Combined with its 40 settings, that makes the C40 capable of making a single serving French press, a double-shot of espresso, or a Chemex for two.
You can double the grind settings with the Red Clix system. The Red Clix allows more fine-tuning, which is great for espresso use. This system isn't available on the base C40 MK4, but it's a relatively inexpensive and easy upgrade to install that I recommend.
The C40 maintains an impressive grind consistency across all of its settings due to an innovative burr design. The teeth on the C40's conical burrs have extra cuts, or "micro-teeth," that improve consistency, especially on the finer settings. The grind teeth also run the full length of the burr, increasing the total cutting surface and providing more grind uniformity.
Despite its consistency, the C40 is a slow coffee grinder. On espresso settings, it can take nearly a minute and a half to grind 18g of coffee. Since finer settings also require more force, that can feel like a long time and can be an exhausting process.
The C40 is expensive, and its premium feel and functionality are reflected in its price. I think it's worth the price, considering it rivals the functionality of some electric grinders that retail for three times the cost of the C40. However, it's not a budget-friendly option for manual grinders.
Overall, the C40 is a top-tier coffee grinder that performs well, no matter the desired brew method. The slow grind time and extra cost of the Red Clix system are worth it for the grind consistency and versatility of its use cases.
Pros
Good grind consistency
Above-average bean capacity
Cons
Slow grinder
Upgrade kit required for expanded settings
---
6. Hario Skerton Pro
Hario Skerton Pro highlights:
39 ceramic conical burrs
16 grind settings
60g capacity
The Hario Skerton Pro is the cheapest option on this list. It's a basic but utilitarian entry-level manual grinder. If you are purely focused on price, the Skerton is the most affordable, but I'd recommend spending a little more for another option on this list (like the Timemore C3).
Its shape immediately sets it apart from its competitors. The bulk of the Skerton Pro's body is its bulbous grinds container, which can hold 100g of grounds. The top half of the grinder is a conical hopper that can hold 60g of beans. In the middle, where these two distinctive shapes meet, are the 39mm ceramic burrs.
The Skerton Pro's ceramic burrs could last forever, unless you drop the grinder or wedge a rock into the burrs. They're not prone to dulling like steel burrs are, and you'll probably never need to replace them due to natural wear. They will break more easily from everyday bumps.
That's my biggest complaint with the Skerton Pro: it's more fragile than I'd like a manual grinder to be. The glass grounds container and ceramic burrs mean the whole thing could be in pieces from one drop. One of the appeals of a hand grinder to me is the ability to travel with it, but the Skerton Pro isn't built to handle travel well.
The ceramic burr is also not as consistent as a steel burr. For medium-grind brew methods like drip and pour-over, the coffee is reasonably consistent. It produces a pleasant cup that I enjoy. For both espresso and French press, though, that consistency is lost. You might be able to pull a good shot if you plan to pair it with milk, but the inconsistencies in the coarser grind settings are visibly noticeable. That leaves a narrow functional range of six settings for various filter coffee methods.
That's not necessarily a bad thing, considering the Skerton Pro costs well under $100. For its price, I would only expect to get good coffee from a few narrow settings, and the Skerton Pro does make a good pour-over coffee.
The Skerton Pro was my first-hand grinder, and I think that's exactly the use case it's designed for. It's a great entry-level foray into manual grinding or a cheap emergency backup to a more expensive grinder. As long as you're happy with a pour-over, the Skerton Pro is a reasonably priced beginner's hand grinder.
Pros
Extremely affordable
Large hopper capacity
---
What to Consider When Buying A Manual Coffee Grinder
Burr Quality and Material
Manual coffee grinders have an extra burr option that most electric grinders don't: steel vs ceramic burrs. There are several important differences between the two worth considering.
First, ceramic burrs tend to hold their sharpness indefinitely, while steel burrs get dull over time. This means a ceramic burr grinder may never need to have its burrs replaced, while a steel burr will almost definitely need replacing if you keep it long enough.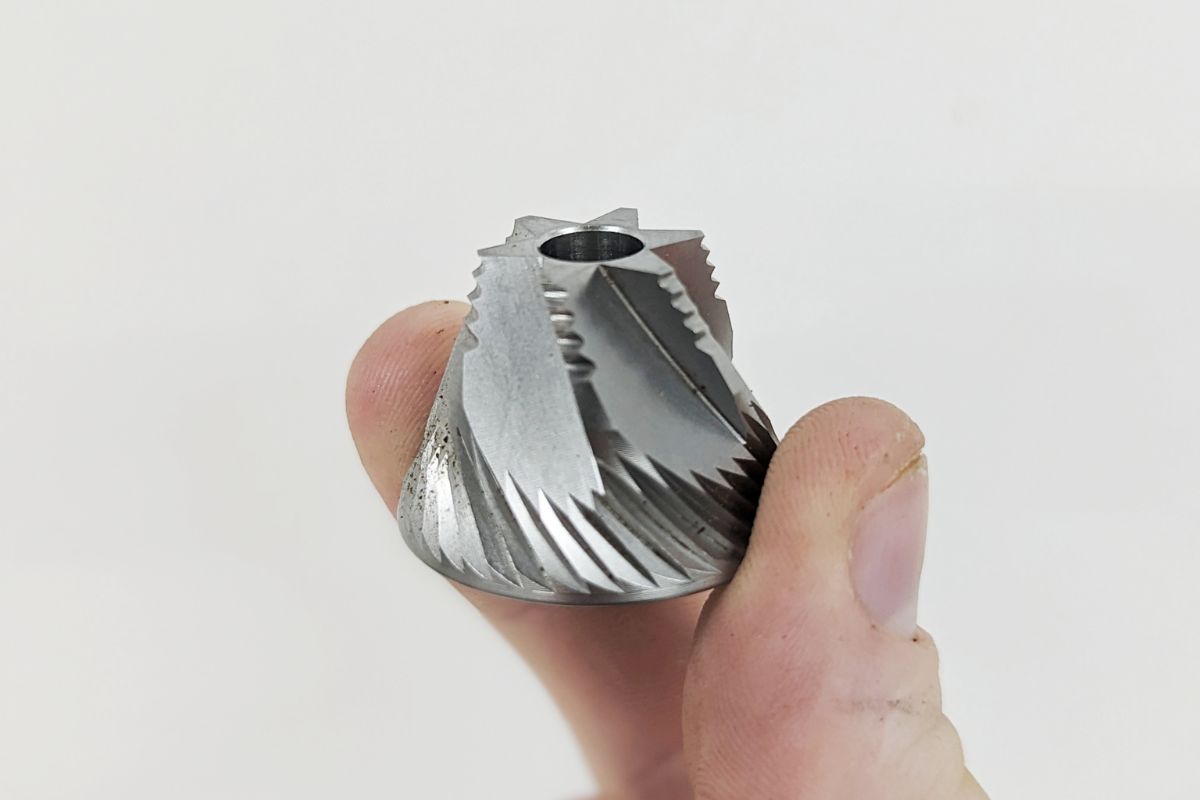 Even though they get dull eventually, steel burrs often start with a sharper cutting surface than ceramic burrs. They produce fewer fines because of this, making coffee ground with steel burrs cleaner and crisper than ceramic-ground coffee.
Steel burrs are also sturdier than ceramics. They dull over time but are more resistant to rocks that get occasionally mixed in with coffee and to being dropped. That's an important consideration for a manual coffee grinder that may receive its fair share of bumps and scratches.
Ceramic burrs do produce less heat when grinding, but this isn't a major consideration for hand grinders. More heat can negatively impact coffee taste, but the RPM of a hand grinder is low enough that it shouldn't generate enough heat to cause a problem.
The most important considerations when it comes to burr material are a grinder's longevity, sturdiness, and cup quality. How important each of these is to you will affect what burr type is best suited to your needs.
Ergonomics and Ease of Use
Manual coffee grinders have a different set of concerns than electric coffee grinders. When it comes to the user experience, there are a few considerations worth making when choosing a hand grinder.
Force required: How hard do you want to work for your coffee? Some hand grinders require more effort than others to force the coffee through the burr mechanism. This is usually a product of the burr design since sharper burrs or burrs with more cutting surfaces will break the coffee beans up easier. The S2C burrs of the Timemore C3, for instance, do a good job of streamlining the grinding experience and limiting the work required of the user. Do some research on the burrs of your preferred grinder to see how much work will be required of you while grinding.
Feel and grip: This is about more than just how comfortable a grinder is in your hand. It's about how functional the design of the body and handle is. Are you able to get a good grip on the body while grinding? Does the handle feel sturdy, or like it's going to pop off the body at any second? The Timemore C3 has ridges built into the body to help with grip and a handle that's magnetically attached to the body. The Hario Skerton Pro, by contrast, has a glass body that's slippery to hold, even with the (poorly positioned) rubber grip. It's also an awkward shape, making grip even more difficult. Since manual grinding is all about getting a good handle on the grinder, the feel and grip are important factors to consider.
Portability: Despite their small footprint, some manual grinders aren't as portable as they first appear. This can be because of their size, construction, or material. The Timemore C3, for example, is compact, made of aluminum, and the handle folds against the body for ideal travel. The Hario Skerton Pro has an awkward, round shape, is made of glass, and the handle has to detach completely to be stored in a space-saving way. Consider how much you intend to travel with your grinder and which option is most able to withstand the bumps and scratches that come with that.
Capacity: Most hand grinders can accommodate up to 30g of coffee beans in the grind chamber at once. That's enough for single servings of brewed coffee and espresso. I usually need to brew coffee for two people at once, however, which can require up to 60g of coffee beans. While still possible on a smaller manual grinder, it's more convenient for me to use a grinder with a larger capacity. When choosing your preferred grinder, think about how much coffee you intend to brew each day and whether you can live with a coffee grinder that can't handle the full dose in one grind.
Speed: When using a hand grinder, time is energy. Since they require manual labor to use, every extra second it takes to grind coffee beans is another second spent working. A fast, efficient grinder like the 1Zpresso JX will require less energy to use because of how quickly it gets the job done. If you're trying to avoid doing more work than necessary with a manual coffee grinder, grind speed is an important consideration.
Grind Adjustment Method
Some hand grinders are easier to adjust than others. With many manual grinders, you have to detach the grounds jar to access a grind adjustment mechanism at the bottom of the coffee grinder. Others, like the Kinu M47, have a dial on top that's easier to access than those at the bottom.
It can also be difficult to determine what setting you're actually on with some coffee grinders. The Comandante C40, for example, has no reference on the adjustment dial to help you locate your desired setting. The Timemore C3 has a graph around the dial detailing which settings are ideal for different brewing methods and how to get to those settings.
Since hand grinders already require more user involvement than their electric counterparts, you may want to consider if you're willing to put up with even more work in your chosen grinder.
Grind Settings
Some manual coffee grinders can consistently grind coffee from French press to espresso. Others have a limited grind range and lack precision. The Hario Skerton Pro, for example, has just over a dozen settings. It performs well for filter coffee but doesn't allow the fine-tuning that a good espresso requires. The 1Zpresso J-Max, on the other hand, has 450 different settings, allowing you to dial-in espresso with minute precision.
Depending on your preferred brew method, these contrasting options will have a big impact on the mileage you get from your hand grinder. If you're happy with a French press or drip coffee each morning, then you don't need hundreds of grind settings. If, however, you prefer a daily double-shot, a multitude of grind settings is non-negotiable.
Once you know how you plan to use your coffee grinder, you can begin comparing options with a similar range of settings.
Budget
The biggest appeal of a manual grinder is its affordability. Manual coffee grinders often cost a fraction of electric grinders that have similar grind capabilities.
Even so, not all manual grinders are created equal, and there's still a big price difference between the most and least expensive hand grinders. Think of the following budget ranges when choosing:
Budget: under $75
Mid-range: $75-$200
Premium: over $200
A cheaper grinder will usually sacrifice some grind consistency and precision for the sake of a lower price tag. Fewer grind settings and more fines produced in grinding are some compromises a less expensive coffee grinder may have to make.
The Timemore C3, for example, has just a fraction of the settings of the Comandante C40 but costs about one-third of the price of the C40. So, while manual grinders are generally a budget-friendly option, there's still a wide price range within the hand grinder market.
Comparing Grinder Types
If you're still unsure if a manual coffee grinder is right for your needs, read our extended breakdown of the differences between manual coffee grinders and electric grinders.