Do you want stylish and Instagram-able coffee gadgets that are also functional? Fellow makes some of the most attractive and widely popular coffee gadgets.
Their first grinder, Ode brew, was great for French press or pour-over coffee but not really for espresso. Fellow is looking to change this with the new Fellow Opus grinder. The Opus is intended to be used for everything from espresso to Aeropress, French press, and Turkish coffee.
We did an initial look at its grinding capabilities based on what's recently come out. In this Fellow Opus grinder review, we'll go over the design, grind quality, adjustment options, and whether it's worth your money.
Fellow Opus Product Overview
Fellow started as a Kickstarter campaign in 2013. The company wanted to manufacture aesthetically pleasing and highly functional coffee equipment. Their products are well-made, feel sturdy, and have a recognizable modern look.
Fellow Opus highlights:
40 mm conical burrs
350 RPM motor
41 click settings
Single dose load bin with 20 to 40 g compartments, up to 110 g
In the last ten years, this California company has rapidly grown its range of products. Nowadays, they manufacture the Ode Brew grinder made for the pour-over coffee lover, Ode Brew Gen 2 grinder, kettles, drinkware, and more.
Fellow Opus grinder created a lot of buzz when the company announced it. It has the company's recognizable modern, clean aesthetic. The big difference is it's made to grind for all brewing styles, which is a one-stop option for people who don't want to spend for dedicated espresso and pour-over grinders.
This conical burr grinder has a higher range of grind settings than the Ode and is more affordable than its predecessor. However, it's made of plastic, and the grinding settings are somewhat difficult to get to.
Pros
Magnetic catch
Grinds for all brew styles, including espresso
More affordable than Ode models
Lid doser great for newbies
Cons
100% plastic construction
Complicated micro adjustments
Relatively high grind retention
---
---
Fellow Opus Feature Breakdown
Design and Durability
Design is Fellow's strong suit, and it shows in the Opus. You can tell this is a Fellow product straight away. It has a matte black finish, clean lines, similar curves, lineations, and a hopper like the Ode Brew. The footprint is tidy, and it won't take up too much of the limited counter space.
The grind catch is magnetic and easily slots below the grind chute, thanks to the magnet on the base. The catch cup has a large chamber for grounds and a smaller one for espresso. Once the coffee grounds are in there, you remove it, put your portafilter on top (58 and 54 mm are both compatible), and flip it to transfer the grounds into the portafilter mess-free.
Another design feature Fellow put a lot of thought into is the hopper lid. It doubles as a dosing cup with 20 g to 40 g compartments. You can also fill it to its maximum capacity of 110 g. The lid can be used as a bean measurement tool with a simple settings guide on the underside. This is especially handy for newbies, as it doesn't require a scale.
The lid fits tightly on the hopper and forces air to blow through the machine, which dislodges grinds stuck inside because of static. The hopper is meant for single-serve dosing only. You should store beans in the Opus, and the smaller hopper makes it fit better under the kitchen cabinets. This also makes it easier to change the beans — you don't have to finish one bag before moving on to another.
One design aspect where Opus departs from other Fellow products is the 100% plastic build. The plastic makes the Fellow Opus grinder lighter, which is great when you need to move it. But you need to hold it with both hands when adjusting the grind setting because it's so light. The plastic itself feels high-quality and durable, but not as durable as aluminum.
Another downside of the plastic build is its scratches. You'll get noticeable scratches over time as you slide the catch cup in and out. Another scratch-prone part is the hopper lid. It gets scratches on the sides as you constantly pull it up and down. At least these scratches aren't as noticeable as on the base.
Overall, the plastic build isn't ideal. The Opus looks premium from afar, but the lower build is obvious as you look closer. However, it's a more affordable version compared to previous Fellow grinders, which is why the company went with plastic.
Finally, the grind button is on the very bottom on the right side of the Fellow Opus. You use it to activate the grind: tap once to grind for 30 seconds, twice for 60 seconds, and three times for 90 seconds. Or hold for two minutes for non-stop grinding.
Note: You can deactivate the timed grinding and grind manually.
The main issue some users have with the button is its location. Some find it very easy to accidentally press the button, for example, when moving the grinder, wiping down the counters, and so on. Moreover, the grinder retains previous grounds, which come pouring out when you accidentally press the button.
Burr and Grind Quality
Opus is a 40 mm conical burr grinder with six blades. The cone is pretty unique, with deep groves for a faster feed rate. The motor is high torque and spins at 350 rpm. This is a great combo for conical burr grinders because it crushes even dense, light-roast coffee beans without too much heat.
The burrs and a powerful motor produce excellent grind quality (well above Opus' price point). The Fellow says it's best for medium roast coffee beans, but it handles light roast without any struggle at fine settings.
The conical burr grinder is not the quietest grinder I've used, but you can use it without fearing you'll wake anybody up.
The grinder is designed to be a low-retention grinder, so minimal grounds remain stuck in the burrs and go stale for your next brew. So far, it seems the grind retention is modest, and you can purge out more ground by giving the grinder a few firm taps on the lid right after grinding.
Fellow Opus grinder has 41 grind setting, which ranges from cold brew to French press. This goes from 400 to 1500 microns. Overall, the coffee grinds are uniform, and I have no complaints. Unlike Fellow Ode, the Opus can grind much finer for espresso. You can dial in and get a flavorful brew, but the grinds aren't quite up to par with grinders made specifically for espresso.
Grind Adjustment Settings
Fellow Opus grinder has an impressive range of grinder settings. There's a wide adjustable ring on top that has numbers going from 1 to 11. Between each number are four increments, which gives the Opus a 41-step adjustment range. Then, there are four additional micro steps for each setting that add 50 microns of vertical burr movement, but only for settings 1-11.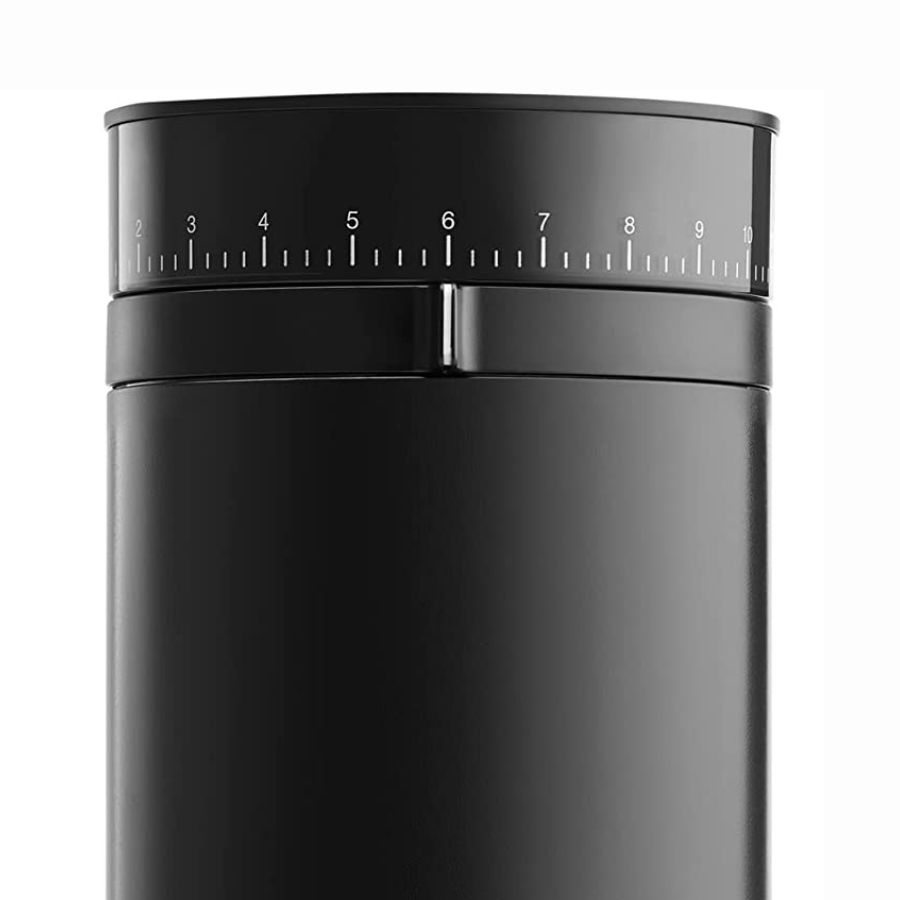 The main ring gives you some room for dialing in espresso. But, if you want more options, Fellow has the additional micro-settings, which sets the Opus apart. There's an inner dial under the hopper, which provides a significant grind range expansion and is great for fine adjustments.
For example, let's say you're dialing in espresso at the grind setting two, and the espresso is flowing a little too fast. When you move to one, it's too slow. Here's what to do. Take off the hopper and twist it, so it comes off. There's an arrow pointing to six ticks on two sides (twelve in total). One inner ring tick is equal to 2/3 of the outer ring click. You make one adjustment finer on the internal ring, and when you go back a step on the external ring, you're physically between two and a notch below two. Overall, you can adjust the inner and outer ring combo to over 120 grind settings.
If it feels like your brain is melting trying to understand all the settings, you aren't the only one. You can watch Lance Hedrick go in-depth about adjusting the grinding settings.
Also, this is a no-tool calibration grinder, which is where all the settings come in handy. As you use the grinder for years and notice the grounds are getting coarser, you can set the inner ring one or two notches finer and have perfect calibration once again.
Flavor Profile and Use Cases
Fellow achieved what they set out to do with this grinder — it can be used for all brew methods.
The 41 grind settings work for everything from espresso to cold brew. However, the steps between these are fairly large, especially when dialing in espresso. This is where Opus' inner second adjustment mechanism comes in handy.
Espresso brewed with Fellow Opus grinds tastes clean and bright. There are more than enough grind settings for coffee enthusiasts to brew different kinds of coffee, as well as dialing in espresso. The only downside is that the process of removing the hopper between every shot is annoying, and other grinders have more elegant solutions.
Value
Fellow aimed to make this grinder more accessible at a lower price point while making it usable for espresso. To do so, Opus is plastic instead of aluminum, but it's still good value for money. It's significantly more affordable compared to the Fellow Ode grinder and performs really well for its price point.
The grind retention and complicated espresso adjustments are an inconvenience, but this is a great grinder for home brewers who want to try different brewing styles without spending $500+ on an espresso grinder.
It comes with a two-year warranty or a three year if you register the grinder, which shows Fellow stands behind the grinder quality.
---
Alternative Fellow Opus Options
Fellow Ode
Fellow Ode highlights:
64 mm flat burrs
11 settings and 31 steps in between
Reduced noise
I've mentioned the Fellow Ode grinder throughout this Fellow Opus grinder review, but let's sum up how these grinders compare.
Fellow Ode is significantly more expensive, mostly due to its premium burr and aluminum build, which makes it very durable. Both grinders have similar aesthetics and a magnetic catch cup. However, Ode is a flat burr grinder, while Opus is conical. Another main difference is that you can't use Fellow Ode isn't suited for grinding espresso. The Ode is made for grinding for brew filter coffee and isn't the best choice for switching between brewing styles.
However, the burr on the Ode is a step apart, or at least the Gen 2 model that I used. I particularly like the consistent grind sizes, which are great for morning Chemex or V60.
Baratza Encore ESP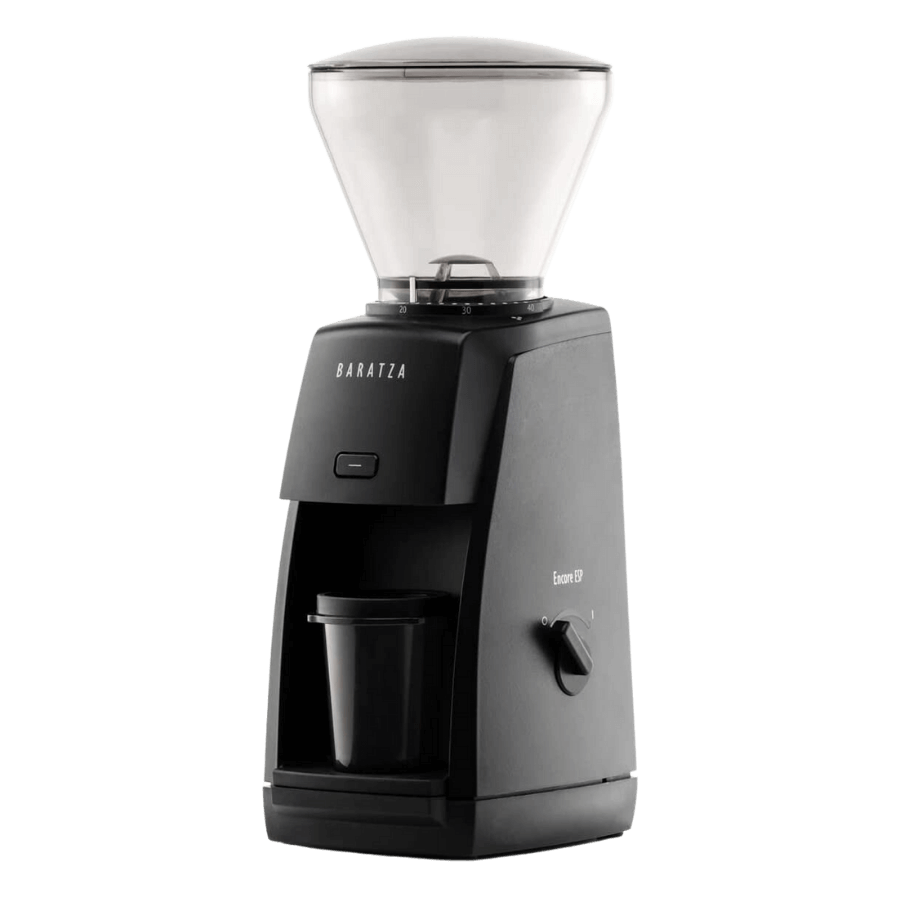 Baratza Encore ESP highlights:
Dual range adjustment system
40mm hardened alloy steel burrs
40 grind settings, with 20 finest settings spaced more closely
Baratza Encore ESP is priced similarly to the Fellow Opus. It's a popular choice because it produces excellent grind quality. The grounds are consistent across a wide range of particle sizes. Moreover, the Encore is quieter and faster than the Opus. It's also made of plastic instead of metal.
The biggest advantage of the Baratza Encore over the Opus is the ease of use, especially the adjustment of grind settings. All you need to do is twist the top funnel.
ESP has 40 grind settings, with 20 finest settings spaced more closely, which means more control in dialing in an espresso shot.
Overall, Fellow Opus has a more attractive design, but Baratza makes it easier to dial in.
Is The Opus For You?
Fellow Opus grinder is a great choice for most people who want to be more casual and varied coffee drinkers. If you don't care to get the exact espresso ratio every time and switch between various brew methods, Opus is an excellent option.
If you want a grinder that'll make your kitchen pop and you're on a budget, the Opus provides great value for money.
However, it doesn't have the most streamlined process for dialing in your espresso, so if you know you make espresso every day, consider other options.
Fellow Opus Grinder: Final Thoughts
Fellow Opus has a lot going for it — attractive design, premium look, and numerous grinding settings. However, you must make some compromises — the build is completely plastic, and the grind adjustments are somewhat difficult. Still, if you want to grind for different brew methods on a budget, this is one of the best grinders you can go for.
If you have a larger budget or want more options, check out our 1Zpresso J Max review or Baratza Sette 270 270wi review.