Nespresso machines are a great choice for consistent and easy coffee every morning. The hard part is choosing the best Nespresso machine, given over 20 options, not including different designs.
You probably tried to buy one at a store, only to see a selection like this:
Fortunately, we've already written a dozen Nespresso articles and tested multiple machines to make it easy for you. This is our Nespresso machine comparison guide. Our top choices are:
I'll review seven different Nespresso machines, so you can choose depending on your needs. But, the Vertuo Plus is the best as the VertuoLine has better taste and drink options, and the Plus has a functional design at a reasonable price.
Here's a detailed comparison of Nespresso machines, including a buying guide on the different machine types and features to consider when buying your Nespresso coffee machine.
What To Look For In A Nespresso Machine
Original or Vertuo
There are two distinct types of Nespresso machines. OriginalLine machines are made for espresso and have two buttons. VertuoLine machines are made for espresso and bigger drinks and have one button.
OriginalLine machines a pressure system to brew espresso, and VertuoLine uses centrifusion technology, where the pod spins 7,000 times per minute.
In terms of price, OriginalLine is more affordable. There's also a bigger range of OriginalLine machines than VertuoLine. The Creatista and Lattissima are also Original, but these are more expensive for the milk frothing.
These two options brew different-sized coffee drinks and use different coffee pods. OriginalLine pods brew ristretto, espresso, lungo, and gran lungo. The pods are dome-shaped, all the same size, and there's a wide range of compatible pods made by third-party manufacturers (Starbucks, Lavazza, Costa Coffee, and many more).
VertuoLine pods are bowl-shaped and come in different sizes. A gran lungo pod will be larger than an espresso pod because it has more coffee. You have to select the pod based on which drink you want — if you want an espresso, use an espresso pod, and so on. Also, there aren't any third-party Vertuo pods, as Nespresso limits options to its own capsules only.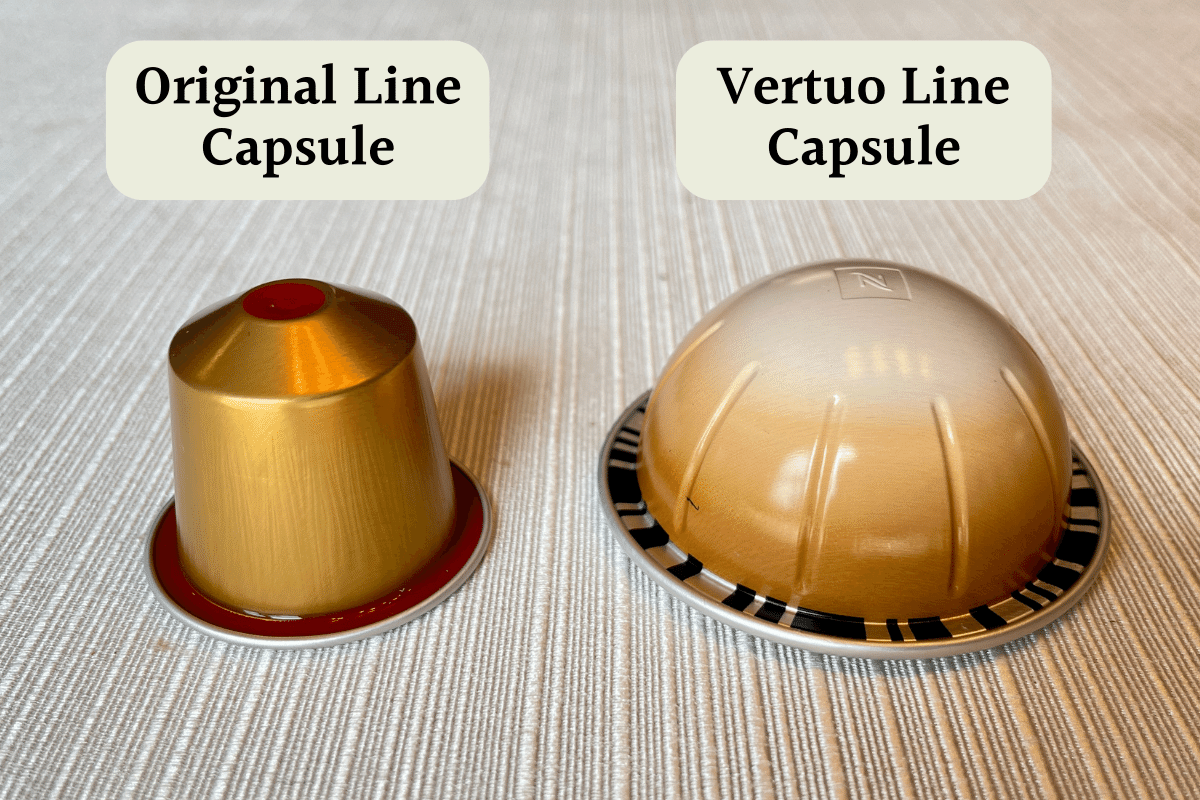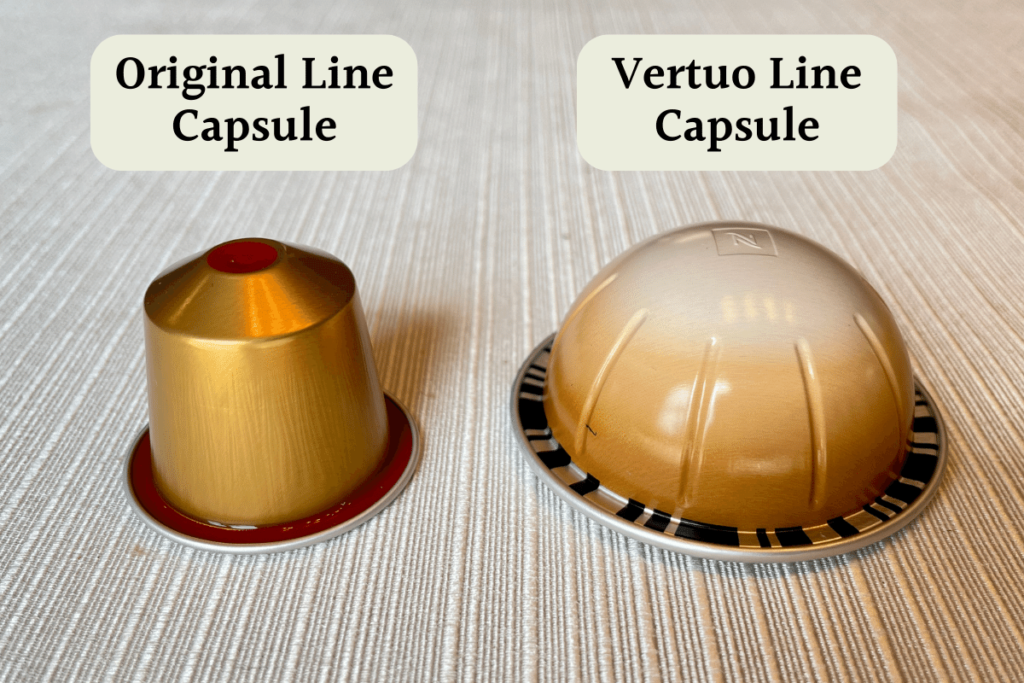 Finally, OriginalLine pods are more affordable than VertuoLine, because of the third-party competition.
I wrote up more detail at the end of this article, and we have a detailed article comparing Vertuo vs Original as well.
Size and Design
Once you've picked your Nespresso type, the decision mainly comes down to design. Honestly, every Original and Vertuo machine brews the same coffee, and the same pod tastes the same on any option (even if I point out small differences). So, it comes down to how big of a machine you want, including a water reservoir and used capsule capacity.
Here's a comparison of the specs across the Original and Vertuo models.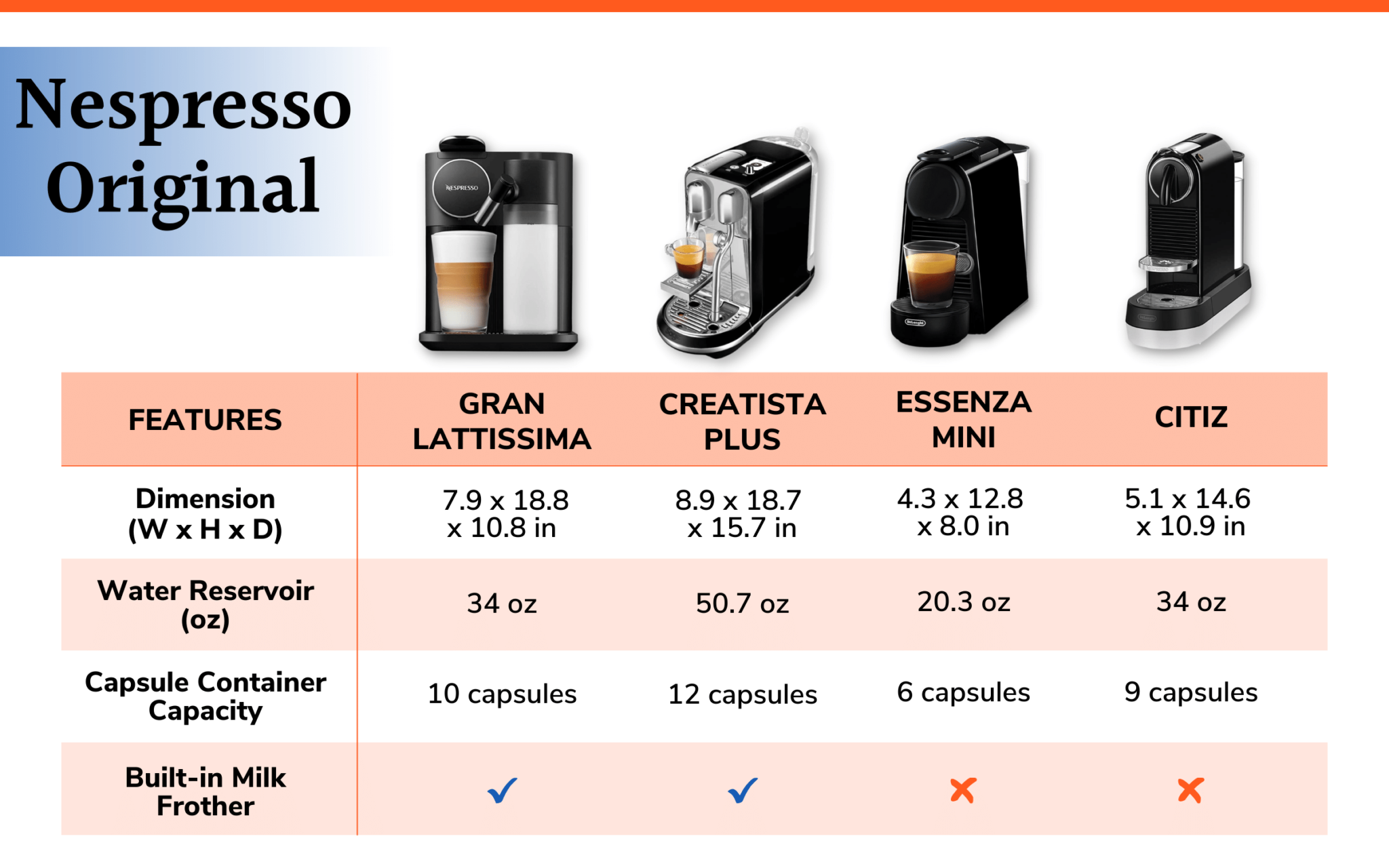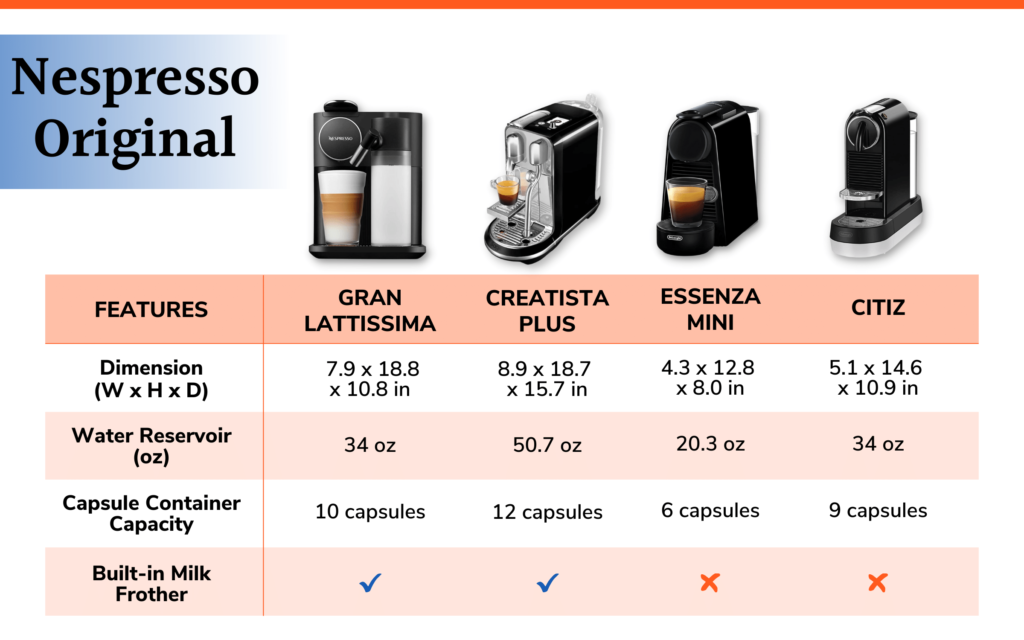 Generally, all Nespresso machines are compact devices and won't take up too much space in your kitchen, especially compared to traditional espresso machines. However, you'll need more space for a separate milk frother.
Nespresso machine size is correlated to its water tank capacity and capsule reservoir. For example, Essenza Mini and Citiz are the two smallest Nespresso machines, so they have the smallest water tanks and capsule containers (23 oz and six capsules for Essenza Mini and 34 oz and nine capsules for Citiz). On the other hand, Nespresso Evoluo is one of the largest Nespresso models, and it has a 54 oz water tank capacity and fits 17 used pods.
Note: Creatista and Lattissima models have the largest water tanks, but these machines are equipped with milk frothers, which use up a fair amount of water.
Overall, if you want to make several drinks before refilling and cleaning out the espresso maker, go for a larger device, or if you're extremely short on space, choose a compact machine.
I include dimensions as Width x Height x Depth, and always check the machine dimensions to make sure it'll fit under your kitchen cabinets.
Milk Frother
Vertuo and OriginalLine machines don't have an integrated milk frother, except for Lattissima and Creatista. Apart from these two lines, you need a separate milk frother to make milk and espresso beverages.
Nespresso makes a standalone milk frother – the Aeroccino. There are two Aeroccino options: Aeroccino 3 and 4. Just like a Nespresso machine, Aeroccino is easy to use. Pour in the milk, press a button, and wait until the Aeroccino creates your milk froth. Personally, I really like the Aeroccinos because they create really smooth texture without any added water from a steam wand.
Note: Aeroccino 3 and 4 have different froth options. Aeroccino 3 creates hot and cold milk froth, including light or dense foam depending on the quantity. Meanwhile, Aeroccino 4 makes cold milk foam, hot milk froth, latte macchiato, and cappuccino froth.
Check out our Aeroccino 3 vs. 4 comparison for more info on these milk frothers, including the build material and durability.
When choosing an integrated milk frother, the Lattissima and Creatista are different.
Lattissma devices have a milk carafe, which functions like a milk jug. You can detach it from the device as needed and store it in the fridge.
Creatista devices have a built-in steam wand, the type you can find on most regular espresso machines. The wand gives you more control over the milk frothing, and you can make latte art.
Choosing the integrated option is easier but also more expensive. The Aeroccino is a separate device with an extra step, but you can't go wrong with them – they're still easy to use and create textured milk.
Manufacturer
Nespresso machines are made by different manufacturers, but the ones available in the US are made either by Breville or DeLonghi. Both of these manufacturers use Nespresso patented technology, which means you won't notice any differences in drink quality.
However, the design differs by manufacturer. For example, Essenza Mini by Breville is a rectangular device with a narrow shape, while Essenza Mini by DeLonghi has a triangular shape. In general, Breville tends to make rounder designs, while DeLonghi options have sharper, cleaner edges.
The only real difference between the manufacturers is in the Creatista and Lattissima lines, which are exclusive to Breville and DeLonghi, respectively.
Creatista series includes Creatista Pro and Creatista Plus. This is a high-end line of Nespresso devices. These machines have extremely fast heat-up times, touchscreen displays, steaming wands, and Breville's recognizable stainless steel design.
Lattissima range includes the Lattissima Pro, Gran Lattissima, and Lattissima One models, which all make a different number of drinks, and come at different prices. You'll recognize a Lattissima machine by an attached milk carafe.
Price
Price mostly depends on the manufacturer and retailer. For example, Nespresso Pixie, made by Breville, will have a different price than Pixie, made by DeLonghi.
Also, Creatista and Lattissima machines are high-end models that are much more expensive than other Nespresso machines.
The price also depends on where you buy your Original or Vertuo machine. Pricing varies by retailer, so we highly recommend checking around to find the most affordable option!
Finally, don't forget the price of the coffee capsules, which is an ongoing investment when getting a Nespresso device. Pod pricing varies by manufacturer and site. Original pods are generally cheaper than Vertuo, but Vertuo has more drink sizes and better taste (in our opinion).
---
Individual Reviews: Top Seven Nespresso Machines
1. Nespresso VertuoPlus (Best Overall)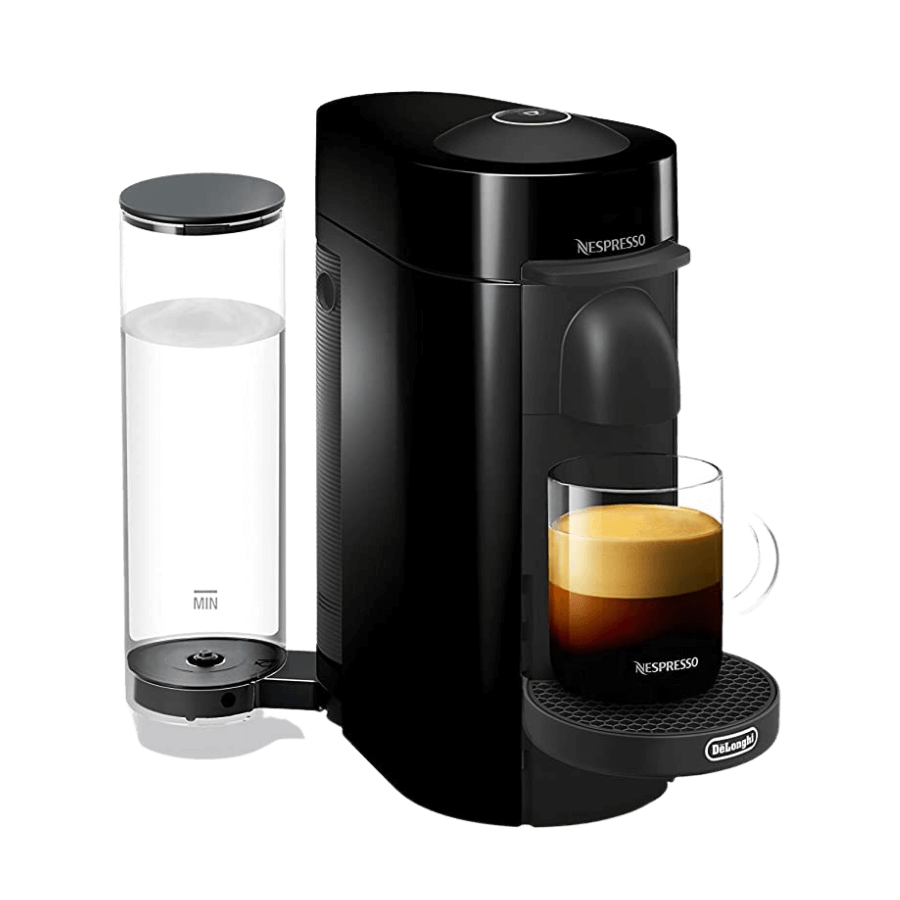 VertuoPlus highlights:
Machine Type: Vertuo
Dimensions: 16.9 x 5.6 x 12.8 in
Used Capsule Capacity: 10 capsules
Water Tank Capacity: 40 oz
Milk Frother: No
Nespresso VertuoPlus is my top choice for a Nespresso machine. It has a sleek and round design that fits well into any kitchen without using much space. This espresso machine has a motorized lid that opens the machine head where you insert the pod. You don't need a lot of strength to push the lid open, which is easier than other Nespresso coffee makers. Just gently push the lever for the lid to go up or press down to close.
Another feature that made this machine a top choice for me is the 40 oz adjustable water tank. The tank rotates to the side or the back of the machine, so it's easy to fit the device anywhere.
VertuoPlus has a decent used capsule container — it fits ten used capsules. Another nice thing about VertuoPlus (and all Vertuo options) is the capsule ejection system that slides the pod into the container when you open the lid. You don't have to take out the hot pod when the machine is done brewing. You can take the pods out and recycle them once the container is full.
Finally, VertuoPlus needs about 30 seconds to heat up, and it brews a coffee drink in 25 seconds, so you don't have to wait for more than a minute for your drink.
Who is it for? VertuoPlus Nespresso machine is a great choice if you like to drink espresso and larger coffee drinks. It's also a good option if you want a user-friendly machine and if you're short on space because it has an adjustable water tank.
Pros
Adjustable water tank
Centrifusion technology
Fast heat up and brewing time
Easy lid opening system
Cons
Only compatible with Vertuo pods
Plastic build
---
2. Nespresso Gran Lattissima (Best Premium)
Gran Lattissima highlights:
Machine Type: Original
Dimensions: 18.8 x 7.9 x 10.8 in
Used Capsule Capacity: 10 capsules
Water Tank Capacity: 34 oz
Milk Frother: Carafe
Gran Latissima is manufactured by DeLonghi and uses Nespresso's OriginalLine technology. It comes in fresh white and sophisticated black options, so it'll fit into any kitchen decor. We've reviewed the Gran Lattissima, and like that it makes an espresso drink with one button.
This coffee machine is one of the rare Nespresso coffee makers with an integrated milk carafe. The carafe is detachable and can be stored in the fridge until you need it. Brewing is easy as you need to do is clip on the carafe, insert a pod, and choose your drink option.
Gran Lattissima has an impressive nine drink options, including six milk-based espresso drinks that are great for lattes. It's easy to use and choose your drink thanks to the labeled buttons and the LED display.
The Gran Lattissima has a Rapid Cappuccino System which pulls the milk from the carafe via spout and deposits it into your mug while the espresso is brewing. This means the machine froths the milk for you and delivers it to the cup, so there's less chance of spilling and making a mess. It's also pretty quick as the drink is ready in 20 seconds.
You can choose a self-cleaning setting on the carafe to prevent stale milk from clogging the carafe. However, I wasn't a huge fan of the carafe cleaning process. You need to remove the frother, disassemble all the parts, and handwash or put it in the dishwasher, which takes time.
Who is it for? Gran Lattissima is the best Nespresso machine if you want a premium device that makes milk-based drinks with a button. It's also a good option if machine speed is one of your top requirements.
Pros
Nine drink options
Fast heat-up time
Ease use thanks to the LED display
Auto cleaning function
Cons
Small water tank
Expensive
---
3. Nespresso Essenza Mini (Compact Budget Option)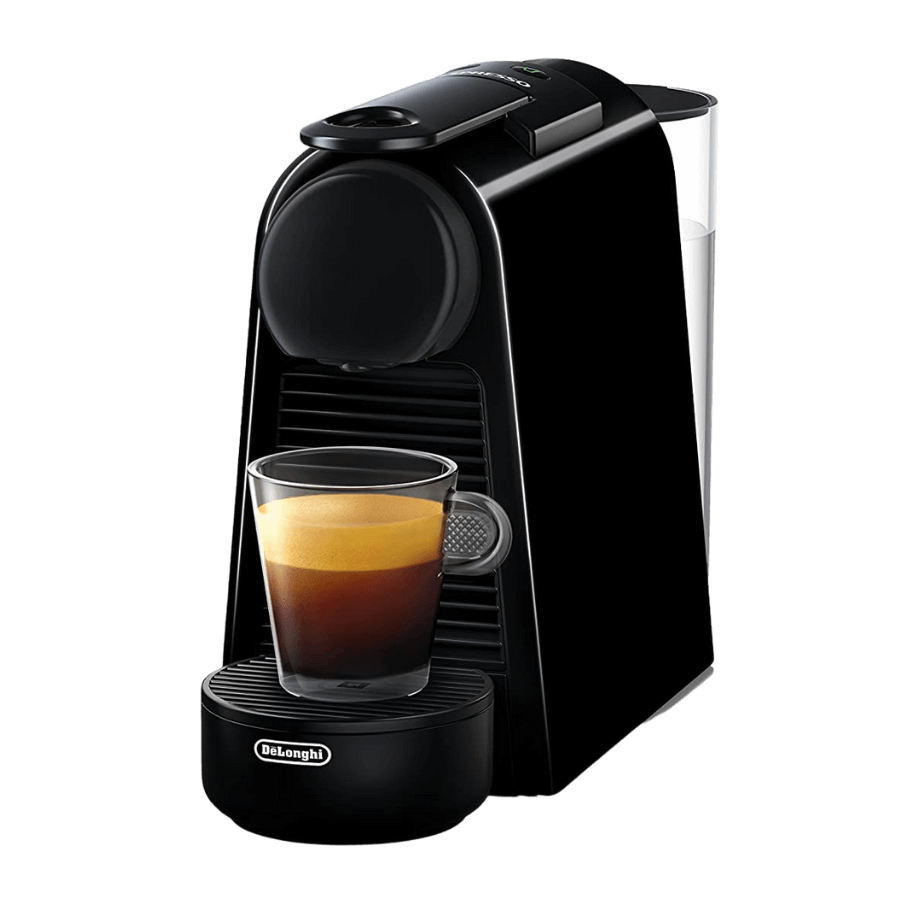 Nespresso Essenza Mini highlights:
Machine Type: Original
Dimensions: 4.3 x 12.8 x 8.0 in
Used Capsule Capacity: 6 capsules
Water Tank Capacity: 20.3 oz
Milk Frother: No
Nespresso Essenza Mini is the best Nespresso machine if you need a compact, lightweight, and portable espresso machine. It has a small footprint, so you won't have any storage issues.
This Nespresso machine belongs to the OriginalLine range, which means it only brews espresso. However, you can get an Essenza Mini and milk frother bundle and also make milk-based drinks.
Essenza Mini is tiny, so it makes sense that the water tank is small — only 20.3 oz. The used capsule container holds about six pods. However, I feel it holds even less, as my container looked full with four pods. If you drink more than three cups daily or have a coffee-drinking household, you'll have to clean the used capsule drawer and refill the water tank daily.
I liked Essenza Mini's eco-mode, which saves energy after three minutes of non-use. The coffee machine completely shuts off after nine minutes of inactivity.
The small size doesn't affect the espresso taste in terms of coffee quality. This device heats in 25 seconds and also uses a 19-bar pressure pump that makes a good espresso with a nice crema layer.
Who is it for? Essenza Mini is a good choice if you're very short on space and a compact coffee machine is your main consideration. It's also a good option if you want to be eco-friendly, as it has an energy-saving mode.
Check our Essenza Mini vs. Pixie comparison.
Pros
Compact and lightweight
Has eco-mode for saving energy
Retro-looking design with multiple color options
Affordable
Cons
Small water tank
Small capsule container
Only brews espresso and lungo
---
4. Nespresso Citiz (Best Premium Compact Machine)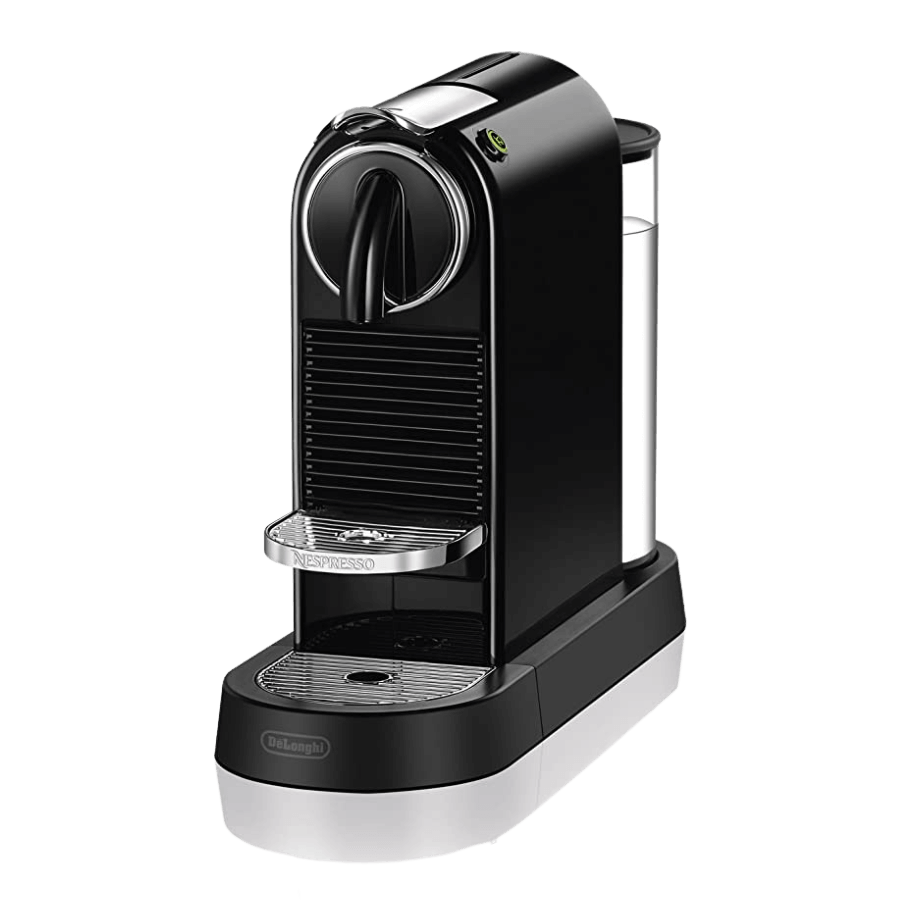 Citiz highlights:
Machine Type: Original
Dimensions: 5.1 x 14.6 x 10.9 in
Used Capsule Capacity: 9 capsules
Water Tank Capacity: 34 oz
Milk Frother: No
Nespresso Citiz is another good contender if you're looking for a compact Nespresso machine. The Citiz is a premium option compared to the Essenza Mini because it's made of a combination of stainless steel and plastic instead of only plastic. Citiz has a stainless steel foldable drip tray, so you can fit different mug sizes. The build material makes it look high-end, and it's more durable.
Similar to other coffee makers in the Nespresso OriginalLine range, Citiz is easy to use. It has two buttons: one for espresso and another for lungo. The machine starts brewing as soon as you press the button. This machine only brews espresso, so you'll need a separate milk frother for milk-based drinks.
Citiz also uses the OriginalLine extraction system — a 19-bar pump that forces water through the ground coffee in the capsule, so the end result is a nicely extracted espresso with decent crema.
The lid is the only part of this Nespresso machine that isn't so easy to use. You have to lift the lever to open the lid and apply some force to push it down. Compared to some other Nespresso machines, for example, VertuoPlus, this requires more effort on your part.
Check our Citiz vs. Inissia comparison.
Who is it for? Nespresso Citiz is a good option if you want a compact espresso device, but you don't want a tiny water tank. It's also a great choice if you want a machine with a durable build that will last.
Pros
Compact size
Foldable stainless steel drip tray
Stainless steel build
Automatic shut-off can be adjusted from 9 to 30 minutes
Cons
Only brews espresso and lungo
---
5. Nespresso Evoluo (Largest Water Tank)
Evoluo highlights:
Machine Type: Vertuo
Dimensions: 9.0 x 12.2 x 12.3 in
Used Capsule Capacity: 17 capsules
Water Tank Capacity: 54 oz
Milk Frother: No
Nespresso Evoluo belongs to the VertuoLine range of Nespresso machines. There is an aesthetic debate here, as the Evoluo has a box shape that makes it bulkier than most other Nespresso machines and (arguably) less attractive. However, the Evoluo makes up for the bulky design with flavor and easy-to-use features.
Nespresso Evoluo has a 54 oz water tank, so you can brew a lot of espressos and several lattes before refilling. The used capsule container fits an impressive 17 pods (the most on this list). The container is located on the right side, while the water tank is on the left side of the coffee maker.
Nespresso Evoluo also doesn't come with a milk frother, but you can get an Aeroccino in a bundle deal.
Nespresso Evoluo uses Nespresso's centrifusion technology, which spins the espresso machine 7,000 times per minute and forces water through the grounds. This is how the machine recreates the pressure needed to brew espresso, unlike the pump system which the Citiz and Essenza Mini use.
Also, Evoluo and Vertuo Plus create a richer and thicker crema compared to OriginalLine devices. Evoluo can brew five drinks: espresso, double espresso, gran lungo, coffee, and alto (which has been discontinued, unfortunately).
Check our Evoluo vs. VertuoLine comparison.
Who is it for? Nespresso Evoluo is the coffee maker for you if you want to brew drinks with a push of a button. It's also a good choice if you want a machine with a large water tank and capsule container and you don't want to refill and clean the machine every day.
Pros
Large water tank
Large capsule container
Brews hot drinks
Creates a thick crema
Cons
Bulky design
Lid system requires some effort to open
---
6. Nespresso Vertuo Next (Modern Technology and Carafe Size)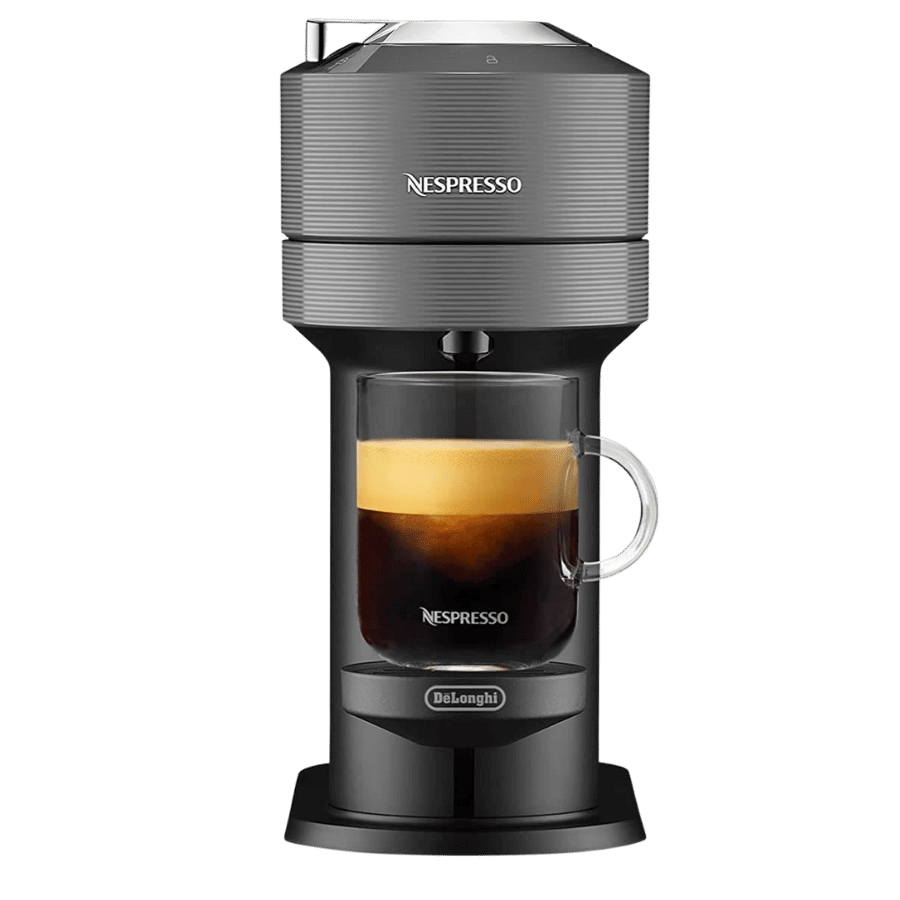 Nespresso Vertuo Next highlights:
Machine Type: Vertuo
Dimensions: 5.5 x 12.4 x 16.8 in
Used Capsule Capacity: 8 capsules
Water Tank Capacity: 37 oz
Milk Frother: No
Nespresso Vertuo Next is a newer Nespresso machine, which is reflected in its design and technology. Vertuo Next is a plastic espresso machine, but it's made of 54% recycled plastic, which is great if you're worried about the environmental impact of owning a coffee machine.
Vertuo Next is wide at the top and slim below. It has a large brewing chamber but a smaller water tank compared to many other best Nespresso machines. The water tank is placed at the back and has a capacity of 37 oz. This isn't adjustable like the VertuoPlus, but it is removable, so the refilling is easy.
The Next lid system is semi-automatic — you have to slide the clip to unlock the lid, insert the pod, and push down to close the head. Overall, it requires a little more effort on your side compared to just gently pushing down.
There are two stand-out features on Vertuo Next. First, VertuoNext can connect to Wi-Fi and Bluetooth. This is the first Nespresso that has this connectivity. While I wouldn't call this a smart device, the connectivity allows the machine to get firmware updates, software-based features, and fixes. You can connect easily on your Nespresso app.
Second, the Vertuo Next is the only option that brews at 18 oz carafe size. This is easily the largest size, and Nespresso has pour over coffee-style pods for this option. It's great if you want to brew two cups at once or like the cleaner, lighter taste of pour-overs.
Nespresso Vertuo Next is fast — it brews a cup of coffee in 25 seconds from inserting the pod, and the pod container can fit eight used pods, so you don't have to empty it daily. The machine brews espresso, double espresso, gran lungo, and coffee. Plus, you can use 18 oz carafe pods which are only compatible with Vertuo Next.
A word of caution: I found many user reports complaining of leaking issues on the VertuoNext, so its durability is questionable. We discuss this when comparing the Vertuo Plus vs Next.
Who is it for? Nespresso Vertuo Next is a good espresso machine if you want a compact device with Bluetooth and Wi-Fi connectivity. This is also the best machine if you want to make 18 oz coffee.
Pros
Made with 54% recycled plastic
Has modern technology
Compatible with 18 oz carafe pods
Cons
Questionable durability
No milk frother
---
7. Nespresso Creatista Plus (Nespresso Machine with a Steam Wand)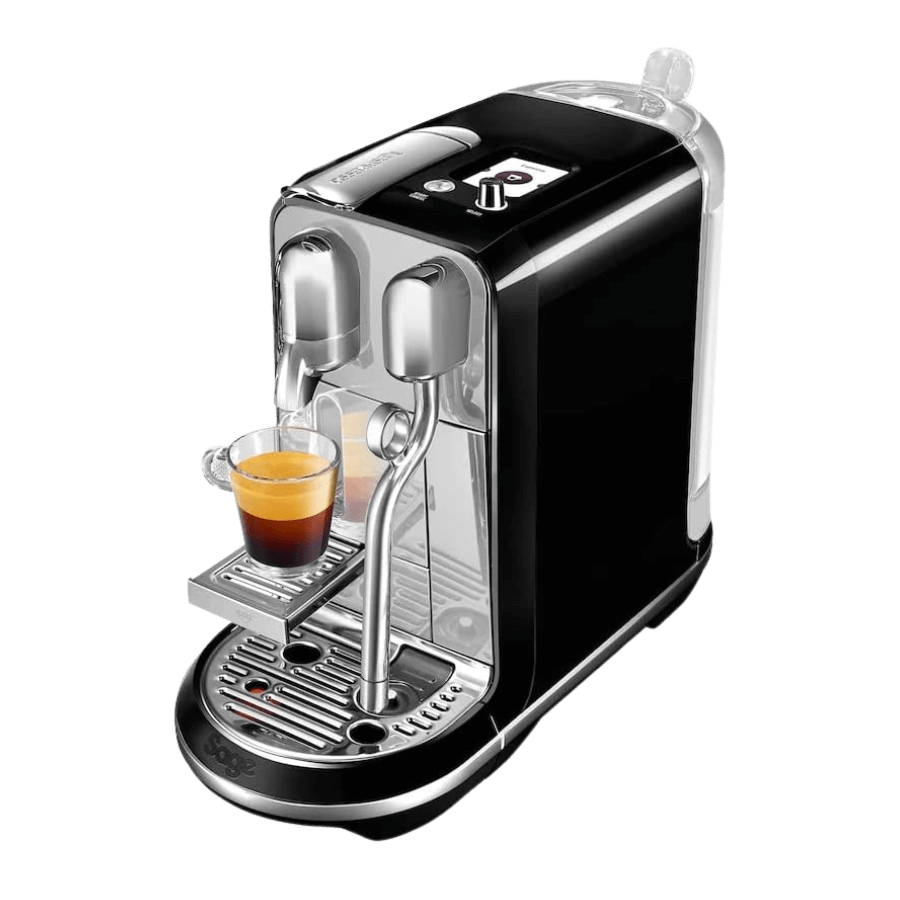 Creatista Plus highlights:
Machine Type: Original
Dimensions: 8.9 x 18.7 x 15.7 in
Used Capsule Capacity: 12 capsules
Water Tank Capacity: 50.7 oz
Milk Frother: Steam wand
Nespresso Creatista Plus is manufactured by Breville, so it has Breville's recognizable stainless steel finish. This espresso machine has a digital color screen and buttons for each of the seven coffee drinks it brews: espresso, lungo, ristretto, cappuccino, latte, latte macchiato, and flat white, so the use is easy.
My favorite part of Creatista Plus is its customization options. You can choose between 11 milk temperatures, eight textures, and three cup sizes (0.84, 1.35, and 3.72 oz).
This espresso machine has a large water tank (60 oz) and a built-in steam wand. It's an integrated option for frothing milk to make different latte and cappuccino drinks. A steam wand is different than the carafe frother on the Lattissima models; steam wands are usually more difficult to learn. However, the Creatista wand has a temperature sensor that works automatically and a self-cleaning option, so there is zero work required. Plus, this model comes with a milk jug for easy frothing.
Creatista Plus uses ThermoJet technology which heats up the machine in three seconds. You won't have to wait long for your drink.
Apart from the self-cleaning steam wand, regular maintenance is also easy. Creatista Plus has a descaling alert and a self-cleaning function, so there's not much upkeep required on your part.
Who is it for? Creatista Plus is one of the best Nespresso machines if you want a device with a steam wand that lets you work on your latte art. It's also a good choice if you want a self-cleaning machine that doesn't need much work on your part.
Pros
Large water reservoir
Can make microfoam for latte art
Has a color display and buttons for each drink
Package includes a milk jug
Cons
Doesn't make regular coffee
Expensive compared to other Nespresso models
---
A Closer Look At The Two Types of Nespresso Machines
There are two kinds of Nespresso machines: OriginalLine and VertuoLine. Deciding on this is the most important decision before buying, as the pods and operation are different, which has implications for flavor and taste. I'll go through each individually.
OriginalLine
OriginalLine coffee machines use pressure-based technology. You insert the capsule, the machine piecers it, and pumps hot water using 19 bars of pressure (same as traditional espresso machines). This results in espresso with light foam.
OriginalLine Nespresso machines make espresso drinks:
Ristretto: 0.85 oz
Espresso: 1.35 oz
Double espresso: 3.7 oz
Gran Lungo: 5 oz
OriginalLine Nespresso coffee machines have two sub-categories: Latissima (manufactured by DeLonghi) and Creatista (manufactured by Breville). Latissima and Creatista machines resemble regular espresso machines and are the only Nespresso devices that have built-in milk frothers or steam wands.
VertuoLine
Vertuo Nespresso machines use centrifusion technology. You insert the capsule, and the machine reads the barcode printed on the edge. The coffee maker automatically adjusts the brewing parameters (temperature, volume, and drink size). The water passes through the top of the capsule and mixes with the ground coffee. The pod spins 7,000 times per minute, and the water comes out through the punctures on the side of the capsule.
VertuoLine Nespresso machines were created in 2014 to satisfy the demand for larger coffee drinks. VertuoLine coffee makers can brew:
Espresso: 1.35 oz
Double Espresso: 2.7 oz
Gran Lungo: 5 oz
Coffee: 8 oz
Carafe: 18 oz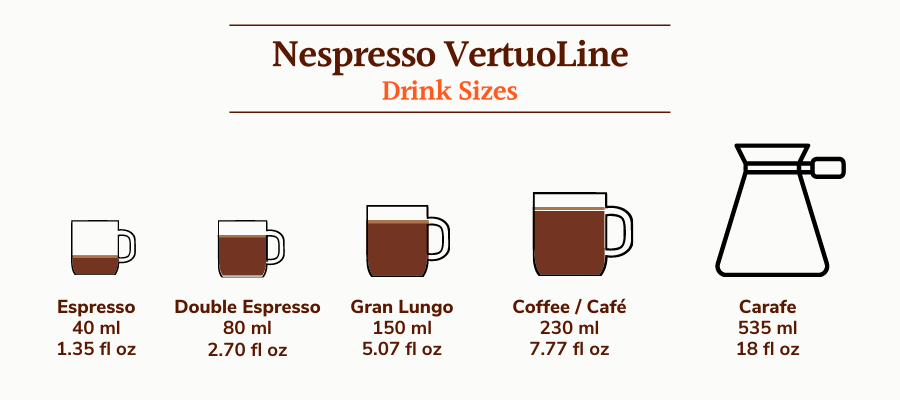 Centrifusion technology produces much thicker crema compared to the OriginalLine machines.
Each machine category uses its own kind of capsules, and they aren't interchangeable. Also, apart from Lattissima and Creatista, no other Nespresso machine comes with a built-in milk frother. Instead, you can get a machine and milk frother bundle to make milk-based drinks.
Our Testing Process at Craft Coffee Spot
At Craft Coffee Spot, we test the best Nespresso machines, which in reality, comes down to drinking copious amounts of coffee. But hey, we don't complain.
We've used several Nespresso machines for months to bring you our choice of the best ones. We also own a Dolce Gusto and Keurig because we wanted to compare these machines to Nespresso. 
We haven't performed a hands-on test on every single Nespresso machine, but apart from the machines we have, we rely on YouTube, Amazon, and reading hundreds of other user reviews. We look for consistent reviews to make sure we have a complete picture of the device and don't miss some crucial info. For example, YouTube helped us realize our Aerroccino 3 has two whisks instead of one (so we could create different milk foams). And while most coffee sites don't talk about leaking issues on the VertuoNext, we learned it from Facebook and Reddit groups.
Here are some of the things we pay attention to during our testing process: the ease of use (the machine interface), cleaning, heat up and brewing times, milk frother (if the machine has it), drink variety, and most importantly, drink quality.
We rule out machines that produce bitter and warm (instead of hot) drinks and machines that tend to leak and have build issues. We also compare the amount of crema. For example, we noticed VertuoLine machines produce a much richer and thicker crema than OriginalLine.
Finally, we check the design differences between various machine manufacturers and compare the price on the most popular Nespresso retailer sites.
What's the Best Nespresso Machine for You?
While my top pick for the best Nespresso machine goes to VertuoPlus because of its adjustable water tank, size, and drink quality, think about your needs when choosing between Nespresso models. For example, if the size is the main consideration, Essenza Mini and Citiz could be the best options. Or, if you want a machine that makes a latte with a press of a button, choose a Lattissima.
If you love having drink variety and want a pod machine, check out our Nespresso vs. Dolce Gusto comparison.