Nespresso machines have a lot going for them. They are easy to use and more affordable than traditional espresso machines. However, most Nespresso devices can't make milk-based drinks. This is where Creatista Plus comes in.
Creatista Plus is manufactured by Breville, using Nespresso technology. This coffee machine makes quality espresso with the ease of any Nespresso machine. But what makes it stand out is its ability to steam milk for cappuccinos and lattes. It's more expensive than other Nespresso machines, but it's also cheaper than comparable automatic espresso machines.
Today, I'll give you a detailed Creatista Plus Review, discuss its features, and explain if this machine is worth the investment.
Nespresso Creatista Plus Product Overview
Creatista Plus belongs to the OriginalLine range of Nespresso machines, which means it uses Nespresso's smaller capsules for classic espresso drinks.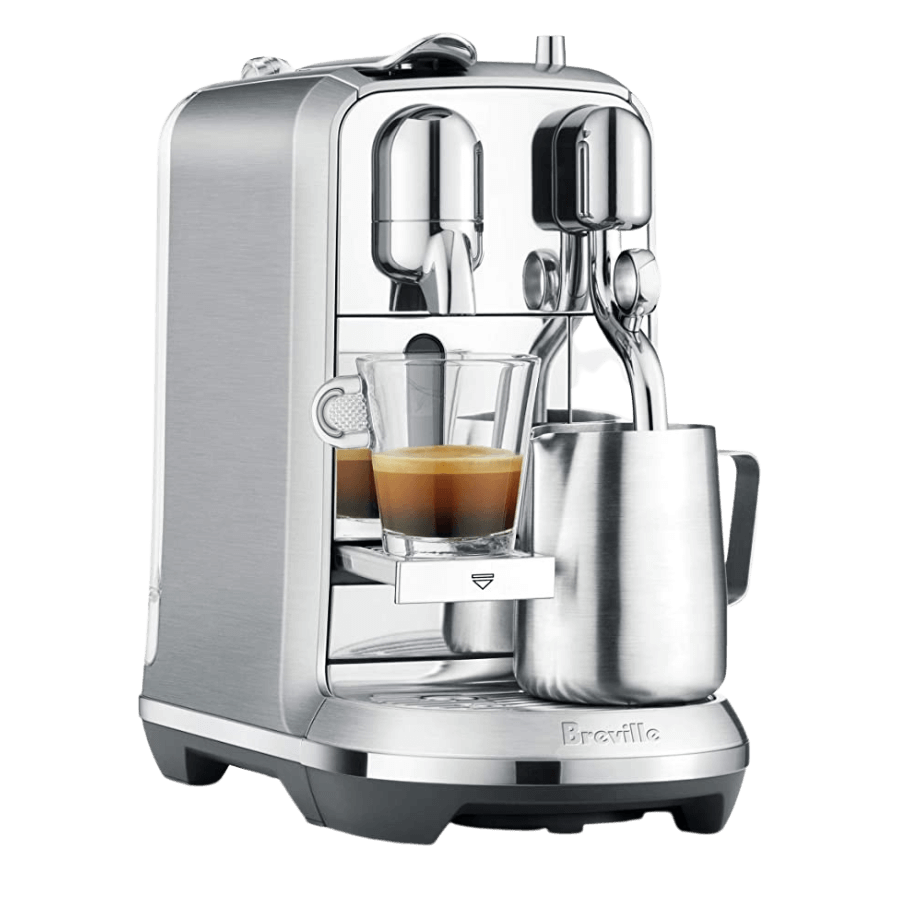 Creatista Plus highlights:
Automatic steam wand for lattes
Nespresso OriginalLine pod compatibility
19-bar pressure system for brewing espresso
High-resolution color display
Elegant stainless steel design
50.7 oz water tank
3-second heat-up time
Nespresso Creatista Plus: Craft Coffee Spot Rating
Espresso Quality & Brewing System
8
The Creatista Plus is a collaboration between Nespresso and Breville. Nespresso provides convenience and simplicity of the pods. Breville does the manufacturing, which gives the Creatista Plus recognizable Breville stainless steel design, powerful thermocoil heating system, and automatic steam wand technology.
The standout feature of the Creatista line is the automatic steam wand. Creatista Plus comes equipped with a swivel frothing arm and temperature sensor to precisely froth milk. You place the milk pitcher on the temperature sensor under the frothing wand, and the machine will do the frothing. No need to fumble with the pitcher. Moreover, the Creatista has 11 settings for any texture you desire.
This espresso machine comes with Breville's ThermoJet heating system. It can make eight specialty beverages and has programmable settings for each one.
Pros
Automatic milk frothing with auto-clean feature
Stainless steel exterior
Compatible with Nespresso and third-party capsules
Comes with a frothing pitcher
Cons
No cold frothing
Fewer features than the higher-end Creatista Pro
More expensive than regular Nespresso machines
Creatista Plus Feature Breakdown
Design and Build
Creatista Plus has an attractive, stainless steel design that's a Breville hallmark. The body of the machine is rounded, without any sharp angles.
The machine comes in four colors: Black Truffle, Sea Salt, Damson Blue, and stainless steel version.
There's a high-resolution TFT color display on the top of the machine, which makes the front look simple and elegant. The start-cancel button, a rotary dial, and two buttons used to navigate through the display are also located on the top.
This is a compact device, similar to other Nespresso machines. Its dimensions are 6.7 x 15.4 x 12 in (WxDxH), so it'll fit in your kitchen without taking up too much space.
Want More Coffee Tips?
Join the email list for exclusive coffee insights and deals that only subscribers get. You'll get two coffee discounts just for joining.
No spam, ever. We respect your privacy and unsubscribe anytime.
The coffee dispenser is on the left side of the espresso machine. There's a pop-out tray for smaller drinks (espresso, ristretto, and lungo) beneath it. I loved that this design minimizes the distance the coffee travels between the dispenser and the cup, which keeps the coffee hotter and prevents splashes.
The milk frother is on the right side of the coffee machine. The lever is located on the top, where you insert the capsules. The removable water tank is at the back. While I generally prefer front-loading water tanks, this one was easy to remove and refill. The water tank holds 50 oz, which is enough to make half a dozen drinks before refilling (it should be higher, but the steam wand consumes plenty of water).
Overall, Nespresso Creatista Plus has a stunning design. The stainless steel makes the coffee machine durable and gives it a nice sheen. It's not the smallest Nespresso machine (such as the CitiZ and Inissia), but the slim width ensures it'll fit anywhere.
Espresso Quality
In the world of capsule machines, Creatista Plus makes good espresso. This espresso machine has 19-bar brew pressure and ThermoJet technology. We're fans of Breville's ThermoJet system on Craft Coffee Spot, as it heats the machine in under three seconds and brews flavorful espresso in 25 seconds.
Of course, the Nespresso pods system makes it easy to use with a consistent drink each time.
Creatista Plus makes eight pre-programmed espresso drinks:
Ristretto
Espresso
Lungo
Flat white
Cafe latte
Cappuccino
Latte macchiato
Milk foam
You can also choose between 11 milk temperature options, eight textures, and several drink volumes. This programmability gives you a lot of freedom in getting the drink according to your preferences. However, although you can choose between 11 temperatures for milk, you don't have this option for coffee, which is something I'd like to have.
There's a wide range of Nespresso Original capsules to choose from. That's the benefit of an Original machine: the capsules are cheaper and more plentiful than newer Vertuo Nespresso machines.
You can use third-party compatible capsules with Creatista Plus. This includes Starbucks, Costa Coffee, or any other manufacturer you prefer, as long as they are compatible with an OriginalLine Nespresso machine. This gives you a lot of freedom and room to experiment, so you can have your favorite coffee blend.
However, the downside is I personally like Vertuo pods more than Original. I think Nespresso has created more variety of flavors and sizes on Vertuo than third parties have for Original. That said, Creatista's drink options and customization overcome much of my preference.
Overall, if you want convenience, drink customizability, and flavorful espresso, Creatista Plus is a good option.
Milk Frothing
Creatista Plus has an automatic milk frothing process using an improved steam wand. You pour the milk into the included stainless steel milk jug, place it on the temperature sensor under the frothing wand, choose a texture, and you'll have frothed milk in seconds.
The Nespresso Creatista Plus draws the espresso shot into your cup on the left and then steams the milk in the pitcher on the right. While brewing and steaming are automated, you have to do one step yourself – combine the milk and espresso.
You can choose between 11 temperature levels ranging from 133 to 169 degrees Fahrenheit, and there are eight texture levels. That's a lot of control to give you just the steamed milk you prefer. It also gives you room to perfect your latte art. You can't make a full swan, but you can make a leaf or heart with this wand.
Overall, I liked the milk quality. I had to tap the milk jug on the counter to break up large bubbles, but I was left with a velvety smooth milk foam.
When you remove the milk jug, the steam wand self-purges, making cleanup easier. You still need to wipe down the wand right after use, but the auto-purge means less chance of milk curdling and less work for you.
Ease of Use: Brewing/Customization Options
Nespresso Creatista Plus is an advanced Nespresso machine, but it's still a Nespresso machine, which means it's easy to use.
I mentioned it has an impressive three-second warm-up time, which is one of the fastest available on any espresso machine. This is almost unheard of in the world of espresso machines, with many traditional machines needing 20 minutes to get going.
You can choose between three main espresso drinks: the ristretto (0.85 oz), the espresso (1.35 oz), and lungo (3.70 oz). You can customize the coffee volume of each of these:
Ristretto: 0.85 to 2 oz
Espresso: 1.35 to 2 0z
Lungo: 2.37 to 5 oz
The milk configuration is also impressive — the temperature ranges from 133 to 169 degrees, and the milk froth from 0.08 to 1.2 in. The customization options are on par with other high-end automatic espresso machines and make it easy to make the drink according to your preferences.
All settings are available via display, the dial, and the button on top. You shouldn't have any issues understanding how to use them. The interface doesn't have endless options. Only a few icons are shown on display, and you use a rotative selection knob to choose between them. The display also shows step-by-step instructions.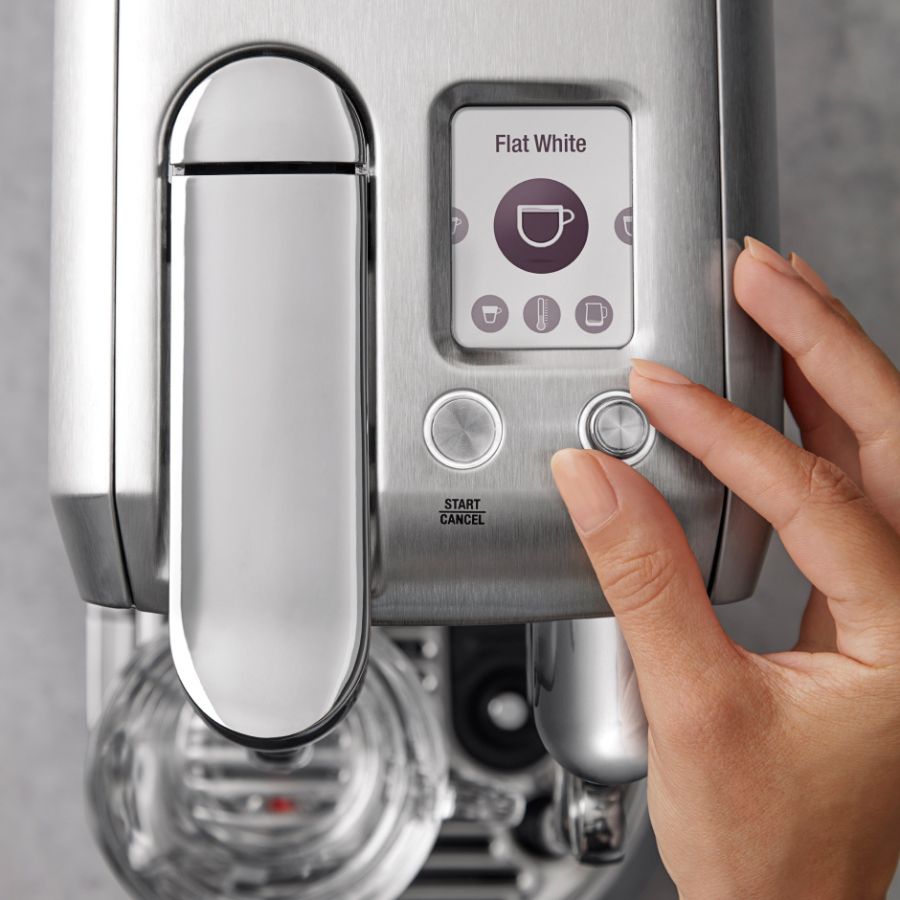 Essentially, you turn on the machine, insert your coffee pod, close the lever, choose a coffee type, adjust the volume, and press start. You'll have your drink in seconds.
You can run the milk frothing after the machine is done brewing the espresso, so it takes about two minutes to have a milk-based drink.
Finally, Nespresso thought about energy saving as well. The display dims after two minutes of being idle, and the auto-off function turns the Creatista Plus off after nine minutes of non-use. This helps avoid electrical mishaps and comes in handy if you're often in a hurry and forget to turn off the coffee machine.
The only thing I didn't like is that Nespresso Creatista Plus doesn't come with a water dispenser. This is an OriginalLine Nespresso machine, so it makes espresso-based drinks. But, you can't make an Americano. You'll need a separate kettle for this. Also, if you like regular or drip coffee, you need a Nespresso machine from the VertuoLine.
Cleaning & Maintenance
Nespresso Creatista Plus is easy to clean and maintain. You should rinse the water tank and empty the used capsule container and the drip tray every few days (the frequency depends on how often you use your machine). The drip tray has a red ball that floats up and lets you know it's time to empty it.
The milk jug should be cleaned after every use, or you risk milk leftovers spoiling. You can rinse it underwater or place it in the dishwasher.
The steam wand automatically runs an auto-purge cycle after each use. However, you should clean it more thoroughly. Place the wand in the milk jug, select the milk function on the Nespresso Creatista Plus, and wipe the outside with a wet cloth.
The machine will let you know when it's time to descale. Keep in mind you can't postpone the descaling indefinitely. Nespresso Creatista Plus will go into lockout mode if you don't descale after 30 uses.
Overall, there's little effort needed to clean this Nespresso machine. I like that you get a tool to clean the nozzle holes. The tool for the wand nozzle is stored in the back, beneath the reservoir. You poke the needle through the wand holes to clear out any milk, and you can unscrew the nozzle as well for deeper cleaning.
One part that's hard to clean is the outer shell. Nespresso Creatista Plus is a stainless steel appliance, so it's a fingerprint magnet. You should wipe it down daily to keep the shiny look.
Value
Nespresso Creatista Plus gives good value for your money. It has programmable features, a durable stainless steel design, and a high-res color display that rivals more expensive automatic machines.
Yes, it's more expensive compared to other Nespresso options for lattes. But if you want an espresso machine that's easy to use and makes milk-based drinks with a press of a button, this is a great choice. Moreover, considering all the customization options, the price is fair.
However, keep in mind capsules are an ongoing investment. You can save money with reusable Nespresso pods if you're on a tight budget.
---
Comparing The Creatista Lineup: Uno, Plus, Pro, and Vertuo
The Creatista line has several different models with varying features. I don't have a strong opinion on the "best" Creatista option, and will lay out the differences so you can make the best call.
Creatista Uno
Creatista Uno features:
Made of plastic.
Has a button display
Has three milk temperature and texture settings
Nespresso Creatista Uno is the base model in the Creatista lineup. The Uno is a more affordable Creatista Nespresso machine than the Plus. It's made of plastic, which makes it look less high-end compared to the Pro and the Plus models.
You can make eight drinks on the Creatista Uno, and the used capsule container fits between eight to 12 pods, depending on their size.
Unlike the Creatista Plus, which has a color HD display with a button and a knob, the Uno only has a button display. The major difference between these machines is in the milk froth control you have. Creatista Uno has three milk and temperature texture settings, which is considerably less than the Plus, which has 11 settings.
Overall, the Creatista Uno is a good option if you're on a budget, don't mind the plastic build, and are fine with a few milk texture options.
Creatista Pro
Creatista Pro features:
Can brew and steam simultaneously
3-seconds heat-up time
Has a hot water dispenser for Americanos
Creatista Pro is the most high-end model in the Creatista lineup. This is the only Creatista machine that can brew and steam simultaneously, which is great when you're in a hurry or want to make successive drinks.
The Pro has the largest HD touchscreen located on top. The touchscreen is intuitive and guides you through drink prep and maintenance.
The machine has a large water tank (67 oz compared to the 50 oz on the Plus). A large water tank means you don't have to refill too often. However, the steam wand auto-purges, which also uses a fair amount of water.
Overall, the Pro is a good choice if you want a stainless steel machine with a large water tank. However, it has the same amount of milk texture options (11) as the Plus, so my choice in terms of value is the Plus.
Creatista Vertuo
Creatista Vertuo features:
Only compatible with Vertuo pods
Uses centrifusion brewing technology
One-minute heat-up
Breville Nespresso Vertuo Creatista is the newest Creatista model. We reviewed the Breville Vertuo Creatista and this is the first Nespresso machine that uses Vertuo pods and can steam milk.
Creatista Vertuo doesn't use pressure to brew coffee as the above Creatista models. Instead, it uses patented Nespresso centrifusion technology. This means the pod has a barcode printed on its edge. The Creatista Vertuo reads the barcode and automatically adjusts the brewing parameters. The pod spins 7,000 times a minute to create espresso with a rich crema.
The Creatista Vertuo can make six coffee drinks, including regular coffee, which is available in three sizes. Plus, you can brew any pod as a double espresso using the TFT display with buttons.
This machine is a great option if you want a Nespresso model that uses Vertuo pods and can steam milk.
Creatista Plus vs. Creatista Uno vs. Creatista Pro vs. Creatista Vertuo: Comparison Table
Product Title
Dimensions
Dimensions
15.4 x 12 x 6.7 in
16.1 x 6.7 x 12,2 in
15.47 x 6.7 x 12.13 in
8.9 x 16.4 x 12.6 in
Weight
Weight
11.4 lbs
11.4 lbs
11.5 lbs
19 lbs
Material
Material
Stainless steel
Plastic
Stainless steel
Stainless steel
Water tank
Water tank
50 oz
50 oz
67 oz
67.6 oz
Hot water dispenser
Hot water dispenser
No
No
Yes
No
Display
Display
Digital display with knobs
Buttons
Touchscreen
TFT with buttons
Frother settings
Frother settings
11 temperature, eight textures
3 temperatures, three textures
11 temperature, eight textures
3 temperature, 3 texture
Programmable coffee volume
Programmable coffee volume
Yes
No
Yes
No
Who Should Buy Nespresso Creatista Plus?
Nespresso Creatista Plus has a lot going for it. It's almost as close to an automatic espresso machine without the same cost. Admittedly, it is more expensive than other Nespresso machines, which is the choice you'll have to make. Otherwise, it's a great option for someone looking for a range of drinks with ease of use.
You can make everything from latte macchiato to ristretto with ease. Cleaning and maintenance are simple with the Breville durable stainless steel build. What sets apart the milk frothing is the high level of control, which is better than most automatic steam wands. The only thing this "super-automatic" espresso machine can't do is make regular coffee. Otherwise, Nespresso Creatista Plus can take care of your coffee needs.
If you aren't a fan of milk-based drinks and want a more affordable coffee machine, check out our round-up of the best Nespresso machines.