Nespresso machines make excellent coffee with one button, thanks to the namesake pod. But that luxury has an overlooked cost: we estimate that 326,000 tons of coffee pods end up in landfills yearly, contributing to our ever-increasing waste problem. Plus, the problem is even worse with so many plastic coffee pods.
But, you don't have to give up your coffee-drinking habit. Nespresso has changed a lot in recent years, and they make it easy to recycle with a dedicated program.
I'll cover how to recycle Nespresso pods, how to reuse them, and even what Nespresso does with recycled pods so that you can get your caffeine fix with peace of mind.
Are Nespresso Pods Recyclable?
Yes, Nespresso pods are recyclable because they're made mainly of aluminum and a food-shellac coating. This is important because:
It keeps coffee fresh for a long time. I use my pods seasonally, and some wait for months to be used. Aluminum keeps the coffee grounds fresh for months.
Aluminum is recyclable. It's one of the easiest materials to recycle, and almost none of it goes to waste during the recycling process. Once the pods are recycled, aluminum is used for a wide range of items, including more Nespresso capsules.
Creating aluminum pods was a great environmental call by Nespresso because aluminum can be recycled forever. Actually, 75% of the aluminum ever produced is still being used today. Plus, recycled aluminum emits fewer greenhouse gases because it isn't a virgin material. Lastly, recycled material avoids the need to dig more natural resources. That's a lot different compared to pods made of plastic (I'm looking at you, Keurig).
Nespresso takes sustainability seriously, and the company is a B-Corp, which is reserved for companies that meet a high standard of environmental performance.
Nespresso and other single-serve coffee manufacturers get a lot of hate for the capsule system. But, some research has found that Nespresso coffee pods are the most sustainable option (after instant coffee) for getting your caffeine kick.
How to Recycle Nespresso Pods?
The best way to recycle Nespresso capsules is through the Nespresso recycling program. To do so, put your used pods in Nespresso's dedicated recycling bags, which can hold up to 100 Vertuo or 200 Original pods. Then, drop off the bag at Nespresso boutiques, partner retailers, or UPS locations worldwide.
You don't need to empty the pods of coffee grounds or rinse them out. But, you need to put in some effort to get the pod to a recycling plant. Here's how you can do this.
1. Get the Recycling Bag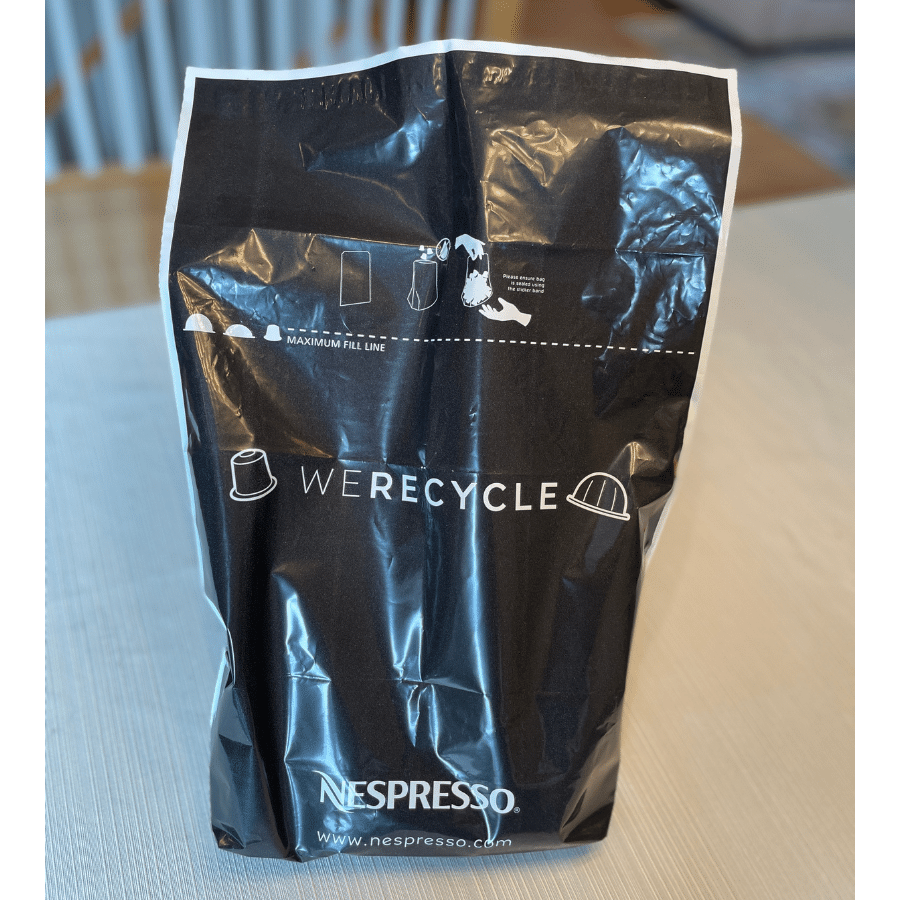 Nespresso makes specialized bags to recycle Nespresso pods. You must use Nespresso's bag to recycle the pods! Otherwise, the pods won't be accepted because the bags themselves are also recycled with the pods.
You get a recycling bag when you order pods through Nespresso's website. Nespresso won't ship a recycling bag on its own, so you'll need to order at least a sleeve of pods. You can find the bag under the accessories section or add it at checkout, and you can order two bags each time.
If you prefer to buy pods at a Nespresso boutique, you can get the recycling bag there as well.
2. Fill Up the Bag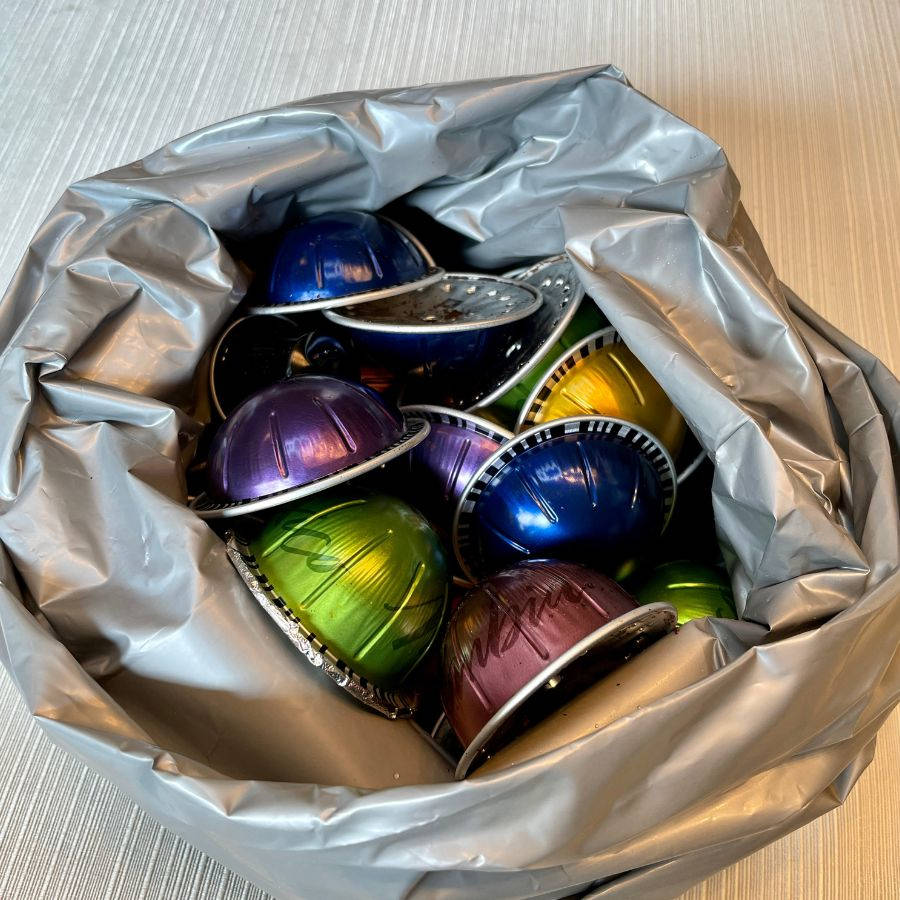 Nespresso recycling bag can hold up to 100 Vertuo pods or 200 Original capsules. Don't try to overfill it, or it won't fit in the collection container.
Once your bag is full, seal it at the top. There's an adhesive flap to close it.
3. Find the Drop-Off Location
Nespresso has over 122,000 recycling locations worldwide, and 90% of customers have a recycling point nearby. You can go to any recycling location and drop off the used capsule bag. Simply check the Nespresso website for the closest point, or use the Nespresso app.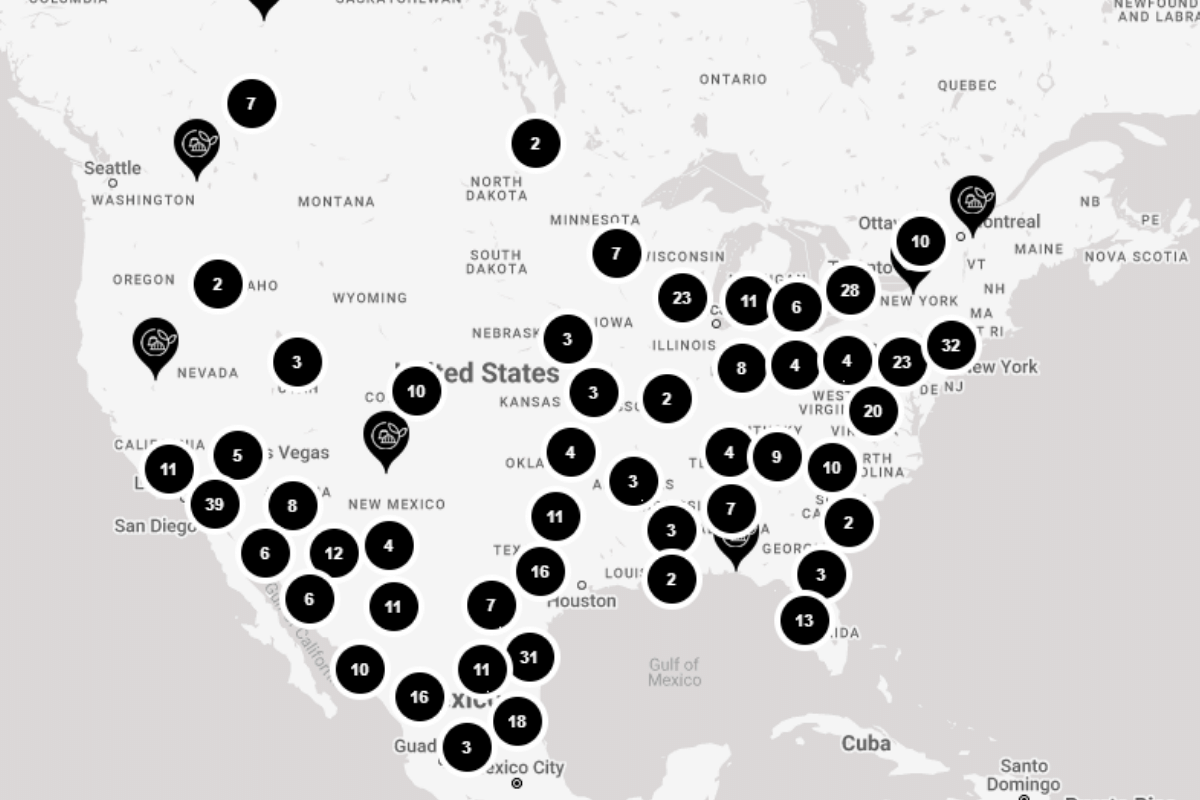 The Nespresso recycling drop-off points typically include:
Nespresso boutiques
Williams Sonoma
Sur La Table
4. Drop-Off the Pods
Once you've found the recycling location close to you, take the pods in a recycling bag. Some Nespresso stores have a bin in the entryway or lobby where you can put the bag or leave it at the customer service desk.
UPS Also Accepts Recycled Nespresso Pods
Separately, UPS has a partnership with Nespresso to take recycled pods. Even if there's no Nespresso store close to you, there's probably a UPS store, as UPS has locations everywhere. You can send used pods to be recycled via mail.
Check if you've received any recycling bags with your coffee machine. I got two bags with my VertuoPlus with a pre-printed UPS label, making the drop-off easy.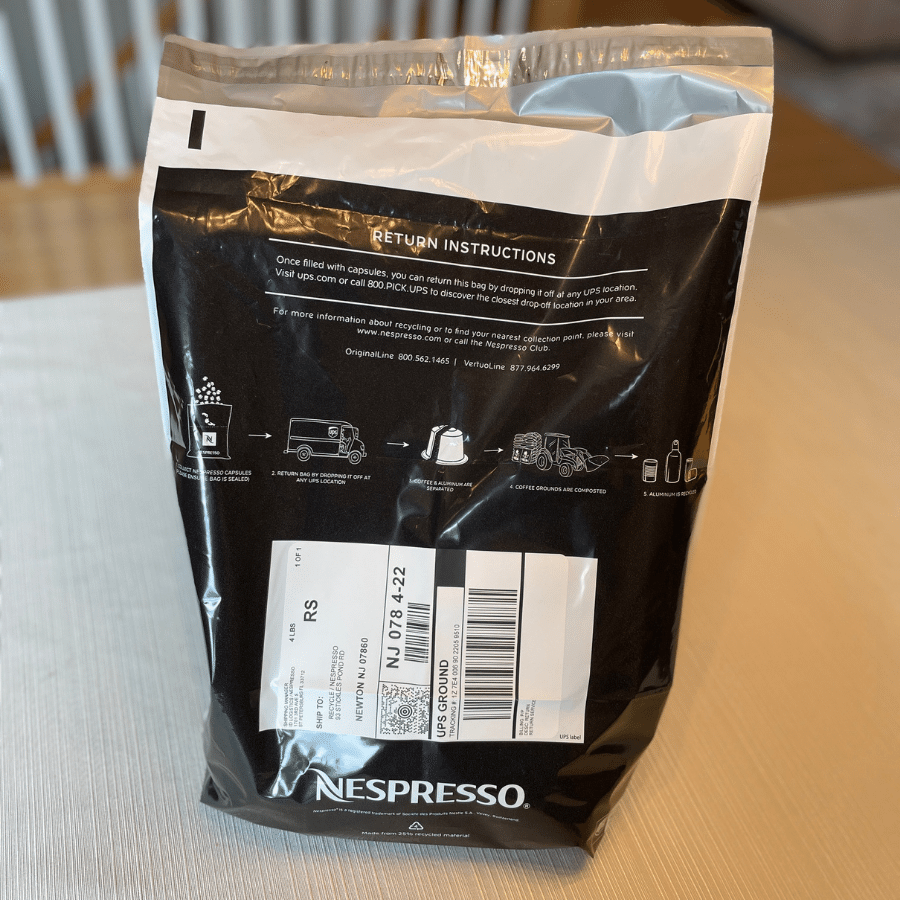 Drop the used pods at a UPS store, and they'll send them to Nespresso for recycling. You can find UPS locations here.
Want More Coffee Tips?
Join the email list for exclusive coffee insights and deals that only subscribers get. You'll get two coffee discounts just for joining.
No spam, ever. We respect your privacy and unsubscribe anytime.
What Does Nespresso Do With The Recycled Pods?
You can watch the whole Nespresso recycling process here, but the gist of it is:
Used capsules are collected (via UPS, delivery driver, or in a Nespresso store).
The capsules are removed from the recycling bags (the bags are recycled as well).
A machine separates the capsules (the coffee grounds are removed and used to create compost).
The aluminum is sent to a high-processing facility where it's bailed.
The bales are melted and used to create other products.
According to Nespresso, recycled aluminum is used for various products — from car engines, vegetable peelers, and pens to new pods. Nespresso aims to have both OriginalLine and Vertuo pods made with 80% recycled aluminum by the end of 2022.
Can You Put Nespresso Pods In The Recycling Bin?
You can't put Nespresso capsules in the recycling bin. This remains one of the main obstacles to Nespresso pod recycling.
Most processing facilities in the US can't sort small aluminum items. Another issue with Nespresso pods is they are made with some plastic (the food-shellac coating), which can't be separated from the aluminum. Also, coffee grounds are sealed in used pods and can't be removed at recycling facilities either.
Unfortunately, pods thrown in the recycling bin will end up in landfills. Even worse, if you place the pods with regular recycling, you can contaminate the whole load and cause other recyclables to go to the landfill too. Most recycling facilities don't recycle anything that has food in it, including coffee.
How To Reuse Nespresso Pods?
You can reuse Nespresso capsules in various ways, including refilling them with coffee. You can refill the pods about two to three times before they start to lose shape. Here's a step-by-step guide on how to refill the capsule:
Remove the capsule lid with a knife. Set it aside for recycling.
Dump out the used ground coffee and clean the empty capsule.
Cut out aluminum foil for a replacement lid. Have just enough cover to go over the edge.
Fill the Nespresso capsule with ground coffee until there's about a millimeter of space at the top. Tamp down the grounds with a spoon to compress them.
Put the aluminum foil circle on top of the pod and wrap the foil under the brim so it's fixed to the capsule.
Use the Nespresso capsule as you would a new pod.
Note: make sure to have the right grind size for proper extraction, including something close to an espresso grind for Original and Vertuo pods.
This process of making a new foil lid to reuse capsules is a little tedious. The seal doesn't always hold, and it won't work if you cover up the Vertuo capsule barcode.
You can get a kit for refilling the pods to make the process easier. I've used the Capmesso seals and Aieve aluminum seals, which work great, are easy, and cost barely over a dime each.
Personally, I like Aieve better because it includes a scoop and a small holder for the pods. Also, these seals aren't as good as the original, so don't plan for them to stay fresh for over a month.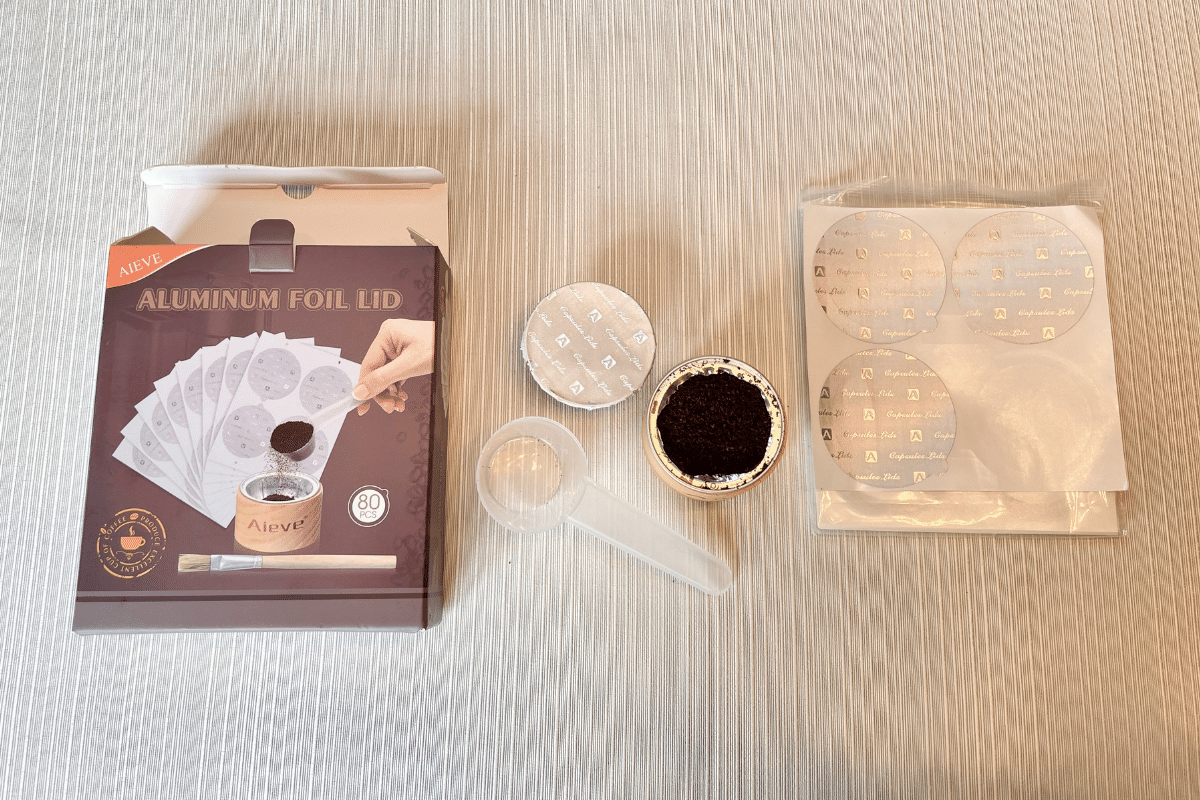 You can also use Nespresso pods to make some decor if you feel creative. Pinterest is your best friend with all kinds of ideas for pod decor — from Christmas ornaments to a cactus pot.
We have a full video on the best way to refill your Nespresso pods:
How to Recycle Nespresso Pods: Final Thoughts
Used Nespresso capsules can't be placed in the recycling bin with your other recyclables. The best way to recycle the pods is to use the Nespresso capsule recycling program. Nespresso has done everything to make the process as pain-free as possible. You can drop off the pods at a Nespresso store, send them via courier with your next delivery, or send them via mail.
If you're looking for a new Nespresso machine, we've reviewed both Vertuo and Original Nespresso machines. Check out our Nespresso Vertuo Next vs. Plus comparison, and Nespresso Inissia vs. Citiz.