So, you've decided to get a Nespresso machine and even settled on which model you want. But then you notice it's manufactured by both Breville and Delonghi. How do you choose which one to get?
Here's the answer: they are very similar except for some minor design differences. Nespresso has manufacturing partnerships with Delonghi and Breville, which means the exact model can be manufactured by both brands. In reality, it doesn't make much of a difference to you, as each brand functions the same, except for some aesthetic differences.
Today, I'll explain what each brand is known for, the differences between their Nespresso machines, and I'll talk about each brand's exclusive line of Nespresso machines. Let's dive into the comparison of Nespresso Breville vs DeLonghi machines.
Who Manufactures Nespresso Machines?
If you think Nespresso manufacturers its own machines, you'd be wrong. Nespresso is owned by Nestle, but all their machines are made by different manufacturers, such as Krups, Siemens, Miele, and of course, Breville and Delonghi.
Nespresso invented the machines, and they license their technology to different manufacturers around the world. Breville and DeLonghi are the two most popular Nespresso machine manufacturers. You'll most commonly encounter one of these when buying a Nespresso device in North America. These machines are usually labeled as "Nespresso by Breville" or "Nespresso DeLonghi."
Note: When you buy a Nespresso machine directly from a Nespresso store or website, you'll only see the Nespresso branding on the device. These machines are still made by Breville or Delonghi, but the branding has been removed.
In general, these two espresso machine brands have different histories. Let's briefly discuss each one.
DeLonghi
DeLonghi is an Italian brand that started manufacturing household goods in 1974. They are a well-known name in the world of coffee devices and are known for their wide range of machines. They offer a wide range of automatic or bean-to-cup espresso machines, where the machine does most of the work for you.
Breville
Breville was established in Melbourne, Australia. It also has a strong reputation in the world of kitchen appliances, including coffee machines. They are best known for their stainless steel espresso machines that are relatively affordable compared to other manufacturers. Breville mostly focuses on semi-automatic espresso machines, which give you a lot of control over pulling espresso shots.
Differences Between Breville Vs DeLonghi Nespresso Machines
Let's get the most important question out of the way: there's no difference in terms of coffee quality between a Breville and Delonghi Nespresso machine. The coffee that Breville and Delonghi Nespresso machines make will taste virtually the same. Both of these brands use Nespresso's extraction technologies, the same Nespresso pods, pressure, brew ratio, and water temperature, so you shouldn't notice differences in coffee quality.
However, each manufacturer has some differences in the appearance of their Nespresso machines. These are usually small aesthetic variations and differences in the cosmetic design. For example, you'll see a more rounded top on Breville Vertuo Plus compared to DeLonghi. Also, DeLonghi usually has more color options and some chrome accents.
Common Nespresso Machines Made by Breville and DeLonghi
Breville and DeLonghi manufacture the same Nespresso machines. Here's how most common Nespresso machines differ based on the manufacturer.
VertuoNext
VertuoNext is one of the newer Nespresso machines. This espresso machine belongs to the VertuoLine, which means it's only compatible with Vertuo, not OriginalLine pods.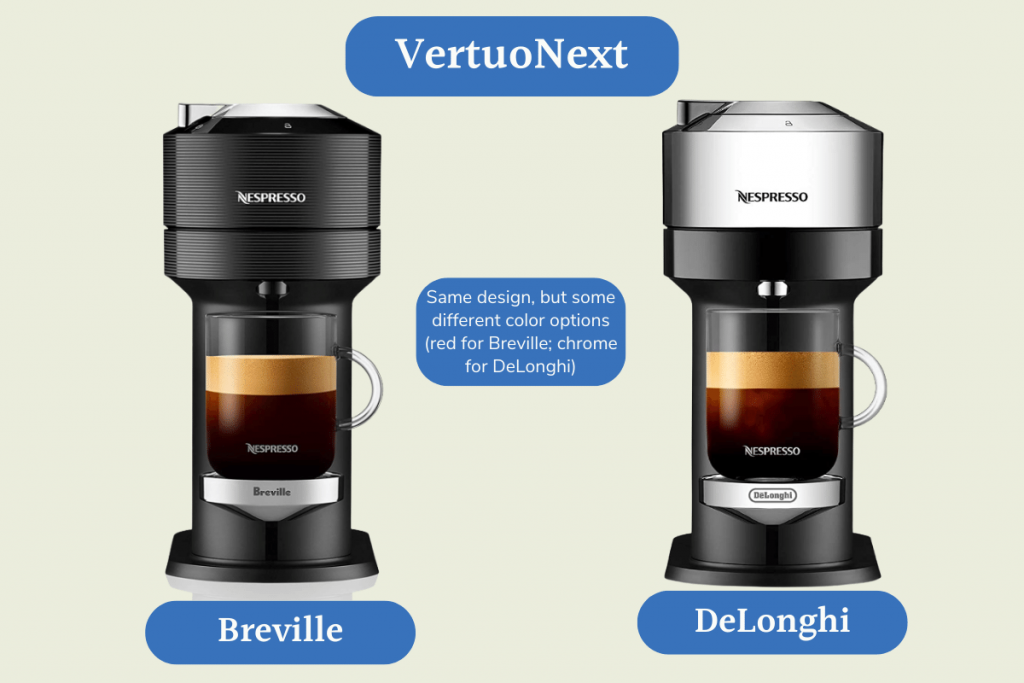 VertuoNext has a centrifusion extraction technology, similar to other VertuoLine devices. You insert the pod, the machine reads the barcode printed on the side, and automatically adjusts the brewing parameters. The pod spins 7,000 times a minute for the best extraction.
VertuoNext also has some connectivity available — WiFi and Bluetooth technology. These ensure the machine is up to date with the newest software releases. You can also use the app to order pods when you run low.
Taste-wise, Breville and Delonghi VertuoNext coffee machines are the same (VertuoNext makes a more aerated drink compared to other Nespresso Vertuo coffee and espresso machines).
Design-wise, these machines are the same. Aesthetically, Breville VertuoNext comes in a chrome finish in gray, red, and rose black, and Delonghi has black with a metal rose gold, white, matte black, and chrome versions.
VertuoPlus
Same as VertuoNext, VertuoPlus Nespresso machine uses centrifusion extraction technology.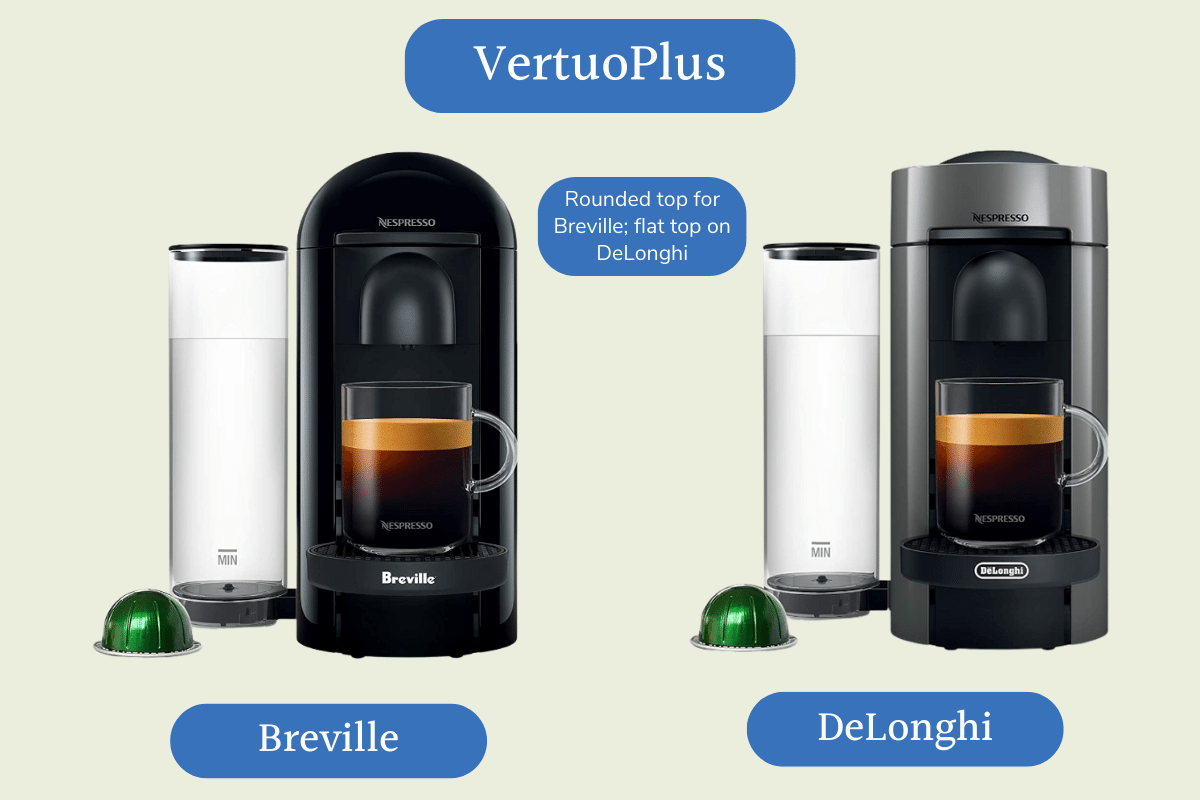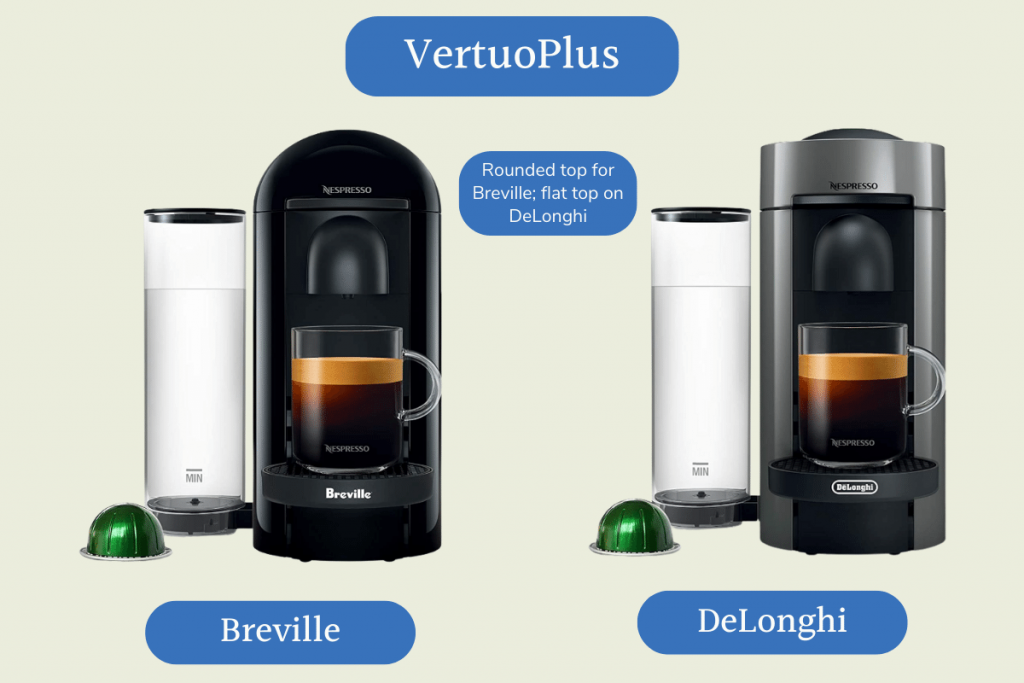 One of the main features of this espresso machine is the rotating water reservoir. You can place it to the right, left, or the back of the Nespresso machine. This comes in handy if you're short on counter space and makes refilling the tank easier.
When comparing the manufacturers, one big difference is in the shape of the top of the Nespresso machine. Breville's VertuoPlus has a rounded head, while DeLonghi has a flat head. Besides that, the aesthetics are quite similar: both machines have the cylindrical water tank on one side and the machine body on the other. There's a spout and drip tray, which are all the same.
Another difference is in the water tank size – 60 oz or 40 oz – but that depends on whether you're choosing the VertuoPlus Deluxe or the regular model, which both DeLonghi and Breville manufacture.
There are no differences between VertuoPlus DeLonghi and Breville Nespresso machines when it comes to coffee brewing technology.
Vertuo
Nespresso Vertuo is the original Vertuo machine. This Nespresso machine uses the same brewing system as the Nespresso VertuoPlus and Next.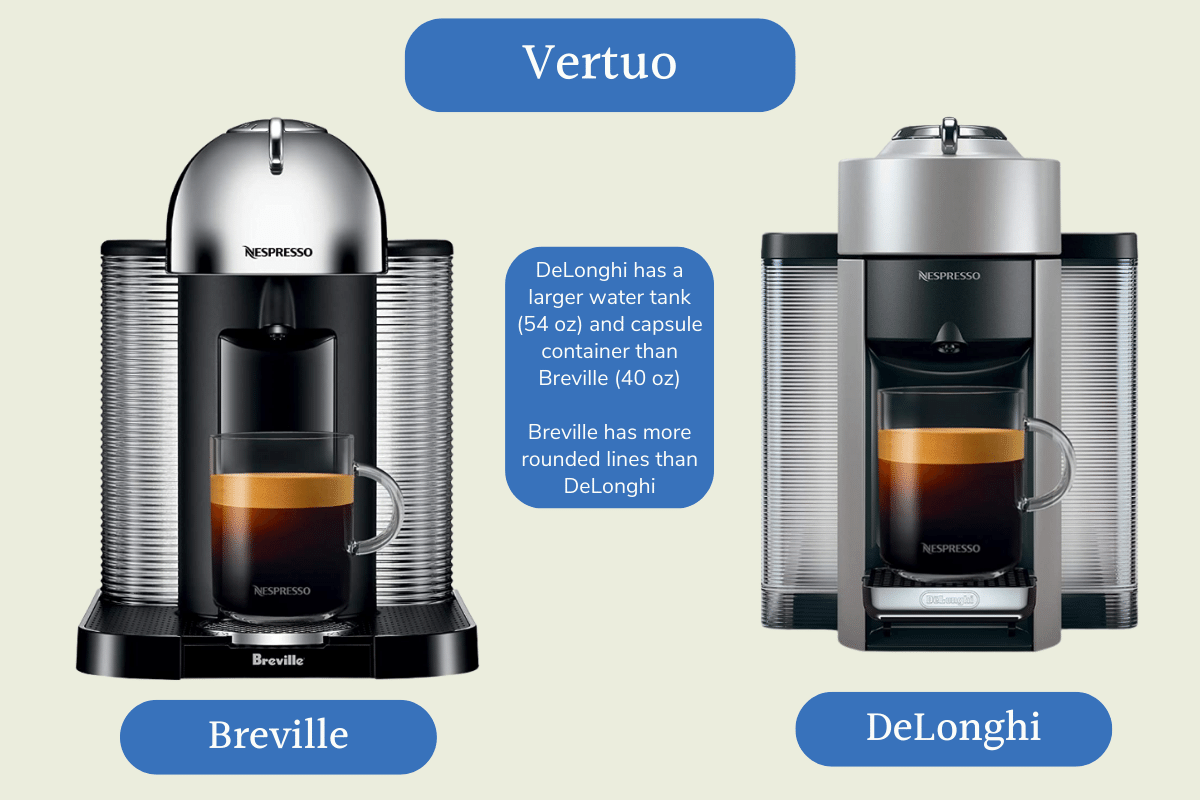 DeLonghi Nespresso Vertuo has a larger water tank (54 oz) and can hold 17 used pods, while Breville's Vertuo water tank is 40 oz and can hold 12 pods.
Another important difference is the design: Breville has a more rounded top and bottom, while DeLonghi features more straight lines.
Essenza Mini
Nespresso Essenza Mini is a budget machine under the OriginalLine. It's very compact, so you can take it with you when you go traveling or camping and have freshly brewed coffee.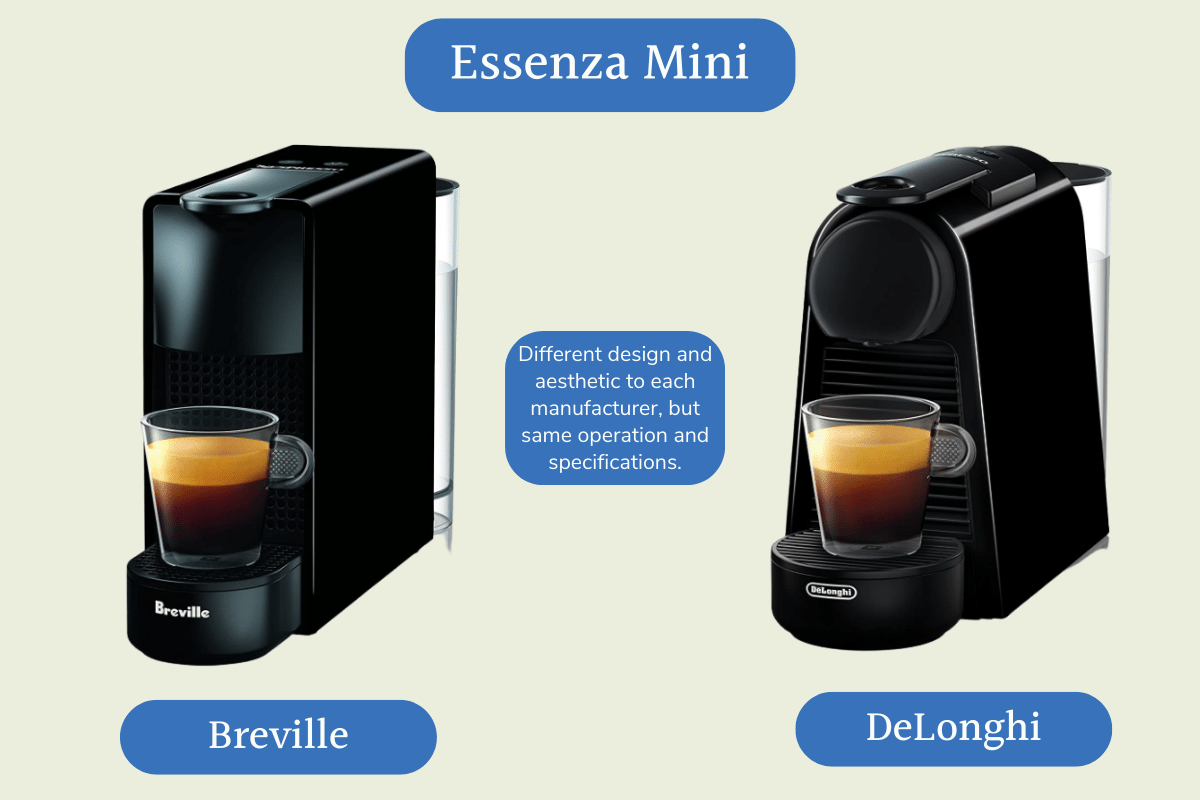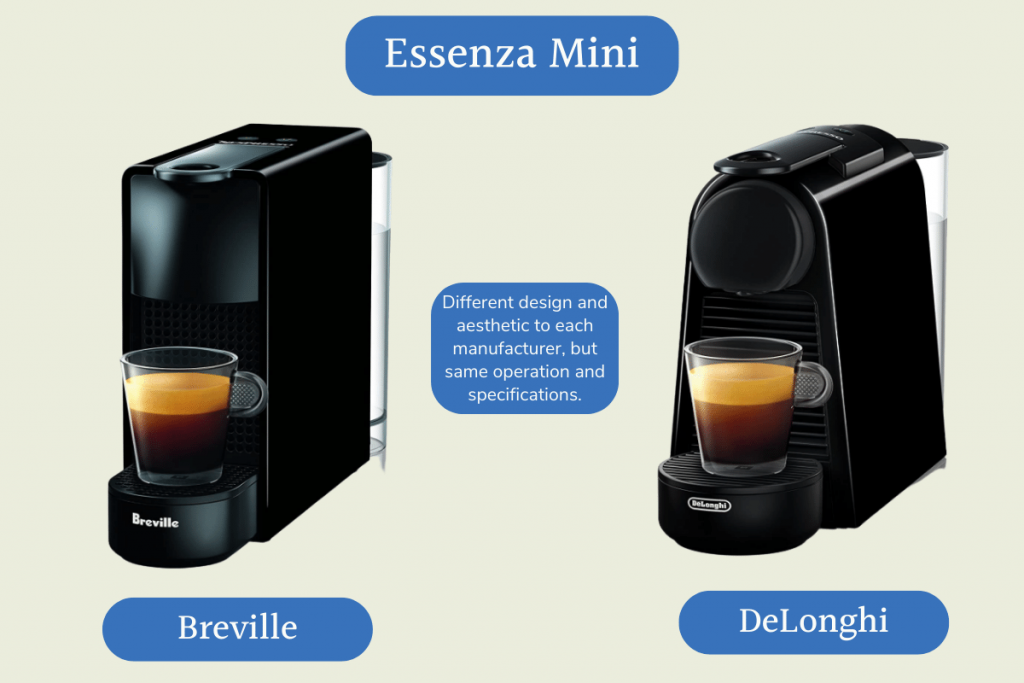 Out of all the Nespresso machines I've talked about so far, Essenza Mini has the most striking differences between Breville and Delonghi models. I'd go so far as to say they don't even look like the same machine.
Breville Essenza Mini is rectangular with sharper lines, while DeLonghi Essenza Mini is dome-shaped. The dimensions are somewhat different as well. Breville Essenza is smaller (8 x 4.3 x 12.8 in), while DeLonghi Essenza dimensions are 12.8 x 4.3 x 8.1 in.
However, apart from the cosmetic differences, these machines are the same (yet again). They both have a 20.3 oz water tank, need about 25 to 30 seconds to heat up, have a 19 bar pressure pump, and a 9-minute auto-shot-off. Finally, both machines can brew espresso and lungo shots.
Citiz
Citiz is another excellent choice if you're short on space. It's compact, and it'll fit on most kitchen counters. Citiz is the only coffee machine so far that comes with an attached milk frother, so it's a good option if you like lattes and cappuccinos.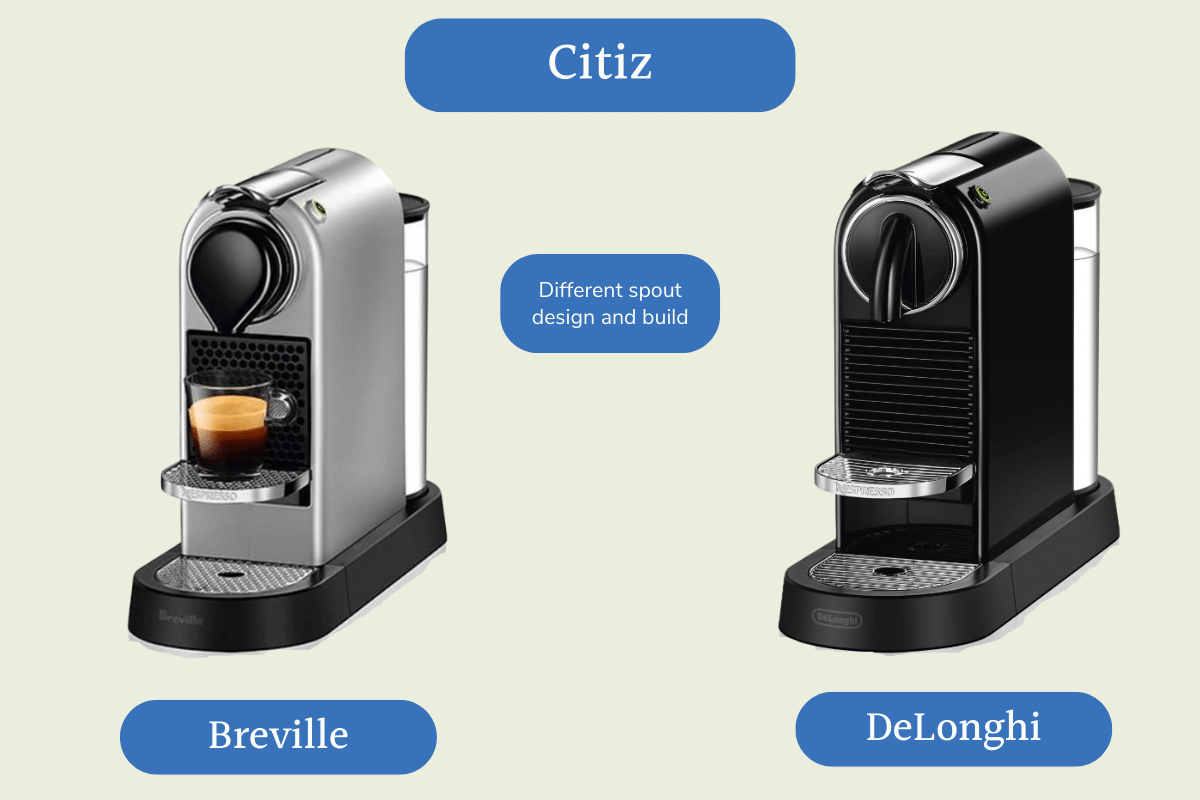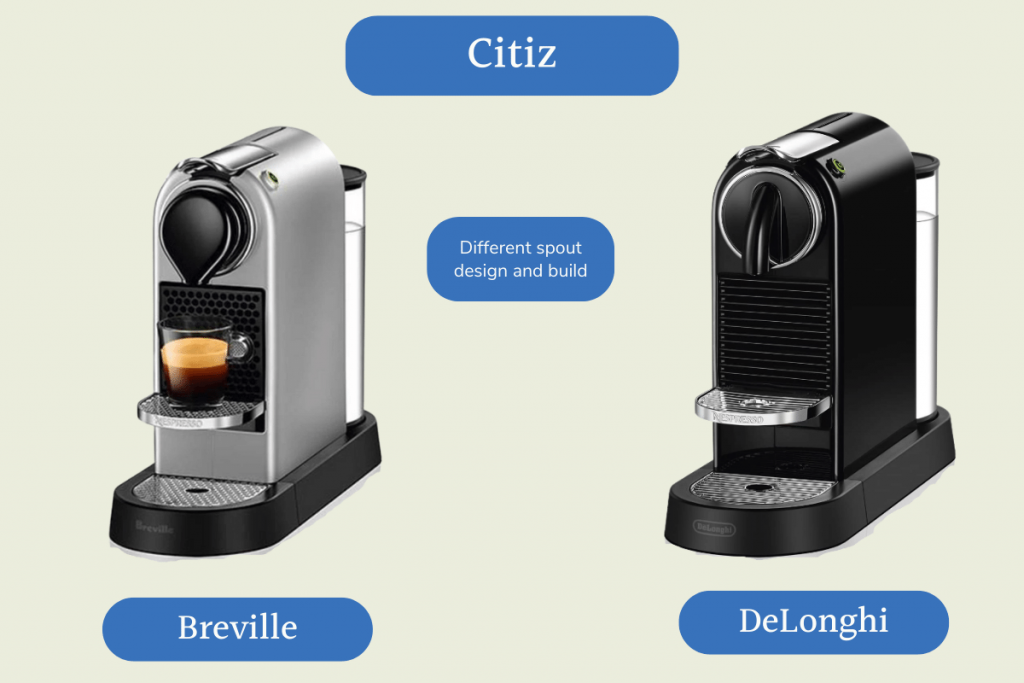 Delonghi's Citiz is taller and slimmer compared to Breville. Breville's device is wider and shorter. Another significant difference is in the spout design, which looks like a short tube on DeLonghi, but is wider on Breville's model.
Both machines have a 19-bar drip tray, a removable drip tray so you can fit taller mug sizes and a 34 oz water tank. Same as with previous models, both DeLonghi and Breville brew coffee in the same way.
Unique Nespresso Machines Made by Breville vs. DeLonghi
Breville and DeLonghi each have their own line of unique Nespresso machines: Nespresso Creatista machines (by Breville), and Nespresso Lattissima machines (by DeLonghi). These are higher-end devices with integrated milk frothers.
The Breville Creatista Line
Breville has its proprietary Nespresso line, the Creatista. These machines have the stainless steel finish of Breville's semi-automatic espresso machines and an automatic steam wand. There are a couple of different models within the line.

Creatista Uno
Creatista Uno is the basic model in the Creatista Line. It comes with a built-in steam wand, and you can choose between three milk texture levels. The device comes with a stainless steel milk jug, so you're completely equipped to start frothing and steaming milk.
Creatista Uno can achieve better pressure compared to VertuoLine's Centrifusion technology. This machine can brew up to 6 beverages, including hot water. I liked the descaling and cleaning indicators, which made the machine maintenance easy.
It has a plastic finish, which is fine as this is the most affordable device in the Creatista range.
Creatista Plus
Creatista Plus can make cappuccinos, lattes, latte macchiatos, flat whites, espresso, ristretto, and lungo, so you won't get bored with the choice of coffee drinks any time soon. This machine has an LCD screen, making it easy to select and brew the drink.
It also comes with a built-in steam wand and a stainless steel milk jug, and you can customize the milk temperature and froth settings. The steam wand is self-cleaning after each use, which means less work for you.
Overall, it's easy to use, and the chrome finish makes it more durable.
Creatista Pro
Creatista Pro goes one step further than Uno and Plus. It looks very high-end, thanks to the polished chrome finish. You can even try latte art at home with this machine, as you can texture milk to the desired temperature. There are 11 milk temperatures and eight texture levels. The steam wand purges automatically when it's done steaming milk.
Creatista Pro can hold 12 used pods and has an extremely fast heat-up time of 3 seconds, so it's a good choice if you want your caffeine fix in a hurry.
The DeLonghi Lattisima Line
The Lattisima is DeLonghi unique line of Nespresso machines. It uses original Nespresso pods and has a milk frothing container to make customized espresso drinks. The models follow a "good, better, best" format.
Lattissima One
Lattissima One is the base model of the Lattissima line, so it's a good option if you're on a budget. It's compact size, which means a smaller water reservoir (34 oz) and a small used capsule container compared to other models.
Lattissima One can make three kinds of drinks and has beverage volume customization. It comes with a detachable milk frother and touch screen buttons. There are descaling and cleaning indicators, which make maintenance easy.
Lattissima Touch
The most important feature of the Lattissima Touch is the adjustable milk frother which lets you foam specifically for a macchiato, cappuccino, or latte. Same as One, it has descaling and cleaning indicators, beverage volume programmability, 19 bar pump, and steams milk in 40 seconds.
Overall, this is a more premium model, thanks to the glossy finish and automatic brewing.
Lattissima Plus
Lattissima Plus has the same features as the previous two Latissima models, plus a slightly different design. It comes with an adjustable flow stop milk container and a descaling pipe tool.
You can adjust the foam amount on the milk frother. The maintenance is easy thanks to the synchronized descaling alert with a hardness setting.
One possible negative is that it makes only four specialty drinks instead of six as the Touch.
Lattissima Pro
Lattissima Pro is the best option if you want a quick and easy operation. This is the premium model in the Lattissima line, and it has an auto-clean function.
The Pro can brew six different beverages, all of which are programmable, so you have control over the brewing process. There's a removable water spigot which is handy when you want hot water for tea.
Overall, if you want programmability, a touch screen, a large milk carafe, and a machine with an aluminum finish, this is the one.
Which Nespresso Machine Is for You?
Both Breville and Delonghi use the same Nespresso technology, so there won't be differences in coffee flavor. However, there are differences in machine design and aesthetics, so choose a machine that fits your kitchen aesthetic best. Or, go for one of the exclusive Breville or DeLonghi models if you want a more high-end coffee machine.
To learn more about VertuoLine devices, check out our VertuoPlus vs. VertuoNext comparison.