Both Nespresso Evoluo and Vertuoline fall under the Vertuo range of Nespresso coffee makers. These machines use centrifusion technology and Vertuo pods to brew delicious espresso and four-cup sizes.
My vote goes to Nespresso Evoluo because of its larger water tank and used capsule container. Most importantly, Evoluo makes hotter coffee. Nespresso Vertuoline is a newer machine, and it wins in terms of design — it comes in many different designs and colors.
Here's a complete breakdown of both of these Nespresso machines, with all the similarities and differences listed, so you can decide what's the Nespresso machine for you.
Product
Dimensions
Dimensions
9.0 x 12.2 x 12.3 in
11.9 x 8.3 x 11.9 in
Weight
Water tank capacity
Water tank capacity
54 oz
40 oz
Capsule container capacity
Capsule container capacity
17
13
Heat up time
Heat up time
20 seconds
15 seconds
Main Differences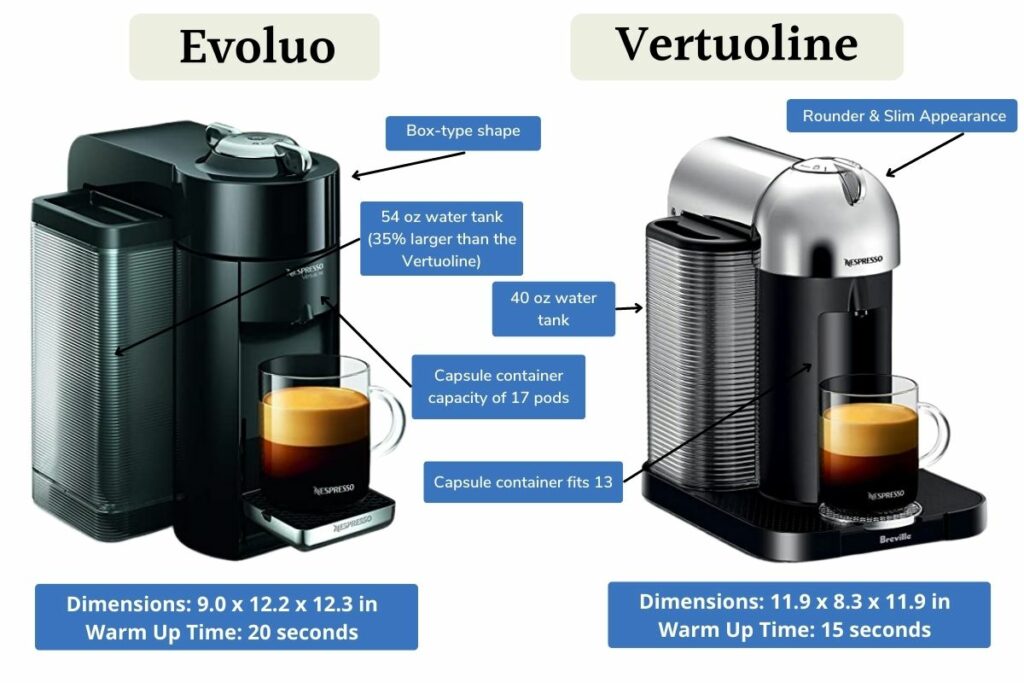 Design and Size
Nespresso Vertuoline has a somewhat smaller footprint compared to Nespresso Evoluo — 11.9 x 8.3 x 11.9 in vs. Evoluo's 9.0 x 12.2 x 12.3 in. Their weight is similar — both machines weigh about 11 lbs.
Nespresso Vertuoline is rounder and has a more slim appearance. Overall, it's more compact and has a simpler design. Nespresso Evoluo has a more box-type shape. None of the machines take up a huge amount of space on the counter, and you can easily store them anywhere.
Both coffee makers have a removable water tank located on the machine's left side. It's easy to access the water tank and refill and clean it as needed. Both devices also have a used capsule container located on the right side.
Nespresso Vertuoline and Evoluo have a lid that has to be opened and closed manually. You'll have to put in a little effort to turn a lever to lock and unlock the lid.
Both devices come in five colors. Evoluo is available in:
Graphite metal
Silver
Deluxe titan
Red
Black
Vertuoline is available in:
Titanium
Chrome
Red
Black
Matte black
Power Heating System
One of the main differences between Nespresso Vertuoline vs. Evoluo is how hot the coffee drink is. Both of these espresso machines have a 1350-watt heating system, but it's more powerful on the Evoluo. Its heating element produces hotter drinks, likely because this coffee maker takes longer to heat.
The difference in heating time is marginal — Evoluo heats in about 15 to 20 seconds, while Vertuoline needs only 15 seconds to heat up. This is a minor difference, but it may be significant for coffee lovers who want their caffeine fix asap. Also, the extra seconds the Evoluo needs result in a hotter drink.
In fact, Evoluo was Nespresso's answer to customer complaints of drinks on Vertuoline not being hot enough. You can solve this issue on the Vertuoline by preheating the cup with hot water before brewing. This way, the coffee retains heat for longer. However, if you don't want to have to do this every time you crave a hot coffee drink, Evoluo is a better option.
Reservoir Size
Nespresso Evoluo wins in water size capacity. It has a 54 oz water tank (35% larger than the Vertuoline), while the Nespresso Vertuoline reservoir is 40 oz. The difference amounts to about seven more regular espressos, four more double espressos, or one full cup of regular coffee in favor of Evoluo. 40 oz is a decent water tank size, but if you have a large coffee-drinking household or plan to use the coffee machine in a busy work environment, 54 oz is a better option.
Both reservoirs are located on the left side of the machine and are removable for easier refilling and cleaning. Neither coffee maker has a water filter, so it's best to use fresh drinking water daily. This also means you'll potentially have to descale often, depending on your water's hardness level.
The coffee machines also differ in the used capsule container capacity. Nespresso Evoluo has a used capsule container capacity of 17 pods, while the Nespresso Vertuoline capsule container fits 13. Both machines use the same system: the used pod drops into the capsule container after each brew, so you don't need to take out a hot pod and throw it in a trashcan every time you want to use the coffee machine.
Value
Nespresso Vertuoline vs. Evoluo are the same price. But, there can be a slight difference between them ($30 to $50) depending on the seller.
That makes Evoluo a clear choice for me, as it gives you more for the same price — a bigger water tank, larger used capsule container capacity, and hotter drinks. However, Vertuoline is a more stylish coffee machine.
I prefer the function over form, but nothing wrong with a better-looking option either.
Note, machine prices vary by the retailer and the manufacturer, and they are poorly labeled on Amazon, which is really confusing. Check around for the best choice and make sure the specs match. I've included links to the best options below:
Main Similarities Between The Two Machines
Centrifusion Brewing Technology
All Nespresso VertuoLine machines use Nespresso's patented centrifusion technology. Centrifusion is a combination of centrifugal and infusion, and it's used to describe how the Nespresso capsule spins 7000 times per minute.
Want More Coffee Tips?
Join the email list for exclusive coffee insights and deals that only subscribers get. You'll get two coffee discounts just for joining.
No spam, ever. We respect your privacy and unsubscribe anytime.
Essentially, the machine spins the coffee capsule rapidly to force water through the grounds instead of using nine bars of pressure like a traditional espresso machine. The centrifusion technology recreates the pressure needed for espresso. It doesn't use a pump but rotations to generate enough pressure and produce an espresso with a rich crema.
Overall, centrifusion technology attempts to automate coffee extraction. It's an insanely precise process, and it results in consistent coffee drinks every time you use the espresso machine.
Capsule Types
Nespresso has two kinds of pods: VertuoLine and OriginalLine. Both Nespresso Vertuoline coffee makers and Evoluo belong to the VertuoLine machines, so they use VertuoLine pods.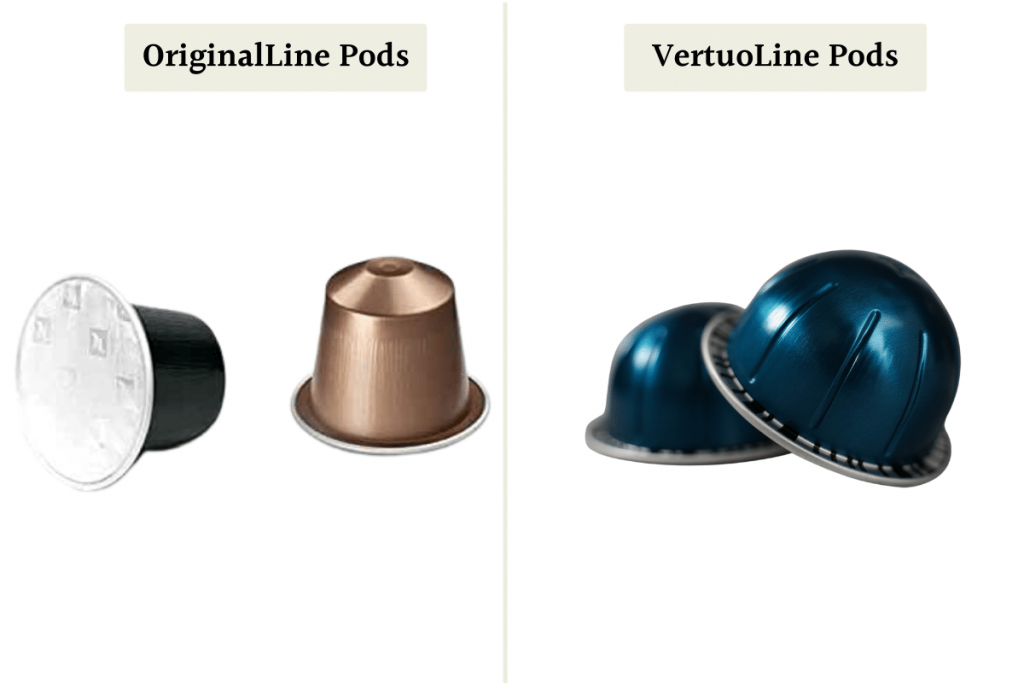 The VertuoLine pods are dome-shaped aluminum pods that are pre-sealed with ground coffee. What's unique about the Vertuo pods is each one has a barcode around the ring. The machine reads the barcode and adjusts the brewing parameters (how much water it needs, what temperature, etc.).
The barcode means every Vertuo pod has a unique formula, including the type of coffee, the amount of coffee, and the size of the coffee. In other words, if you want a double espresso, use that pod. If you want a large cup of coffee, choose an appropriate pod.
What's nice about this preset VertuoLine system is you push one button (and there is only one button on these machines) to make coffee.
Note: You can't use OriginalLine pods with either of these coffee makers. They are different shapes (dome-shaped compared to VertuoLine bowl-shaped). OriginalLine pods are manufactured by Nespresso and several third-party manufacturers, while VertuoLine pods are only made by Nespresso and are more expensive as a result.
Other Features
Auto Shut-Off
Both the Nespresso Vertuoline coffee machine and Evoluo have a nine-minute auto shut-off feature. This means each Nespresso machine shuts off after nine minutes of inactivity, which saves energy.
You can walk off after getting your coffee drink — the machine will store the used pod in the capsule container and automatically turn off. There's minimum work required from you.
Ease of Use
By now, you get the picture — both devices are extremely easy to use. These are single-serve coffee makers, so all you have to do is insert the Nespresso pods, and the machine will do the work for you.
The maintenance is easy as well. There's no need to remove old coffee grounds and oils, clean the filters, and more. Simply wipe it down and occasionally descale the water tank to maintain your espresso machine.
Drink Variety
Coffee drinkers have four drink options with each coffee maker:
1.35 oz espresso
2.7 oz double espresso
5 oz Gran Lungo
8 oz coffee
14 oz Alto (this has been discontinued!)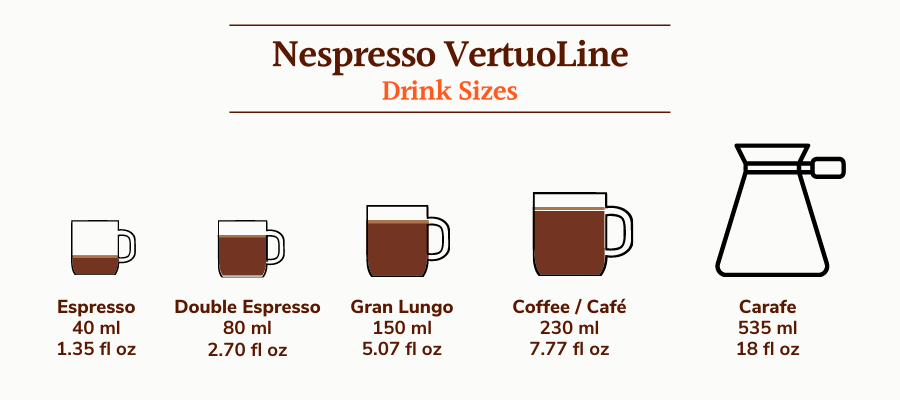 To repeat again, you can make everything from espresso to personal recipes with a press of a button.
None of these espresso machines come with a milk frother, which means you'll have to buy a separate frother device if you like milk-based drinks. However, Nespresso has the Aeroccino milk frother, which froths both hot and cold milk for your coffee drinking habits.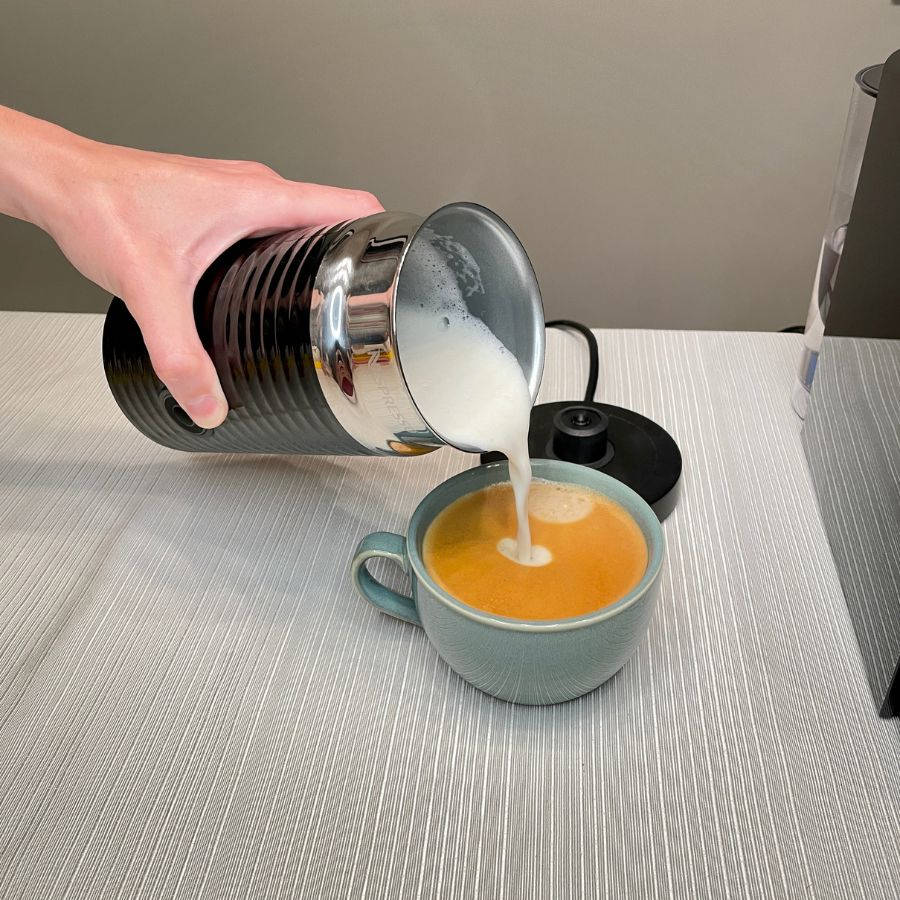 Recommendation: Who Should Buy Each Machine?
Nespresso Evoluo is my choice. It's better if you want a machine with a powerful heating element that always produces hot coffee. This is also a better option if you don't mind a larger and bulkier model. Choose Evoluo if your main considerations are a large water tank and a used capsule container. These will really come in handy if you're in a hurry in the morning.
Nespresso Evoluo highlights:
Powerful heating element
Larger water tank
Used capsule container: 17
Nespresso Vertuoline coffee maker is a good choice for something more compact and sleek-looking. This is also a good option if you're limited on space, and a 40 oz water tank is enough for you. Finally, go for Vertuoline if you don't mind warm instead of hot coffee.
Nespresso Vertuoline highlights:
Compact and sleek-looking
40 oz water tank
Used capsule container: 13
Comparing Alternative Vertuo Models
It's also worth noting that the full Vertuoline range consists of three coffee machines: Vertuo or Vertuoline (the one I already discussed), Vertuo Next, and Vertuo Plus.
Vertuo Plus and Next are smaller coffee makers with smaller water tanks and used capsule container capacities. They're also cheap as well, so they're great options if you have less space or budget. Depending on the retailer, Vertuo Plus costs about $20 less than Nespresso Vertuoline and Evoluo, while Vertuo Next costs about $10 less.
An important difference is that Vertuo Plus has an adjustable water tank. You can rotate it to either side or back of the coffee maker. None of the other machines have this option.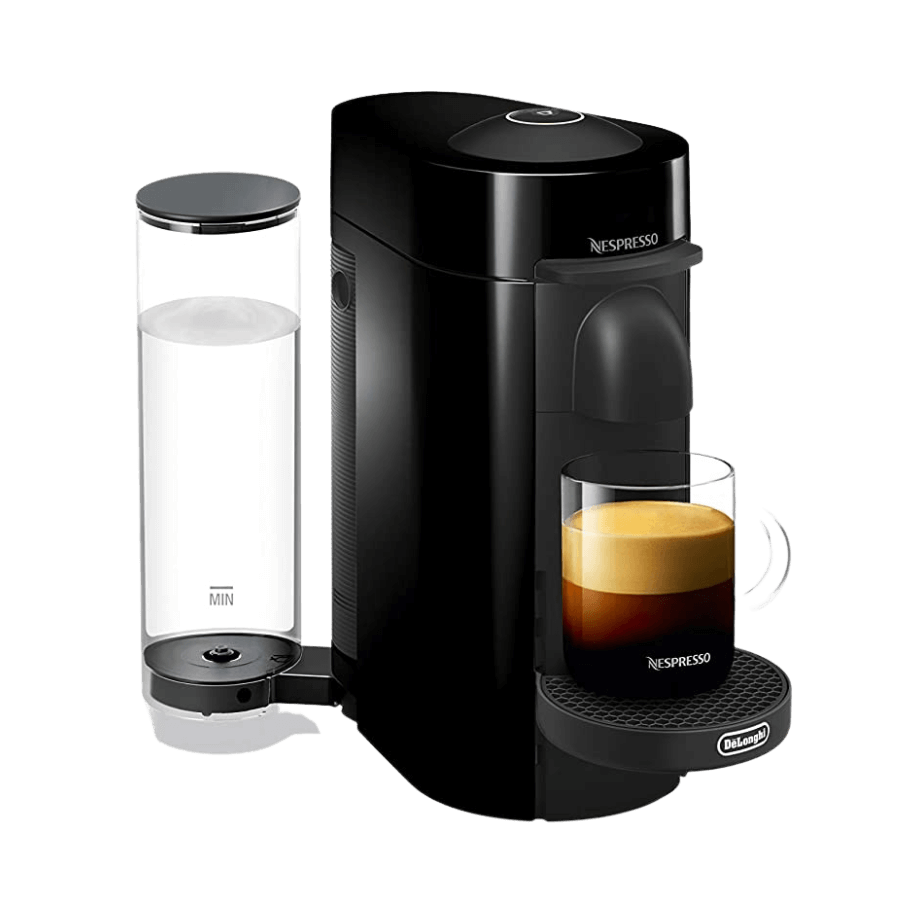 Vertuo Plus highlights:
Dimensions: 16.9 x 5.6 x 12.8 in
Weight: 9.7 lb
Water tank: 40 oz
Used capsule container: 10
Meanwhile, the VertuoNext is the only machine that can make 18 oz carafe style coffee. However, we've seen complaints about leaking issues (check the rating on Nespresso's own site), and it's louder than the other Nespressos.
Vertuo Next highlights:
Dimensions: 5.5 x 16.8 x 12.4 in
Weight: 8.8 lb
Water tank: 37 oz
Used capsule container: 8
If you want to learn more about these two coffee makers, we have a detailed comparison of Vertuo Plus and Next Nespresso machines.
Nespresso Vertuoline vs. Evoluo: Final Thoughts
Both the Nespresso Vertuoline coffee machine and Evoluo belong to the Vertuoline coffee machine range. They use the same kind of Nespresso pods and the same technology to brew a perfect cup of coffee. However, Nespresso Evoluo is a larger model, which means a significantly larger water tank and used capsule container.
Before making your final choice, we recommend learning more about the Nespresso OriginalLine machines as well. Check out our Nespresso Inissia vs. Citiz comparison.