What's the one thing that automatically makes a sweltering hot summer day better? An iced coffee. In fact, 20% of people drink iced coffee once a week. We know Nespresso machines make excellent hot coffee, but what about iced coffee?
Nespresso has pods specifically for iced coffee. Moreover, there are several Nespresso pods with the right acidity, intensity, and roast level that taste delicious when brewed over ice.
Today, I'll explain the best tips to make iced coffee with a Nespresso machine, and I'll give you the five best Nespresso pods for making iced coffee.
How to Make Iced Coffee On a Nespresso Machine?
Making iced coffee is easy in theory: brew coffee and pour ice. But, Nespresso only brews hot coffee, where ice quickly dilutes the coffee flavor. I have a couple of tips to make Nespresso iced coffee better.
Tip 1: Use A LOT Of Ice
Using more ice will improve iced coffee's flavor. It doesn't make sense at first since more ice should mean more melted ice. However, more ice makes iced coffee colder and drinkable faster. Lower "icing time" reduces the amount of natural ice melting due to air temperature, which means extra ice, paradoxically, improves the flavor of iced coffee.
Another simple tip is to put cold milk in your glass before brewing or right after (to the extent you want an iced latte) and put the milk in before the ice. The cold milk will reduce the coffee temperature with having to dilute it with ice.
Tip 2: Wait Until The Coffee Cools
You can also brew Nespresso as you normally do, then let it cool completely, and serve with ice with your preferred add-ons. This is more time-consuming but obviously reduces ice dilution, the bane of all iced coffee.
You get a richer iced coffee flavor with the initial coffee cooling period. Also, Nespresso makes smaller cup sizes which means you only need a few minutes, and a few cup swirls will make it even faster. Admittedly, no one likes waiting for coffee, but patience is a virtue.
Bonus tip: You can also let the espresso sit in the fridge for a few minutes, then add ice. That reduces ice dilution, and it's faster than waiting around!
Larger ice cubes are another way to reduce water dilution, but larger cubes melt slower. Ultimately, you need the extra surface area of smaller cubes to cool ice, so larger cubes are a trade-off between cool temperature and more flavor.
Tip 3: Use The HyperChiller
No, it's not a machine to freeze yourself until the next century; the HyperChiller is a handheld ice container that quickly cools coffee.
The HyperChiller is a bit like a Russian doll – there is a container within a container within a container that cools coffee between layers of ice. Essentially, you fill the outer and inner container with water, freeze it, then pour the coffee into the middle container, and it's cooled instantly. The coffee doesn't contact ice at all. It's almost like a cold brew coffee without the wait.
Full disclosure, I have not tried the HyperChiller, but it gets solid reviews on Amazon and various Nespresso social media groups. The downside is you have to prepare the HyperChiller the night before, which makes this the most time-intensive tip…
How to Choose the Best Nespresso Iced Coffee Pods?
You should keep in mind several things when choosing the best Nespresso iced coffee pods.
Roast Type/Intensity Level
Generally, you should choose a pod with high intensity, low acidity, and dark roast for your iced coffee. Those are the best choices to get a bold yet smooth flavor that will work well as a cold drink.
Nespresso uses "intensity levels" as a proxy for roast, using a scale of 1 to 13 intensity levels. The lower the number, the lower the intensity (or lighter roast), and vice versa. The roast is important for choosing the right iced coffee. Dark roasts are better for iced coffee, particularly Nespresso because you get more of the bold and roasted flavors that way.
To step back, there are three (very broad) roast levels: light, medium, and dark, which depend on roast temperature and time. Any coffee bean can technically be roasted to light, medium, or dark roast, but what's more important here is how flavor changes with the roast. Roasting eliminates the fruity and floral notes of a coffee bean and brings out the smoky and bitter notes. Light roasts have the most acidity, while medium roast is more balanced, and dark roast is the smoothest flavor.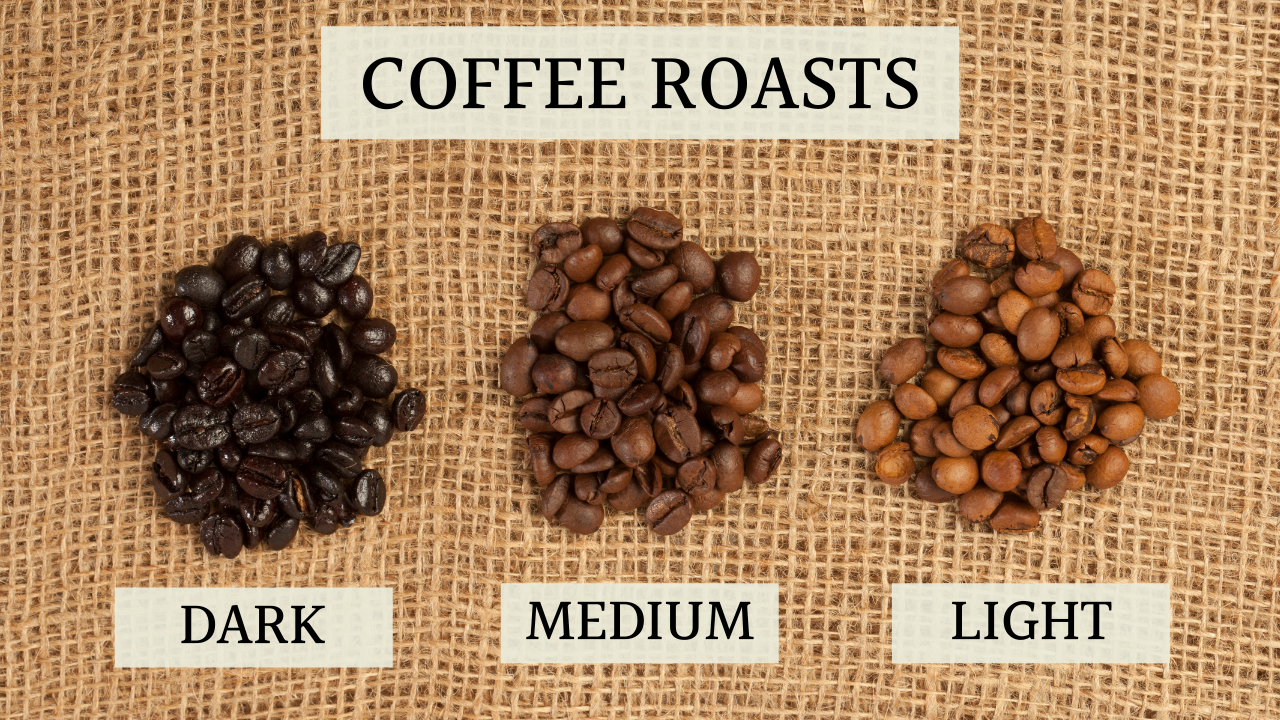 The key point is lower temperatures reduce our taste bud's perception of flavor, which is why warm ice cream tastes sweeter. For coffee, light roast flavors are more subtle, while dark roasts are pronounced. You'll notice the flavor profile of iced coffee much better with a dark roast coffee.
On top of this, ice dilutes the original espresso shot, along with milk. Get the roast right to avoid iced coffee that tastes like watery milk.
Flavor Profile
The flavor profile is a matter of personal preference. Iced coffee doesn't necessarily need to be strong, but it can be if you want a caffeine kick.
However, because ice and milk dilute the coffee, it's best to choose Nespresso pods with bold flavors that won't be overpowered by milk or too diluted by ice. This especially goes if you like to add sweeteners to your iced brew.
Dark roast is a safe choice because this coffee has a strong flavor with caramelization, but you can experiment with medium roast as well.
Compatibility: Original Line or Vertuo Line Machine
Nespresso has two types of machines: OriginalLine and VertuoLine. OriginalLine only brews espresso and lungo, while VertuoLine can brew espresso and larger coffees. Each machine needs its own type of Nespresso capsules which aren't interchangeable.
Know the type of machine you have, before choosing the compatible coffee pod for it.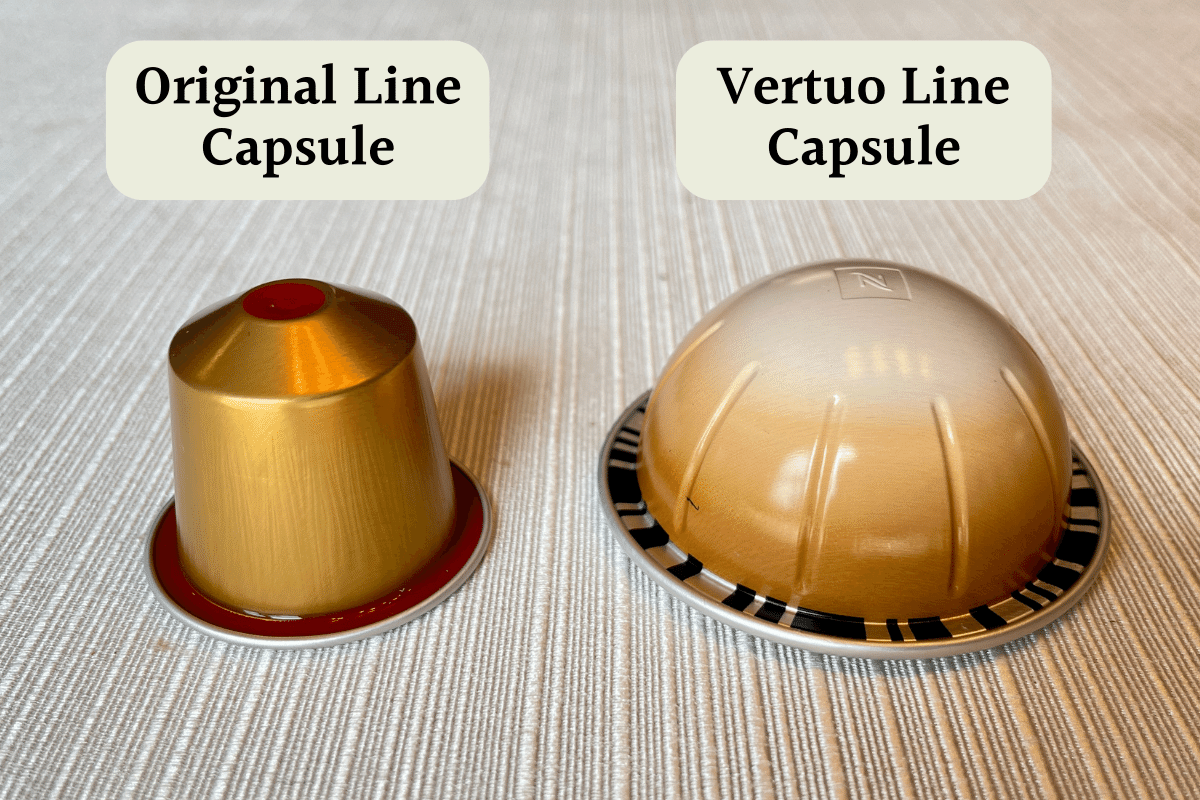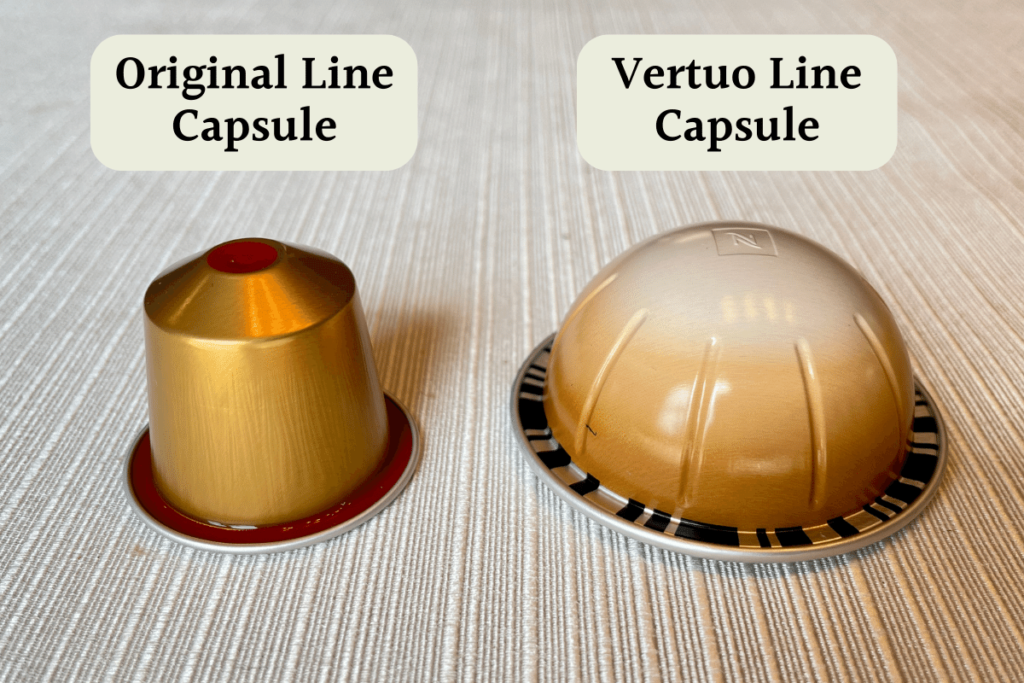 Nespresso OriginalLine machines are made for brewing espresso drinks, and they use a pressure-based system similar to traditional espresso machines. Their capsules are cup-shaped and are all the same size. There's a huge variety of OrignalLine pods, as these are manufactured by Nespresso and many third-party manufacturers.
Nespresso VertuoLine uses Nespresso's patented technology called centrifusion. The technology reads the barcode printed on the edge of the Vertuo pod and automatically adjusts the brewing settings. The pod spins 7,000 times per minute to allow the water to infuse the coffee grounds, and you get a nicely extracted coffee. Vertuo pods are dome-shaped and come in different sizes (depending on the type of drink). Only Nespresso makes Vertuo pods.
Individual Reviews: Best Nespresso Iced Coffee Pods
Image
Product Name
Features
Price

Intensity Level Roast: Dark roast
Machine Compatibility: OriginalLine
Pod size: Single espresso

Check AmazonCheck Nespresso

Intensity Level Roast: Light roast
Machine Compatibility: OriginalLine
Pod size: Single espresso

Check AmazonCheck Nespresso

Intensity Level Roast: Medium roast
Machine Compatibility: VertuoLine
Pod size: Double espresso

Check AmazonCheck Nespresso

Intensity Level Roast: Dark roast
Machine Compatibility: VertuoLine
Pod size: 7.7 oz Americano

Check AmazonCheck Nespresso

Intensity Level Roast: Medium roast
Machine Compatibility: VertuoLine and OriginalLine
Pod size: 2.7oz double espresso for VertuoLine and 1.35oz single espresso for OriginalLine

Check AmazonCheck Nespresso
1. Freddo Intenso
Freddo Intenso is made for OriginalLine machines. This pod is specifically made for iced coffee, so you can't go wrong with it. The pod brews 1.35 oz espresso, but you can add iced water or milk and make an iced americano or an iced latte with Freddo Intenso.
This is dark-roasted Nespresso coffee. It has South American Arabica beans and Indonesian Arabica, which gives an intense flavor and a bold coffee experience with chocolatey notes.
Freddo Intenso has 56mg of caffeine. This is the lowest caffeine amount on the list, which is great for woman who are managing summer pregnancy and want a cool drink.
Who is it for? Freddo Intenso is the best choice if you want a refreshing iced coffee to keep cool or stay awake during a hot summer day. This is a dark roast, and it's best for people who want a bold coffee flavor in their iced drink.
---
2. Freddo Delicato
Freddo Delicato is another OriginalLine Nespresso pod made specifically for iced coffee. This is a more gentle coffee compared to Freddo Intenso.
Freddo Delicato has a combination of Kenyan and Indonesian beans, which give the coffee fruity flavors when poured over ice.
This is lightly roasted coffee with a slightly sweet taste. One pod brews 1.35 oz espresso. However, Freddo Delicato has more caffeine than Freddo Intenso — 72mg, so don't let the light roast and milder flavors fool you. This pod will give you an energy kick.
Who is it for? Freddo Delicato is the best choice if you have an OriginalLine machine and want a milder tasting iced coffee.
---
3. Ice Leggero
Ice Leggero is a Nespresso pod made specifically for iced coffee for Nespresso VertuoLine machines.
Ice Leggero is medium roasted and has higher acidity and antioxidants than dark roasts. It gives fruity, and cereal notes when served over ice cubes and milk. The coffee mix is Peruvian, which gives it the cereal taste, and Ethiopian Arabica, which makes it light.
Ice Leggero is intended to be served with milk as it leaves a bitter aftertaste without milk. The milk brings out the fruitiness of the flavor profile, and there's almost no bitterness.
Ice Leggero brews 2.7 oz espresso and has around 100mg of caffeine.
Who is it for? Ice Leggero is the best choice if you want a smooth iced coffee that pairs well with milk. This is the pod for you if you don't want a bold coffee flavor in your iced drink.
---
4. Ice Forte
Ice Forte also belongs to VertuoLine pods, and it's made specifically for iced coffee, same as Ice Leggero. However, while Ice Leggero is a medium roast with a lighter flavor, Ice Forte is a much bolder and stronger coffee.
Barista Creations Ice Forte is dark roast coffee that's a blend of Colombian and Indonesian Arabica. It has low bitterness, cereal notes, and a peppery taste. It's intended to be consumed without milk, but a splash of milk mellows out the strong flavors.
This Barista Creations iced coffee pod brews a 7.7 oz drink, so make sure to take out your tall glass. The caffeine amount is between 170 to 200mg.
Who is it for? Ice Forte is a good choice if you want a drink with a sweet profile that doesn't have a bitter aftertaste. It's also a good option if you don't want to add milk to your iced coffee.
---
5. Exotic Liminha Over Ice
Liminha Over Ice is a limited edition pod from the Barista Creations line that brews lime and mint-flavored iced coffee. This pod comes in both VertuoLine and OriginalLine compatible versions. The VertuoLine pod brews 2.7 oz double espresso, and OriginalLine makes a 1.35 oz single espresso.
The pod has Arabica coffee from Indonesia and Kenya, which produce a refreshing coffee with mint and citrusy lime notes. The mint is the most noticeable, especially in the aftertaste. This is medium roast coffee, so it has low acidity and a light body.
Liminha makes a refreshing iced coffee, but you can also use it to make an espresso lemonade:
1 Liminha pod
4 oz lemonade
Splash of sparkling water
One mint spring for garnish
Ice cubes
Instructions:
Brew the Liminha pod into a large container and let it cool
Add lemonade and sparkling water to coffee
Pour the drink into a glass slowly, so it layers
Garnish with mint
Who is it for? Exotic Liminha Over Ice is a great pod for citrusy Nespresso coffee. This is a good choice if you like coffee with a hint of lime and mint. Also, Liminha is great for making other iced drinks, such as iced lemonade.
---
What's the Best Nespresso Iced Coffee Pod for You?
The best Nespresso coffee pod largely depends on which Nespresso machine you have. If you have an Original Nespresso machine, you can choose between Freddo Intenso and Freddo Delicato. VertuoLine machine owners have Ice Forte and Ice Leggero, and both machine users can use limited-edition Liminha Over Ice.
However, you can also choose a pod that isn't made especially for iced coffee. Stick to the roast and flavor profile advice I listed above, and you'll have a delicious iced drink with non-ice pods.
If you're a latte lover, check out our selection of the best eight Nespresso pods for making a latte.