Picture this: You, standing at the crossroads of coffee perfection, faced with the delightful dilemma of Nespresso Inissia vs. Citiz. These Nespresso OriginalLine models promise to deliver the quintessential espresso experience with a twist of pod variety.
In one corner, we have the Citiz, boasting a stainless steel frame and an ample water tank. In the other corner, the trusty Inissia, the compact and reliable entry-level champion.
As your coffee connoisseur guide, I'm here to walk you through the intricate dance of flavors and features that these two Nespresso machines bring to your morning routine. Spoiler alert: I think Citiz is the better choice, and I'll share why its build quality and sleek design have won me over. But that doesn't mean Inissia isn't worth your consideration.
Let's embark on an aromatic adventure between these two popular Nespresso machines to uncover which one fits your needs better.
Our Pick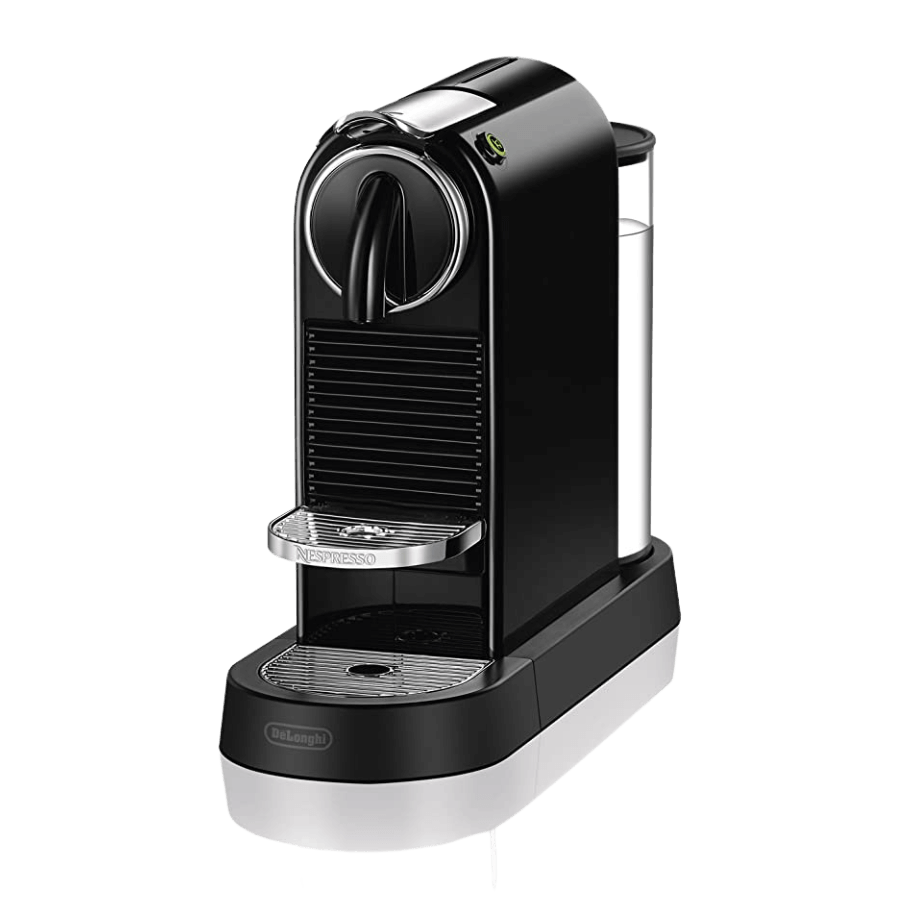 Product
Dimensions (W x H x D)
Dimensions (W x H x D)
4.7 x 9.0 x 12.6 in
5.1 x 14.6 x 10.9 in
Weight
Water tank capacity
Water tank capacity
24 oz
34 oz
Used storage capacity
Used storage capacity
11
9
Optional milk frother
Optional milk frother
No
Yes
Build material
Build material
Plastic
Plastic and stainless steel
Main Differences Between The Two Nespresso Machines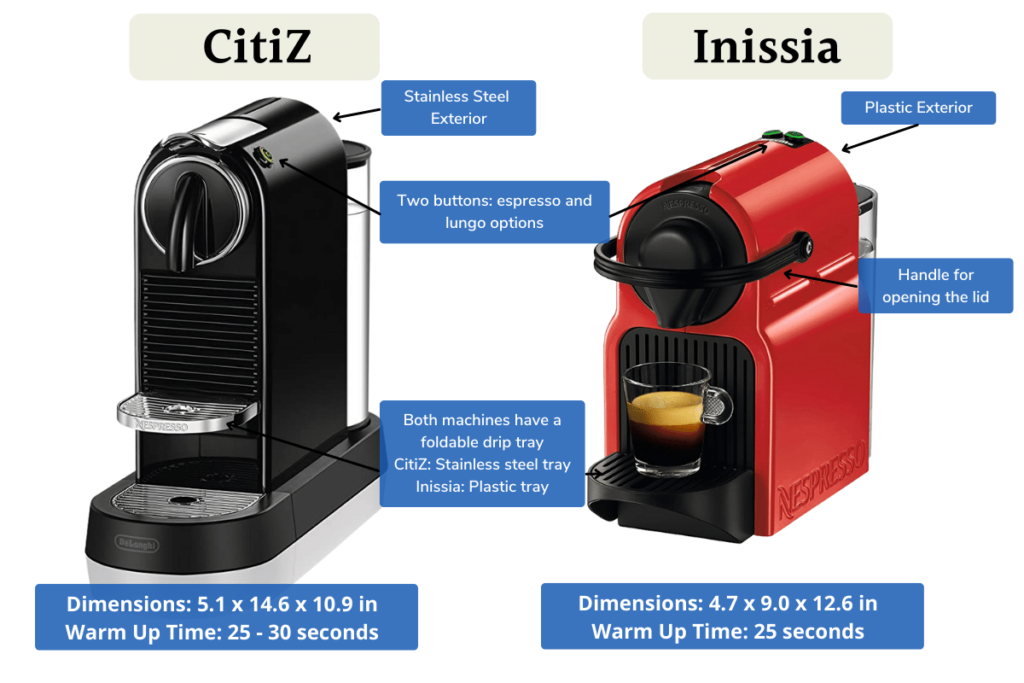 Design and Functionality
The biggest difference between Inissia and Citiz is the design. Nespresso Citiz is the larger and more premium model because it's made of a combination of stainless steel and plastic. The Citiz looks more polished and high-end and is more durable thanks to the stainless steel exterior.
On the other hand, Inissia is Nespresso's entry-level machine. It's a completely plastic product, which also makes it cheaper than Citiz.
However, one thing I liked about Inissia's design is the handle for opening the lid. It looks flimsy, but it's actually pretty robust. It works like a lever, and it's extremely easy to grab and push the lid up and back down again.
The Citiz opens via a flat lever on top of the machine, which is still easy to open. Simply lift the lever and insert the capsule for both. However, I had to use more force to push the lid back down on the Citiz compared to Inissia.
I didn't have any issues with using either machine. You flip open the top, put in the Nespresso capsule, and close the top, which pierces the capsule. These are OriginalLine machines, so they have two buttons: espresso and lungo options.
The machine will start brewing as soon as you press the button, and you'll have your coffee drink ready in less than a minute. Both machines have a foldable drip tray, so you can fit different mug sizes. Citiz has a stainless steel tray, which I found easier to clean compared to Inissia's plastic one.
The machines come in different color options, so you can get the design that compliments your kitchen decor the best.
Inissia: red, white, black, and light gray
Citiz: black, white, cherry red, and chrome.
Seperately, both machines use Thermoblock heating technology (discussed later), so the temperature remains stable throughout the brewing process, and you get the famous Nespresso consistency with both devices.
I found Inissia to be slightly quicker than Citiz. It warms up in only 25 seconds, while Citiz takes slightly longer — 25 to 30 seconds. This isn't a big difference by any means, but if you want to wait as little as possible to get your caffeine fix, it's worth noting.
Note: Both Inissia and Citiz Nespresso machines are manufactured by Breville and Delonghi. There are slight differences in the Nespresso machine design based on the manufacturer (mostly in the spout appearance). However, both of these manufacturers use Nespresso technology, so there won't be any difference in how your espresso tastes.
Size
Citiz is bigger than Inissia: 5.1 x 14.6 x 10.9 in vs. Inissia's 4.7 x 9.0 x 12.6 in. It isn't a big difference, but it's worth noting if you're very tight on space. The Citiz is a nicer size because it's taller to fit bigger mugs, yet also a little shorter so it can slide into narrow counter space. Meanwhile, the Inissia is one of Nespresso's smallest models, and it weighs only 6 lbs vs the Citiz at 8.9 lbs.
Nespresso machines are generally compact and don't eat up too much counter space. This goes for Inissia and Citiz as well. You decide whether you want a taller and narrower (Citiz) or shorter and slightly wider (Inissia) machine.
Water Reservoir and Capsule Container
The water tank capacity also differs when comparing Nespresso Citiz vs. Nespresso Inissia. Nespresso Citiz has a 34 oz water tank, which is larger than the Inissia and one of the largest OriginalLine options. This is a big convenience factor. I found an average Lungo shot uses 4 oz of water, so you can brew eight large shots of espresso before refilling.
Nespresso Inissia water tank size is 24 oz, so you can brew about six espresso shots before refilling the water. A bigger reservoir means less refilling, but a smaller one means less calcium build-up from hard water resting in the reservoir, which in turn means less descaling. Overall, it's up to you which water tank size you want.
Neither of these machines has a low water indicator, so you'll have to remember to check the water level before each use.
Nespresso Citiz vs. Nespresso Inissia also differ in capsule container capacity. Citiz is the bigger coffee maker, but it only fits nine used pods. Inissia fits up to 11 used Nespresso capsules, which means less frequent emptying.
Want More Coffee Tips?
Join the email list for exclusive coffee insights and deals that only subscribers get. You'll get two coffee discounts just for joining.
No spam, ever. We respect your privacy and unsubscribe anytime.
Value
Nespresso Citiz is the more expensive option, as it's built with more durable materials and has a larger water tank. You can buy the Citiz as the machine only, or a model with an integrated Aeroccino milk frother.
The integrated Citiz + Aeroccino model is great if you like your lattes and cappuccinos. The milk frother is extremely easy to use — simply fill it up with milk, press a button, and you'll get foam for a latte or a cappuccino. I like the Aeroccino because it's simple and consistent (much like Nespresso itself), but you pay up for the frother. Ask how much you want milk-based espresso drinks.
The Inissia is clearly the cheaper option of the two. It's one of, if not the most affordable Nespresso machine, mostly thanks to the plastic build. There isn't an integrated Aeroccino frother model, but you can buy an Aeroccino separately.
In terms of value, my vote goes to Nespresso Citiz, despite the higher price point. I like the more durable build and the large water tank. But, if you're on a strict budget, Inissia is also a reliable choice. After all, both machines use the same pods and technology, which means you'll have the same espresso flavor.
Note: The price of Nespresso machines can vary based on the manufacturer and retailer (especially across Amazon), so check around for the best price.
Main Similarities
Brewing Technology and Drink Options
Both Nespresso Citiz and Inissia use Nespresso's patented OriginalLine extraction system. The machines use a 19-bar pump to force hot water through the capsule, which brews a nicely extracted espresso.
Both machines have the same two buttons to choose either a regular espresso or a lungo drink size. You don't have to adjust the temperature, volume, or anything else to brew coffee.
Both Nespresso Citiz and Inissia use Nespresso OriginalLine capsules. The capsules are hermetically sealed, and the pod and lid are made with recyclable aluminum lined with food-grade lacquer, so they are completely recyclable. Each capsule contains about six grams of coffee grounds, which is enough for one coffee serving.
The nice thing about OriginalLine machines is the pods are made by different coffee roasters, including Starbucks, Lavazza, and other big brands. There are dozens of different capsules, plus limited editions around the holidays. OriginalLine pods are cheaper than VertuoLine pods as well.
Other Common Features
The biggest similarity between Nespresso Citiz vs. Inissia is the drink flavor. Each espresso machine uses the same technology and the same pods, so you get aromatic, robust espresso with a nice crema.
You don't have to remember to power off the machines, as each has an auto shut-off feature that turns the machines off after 9 minutes.
Finally, I liked that both coffee makers have a foldable drip tray, so I could easily fit in travel mugs and large glasses.
Our Recommendation And Who Is Each For
Both of these Nespresso machines will quickly brew aromatic espresso. They are easy to use and don't require any barista skills on your part.
Choose Nespresso Inissia coffee maker if you're on a strict budget, don't mind plastic parts, and mainly drink espresso. This is a great option for someone who wants a basic device or who's getting used to espresso and doesn't need a lot of bells and whistles.
Nespresso Inissia highlights:
Budget Friendly
Lightweight
Easy handle for opening the lid
Note: If this espresso machine is your choice, make sure to snatch it up quickly, as it's been discontinued and is now available through third-party sellers, such as Amazon.
Choose Nespresso Citiz if you have more room in your budget, want a large water tank, and like to drink milk-based espresso drinks. It's also a good choice if you want a more durable build and a machine that will last a while.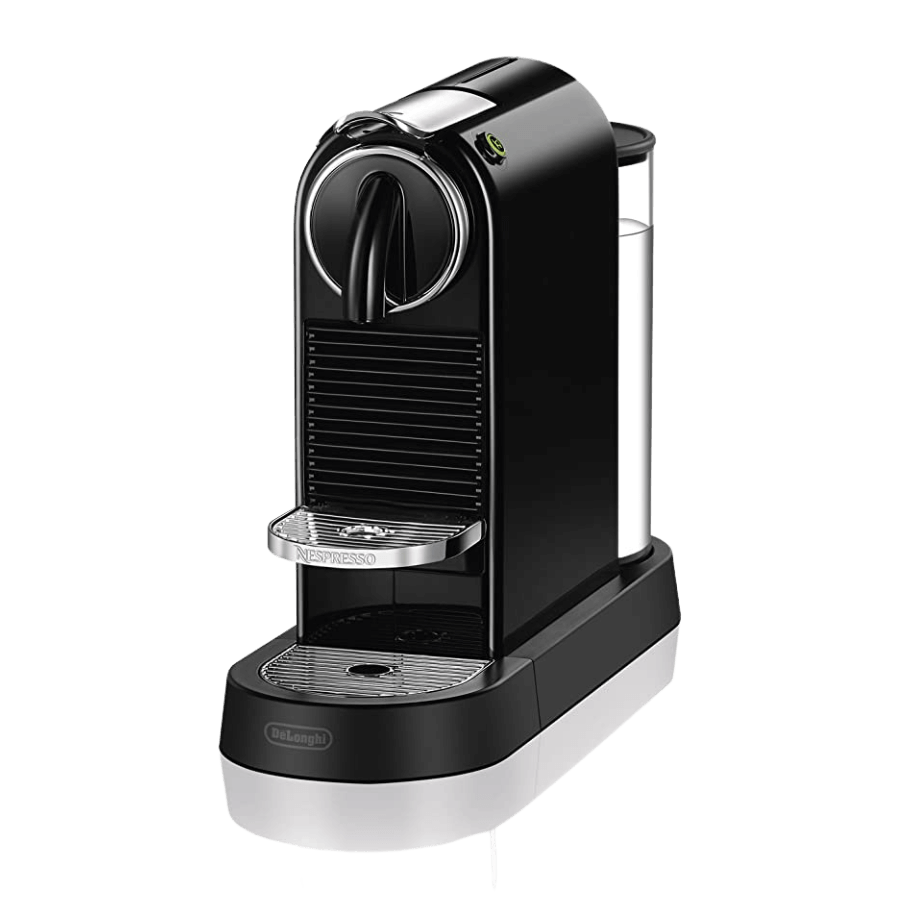 Nespresso Citiz highlights:
Durable with stainless steel sides
Large 34 oz Water Tank
19-bar pump system
Alternative: Nespresso Pixie
Another good espresso machine alternative to Nespresso Citiz and Inissia is Nespresso Pixie. Pixie is similar to Nespresso Inissia in terms of size. Its dimensions are 4.4 x 12.8 x 9.3 in, and it weighs 6.6 lbs. However, the build material is more similar to the Nespresso Citiz — it combines plastic and stainless steel.
This coffee machine also brews lungo and espresso drinks, but the pre-set espresso size is 2.7 oz, compared to Inissia's and Citiz's 1.35 oz.
Nespresso Pixie also has an automatic shut-off after nine minutes, and the used storage container fits 11 pods. You'll only empty it about once a week. Finally, Nespresso Pixie has a 24 oz water tank container, and the espresso machine flashes to let you know when it's time to refill it.
Overall, this is essentially an improved version of the Nespresso Inissia with a more sturdy build and low water indicator, which also means it's more expensive.
Nespresso Pixie highlights:
Automatic shut-off
Fits 11 pods
24 oz water tank container
Nespresso Inissia vs. Citiz: What Should You Choose?
Both Nespresso Inissia and Citiz use Nespresso capsules to brew great tasting espresso. Consider which water tank capacity you want, the build material, and if you like to drink milk-based drinks when making your decision.
Make sure to also check out Nespresso Vertuo devices before settling on an OriginalLine. We have an in-depth Nespresso Vertuo Next vs. Plus comparison.