A Nespresso machine is a great way to get espresso-like coffee easily and consistently. But, with so many options available, how do you choose the best one?
Nespresso Pixie and Essenza Mini are two of Nespresso's most popular and compact OriginalLine machines. The Pixie has a larger profile, including a bigger water tank and used capsule container. Meanwhile, the Essenza Mini is made of plastic, while the Pixie has a more durable aluminum casing. My favorite is the Pixie, by a small margin, because it's larger for a modestly higher price.
Here's a review of these espresso machines, including their pros and cons. I'll also explain how their features stack one against the other so you can decide on the best Nespresso machine for you.
Nespresso Pixie Review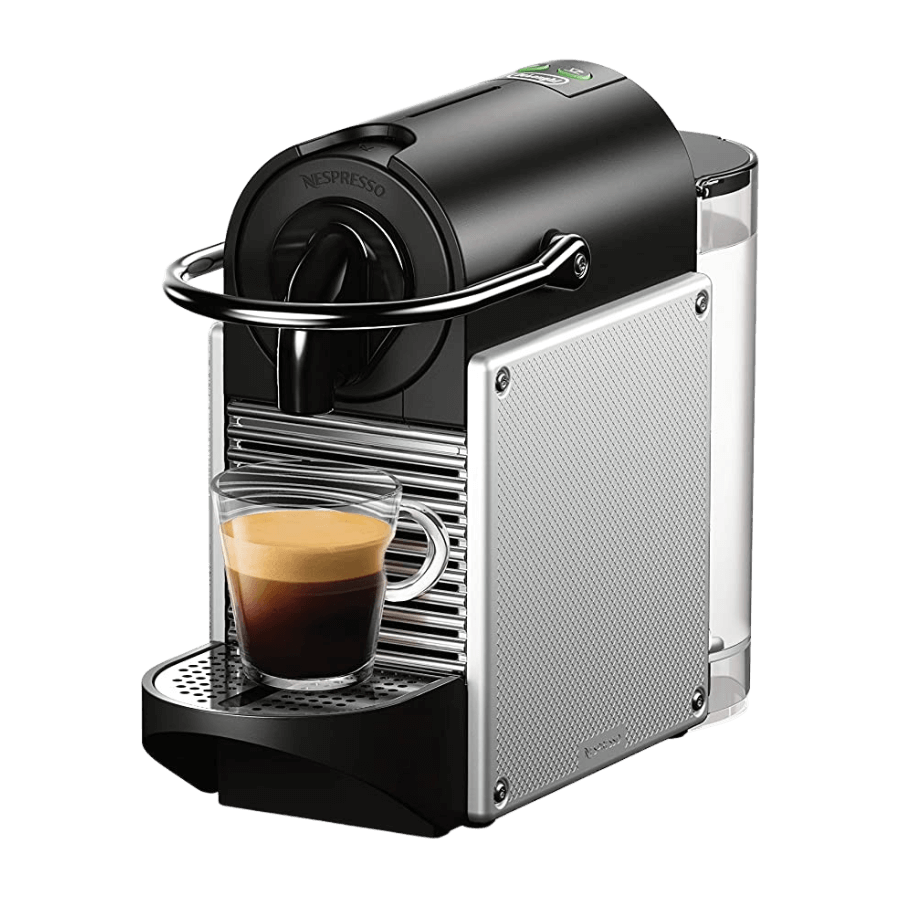 Nespresso Pixie highlights:
Brews espresso and lungo
24 oz removable water tank container
Used capsule container fits 11 pods
Pixie is a small and lightweight espresso machine from Nespresso's OriginalLine. It creates delicious espresso with a rich crema.
The Nespresso Pixie is one of Nespresso's mid-range OriginalLine options without a milk frother. This espresso machine lets you choose two drink strengths, so you can always get the taste you prefer. You can also buy the model with a bundled Aeroccino milk frother to make milk-based espresso drinks.
Nespresso Pixie has a 24 oz water tank, which is a decent size for the modest profile of the machine. I found you'll make six lungo drinks before refilling the tank. It is also removable and has an empty water tank alert, so you'll know when it's time.
The coffee machine heats up in 25 seconds and has a 19-bar high-pressure pump that extracts espresso and creates a rich crema in less than a minute. The drip tray is foldable, so it's easy to use a larger mug, for example, when you want a Lungo shot.
Since this is an OriginalLine, you can use Nespresso Pixie with third-party coffee capsule manufacturers along with Nespresso.
Overall, this is a great espresso machine for people who love to drink espresso and have a smaller kitchen with limited counter space.
Pros
Compact size
You can control the drink's strength
Low water level indicator
Folding tray for fitting mugs of different sizes
Cons
More expensive than Nespresso Essenza Mini
Only brews espresso and lungo
Heavier than Essenza Mini
Nespresso Essenza Mini Review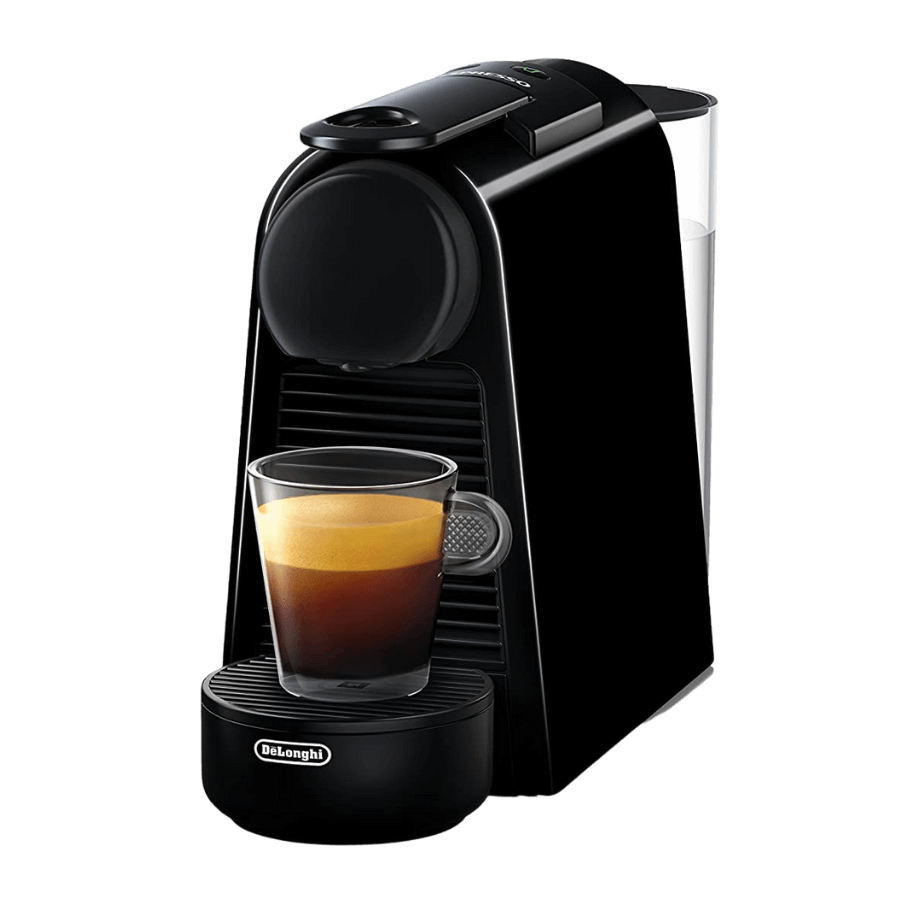 Nespresso Essenza Mini highlights:
Brews espresso and lungo
20.3 oz water tank container
Used capsule container holds five pods
The Essenza Mini is a great choice if you're looking for an extremely compact, lightweight, and portable espresso machine. This coffee machine also belongs to Nespresso's OriginalLine range, and it's one of the cheapest options. It has a simple design and small footprint, so it'll fit into the smallest kitchens. It's also extremely lightweight, so it's easy to take somewhere if you don't trust the coffee there (totally understable by me!).
It only brews espresso, including single espresso and lungo sizes. However, you can buy a frother separately and also make milk-based drinks.
Essenza Mini has an eco-mode feature which saves energy after three minutes of non-use and shuts off after nine minutes. It also heats up in about 25 seconds and has a 19-bar pressure pump that ensures a delicious espresso with a nice layer of crema.
This is a compact espresso maker, which influenced the water tank and used capsule capacity. The water tank is 20.3 oz, and the capsule container holds five to six pods. The capsule container doesn't hold much, as I felt it was full after four pods. If you like to have three or more cups a day, expect that you'll have to refill the tank and clean the used capsule drawer often.
Finally, Essenza Mini has a retro-looking design and comes in some colorful options that will pop on your kitchen counter.
Pros
Compact size
Lightweight and portable
Eco-mode for saving energy
Has several color options
Affordable
Cons
Small water tank and used capsule container
No empty water tank indicator
Feature Comparison
Here's how Nespresso Pixie vs. Essenza Mini features compare.
Design and Size
Both coffee machines are seen as compact, but the Essenza Mini is smaller than the Pixie — 4.3 x 8.0 x 12.8 in vs. 4.4 x 12.8 x 9.3 in (W x H x D). Nespresso Pixie looks more stylish and modern thanks to the metal sides. It comes in a combination of grey and black colors.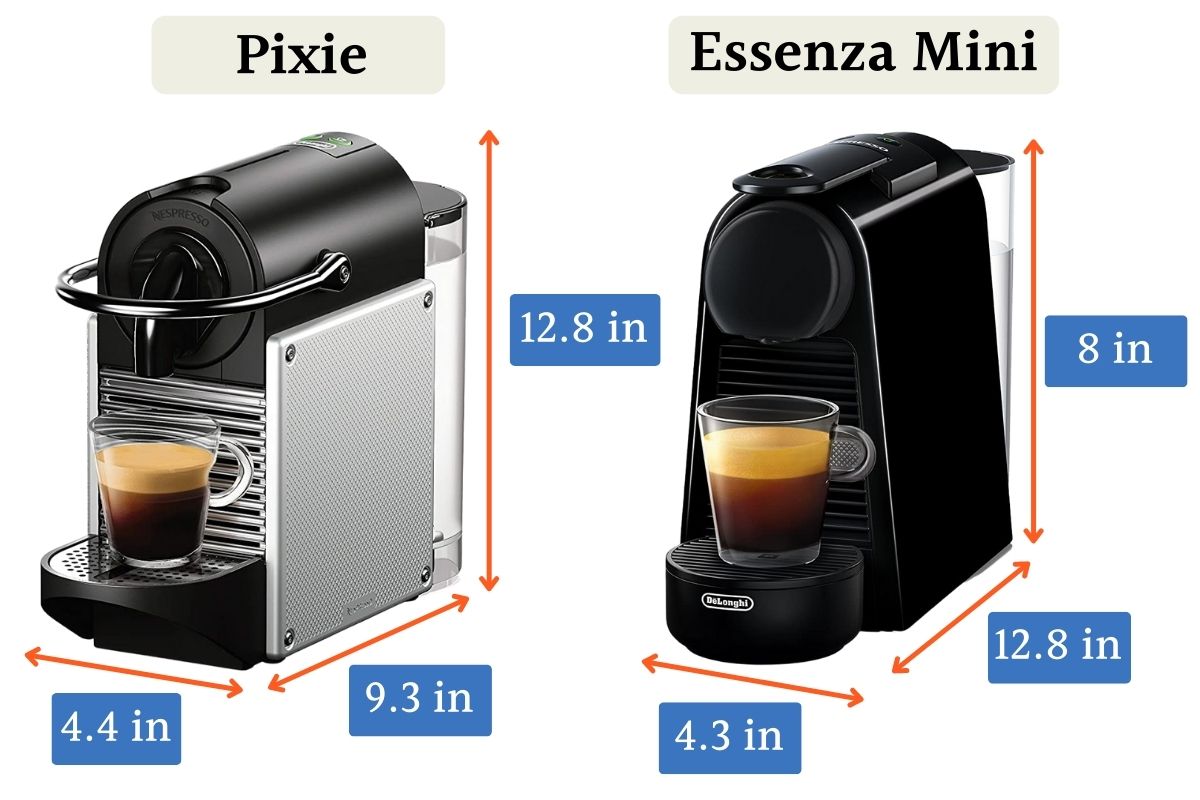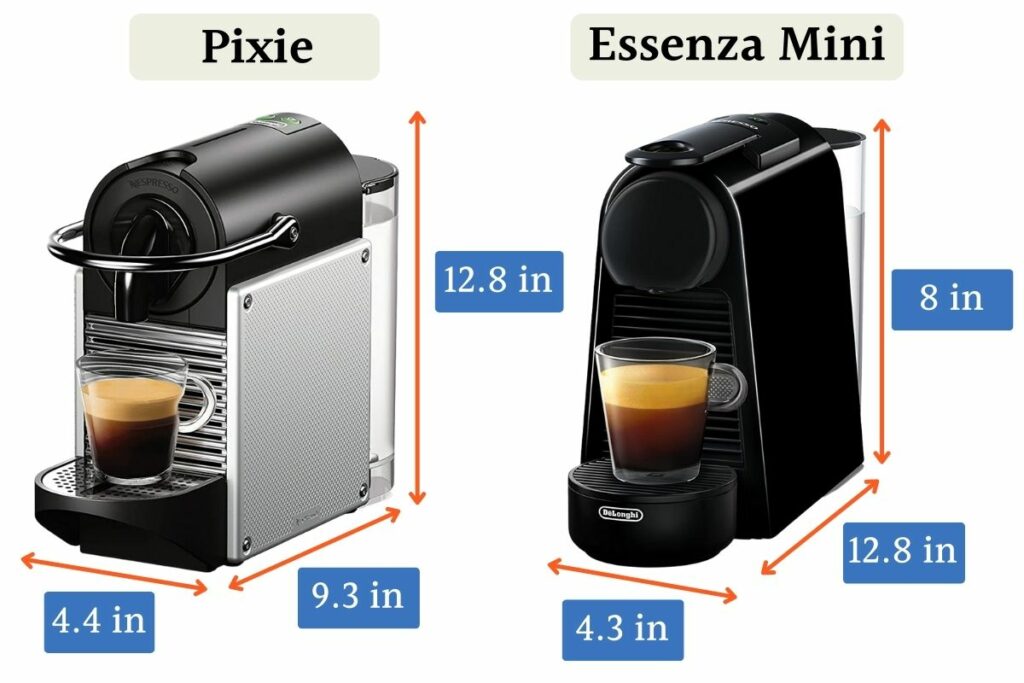 Nespresso Essenza Mini looks more retro and comes in a range of colors, including some bright choices: grey, white, piano black, red, and lime.
The build material for Nespresso Pixie is metal, making it more durable and stylish but slightier heavier— 6 lbs. Nespresso Essenza Mini is a completely plastic coffee machine weighing at 5 lbs. I found the Essenza's drip tray to be a little flimsy, and it comes off really easily (for better or worse).
One significant design difference is the system for opening the capsule lid. Nespresso Pixie has a round handle around the top part of the machine. The handle functions as a lever mechanism. You pull it up to open the lid and push it down to close it. On the other hand, the Essenza Mini has a lid, which you pull open and push down to close.
Overall, Nespresso Pixie's handle is easier to use, but it takes a little more space and makes the machine look much different from your typical coffee machine.
Nespresso Pixie has a foldable drip tray, which I loved as it easily fits bigger mugs. Essenza Mini has a movable drip tray, but it's not big enough to hold a large mug. You can tilt the Essenza Mini to try, but it's not worth the risk. Or consider the Nespresso Citiz if you want a taller option.
Note: There are design differences depending if Breville or DeLonghi manufactured the Nespresso machine. For example, Breville's Essenza Mini has a narrow straight shape, while DeLonghi has a triangular frame. However, it's purely a design difference. The brewing mechanism, drink quality, and reservoir size is the exact same.
Reservoir Capacity and Capsule Container
Nespresso Pixie can hold about 20% more water and twice as many capsules as Nespresso Essenza Mini. Essenza Mini has a 20.3 oz reservoir versus the Pixie's 24 oz. Essenza Mini's capsule container only holds 5 to 6 used capsules, and it feels full even before that. Meanwhile, the Pixie can hold 11 used capsules.
The same goes for the drip tray — the Nespresso Essenza Mini tray is quite small. Personally, I prefer a larger tray to hold a larger glass and catch any dripping.
If you have two people drinking coffee daily, they'll you'll have to refill the Essenza Mini daily. Meanwhile, you can get by a few days without refilling the Pixie. It holds twice as many capsules. Plus, the Pixie has a low water level indicator, so you don't have to check when it's time to refill. That's a small plus that comes in handy with continuous use.
Brewing Capability and Coffee Drink Options
Both machines have a similar performance. They both work using a 19-bar pressure pump to force water through the grounds. As a result, you will get espresso-like quality coffee from each. Nespresso Pixie is slightly faster than the Essenza Mini. It takes 25 seconds to heat up, while the Essenza Mini takes about 30.
Both devices are from Nespresso's OriginalLine and are compatible with Nespresso OriginalLine capsules. Neither of them comes with a milk frother, but you can get Nespresso's Aeroccino frother if you like milk-based drinks, so there's no need to go to the local coffee shop.
As for the drink options, it's pretty simple: they brew espresso and lungo. That's it. However, there are many variations of Nespresso capsules, especially for OriginalLine machines like the Pixie and Essenza, so you can experiment and try different pods with your single-serve espresso machine.
Value
Nespresso Essenza Mini is the winner in terms of price. Depending on the retailer, there's around a $50 price difference between these two espresso machines. It's generally priced under $200, depending on the retailer and the color choice. This coffee machine is one of the most affordable espresso machines, so it's a good choice if you're on a tight budget.
Nespresso Pixie is the more costly version but isn't that much more than the Essenza.
Of course, it's important to consider the machine features that lead to pricing differences. The Essenza Mini has a compact design and mini framework but has low water tank capacity, plastic build material, fixed tray, and other limitations.
Nespresso Pixie costs more because of the aluminum frame, larger water tank, low-level indicator, and other features that make it a more premium and easier-to-use option.
One thing to keep in mind is that both devices use Nespresso OriginalLine capsules. The capsules are an ongoing investment, but they're also cheaper than the VertuoLine options.
Lastly, make sure to check different retailers for the best price! Prices can vary based on manufacturer (Breville vs DeLonghi), retailer, and sometimes even the color. It's certainly odd to see that much variance, and I suspect it's because multiple manufacturers make Nespresso machines.
Final Recommendation On Nespresso Pixie Vs Essenza Mini
Overall, my choice is the Nespresso Pixie because I like the larger reservoir and capsule container, and it's not much more expensive. Choose the Pixie, especially if the build material and a modern-looking machine are important for you. This is the better choice if you don't want to refill and clean often. The Pixie heats and brews espresso quickly and even lets you know when it's refilling time. It's a long-term investment, and it'll last for a long time, thanks to the metal build.
Go for the Nespresso Essenza Mini if you're on a strict budget and you're fine with a plastic build. This is the better choice if you want an espresso machine in bright colors. Essenza Mini is for espresso lovers who are short on space and want a portable device. Finally, this is a good choice if you want to reduce energy consumption, as it has the eco-mode feature. Full disclosure: the Essenza Mini was my first Nespresso Original machine, and I still stand by it.
Nespresso Pixie vs. Essenza Mini: Final Thoughts
Both Nespresso Pixie and Essenza Mini are compact single-serve espresso makers that produce quality espresso. When choosing the best one for you, consider the build material, the price, and any extra features they have (such as the larger water tank, low water indicator, eco-mode, and more).
If you want to see more Nespresso options, we've got you covered. Check out our comparison of the best Nespresso Vertuo machines: Vertuo Next vs. Plus. Or, learn more about Nespresso OriginalLine, and check the Nespresso Inissia vs. Citiz comparison.