A Nespresso machine can make a freshly brewed flavorful espresso with a thick crema. But what do you do on those days when you want a coffee treat or don't feel like drinking plain coffee? Most people turn to Starbucks when they can't make a delicious coffee themselves.
I admit I like sweet coffee drinks (I've been accused my coffee is more dessert than actual coffee). I've been collecting and trying Nespresso recipes for months. This is my list of favorite recipes, and I included the different social groups or Nespresso page if you want to see the source.
If you're in the mood for a delicious coffee treat, here are the 13 best Nespresso recipes to try.
Best Nespresso Recipes
1. Chocolate Hazelnut Latte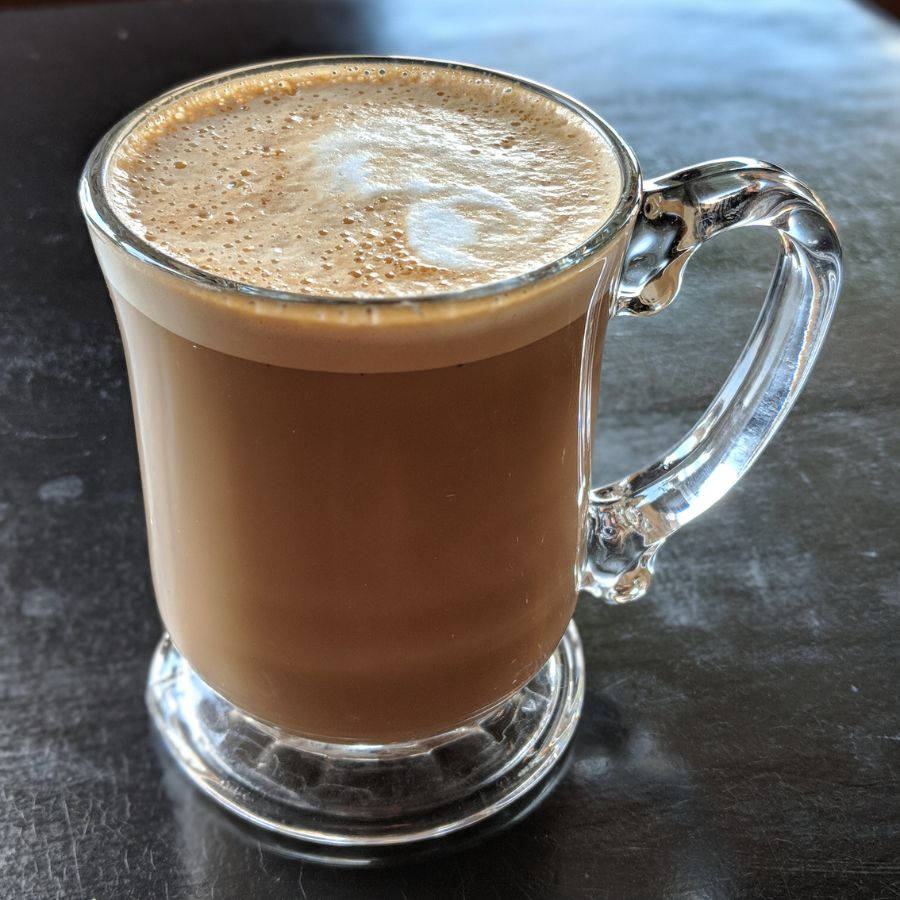 Cold weather is upon us again, and here's a latte that'll warm you up. This is a perfect drink if you love hot chocolate but want a caffeine version.
You can make the chocolate hazelnut latte in two ways. In case you don't have a Nespresso machine with a steam wand or an Aeroccino frother, you can make hot chocolate on the stovetop:
Add milk and chocolate hazelnut to a saucepan and bring to a simmer on medium heat
Use the Envivo Lungo pod and brew 3.7 oz coffee into a mug.
Pour hot chocolate over the coffee
Top with whipped cream and cocoa powder
If you have an Aeroccino or a machine with a steam wand, here's how to make this latte:
Add chocolate hazelnut spread to your mug.
Pour milk into the mug and warm it (use the hot milk option on the Aeroccino)
Mix the milk and chocolate hazelnut with a spoon.
Brew Envivo Lungo pod over the hot chocolate.
Top with whipped cream and cocoa powder.
---
2. Starbucks Iced Caramel Macchiato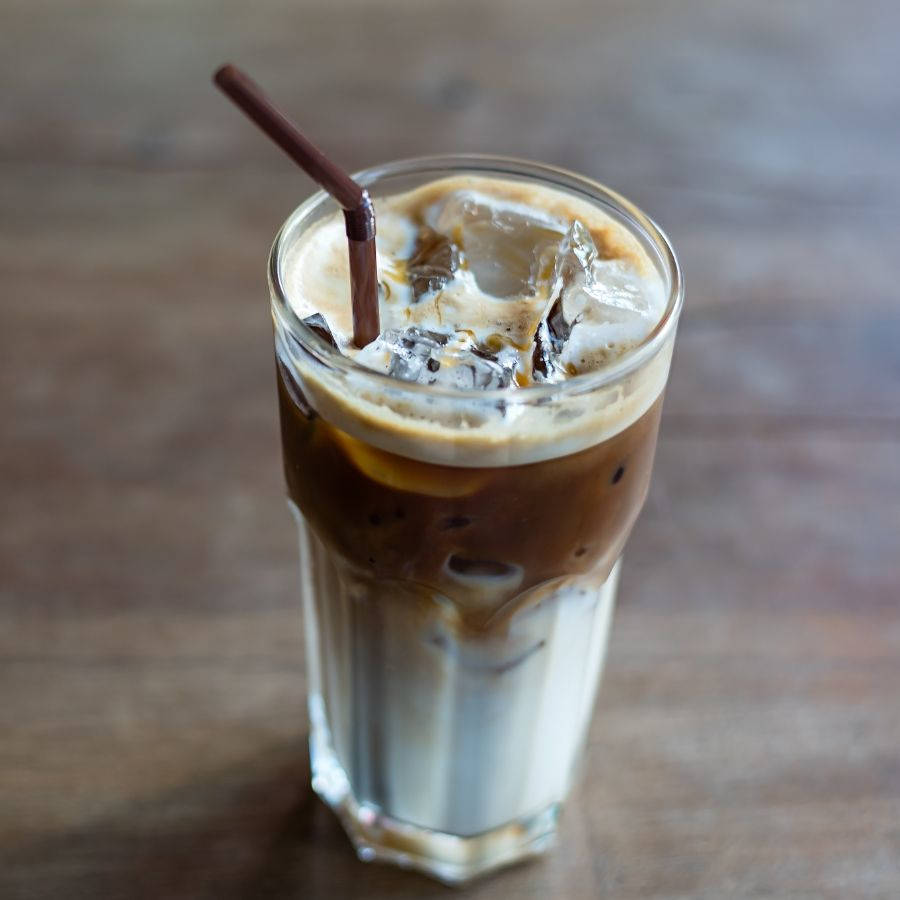 If you're an iced coffee lover, you'll love this iced caramel macchiato. It's a perfect replica of the Starbucks one.
Here's how to make it:
Fill a glass with ice.
Pour two tablespoons of vanilla syrup (you can go up to four if you want a really sweet drink).
Froth the milk and pour it over the vanilla syrup.
Brew double espresso. You can use Starbucks espresso pods or Nespresso capsules. Pour the coffee over the milk and vanilla.
Add caramel sauce on top.
Note: Use caramel sauce and not syrup because the syrup is more watered down.
---
3. Iced Salted Caramel Latte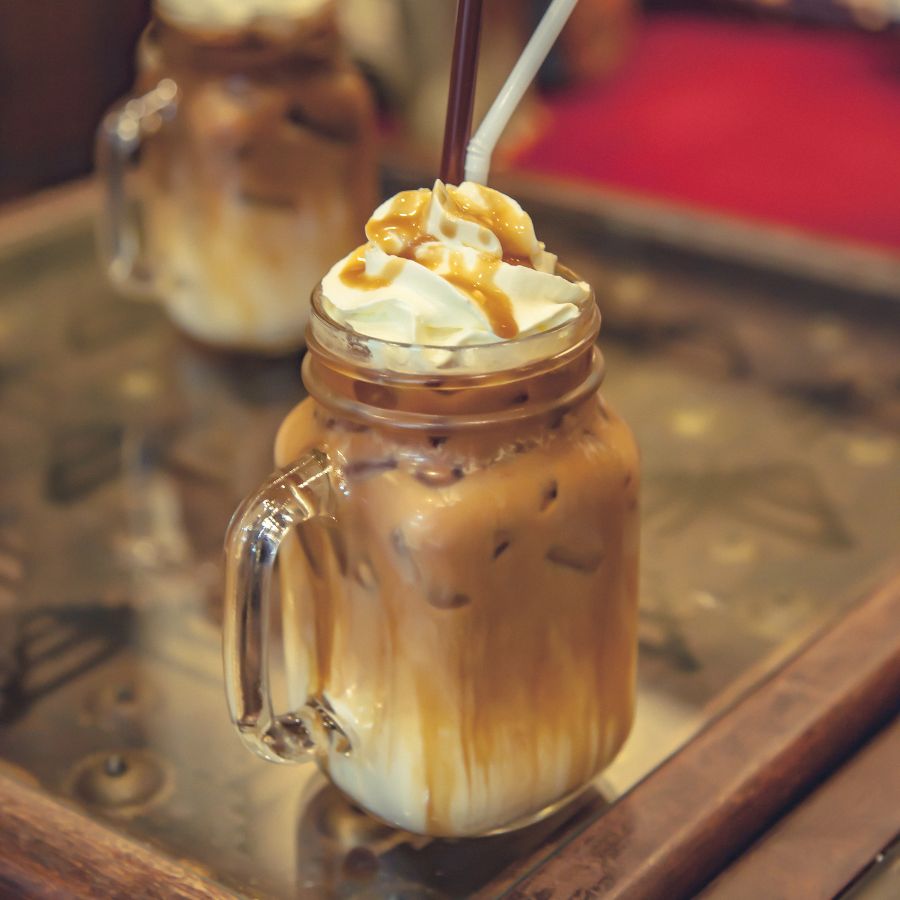 Caramel is one of the most popular ingredients in coffee recipes. It pairs well with coffee and milk, and sweet coffee lovers use it in copious amounts.
Here's how to make an iced salted caramel latte:
Fill a shaker with ice.
Take out a glass and put one salted caramel candy at the bottom.
Brew two Caramel Cookie pods over the candy and pour it into a cocktail shaker over ice.
Fill a glass with coffee ice cubes and pour cold coffee over it.
Pour a quarter of milk with one tablespoon of coconut syrup into a small cup and stir.
Add this to the coffee and enjoy.
This recipe requires a little more work, but I promise it's worth it when you taste the drink. Make sure not to skip the shaker part. This will cool the coffee quickly without diluting it.
---
4. Choco Passion Cappuccino
Choco Passion Cappuccino is a combo of creamy milk foam and the tropical sweetness of passion fruit. You'll taste the coffee's fruit notes with every sip.
This is a perfect combo between a coffee pick-me-up and a dessert.
Here's how to make Choco Passion Cappuccino:
Froth 100 ml of 1.5% milk. You can use Nespresso Barista or Aeroccino or a steam wand if your Nespresso machine has it.
Pour 5g of chocolate sauce into a cup.
Pour the milk foam into the cup.
Extract Colombia pod.
Put pulp and seeds of passion fruit on top of the drink.
Garnish with chocolate sauce.
---
5. Pumpkin Spice Latte
Whether you love it or hate it, pumpkin spice is here to stay, and this pumpkin spice recipe will turn even the most hardcore of pumpkin spice haters.
Here's a pumpkin spice latte recipe:
Combine 3 oz of pumpkin pie filling, 3/4 cup almond milk, 1 oz agave, 1/4 tsp vanilla, and 1/4 tsp of cinnamon in a bowl. Whisk until everything is combined.
Transfer the puree to a glass.
Brew one Diavolito pod if you have a Vertuo machine or Firenze Arpeggio if you have an OriginalLine Nespresso machine. Brew straight into the cup.
Stir everything and top with cinnamon.
---
6. Affogato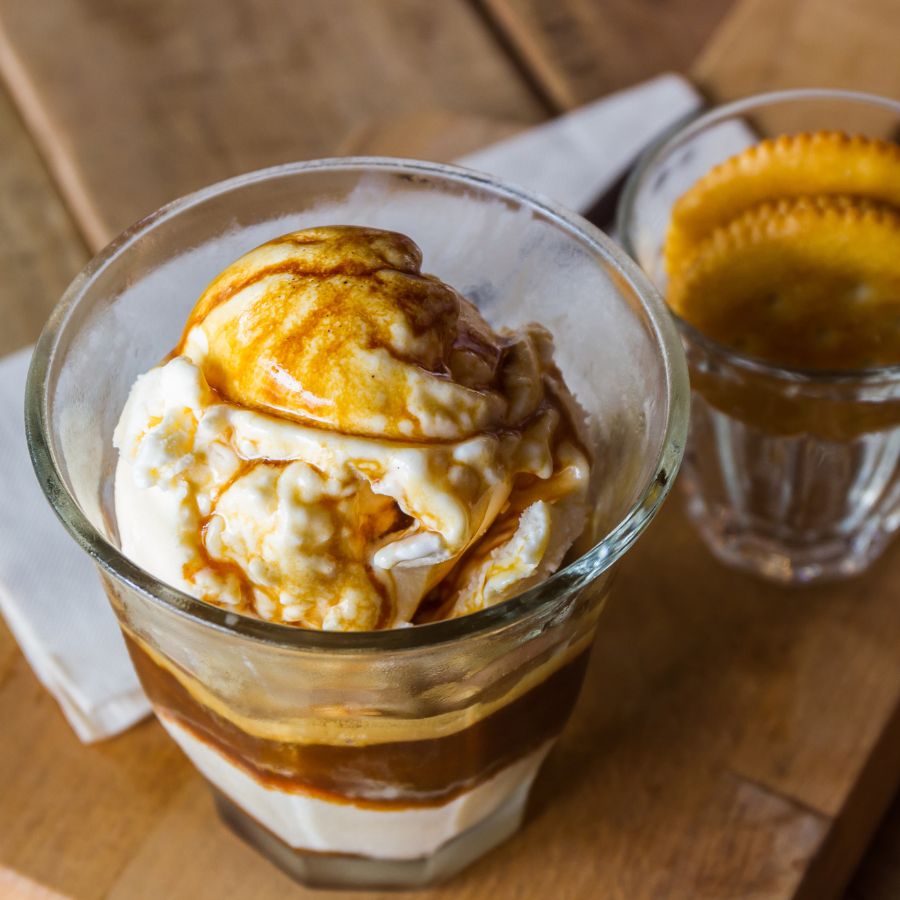 Affogato is a perfect pairing of vanilla ice cream and coffee. This is a great choice when you want a dessert with a caffeine kick. Plus, it's extremely easy to make. Here's my favorite affogato recipe:
Add vanilla ice cream of choice to a cup
Drizzle caramel sauce over the ice cream
Brew one Costa Rica pod directly over the ice cream
---
7. Hazelnut Vanilla Latte
This hot latte has hazelnut and vanilla syrup which pair nicely with Costa Rica pod, and it's my favorite weekend treat.
Want More Coffee Tips?
Join the email list for exclusive coffee insights and deals that only subscribers get. You'll get two coffee discounts just for joining.
No spam, ever. We respect your privacy and unsubscribe anytime.
Here's how to make hazelnut vanilla latte:
Add two pumps of hazelnut and one pump of vanilla to a mug.
Brew the Costa Rica pod to the mug with the syrups.
Steam the milk in an Aeroccino. Add steamed milk to the mug.
Top the drink with caramel drizzle.
---
8. Honey Cinnamon Oat Milk Latte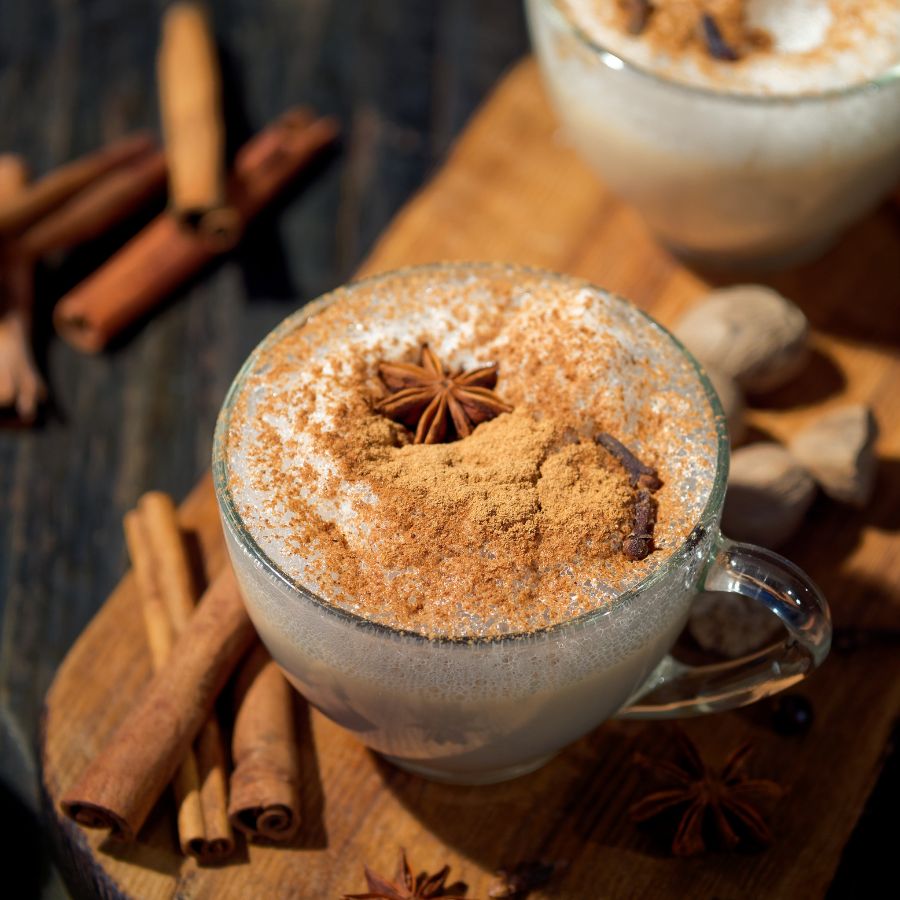 This honey cinnamon oat milk latte is a heavenly blend of strong espresso and non-dairy milk with a pinch of cinnamon and honey.
Here's a honey cinnamon oat milk latte recipe:
Brew one espresso pod into a mug. If you don't have a favorite pod, check out our selection of the best Vertuo pods.
Add honey and cinnamon.
Froth 3/4 of a cup of oat milk and add to the coffee. Pro tip: Use a spoon to hold back the foam, then ladle the foam on top and garnish with more cinnamon.
This recipe is all about honey and cinnamon. If you like your Nespresso coffee sweet but not too sweet, I recommend using 1 1/2 tablespoon cinnamon and honey. This is a good starting point, and you can add more if needed.
---
9. Brown Sugar and Cinnamon Shaken Espresso
This shaken espresso is a perfect afternoon pick-me-up on a hot day. It's also a great choice if you like sweet coffees and can't drink only espresso.
Shaken espresso recipe:
Add one teaspoon of brown sugar and half a teaspoon of cinnamon powder to the shaker.
Brew one espresso pod into a small cup, and add it to the shaker.
Use a handheld frother to mix coffee, sugar, and cinnamon.
Add ice and pour 3.5 oz milk.
Shake well and pour the drink into a cup.
Optional: add more ice to the cup if you want an extra cold drink.
---
10. Honey Lavender Iced Latte
Honey lavender iced latte is my favorite spring coffee drink, but you can make it in any season. It has honey, lavender syrup, and delicious coffee, which pair nicely together.
Here's a honey lavender iced latte recipe:
Make honey lavender syrup. Mix 1 cup honey, 1 cup water, and 2 tbsp of dried lavender in a saucepan over medium heat. Heat until the honey is completely dissolved, then remove from heat and let it cool. Once it's cool, move the syrup to an airtight container.
Fill a glass with ice.
Add 1 oz of lavender syrup.
Add 2 oz coconut milk.
Brew 2 Volutto coffee pods into the glass.
Garnish with dried lavender.
11. Starbucks Double Shot on Ice
If you love Starbucks double shot on ice, I'm happy to report you can now make it with your Nespresso coffee machine.
Here's the double shot on ice recipe:
Fill a shaker with ice
Brew two Scuro pods into the shaker
Add four pumps of vanilla syrup.
Shake until the coffee is frothy — about 30 seconds.
Pour into a glass.
Add more ice if all the ice in the shaker has melted.
Add a tablespoon of half and half on top.
The result is a strong and creamy coffee drink that's not as heavy as a latte. You can modify it according to taste: add more espresso, chocolate shavings, or whatever sweetener you prefer.
---
12. Gingerbread Viennois
The final Nespresso recipe is another holiday favorite, but I won't judge if you drink it year-round.
You'll need honey, whipped cream, and coffee to get those striking layers in a glass. This is a delicious drink if you want noticeable coffee flavors.
Gingerbread Viennois recipe:
Add one teaspoon of honey or molasses into a mug.
Brew one Costa Rica pod if you have a Vertuo machine or Inspirazione Italiana if you have an Original machine.
Top with whipped cream and garnish with gingerbread crumbles.
---
13. Iced Chocolate Chip Cookie Latte
Coffee that fuses rich espresso with the comforting taste of chocolate chip cookies? Yes, please. This iced latte combines the familiar warmth of coffee with the sweetness of cookies. It's a perfect treat when you crave something sweet and don't want to go to the trouble of baking cookies.
Iced Chocolate Chip Cookie latte recipe:
Take out your shaker or a jar with a lid
Brew one Ice Leggero pod
Add 2 pumps of chocolate chip cookie dough syrup
Add ice and shake
Transfer to your mug
Add a splash of Brown Butter Choc Chip Cookie creamer
If you want to make the drink even more indulgent, drizzle some caramel sauce on top.
Best Nespresso Recipes: Final Thoughts
I hope I've given you some inspiration for coffee recipes to try with your Nespresso machine. Whichever of these you decide to try, don't forget to experiment. Use vanilla, dark chocolate syrup, maple syrup, chocolate shavings, oat, coconut milk, or whatever ingredients you prefer until you get a drink that hits just right.
If you need a recommendation on which Nespresso pods to try, we've got a round-up of the best Nespresso pods for a latte and Nespresso iced coffee pods.