So, you're debating between Nespresso Vertuo Next vs. Plus? Both machines look similar, but they have significant differences. The VertuoPlus has an automatic open for pods and a rotating water tank, while the VertuoNext can brew an 18 oz carafe coffee and has Wi-Fi connectivity.
My overall vote goes to the VertuoPlus because of the convenient tank and slightly better value. The VertuoNext is a good option if you want the 18 oz carafe option and the latest technology. However, some Nespresso aficionados had issues with the VertuoNext, which I'll address in this article.
I've bought and used both of these Nespresso machines, so I'll dive into Nespresso Next vs. Plus similarities and differences, so you can decide which Nespresso Vertuo machine is better for you.
Our Pick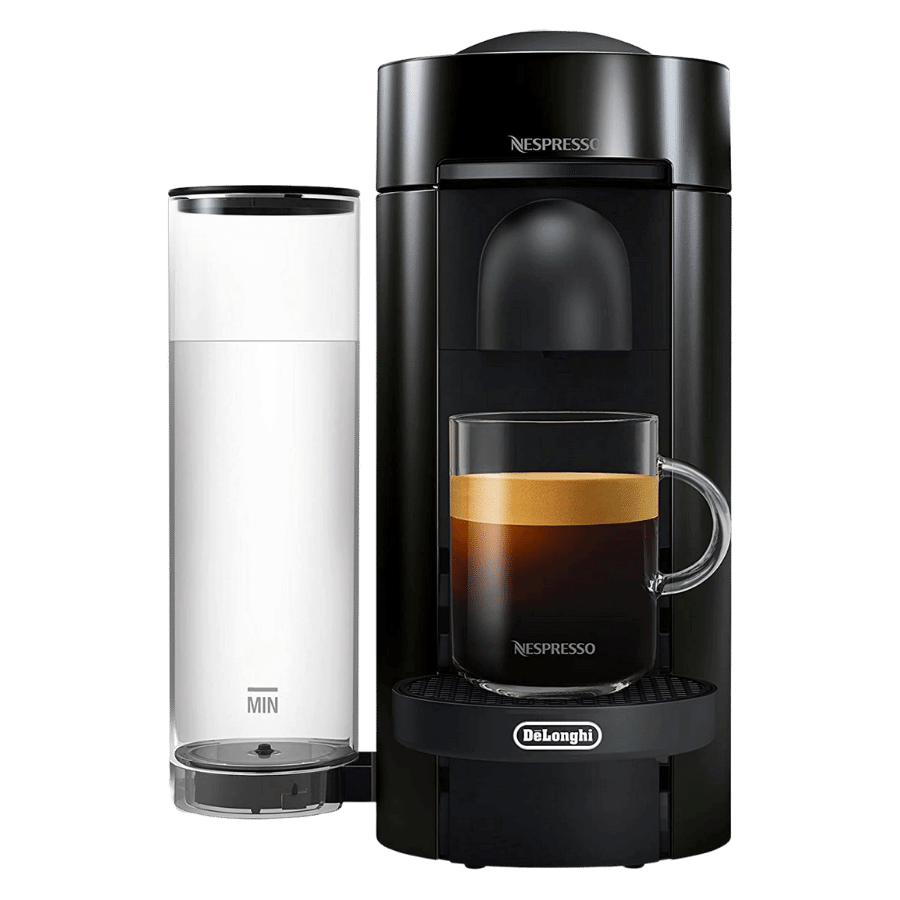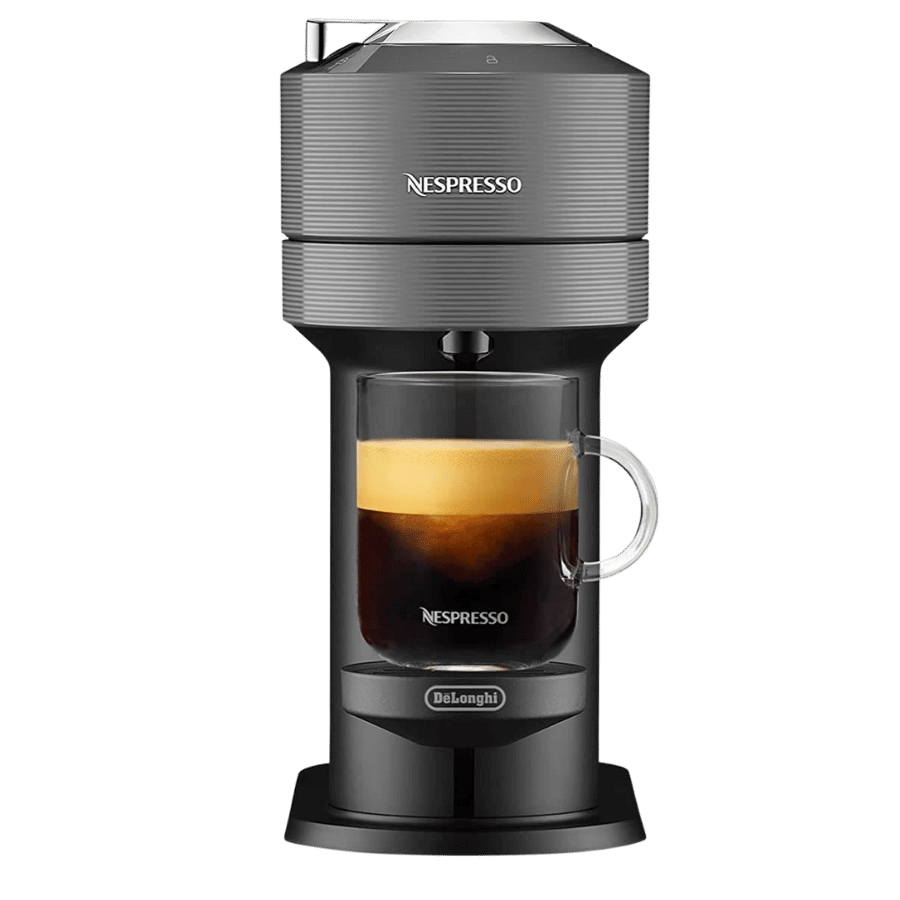 Product
Dimensions
Dimensions
16.9 x 5.6 x 12.8 inches
16.8 x 5.5 x 12.4 inches
Weight
Water Container
Water Container
40 oz
37 oz
Bluetooth and Wi-Fi
Bluetooth and Wi-Fi
No
Yes
Machine lid mechanism
Machine lid mechanism
Automatic
Semi-automatic
Capsule container capacity
Capsule container capacity
10
8
Nespresso Vertuo Next Vs Plus: Feature Breakdown
The most important features to compare are the different designs and programmability between the two machines.
Design And Build
The Vertuo Plus came out first in 2017, and Vertuo Next followed in 2020, so Next has a somewhat more modern design. Keep in mind, that there are design differences between DeLonghi and Breville machines for each model, where Breville has a rounded top on the VertuoPlus and different colors on the VertuoNext.
In general, Nespresso machines have a compact size that doesn't take up too much space, which is also the case with Vertuo Next and Plus. All the key components are located at the front, so it's easy to use, clean, and maintain the coffee maker.
That being said, Vertuo Next is a newer model, so it has a more modern design compared to Plus. Vertuo Next comes with a larger brewing chamber, which is wider at the top and slimmer below, but the water tank pays the price for this — it's 37 oz compared to 40 oz for the Plus. Vertuo Plus has a sleek shape and a round look, with the spout sticking out. Overall, Vertuo Next is more compact and will fit into tight spaces more easily.
Both Nespresso machines have a drip tray, but the one on Vertuo Plus is larger than the one on Vertuo Next. You can change the height of the drip tray or remove it to fit larger coffee mugs.
Aesthetic is always a matter of preference, but my impression is that Vertuo Next looks like one compact machine, while Vertuo Plus looks like a coffee machine with an add-on accessory due to the adjustable water tank platform.
Size, Weight, And Durability
Here's how these espresso machines compare in terms of size and weight: Vertuo Plus is wider than Vertuo Next. The height is the same (16.8 inches). Vertuo Next weighs 8.8 pounds, while Plus weighs 9.7 pounds.
Both coffee machines are made of plastic, which is to be expected considering the affordable price of Nespresso coffee machines. One difference is that Nespresso used 54% recycled plastic in manufacturing Vertuo Next, so it's a good option if you're concerned about the environmental impact.
Does The VertuoNext Have A Leak Issue?
I want to address one issue: there are many reports that the Vertuo Next leaks water. I've noticed this on social media including Facebook and Reddit. Even on Nespresso's own website there's a big discrepancy in user ratings: the VertuoPlus is rated 4.6 while VertuoNext is 3.0 (the lowest of the lineup). Lastly, there have been an oddly high number of used VertuoNext's for sale on my local apps.
To be clear, I didn't have issues with the VertuoNext build, and I think it's durable, but it's only been a few weeks. I want to point out the leak issue because it's come up enough that Craft Coffee Spot readers should be aware of before choosing.
For what it's worth, Nespresso customer service has helped deal with complaints and even replaced machines with leaks. Lastly, you can find a leak complaint on almost every coffee and espresso machine, so be aware that this can happen.
Lid Functionality
The opening system for the machine head is another large difference between the two machines, where the Plus is automatic while the Next is manual.
Vertuo Plus has a motorized lid to open the machine head. All you need to do is gently push up the lever, and the top opens up. You place the pod inside and then tap the lever down for the head to close. You'll hear it poke the pod and that's all you need.
Vertuo Next has a spring-loaded lid. You have to slide the clip to unlock it, and the top springs open. Then load the pod, push down the head, and slide the clip back to the lock position. I consider the Next process more of a manual system that requires non-trivial effort.
We're not talking about loading a portafilter style of process, but honestly, it's sort of close. You get the Nespresso for ease and the Next falls short here.
Water Reservoir And Capsule Containers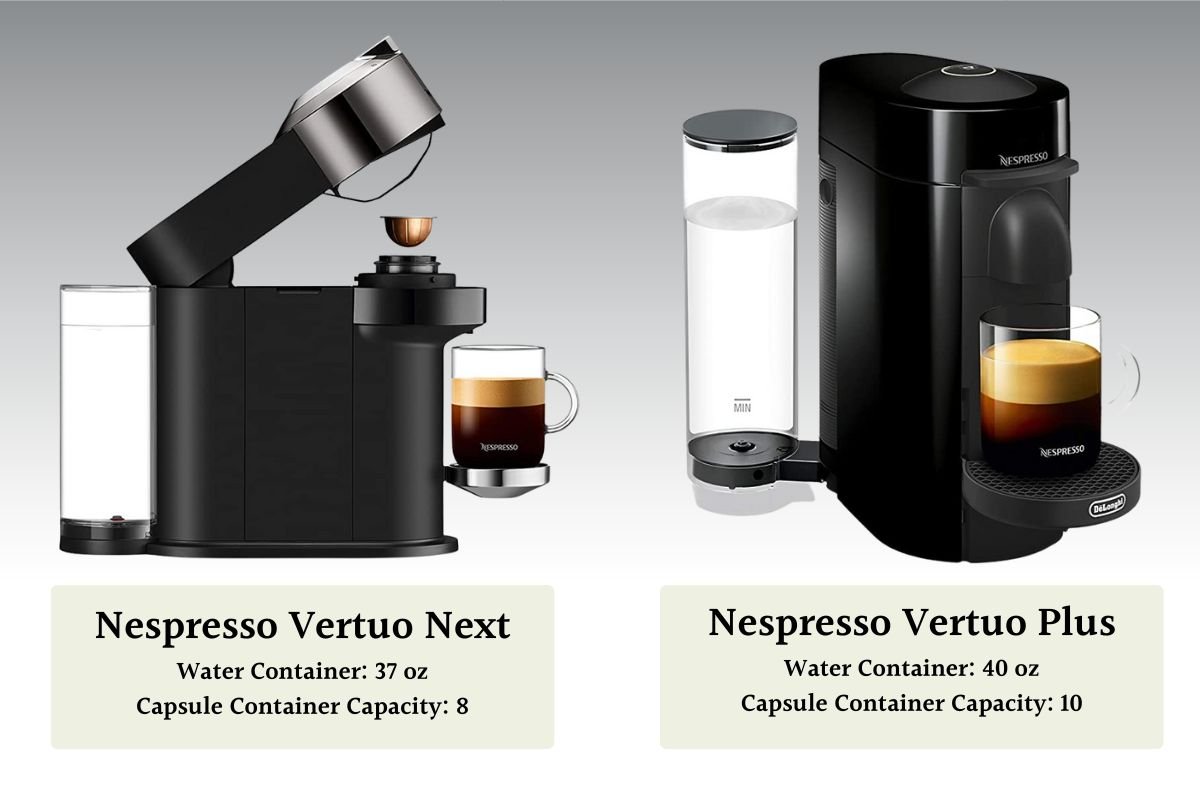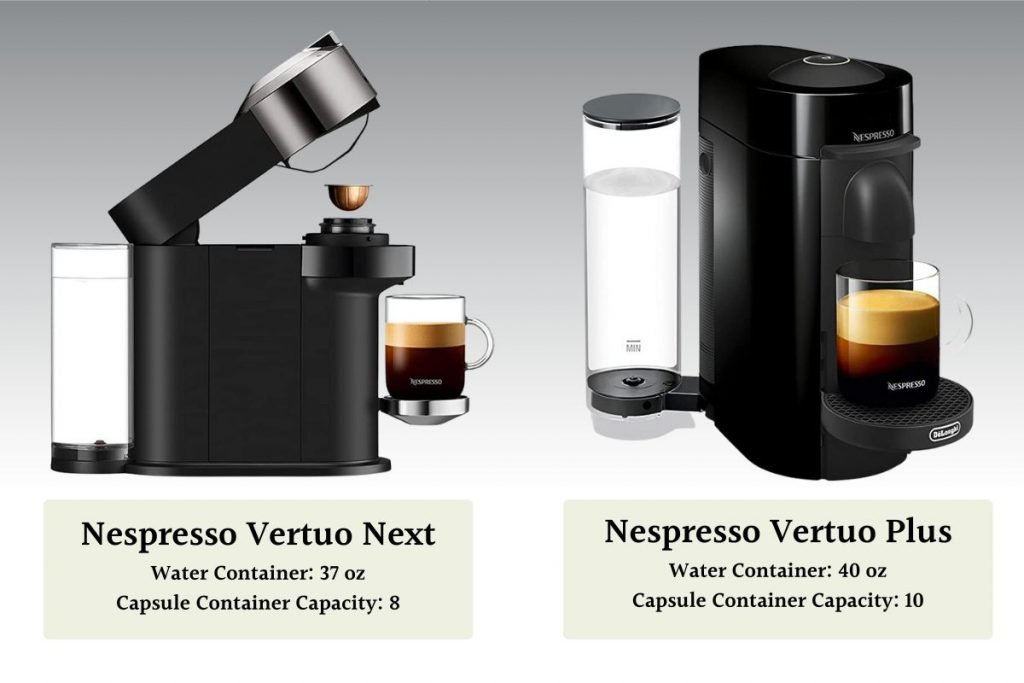 Vertuo Plus has a 40 oz adjustable water tank, which can rotate to the side or back of the machine. This design makes it easy to fill the take and fit on a narrow countertop. Keep in mind, that the water tank is 3.5 inches, so factor that space into the side or back of dimensions when considering the size.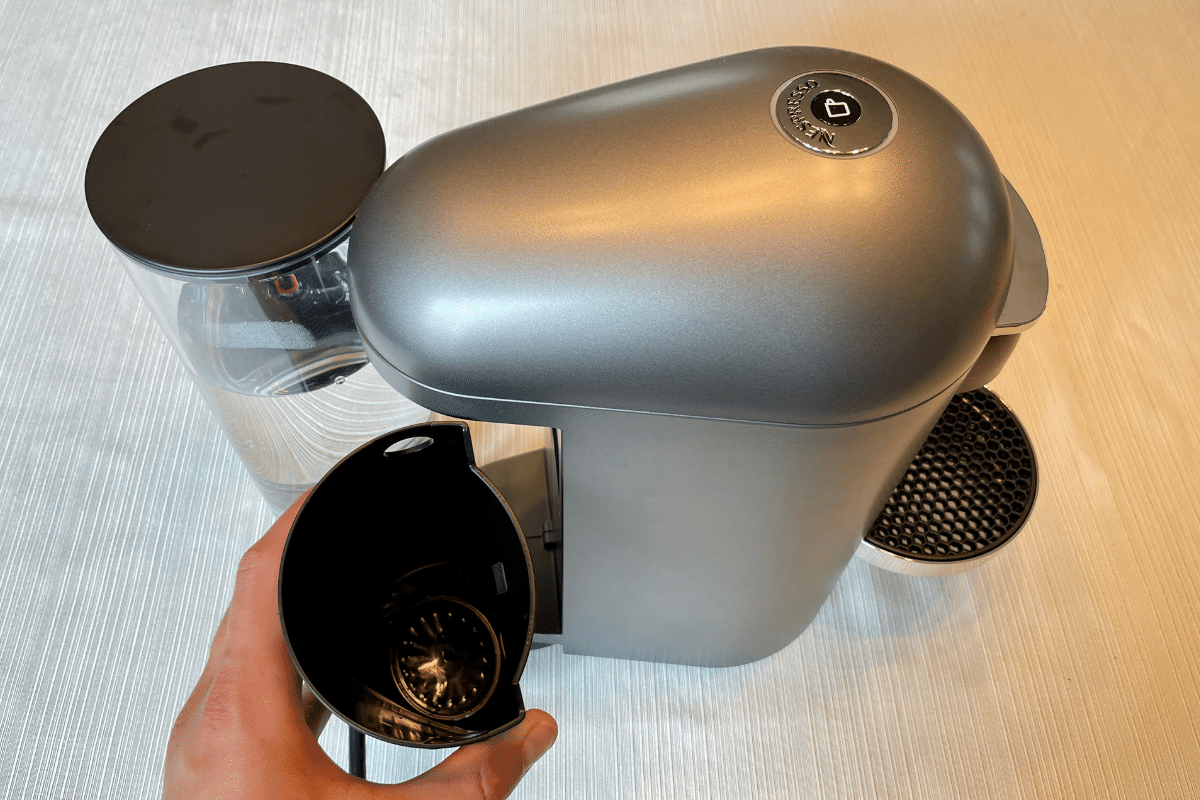 Vertuo Next doesn't have an adjustable water tank. It's placed in the back and smaller compared to Plus — 37 oz. The water reservoir is removable, which makes refilling easy.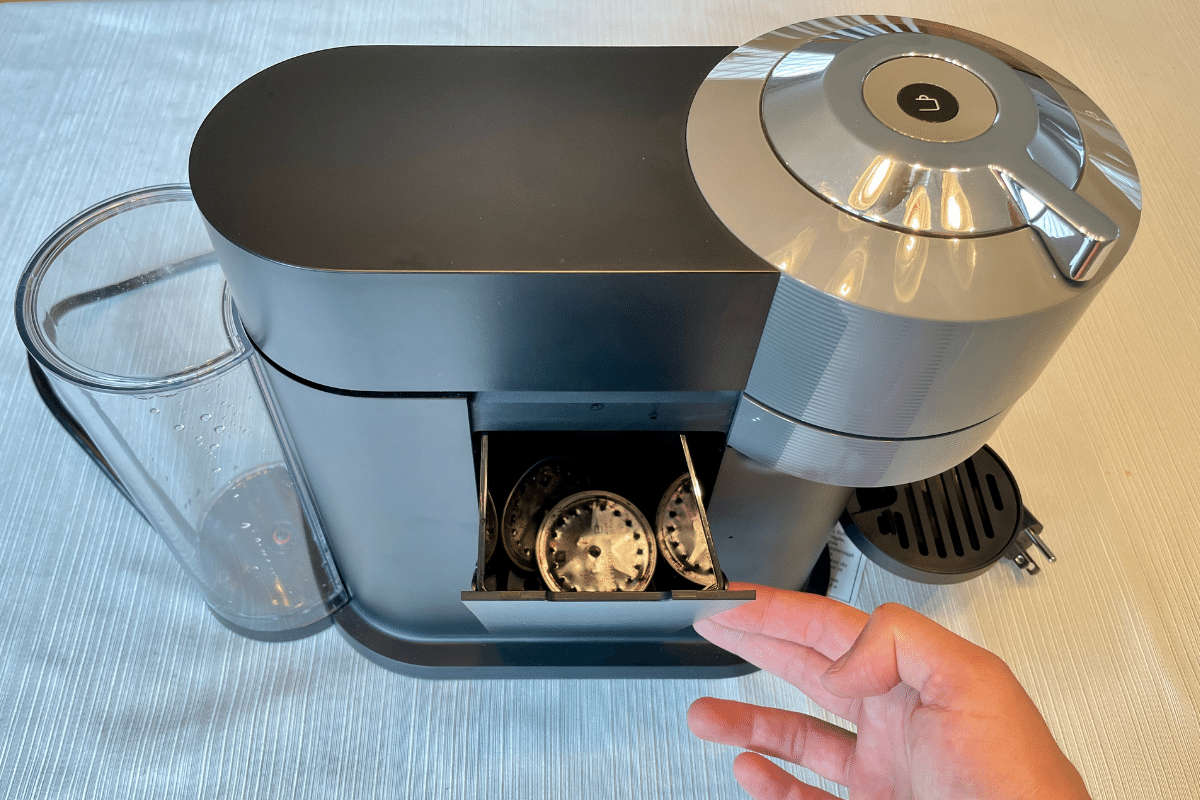 Both devices have an automatic capsule ejection system, where the lid "grabs" the capsule when you open it, and the capsule slides into the disposal bin. That means you don't need to take out the hot, used pod once the coffee maker is done brewing coffee. Used pods are automatically stored in the coffee machines' pod container. The automatic disposal is a nice feature on Vertuo models, especially if you use it several times per day.
The difference is Vertuo Plus has a larger container that can hold up to 10 capsules, while Vertuo Next can hold eight used pods.
Coffee Brewing And Taste
Nespresso Vertuo machines use centrifusion technology, which spins the capsules 7,000 times per minute to blend the coffee and hot water for a delicious end result.
When it comes to coffee brewing, both coffee machines can make a single cup of coffee in about 25 seconds from inserting the pod until the coffee maker starts brewing. Overall, you won't wait for more than a minute for your coffee to be ready. The Vertuo Next has a louder pump than the Plus. Running the Next was closer to flying on an airplane.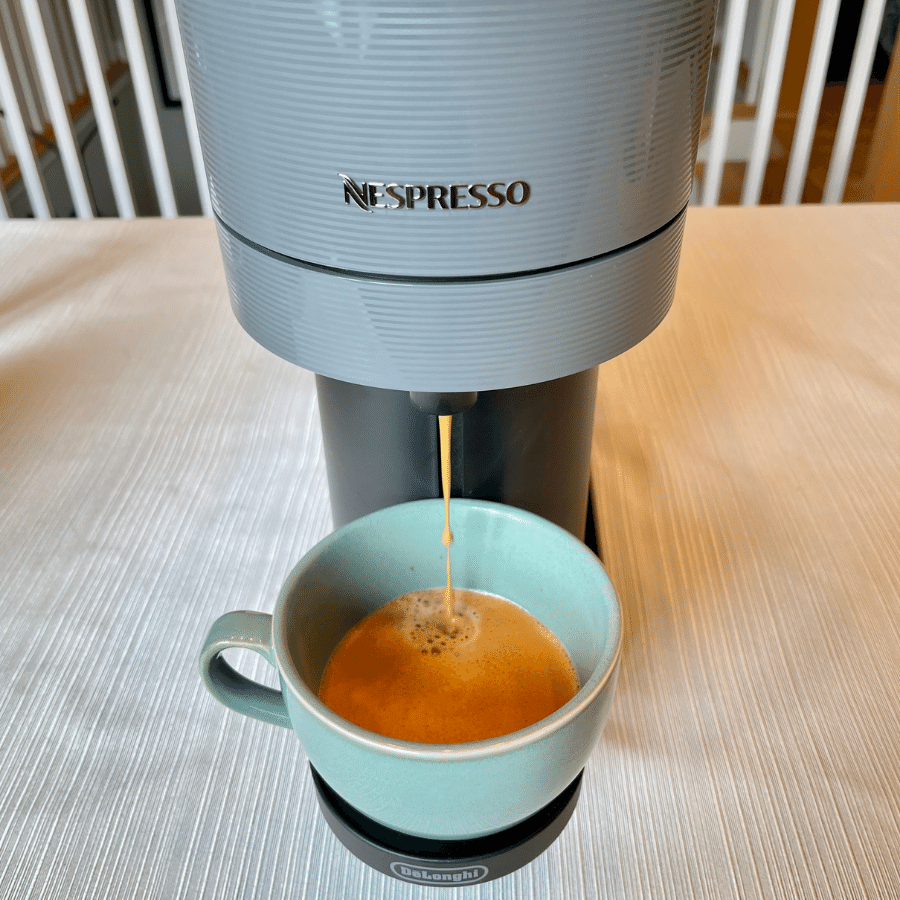 Nespresso Vertuo Plus and Next can brew:
Espresso
Double espresso
Gran Lungo
Coffee
However, there are also 18 oz pour-over carafe pods, which are exclusively compatible with Nespresso Vertuo Next.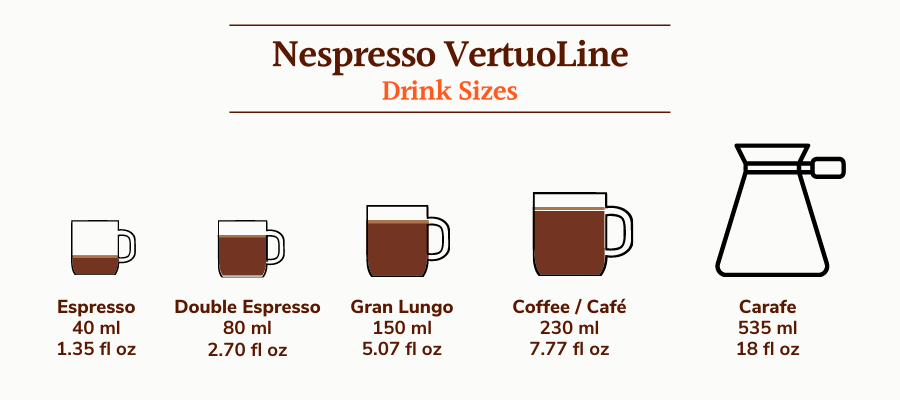 In terms of coffee taste, both Vertuo machines make perfectly blended coffee. But, my vote goes to Nespresso Vertuo Plus because it can make better crema. It's creamier and more consistent. Also, this machine makes hotter coffee compared to the Next.
Hypothetically, the taste should be near-identical because both machines use the same VertuoLine technology. However, I found Vertuo Next coffee has a more bitter flavor, while Vertuo Plus coffee tastes a little sweeter, especially if you make a milk drink. I noticed Nespresso Vertuo Next takes about 10 seconds longer to brew coffee compared to Nespresso Vertuo Plus, which could mean that Vertuo Next extracts more flavors. This results in a bitter drink with a bubblier, more aerated crema.
Note: You get a complimentary 12 capsule sleeve when you buy any Nespresso coffee machine, so you can try different aromatic profiles and find your favorite brew.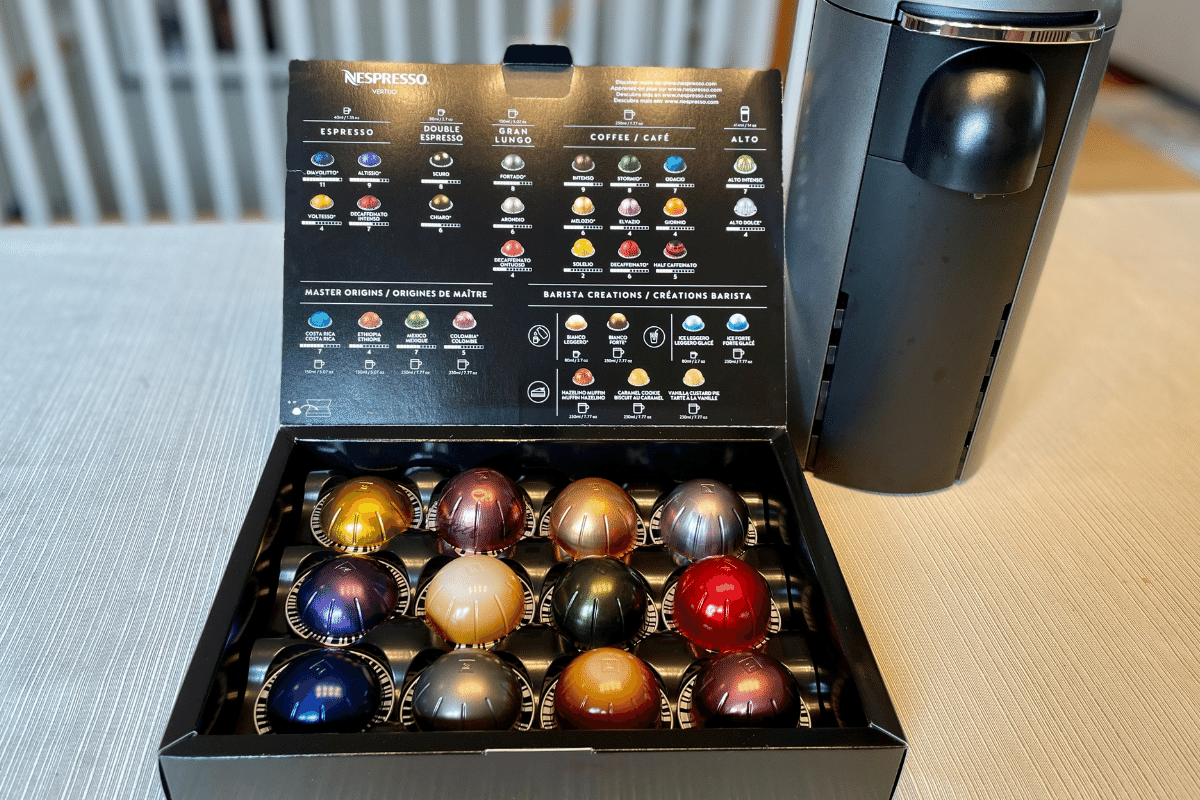 Ease Of Use And Programming
Nespresso Vertuo machines are extremely easy to use. These are single-button coffee machines, so all you have to do is insert the Nespresso Vertuo capsules, wait about 30 seconds for the machine to heat up, put the cup on the tray, and wait for it to fill up with coffee.
Both machines use Nespresso Vertuo capsules. These capsules have a bar code that each machine reads to deliver a specific flow, water volume, temperature, and infusion time. This ensures a consistent coffee drink every time.
Vertuo Next Wifi
Vertuo Next is Nespresso's first coffee machine that has Bluetooth and Wi-Fi. The extra connectivity allows the coffee maker to get firmware updates directly from your home network, including software-based features and fixes.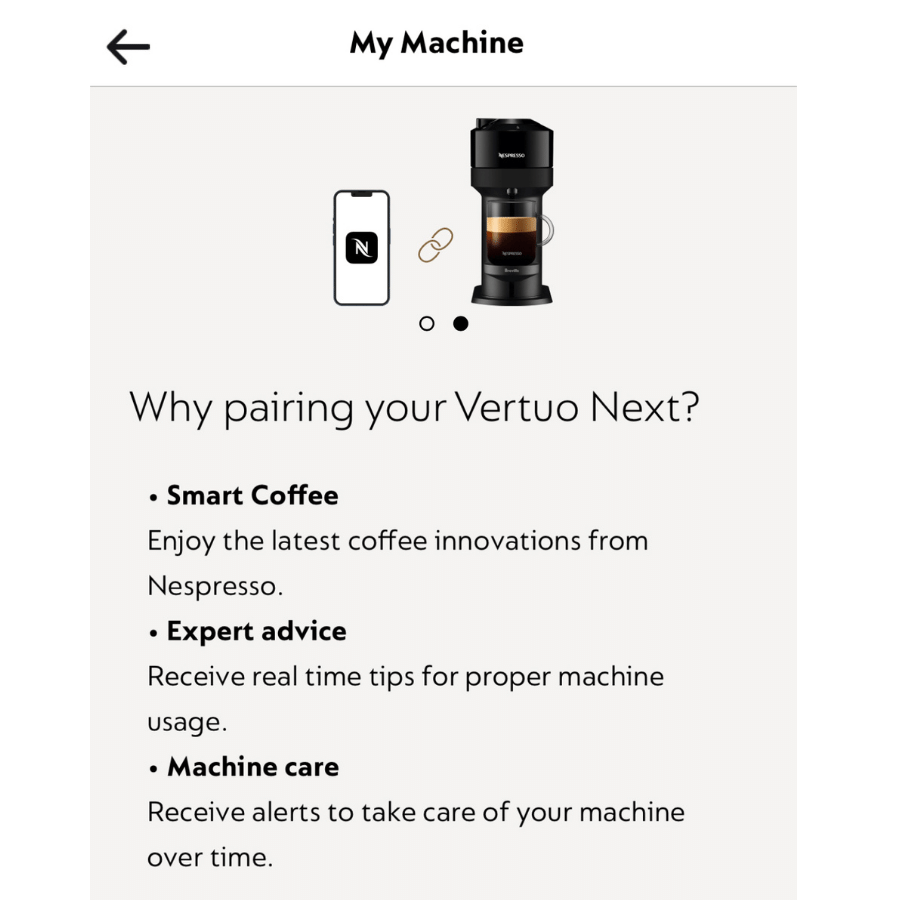 You have to download the Nespresso and create a login. Then, I connected my Next to the app. The process was really simple: click on top of the app (where it says "my machine"), then choose the "pair machine" on the next screen, and place your phone on the Next until it connects. The process took a minute or two.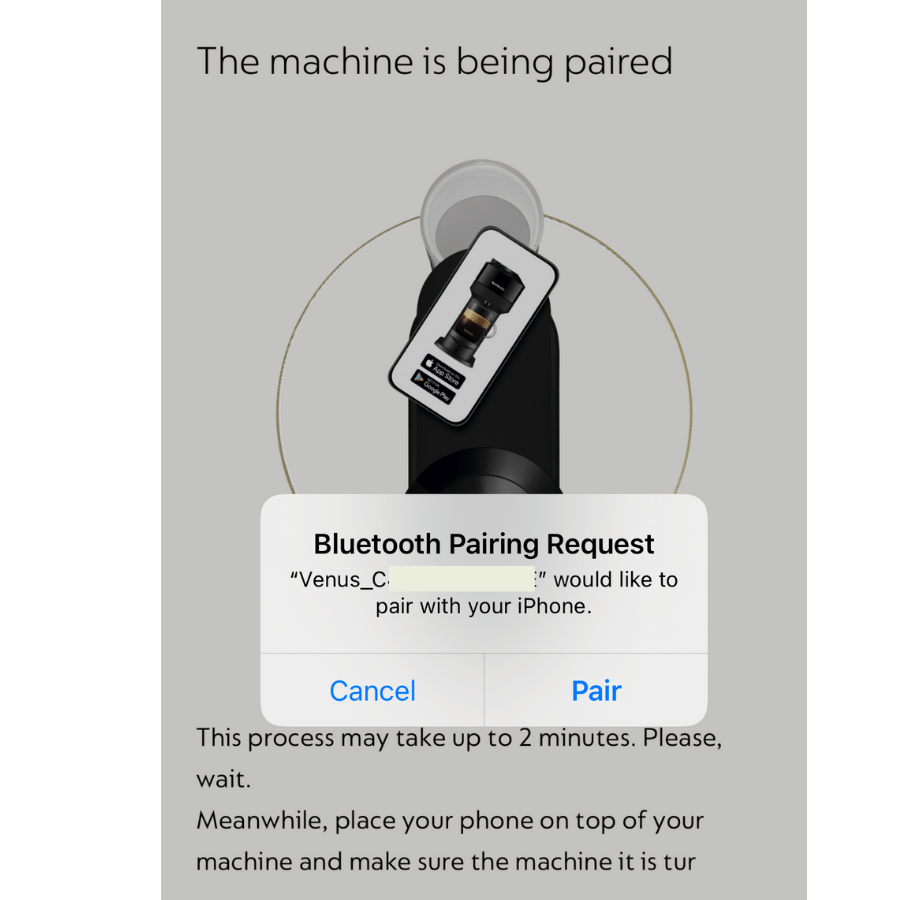 The problem is you really can't do anything with the Wifi connection on the Next. This is not a smart machine, so you can't push a button on it to make coffee (like the Jura models), and there isn't much firmware to upgrade as the sizes are pretty set (although it'd be totally worth it if Nespresso brought back a new Alto size!). The only thing I could do is set the water hardness size, which ostensibly modifies the brewing a bit.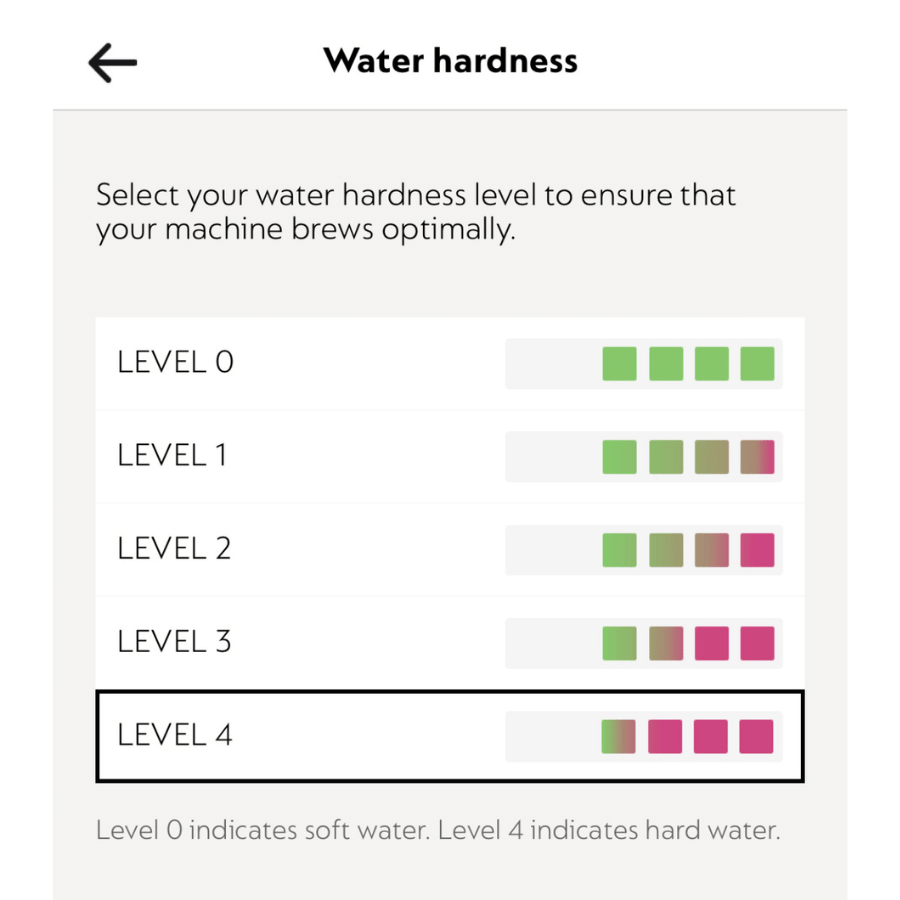 That said, the Nespresso app itself is pretty good. You can easily order new pods. Also, you can connect your Vertuo Plus by typing in the serial number. So the Wifi is mostly useless, but the app is fine.
Value
Nespresso Vertuo Next is Nespresso's slightly pricier option as it costs a little more than the Plus (as a general rule). Both devices have a very similar, almost equal performance. They both have similar brewing speeds and automatic capsule ejection.
However, Next's higher price tag is because this newer model includes features like Wi-Fi and Bluetooth.
However, Nespresso Vertuo Plus has an adjustable water tank and a larger water reservoir.
My vote for value winner goes to Vertuo Plus. I don't believe the Wi-Fi and Bluetooth connectivity that Next has is worth the higher price tag, considering it's pretty basic.
Of course, the final decision is up to you and what fits your needs and lifestyle best. You should check around for the latest price, as I found the Plus was cheaper than the Next on Nespresso's site but pricier on Breville's.
---
Recommendation and Who Is Each For
Overall, my vote goes to the Nespresso Vertuo Plus. It is the coffee maker if you want an extremely user-friendly coffee machine, as it has a motorized opening and closing system. It's also a good option if you're short on counter space, as it has an adjustable water reservoir and large storage for used capsules.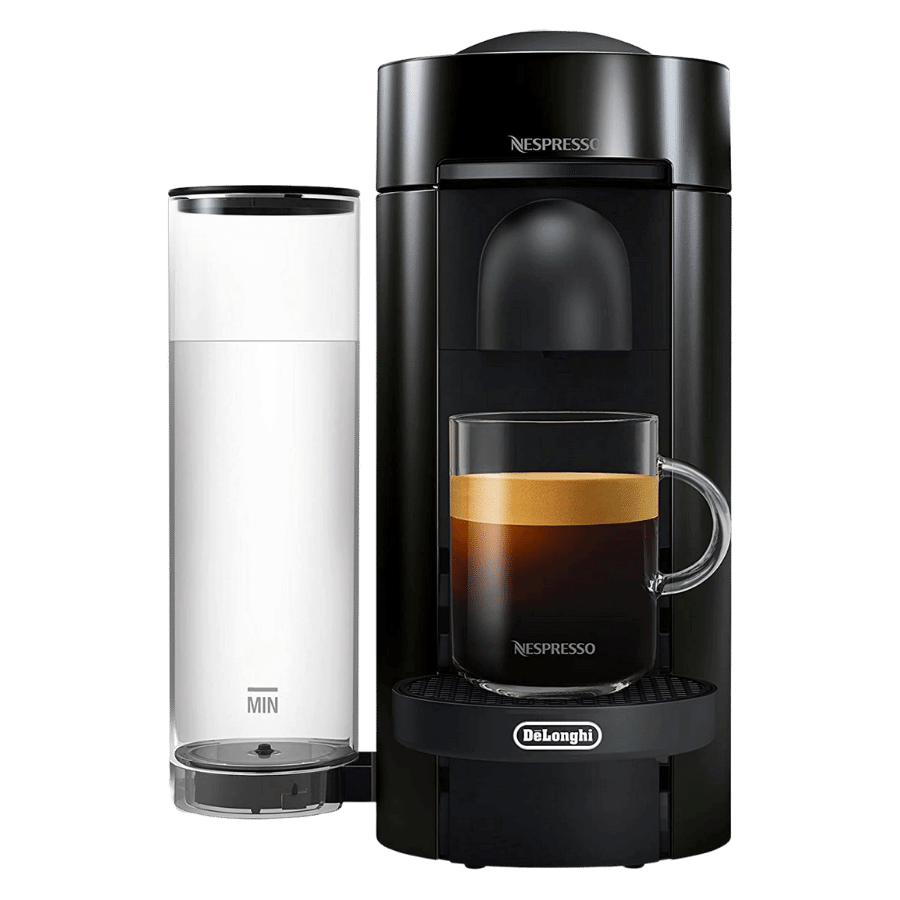 Nespresso Vertuo Plus highlights:
Motorized opening and closing system
Adjustable water reservoir
User friendly design
Nespresso Vertuo Next is the coffee maker for users who want a compact device with a modern and sleek design, Bluetooth and Wi-Fi connectivity, and an option to make 18 oz carafe coffee. However, be warned that the durability is questionable based on numerous reviews.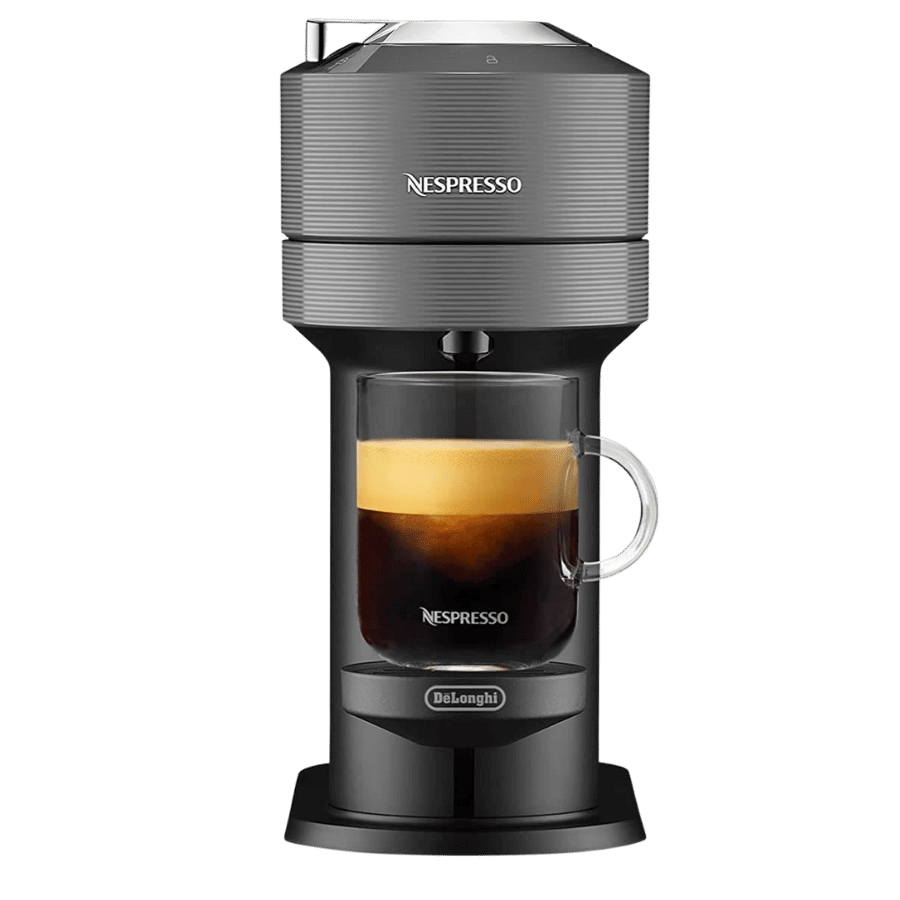 Nespresso Vertuo Next highlights:
Compact device with a modern and sleek design
Bluetooth and Wi-Fi connectivity
Option to make 18 oz coffee
Alternative: Comparing Nespresso Vertuo and Evoluo
Nespresso Vertuo is the basic Vertuo Line machine. It's also the fastest Nespresso Vertuo machine, as it heats up in just 15 seconds. It comes with a 40 oz water tank, but it doesn't swivel like the Vertuo Plus. Finally, the lid on the Vertuo is more difficult to open and close, as it has a lock that needs to be turned, like Nespresso Vertuo Next.
Nespresso Evoluo is bulkier compared to other Nespresso Vertuo models, but it houses a 54 oz water tank. It also has the largest container for used pods — it fits 17 used Nespresso capsules. This is the best choice if you brew several drinks a day and want to spend little time cleaning and refilling the machine.
Nespresso Evoluo highlights:
54 oz water tank
Fits 17 used Nespresso capsules
Fast heat-up time of only 15 seconds
Nespresso Vertuo Next vs. Plus: What's the Best Machine for You?
Both of these Nespresso Vertuo machines are good options for brewing coffee. Think about which one fits your needs best when making a decision. Go for Vertuo Next if you want smart technology and bitter coffee flavor. Go for Vertuo Plus if a swivel water tank and a sweeter and hotter coffee flavor are more important for you.
To get the most out of your Nespresso Vertuo device, check out our guide on how does a Nespresso machine work.