If you've got your heart set on a pod coffee machine, you're probably debating between Nespresso Vs Dolce Gusto.
Dolce Gusto machines are more affordable and can brew larger coffees and non-coffee beverages. Meanwhile, Nespresso makes some aromatic espressos that taste have the classic full-bodied espresso taste. Both are solid but the choice depends on what you want: cheaper and more drink options (Dolce Gusto) or excellent espresso coffee every time (Nespresso).
Here's everything you should know about the background of these brands, the pods they use, and the drinks they brew, so you can choose the one that suits your preferences best.
| | | |
| --- | --- | --- |
| | Nespresso | Dolce Gusto |
| Pods | OriginalLine and VertuoLine | Pods compatible with all devices |
| Drinks | Specializes in espresso | Brews many different coffee drinks, hot chocolate, and tea |
| Price | More expensive | More affordable |
| Models | Two lines: VertuoLine and OriginalLine | Several models available |
| Optional milk frother | Yes | No |
Nespresso Overview
Nespresso machines were invented by Nestle. Erik Faver, a Nestle employee, noticed that a popular coffee shop in Italy was making espresso with a thick layer of crema. He developed a machine that eases the process of making an espresso while still providing a flavorful result. Nestle patented the system in the mid-80s, and their machines took off in the 90s.
However, Nestle doesn't manufacture the machine themselves. They license the technology to third-party coffee manufacturers, such as Breville and DeLonghi.
There are two kinds of Nespresso machines: OriginalLine and VertuoLine. OriginalLine was the first one Nespresso came up with, and it only brews espresso. VertuoLine was invented to make larger coffee drinks that suit the taste of American consumers.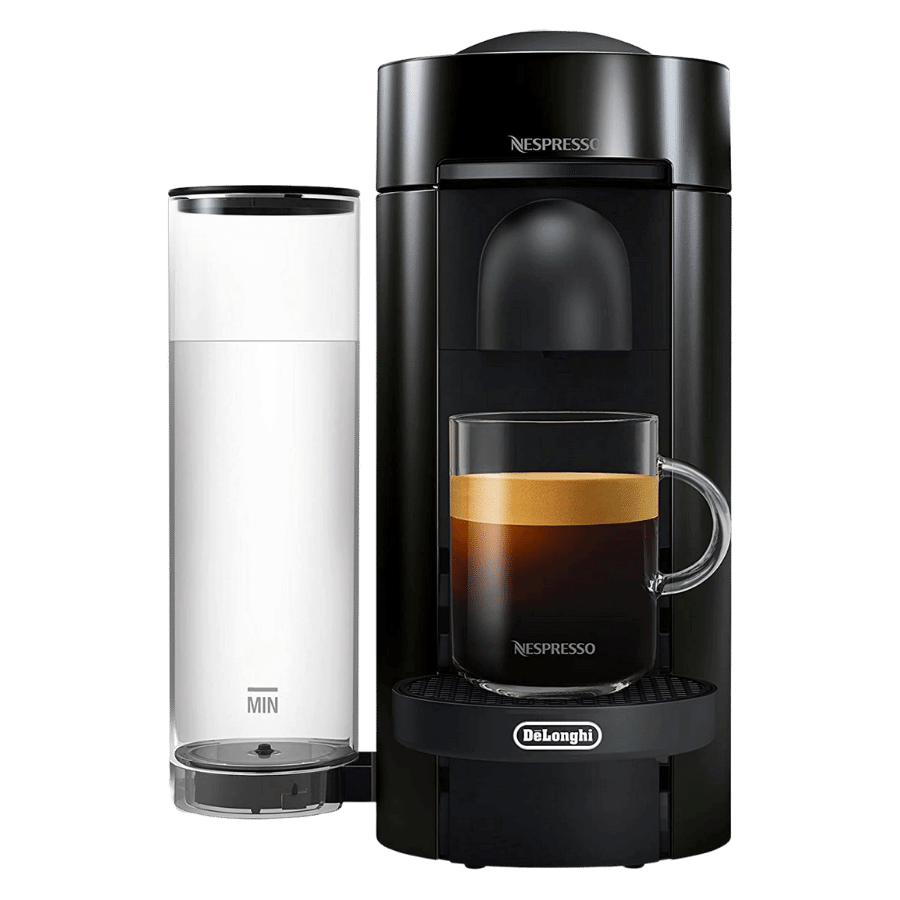 Nespresso has two kinds of machines: OriginalLine and VertuoLine. Each type of machine has different pods, which aren't interchangeable. Nespresso makes pods with coffee blends from Peru, Ethiopia, and other coffee-renowned locales, for flavorful espresso and the best texture.
Nespresso machines start at around $100 and go up depending on how many bells and whistles they have and if the milk frother is included. 
Pros
Uses high-quality coffee blends
Recyclable pods
Best suited for espresso enthusiasts
Cons
OriginalLine and VertuoLine pods aren't interchangeable
Pods are not as widely available as Dolce Gusto
Dolce Gusto Overview
Same as Nespresso, Dolce Gusto is also under Nestle. Also, Dolce Gusto coffee machines aren't manufactured by Nestle but by other well-regarded manufacturers, such as DeLonghi and Krups.
Dolce Gusto was first introduced in 2006 and became a hit because of its versatility. It brews espresso, a range of coffee, and even other beverages like hot chocolate and tea. Genio, the newest Dolce Gusto range, can brew XL size, which is cups up to ~10 oz (300 ml).
Dolce Gusto machines are among the most affordable pod machines on the market, and the pods are less expensive than Nespresso.
Dolce Gusto doesn't use fresh milk to make milk-based drinks but milk pods. Milk pods are paired with coffee pods to make different kinds of drinks (latte, cappuccino, macchiato, and more).
Pros
Affordable Dolce Gusto capsules and machines
Dolce Gusto machines have up to seven coffee sizes
Brews non-coffee drinks
A huge selection of pods
Cons
Espresso flavor is not as good as on Nespresso coffee machines
No special blends as Nespresso has
Main Differences Between Nespresso vs. Dolce Gusto
Coffee Taste
Taste is the deciding factor when choosing a coffee machine. However, it's also a subjective thing. So, will you get a more flavorful drink from a Dolce Gusto or a Nespresso coffee machine? It depends.
Overall, Nespresso is the winner in the espresso flavor stand-off, especially for the VertuoLine machines. Nespresso wins when it comes to barista-style coffees, i.e., espresso drinks. Their espresso is very close in flavor to the shots you get from a traditional espresso machine — a flavorful body and a rich crema.
Nespresso coffee machines have an optional frother attachment, the Aeroccino, so you always use fresh milk to make milk-based coffees. 
However, if you prefer more of a light roast taste, larger portions, or drinks other than coffee, you'll love Dolce Gusto coffee machines. They can make several drinks besides coffee (we can at least acknowledge those exist).
Dolce Gusto can make milk-based drinks using powdered milk. For example, you'll need one espresso capsule and one milk capsule to make a cappuccino. The milk capsule can contain sugar and other natural and artificial flavors. 
Overall, in terms of milk-based drinks, both coffee machines are pretty equal. However, Dolce Gusto espresso isn't quite as flavorful as Nespresso's.
Capsules Used
Both kinds of machines use the capsule system. Nespresso and Dolce Gusto coffee pods are manufactured by Nestle. Each kind of pod is compatible with the coffee machine of the same brand and isn't interchangeable.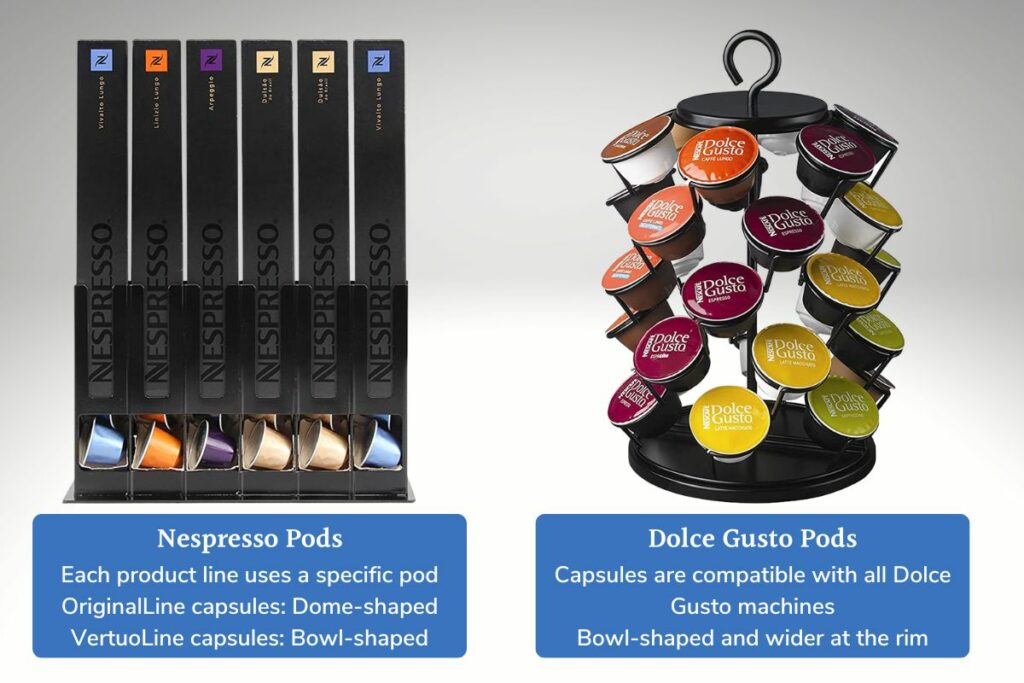 Nespresso Pods
Nespresso has two kinds of machines: OriginalLine and VertuoLine. Each product line uses a specific pod that can't be swapped between the two. This means you have to use dome-shaped OriginalLine capsules for the OriginalLine coffee machine. OriginalLine machines have two buttons, for espresso and lungo. You insert the pod, press the button, and the machine brews your coffee drink.
If you buy a VertuoLine coffee machine, you must use a bowl-shaped VertuoLine pod. VertuoLine pods have a barcode imprinted under the edge. You insert the pod, and the machine reads the barcode and automatically adjusts the brewing parameters. The pod spins 7,000 times a minute for the best extraction.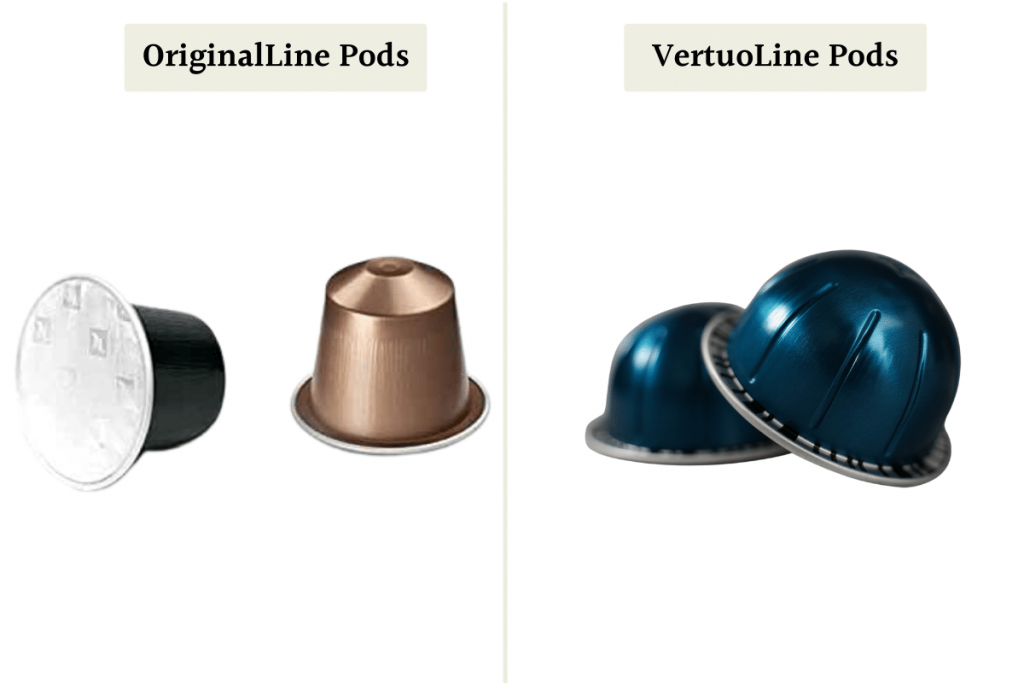 Nespresso capsules use premium freshly ground coffee. The pods often have gourmet coffee blends, which ensure a robust aroma. These usually come in "sleeves" of 10 pods. The pods are either reusable stainless steel or BPA-free, sustainable pods.
Nespresso pods are somewhat more difficult to come by compared to Dolce Gusto. They are sold in Nespresso boutiques or can be ordered online. They are also more expensive compared to Dolce Gusto capsules.
Nespresso OriginalLine pods are also manufactured by third-party brands, such as Starbucks, which means there are more options and a lower cost. Meanwhile, VertuoLine pods are only made by Nespresso.
Dolce Gusto Pods
Dolce Gusto pods are bowl-shaped and wider at the rim compared to Nespresso capsules. All Dolce Gusto capsules are compatible with all Dolce Gusto machines. You use one pod to brew espresso and two pods to brew milk-based drinks (a coffee pod plus a milk pod), such as macchiato, cappuccino, and a latte.
The pods contain finely ground compressed coffee. You insert the pod into the coffee machine and choose one of the seven coffee sizes. Once the Dolce Gusto coffee machine heats up, the water turns into steam and brews through the pod into the cup.
Dolce Gusto also has capsules for other drinks, such as hot chocolate, tea, iced coffee, and iced tea. There's a huge range of Dolce Gusto capsules made by third-party manufacturers, such as Starbucks, Barcaffe, Costa Coffee, Lipton (tea capsules), and more.
These capsules are less expensive compared to Nespresso. They come in boxes of 8, 12, 16, and 32 pods and are widely available in supermarkets and online.
Drink Options
Nespresso
As I talked about above, Nespresso has Original and Vertuo ranges. OriginalLine Nespresso machine is all about espresso — it brews espresso and lungo.
The capsules in the OriginalLine range can brew these sizes:
Ristretto: 0.85 oz
Espresso: 1.35 oz
Lungo: 3.7 oz
Gran Lungo: 5 oz
Note: some OriginalLine machines (Essenza Mini, Pixie, Citiz, and Inissia) only make the espresso and lungo options.
You can drink the espresso on its own or add foamed milk. You can also choose your drink based on the coffee origin (Colombia, Peru, Ethiopia, etc.), go decaf, or opt for flavored drinks, such as caramel, chocolate, and more.
VertuoLine machines make larger coffees and different cup sizes, including:
Espresso: 1.35 oz
Double Espresso: 2.7 oz
Gran Lungo: 5 oz
Coffee: 8 oz
Carafe: 18 oz
Same as with the Original Nespresso pod, you can choose the pod based on country or flavor. If you have a frother, you can make any kind of coffee drink, including flavored ones if you buy syrups. However, you won't get iced coffee, hot chocolates, or teas with any Nespresso machine.
Dolce Gusto
Dolce Gusto can brew a huge variety of drinks, such as:
Espresso
Black coffee
Americano
Cappuccino
Latte
Macchiato
Flat white
Hot chocolate
Tea
Iced coffee
Iced tea
Flavored coffee
You can brew more flavorful coffee drinks with a Dolce Gusto coffee machine. Some of the most popular options include caramel, hazelnut, coconut, almond, and others. You can also brew different cup sizes, as the machines have seven options available, plus XL on the Genio range.
You can choose Dolce Gusto drink based on the coffee origin, type of drink, or manufacturer.
Dolce Gusto has a much larger selection of milk-based drinks compared to Nespresso — you can even choose between a regular and skinny cappuccino. Finally, you can also brew iced drinks, hot chocolates, and several different tea blends.
Milk Frothing
You need a milk frother to create nice textured milk for specialty drinks. If the Nespresso coffee machine doesn't come with a frother, you can buy it separately. The frother doesn't necessarily have to be the same brand as the coffee machine.
Milk frothing is one of the crucial differences between Nespresso and Dolce Gusto.
Nespresso
Most Nespresso models don't have a built-in milk frother for steaming milk. Only a few OriginalLine have a milk frothing device while none of the VertuoLine devices do.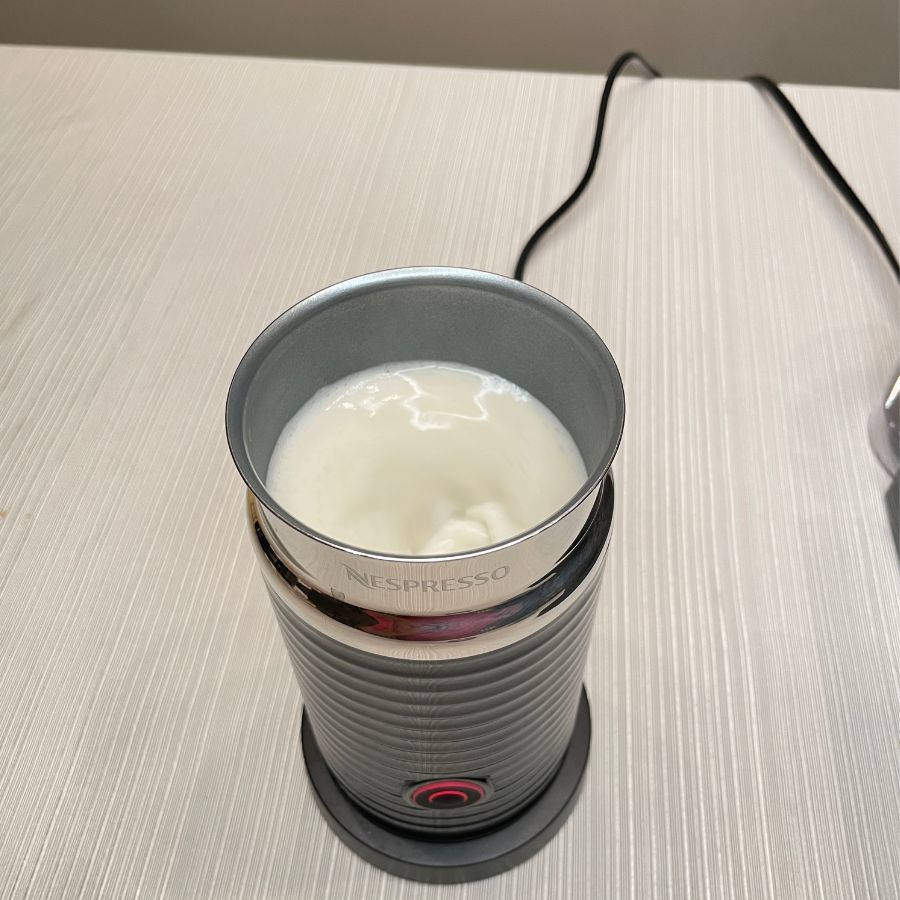 However, Nespresso came up with the Aeroccino brand, which is Nespresso's device for preparing frothed milk. You pour fresh milk into the Aeroccino, press a button, and the device automatically froths milk for your lattes and cappuccinos. I use the Aeroccino most days and like it. It produces nicely textured milk and is really a one-button device. My only complaint is the milk comes out quite hot.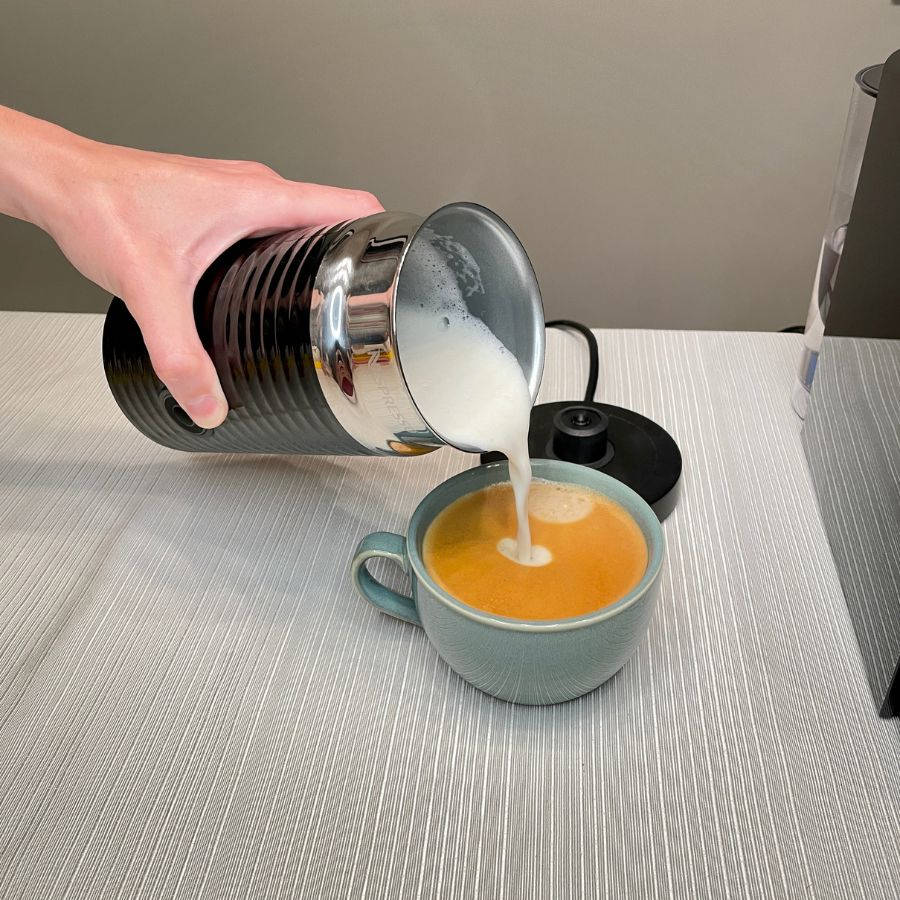 Aeroccino comes built-in with some Nespresso models, or you can buy it separately.
Dolce Gusto
Dolce Gusto doesn't have an optional or built-in milk frothing attachment. Instead, the milk frothing is done by using milk capsules. In case you want a flat white, a latte, or any other milk drink, you use an appropriate capsule.
To make a milk-based coffee drink, you brew a coffee pod, remove it from the Dolce Gusto machine, and then insert and brew the milk capsule straight into the coffee mug.
I admit I was skeptical when I first heard about it, but the powdered milk capsule works well. I used them with my Genio S Dolce Gusto machine, and the drink always had a nice layer of foam on top to which I could add different syrups.
Price
Dolce Gusto is a clear price winner. Both the machines and pods are more affordable compared to Nespresso.
Individual VertuoLine pods are priced from $1.10 to $2 on the Nespresso website, while a pack of 40 capsules is priced at $40+. OriginalLine pods are more affordable. Most of them are sold for $0.75, and they go up to $1.20. A sleeve of 50 pods of priced at less than $40 for some capsules. Dolce Gusto pods are sold in boxes and aren't available individually.
A new Nespresso machine is also more expensive than a Dolce Gusto machine. For example, Dolce Gusto machines start at $50, while Nespresso starts at around $150.
Recommendation: Who Should Choose Each Type Of Pod Machine?
Nespresso
If you're a coffee connoisseur who wants a flavorful espresso and high-quality coffee, go for a Nespresso coffee machine. Nespresso is also a good choice for you if you aren't on a strict budget, mostly drink espresso, and don't mind investing in a separate milk frother.
Dolce Gusto
Dolce Gusto is a better choice if you don't particularly care about gourmet coffee and want to drink flavorful espresso-based drinks. This is a better option if drink variety is your primary requirement and you're on a tight budget. It's also a good option if you don't want to deal with milk frothing or having to get a separate frother.
Nespresso Vs Dolce Gusto: Final Thoughts
Nestle stands behind both Nespresso and Dolce Gusto, but these two coffee machine ranges and pods are very different. The coffee makers use different technologies, brew different kinds of drinks, and are priced differently. Choose Nespresso if you're a big espresso lover, or go for Dolce Gusto if drink variety is your primary concern.
If you want to learn more about Nespresso machines, we've got you covered. We've reviewed the most popular devices from both Original and Vertuo ranges. Check out Vertuo vs. Next comparison and OriginalLine Nespresso Inissia vs. Citiz.