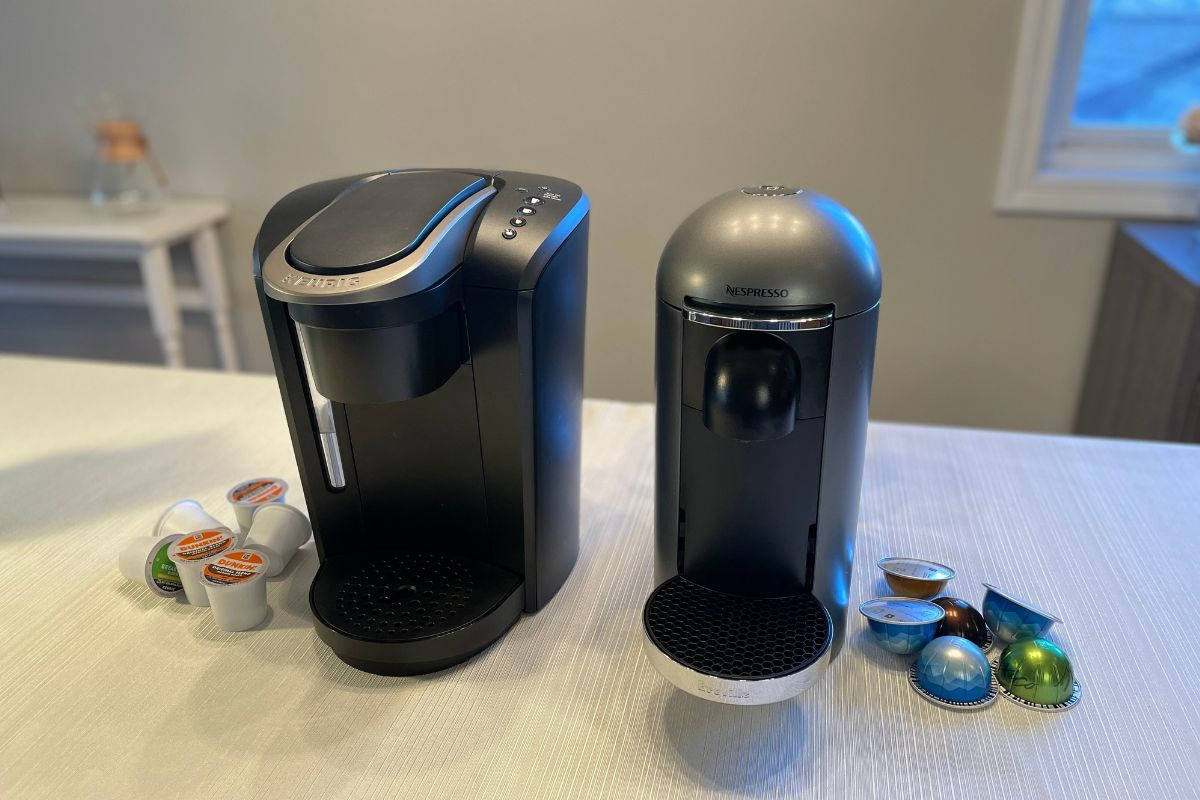 One-third of households use a single-serve coffee machine, and the two most popular brands are Nespresso and Keurig. Both use pods to brew coffee, but there are major differences between the two. You should choose carefully because the pods aren't interchangeable, and you'll be stuck with whatever you choose.
I'll announce our favorite straight away: We prefer Nespresso at Craft Coffee Spot because it makes richer and more flavorful coffee. It's also better for the environment. However, Keurig can make bigger drink sizes and has more affordable pods, which is a significant ongoing investment, as pods are a must-have for single-serve coffee makers.
I'll give you an in-depth Keurig vs. Nespresso comparison after testing the Keurig K-Select against a Nespresso Vertuo Plus. I'll include details on coffee taste, drink options, recycling, and more, so you can decide what's the best brand for you.
Nespresso Overview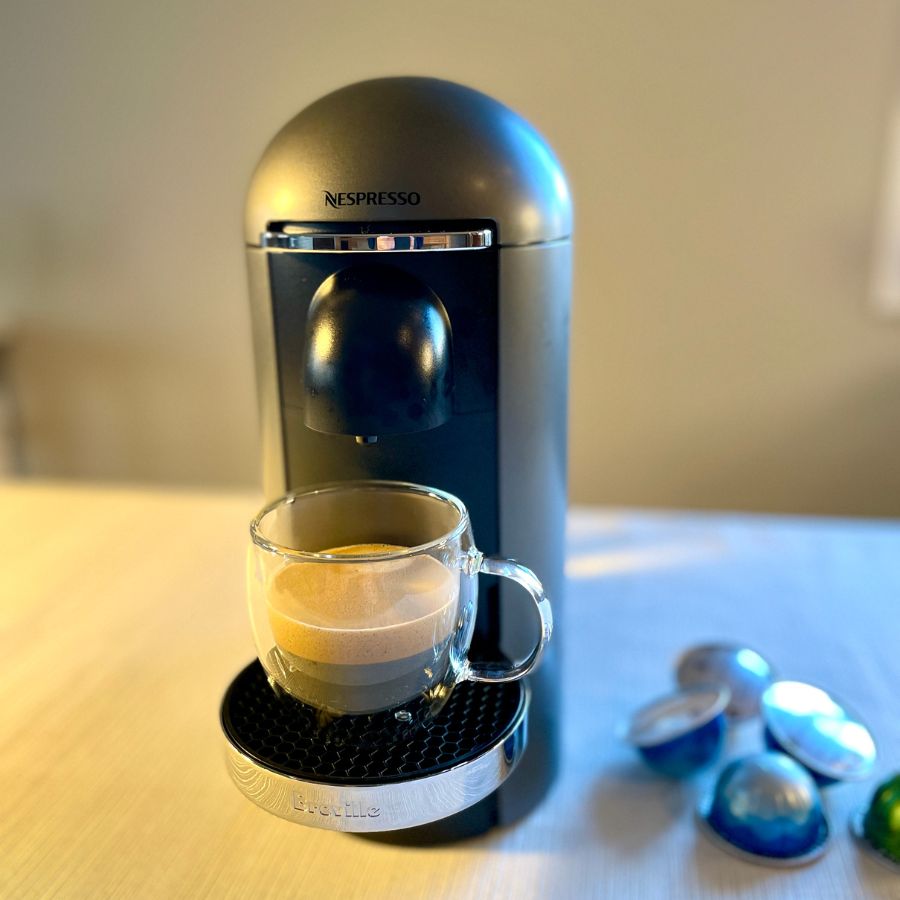 Nespresso machines are manufactured by Nestle (the company behind Kit Kat bars). Their coffee machines are divided into two lines:
OriginalLine — Only makes espresso drinks. Uses OriginalLine pods and works using a pressure-based system, like a traditional espresso machine.
VertuoLine — Brews espresso and larger coffee drinks. Uses Vertuo pods which have a barcode printed on the edge. The machine scans the barcode and automatically adjusts the brewing parameters.
Some Nespresso machines come with a built-in frother for making milk-based drinks, but the vast majority don't have this feature. However, you can always get an Aeroccino (a Nespresso milk frother) as a separate attachment.
Each Nespresso machine has a capsule container, an automatic shut-off feature, a fast heat-up time (about 20 seconds), and a removable drip tray and water tank.
Many Nespresso machines are manufactured by Breville and DeLonghi. These machines use the patented Nespresso technology, but there are differences in design based on who the manufacturer is. Most importantly, you'll have the same drink quality regardless of the manufacturer.
Pros
Makes rich espresso with crema
Excellent pod recycling program
Cons
Vertuo and OriginalLine pods aren't interchangeable
Vertuo machines aren't compatible with third-party coffee pods
Pricier pods
Keurig Overview
Keurig is the dominant maker of single-serve coffee machines in the US, with over 80 models in the last decade. It's a part of Keurig Dr. Pepper Company, one of the largest beverage companies in North America.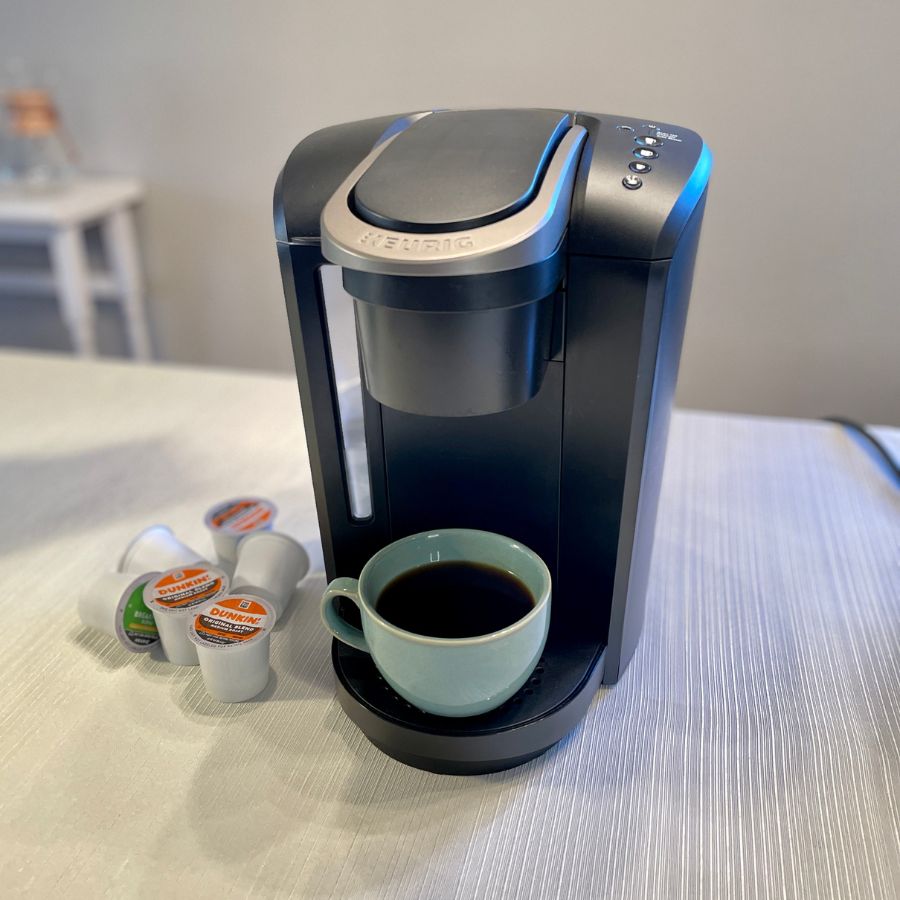 Keurig uses K-cups, which is Keurig's version of coffee pods. Unlike Nespresso, Keurig partners with more brands to make compatible K-pods. There are over 60 brands of different K-cups and over 400 different pods to choose from. This means whatever your coffee preferences, Keurig can satisfy them.
The biggest difference between Keurig and Nespresso is in the drinks they make — where Nespresso focuses mostly on espresso, Keurig brews regular coffee, with recent additions of tea, hot chocolate, and cappuccino. There's also K-Duo which has a 60 oz water reservoir and a traditional carafe to brew a pot of 12 cups along with single-serve pods.
Each Keurig device has an automatic shut-off time, a removable drip tray, and heats in under 60 seconds.
Pros
Affordable
Wide coffee selection across many brands
Makes regular coffee, tea, and hot chocolate
Cons
Weak coffee compared to Nespresso
Doesn't make espresso
Most machines don't have a milk steamer
Difficult recycling process
Main Differences Between Nespresso vs. Keurig
Coffee Taste
Nespresso and Keurig use similar brewing technology in the sense they both use pods. However, the pod design and brewing technology are different, which leads to two distinct flavor profiles. Nespresso's process gets more extraction for a full-flavored coffee.
Nespresso has two brewing processes. The OriginalLine uses a traditional pressure-based system. This process is similar to regular espresso brewing with a 19-bar pressure pump. Meanwhile, VertuoLine uses centrifusion, where the machine spins the pod 7,000 times per minute. The contact of ground coffee and hot water is longer during centrifusion. The result is foamy crema, which enhances the drink's aroma.
For both brewing processes, Nespresso penetrates the pods in the center and around the edges, injects the water, and presses out the coffee from 20 openings on the edges. There's minimal filtering, which leads to more coffee oils coming out in the coffee.
Overall, the flavor of Nespresso is rich, strong, and concentrated, and Nespresso machines make more intense drinks that resemble what you get from a home-grade espresso device.
Keurig machines use pressure-based systems too. Keurig machines punch two holes in the top and the bottom of the pod, and the pressure squeezes out the coffee.
The big difference is the K-cups have a paper filter inside that strains out many of the fines along with the coffee oils. This makes weaker coffee in terms of flavor, and Keurig coffee has a lighter mouthfeel. Espresso fans usually describe Keurig coffee as watery and weak, and Keurig coffee maker doesn't produce crema like Nespresso.
There are other smaller differences that matter too. Nespresso uses a higher coffee-to-water ratio and finer grind size than Keurig, both of which enhance the richness of Nespresso.
However, if you're used to drinking from an old-fashioned coffee pot, you'll probably like what Keurig machine makes. If anything, I'd argue it's a step up from traditional drip coffee machines.
Also, Keurig has more flavor options, including flavored coffee, hazelnut, vanilla, coconut, chocolate, and more.
Drink Options and Coffee Sizes
Keurig has a wider range of drink options. Some drinks you can make with Keurig include regular drip coffee, hot chocolate, tea, lemonade, and fruity drinks. Many Keurig models have presets of 8 oz and 10 oz, but some, such as the K-Select I tested, brew 6 oz, 8 oz, 10 oz, and 12 oz.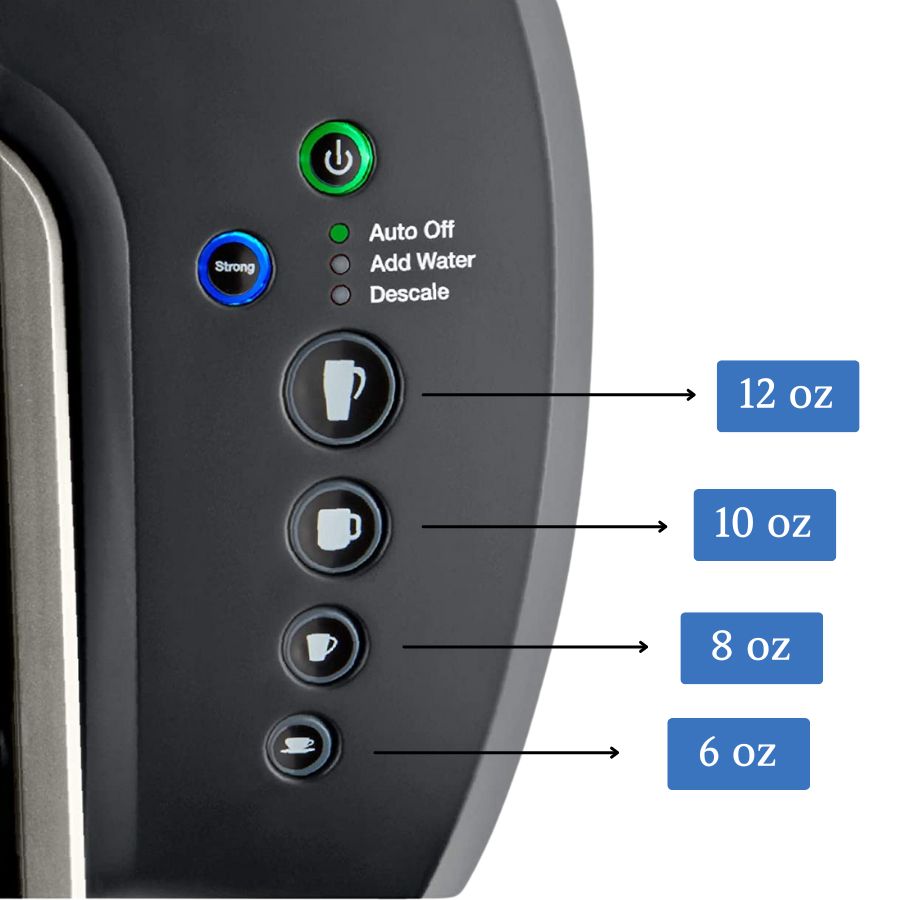 However, one drink Keurig can't make is espresso. The brand tried to break into espresso. However, they have since discontinued the production of the espresso Keurig model and K-cups.
On the other hand, Nespresso brews coffee, espresso, ristretto, lungo, and cappuccino (in the models with milk frother). The Nespresso sizes go from 1.35 oz to 7.77 oz. It's disappointing Nespresso doesn't go over the standard cup, let alone the 12 oz that I consider to be the minimum size to wake up in the morning. The Vertuo Next has a 16 oz carafe size, which is really unique.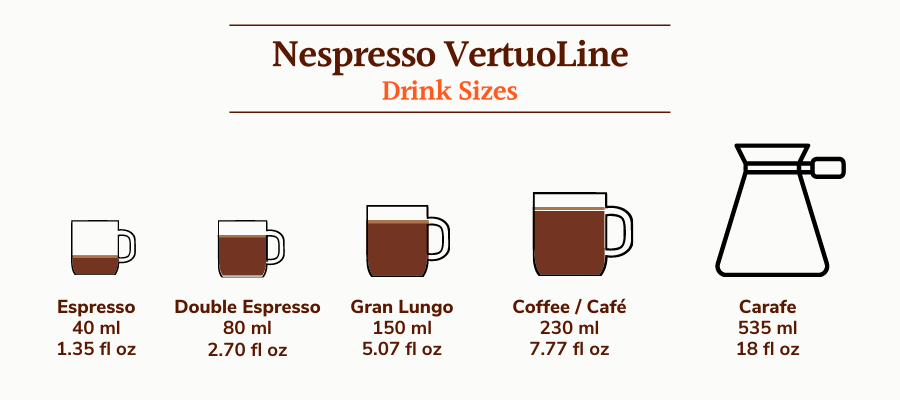 They used to have a 14 oz Alto pod, but it was discontinued (why remains a mystery to me).
Nespresso does not have tea and hot chocolate options. Meanwhile, Keurig machines have a hot water dispenser, so you can even make tea without pods.
The majority of Nespresso and Keurig machines come without milk frothers. Nespresso has a few devices (Creatista and Lattissima) with built-in frothers, or you can get an Aeroccino as a separate attachment to make milk-based drinks. Keurig has a K Cafe brewer with a built-in milk frother, but you'll need a separate milk frother with other Keurig devices.
Overall, if you want to brew large cup sizes, get the Keurig, which goes up to 12 oz coffee. If you like smaller sizes and espresso drinks, go with Nespresso.
Capsule Options and Coffee Varieties
Keurig is the clear winner here, with far more variety of coffee pods and options. I mentioned there are over 400 types of K-cups made by 60 brands worldwide, so you have a huge choice of capsules. Some brands include Dunkin' Donuts, Green Mountain, Starbucks, Folgers, and others. You can make everything from tea and lemonade to coffee.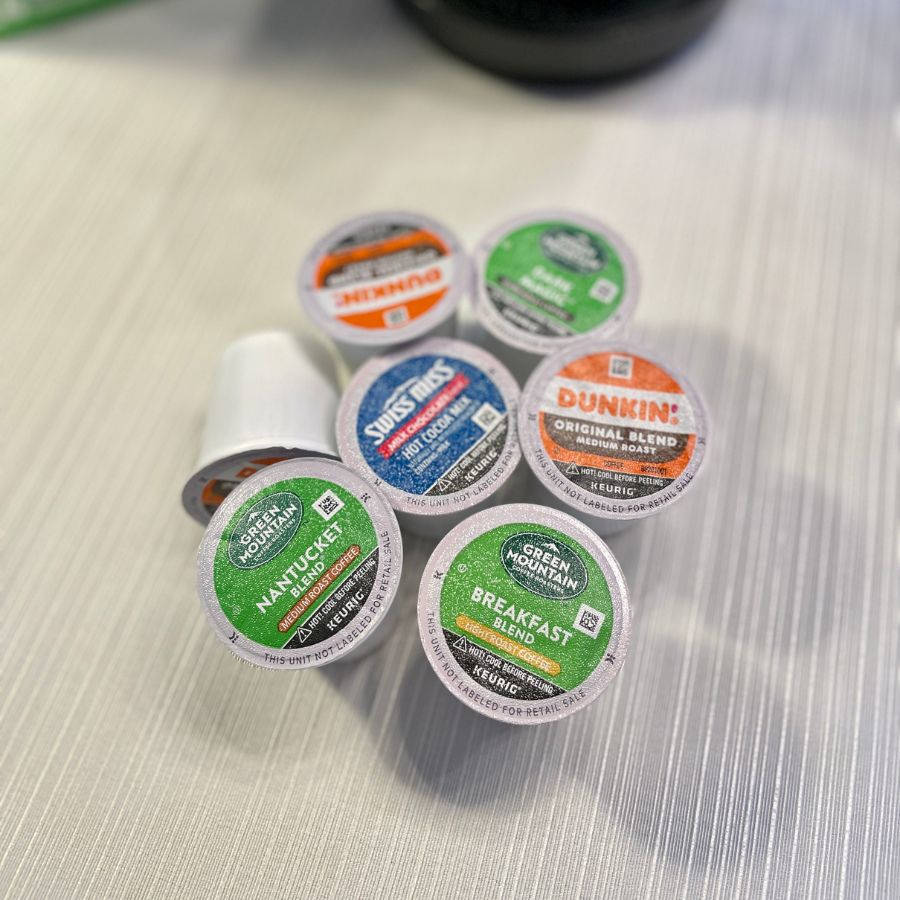 Keurig K-Cups have plastic bodies, so they aren't as environmentally friendly as Nespresso pods. There's also the paper filter I mentioned, which prevents the coffee grounds from getting into your cup. Most K-cups have about 9 to 10 g of coffee grounds.
Nespresso has a more limited range of pods, but it depends on the machine type. Nespresso VertuoLine is only compatible with Nespresso capsules, so you're limited to this brand. Meanwhile, OriginalLine has third-party compatible pods such as Starbucks, Costa Coffee, and Lavazza.
What Nespresso lacks in variety, it makes up for in quality. I personally like Nespresso pod options more than comparable K-cups. Nespresso has a wide range of single-origin coffee from around the world, including Brazilian, Ethiopian, and Colombian coffee, with special editions, such as Hawaiian Kona. These are great if you want to explore the world of high-quality coffee beans.
Nespresso capsules are made to preserve the taste and freshness of ground coffee. They have aluminum bodies with food-grade lacquer to protect the coffee grounds. Each pod has about 5 to 13 grams of coffee (varying based on machine type). OriginalLine pods are cup-shaped and all the same size. VertuoLine pods are different sizes depending on the drink you want to make and have a barcode on the side.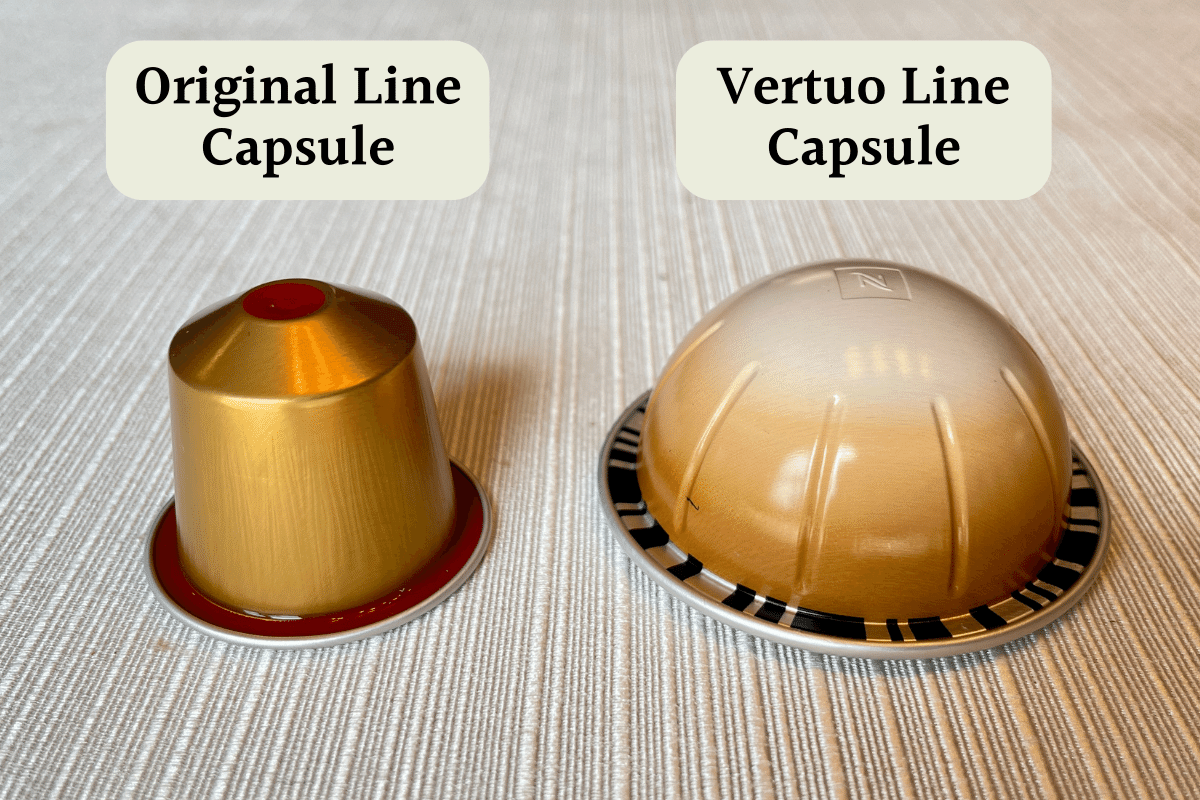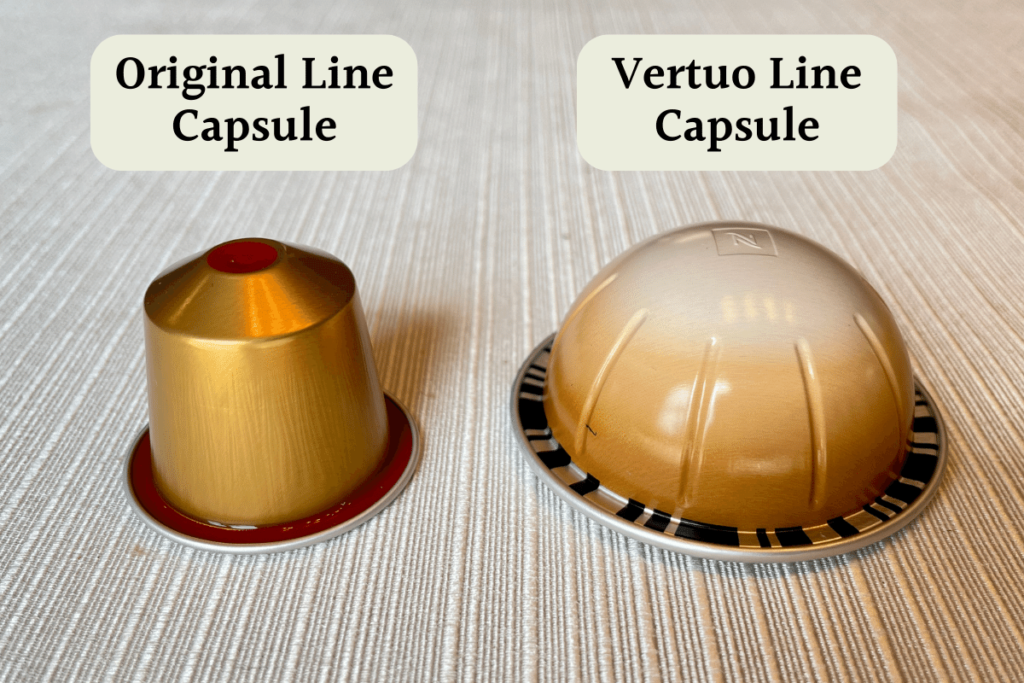 Both Nespresso pods and K-cups are available at other retailers, including Amazon, Target, Walmart, and more.
Recycling & Environmental Impact
There's no escaping the truth: single-serve coffee pods aren't good for the environment. But it doesn't mean all pod companies are bad for the environment.
Nespresso has an excellent recycling program, and the company encourages its users to recycle capsules by providing them with a free recycling bag. You fill the bag with your used pods, return it to a Nespresso boutique, or drop it at UPS. You can also drop your used pods at Williams Sonoma and Sur La Table. The aluminum is compressed, melted, and used to make new pods and other products.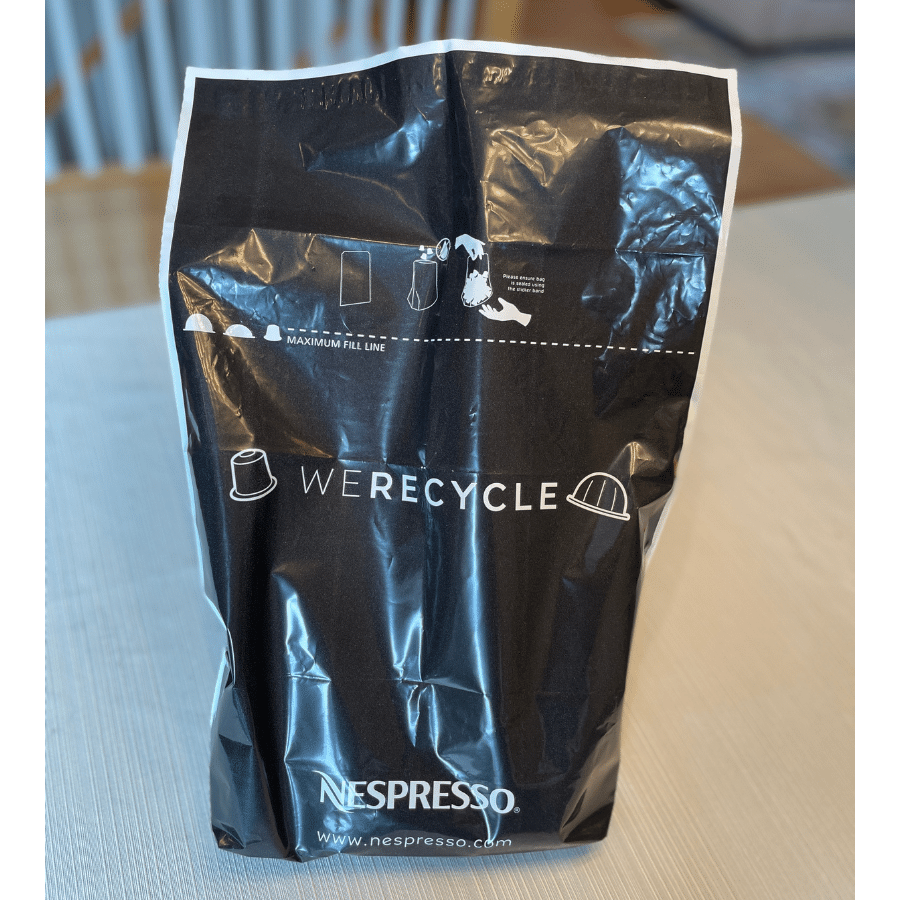 Keurig has made inroads in pod recycling. They created a fully recyclable pod in 2020. However, recycling Keurig pods requires more work compared to Nespresso. You need to peel the lid open, empty the used coffee grounds, remove the filter, rinse the pod, and place it in a recycling bin. Overall, this process takes longer than a Keurig machine needs to brew a cup of coffee.
The advantage Keurig K-pods have over Nespresso cups (and it's a significant one) is that you can throw away K-cups with the rest of your recycling. However, in our opinion, Nespresso still gets the recycling badge because they have a recycling program that requires less work, particularly cleaning out coffee grounds, which is laborious.
Note: Keurig has a reusable K-cup filter, and Nespresso also has reusable pods. You can grind your coffee before brewing with these options. This cuts down on how many cups you throw away.
Price
Nespresso is the more expensive option. Nespresso VertuoLine machines range from about $130 to $350, and there are some premium options with an integrated milk frother that can be over $500.
Nespresso Vertuo pods are priced from about $1.00 to $1.25 each and up to $1.65 for special blends. OriginalLine pods are more affordable. Most of them are priced at 80 cents, and you can find third-party options for around 40 cents per pod. There are plenty of cheaper alternatives to Nespresso OriginalLine manufactured by other brands, but not for Vertuo.
Nespresso sells their pods in packs (or "sleeves") of 10, but you can find bundles with 40 or more pods on Amazon.
Keurig machines are priced between $80 to $250, with most machines around $100. The Keurig pods are cheap, going from $0.45 to $0.80 per pod.
You will save money on a Keurig, both for the machine and the pods. That savings adds up over time:
| | | |
| --- | --- | --- |
| | Price per pod | Annual (1x drink/day) |
| Nespresso – Vertuo pods | $1.00 – $1.25 | $365 – $456 |
| Nespresso – Original pods | 40 cents – 80 cents | $146 – $292 |
| Keurig K-cups | 45 cents – 80 cents | $164 – $292 |
Keurig sells packs of its pods in various quantities: 12, 24, 72, and 96 pods.
On the whole, you get what you pay for. Nespresso produces better coffee, and it shows in the cost. Think about how much you want to spend and how much you're already spending at the coffee shop, as either machine can save over time.
Final Recommendation: Keurig vs Nespresso
Our vote for the best single-serve coffee maker goes to Nespresso. It feels and looks more luxurious, and it delivers. Nespresso has better-tasting coffee, thanks to the superior brewing technology. It produces a thick crema and a rich flavor. Nespresso machine can brew everything from espresso to drip coffee.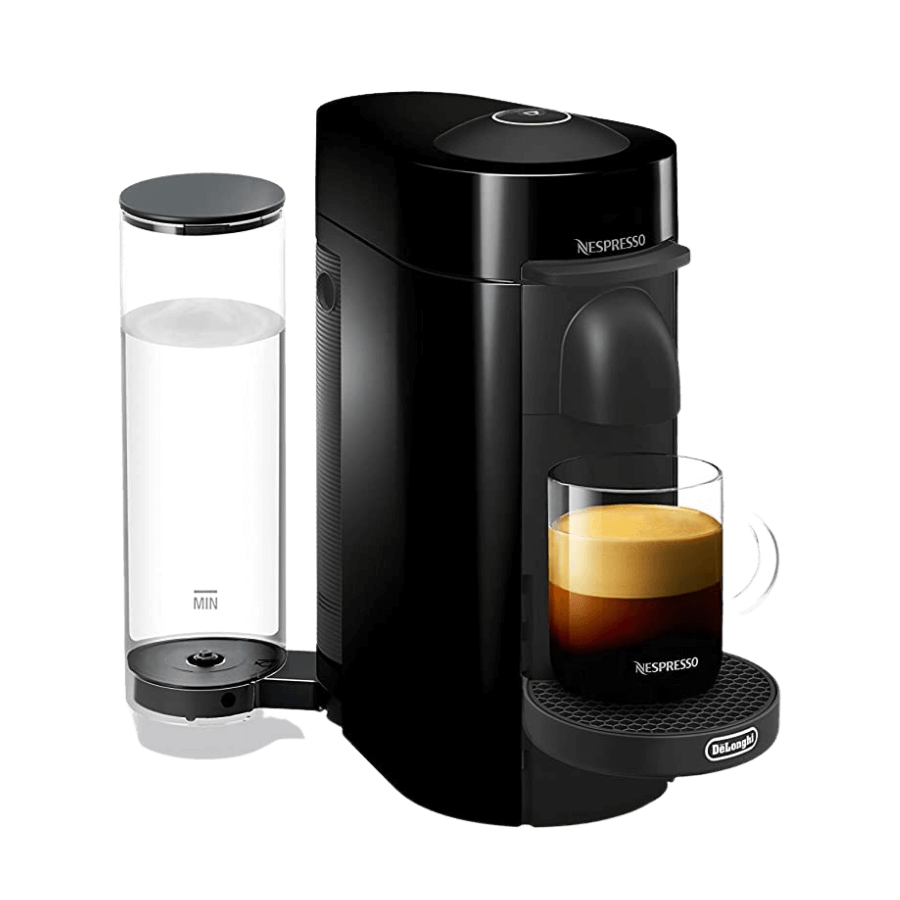 Overall, Nespresso single-serve coffee makers are great if you like to drink espresso and drip coffee, want an easy recycling process, and your budget has room for the cost of Nespresso capsules.
Nespresso also wins in terms of recycling. While there's room for improvement, the company streamlined the recycling process. Nespresso is aware that if they make it easy, people will recycle.
On the other hand, Keuring is the better choice if you don't drink espresso and want to drink variety. For example, go for a Keurig single-serve coffee maker if you want to drink tea and hot chocolate.
Keurig is also a good choice if you're on a tight budget and don't want to have an expensive ongoing pod investment.
---
Having Trouble Deciding?
It comes down to this: if you want to brew espresso and want craft coffee, go for a Nespresso. If you're on a strict budget and want to make hot chocolate and tea, a Keurig is better for you.
Keep in mind Nespresso wins the drink quality contest hands down, so if you're a coffee connoisseur, you'll love Nespresso coffee makers. Check our round-up of the best Nespresso coffee machines and choose your device.