Despite some tumultuous years for retail food businesses, an unexpected success story has emerged: the continued rise of coffee shops.
In this article, I'll dive into different coffee shop statistics based on reviewing over a dozen data sources. This covers the coffee market's growth, the unique dynamics driving coffee consumption across age groups, how much a coffee shop makes, and the optimistic outlook of the coffee industry on a global scale.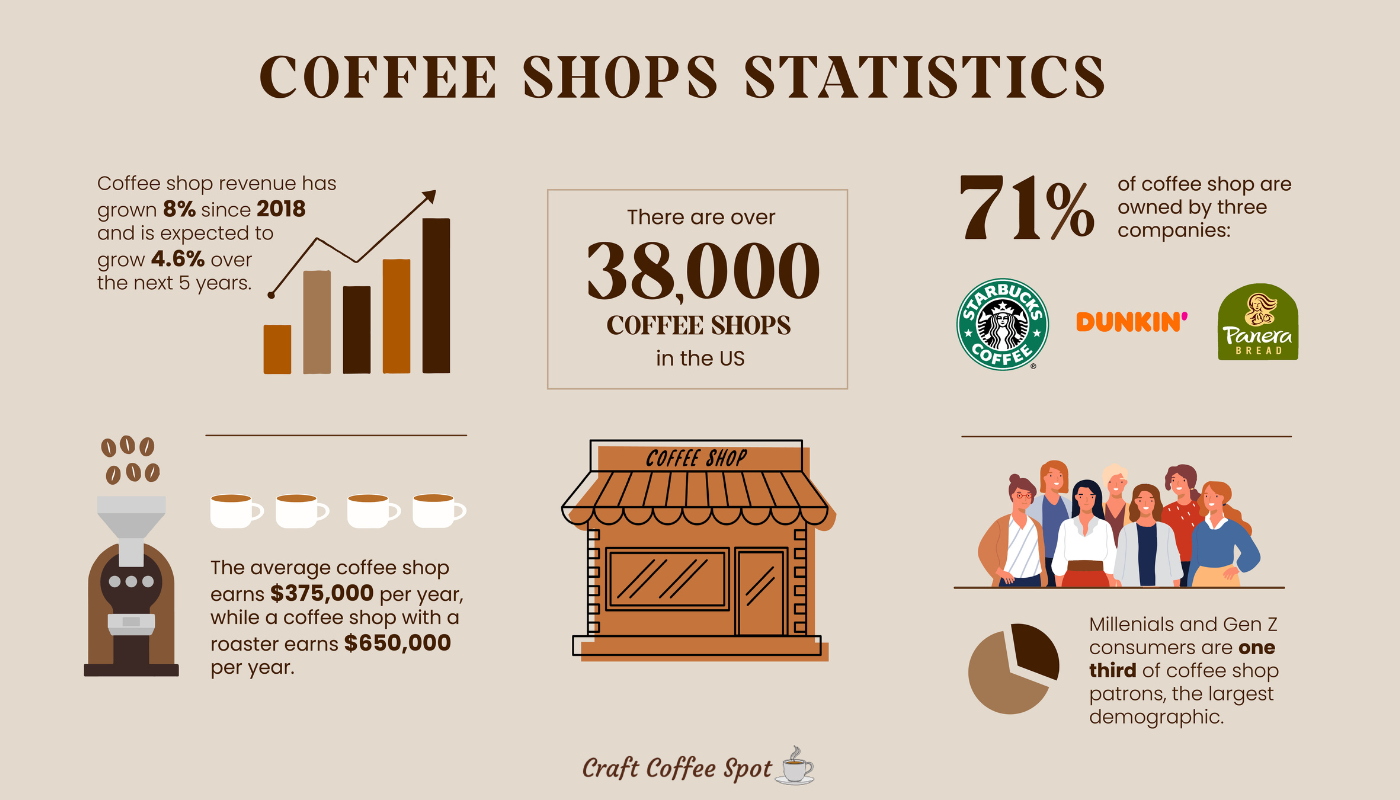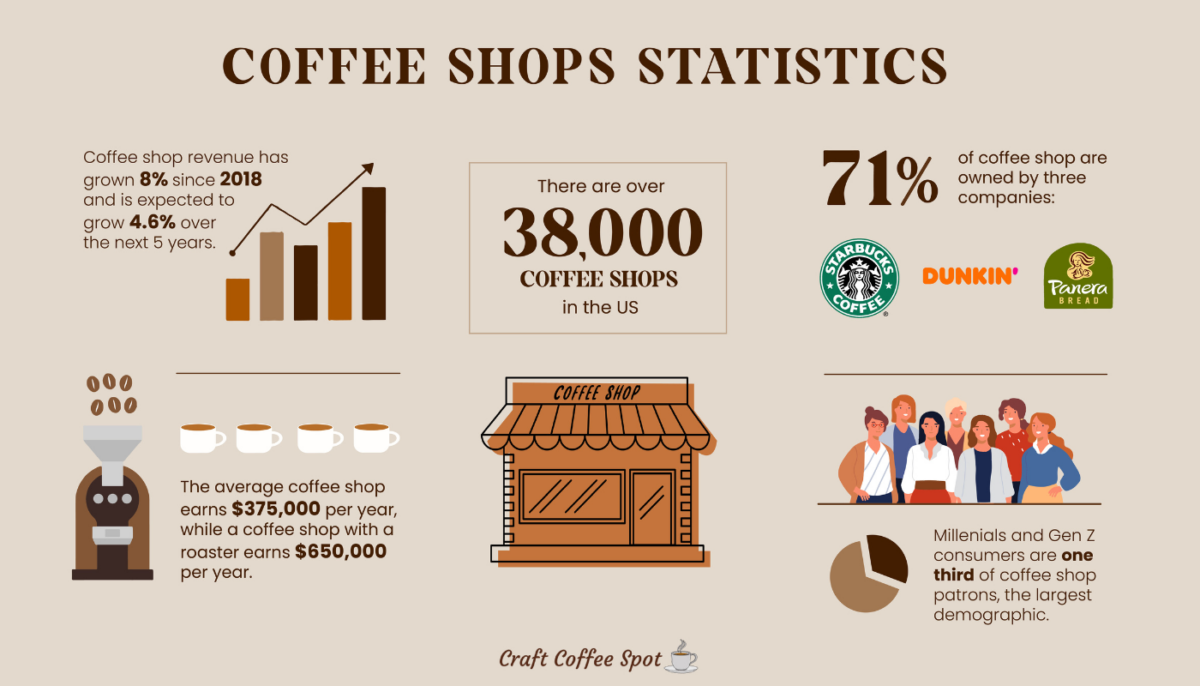 The Number of Coffee Shops in the US and Worldwide
As of 2023, there are over 38,000 coffee shops currently operating in the United States. This is up nearly 8% from the number of coffee shops in 2018, despite the impact of Covid-19 on retail businesses on [1].
Of those 38,000 shops, 71% are owned and operated by just three companies:
Starbucks – 15,650 stores
Dunkin' – 9,262 stores
Panera Bread – 2,173 stores
These three brands also accounted for over 80% of new store openings [2] (in 2020, JAB was the third largest coffee chain, having since been overtaken by Panera Bread).
All told, the branded coffee chain market is valued at $45.8 billion, a number that's similar to pre-pandemic levels [3].
Size Of The Global Coffee Shop Market
The global coffee market generated $165.7 billion of revenue in 2022, giving the US a 28% market share [4]. Coffee shops are more popular in major cities outside the US than they are domestically. I found New York is home to just 1,600 coffee shops, well below London's 3,200 and Tokyo's 3,800 [5]. The most coffee-dense city in the world is Shanghai, China, which boasts about 7,000 coffee shops within the city limits [6]. China has this many coffee shops even though the average resident drinks just nine cups of coffee per year [7].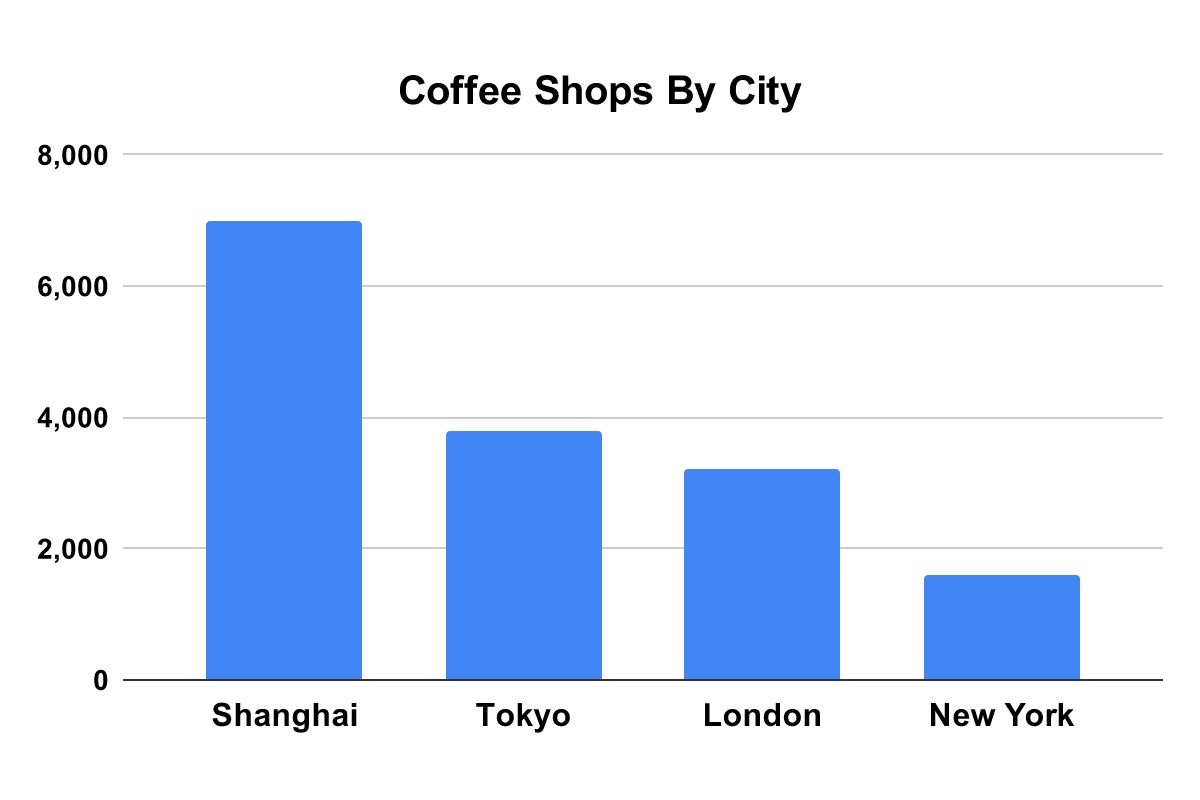 The coffee industry is growing worldwide, and the global market is expected to be valued at $182.63 billion by 2030 [8]. Coffee shops have continued the pre-pandemic trend of growing in popularity as hangout spaces and workplaces due to free WiFi and seating. The global market will grow by 51% from 2021 to 2030, as North America represents the fastest-growing market, and Europe is the largest market.
Demographics of Coffee Shop Patrons
In the US, this market growth is propelled largely by Millenial and Gen Z consumers, with over one-third of 18-29 year-olds being frequent coffee shop visitors, the largest share of any age demographic [9].
However, this age group is not the biggest consumer of coffee in general. Over 70% of senior Americans report drinking coffee regularly, compared to just half of 18-29 year-olds. On average, people over 60 drink more coffee than their younger counterparts: 2.18 cups per day compared to the 1.87 cups per day of the average American coffee drinker [10].
However, while younger adults get much of their coffee from coffee shops, older adults tend to make coffee at home [11].
The Costs of Cafes: How Much Does A Coffee Shop Make?
A coffee shop will earn between $375,000 to $600,000 in gross revenue and between $25,500 to $71,400 in net profit per year. The big difference depends on whether a coffee shop also roasts coffee in-house, which increases revenue and profit.
| | Coffee Shop (Non-Roaster) | Coffee Shop & Roaster |
| --- | --- | --- |
| Avg. Annual Revenue | $375,000 | $600,000 |
| Avg. Labor Costs | $107,000 | $164,000 |
| Unroasted Coffee Costs | N/A | $97,000 |
| Total COG as % of Sales | 46.1% | 46.4% |
| Avg. Profit Margin | 6.8% | 11.9% |
| Net Profit | $25,500 | $71,400 |
The average cost of opening a mid-size coffee shop with indoor dining ranges between $80,000 – $300,000. The bulk of these costs are allocated to essential equipment. A standard commercial espresso machine alone can cost upwards of $20,000, and a coffee roaster can cost up to $50,000, depending on the make and size [12].
Deposits on a building lease, renovations, administrative business expenses, marketing, and initial hiring and training are substantial one-time investments required to start a coffee business.
Opening a freestanding coffee shop with a drive-through costs more than $1 million. Based on reviewing financial documents for various coffee franchise companies, the initial investment can range from $431,000 to $1,069,000.
Even after opening, coffee shops have low margins of 10% of revenue. This a simplified snapshot of the financial picture of an average independent coffee shop, both with and without an in-house roasting operation [13]:
Roasting coffee in-house increases revenue by 60% and profits by 180%. The improved margins on in-house roasted coffee raise the net profit on all coffee-based products, from bags of whole beans to cups of brewed coffee. For example, the average cost to produce a pound of roasted coffee is about $6.00, while the cost of purchasing a pound of coffee wholesale averages $10.00. Roasting coffee allows coffee shops to keep this $4.00/lb profit margin.
Only 50% of independent coffee shops survive for more than five years, with only 33% surviving the past ten years [14]. Overcoming this failure rate with a low-margin business model depends on high-volume sales. The average cost of a cafe's coffee drinks, both brewed coffee and espresso, is $4.90.
To achieve the monthly sales necessary to cover all overhead expenses and produce a profit, coffee shops must serve between 200 – 600 customers a day [15]. The exact number will fluctuate depending on a coffee shop's location (a major urban center will have higher rent and utilities costs than a mid-size town).
The Future of Coffee
Despite the challenges associated with opening a coffee shop and the struggle of keeping one open, the coffee industry is expected to continue to thrive in the coming years. Steady growth of 4.6% is expected for at least the next five years, with much of that growth concentrated in the United States [16].
Want More Coffee Tips?
Join the email list for exclusive coffee insights and deals that only subscribers get. You'll get two coffee discounts just for joining.
No spam, ever. We respect your privacy and unsubscribe anytime.
Younger generations continue to show an increasing preference for espresso-based drinks, driving them to coffee shops to escape the high entry costs associated with brewing espresso at home [17]. This spells good news for aspiring coffee shop owners, as the increasing market creates more room for independent cafes to build a steady customer base.