It's time to choose your (espresso) fighter: Breville Infuser vs Duo-Temp Pro. These two are both semi-automatic espresso machines and entry-level. But don't let the similarities fool you. There are some crucial differences you should consider before making your choice.
During my espresso journey, I've tested and used dozens of espresso machines, and my vote in this match goes to Breville Infuser. It has programmable one and two shot buttons to make espresso and you can also modify the water temperature. This means you'll have more control over your espresso with the Infuser, and it's easier to get the perfect expresso you want every time.
I'll talk about all the similarities and differences between the Breville Infuser and Breville Duo-Temp Pro, and explain why I think the Breville Infuser is worth the slightly higher price.
Product
Espresso
Espresso
Quality Espresso with 30-second heat up
Quality Espresso with 30-second heat up
Brewing Options
Brewing Options
One push brew with buttons
Manual knob
Programming
Programming
Volumetric control and water temperature setting
None
Steam Wand
Steam Wand
Commercial-grade
Commercial-grade
Hot Water
Hot Water
Dedicated hot water spout for Americanos
None
Other Features
Other Features
More accessories and cleaning indicator
Simpler interface
Value
Value
Worth the higher price for easier brewing and programmable settings
Lower price for an entry-level espresso machine

Breville Infuser vs Duo-Temp Pro Similarities
Here are the biggest similarities between these two espresso machines.
Thermoblock
Both the Breville Infuser and Duo-Temp Pro heating systems have a thermocoil integrated stainless steel water path, which allows accurate water temperature control. Because these coffee units have thermoblocks and thermocoils, they need up to two minutes to produce steamed milk: 30 seconds to get the machine temperature up, 30 seconds to transition from brewing to steaming modes, and about a minute to steam milk at 140 degrees F (60 degrees C).
You're going to get great espresso from both machines. Breville makes excellent heating elements that last, and the pumps produce up to 15-bar of pressure. It delivers consistent espresso extraction.
Keep in mind, these are both single boiler machines. That means you can't brew and use the steam simultaneously.
PID control
Both Breville Infuser and Breville Duo-Temp Pro have a built-in PID control that monitors the water temperature.
PID stands for a proportional integral derivative controller that gives a control loop feedback mechanism. Essentially, PID monitors and ensures a consistent water temperature, which is important for achieving the best extraction. You can read more about PID systems here.
Steam Wand
Both espresso machines come with a commercial-style steam wand. This means you can steam or froth the milk to create drinks that have an espresso base, such as a latte and a cappuccino.
I found the steam wand on both machines takes about 15 seconds to reach full power. The nice thing about the slow progression steam is it gives you more time to aerate the milk. That's helpful for beginner baristas!
The manual steam wand takes some time to master the art of frothing milk. But, once you've got the hang of it, you'll be able to make a nice microfoam and improve your latte art skills at home.
Auto-Purge
Both Breville espresso machines have an auto-purge, which means they can switch from steaming to brewing, so you'll get your shot of espresso faster. The ability to switch between steaming and brewing is especially useful when you're in a hurry.
Both of these machines heat water by circulating it around the 1600W heating block (the thermocoil heating system). When they transition from steaming to pulling a shot, the water is too hot for brewing. The machines will "auto purge" some extra hot water into the drip tray. This makes sure the thermocoil is at the optimal extraction temperature.
Auto purge means there's no need for temperature surfing, and the transition between steaming and brewing is 15 to 30 seconds, which is the fastest option apart from having a dual boiler.
Portafilters and Magnetic Tamper
Both Breville Infuser and Duo-Temp Pro have pressurized and non-pressurized portafilter baskets. Pressurized baskets (aka dual wall) are great for people just starting to make their espresso at home, as this portafilter will extract espresso when there's optimum pressure. If you're struggling to dial in the grind, i.e., find the ideal grind setting for a particular coffee, Breville has you covered.
More advanced baristas will like the non-pressurized baskets (aka single wall filters), as they give you greater control.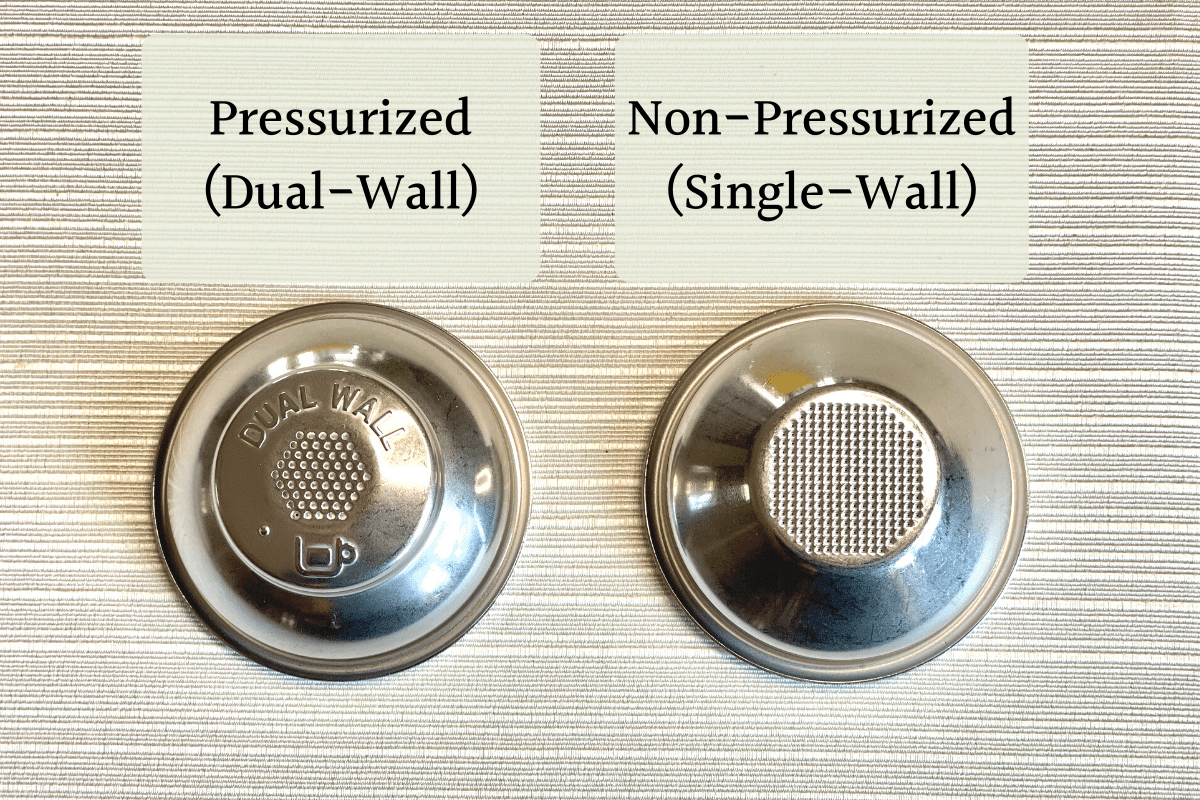 The espresso machines also come with a 54mm magnetic tamper, which packs the coffee grounds evenly to ensure a quality shot.
Water Tank
Another feature that Duo-Temp Pro and Breville Infuser have in common is the water tank. Both machines have a removable water tank, which is convenient for cleaning and refilling.
The machines also have the same large water tank capacity — 61 ounces. It takes about two ounces of water to make a double shot and another two to steam milk. That means you'll be able to make over a dozen lattes and won't have to refill the water tank more than once or twice a week.
Breville Infuser vs. Breville Duo-Temp Pro Differences
Now that we've covered the similarities, here are the most important differences to note to help you decide on your espresso machine purchase.
Brewing Control: Single and Double Shot Button
The main difference between the two espresso machines is the brewing process. The Infuser is automatic with buttons and the Duo-Temp Pro is a manual with a knob.
The Breville Infuser makes espresso with a push of a button. It actually has two buttons: single and double shot programmable buttons. The buttons will dispense the same amount of water each time. This delivers a consistent brew and means you won't have to change the settings each time you brew a cup of coffee (as long as you're using the same grind). The users can just press the button, and the machine will do the work.
Breville Duo-Temp Pro has a turn knob instead of programmable buttons. You turn the knob to the left to start making espresso, then turn the knob back to center to stop brewing. It's easy to use, but you'll have to find what works best and time each shot. It's a little tough to time it just right every time, especially in the morning!
Volumetric Control
Another feature Breville Infuser has is volumetric control, which allows you to program the amount of espresso from each button. If you don't like the preset volume for the one and two-shot buttons, you customize each pour. Coffee connoisseurs will love this option. You can make the perfect espresso according to your exact preferences. Make a long pour to get more body and roasty bitterness. Make a shorter pour for a sweeter, more acidic espresso with less caffeine per volume.
Breville Duo-Temp Pro doesn't have this feature, as it's manual each time. That makes the Infuser more versatile.
Note: make sure to re-calibrate the shot volume settings when changing the grind size.
Temperature Control
I've talked about how both of these machines have a PID controller. However, there is one significant difference between them.
Breville Infuser has an electronic PID controller. This allows the coffee machine users to change the temperature themselves: +/- 4 in 2 degrees increments from the start temperature. This feature gives users more control, and it can help achieve better temperature stability.
On the other hand, Breville Duo-Temp Pro doesn't allow users to use the PID controller to change the temperature.
Hot Water Spout
Breville Infuser has a hot water spout that produces water in a robust stream. If you're into making Americanos, the Infuser makes it really easy. The hot water spout is convenient for making any other drinks with hot water, like hot chocolate or tea. It's a nice option rather than waiting to heat the kettle.
Breville Duo-Temp Pro doesn't come with this feature. Instead, it uses the steam wand to produce hot water. You have to switch manually between steam and hot water. This is done by pressing the dedicated button. However, I noticed the steam wand isn't as powerful as the Infuser's hot water spout. Its steam wand is notably slower, but it's still a solid option for making drinks with hot water.
The Interface
Both coffee machines look similar in design. They have the recognizable Breville brushed stainless steel look, although the Infuser comes in more colors (if you buy direct from Breville). However, they differ significantly in the interface.
The Infuser features more buttons. I already mentioned that it has programmable buttons. There's also a pressure gauge and a self-cleaning button.
Breville Duo-Temp Pro doesn't have so many buttons or a pressure gauge, which results in a cleaner interface. Instead, there's a turn knob that's used to decide between steaming or brewing.
Cleaning Option
Breville Infuser has a "clean me" indicator, which automatically lights up when it's time to clean the machine. This happens over time as residual grinds and oils build up around the brew head.
This may seem like a minor advantage, but I found it really comes in handy. Even great coffee machines have to be cleaned periodically to work efficiently.
Breville Duo-Temp Pro doesn't have an automatic cleaning indicator. You will have to remember to clean the machine the old fashioned way – by memory.
Price and Value
The Duo-Temp is the winner when it comes to the price, because it's the cheaper option. But, if you look at the value, Infuser wins because you get more for a somewhat higher price.
Both machines will do the job well. Both of them have a large capacity water tank, auto-purge option, high-quality portafilters, and magnetic tempers. The thermoblock system ensures both machines heat the water quickly.
However, for a little more than $100, Infuser will come with more accessories (cleaning tablets, cleaning disc, brush, and coffee scoop). More importantly, it offers more control and the buttons make brewing espresso easier. Which leads to our winner…
Breville Infuser vs. Duo Temp Pro: The Winner
The winner of the Breville Infuser vs. Duo Temp Pro showdown is the Infuser. While it comes at a slightly higher price, it's equipped with features that justify it. The Infuser is an excellent choice for beginners as well as an advanced barista coffee maker.
The dedicated hot water spout quickly pumps out water for beverages. The two programmable buttons — single and double shot — as well as PID temperature control contribute to better overall drink quality and make this machine more customizable. The pressure gauge also makes it easier to measure your espresso shot.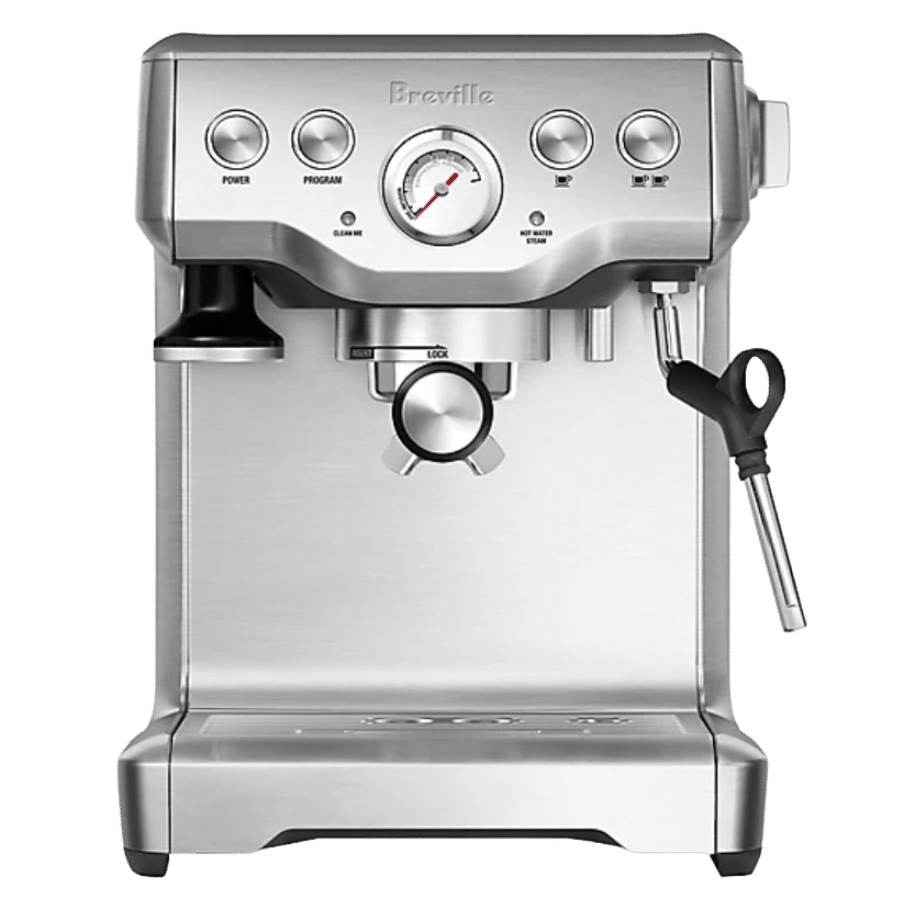 Breville Infuser is our pick for an entry-level espresso machine. It has two programmable buttons for a single and double shot and PID temperature control. The steam wand is commercial-grade.  Extra perks include a dedicated hot water spout, clean-me indicator, and a pressure gauge. You can dial in the perfect espresso shot every time at an affordable price.

Duo Temp Pro is also a solid Breville espresso machine. It's a great choice if you don't need a ton of programmable features. While the Infuser is my #1 choice, think about your specific needs. If you're fine with a steam wand doubling as a hot water outlet and are looking for something at a lower price point, Duo Temp Pro is a good option.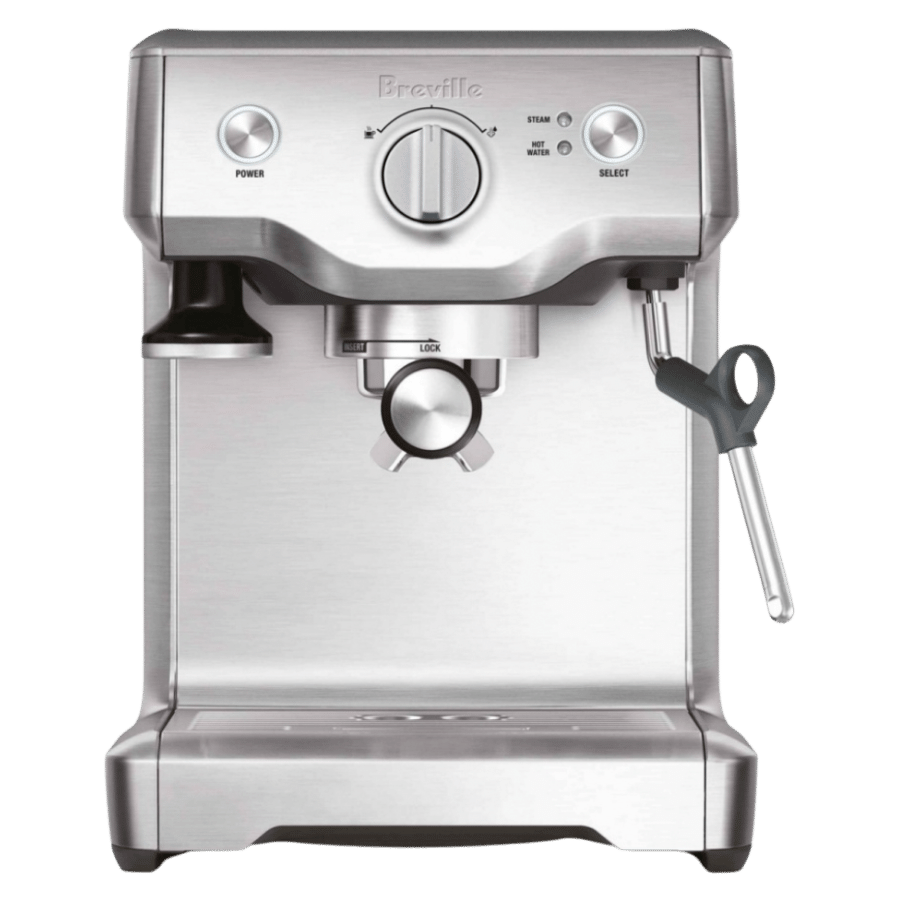 Breville Duo-Temp Pro is a good entry-level espresso machine. Affordable price in exchange for manual brewing knob and fewer programmable options. The steam wand doubles as a hot water dispenser. It makes quality espresso using Breville's advanced thermocoil and has a 30-second heat-up. 

Duo Temp Pro vs Infuser: Final Thoughts
I would choose the Infuser because it offers more features at a slightly higher price. The programmable single and double shot buttons, PID temperature control, and Infuser's hot water spout give the user more control and variety when brewing the coffee.
If you'd like a coffee machine that's even easier to use and comes at a lower price point, check out our Breville Bambino vs. Bambino Plus comparison.