French press is a popular brew method, but it's difficult to find a grinder that specializes in the coarseness needed for a proper cup of French press coffee. After testing several grinders, I've rounded up a handful of options that are great options for your needs.
To me, the best overall grinder is the Baratza Encore. It has a range of coarse settings and good grind consistency at a reasonable price. A more premium option is the Fellow Ode, which has a more precise flat burr and is whisper-quiet. For a budget option, the JavaPresse will beat a blade grinder if that's what you currently use.
In this grind roundup, I'll explain why I chose these grinders and explore some alternative options for different niche requirements.
What Matters When Choosing a Grinder For A French Press?
French press coffee is made using coarsely-ground coffee beans. It should be more coarse than you're typical pre-ground coffee for a drip coffee maker.
We've even talked about how coarse grind is one of the main tips for good French press:
If coffee is ground too fine, the brewing process will create a coffee that is bitter and muddy. Too coarse, and it'll lack richness and flavor. So, a good French press grinder needs to be able to consistently grind coarse coffee without mixing in finely-ground coffee.
That's easier said than done, and many coffee grinders struggle with consistency on their coarsest settings. Even for grinders that tout their versatility across all brew methods, the coarsest settings are usually the most inconsistent.
In this roundup of the best coffee grinder for French press, grind size consistency is a top priority I'll explore with each grinder listed.
Individual Reviews: Top French Press Grinders
Image
Product Name
Features
Price

Best Overall

40mm steel conical burrs
40 grind settings
Purge button

Check Amazon

Most Consistent

64mm stainless steel flat burrs
31 grind settings
Auto-stop grinding

Check Amazon

Most Balanced Functionality

40mm stainless steel conical burrs
41 grind settings
Magnetic grinds cup

Check Amazon

Best Value

38mm S2C conical burrs
13 grind settings
Sturdy, compact design

Check Amazon

Most User-Friendly

40mm stainless steel conical burrs
60 grind settings
Programmable dosing

Check Amazon

Most Affordable

Ceramic conical burrs: estimated 40mm
18 grind settings
Stainless steel construction

Check Amazon

Best Hand Grinder

48mm stainless steel conical burrs
120 grind settings
Rubber grip

Check Amazon
1. Best Overall: Baratza Encore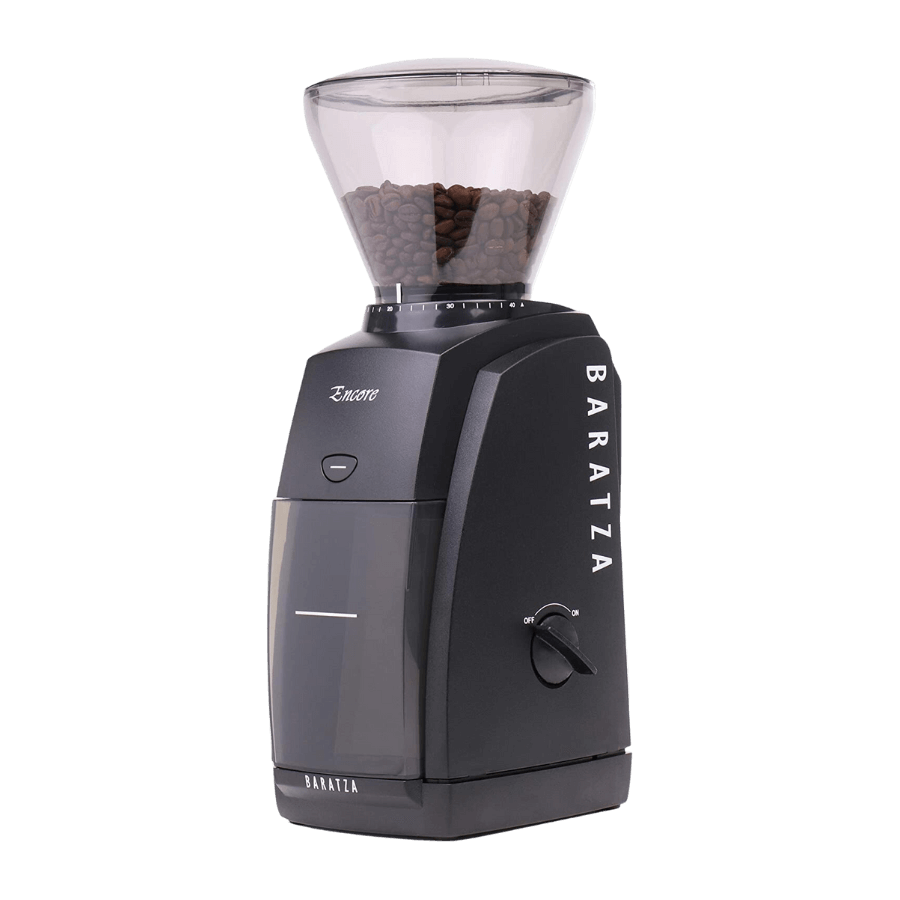 Baratza Encore highlights:
40mm steel conical burrs
40 grind settings
Purge button
The Baratza Encore is a sleek, minimalist, powerful coffee grinder that's ideal for medium and coarse brewing methods. It's a staple of many coffee lovers' home setups, with good reason. The plastic, monochrome exterior lets it fit nearly any home aesthetic, and its small footprint fits easily on most countertops.
The Encore was designed for filter and immersion brew methods, like the French press. The Baratza Encore's 40mm M3 steel conical burrs, coupled with the purge button on the front of the grinder, give the Encore a very low grind retention. They also deliver excellent grind consistency across medium and coarse settings.
I've always been pleased with the quality of coffee I get from the Encore. While conical burrs can sometimes create a muddy or unbalanced flavor profile on coarser grind settings, the Encore produces a full body without losing the natural sweetness or brightness in a coffee.
The minimalist design of the Encore means that there are no extra features to speak of. There's just an on/off switch and the purge button. The hopper can hold 225g of coffee beans, but without a dose timer or programmable doses, it's best used as a single-dose grinder.
Want More Coffee Tips?
Join the email list for exclusive coffee insights and deals that only subscribers get. You'll get two coffee discounts just for joining.
No spam, ever. We respect your privacy and unsubscribe anytime.
If you can live without the bells and whistles that other grinders offer, the Baratza Encore is of great value. It costs less than $200 but delivers a grind consistency and cup quality on a French press. There are more expensive grinders on this list, but Encore is competitive with all of them at a lower price.
The only other caveat worth noting is that the Encore is extremely loud. It won't damage your hearing, but everyone in the house will know you're brewing coffee as soon as you turn the Encore on. This is a function of Baratza designs, as the low price comes at the expense of a plastic exterior that doesn't muffle noise.
If the loud noise and lack of features aren't deal breakers, then you'd be hard-pressed to find a better option for a French press grinder than the Baratza Encore.
Pros
Great grind consistency
Cons
Lack of features
Loud
---
2. Most Consistent: Fellow Ode Gen 2
Fellow Ode Gen 2 highlights:
64mm stainless steel flat burrs
31 grind settings
Auto-stop grinding
The Fellow Ode (2nd Generation) was designed specifically for medium and coarse brewing methods (like the French press), and it does its job extremely well.
Like most Fellow products, the Ode is pleasing to look at. The matte black monochrome finish gives the grinder a crisp, modern look (it also comes in a matte white). The aluminum body makes for a sturdy construction even with such a small footprint.
This single-dose grinder has a magnetically attached grinds cup with low static, making for a clean workspace. It's sound insulated for quiet grinding and features an auto-stop feature that turns the grinder off when it can't detect any more coffee beans in the burrs.
The large, 64mm steel flat burrs deliver very consistent, unimodally distributed grounds across all of its 31 settings. That may not seem like that many grind options, but unlike most grinders in its class, the Fellow Ode specifically does not grind for espresso. That means all 31 settings are in the coarse to medium range, giving you plenty of French press options.
The consistency of the grind and lack of fines means that the Ode is great for brewing a balanced, clean French press with lots of nuance and detail in the flavor profile. It creates a full body without burying the brighter, sweet notes of many light roasts. Fans of dark roast coffees may not love the Ode's flavor profile, but medium and light roast coffees taste great when ground with the Ode.
I don't have anything negative to say about the function or capability of the Ode, but I do have a word about the price. This grinder is expensive. It's similar to a good espresso grinder. That makes sense since the Ode offers the same precision that a quality espresso grinder does but for filter and immersion brew methods instead of espresso.
If you need a dedicated French press or pour-over grinder and cup clarity is your highest priority, the Fellow Ode is a fantastic coffee grinder. If French press is just one of many brew methods you prefer, or if you're looking for a budget-friendly grinder, there are more affordable options.
Pros
Precise and consistent
Elegant design
---
3. Most Balanced Functionality: Fellow Opus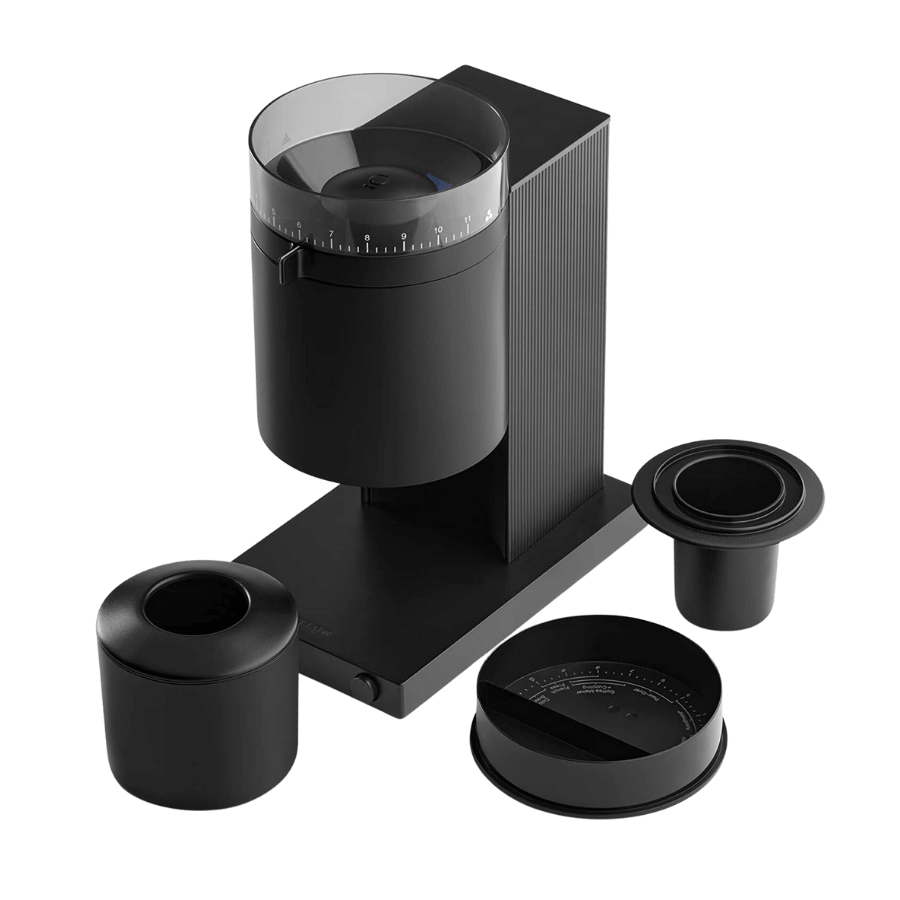 Fellow Opus highlights:
40mm stainless steel conical burrs
41 grind settings
Magnetic grinds cup
The Fellow Opus is the more affordable, more versatile little brother to the Fellow Ode. It makes some compromises to bring the cost down to a more accessible price bracket but maintains a good grind quality. Overall, it's a good value for the grind it delivers.
Like the Ode, the Opus features a monochrome matte black body. It's easy on the eye and looks like a powerful, modern coffee grinder. However, the body of the Opus is made of plastic, not aluminum. That's one of the compromises that Fellow made to make the Opus more budget-friendly. The body scratches easily, and flaws are more visible.
The Opus also utilizes 40mm steel conical burrs. The 41 settings on the Opus range from French press to espresso, so there's less precision when choosing a French press setting and less consistency in grind size due to the bimodal distribution of conical burrs. That doesn't mean the Opus is imprecise or inconsistent – far from it.
The Opus delivers a great-tasting French press coffee that's well-balanced and rarely has the flavor muddied up by fines. It's also beginner-friendly since the hopper lid doubles as a dosing cup with a measurement guide. This means you don't have to weigh out your coffee beans to get a consistent dose.
While cheaper than the Ode, the Opus is still more expensive than the Baratza Encore, and I don't feel like the grind quality is significantly different between the Encore and the Opus. The magnetic grinds cup, dosing guide, and anti-static construction make it a user-friendly grinder, and that's what the higher price is going towards. But that is meant for espresso use, as the Opus doubles as an espresso grinder with micro settings. You won't need that for a French press.
The Opus doesn't come out on top in grind quality or user experience, but it balances the two nicely in an easy-to-use machine that delivers a consistently enjoyable French press coffee.
Pros
Hopper lid doubles as a dosing cup
Can be used for espresso as well
Cons
Plastic body scratches easily
---
4. Best Value: Timemore C3
Timemore C3 highlights:
38mm S2C conical burrs
13 grind settings
Sturdy, compact design
I'm a really big fan of the Timemore C3. It's a decent, affordable manual grinder that's a great value, and you can get a lot of mileage out of it if you're willing to work around some of its quirks.
At just 7.5 in. long and 2.5 in across, the C3 is compact, portable, and easy to store. The aluminum body feels sturdy, which is an important feature for a manual grinder that may see a lot of bumps and scrapes. The body has a rough, textured design that makes it easy to grip when using it.
The burrs on the Timemore C3 feature Timemore's unique S2C (spike-to-cut) design. Each spiral on the inner bur has an extra set of teeth running the length of the whole burr. These extra teeth make the C3 a more efficient and consistent manual grinder.
There are only 13 usable settings on the C3 that range from espresso to French press, so there isn't much room to dial in a precise grind size. The C3 has a relatively consistent grind size distribution on each setting, but on coarser settings (like French press), it can create a lot of fines. These fines can create a muddy, unbalanced cup of coffee, but the C3 has another quirk (static) that makes for an easy workaround.
In my experience, the C3 creates a lot of static when grinding. On coarse settings, the larger coffee particles are too heavy to get stuck to the grinder due to that static. The fines, however, are small enough that the static keeps them stuck to the burrs, separating them from coarse grounds. Static might be a problem on other grind settings, but for the French press, it almost works as a natural sifter, separating the fines out before brewing. You can tap out the fines into the trash and use the grounds in the grounds cup for a clean, full-bodied French press.
The Timemore C3 is under $100, making it a great value for its quality. It's a good budget hand grinder that punches above its weight, considering its low price.
Cons
Lots of fines
Limited settings
---
5. Most User-Friendly: Breville Smart Grinder Pro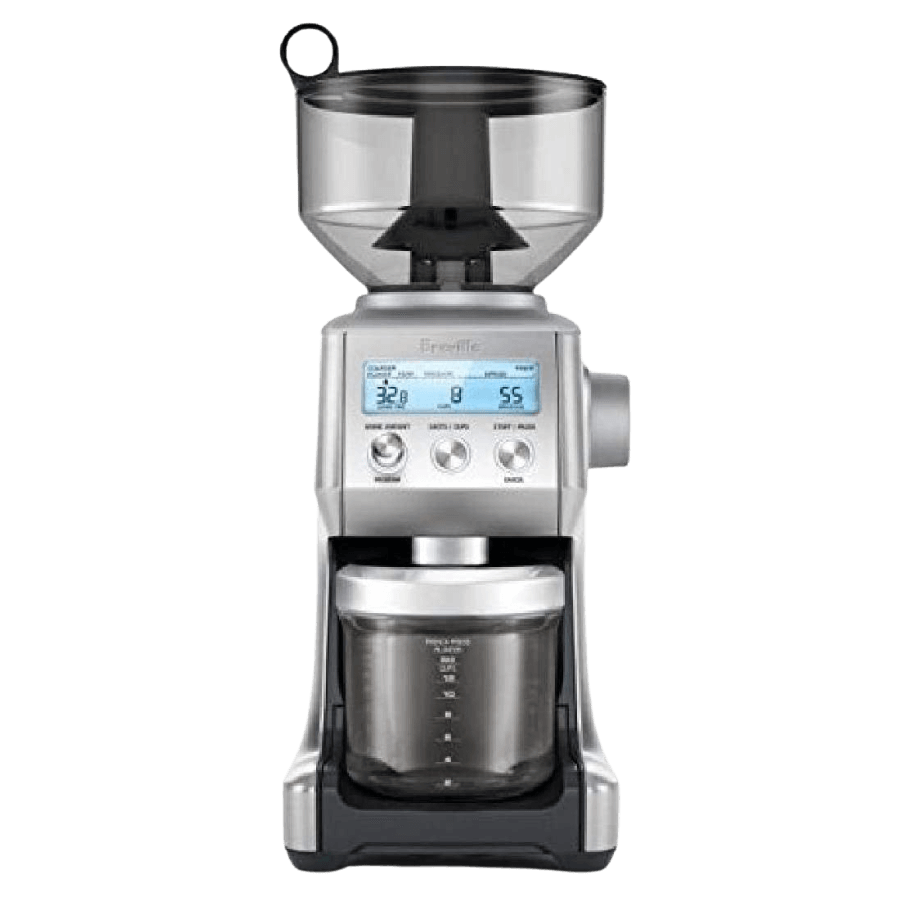 Breville Smart Grinder Pro highlights:
40mm stainless steel conical burrs
60 grind settings
Programmable dosing
The Breville Smart Grinder Pro is the king of convenience. A quick look at the front of the grinder is enough to understand the basics of how it works, and it's designed to be very easy to use.
The Smart Grinder Pro features an LCD screen that displays the current grind setting (and even shows what brew method is best for that setting) and dose time. You can adjust the time-based dose program with a knob on the front, and the grind setting is changed via a knob on the side of the machine. The dosing feature, coupled with the intuitive LCD screen and controls, makes for a simple and enjoyable user experience.
The 40mm steel conical burrs are functional but imprecise. They're capable of grinding effectively for both French press and espresso, but unfortunately, the coarser settings are where inconsistencies start to show. The French press coffee the Smart Grinder Pro creates is still enjoyable, but it is noticeably muddy. For light roast coffees especially, it can be hard to find a setting that creates a clean, balanced cup.
The Smart Grinder Pro is a mid-tier priced grinder, and you're mostly paying for the features, not the grind quality. It's an average value and a decent grinder for under $300, but it's better suited for pour-over and espresso, not French press. It is extraordinarily user-friendly, so if convenience and ease of use are top priorities, then the Smart Grinder Pro will be your best option.
Pros
Very user-friendly
Works for espresso as well
Cons
Inconsistent on coarse settings
---
6. Most Affordable: JavaPresse Manual Coffee Grinder
JavaPresse Manual Coffee Grinder highlights:
Ceramic conical burrs: estimated 40mm
18 grind settings
Stainless steel construction
The JavaPresse Manual Coffee Grinder is the French press grinder for coffee lovers on a shoestring budget. At less than $50, the JavaPresse is the most affordable grinder on this list. However, as is usually the case, you get what you pay for.
The stainless steel body of the JavaPresse is sleek and sturdy, but it's also difficult to grip. Unlike the Timemore C3 or 1Zpresso JX, there's no textured body or sleeve to help grip the JavaPresse. This makes using it more of a chore than other hand grinders.
There are 18 grind settings ranging from French press to espresso. The versatility is nice, but the consistency leaves something to be desired. The grind quality is better than you might expect from a grinder that's so cheap, but it's still poor. You'll get plenty of fines that can create a muddy French press, but that's not the only size distribution problem. The Javapresse can create noticeable inconsistencies in the grind size of the larger coarse particles. It doesn't ruin the coffee, but it does leave you with very little control over the flavor profile. It's the kind of grinder where you pick a French press setting and then hope it will taste the same as the last cup you made.
The burrs on the JavaPresse are ceramic, and there isn't any information I could track down on their size. That makes sense for this grinder since it's not the kind of high-precision tool where the details really matter. It's a basic, broad-strokes approach to coffee grinding that creates a French press that's more about just having a coffee to drink than about crafting a specific flavor profile.
If you just want to upgrade from a blade grinder, the JavePresse works. The JavaPresse Manual Coffee Grinder is a good option if you have no wiggle room in your budget or are looking for a first foray into grinding with a very low cost of entry. If a balanced, clean coffee is a top priority, there are better options.
Pros
Extremely affordable
Cons
Mixed grind consistency
---
7. Best Hand Grinder: 1Zpresso JX
1Zpresso JX highlights:
48mm stainless steel conical burrs
120 grind settings
Rubber grip
The 1Zpresso JX is a great mid-tier manual grinder that offers great grind consistency in every setting. While many coffee grinders are strong in one range of settings and struggle in another, the JX performs well across the grind size spectrum.
The JX has a sturdy aluminum body with a capacity of about 35g of coffee beans. Unfortunately, that's too small for a two-person French press, but it is larger than many manual grinders in the JX's class. It's convenient, as there's a rubber grip on the upper part of the body to prevent slippage when using it.
You get a wide range on the JX. There are over 120 settings, and JX leaves plenty of room to dial in the precise grind size you want for your ideal French press profile. Each setting is only 25 microns wide, which is very small. The 48mm burrs are larger than most manual grinders (and even many electric grinders) and create great consistency across all settings too.
A significant drawback of the 1Zpresso JX is its price. It's not expensive per se, but it's not a value for a dedicated French press grinder. The JX is really trying to compete with espresso coffee grinders, which can be several hundred dollars more expensive than the JX.
If you're after a manual grinder specifically for its portability and lack of noise, the JX is one of the best you'll find. It's consistent, sturdy, and more affordable than manual grinders, with several hundred grind settings you won't need if you're trying to brew French press.
Pros
Excellent consistency
---
What to Consider When Buying Coffee Grinders
Burr Grinders vs. Blade Grinders
Burr grinders and blade grinders grind coffee in very different ways. In a burr grinder, two sets of cutting teeth (burrs) rotate against each other to break apart coffee against the cutting surfaces. You can control how fine the coffee is ground by adjusting how far apart the burrs are from each other. This allows for precise control over subtle differences in grind size and leads to more grind size consistency.
A blade grinder is essentially a blender. A rotating blade at the bottom of the grinder spins to break apart coffee beans. The only control you have over grind size is how long you let the blade spin, but even that doesn't create repeatable consistency every time.
We ordinarily recommend a burr grinder over a blade grinder in almost every use case. A blade grinder simply can't replicate the precision or consistency of a burr grinder. However, with coarse-ground coffee for French press, there's more wiggle room for consistency. Differences in grind size won't have quite as big an impact on the flavor of French press as they will on other brew methods, like espresso. A more consistent grind size is always better, but coarse grinding is the use case that a blade grinder is best suited for.
Blade grinders are often cheaper than burr grinders, so if you always prepare coffee with a French press and are looking for an entry-level budget grinder, a blade grinder isn't a bad option.
Burr Type
If you decide to use a burr grinder over a blade grinder, there's still one more decision to make: conical burrs or flat burrs? The most relevant difference between the two when it comes to brewing French press is their grind consistency.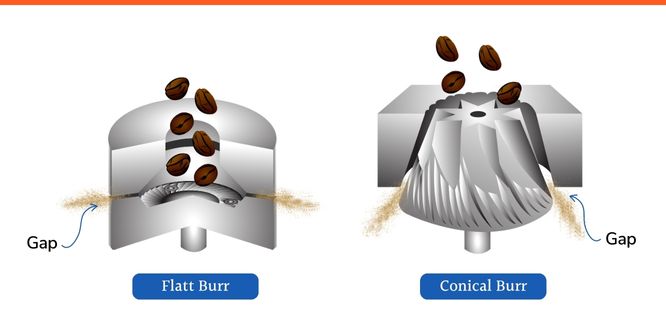 A flat burr grinder produces what's known as unimodal grind size distribution. This means that virtually all the coffee grounds will be nearly the same size. If you put the different grind sizes on a graph, the result would be a very tight bell curve with most of the grind particles concentrated around a single size. This consistency produces a clean, balanced flavor in the cup.
Conical burr grinders tend to create a bimodal grind distribution. In addition to the desired grind size, a conical burr grinder produces "fines," which are very small coffee particles that get created by the narrowing of the space between the burrs as the coffee is pulled through the burr assembly. If you were to graph the size of these grinds, you'd get a bell curve with two peaks, not one.
These fines will over-extract during the brewing process because of their smaller size. Essentially, they brew "too much" and create a more bitter, concentrated coffee. They'll also fit through the French press filter, creating some grittiness in the cup. Taken together, this creates a more muddy flavor profile. In most brew methods, this muddiness is a drawback of conical burr grinders. French press, however, is appealing to some precisely because it creates a richer, fuller, more earthy coffee than filter brew methods. If that's the draw of a French press to you, then a conical burr grinder's "muddiness" might feel like exactly the earthy flavor you're after.
In addition to the unique flavor profiles of each burr type, It's also worth noting that flat burrs are more expensive than conical burrs, but conical burrs have better grind retention. The choice between which is the better option depends on your budget, desired flavor profile, and tolerance for grind inconsistencies.
Manual or Electric
The difference between a manual or electric grinder for French press is mostly a matter of cost and convenience. Both types of coffee grinders can consistently grind coarse coffee, that's ideal for brewing French press. Electric grinders are quicker and use less effort but will usually cost more. Manual grinders take more time and energy but are more budget-friendly.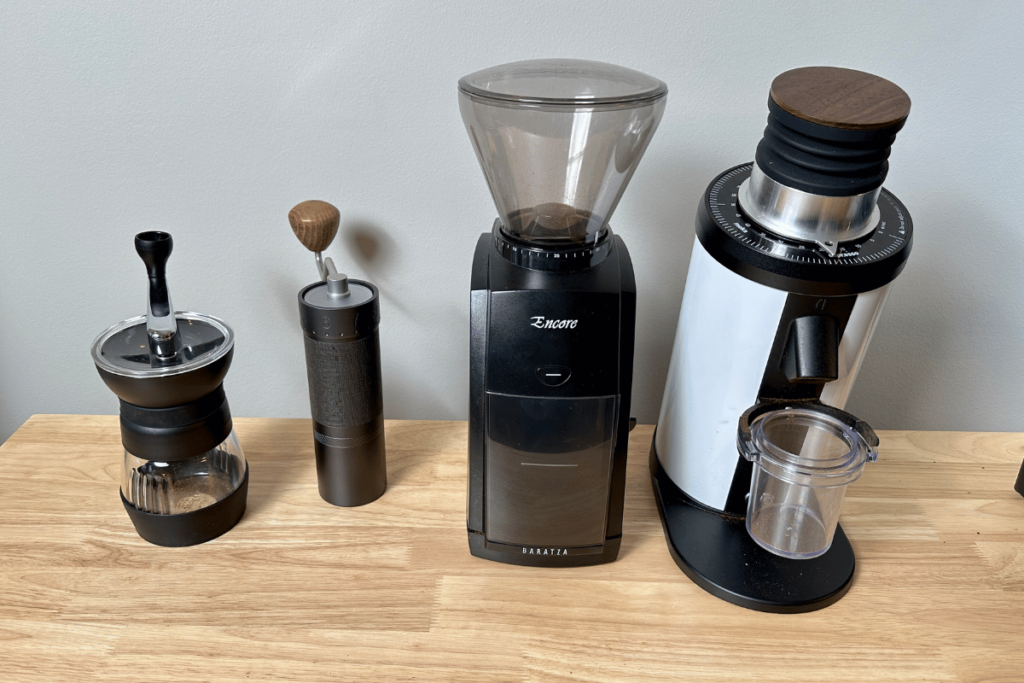 Manual grinders can also suffer from a small grind chamber that limits how much coffee you can grind at a time. One of the reasons I like French press is because it's easy to brew multiple cups of coffee at once. I typically make a pour-over for just myself, but if I'm making coffee for two or more people French press is a more convenient brew method. Many manual grinders can only hold enough coffee beans to grind for one cup of coffee at a time (usually between 20g – 30g). That means that if, like me, you use a French press to brew multiple cups of coffee, a manual grinder will force you to grind coffee multiple times for one batch of coffee.
That extra labor is the tradeoff for a hand grinder that is far cheaper than its electric counterpart. If budget is your primary concern and convenience isn't a priority, a hand grinder is a great option. If you're willing to spend a little more, an electric grinder will make brewing your morning cup fast and easy.
Grind Settings
The number of grind settings you need in your French press coffee grinder depends on your tolerance for inconsistency. A blade grinder, for example, has just one setting: on. It will let you brew a decent cup of coffee using a French press, but every cup will probably taste a little different. The 1Zpresso JX, on the other hand, has over 100 settings, letting you dial in with such precision that you can expect the same flavor profile every time.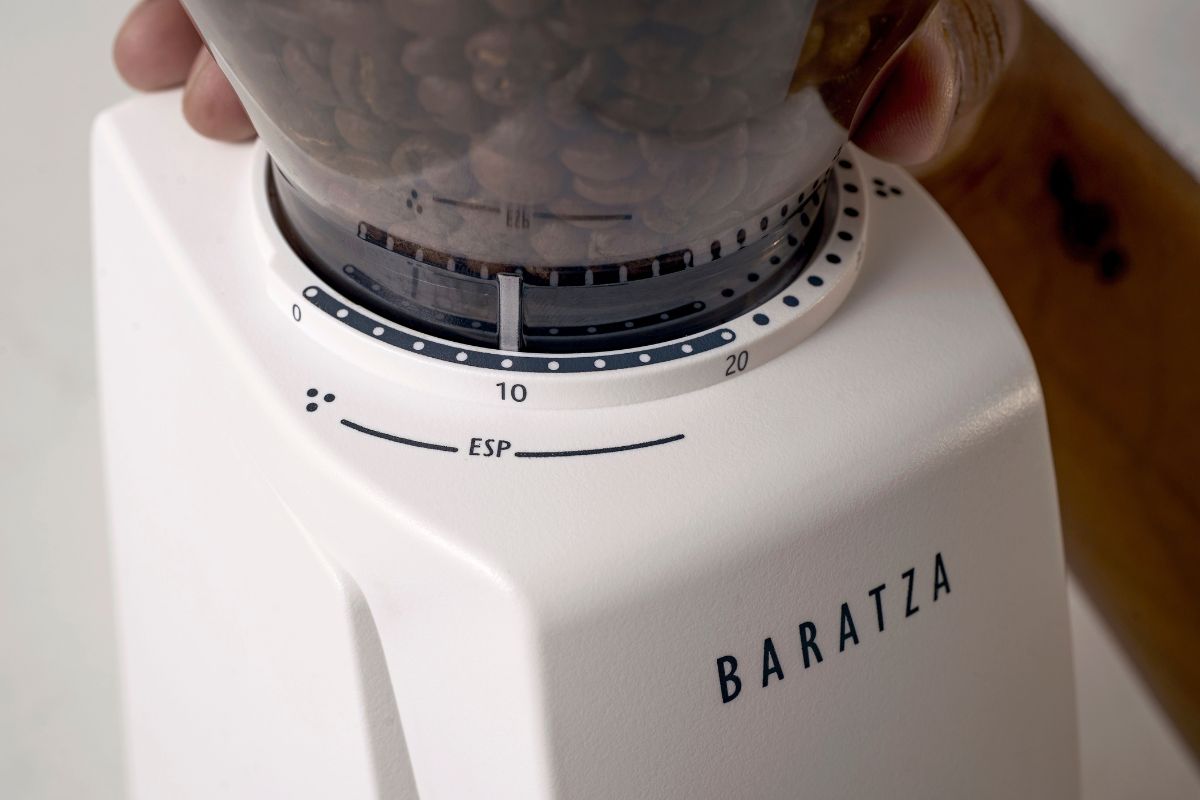 Many coffee grinders with many settings are designed to precisely dial in espresso, not French press. This doesn't mean they don't grind coarse coffee well, just that the precision and consistency they advertise aren't as apparent on coarser settings.
More grind settings can let you dial in the perfect French press, but be aware that more settings do not always mean more coarse options. Depending on the grinder, you may end up paying for more espresso settings you don't need.
In general, you don't need many settings for French press coffee, and 30 total grind settings are enough.
Budget
French press is a pretty forgiving brew method and will tolerate more inconsistencies in its grind while still delivering an enjoyable cup of coffee. This is great news for French press drinkers because it means that a good French press grinder can be very affordable.
The Baratza Encore, for example, is not nearly precise enough to brew consistent espresso but is our top pick for being the best overall French press grinder. It takes the top prize while being less than $200.
There are even more budget-friendly options, like the JavaPresse Manual Coffee Grinder, which is well under $50, and even some electric blade grinders retail under $50. They aren't as precise as the Encore but still make a decent French press on a very tight budget.
Whether you need a simple home-grinding option or want a top-of-the-line coffee grinder, French press coffee grinders are some of the most affordable coffee grinders on the market.
Making the Most of Your Coffee Grinder
Most of my top picks for the best coffee grinder for French press are also capable of grinding well for other brew methods. Read our extensive guide on French press coffee to learn how you can get the most best brew once you've chosen your preferred grinder.