Are you a novice barista? On a tight budget? Looking for a compact machine? DeLonghi Dedica espresso machine has plenty to offer. It has solid brewing performance coupled with a space-saving design.
The DeLonghi Dedica Arte is one of the best espresso machines you can get at this price point. It brews good espresso, has a powerful steam wand, and is easy to use. However, it's not all rainbows and roses. The Dedica suffers from the same issue other DeLonghi semi-automatics do — the 51 mm portafilter with pressurized baskets. I'll walk through how I got the most out of this, including the right accessories.
In this DeLonghi Dedica review, I'll cover the espresso quality, how to get the most from this machine and talk about how Dedica compares to other DeLonghi espresso machines.
Delonghi Dedica Arte Product Overview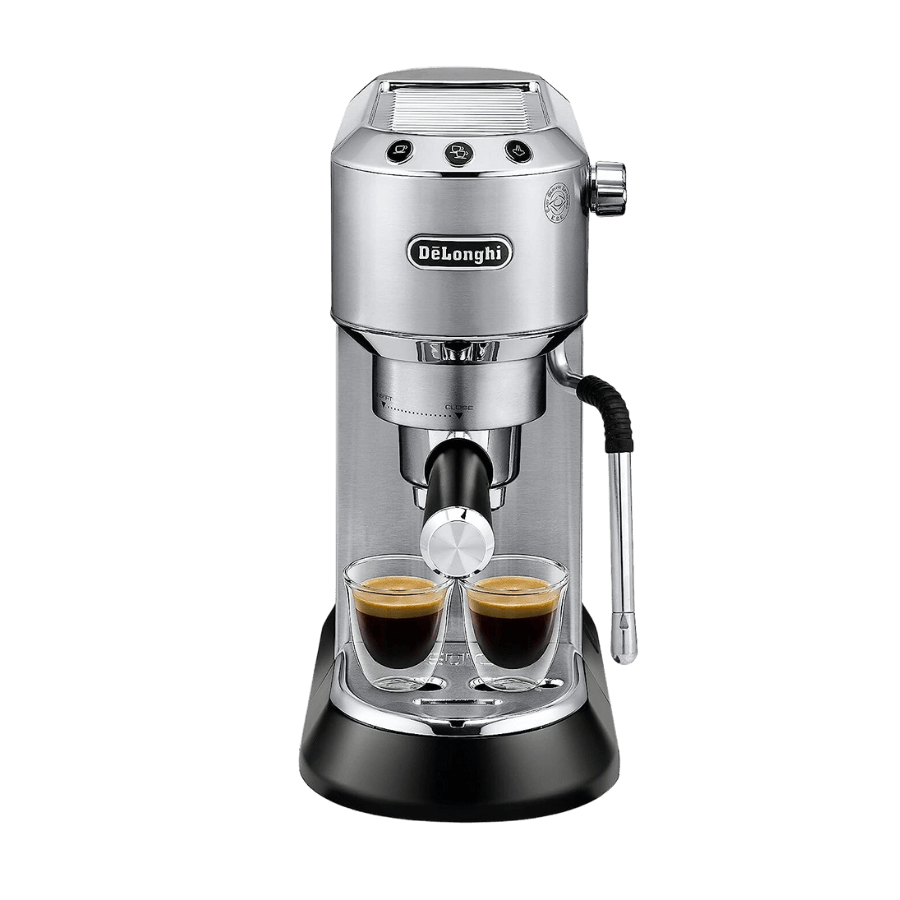 Delonghi Dedica Arte highlights:
Dimensions: 5.8 x 13 x 12 in (WxDxH)
15 bar pump
Thermoblock heating system
35 oz water tank
51 mm filter basket
My LatteArt steam wand
Two-tiered drip tray
Check Amazon
Delonghi Dedica
Design & Functionality
7.5
Pros
Compact size
Easy to use
Powerful steam wand
Compatible with ESE pods
Cons
Comes with a 51 mm portafilter and pressurized baskets
Difficult to attach the portafilter to the brew group
---
Delonghi Dedica Breakdown
Here's everything you should know about DeLonghi Dedica EC885.
Design and Build
I tested the DeLonghi Dedica Arte (model 885), which is the updated version of the Dedica 680. The most notable update is the steam wand, which is more powerful compared to the Pannarello on the original model (more on milk frothing below).
The most notable feature of this coffee machine is its slim footprint, which makes it a great option if you want a machine for your city apartment or are just short on counter space. The Dedica 885 measures 5.8 x 13 x 12 in (WxDxH). This espresso machine will fit anywhere with a width of just 6 inches, and it's smaller than most drip coffee machines.
The Dedica has a stainless steel finish combined with hard plastic, which makes it durable. Also, it's extremely lightweight (just 8 lbs), and you can easily move it around. However, this also causes one of the most common complaints users have — the machine moves when you lock in the portafilter. Use one arm to place the portafilter in the brew group, and place your other arm on top of the machine to hold it down.
The design of the coffee machine is pretty straightforward. There's a power button on the side and three buttons in front. You use the buttons for brewing a single shot, double shot, or steam function. The buttons are labeled with symbols and letters and are backlit. They emit either a steady glow or a blink, which tells you the machine's status (wait or ready to use).
The brew head is located in the middle, with the steam wand on the right side. I found the steam wand is located at a comfortable distance from the brew head, so it was easy to slip it into the milk container and steam milk.
There's a second drip try. You can remove the main tray, and there's another tray underneath fits taller glasses. It's nice if you want to make a latte or cappuccino. The regular drip tray has a small red buoy that floats when it fills, as an indicator that it's full.
However, the main drip tray has few grates, which is an annoying flaw. Water quickly accumulates on it instead of draining through. You'll have coffee residue on the bottom of your cup.
Finally, the water tank is located in the back and has a capacity of 35 oz. It's easy to take out, put back in, and remove as needed, which is a good thing considering the small size needs relatively frequent refilling.
Espresso Quality
Dedica has a Thermoblock heating system, so it's ready to brew in 40 seconds. While the heating system reaches optimal brewing temperature in under a minute, I suggest pulling a blank shot to warm up the portafilter and the brew group before brewing.
Want More Coffee Tips?
Join the email list for exclusive coffee insights and deals that only subscribers get. You'll get two coffee discounts just for joining.
No spam, ever. We respect your privacy and unsubscribe anytime.
My main issue with the Dedica is the portafilter size — 51 mm. This is narrower than most machines, and the narrower size means you have a taller basket. Coffee always travels through the top of the column first, so the top is over-extracted. This results in bitter shots. Unfortunately, this is a common issue for DeLonghi machines, such as the La Specialista Prestigio.
Also, the Dedica only comes with pressurized filter basket. These baskets have a second wall with one hole on the outside. The second wall creates extra pressure instead of the puck itself. Pressurized baskets have their advantages — you can use pre-ground coffee and get a good crema. It's also more forgiving common issues with puck prep or channeling are smaller issues.
My espresso shots from that pressurized basket still tasted pretty…fine. They had a solid flavor and some crema, which is especially good for a pressurized basket. But, it was a little bitter and had some sharpness due to the basket size and pressurization
The best thing you can do is upgrade to non-pressurized filter baskets as you grow your skills. I used the Neoza portafilter, which is bottomless and comes with a precision basket. Or get the IMS basket which fits the included portafilter. Highly, highly recommend either one.
I had even better results once I switched to a non-pressurized basket. Suddenly, there was more crema and bolder taste. The chocolate notes started to come through on my dark roast. I used a 65 grind setting on my 1Zpresso grinder, and the shot flowed in approximately 25 seconds, so I could grind even finer.
Other Features and Accessories
Dedica has three filter baskets: single, double shots, and ESE pods. You also get a heavy metal tamper and a plastic scoop to get the right amount of coffee. The tamper fits snugly and is a nice piece of hardware to add to an entry-level machine. Good move by DeLonghi there.
As mentioned, the filter baskets are all pressurized, which limits your coffee. My advice is to switch to a better filter basket. The IMS precision basket is a good option that works with the existing portafilter.
One notable absence is the milk jug. I found it baffling that the Dedica Arte includes a professional steam wand but no milk jug. Fortunately, any metal jug will work just fine, and this option is enough.
How To Use The DeLonghi Dedica (Tips For Better Espresso)
This is an entry-level espresso machine designed to be user-friendly. The espresso machine has a simple three-button interface that is intuitive. You can choose between single and double espresso shots and steamed and frothy milk, which makes it easy to make lattes and cappuccinos. It's clearly made for a beginner.
That being said, this is semi-automatic, so remember that most of the work is on you. You'll also need a separate espresso grinder too. Sure, you can use pre-ground coffee, but if you want good shots, freshly ground coffee beans are a must-have. I used the 1zpresso X Pro in testing, which was great at a reasonable price.
To start, add your ground coffee to the portafilter. Don't overfill the basket, especially since this is a smaller 51mm portafilter. You can put 16-17g of ground coffee in a double-shot.
Then, distribute and tamp the coffee. The key here is a level distribution. Use your fingers to smooth out the coffee, and tap the portafilter on your palm to flatten it out.
Now you need to tamp. Again, make sure you get a level tamp. You don't need all your strength, but you should be as straight as possible.
Once your puck is ready, you'll need to maneuver a little to attach the portafilter. The Dedica is small, and you should use two hands to attach the portafilter fully.
Then, simply press a single or a double shot button to brew. Aim for 30-40ml of espresso out. The Delonghi Dedica is programmed to dispense a longer shot, so you have to stop it early.
Note: The portafilter tends to drip after brewing. That is normal because the Dedica doesn't have a solenoid valve to release pressure. Pull out your cup immediately after brewing to avoid excess, and wait a few seconds to remove the portafilter so the pressure dissipates.
One tip is to change the water temperature over time. The Dedica has three temperatures, which can be tweaked to improve your espresso. As a rule of thumb:
Hotter temperature for light roast or fixing sour taste
Cooler temperature for dark roast or fixing bitter taste
You also need to do some cleaning. Remove the portafilter and knock out the coffee puck after each shot. Run water through the machine for a few seconds to purge the coffee grounds on the brew head. Overall, the cleaning is no different from other coffee machines, and it'll quickly become a part of your routine.
Milk Frothing
Dedica Arte 885 has an upgraded steam wand named My LatteArt. First off, I liked how the wand reached the bottom of my 350 ml milk jug. It's a single-tip wand, but it has enough power to make nicely textured milk foam, which means you can make latte art.
Press the steam button on top to use the wand. Once it stops flashing, it means the machine is ready to start frothing. Insert the wand into the milk container and open the steam dial. Once the desired temperature is reached, turn off the steam knob and wait until the steam completely stops before removing the jug.
Overall, it takes some skill to use the wand and learn how to froth milk, but it creates a good milk texture. This isn't an automatic milk frother, and you need to learn how to position the wand, train your palm to recognize when the optimal frothing temperature is achieved, and learn how to position the wrist for latte art.
Note: The steam wand doubles as a hot water dispenser, so you can make Americanos.
I also liked the steam wand is non-burn. There's a small rubber band on top you use to position the wand the way you want. But the entire wand is safe — it gets a little hot but nowhere near hot enough to cause burns. This also means milk doesn't crust, which makes the steam wand easier to wipe down.
Dedica is a single boiler machine, so you can't steam and brew simultaneously. Luckily, the wait time isn't long. However, the machine goes into a cooling cycle after steaming. You should place a container under the wand. Open the steam dial and wait for both coffee lights to flash — this indicates the boiler is cool, and you can pull a shot again. You should brew before steaming, like any espresso machine.
Finally, make sure to clean the wand after steaming milk. Wipe down the wand and release a short burst of steam to remove any milk remaining inside the tube. This ensures milk residue won't curdle and ruin your precious lattes.
Value
DeLonghi Dedica is a great value for money. Finding a powerful espresso machine under $500 is hard, and the Dedica is part of this cohort. You'll have a machine that can make espresso with a thick crema. It also has one of the best steam wands you can get at this price point.
That said, there are some other Dedica options to consider.
The DeLonghi Dedica Models: EC885 Vs. EC680 vs EC685
There are three DeLonghi Dedica models to choose from:
EC885 Arte: this is the model I tested with a professional steam wand. You can really manage the steam flow in your milk with an exposed steam wand tip.
EC685 (panarello wand): this model has a panarello steam wand. The actual wand is plastic and rubber, covered by a metal sheath. You have to submerge the milk jug and can only open a valve to let in air to make cappuccino. It's simple and gets either an airy foam or hot milk.
EC680 (classic Dedica): this is the older model with an even simpler steam wand. It's like the 685, but there's no option to add hot air. Said differently, you have one setting to froth milk.
Everything is the same except the steam wand. Both machines come with pressurized portafilters, and double drip tray, and are compatible with ESE pods. They'll brew the same quality espresso too.
Other changes are mostly cosmetic — the EC680 is available in several colors, while the EC885 only comes in a stainless steel version.
---
Alternative Options: Comparing The Delonghi Dedica
Gaggia Classic Pro
Gaggia Classic Pro highlights:
Commercial portafilter and steam wand
Semi-automatic espresso machine
Noise-dampening design
Gaggis Classic Pro can brew better espresso than the DeLonghi Dedica. This espresso machine has a commercial 58 mm portafilter. A 58 mm portafilter matches what's found on commercial espresso machines. Essentially, a larger filter lets you have a larger and flatter puck for more even extraction. And that means a more flavorful shot.
This machine is somewhat larger than the Dedica, with dimensions 8 x 9.5 x 14.2 (WxDxH). However, it has a much larger water tank — 71 oz. You can brew many espresso shots before refilling.
Classic Pro also has noise-dampening technology, which makes it extremely quiet. However, unlike the Dedica, which heats up in about 30 to 40 seconds, Classic Pro needs five minutes to reach optimal temperature.
The Classic Pro also has three buttons you use to work the machine which makes it simple to use. However, there is no temperature control on the boiler in the Gaggia Classic Pro, so the water will heat to boiling without any interference. You have to purge some water through the brew head to drop the temperature, then start brewing shortly after. This "temperature surfing" process makes the Classic Pro a little more difficult to use. But, it's worth it as the boiler has better overall temperature stability and makes better espresso.
Overall, Classic Pro has better temperature stability, portafilter, and heating system, which means it makes better coffee. However, it's also significantly more expensive — you'll need around $150 more for the Gaggia.
Breville Bambino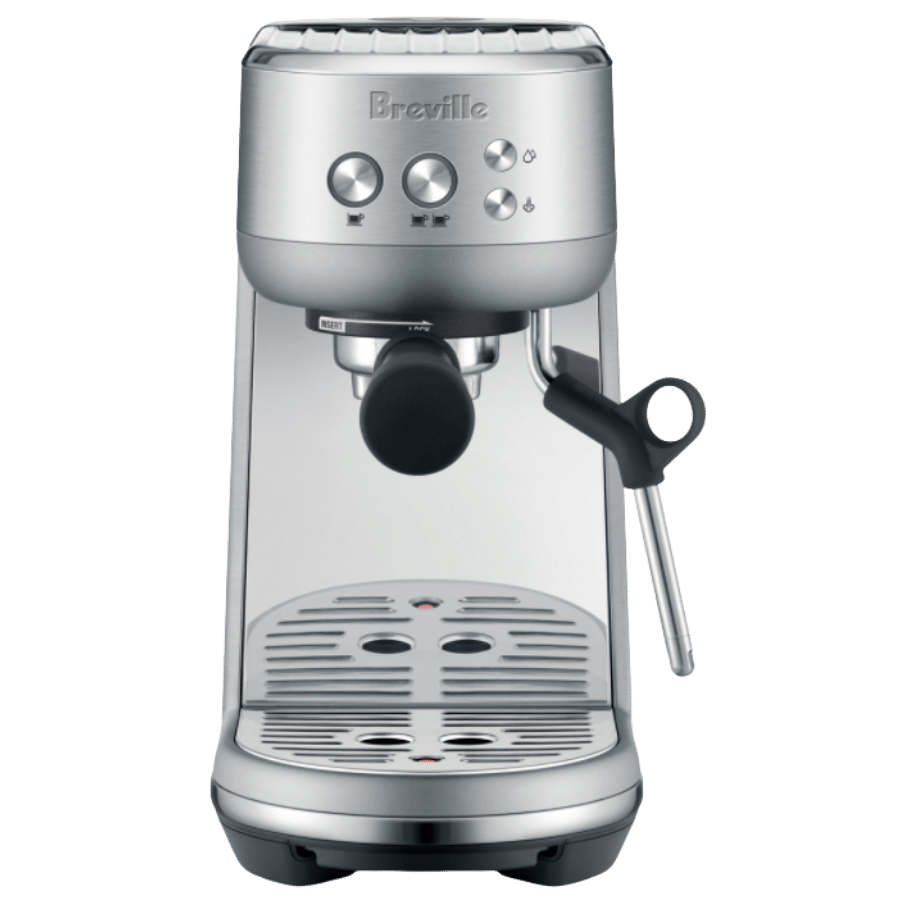 Breville Bambino highlights:
7.7 in x 12.6 in x 12.2 in; 1.4 liter reservoir (47 fluid ounces)
Manual steam wand; 360 rotation
Thermojet system (3-second heat up)
Breville Bambino is another compact espresso machine with dimensions 7.7 in x 12.6 in x 12.2 in. It has a Thermojet heating system which heats up in an impressive three seconds. Its 47 oz water tank capacity isn't as massive as on the Classic Pro, but it beats the Dedica.
Breville Bambino has the same interface as the Dedica, with a few buttons on the front to control dosing and the steam wand. The manual steam wand has a 360-degree rotation that creates good milk froth. It's a one-hole wand that (also) works similarly to the Dedica.
What sets the Bambino apart is excellent temperature control, thanks to the ThermoJet heating system and PID. The ThermoJet is a very thin thermocoil that has more efficient heat transfer. The PID controller constantly monitors and adjusts the brewing temperature, which ensures consistent shots. The Bambino also has 54 mm portafilters, which is larger than the Dedica.
Overall, the Bambino beats the Dedica in terms of temperature stability, portafilter, and heating system. However, it's also more expensive.
Product Title
Dimensions
Dimensions
5.8 x 13. 12 in
8 x 9.5 x 14.2 in
13.7 x 6.3 x 12 in
Filter baskets
Filter baskets
One-cup and two-cup pressurized baskets
Double shot pressurized filter basket, single shot non-pressurized basket, double shot non-pressurized basket
One-cup and two-cup pressurized baskets
Basket size
Basket size
51 mm
58 mm
54 mm
Tamper
Tamper
Metal
Plastic
Plastic
Water tank
Water tank
35 oz
71 oz
47 oz
---
Should You Get the DeLonghi Dedica?
DeLonghi Dedica is a solid espresso machine. Its main pro is the powerful steam wand that can easily froth milk for milk-based cappuccinos and help you learn or perfect latte art.
However, it also has some drawbacks — inconsistent temperature, low pump pressure, and 51 mm portafilter size. If this is your machine of choice, my advice is to upgrade to another filter size. Or, increase your budget slightly and check out our selection of the best espresso machines under $500.