Philips 5400 is the latest fully automatic coffee machine in the Philips LatteGo lineup. This machine has a ceramic burr grinder, seamless interface, and automatic milk frothing system.
I liked many things about Philips 5400, especially its different user profiles and 12 different drinks. The LatteGo system is excellent for lattes, and it's very easy to maintain. However, the espresso coffee has some drawbacks.
In my Philips 5400 LatteGo review, I'll discuss everything from setup to the main features and drink options. Also, I'll compare all the Philips automatic espresso machines in the LatteGo series and recommend the Philips 3200 for those looking for the best value vs features.
Philips 5400 LatteGo Product Highlights and Rating
The standout feature is the full-color display and numerous drink options. It also comes with Philips patented LatteGo automatic milk frother. The Philips 5400 has the same internal components as other Philips super-automatic machines, so ask yourself if it's worth the additional price for the display.
Philips 5400 LatteGo highlights:
Dimensions: 9 3/4 x 17 x 14 3/4 in
Weight: 18 lbs
12 different drink options
LatteGo milk frothing system
Ceramic grinder with 12 settings
9.7 oz bean hopper and pre-ground bypass valve
60.8 oz water tank (front loading)
AquaClean system keeps descaling away for up to 5,000 cups
*The Philips 5400 LatteGo is sold exclusively by Williams-Sonoma*
Philips 5400 LatteGo: Craft Coffee Spot Rating
Espresso Quality & Brewing System
6.5
---
Setting up the Philips 5400 LatteGo
Once you've got everything out of the box, it's time to set up this fully automatic coffee machine.
First, insert all the removable parts — the drip tray and the LatteGo system – and plug in the machine. When you turn on the Philips 5400 for the first time, you'll have to choose the language and do the water hardness test.
Enter the water hardness info in the machine settings so the coffee maker can calculate the descaling time. Next, set up the AquaClean filter.
As Philips 5400 super automatic espresso machine has an AquaClean filter. This filter allows you to brew 5,000 coffee cups before having to descale. At two cups a day, you won't need to descale for seven years! That is more than impressive, and few machines in this range have this feature. I recommend using the AquaClean filter, which fits nicely into the tank.
Pro tip: Make sure to place the drip tray, or even better, place a glass under the hot water spout, as the machine will do an initial rinsing cycle when you first turn it on. I didn't do it and had to clean up afterward.
When you use the espresso machine for the first time, you'll see a guest profile on display. You can set up your own profile with your favorite drinks — press the profile button on the left. You can create up to four profiles, plus the guest profile. I like my latte a certain way, while my family members prefer a cappuccino or an espresso, so this is a really useful option.
Finally, fill the bean hopper, the water tank, and the LatteGo milk system if you plan to make milk-based espresso drinks.
Now you're ready to brew!
Feature Breakdown
Here are the most important features of the Philips 5400 LattoGo espresso machine.
Design and Main Specs
Philips 5400 is a compact coffee maker compared to other fully automatic espresso machines. Its dimensions are 9 3/4 x 17 x 14 3/4 in, and weighs 18 lbs. It fits under kitchen cabinets, although it's quite deep. However, the front-loading system means you won't have to pull it out very often.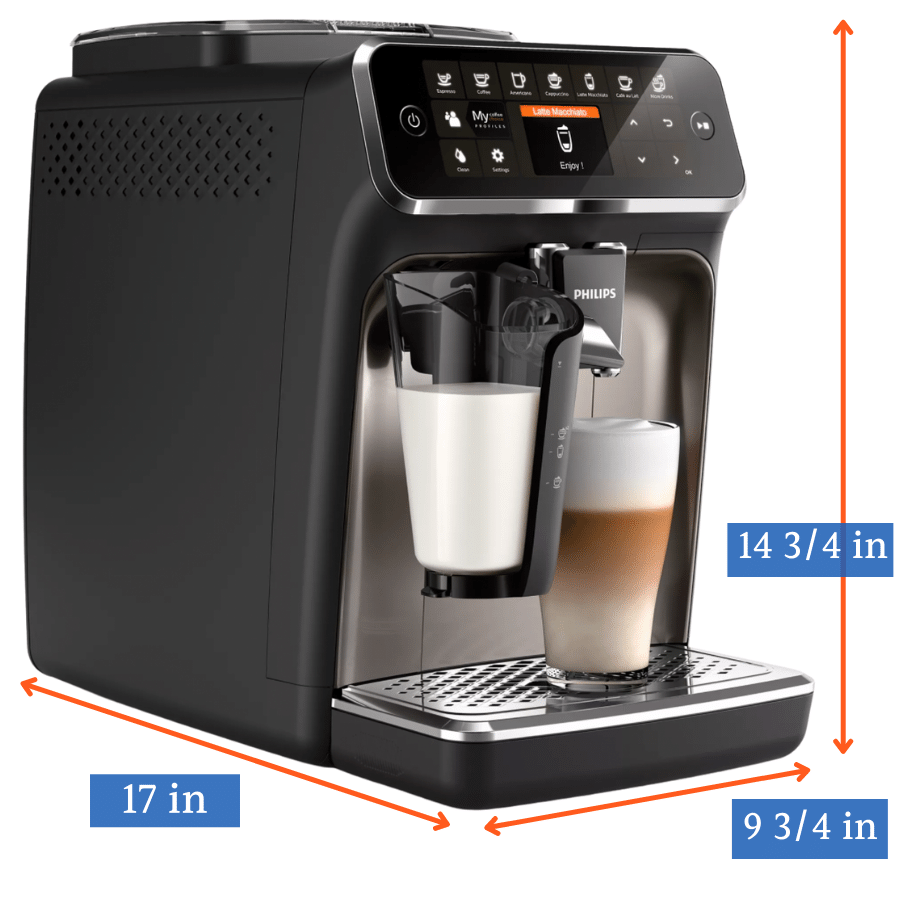 The espresso machine is made of matte black plastic. Stainless steel accents around the display, and the silver front panel gives it a stylish look. The machine looks modern, and the plastic is durable. I didn't have any issues with scratching, even when I washed the removable parts in the dishwasher.
The bean hopper is located on the top, and its capacity is 9.7 oz. The lid has a UV filter and a rubber seal, which helps keep the coffee beans fresh. I've had issues in the past with lids that wouldn't seal properly, so the coffee beans were exposed to light and air. That's not the case with the Philips 5400 lid.
The coffee grinder is located within the bean hopper, and it has 12 settings. There's also a bypass valve for pre-ground coffee. This is a good option when you or your guests are in the mood for decaf coffee.
The 60.8 oz water tank is front-loading, which is handy as there's no need to pull out the espresso machine to fill it up. Also, it's large enough to brew several espressos, lattes, and cups of coffee before refilling.
Want More Coffee Tips?
Join the email list for exclusive coffee insights and deals that only subscribers get. You'll get two coffee discounts just for joining.
No spam, ever. We respect your privacy and unsubscribe anytime.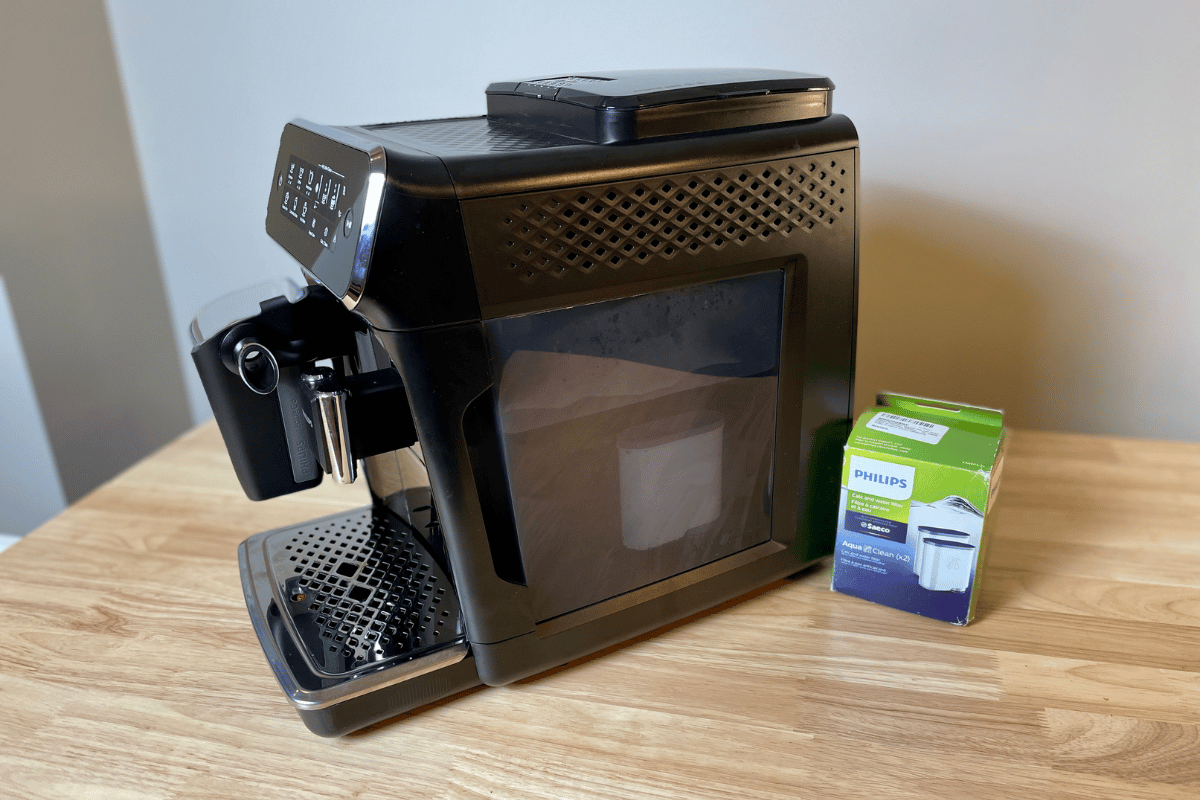 You can slide out the drip tray and the used coffee container from the front of the machines. The used coffee container holds 12 coffee pucks before you must empty it. The drip tray has a red floater that indicates when the tray is full and should be emptied. It does fill up quite quickly given the additional rinsing cycles.
The coffee spout is adjustable, and I liked that it'll fit even my tall macchiato glass, which isn't the case with many other coffee machines.
Control Panel and Drink Options
This fully automatic espresso machine is controlled via a color touchscreen display. This is the really nice highlight of the 5400, as the control panel is very high quality and intuitive.
The on/off button is located on the far left. Next to it are the user profiles, which are differentiated by colors and not names. There's pink, blue, yellow, green profile color, and no color for the guest profile. The arrow and confirmation buttons are on the right side.
The top row shows six coffee drinks: espresso, coffee, Americano, cappuccino, latte macchiato, and café au lait. My mom, who's not very tech-savvy, liked that there are actual pictures of the drinks and not icons. There's also a "more drinks" button, which lets you scroll for more coffee drinks.
Overall, the touchscreen gives the espresso machine a modern feel.
Each user profile has individual settings for adjusting the bean strength, volume, choosing an extra shot, and adjusting the amount of milk for milk-based drinks. The coffee bean symbol is the aroma strength, and you can choose between five levels, from strong to mild.
When you brew a double, the Philips actually brews two separate drinks. While this seems annoying, it's actually a great feature. Most espresso machines just run more water through their double shots without any extra coffee, which leads to a bitter flavor and faux double shot. Philips makes a true double for twice the flavor.
You can save the settings, so the next time, you'll get a customized latte, macchiato, cappuccino, or any other delicious coffee drink with a touch of a button.
Here's a complete list of the coffee drinks you can make with Philips 5400 LatteGo:
Espresso
Coffee
Americano
Latte macchiato
Cappuccino
Café au lait
Flat white
Cafe crema
Cafe latte
Espresso lungo
Ristretto
Milk froth
ToGo mug
Hot water
Note: To get hot water, you'll have to remove the LatteGo milk container. You can adjust the temperature and water you need.
LatteGo Milk Frothing
The standout of the Philips line is the automatic LatteGo milk frothing system. It's a unique aspect of the Philips line of automatic espresso machines. The milk system is made up of a transparent container and an outlet through which the milk goes into your cup. It's very easy to attach and remove from the coffee machine.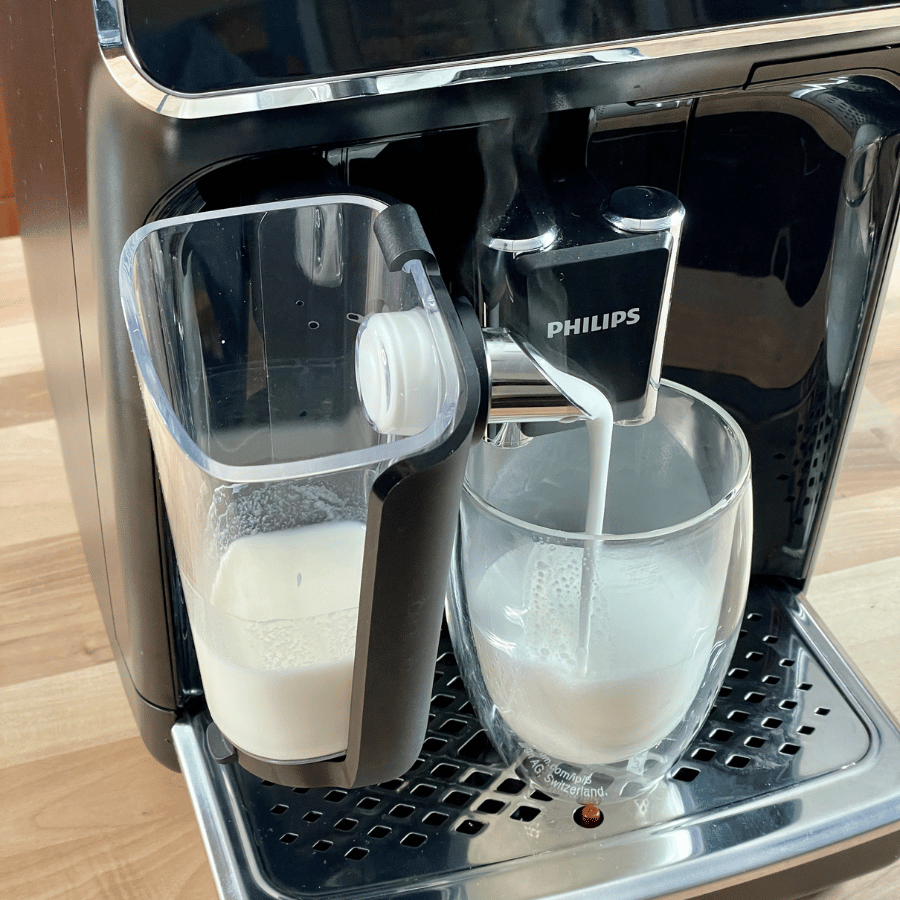 You can also get the Philips 5400 with the classic milk foamer, which is a traditional manual steam wand. It comes at a lower price than the LatteGo versions, but I don't recommend it as the LatteGo is the biggest selling point of these models.
You set up the LatteGo system by clicking the milk carafe and its holder together and then latching onto the machine in one move. The two ditches create a tube. To froth milk, you have to add cold milk to the LatteGo milk container, and then press the button on the machine for the drink you want to make. Milk and air will be mixed at high speed in the milk container, and milk froth will be automatically poured into your mug through the tube.
You don't have to fear milk being stuck inside and crusting if not cleaned properly. There aren't any tubes, so cleaning and maintenance is extremely easy. You can clean the LatteGo milk system underwater or in the dishwasher.
Be careful when placing the mug underneath the milk system. I put mine too far back, so there were some spills.
The milk container has markings, so you know exactly how much milk you should pour for a latte, macchiato, and other milk drinks. However, the markings are hardly visible. This was an issue for my parents, so I always had to help them get the milk amount right.
The coffee machine created a nice, thick froth that's especially good for cappuccinos. However, you don't have any control over the froth, and it can't create the microfoam needed for latte art.
Finally, I have the same complaint about the Philips 5400 milk container I had with other fully automatic espresso machines in this range: the lid. There's no rubber to hold it in place, and it flies off the container very easily. I had to be extremely careful every time I took it out and back to the fridge. Otherwise, it would go flying, and because it's made of thin plastic, it's not very durable.
Espresso Taste and Quality
The espresso taste is quality is…just ok. The espresso is weaker than other espresso machines, and the one downside of this model. However, there are some ways to improve this. Let's talk about the internals first.
Philips 5400 is a single stainless steel boiler machine. This means one boiler is used to heat water for both brewing and steaming. You won't be able to brew and steam simultaneously, but there's not much waiting time with Philips 5400. The machine steams the milk first and pulls a shot a few seconds later.
The Philips 5400 comes with a ceramic burr grinder. I know ceramic vs. stainless steel grinder is a debate amongst aficionados, but ceramic grinders have real advantages. They grind at a lower heat, which preserves oils in your coffee beans, and makes your espresso rich and flavorful. They also last longer than steel burrs.
While the internals are good, the espresso tends to taste weak on the Philips 5400. The problem is the espresso brews too quickly and that's because the brew head (the main part holding coffee in the machine) has too big of holes that don't allow proper extraction of the coffee grounds.
The espresso is still much better than a traditional coffee and you'll notice the boldness that espresso is known for. However, it falls short
After some testing, I found you can improve the espresso a lot by changing a few settings:
Grind finer. There are 12 grinding levels on the Philips 5400, and I recommend setting 3-4. You can change the grind size using the knob inside the hopper. Change the grind size while it is running, or it can clog.
Increase the water temperature. Water temperature is important for proper extraction and Philips standard setting is a little cold. The higher settings are better.
Choose a higher strength. This is where the extra controls on the display save the day. You can increase the strength of the drink, which will really bring the intensity more in line with other espresso machines.
One thing that contributes to easy maintenance is the removable group head. It should be cleaned occasionally to remove coffee grounds deposit from it, to make sure your espresso is brewed with the freshest beans.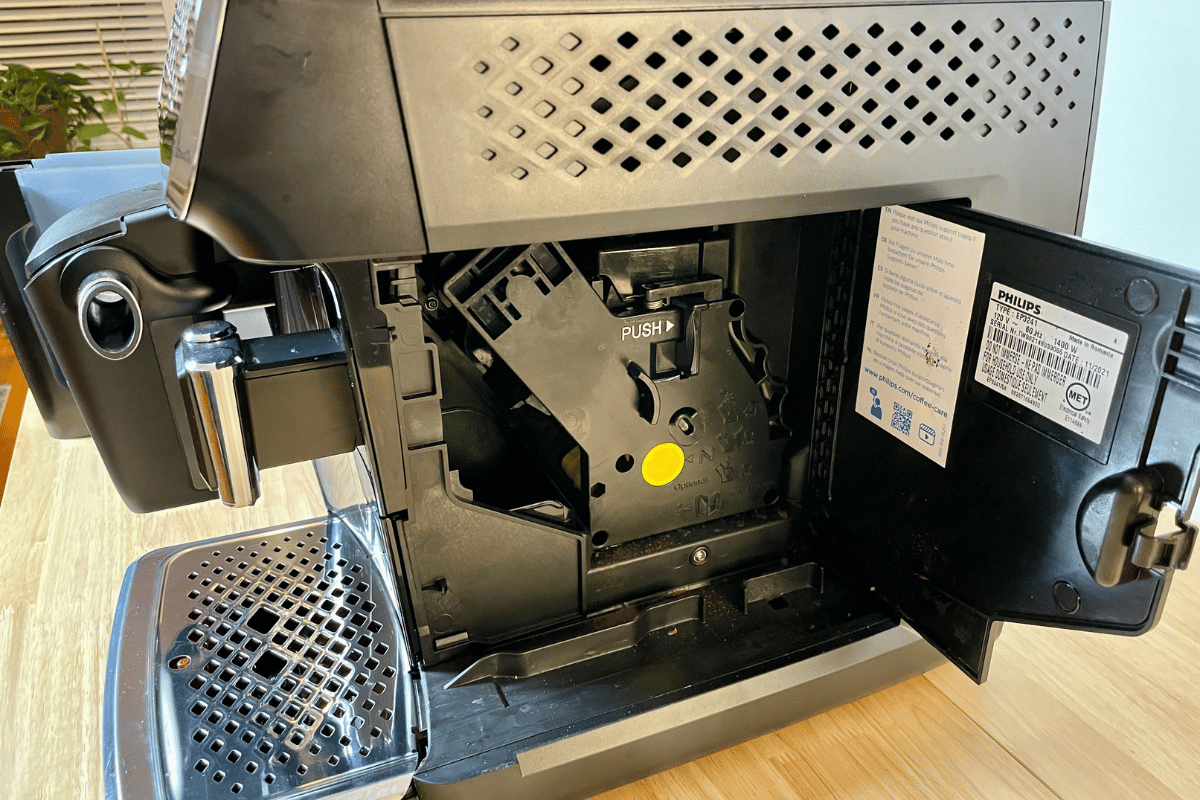 ---
Comparing Super-Automatic Espresso Machines: Philips 2200 vs 3200 vs 4300 vs 5400
Philips 2200
Philips 2200 LatteGo highlights:
Can make three coffee drinks: espresso, coffee, cappuccino, and hot water
Has a classic milk frother
No user profiles
No extra shot option
Has a touch display
12 settings adjustable ceramic burr grinder
60oz water container with AquaClean filter
Philips 2200 LatteGo is the first machine in the Philips LatteGo lineup. This fully automatic coffee machine can brew up to three coffee drinks, as well as hot water.
Compared to other coffee machines in the LatteGo series, this is the most basic one, but it still contains many features that later versions do. There's a ceramic burr grinder with 12 settings, an AquaClean water filter, and LatteGo milk frothing. Philips 2200 allows you to adjust aroma strength and quantity via the "My coffee choice" option on the display. Finally, it has removable parts, so cleaning the coffee machine is easy.
Philips 2200 is best for coffee drinkers who are just entering the world of fully automatic coffee machines. If you have a strict budget and don't need a ton of coffee options, this is the machine for you.
Philips 3200
Philips 3200 LatteGo highlights:
Three levels of aroma strength, coffee, and milk length
Five coffee drinks: espresso, cappuccino, coffee, latte macchiato, Americano, and hot water
Automatic LatteGo milk frother
Touch display
12 settings adjustable ceramic burr grinder
Aroma seal lid keeps the coffee beans fresh
60oz water container with AquaClean filter
Philips 3200 coffee machine is the second in the Philips LatteGo lineup. It's a slightly more advanced version of 2200. It has all of the same features as 2200 does: adjustable aroma strength and quantity, a sharp ceramic burr grinder with plenty of settings so you can experiment with ground coffee flavors, a large water tank, and removable parts.
The only difference between 3200 and 2200 is the number of coffee options — 2200 has three, while 3200 has five coffee options.
This coffee machine is best for coffee drinkers who want more drink variety and ease of use. If you don't want to worry about cleaning the machine, and the ease of use is your primary concern, you'll love Philips 3200. All the important parts that need to be cleaned are removable, and you can brew drinks with a touch of a button.
Philips 4300
Philips 4300 LatteGo highlights:
Silver spray-painted front
Brew eight drinks: espresso, coffee, Americano, cappuccino, latte macchiato, café au lait, caffe creama, ristretto, and hot water
Two user profiles so you can save your drink preferences for future use
Touch display
12 settings adjustable ceramic burr grinder
60oz water container with AquaClean filter
Philips 4300 is a more advanced coffee machine compared to 2200 and 3200. The main difference is that the 4300 fully automatic coffee machine has two coffee profiles. This means you can save all your coffee preferences and have your favorite brew with a touch of a button. Once you set your preferred parameters, there's no need for further adjustments. Also, Philips 4300 is silver, while previous LatteGo coffee machines were all matte black.
This coffee machine is best for coffee drinkers whose #1 requirement is the ability to brew various coffee drinks. With Philips 4300, you'll be able to make up to eight drinks, plus hot water. This is also a good choice for you if you'll be sharing your coffee machine with one other user, as both of you will be able to create your own profiles and have coffee according to your preferences.
Philips 5400
Philips 5400 LatteGo highlights:
Silver-chromed front panel
Brews 12 drinks: espresso, coffee, Americano, cappuccino, latte macchiato, café au lait, caffé crema, espresso lungo, ristretto, caffé latte, frothed milk, and hot water.
Has a color LCD display
Has four profiles plus one for guests
12 settings adjustable ceramic burr grinder
Plenty of drink personalization options
60oz water container with AquaClean filter
Philips 5400 is the latest and most modern coffee machine in the LatteGo lineup. Compared to the previous models, there are slight differences in design. 5400 has a stainless steel front panel, which makes it look more high-end. Another difference is that 5400 has up to four drink profiles, which will come in handy if you have family members with different drink preferences.
Finally, 5400 is the only LatteGo coffee machine with a color display instead of black and white, and the most drink options — 12.
If you're looking for a fully automatic espresso machine with plenty of drink options that's easy to use, you'll love Philips 5400. You should also choose this coffee machine if you'll be sharing it with more than one person, as it has four drink profiles.
What's the Best Philips Espresso Machine?
We recommend the Philips 3200 LatteGo or the Philips 4300 LatteGo. While the 5400 is certainly good, the additional drink options and user profiles aren't necessary. All the models come with the same internals and drink quality.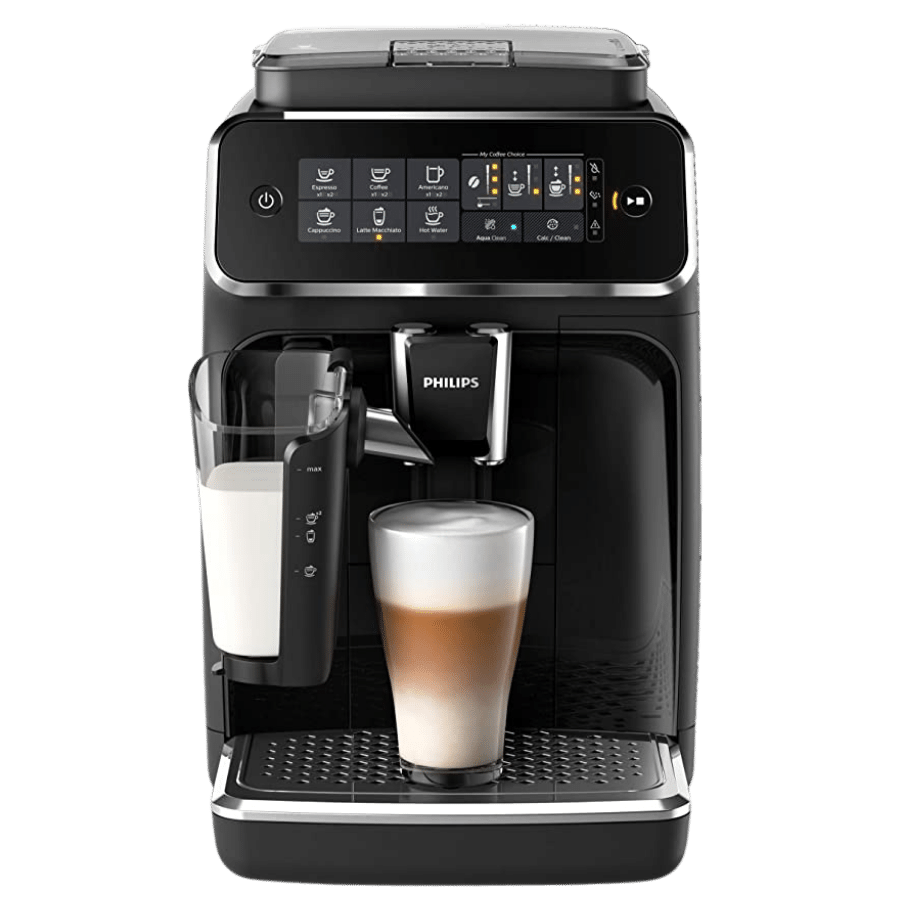 Philips 3200 LatteGo is a perfect starter super-automatic espresso machine. Bright lit displays with five espresso drinks and control options for temperature, aroma, coffee quantity, and milk froth. The LatteGo milk frother makes one-touch cappuccinos and the machine is easy to maintain with the AquaClean system. The Philips line comes with ceramic burr grinders, which are higher quality than comparable machines.
You'll have plenty of drink variety with Philips 3200 as well, as it brews five different drinks plus hot water. Thanks to the LatteGo system you'll be able to make a range of milk-based drinks. The 4300 is another step up because you get the additional control settings and two user profiles.
All the other features of Philips 3200 are in line with the rest of LatteGo machines. You'll also get a fully automatic coffee machine that's easy to clean, has the AquaClean filter, and a ceramic burr grinder.
See our full review of the Philips 3200 LatteGo
Final Thoughts
Apart from some minor drawbacks, such as the flimsy milk system lid, I was satisfied with the Philips 5400 super-automatic espresso machine. It consistently brewed delicious coffee, it's extremely easy to use and maintain, and I could share it with others in my family without messing up our preferred drink settings.
The Philips 5400 can do it all: 12 drink options and four different user profiles. The full color LCD display is easy to use. Perfect for a large household or an office setting. The AquaClean system can go 5,000 cups, dramatically reducing maintenance. The ceramic grinder is high quality and hard to find at this price range. Overall, a high-quality super-automatic espresso machine.
*The Philips 5400 LatteGo is sold exclusively by Williams-Sonoma*
If you're looking for a more affordable super-automatic espresso machine, check out our DeLonghi Magnifica ESAM3300 review.