The DeLonghi Magnifica ESAM3300 is a super-automatic espresso machine that's been on the market for two decades and is still a best seller. After a thorough review, I can see why.
If you want to get your foot in the door in the world of automatic espresso machines without breaking the bank, DeLonghi Magnifica ESAM3300 could just be the perfect espresso machine for you.
It's a great entry-level super-automatic espresso machine. It's easy to use, the dual-Thermoblock heating system makes quality espresso, and the Panarello steam wand makes nice cappuccino foam. Most importantly, the value is hard to beat, when most super-automatic espresso machines cost well over $1,000.
In my DeLonghi ESAM3300 review, I'll talk more about all the features that made the DeLonghi Magnifica espresso machine a fan favorite for more than two decades. I'll also explain who this machine is best suited for and provide alternative options. Let's start!
Product Summary: Quick Highlights
DeLonghi Magnifica ESAM3300 highlights:
Dimensions: 11 x 15.3 x 14.4 in
Weight: 23.1 lbs
Heating System: Dual thermoblock
Adjustable Spout: from 2.75 in to 4.25 in
Front-loading system: water tank, removable drip tray, & coffee grounds container are all accessible from the front
Pump: 15 bars of pressure, but struggles to push water through with very finely ground beans
Dials: adjustable volume (from 0.5 to 6oz) and the brew strength (the amount of coffee grounds used)
Milk Frother: manual
Cleaning: easy to clean and descale
DeLonghi Magnifica ESAM3300: Craft Coffee Spot Rating
Espresso Quality & Brewing System
8.5
Pros
A front-loading water tank is easy to use.
The dual Thermoblock boiler provides fast heating time.
Adjustable coffee spout for different types of beverages and coffee cups.
Cons
No ability to add a water filter.
The integrated burr grinder is very loud.
The espresso machine can't brew and steam simultaneously.
Feature Breakdown
DeLonghi Magnifica ESAM 3300 may be an entry-level super-automatic espresso machine, but it has an impressive range of features. Here's a breakdown of all of them.
Design
DeLonghi is compact compared to other super-automatic espresso machines. It weighs 23.1 lbs, and its measurements are 11 x 15.3 x 14.4 in. It's only available in silver with black sides.
This espresso machine has a front-loading system — the water tank, removable drip tray, and coffee grounds container are all accessible from the front. This saves vertical space and makes it easier to use. I stored it under my kitchen cabinets and only had to pull it out when it was time to fill the bean hopper.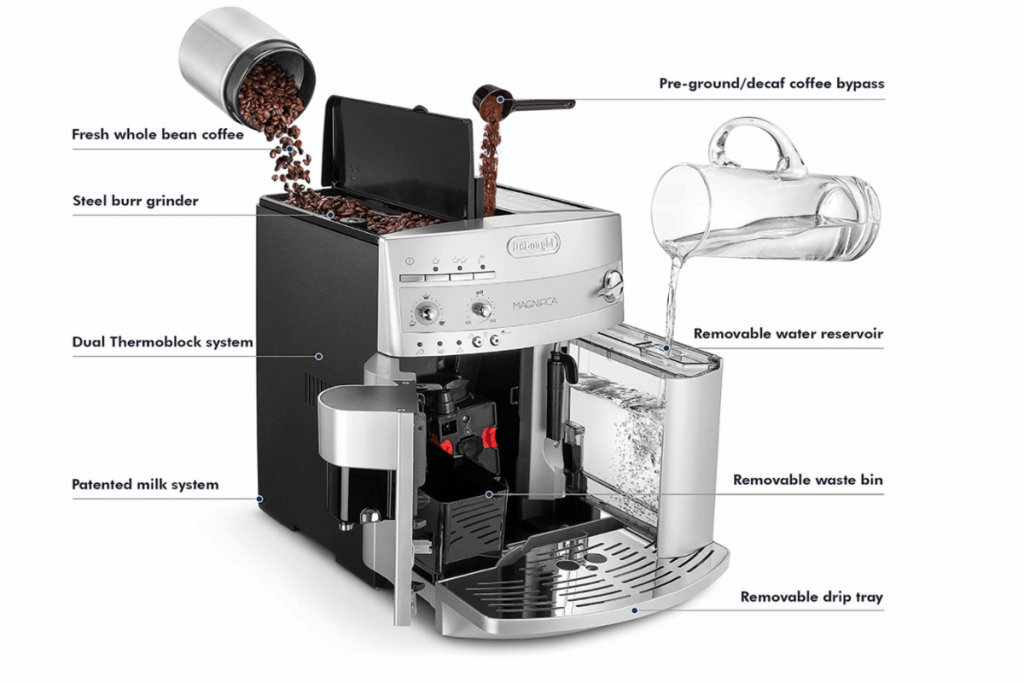 The build material is all plastic, which is to be expected considering its affordable price. This means it's prone to scratches, so you'll have to be careful when lifting the cup from the dispenser and cleaning the various machine parts. While the DeLonghi Magnifica espresso machine doesn't have the elegant stainless steel appeal, its appearance is still nice enough and should fit nicely into any kitchen.
In terms of build design, one of my favorite features is the adjustable spout height. I've used a number of espresso machines over the years where I've struggled to get the cup height right. Either the spout is too low for my cup or the spout is too high and the espresso splashes and makes a small mess.
Luckily, there are no such issues with DeLonghi Magnifica ESAM3300. The spout is adjustable — its minimum height is 2.75 in, and its maximum height is 4.25 in.
Water Tank
The DeLonghi Magnifica espresso machine has a 60oz water tank. This will come in handy if you drink Americanos or other larger-sized beverages. You won't have to refill the water tank daily.
Want More Coffee Tips?
Join the email list for exclusive coffee insights and deals that only subscribers get. You'll get two coffee discounts just for joining.
No spam, ever. We respect your privacy and unsubscribe anytime.
There's an indicator light that tells you the water tank is running low on water, so you won't find yourself out of water in the middle of pulling an espresso shot. I've had it happen to me with other coffee machines, and it's super annoying.
The water tank doesn't come with a water filter, nor is there a place to screw one in. The machine does come with a test strip for checking the water's hardness, so at least you'll know how hard your water is.
The rule is: the harder the water, the more descaling the machine will need, which means more work for you. Unfortunately, without a filter, the DeLonghi Magnifica develops more calcification than other machines. Filtered or bottled water will reduce scaling.
Grinder
This espresso machine has a stainless steel conical burr grinder that can be adjusted to 13 grind settings. However, I noticed that the DeLonghi Magnifica struggles to brew coffee with the finest two settings, so in reality, you won't be using the last two settings.
The dial to control the grinder is located next to the hopper, which holds 8.8oz of coffee beans.
I also noticed that the grinder is very loud. This can be an issue if you have a baby or don't want to wake up your family in the morning or when you have a late-night coffee craving. Newer DeLonghi models have quieter grinders, but with 3300, you aren't paying the price of the newer models.
That being said, the grinder is still good, and on par, or even better than grinders in most other automatic espresso machines I used.
I also liked that there's a coffee grounds container for pre-ground coffee. This comes in handy when you want a cup of decaf coffee.
Other Build Features
DeLonghi Magnifica also comes with a removable brew head. I consider this an advantage because you'll be able to clean the brew head more thoroughly. Plus, it's easily replaceable in case it breaks.
The drip tray is also removable, and it comes with a red float that tells the water level. Still, don't wait until the water reaches the red float, as you'll probably spill when taking out the removable drip tray. At least that's what happened to me, so I emptied the tray as often as possible.
I was impressed that ESAM3300 even has a cup warmer tray when some more expensive super-automatic espresso machines don't. When you pour coffee into a cold cup, it loses warmth in seconds, so a cup warmer tray helps keep your beverage hot for longer.
However, DeLonghi Magnifica ESAM 3300 has a lukewarm cup warmer tray that just doesn't get warm enough.
Espresso Quality and Brewing System
This espresso machine has a dual thermoblock heating system, which means there's one thermoblock for brewing and one for steaming. However, you still won't be able to steam and brew at the same time, but the switch time is fast.
DeLonghi uses an Instant Reheat feature, which means you can do these actions one after the other. There's almost no waiting time between steaming and brewing. Once again, this is an impressive function that many other more expensive super-automatic espresso machines don't have.
You'll have hot water quickly and can make several cups of coffee one after the other. This comes in handy if you're brewing for a household of coffee lovers, or you'll use this coffee machine in a busy workplace.
Like most other espresso machines, DeLonghi Magnifica ESAM3300 comes with a 15-bar pump. As this is a super-automatic espresso machine, the pump forces the water into the coffee found in the brew group.
15 bars of pressure sounds impressive, but I found the pump struggles to push the water through when you have very finely ground coffee. This means you'll have to use a little coarse ground coffee to make your espresso.
The coffee machine makes good espresso due to the Thermoblock technology and built-in pre-infusion. An even and consistent heat distribution is important for good extraction, especially when you're "dialing in" your espresso (finding the best grind setting and brew method).
Ease of Use: Straightforward, Simple Display
DeLonghi Magnifica ESAM 3300 doesn't have a display but a push-button control panel. You can get hot water or choose between single and double espresso shots with a press of a button.
Two dials let you choose between coffee strength and coffee size. Below them are alerts that let you know it's time to add water, empty the ground coffee pucks, or descale.
The coffee machine is easy to use — pour water into the water tank, place the cup below the spout, and push a button. But, if you want a milk-based espresso drink, you'll have to froth the milk yourself.
Same as with manual and semi-automatic machines, you'll have to dial in the espresso machine every time you change the coffee beans. This means you'll have to adjust the two dials: the volume (from 0.5 to 6oz) and the brew strength (the amount of coffee grounds used).
However, DeLonghi Magnifica ESAM 3300 comes with a coffee memory function that remembers your customized drinks. If you create a certain ground coffee configuration today, you'll be able to brew it tomorrow with a touch of a button. There's no need to change the settings again.
Milk Frother: Great for Making Cappuccinos
DeLonghi Magnifica ESAM 3300 is a Panarello milk frother, which means you have to hold the milk container yourself. The steam wand has a small air intake hole that sucks in air and releases it into the milk to create froth.
DeLonghi Magnifica wand has an adjustable manual system that allows you to adjust the foaming and steaming levels. The steaming thermoblock gets hot and powerful quickly, and you can create perfect foam for any kind of milk-based drink. I drink a lot of lattes, so I found it convenient that I was able to detach the steam wand and get a perfect microfoam for my latte.
DeLonghi also has a patented cappuccino system for their automatic espresso machines. The Panarello wand mixes air into the steam and milk, so you'll have a rich, creamy froth. You can rotate the Pannarello wand to 180 degrees, which makes this wand easy to use with all sizes of milk containers.
This milk frother doubles as a steam wand, and it's a plastic sheath over a stainless steel pipe. I liked that the sheath is removable, so you can use the inner pipe like a steam wand. Plus, this makes it easy to clean. You'll have to replace the o-ring and the outer shell periodically but this is something you can do yourself without needing extra help.
Keep in mind that this milk frother isn't as powerful as commercial ones. You'll be able to make lattes, cappuccinos, and flat whites, but it's not the best option for making latte art. You won't have as much control over the foam you get. Latte art isn't impossible but will be difficult to achieve, especially if you're a beginner.
Value: An Affordable Super-Automatic Espresso Machine
Considering that this super-automatic espresso machine is priced well under $1,000, it's a good value. In fact, its price is comparable to semi-automatic espresso machines, which are typically cheaper than super-automatic coffee machines.
You'll sacrifice some of the options more expensive espresso machines have, such as a display, simultaneous brewing and steaming, and Wi-Fi connectivity. But, finding a super-automatic espresso machine that grinds and brews coffee beans, has a large water tank and a milk frother at this price is hard to do.
Overall, this espresso machine has a price-to-value range that's hard to beat.
Drink Options
You can make a range of drinks with this espresso machine. Use a single or double espresso shot button to brew, and then press one more time to stop brewing before the shot has been pulled. You can use volume and dose dials to make drinks ranging from a ristretto to a long black.
With the milk frother, you can make milk-based drinks, and as the frother also functions as a hot water spout, you can make Americanos and teas.
Essentially, you can make any coffee beverage you want with DeLonghi Magnifica ESAM 3300.
Cleaning and Maintenance
Espresso machines have to be cleaned regularly, and DeLonghi Magnifica ESAM3300 is no exception. Luckily, the machine has programmable cleaning and rinsing systems, so it's easy to clean this DeLonghi machine. Also, a lot of the parts that have to be cleaned are removable:
Brew head — Rinse under running water and dry thoroughly once a week. Don't put it in the dishwasher.
Milk frother — Wipe with a wet towel after use, and run some steam after to clean the milk residue.
Water reservoir — Should be cleaned and completely dried occasionally. Don't put it in the dishwasher, or you risk damaging the plastic.
Coffee puck drawer — Needs to be emptied after 14 brew cycles.
Drip tray — An indicator shows when it's time to empty it.
I mentioned that DeLonghi Magnifica ESAM 3300 comes with a water hardness test strip. You can do the test and program the machine with the recorded hardness. The coffee machine will remember this information and set a descaling program accordingly. Once it's time to descale, a light will turn on.
Here's how descaling works:
Put the machine in the descaling mode.
Fill the water tank with the descaling solution.
Turn on the descaling button and hold for 5 seconds until the light is on.
Turn on the steam dial to position 1.
Place a large container under the steam wand to catch the water.
Wait for the machine to finish the descaling process (about half an hour).
Empty the water tank and rinse it.
Pour fresh water into the tank.
Turn the steam dial to 1 again.
The machine will repeat the process with fresh water without descaling solution.
When it's done, the machine is ready for use.
---
Alternative Espresso Machine Options
Philips 3200 LatteGo
Philips 3200 LatteGo highlights:
Super-automatic machine with an intuitive display
Automatic milk frothing and easy clean up with LatteGo system
Flat ceramic burr grinder for consistent grind size and good extraction
Phillips 3200 LatteGo is made with stainless steel, not plastic. It also has an integrated burr grinder, but it comes with 12 settings, as opposed to the 13 the Magnifica has.
Phillips allows you to brew five different drinks at the touch of a button. The biggest difference is that Phillips has an automatic milk frother, and DeLonghi doesn't. There's an integrated milk carafe on the Phillips (the LatteGo system), so you can make milk-based drinks with the touch of a button on display.
Overall, if you want your machine to do everything for you — from pulling the espresso to making latte drinks — Phillips 3200 is an excellent option at a slightly higher price point.
DeLonghi Magnifica Evo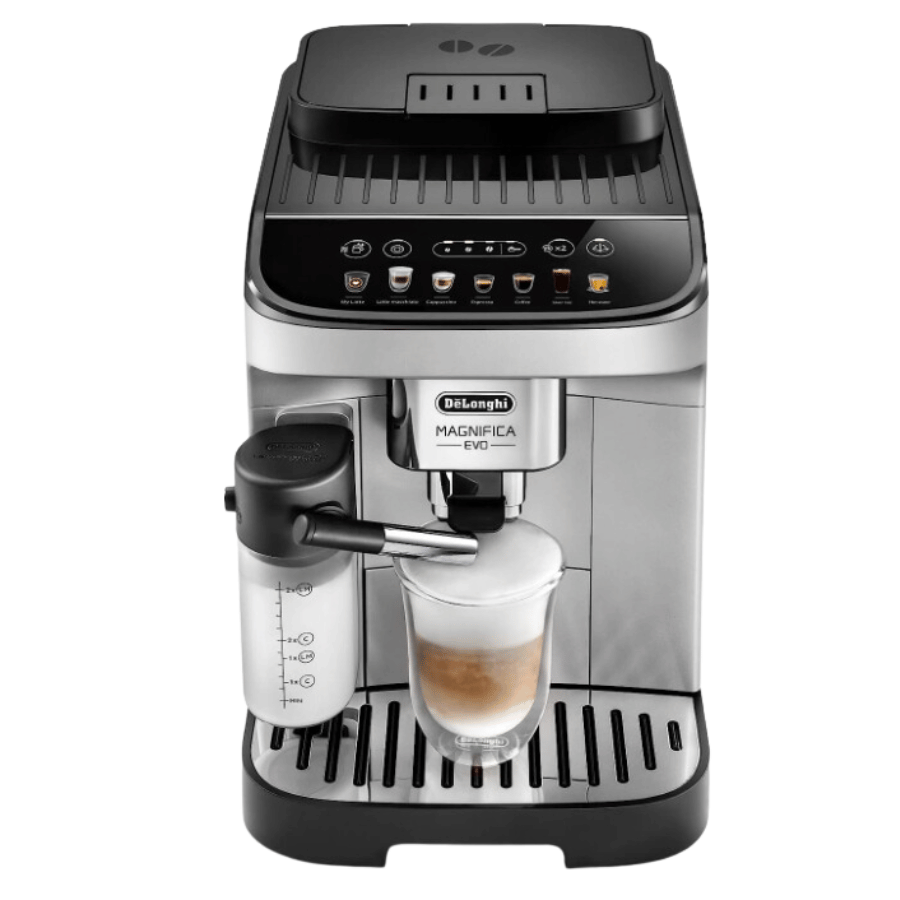 The Magnifica Evo is another great super-automatic machine from DeLonghi. Same as the ESAM 3300, it has a conical burr grinder, which comes with 13 settings.
The machine's brew head features a portafilter with smaller holes, providing more resistance during the brewing process. This results in a longer brew time and more contact with the coffee, enhancing the extraction and yielding a robust and flavorful espresso shot.
The Magnifica Evo is also equipped with the Latte Crema milk frothing system. I liked the milk container system. It's efficient and can be easily attached to the espresso machine. It also features a one-touch automatic cleaning function, and the container is dishwasher safe, which simplifies maintenance.
The DeLonghi Magnifica Evo has a more modern look and feel than the ESAM 3300 thanks to the intuitive touch display. Plus, you can choose between three coffee strength options and three temperature settings, which lets you customize the coffee to your preferences.
---
Recommendation: Great Value for a Full Automatic Machine
This DeLonghi Magnifica ESAM3300 espresso machine has been on the market for over two decades, and it still holds its own. If you want a fully automatic espresso machine and aren't interested in the latest tech, this is the option for you. You'll struggle to find a fully automatic espresso machine that performs better at a similar price point.
However, if you don't want to learn how to steam milk, you'd like a higher quality build, high-tech features, or more control over the brew cycle, this isn't a good option for you. In this case, you should check out more advanced automatic machines or check Breville semi-automatic models that let you fine-tune the brewing espresso process.
DeLonghi Magnifica ESAM3300: Final Thoughts
DeLonghi is a good super-automatic machine. It has a good grinder, gives a big dose of coffee, and good heating system all result in great espresso. Plus, it'll make delicious cappuccino with its patented cappuccino system. It's extremely easy to operate as it has a front-loading system, several setting options, and a dual boiler. You'd be hard-pressed to find a more affordable option with better features.
DeLonghi Magnifica ESAM3300 is an affordable super-automatic espresso machine that's an easy starter. Dual-Thermoblock heating system makes espresso in less than a minute. Panarello steam wand is perfect for cappuccinos. the front-loading water tank is easy to refile and the two-dial display is easy to customize.

But, if you'd like something that allows you more room to grow your brewing skills and latte art, check out our list of the best super-automatic espresso machines.