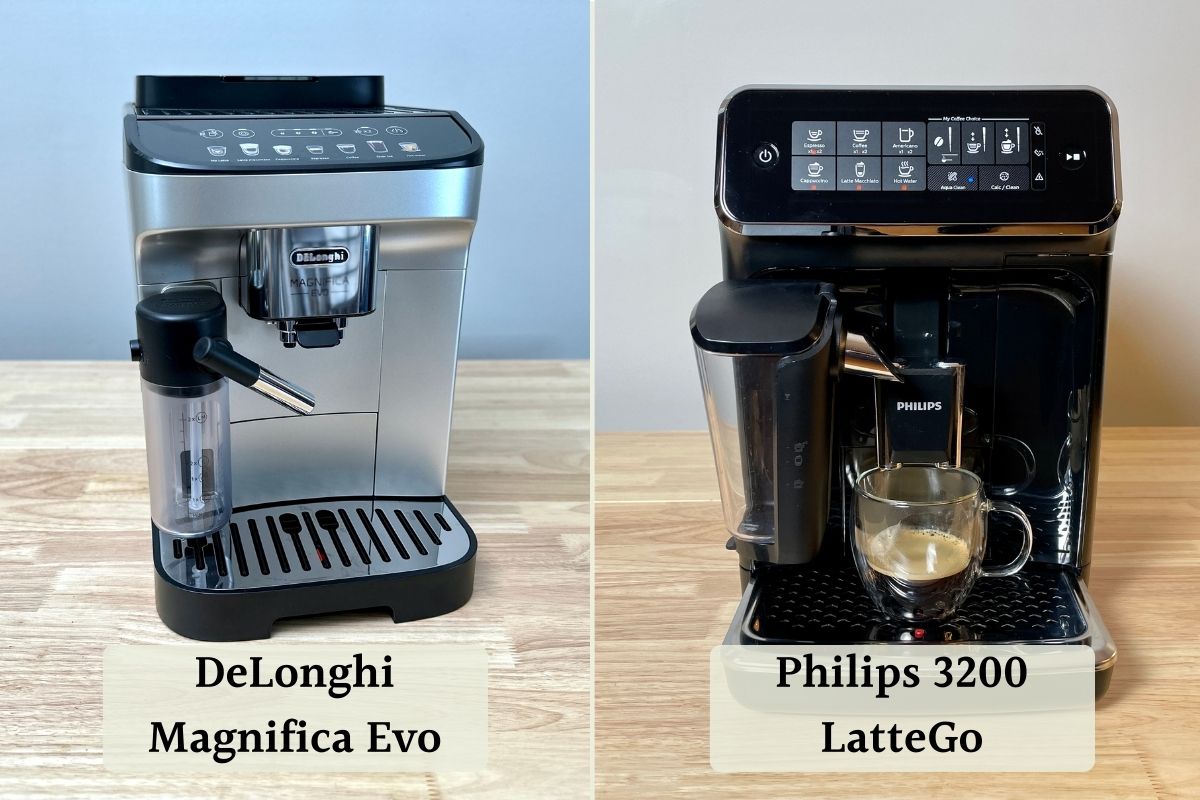 The Magnifica Evo comes from DeLonghi's Italian craftsmanship and delivers a rich espresso shot every time. On the other hand, the Philips 3200 LatteGo is all about that creamy milk froth, making your lattes feel like a hug in a mug (and easy, too).
Choosing between them seems like picking a favorite child, but I give a slight advantage to the Magnifica Evo, mostly because the espresso is better. That said, the Philips 3200 LatteGo milk frother is easier to clean, and it's better if you make several lattes daily.
Let's dive deeper and compare the DeLonghi Magnifica Evo vs Philips 3200 LatteGo to see how these two super automatic espresso machines stack up regarding espresso performance, milk frothing, drink options, and more.
Our Pick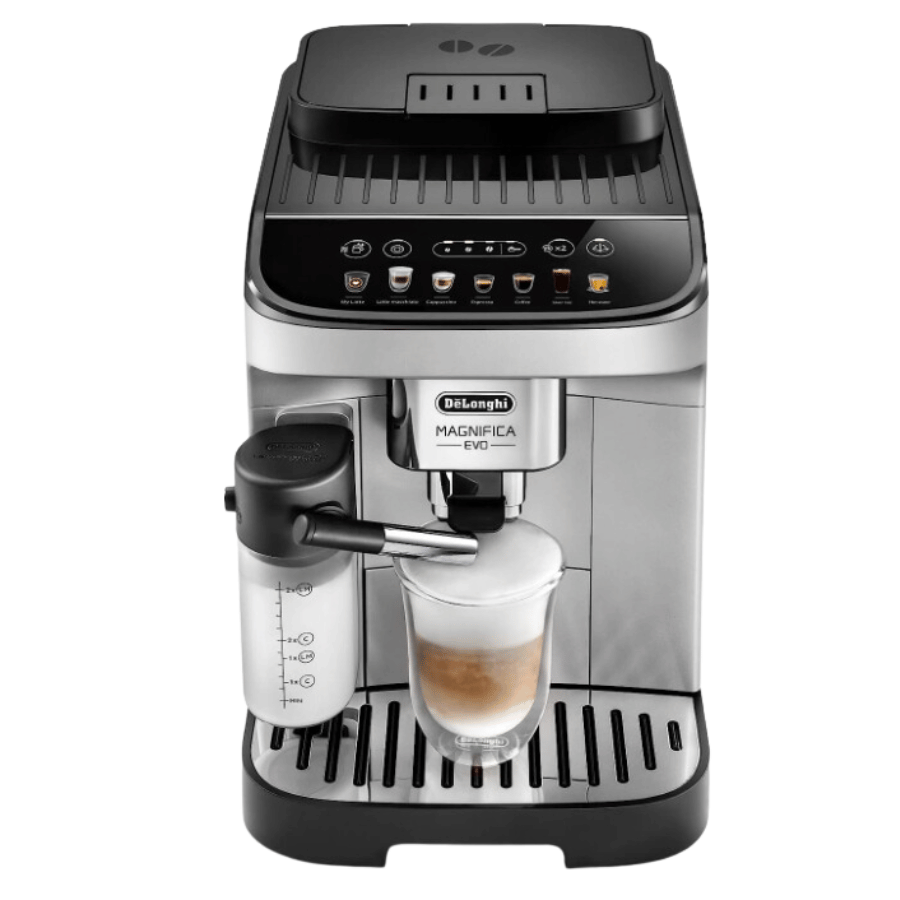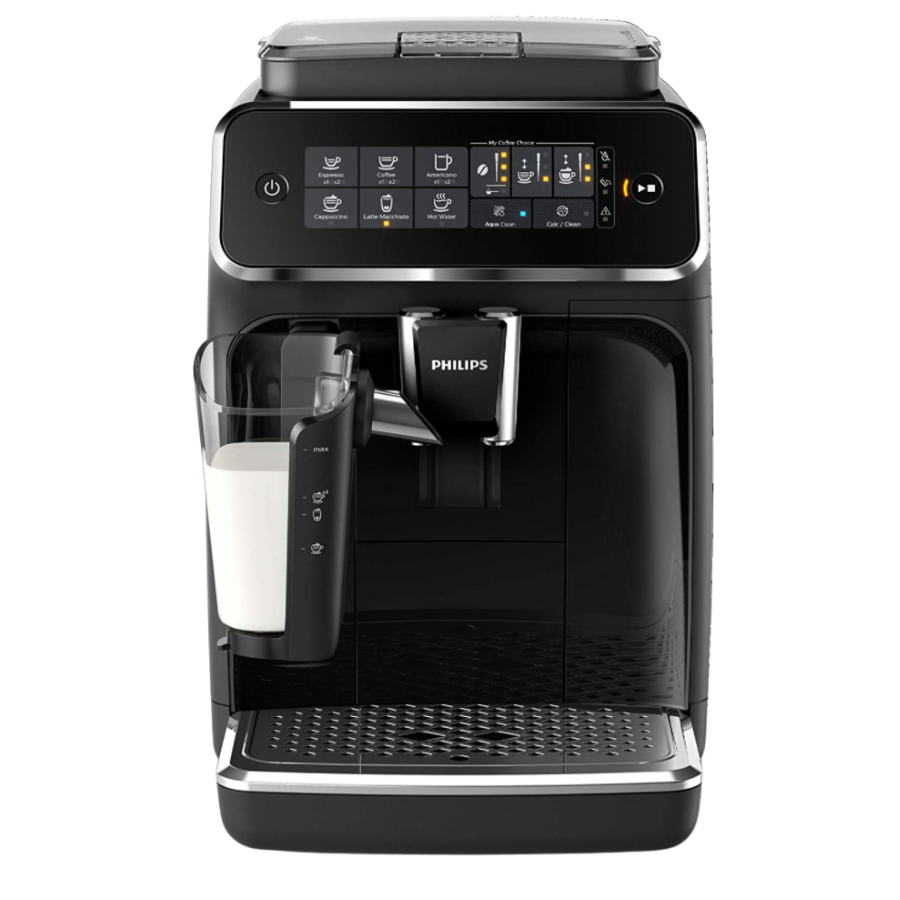 Product
Steam wand
Steam wand
Milk container with tubes
Two part milk container (easier to clean)
Display
Display
Touchscreen with color drink options
Touchscreen
Grinder
Grinder
Conical burr grinder with 13 settings; richer flavor
Ceramic flat burr grinder with 12 settings
Programmable options
Programmable options
Three coffee strength options and three temperature settings
Three strength, volume, and milk froth settings
Water filter
Water filter
No (can buy separately)
Yes
Feature Comparison (Similarities and Differences)
Espresso Performance
When it comes to espresso performance, the DeLonghi Magnifica Evo has an edge over the Philips 3200 LatteGo. I found the Magnifica tends to brew richer and more flavorful shots than Philips. There are two reasons for this: the grinder and brew group.
One of the primary reasons for this is the grinder in the DeLonghi machine. The grinder plays a crucial role in the quality of the espresso, and we've said the grinder is even more important than the espresso machine. DeLonghi went with a larger conical burr that creates a more even and fine grind. The grinder has 13 grind settings, which is more than most other DeLonghi espresso machines.
Meanwhile, the Philips LatteGo uses a ceramic flat burr with 12 grind sizes. In general, a flat or conical burrs isn't necessarily better than the other, but the details of construction do matter. The difference comes down to the material. The Philips grinder is made of ceramic, which lasts longer at 20,000 cups.
Meanwhile, the DeLonghi grinder is stainless steel, which grinds finer and more consistently. This grind size leads to a more complex and better espresso flavor. While it may not last as long as Philips, The DeLonghi burr will last a long time, and you'll enjoy the espresso more.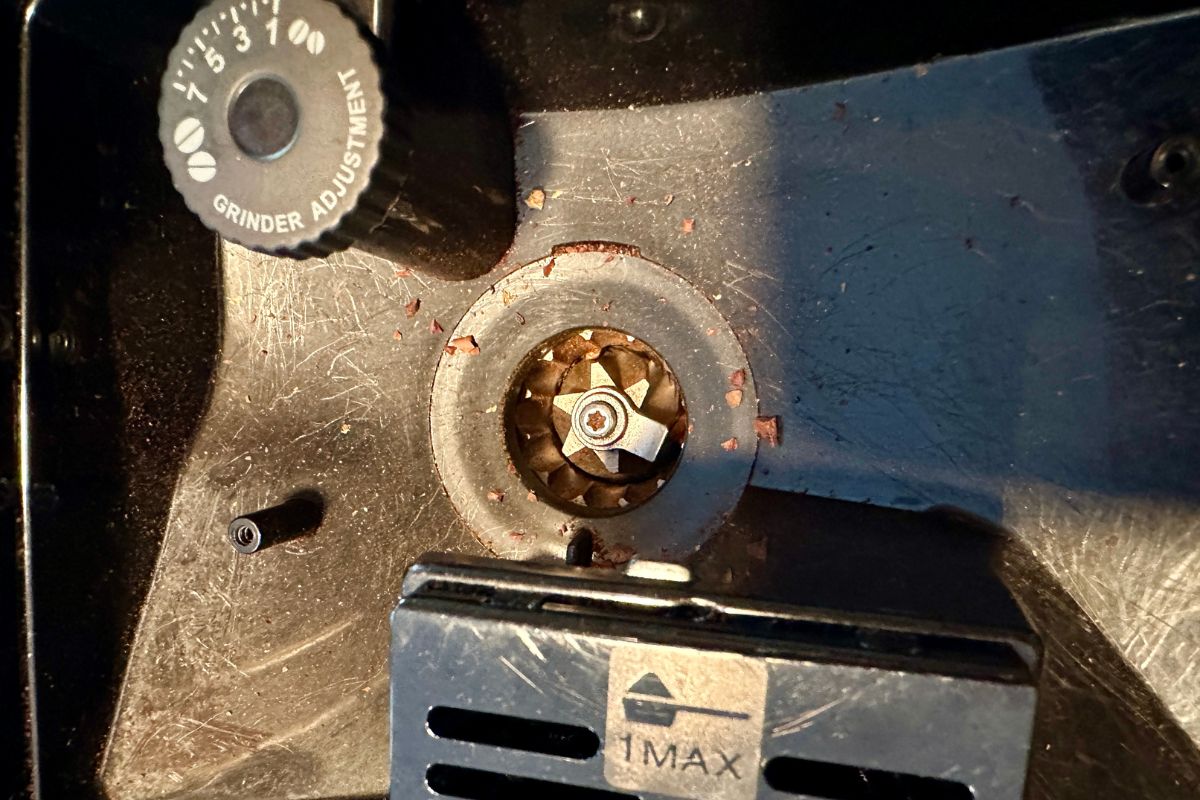 Also, the Philips grinder is loud; definitely louder than the Magnifica Evo. That isn't ideal first thing in the morning. I think the Philips grinder tends to retain more coffee grounds between the burrs, and that ground coffee gets stale fast. This might also lead to the flatter taste I noticed.
Another reason the Magnifica Evo beats the 3200 LateGo in terms of espresso flavor is that the brew head of the DeLonghi Magnifica Evo features a portafilter with smaller holes. The brew head (or brew group) and portafilter are the parts that hold the ground coffee inside the machine.
The smaller holes provide more resistance during the brewing process. There's a longer brew and more contact time with smaller holes in the filter basket. This leads to better extraction. The result? A more robust and flavorful espresso shot.
You can tell this is the case because the 3200 LatteGo brews espresso quickly. Typical espresso brew time should be 30 seconds, but the Philips is done in 15 seconds. The water passes through the large basket holes quickly, which is opposite of the Magnifica Evo. I've also removed the brew group and seen it: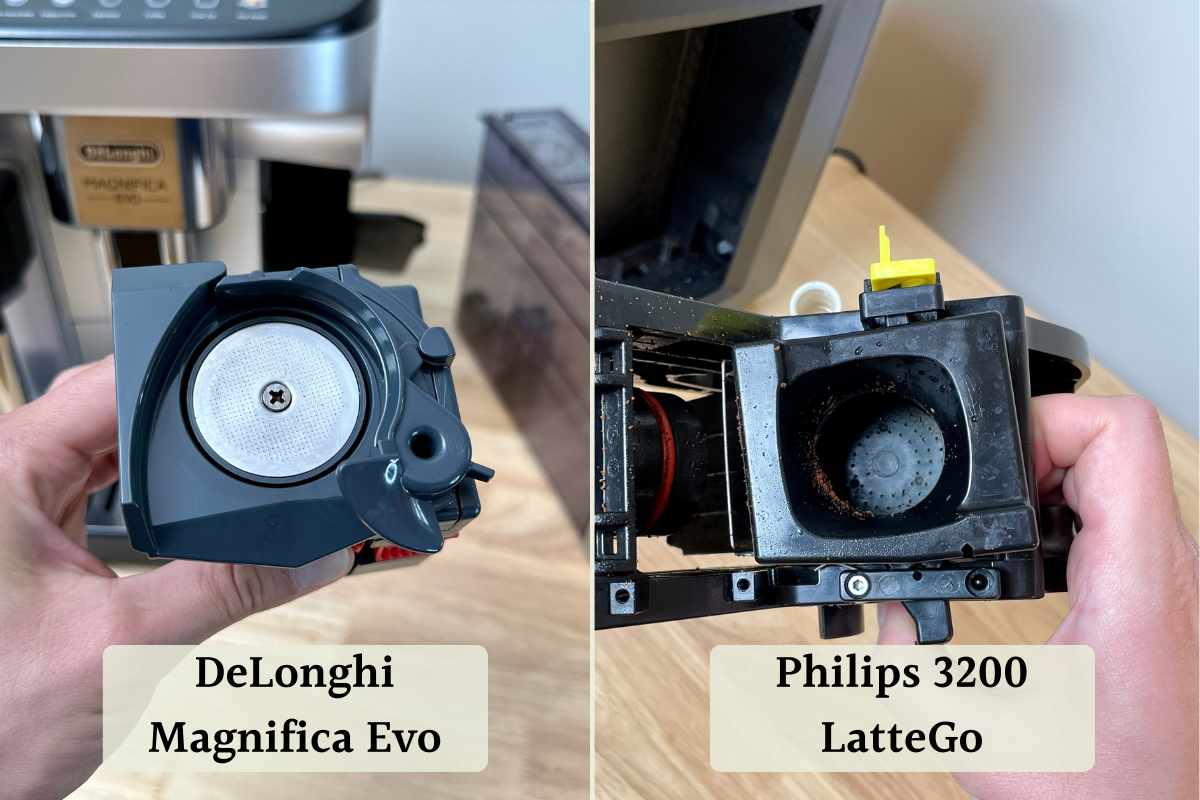 That being said, there are a few tricks to improve the espresso flavor on the 3200 LatteGo. Read our full Philips 3200 LatteGo review to find out how.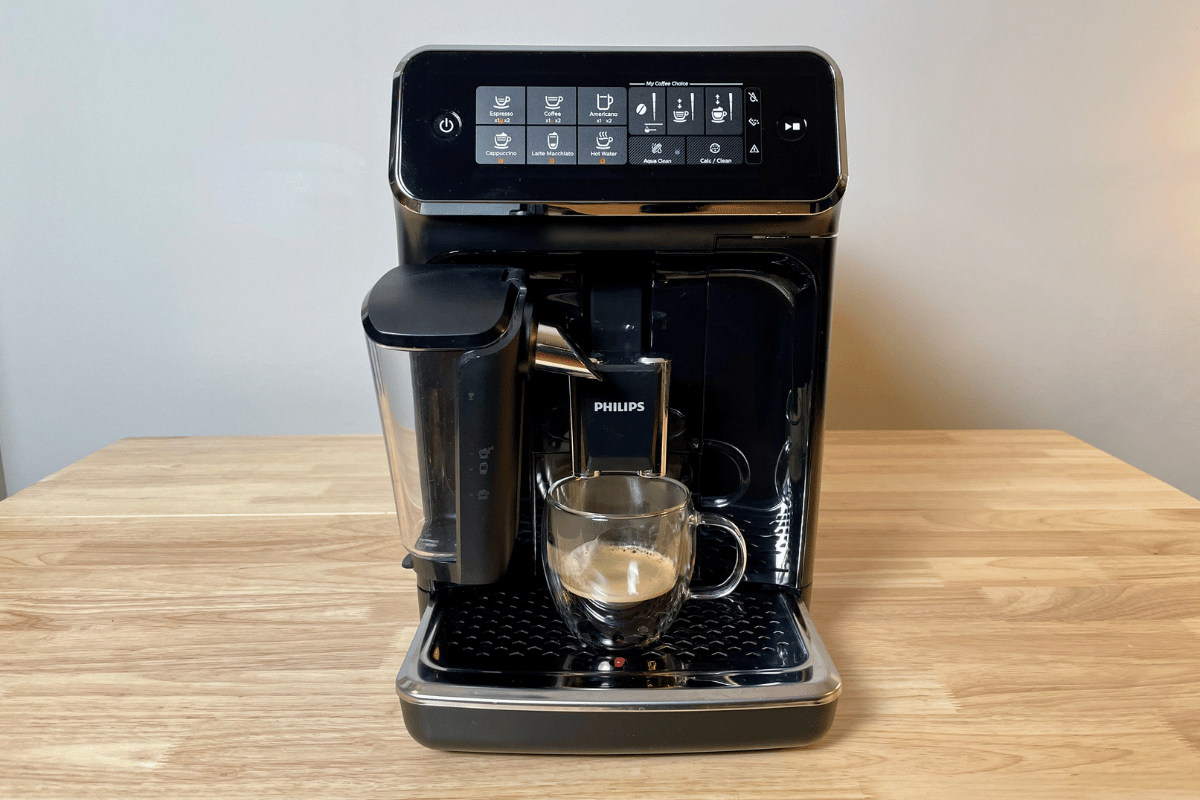 Overall, both of these super-automatic espresso machines can make good coffee, but the Magnifica Evo provides better results.
Automatic Milk Frothing Performance
While Magnifica Evo won the espresso quality comparison, Philips 3200 LatteGo wins the milk frothing performance.
Philips 3200 LatteGo has its proprietary LatteGo system, an integrated milk carafe. This is a plastic container that you fill with milk and clip to the machine. You choose the milk froth level, and the frother uses negative pressure to suck up the milk and mix air and milk at high speed in the milk carafe.
It's a neat system that is designed for convenience. The integrated milk carafe automatically froths milk and deposits it directly into your cup, which means no splashes, ever. This also ensures a consistent milk texture every time, making it user-friendly, especially for those new to espresso machines.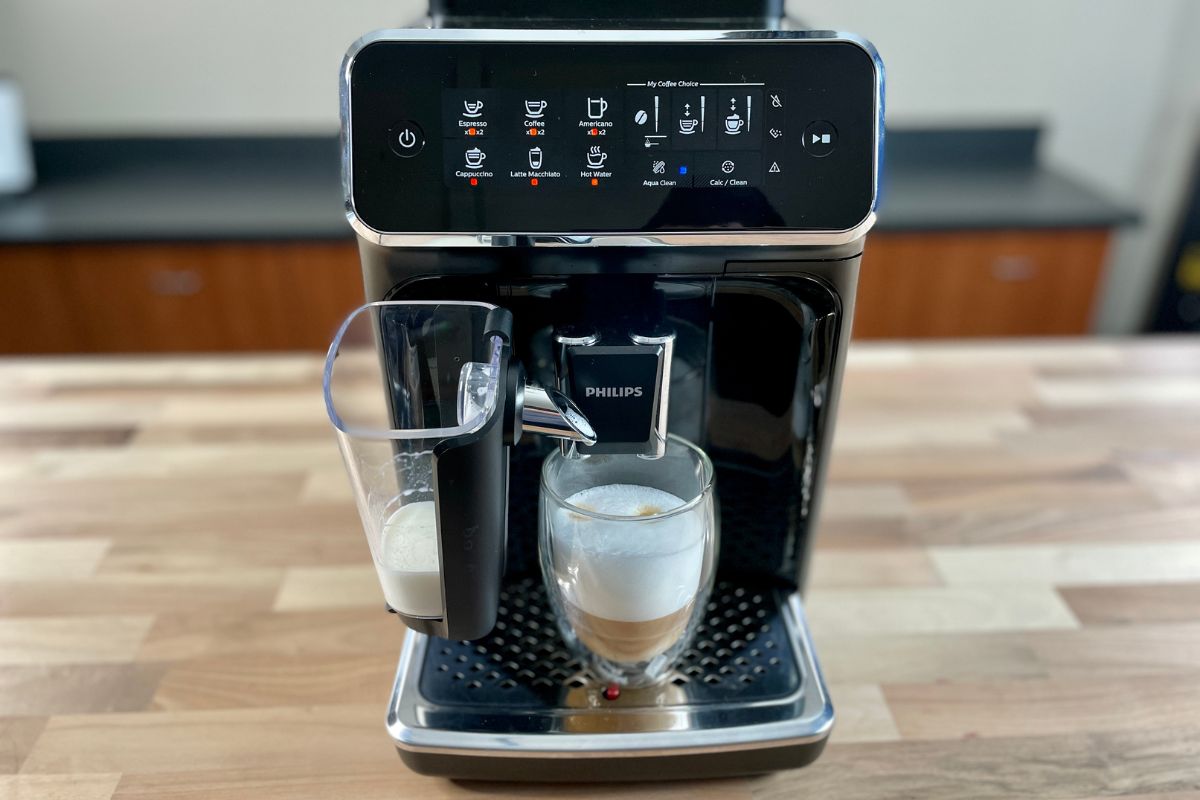 Best of all, cleaning the LatteGo system is easy. The milk container has two parts that can be easily disassembled and placed in the dishwasher. There aren't any tubes that you have to disassemble and carefully clean, or the milk will curdle.
I also liked that the milk holder has clear labels for different drinks, which make it easy to know how much milk to pour for a latte or a cappuccino.
That being said, the LatteGo system tends to only create creamy and thick foam. This is great for cappuccinos but not as great if you want thin microfoam. You definitely won't make latte art.
DeLonghi Magnifica Evo has a Latte Crema milk frothing system. It's also made up of a milk container that you attach to the espresso machine. As the name says, it produces good milk texturing and foam, so you'll have good lattes.
Want More Coffee Tips?
Join the email list for exclusive coffee insights and deals that only subscribers get. You'll get two coffee discounts just for joining.
No spam, ever. We respect your privacy and unsubscribe anytime.
You can use the My Latte customization settings and only add the milk amount you need, so there's no waste. This is a nice touch where you can make a drink with a light amount of foam or a massive latte.
Same as the milk container on the Philips, you can remove it between uses and store it in the fridge. The milk container also has notches that let you know how much milk to add.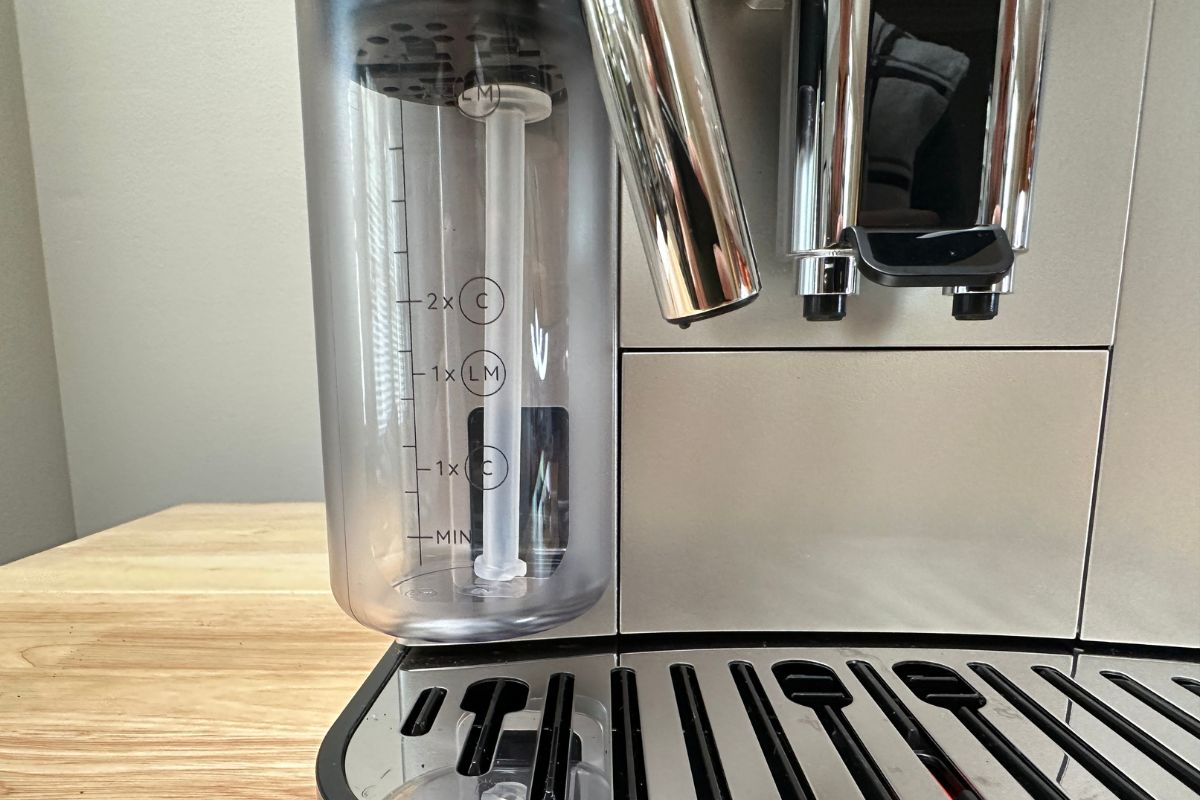 The milk system has a one-touch automatic cleaning function, plus the container is dishwasher safe, which means minimal work for you. However, the My Latte system has tubes inside of the milk frother that require some more careful rinsing and drying. The auto cleaning isn't as convenient as the simple LatteGo system.
Note: Both models come with versions that have traditional steam wands, where you need to pour the milk into a milk container, insert the steam wand, and froth the milk.
I recommend the auto frothing as it's a key reason to choose either of these machines. Manual milk frothing adds cleaning, training, and it's lower quality.
Drink Options
DeLonghi Magnifica Evo super-automatic espresso machine can make:
Espresso
Cappuccino
Coffee
Hot Water
Note: The version with the traditional steam wand can make espresso, coffee, long, and doppio+. However, you'll make the milk manually.
Philips 3200 LatteGo super-automatic espresso machine can make:
Espresso
Cappuccino
Latte Macchiato
Americano
Black coffee
Hot water
One benefit of the Philips 3200 is the double shot brews a true double shot. That means you actually get two separate espresso shots back to back instead of twice as much water running through the coffee. That's unique to Philips and a nice touch if you want a bigger caffeine boost.
Overall, the drink choices are similar, but the Philips 3200 LatteGo is a better option if you like milk-based drinks, as it can make both latte macchiato and cappuccino. The idea is it will froth a much larger drink for the latte macchiato.
Also, the Philips 3200 LatteGo as more customization over the drink levels with three options. You can pour more or less milk on the DeLonghi Magnfica to control volume, but I just like the Philips options. They are more the same.
Ease of Use
Both of these are super-automatic espresso machines, which means they are easy to use. Plus, they have intuitive touch displays. You push a button, and the machine does the rest. It's what you expect from super automatic machines, which is a key reason to choose these.
They also have several programming options. On the Magnifica Evo, you can choose between three coffee strength options and three temperature settings.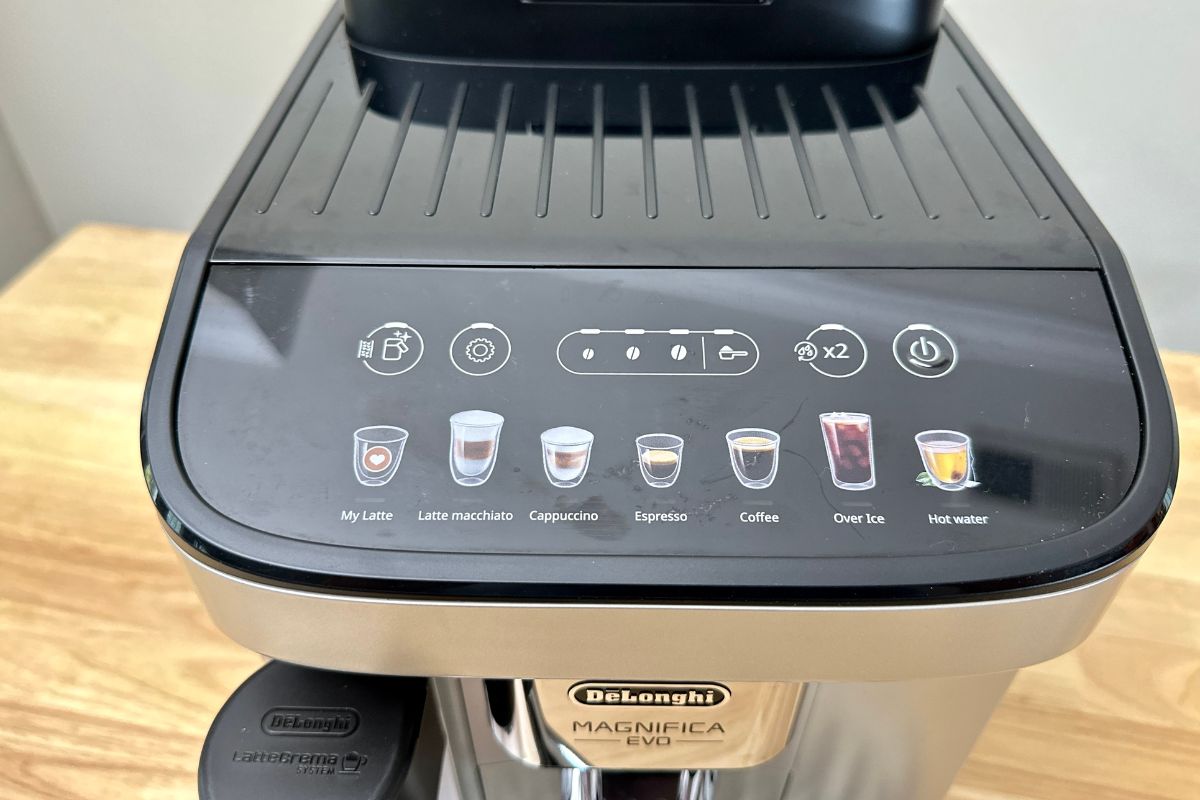 You can also use the "My Latte" button to customize your drink. Here, you choose the amount of milk by adding only the amount you want. The machine will froth exactly that amount as there's a sensor that can "see" when the container is empty.
However, this button only saves the most recent recipe, so if you share your espresso machine with someone, you'll have to reprogram it each time. This can get annoying.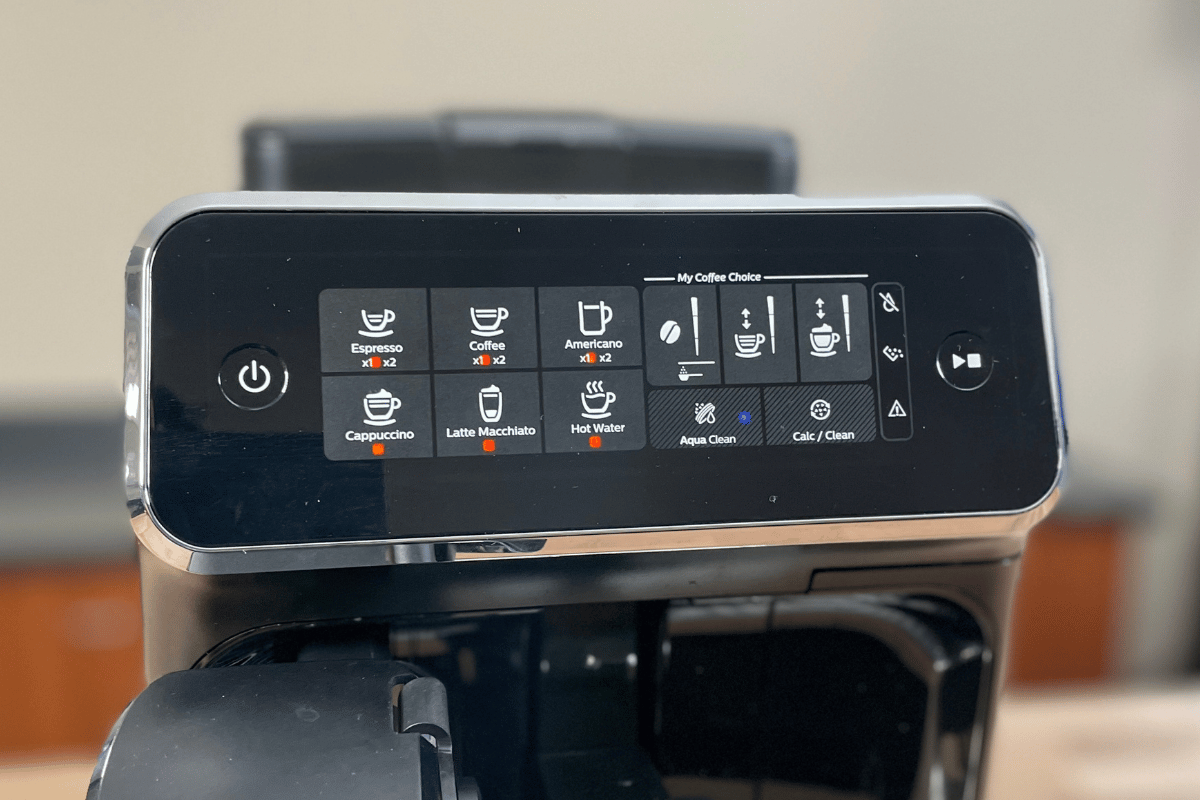 On the Philips 3200 LatteGo, you can adjust the strength, volume, and milk froth. Each of these has three settings, which is a nice amount of customization for your drinks.
Overall, both machines prioritize user-friendly interfaces and offer a range of programming options to customize your coffee experience.
Other Design Features
One feature that makes the Philips 3200 LatteGo stand out is the AquaClean filter in the 60 oz water tank. You don't need to descale the machine for 5,000 cups. Let's say you brew several coffee drinks a day. This means no descaling for about five years.
However, you'll have to replace the AquaClean filter every 50 tanks (the filter light changes from blue to orange to indicate it's time to change it). This is an expense, but it's worth it, as it means no descaling every few months, which is the case with other machines.
Magnifica coffee machine doesn't come with a water filter, which means it needs to be descaled, and this takes around 45 minutes, so plan ahead. I did find a DeLonghi water filter, which should fit this machine, but it's not as powerful as the AquaClean system.
Be careful not to fill up the DeLonghi Magnifica hopper too much. One negative with the Delonghi is the bean hopper isn't well sealed. The Philips LatteGo has a tighter rubber seal that prevents air and UV light from hitting the coffee beans. This makes the beans last longer.
Philips 3200 LatteGo is available in a black finish, which gives it a modern and elegant look. It features an intuitive touch display, making it easy for you to select your favorite coffee with just a touch. You can use the display to brew a double espresso, Americano, or regular coffee.
DeLonghi Magnifica Evo is available in a silver finish. Also, I like the setup of the DeLonghi's Magnifica Evo interface. There's a smart control panel with soft touch icons on top of the machine, which looks a lot more modern. There's a niche color image for each drink option.
Both machines have an adjustable coffee spout, which makes it easy to fit cups of different sizes. I also loved that both machines have front-loading water wanks, which makes it easier to refill.
Value
Both of these machines provide good value for money at under $1,000. Frankly, it's hard to find a super automatic espresso machine at this price point, which we call "budget," surprisingly. Also, both models have automatic milk frothing, which is why they're so popular.
One thing to consider is the other options of the Philips line. You can go a little more premium with the Philips 4300 or Philips 5400, which add more drink options and customization levels. You can go a little more basic with the Philips 2200, which has the same espresso but drops the milk customization with just the cappuccino option. Personally, I recommend the 3200 or 4300 lines.
Philips line may provide a better "lifetime value" because the AquaClean system reduces scaling and the ceramic burr. But this is debatable, as I've never heard of issues with the DeLonghi Magnifica.
In the end, both machines offer good value. The Philips 3200 emphasizes ease of use with the simpler touch screen, LatteGo system, and AquaClean filter. Meanwhile, the DeLonghi Magnifica Evo emphasizes consistent performance and better espresso and milk drinks.
---
DeLonghi Magnifica Evo vs. Philips 3200 LatteGo: Which Is Better
Overall, I go with the Magnifica Evo because it's a better espresso, which is what matters at the end of the day.
But it's a nuanced recommendation. The Philips 3200 LatteGo has a simple design with an intuitive touch display. The LatteGo system is a standout, promising a dense foam that's also easy to clean.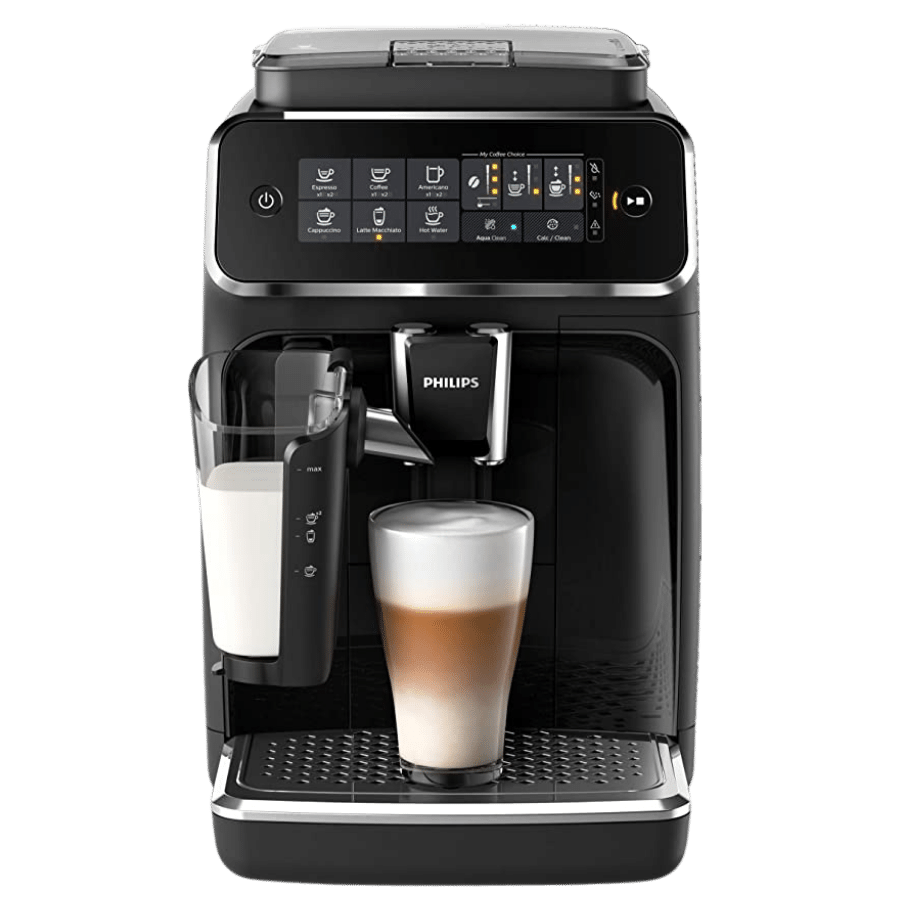 Philips 3200 LatteGo highlights:
Fully automatic milk frother
Easy to clean and maintain
Intuitive Touch Display allows you to customize to your liking
Check Amazon
Check Seattle Coffee Gear
On the other side, the DeLonghi Magnifica Evo is grounded in DeLonghi's rich coffee-making legacy, ensuring that every cup you brew is consistent in its taste and quality. I like the touchscreen on this more, although it has fewer drink options. You can get a similar milk froth, but it's a little harder to maintain.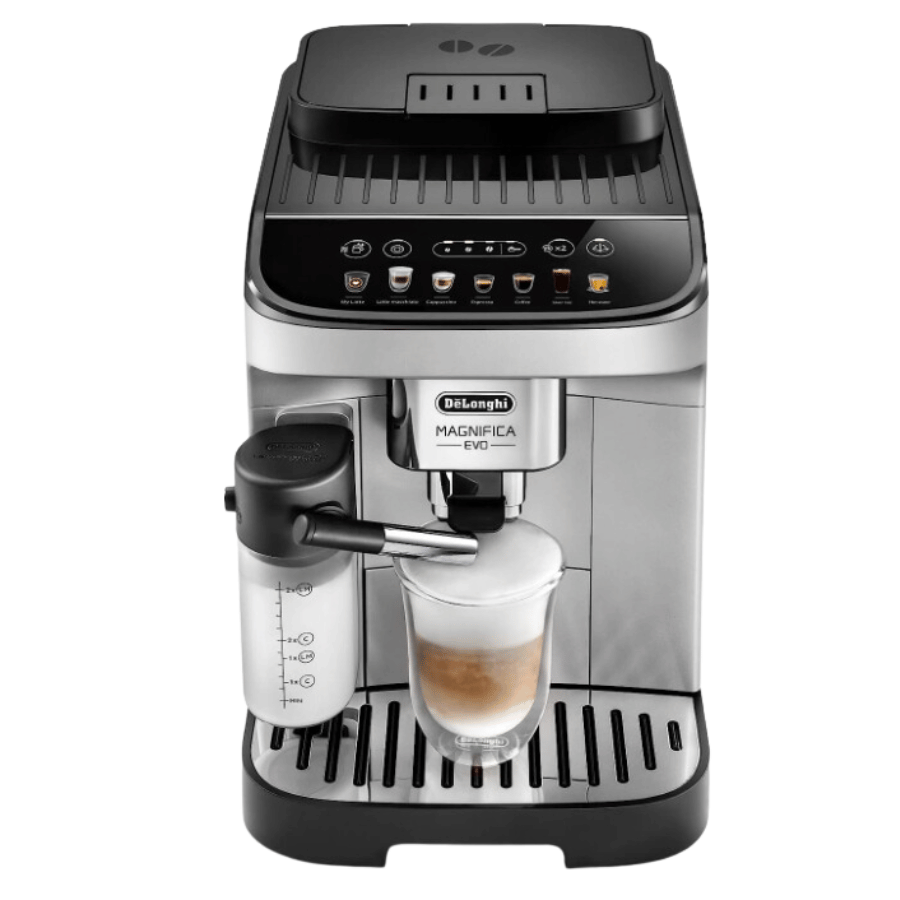 DeLonghi Magnifica Evo highlights:
Super-automatic
LatteCrema automatic milk frothing
Color touch screen with seven drinks
Check Amazon
If you're all about modern convenience, intuitive features, and ease of use, the Philips 3200 LatteGo might just be your coffee soulmate. But, if you're after the best espresso flavor, love to experiment with your brew, or want a machine with a classic steam wand, the DeLonghi Magnifica Evo is a better choice.
Which Coffee Maker Should You Choose?
Choose DeLonghi Magnifica if the espresso flavor is your main requirement. It also comes with a milk container or a steam wand for making milk foam, so you can choose how involved you want to be in milk frothing. Choose Philips 3200 LatteGo if you want a stylish machine that doesn't need descaling and has plenty of programming options.
You aren't sold on either of these espresso machines? The espresso world has a never-ending choice of super-automatics. We did the work for you and compiled the 10 best super-automatic machines to choose from.