Philips LatteGo 4300 is the perfect device for coffee lovers who want convenience and exceptional taste. You press a button and get a coffee drink in no time. It doesn't get more convenient than this.
This model punches above its weight for its price and is excellent for milk-based drinks. This coffee maker comes with advanced features, like the LatteGo milk system and eight drink options with a touch screen.
We've tried different Philips espresso machines, and this one comes out on top in our Philips 4300 LatteGo review. Here's exactly why I think this is the best device in the LatteGo range, but also what I wish Philips would improve on.
Philips 4300 Lattego Product Overview
Philips 4300 Lattego highlights:
Fully automatic espresso machine
Ceramic burr grinder
LatteGo milk system
AquaClean filter
One Touch drink selection
Five aroma strength settings
Philips 4300 Lattego: Craft Coffee Spot Rating
Espresso Quality & Brewing System
6.5
Philips 4300 LatteGo is a mid to high-range model of the LatteGo series. This is a fully automatic espresso machine, which means you press a button and get a drink. Everything from a grinder to a milk frother is included in this model.
The coffee machine's main feature is the LatteGo milk frothing system, which is a detachable milk carafe that snaps apart for easy cleaning. More importantly, it produces good steamed milk for milk-based drinks.
You operate the machine via a display with buttons. You can choose between eight different milk drink recipes and customize each drink to your preferences. For example, choose different grind settings and coffee temperature levels. 4300 LatteGo also has two user profiles and one guest profile which is useful for saving custom drinks.
It has a high-quality coffee grinder that produces consistent grind size. However, one downside is the Philips line brews weaker espresso than usual, which makes subpar Americanos. I'll discuss why this happens and how to rectify it.
There's also a bypass doser, which is handy when you want to use pre-ground coffee and decaf. Cleaning is easy, as most parts are dishwasher safe. Finally, there's an AquaClean filter that means you'll hardly ever have to descale.
Overall, if it sounds like a great coffee machine, it's because it is. Here's a detailed rundown of each of these features.
Pros
Makes 8 drinks
Customizable drink options
Automatic milk frothing with easy cleaning
Easy cleaning, including AquaClean filter
Cons
Only comes in black
Doesn't produce the best espresso
Loud grinder
---
Philips 4300 Lattego Breakdown
Design and Build
Philips 4300 LatteGo is larger than other automatic espresso machines, with dimensions 9.5 x 17.7 x 14.5 in. It should fit under most cabinets, although it is quite deep. It helps that the 1.8 L water tank and ground waste container are front loading, so there's no need to reach in the back. The used coffee puck automatically goes into the waste bin after the coffee machine is done brewing. The bin also slides out from the front and fits up to 12 pucks before it needs to be emptied, which is really convenient as well.
This plastic coffee machine comes in a black and silver combo. I wish there were more color options to fit a more colorful kitchen. That said, smooth lines and a full-color touchscreen display make it look modern.
Even though it's made of plastic, it doesn't feel cheap or flimsy. The 2-inch full-color display makes it feel high-tech.
Want More Coffee Tips?
Join the email list for exclusive coffee insights and deals that only subscribers get. You'll get two coffee discounts just for joining.
No spam, ever. We respect your privacy and unsubscribe anytime.
The bean hopper fits 9.5 oz of coffee beans and has an aroma seal, which ensures the lid fits tightly and keeps the coffee fresh. The lid blocks UV light, which further preserves freshness.
The coffee spout is adjustable and ranges from 3.5 in to 5.75 in, which is great for accommodating cups of different sizes and avoiding splashes. You can also remove the drip tray and fit large travel mugs.
Finally, the machine uses 15 bars of pressure and Thermoblock technology to brew coffee.
LatteGo Milk System
The LatteGo milk system is proprietary to Philips models and makes good milk drinks with little mess. It's one of the main highlights of this machine.
Philips 4300 LatteGo has a milk system based on a removable carafe. You pour the amount of milk needed for your drink, attach the carafe to the coffee machine, and the machine froths the milk and automatically pours it into your cup. Once this is done, you can easily detach the carafe and store the milk in the fridge if there's leftover milk.
It's an interesting design, where the LatteGo system mixes milk and air at high speed in the carafe while heating the milk. The result is a creamy layer of milk foam dispensed into the cup. The process is completely hands-off, so you don't have to learn how to work a steam wand.
LatteGo is unique to Philips, where most espresso machines use steam wands. My main issue with wand milk frothers is the amount of work it requires. You need the skill to froth the milk right. Also, you need to clean the wand after every use with a strong towel wipe and purge. Milk crusts on the wand if you don't clean it immediately, and you can get burned easily by the hot wand! Steaming milk is my least favorite activity with espresso.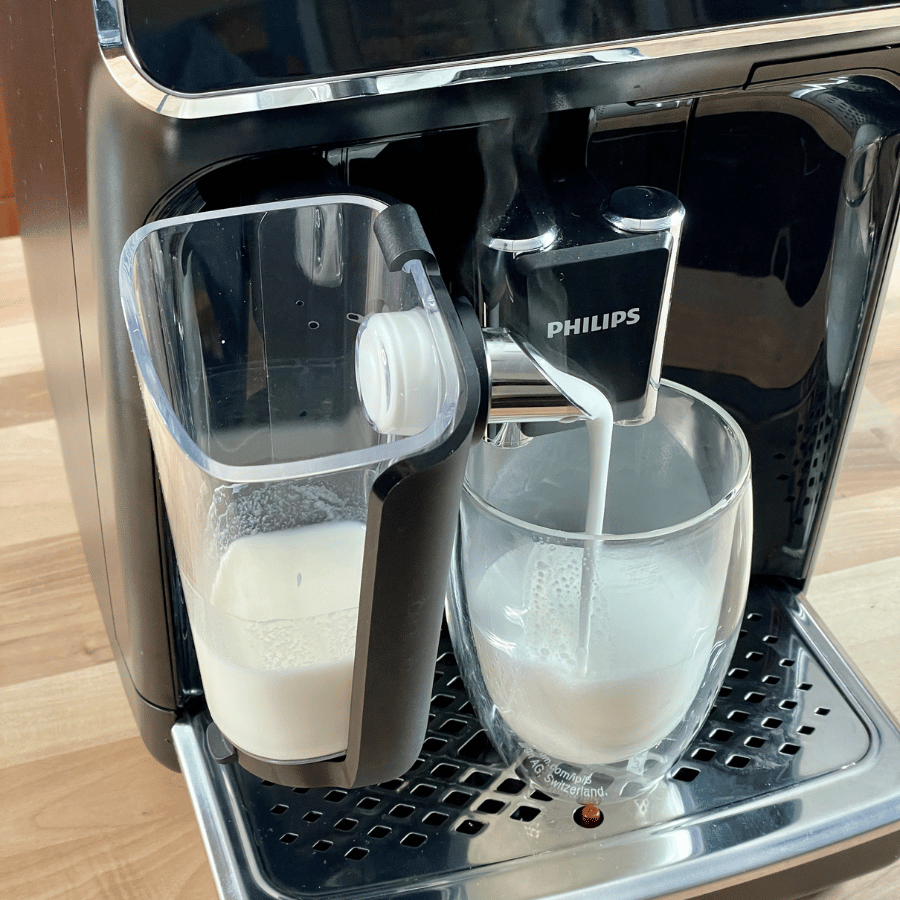 Meanwhile, cleaning the LatteGo milk system on the Philips espresso machine is a breeze. There aren't any tubes or small parts that you have to clean. The carafe breaks into two pieces, which exposes the steam chamber. You can easily clean it to make sure there's no hidden milk residue that will curdle and ruin your drink later on. Wash the milk system by hand or pop it in the dishwasher.
Note: You can also dispense hot milk foam if you want to make a drink that's not programmed.
You can adjust the milk foam length and choose anything between 80 and 340 ml. However, while extremely easy to use, there are some drawbacks to this system. You can't make latte art, and the steamed milk it produces is usually thick and light, which works for cappuccinos, but is too much for lattes. Still, at this price point and convenience, it's not a huge issue.
We do a walk-through of the LatteGo system in our Philips 3200 review, which is the same as the 4300:
Drink Options
Another feature of the Philips 4300 LatteGo is the wide range of pre-programmed drink options. You get a good variety with eight drinks:
Espresso
Cappuccino
Coffee
Ristretto
Latte macchiato
Café au lait
Americano
Caffe crema
You can also choose only hot water or steamed milk.
The coffee machine makes these at the touch of a button on the display. You choose the drink you want from the control panel and press start. You can also choose a double espresso by tapping the double shot option, and the coffee machine will make two individual shots. Making two individual shots is a nice upgrade, as most machines will simply run more water through the same coffee grounds, leading to a more bitter espresso.
You can customize the drink too. You can choose a longer shot by adding more water, adjust the coffee strength (or "aroma strength," as Philips calls it) and adjust the amount of milk in your drink. This is done from the control panel, which is easy to understand and intuitive. There are five settings for the options, which gives you a good range of customizability.
I also liked that you can choose between three temperature levels: low, medium, or high. However, you can't adjust the temperature for the coffee and milk separately. It's an overall setting for the whole drink, but at least it gives you some room to make changes.
Finally, there are two available profiles so you can save your recipe. Once you have your perfect drink, it's easy to recreate it. There's no need to adjust the settings each time. Instead, you can recall it with a few button presses. This is useful if you share the machine with another person.
Moreover, the espresso machine has a guest profile that doesn't save the recipes. You use it when you have a visitor and they want a specific drink.
Espresso Quality
Espresso quality is where the Philis 4300 LatteGo falls short. It takes about 15 seconds to brew an espresso shot. The shot has some crema on top, but not as much as you usually get on espresso. Moreover, the espresso has a weaker body than usual. I didn't get that dense, rich shot that you get from a 1 to 2 coffee ratio.
Before you come for me, no, the beans aren't the issue. I used the same beans on different machines, including semi-automatic ones, and I found the shot on the 4300 LatteGo falls short in comparison.
Here's why this happens: The Philips 4300 brews too quickly, so there's not enough time to extract the flavors. The portafilter has large holes, so the coffee runs through them very quickly, which results in a weak, watery body. Essentially, the machine doesn't have enough time to extract the coffee oils, and it doesn't create enough resistance in the basket.
While this is a downside, I figured out how to go around it and get a flavorful shot:
Grind finer — Turn the grinder counterclockwise to grind finer. I choose settings three or four. Make sure to change the grind size while the grinder is running, or it can clog.
Increase the water temperature — Once the machine is turned off, hold the drink size button. You'll see three levels. Choose medium or high.
Choose a stronger drink — Put drink strength higher than the volume. I choose the strongest level and medium volume level.
With these changes, your espresso will get close to most peer machines. You will only notice the difference with straight espresso or Americano drinks.
Cleaning and Maintenance
This is a fully automatic coffee machine, so cleaning and maintenance are easy. As I mentioned, the waste container holds 12 spent pucks, so you should empty and rinse the container and drip tray when the espresso machine shows these are full.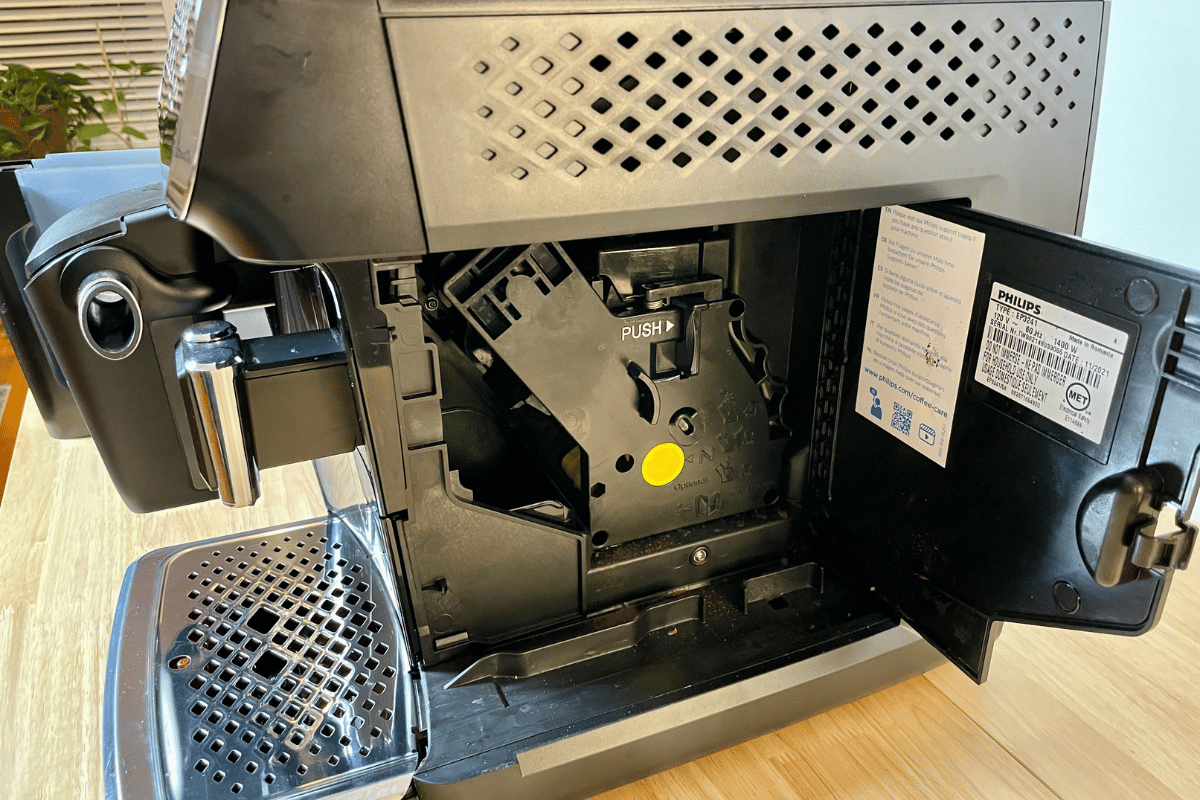 Rinse the LatteGo system after making milk drinks. This is easily done, as the system comes apart for easy cleaning.
You should rinse the brew group once a week to make sure it's working fine. The nice part is the brew group is easily removable from the side compartment and can be rinsed in the sink. Regular cleaning removes the old oils from getting into your drink and improves flavor.
Finally, wipe the machine housing with a soft cloth. That's it for Philips 4300 cleaning and maintenance.
You'll notice I didn't mention descaling. This is because this espresso machine comes with an AquaClean filter that needs to be replaced every three months.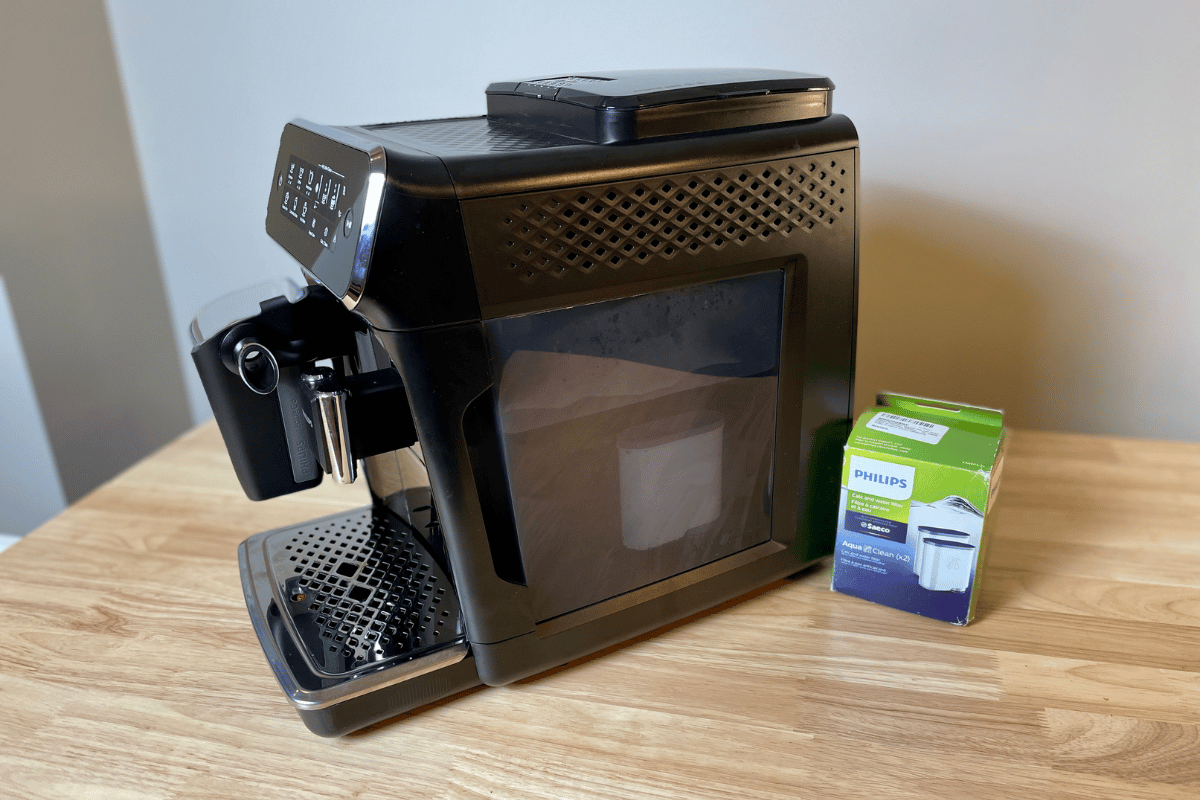 The filter does a great job of removing impurities, so you only need to descale the coffee machine after 5,000 cups. This means an average user will use the machine for seven years before having to descale. Don't worry; you don't have to count the number of cups. The machine will indicate when its descaling time.
Other Features and Accessories
Accessories you get with Philips 4300 LatteGo include:
Measuring scoop
Water hardness test strip
AquaClean filter
Grease tube
LatteGo storage lid
Overall, the package includes everything you need to use and maintain the machine.
Another notable feature is the ceramic burr grinder. A ceramic grinder is usually found in high-end machines, so kudos to Philips for including it here. The ceramic grinder has 12 adjustment settings. Keep in mind, Philisp recommends waiting until you've brewed 100 to 150 cups before adjusting the settings.
Philips 4300 LatteGo also has the Aroma Extract System that changes the coffee dose and flow rate, going from mild to robust, based on your preferences. You can choose between five aroma strength settings, so no matter if you want a mild or very bold coffee, you're covered.
Value
If you want a fully automatic coffee machine, Philips 4300 LatteGo is great value for money. In fact, it's one of the best super-automatic machines in this price range.
The espresso machine has a wide range of pre-programmed drinks, plenty of customization options, automatic milk frothing, an intuitive display, and a high-quality ceramic grinder. There's almost nothing I didn't like.
Finally, if you're worried about the plastic construction, don't be. It feels durable. Plus, Philips has a two-year warranty.
Recommendation: Who Is It For
Philips 4300 LatteGo espresso machine is an excellent choice if you want to do minimal work and get coffee drinks with a press of a button. If you don't want to grind, tamp, or clean a steam wand, you'll love this machine.
However, if you want to learn latte art and how to make perfect pucks, this isn't the best choice. While there are some customization options, this isn't the same as the level of control a semi-automatic espresso machine gives you.
---
Alternative Options: Comparing The Philips 4300 Lattego Lineup
Product Title
Build material
Build material
Plastic
Plastic
Plastic with stainless steel parts
Milk frother
Milk frother
Carafe system
Carafe system
Carafe system
Drink options
User profiles
User profiles
No
2 plus guest profile
4 plus guest profile
Water reservoir
Water reservoir
60 oz
60 oz
60 oz
Grinder settings
Grinder settings
12
12
12
Dimensions
Dimensions
17 x 14.5 x 9.5 in
9.5 x 17.7 x 14.5
9.5 x 17.75 x 14.5 in
Philips 5400 LatteGo
Philips 5400 LatteGo highlights:
12 different drink options
LatteGo milk frothing system
Ceramic grinder with 12 settings
*The Philips 5400 LatteGo is sold exclusively by Williams-Sonoma*
In all honesty, there aren't many differences between the more expensive Philips 5400 LatteGo and 4300 LatteGo. The main difference is the higher price tag for a few additional pre-programmed drinks on the 5400, such as espresso lungo, flat white, and cafe latte.
There are also some small design differences. For example, the 5400 LatteGo has a stainless steel front panel, which I think makes it look more high-end. Also, the display is color and not black and white.
5400 LatteGo also has four user profiles, so this is a better option if you'll share your espresso machine with several coffee drinkers. Otherwise, my vote for the better machine goes to LatteGo 4300.
Philips 3200 LatteGo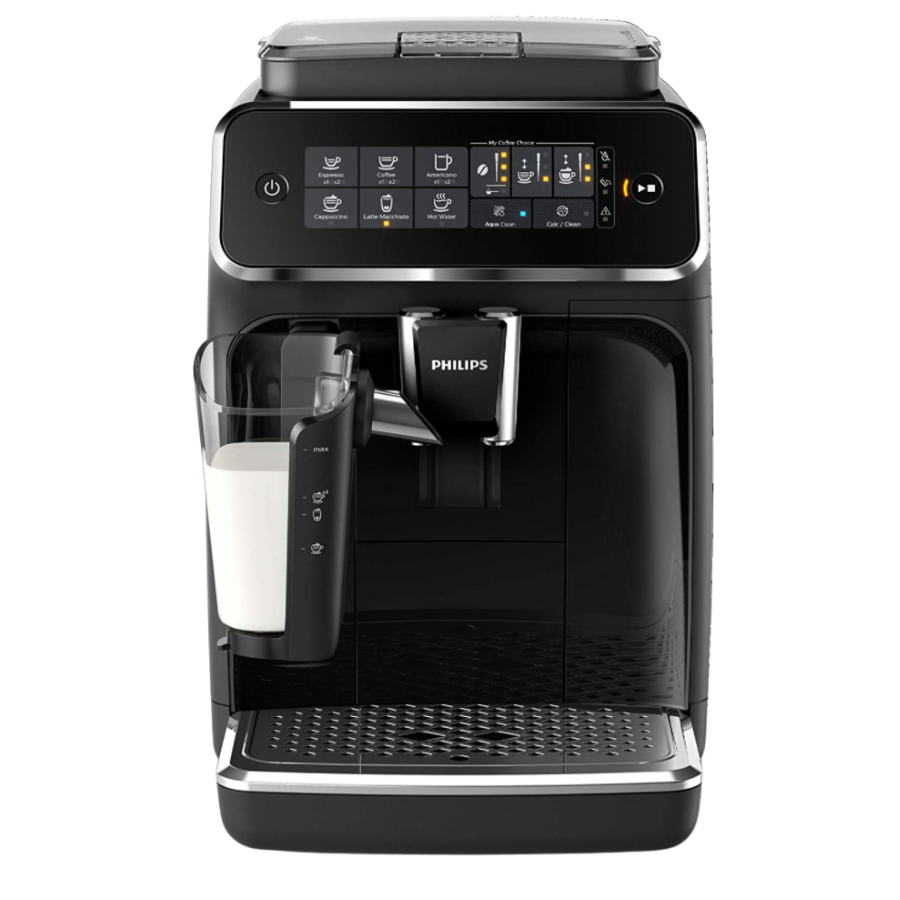 Philips 3200 LatteGo Features:
Fully automatic LatteGo milk frother
Five drink options and hot water 
Touch display with three options for strength, froth, and size
Philips 3200 LatteGo is a step down from the 4300. However, the internals are exactly the same, including the grinder, thermoblock, and LatteGo frothing.
Here's what's different: 3200 doesn't have a TFT display but uses a small display with buttons. There aren't any user profile options, but the machine will remember the latest drink settings. 
3200 LatteGo has three aroma settings, but the milk, coffee length, and drink temperature which is less than the five settings each on the 4300.
Finally, 3200 has a smaller drink selection which includes espresso, cappuccino, regular coffee, latte macchiato, and americano.
Here, the 4300 is the better choice. You have significantly more drink options and customization choices for a slightly higher price.
Philips 4300 LatteGo Final Thoughts
Philips 4300 LatteGo is my top choice in the LatteGo lineup. It has plenty of drink options, customizable choices, two user profiles, and a solid build. The only major con I found was the espresso quality. However, I was able to go around this thanks to the customizable settings. Overall, if you want a fully automatic espresso machine, this is a great choice.
In case you want a machine with a steam wand or just want to compare more options, check out our round-up of the best DeLonghi espresso machines, which are similar to Philips.