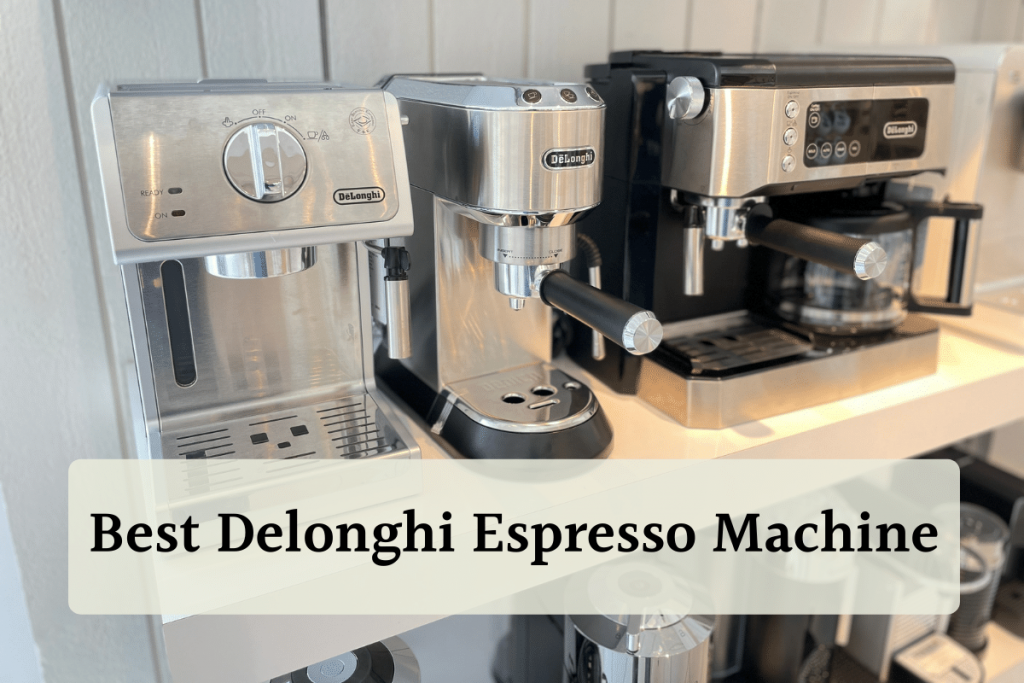 If you're looking for an espresso machine to buy, you've probably come across DeLonghi. They are one of the world's biggest manufacturers of espresso machines and have been in business for over 120 years, so you know they're doing something right.
However, it's difficult to know which one to choose with more than 20 models available. My top three choices are:
I've compared features across all the models after using some myself and reading DeLonghi espresso machine reviews. I've narrowed it down to the six best ones, including different types of machines that will fit every home barista.
I'll provide an in-depth review of the best DeLonghi machines currently available, including a buying guide and everything else you need to know. You'll be completely equipped to choose the best DeLonghi espresso machine.
About DeLonghi
DeLonghi was founded in 1902 in Italy. The company got its name from the founding family, and Giuseppe DeLonghi is still the chairman.
DeLonghi started manufacturing small industrial parts and branched out to kitchen appliances, such as air fryers, heaters, and of course, espresso machines. As DeLonghi says, "coffee machines currently represent the heart of the brand" and are why the company is so well known.
Nowadays, DeLonghi is the biggest manufacturer of coffee machines in the world, generating over $1 billion in annual sales with millions of users worldwide.
DeLonghi coffee machines are popular because they are reliable and well-manufactured. Most have a two-year warranty, so you're covered if something happens. They have a huge range of models — more than 20 — so you can find something for your needs and budget.
Before we go into more detail, here is a summary of our picks.
The Best DeLonghi Espresso Machines
Different Types of DeLonghi Espresso Machines
Before choosing a DeLonghi, get to know the three types of espresso machines to know which is best for you.
Super Automatic
A super-automatic espresso machine is the most convenient machine you can get. These are "bean to cup" machines, which grind the coffee beans, tamp the puck, and brew espresso. The machine does it all for you with a push of a button.
DeLonghi focuses on super-automatic machines with great options for every type of user. Every DeLonghi model in this category includes an integrated grinder, steam wand, and make espresso with one button.
What I like most is DeLonghi adds some unique features to every model. For example, the Magnifica Evo includes an automatic milk frothing system, which brews a thick airy milk for cappuccinos with no extra work. Meanwhile, the DeLonghi Dinamica has a unique extraction system to make iced coffee drinks.
Want More Coffee Tips?
Join the email list for exclusive coffee insights and deals that only subscribers get. You'll get two coffee discounts just for joining.
No spam, ever. We respect your privacy and unsubscribe anytime.
However, super-automatic machines are the most expensive. Also, you have less control over espresso, which limits the potential you can get. DeLonghi does its best to balance price and precision with its lineup.
Semi-Automatic
With a semi-automatic espresso machine, you are much more involved. You need to fill up the portafilter with ground coffee, tamp it, and control the volume of espresso. You can make better espresso with higher control over a semi-automatic, but it's much more involved.
DeLonghi's semi-automatic espresso machines are good value options for beginners who want to try something simple without spending a fortune.
All of DeLonghi's semi-automatic models come with a steam wand and generate the requisite nine bars of pressure to make a good espresso. However, La Specialista is the only model with an integrated grinder. You can find standalone espresso grinders here.
Overall, semi-automatic machines will require some education and work to get the coffee right. You'll have to practice dialing in your coffee. But, if you want more control over your coffee at a lower price, semi-automatic machines are a good choice.
All-In-One Options
An all-in-one espresso maker allows you to brew espresso or a pot of coffee. This means there's no need to buy an espresso machine plus a separate coffee maker. However, these don't make the same quality of espresso as a dedicated model.
DeLonghi's all-in-one is a good value and makes your kitchen setup easier. It's perfect for those who don't want to make espresso a hobby.
Nespresso
DeLonghi partnered with Nespresso in 2016 and is a third-party manufacturer of Nespresso coffee machines.
Nespresso machines use pods only. You insert the capsule into the machine and press a button. The machine pierces the pod, and hot pressurized water is pushed through it to extract an espresso-like flavor, although it's not as rich as a true espresso machine.
Nespresso is great if you want something simple. I don't cover them here since we have another list comparing Nespresso machines.
---
Individual Reviews Of Our Favorites DeLonghi Models
DeLonghi Dinamica ECAM35025SB TrueBrew Over Ice Fully Automatic Coffee and Espresso Machine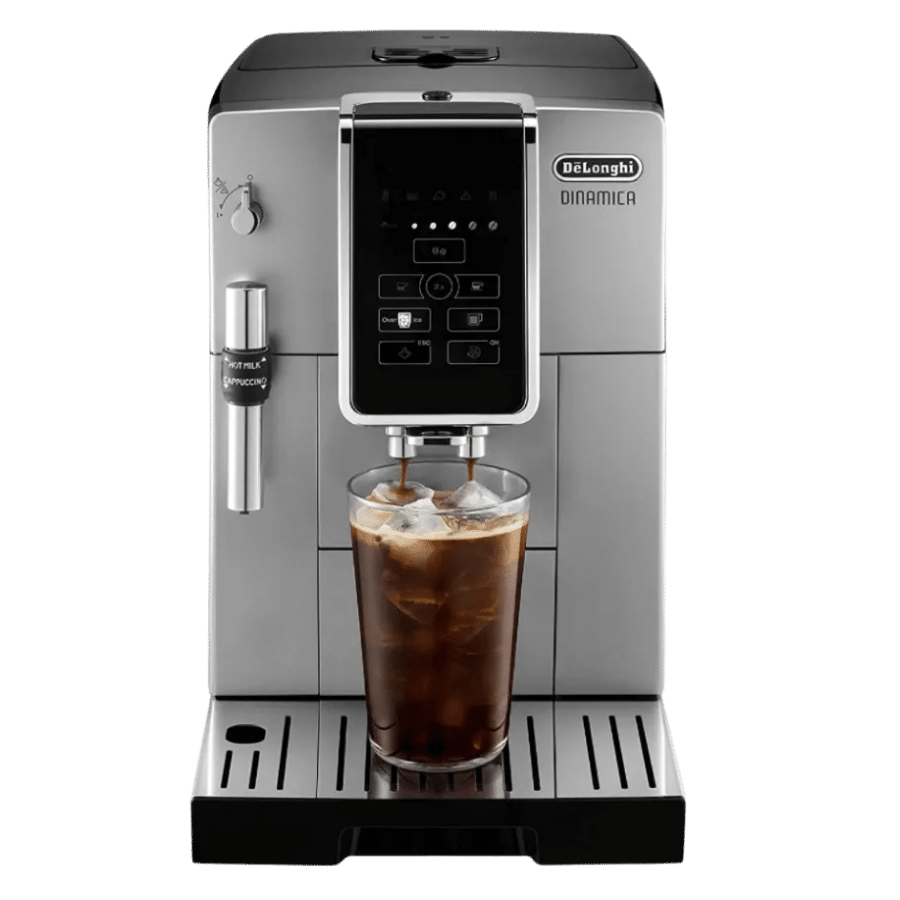 DeLonghi Dinamica Highlights:
Super-automatic machine
Brews iced coffee
Can make up to 18 coffee drinks
DeLonghi Dinamica is a super-automatic espresso machine that can brew up to 18 espresso and coffee drinks with a push of a button.
Dinamica has a conical steel burr grinder with 13 settings. The grinder grinds the beans to a uniform size, and 13 settings give you plenty of opportunities to experiment and find the optimum extraction for your espresso.
There is a tubeless grinding chamber, which has minimal grind retention. That means there won't be any leftover coffee grounds for the next shot, which means you're next shot always has fresh beans.
This DeLonghi espresso machine is a single boiler system. Thanks to the rapid steam technology, it takes 40 seconds from the moment you press the button until the machine is ready to brew.
The machine has a Panarello steam wand for milk frothing. It's not automatic, but you can choose between three consistencies when making lattes and cappuccinos. The wand also doubles as a hot water outlet, so you can make tea and hot chocolate.
The DeLonghi Dinamica has an easy-to-use touch backlit display. You can choose the espresso strength on a 1-5 scale, drink type, milk frothing, or hot water. The display requires a little learning initially, but it's straightforward afterwards.
Finally, what makes Dinamica stand out is the True Brew Iced Coffee function. This means it'll brew iced coffee for you. The machine uses a longer preinfusion, longer grinding time, and a higher coffee dosage, so you get a full-bodied iced coffee that isn't diluted by the ice.
This is a great option for users who want coffee with a press of a button and want to have a variety of drinks.
Here's our in-depth Dinamica review for the full feature breakdown.
Pros
Creates full-bodied iced coffee
13 grinder settings
Removable parts are dishwasher safe
Cons
No automatic milk steamer
No warming cup tray
Difficult first-time setup
---
DeLonghi Magnifica Evo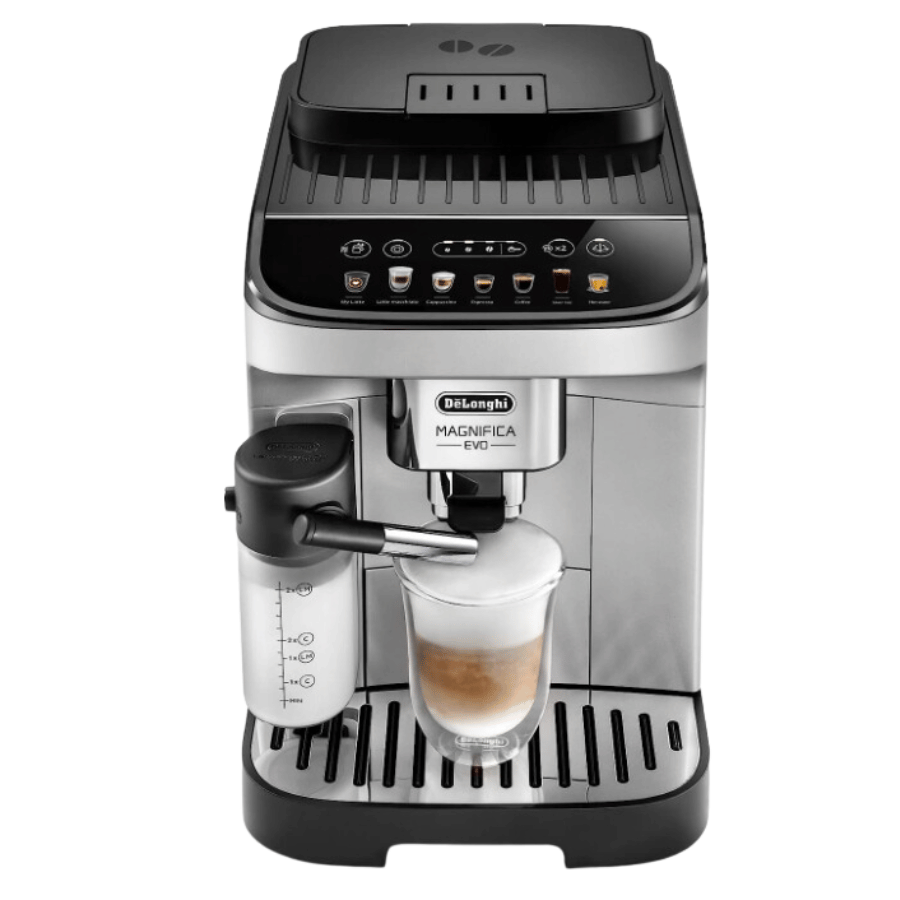 DeLonghi Magnifica Evo highlights:
Super-automatic
LatteCrema automatic milk frothing
Color touch screen with seven drinks
The DeLonghi Magnifica Evo is a sophisticated, super-automatic espresso machine equipped with a user-friendly color soft touch display. It features a sizeable 60 oz water tank and an 8 oz bean hopper, which is enough to make a dozen espressos without refills.
The machine brews high-quality espresso with a 15-bar pump and a thermoblock heating system. It heats relatively quickly and is ready within a minute. The integrated conical burr grinder is well done here, as it has 13 settings for flexibility. I found 13 settings give enough leeway to grind finer for a stronger espresso or grind coarser if you like it watery tasting like regular coffee.
A noteworthy feature of the Magnifica Evo is DeLonghi's new patented LatteCrema system – an automatic milk frother for effortless lattes. You push the button, and the machine forths through an attached carafe. It does require disassembly for cleaning, but the machine has a clean button that does most of the work.
The color display has seven drink options, including the customizable MyLatte. It's nice to see the drink options, and you get three choices of aroma strength for drink customization.
One downside is the initial setup takes time, and prepare to spend some time finding the right grind setting for your espresso. But, it becomes easy once you get it ready.
Pros
Color touch screen
Automatic milk frothing
Cons
Long first-time setup
Hard to change water temperature
Milk system cleaning
---
DeLonghi ESAM 04110
DeLonghi ESAM 04110 highlights:
Super-automatic machine
Micro control for cup sizes and strength
Panarello steam wand
The DeLonghi ESAM 04110 is an upgrade to its predecessor, the ESAM 3300. The newer ESAM 04110 has a larger 60 oz water tank and a quieter grinder. Both models have a single-boiler system and are excellent if you like just espresso shots in the morning.
The ESAM 04110 has a simple analog interface, with buttons for one or two cup servings and adjustable knobs for cup size and strength. These knobs are basic but provide nice control over the espresso along with the grind settings for the integrated grinder. I recommend choosing a higher strength than cup size for a bolder shot. One downside is the two-cup option only uses more water with the same amount of coffee, so it's not a true double-shot.
In addition to the generous water tank, there is a 7 oz bean hopper and bypass doser if you want a single serving of decaf coffee. It's designed for easy cleaning, with a removable front tray for spent pucks. There's even a detachable brew head for deep cleaning. I find deep cleaning a chore, and the brew head makes it easy to clean the old oils that are important for sweet-tasting espresso.
For milk frothing, there's a manual Panarello steam wand. It takes getting used to and could be a bit more powerful. However, it can make a decent latte.
The thermoblock heats in 55 seconds with a 15-second transition from brewing to steaming. However, be sure to brew your espresso first, as cooling down after steaming takes longer.
Pros
Very reasonably priced
Makes good straight espresso
Removable brew head for easy cleaning
Cons
Grinder still loud
Panarello steam wand isn't powerful
Two cup makes a long shot, instead of a double shot
---
DeLonghi La Specialista Prestigo
DeLonghi La Specialista Prestigo:
Semi-automatic
Integrated tamping system
Integrated grinder
The DeLonghi La Specialista is a semi-automatic espresso machine that comes close to a super-automatic. While you still use a portafilter, this model comes with an integrated grinder that doses into the portafilter, and La Specialista can tamp the coffee as well. The combination of grinder and tamper makes no mess and eliminates almost all the work.
There is a button interface for adjusting the ground coffee amount, water temperature, and drink type. There's also a pressure gauge, which gives you feedback if the puck prep is correct. Adding to the ease of use, there is a water spout that dispenses directly into the cup for easy Americanos.
It utilizes a thermoblock heating system, which brews solid espresso. However, the main drawback of La Specialista is it only comes with pressurized filter baskets. Also, the grinder doesn't grind fine to utilize a single wall basket for next-level espresso. That's the trade-off for its affordability and convenience.
The La Specialista's steam wand is powerful. I found it outperforms many panarello wands and produces a nice microfoam for creamy lattes. Be prepared, though—it's a manual wand, which requires training for latte art.
The overall value and functionality of the machine make it a good option for those seeking convenience and control in home espresso making.
Pros
Integrated tamper
Angled water spout makes easy Americanos
Cons
Can't grind fine enough
Only pressurized filter baskets
---
DeLonghi Dedica EC680M
DeLonghi Dedica Highlights:
Semi-automatic machine
Compact size
Cup warmer on top
If one of your main requirements is a compact espresso machine, Dedica could be the answer. As this machine needs only 6 inches of your countertop, you'll have plenty of counter space left.
One thing to note, as the machine is light (9.3 pounds), you won't be able to detach the portafilter one-handed, or you risk tipping it over. You'll have to hold the Dedica with one hand and attach the portafilter with the other.
It can pull a single or a double espresso shot or use it with ESE pods. It has a manual milk frother which creates creamy, thick foam. However, it doesn't come with a grinder.
I loved that Dedica has a cup warmer on top, which will make your espresso even hotter and keep it warmer for longer.
Dedica comes with thermoblock technology, and it'll be ready to brew in 40 seconds. By the time you pour the milk and load the freshly ground coffee, it's ready to go. The automatic flow feature means Dedica will dispense the exact amount of espresso while maintaining the brewing temperature.
This is a solid espresso machine if you're looking for something that's a compact size. It also brews a quality shot of espresso without breaking the bank. The smaller water tank size makes it perfect for a household of one or two coffee drinkers.
Pros
Compact size
Double-layered tier for fitting smaller or taller mugs
Illuminated buttons on the front panel
Cons
Can start to smoke after some time due to mixed internal components
Doesn't have non-pressurized filters
No grinder
---
DeLonghi ECP3420 15-Bar Pump Espresso and Cappuccino Machine
DeLonghi ECP3420 Highlights:
Semi-automatic machine
Affordable price
15 bar pump creates good crema
ECP3420 is an entry-level semi-automatic espresso machine that's very budget-friendly. This is one of our favorite budget machines if you want to try espresso without spending much.
It has a 15-bar pressure pump and a pressurized portafilter, so you'll get optimal pressure to extract the full flavor and get the best espresso crema. One thing to note is that ECP3420 doesn't have a grinder.
ECP3420 has a self-priming setting, so there's quick heat-up time thanks to the stainless steel boiler. You'll have to wait less than a minute for the machine to heat, and you can also pull several shots in quick succession.
ECP3420 can brew several coffee drinks — one or two espresso shots, espresso pods thanks to the 3-in-1 filter holder, or milk-based drinks, with the manual frother. However, the steam wand isn't powerful. Oftentimes, I have to stop the frothing, wait for it to reheat, and then complete the froth, which is frustrating.
The machine is easy to use. Its 37oz water tank is easily accessible and removable, which makes refilling and cleaning easy. There's a second-tier drip tray that will give you enough space to place larger cups. The drip tray is dishwasher safe, so the cleaning is easy as well.
I would prefer if the build was stainless-steel, such as some other DeLonghi semi-automatic machines. However, the ECP3420 is really affordable, which makes up for the plastic parts.
Overall, this coffee maker is good for users who want a machine that doesn't take up too much space and is beginner and budget-friendly. It's also a good option if you already have a grinder or plan to get one.
Here's our in-depth DeLonghi ECP3420 review.
Pros
Compact design and narrow footprint
Fast heating time
Budget-friendly
Cons
Plastic tamper and portafilter
The boiler system can't push water through a tightly packed tamp
Microfoam is difficult to achieve with the steam wand
---
DeLonghi All-in-One Combination Coffee Maker & Espresso, COM532M
DeLonghi COM532M Highlights:
All-in-one machine
Can brew coffee and espresso simultaneously
Steam wand has two options for heating and frothing milk
COM532M is different from all the other espresso makers on this list. This is an all-in-one machine, which means it'll brew coffee and espresso for you.
COM532M espresso and cappuccino machine has a dual heating system, so there's no waiting time between brewing coffee and espresso. In fact, you can do it simultaneously, which is an excellent option when you're hosting a party and your guests have different drink orders.
Another of my favorite features is the 24-hour programmable timer. You can set the time when you want the machine to brew for you and wake up to a freshly brewed cup.
This espresso machine also makes milk-based drinks. It comes with a steam wand, and there's an adjustable cappuccino and steam milk option. By pressing the black indicator up or down, you can choose between the two, so you'll have perfectly steamed milk every time.
One faulty feature is the preheat light indicator when you turn on the espresso maker. The light only worked about half the time, which was a little annoying. I also didn't like how fast the drip tray filled up because of the water from the steam wand.
This DeLonghi machine is for coffee lovers who want an all-in-one combination coffee machine. If you want to drink espresso, regular coffee, and milk-based drinks, you'll love this one.
Pros
10 cup capacity
Simultaneous coffee brewing and espresso pulling
15 bar pump
Cons
No automatic shut off for espresso; you'll have to stop it manually
The drip tray catches extra water from the steam wand
Preheat light indicator often doesn't work
---
How to Choose the Right DeLonghi Machine For You
Budget
DeLonghi machines come in a range of prices, and which one you'll choose will depend on your budget. For example, the top super-automatic machines can go as high as $2,500, while an entry-level DeLonghi espresso maker can be as little as $150.
In general, the higher the price, the more features and better build the machine will have. However, you can absolutely have a solid espresso with a less expensive machine. However, they'll require a lot more effort to do so.
Before choosing an espresso machine, we recommend asking yourself two questions:
How much do I want to spend?
What do I need?
There's no need to look at things outside of your price range (you'll end up spending more, trust me) nor should you waste money on a machine full of features that you don't need. For example, if you don't drink iced coffee and don't need 18 different beverages, there's no point in paying Dinamica's price.
Lastly, take note if the machine includes a grinder. We recommend grinding coffee beans right before brewing, and you should have a standalone burr grinder if it's not included with the espresso machine.
Drink Options
Another thing to consider is how much drink variety you need. For example, if you only drink espresso, you don't need a machine with a frothing wand (that's more expensive than just an espresso maker). In this case, you need a machine that can consistently pull good espresso.
On the other hand, if you drink a lot of milk-based drinks, you need an automatic or a manual machine with a good milk frother. In this case, the frother is even more important than the machine's ability to pull a good shot, as the milk will dilute the espresso flavor anyway.
Durability and Espresso Quality
Durability is all about the kind of material the machine is made of. Stainless steel espresso makers last longer, but there are plenty of well-built plastic ones as well.
Also, DeLonghi espresso makers come with a warranty, so this can give you an idea of how long you can expect them to last.
As for the espresso quality, most DeLonghi models use a similar thermoblock heating system as they all generate nine bars of pressure. the more expensive semi-automatics (like Dedica or La Specialista) have larger heating systems and are more powerful.
Meanwhile, the super automatics mostly differ in their level of programmability, which allows you to make an espresso more to your liking.
Cleaning and Maintenance
How much time do you want to spend cleaning the espresso machine after you've pulled your shot? The rule is: semi-automatic machines have more cleaning required compared to super-automatic.
Steam wands require the most maintenance. Automatic milk frothers on the high-end automatic models make this easier, but they still require rinsing. Sometimes these milk carafes are dishwasher safe, but not always.
Nespresso machines are the easiest to clean. These capsule espresso machines only require getting rid of the pod and occasional descaling.
Ease of Use
If you want a machine where the process is automated, go for an automatic one. These machines are beginner-friendly and easier to use than semi-automatic ones and require very little input from you. There are even machines that will make a complete cappuccino or a latte with a press of a button.
However, semi-automatic machines have more control and can make better espresso with practice. Consider how involved in the coffee and espresso-making process you want to be.
Best DeLonghi Coffee Machines: Final Thoughts
All of these DeLonghi machines will make barista-quality coffee. However, my top three choices are Dinamica, Magnifica, and Dedica. Dinamica stands out thanks to its iced coffee feature, Magnifica is great for automatic lattes, while Dedica is a good semi-automatic option. Lastly, shout out to the ECP 3420 as the ultra-budget option on this list.
If you'd like to check out something different, we have a list comparing the top Breville espresso machines.