Your grinder is the most important tool you can use to make great coffee, as consistent grind size has a huge impact on coffee taste. Burr grinders are the highest quality, and you'll use one before every coffee.
But different burr grinders work best for different needs. For my part, I recommend three burr grinders for their performance and value:
In this exploration of the best burr coffee grinder, I'll explain why these three grinders work best for their category, and I'll offer a few alternatives for consideration. I'll also detail some important considerations to make when choosing your preferred burr grinder.
Individual Reviews: Best Burr Coffee Grinder
Image
Product Name
Features
Price

40mm steel conical M3 burrs
40 grind settings
Simple two-button use

Check Amazon

40mm steel conical M2 burrs
40 grind settings
Time-based dosing

Check Amazon

48mm stainless steel conical burrs
120 grind settings
35g capacity

Check Amazon

Makes full-bodied iced coffee
Brew up to 18 espresso drinks
Heat up time less than 40 seconds

Check Amazon

50mm flat steel burrs
Stepless grind adjustment
Full aluminum construction

Check Amazon

35mm stainless steel conical burrs
12 grind settings
Glass catch cup

Check Amazon

40mm steel conical burrs
60 Grind settings
Time-based dosing presets

Check Amazon
1. Baratza Encore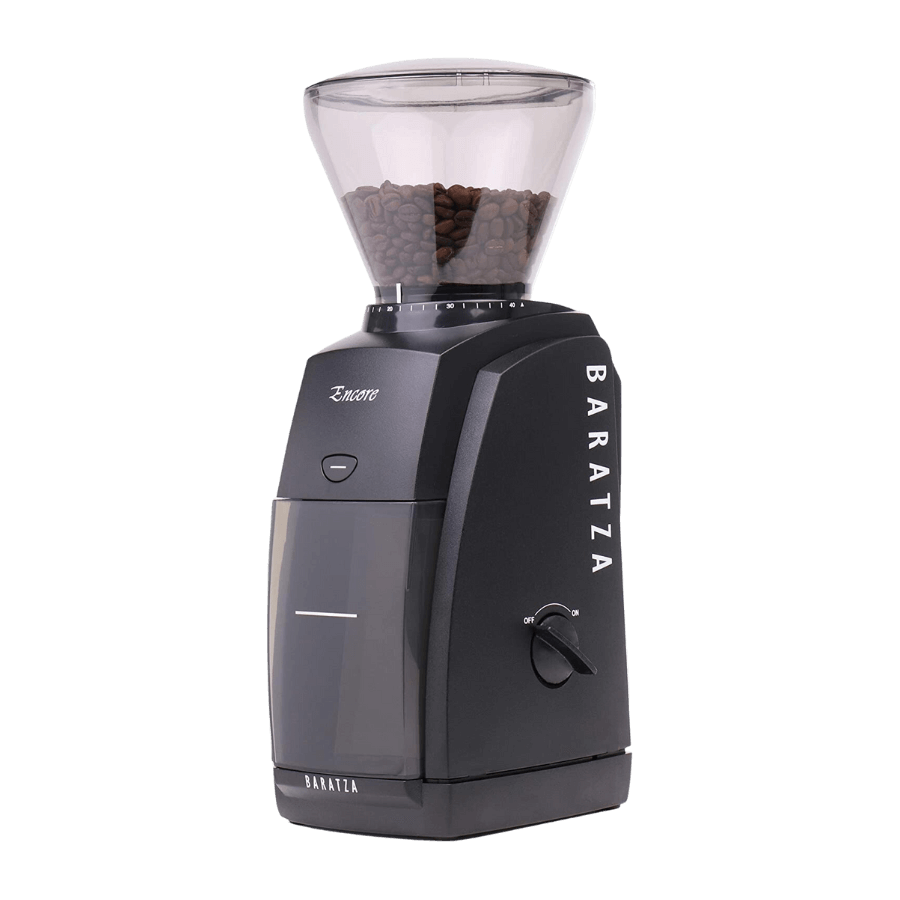 Baratza Encore highlights:
40mm steel conical M3 burrs
40 grind settings
Simple two-button use
The Baratza Encore is an affordable, all-around grinder perfect for brewing French press and pour-over at home. Its minimalist design makes it simple to use, but it lacks features that would make for a more convenient grinding experience.
The body of the Baratza Encore is sturdy plastic, and it features just one button on its front and one switch on the side. The side switch turns the grinder on and off, and the front button is a pulse grind feature. Grind adjustments are made by twisting the 8 oz. hopper to select one of 40 grind settings, and coffee beans are ground into an attached dose bin. Because of this simplistic design, all dosing has to be done manually, so the Encore is a very hands-on grinder.
If you are willing to put in the extra front-end work required, Encore has admirable consistency and reliability. The 40mm steel conical burrs are Baratza's in-house manufactured M3 burrs. They deliver excellent grind consistency across medium and coarse settings, and it produces clean and balanced coffee.
I've used the Encore as my go-to pour-over grinder for five years and have always been satisfied with its quality. That's especially impressive considering the Encore's low price, sitting at less than $200.
That said, the Baratza Encore isn't for you if you prefer espresso. The Encore was designed for filter and immersion brew methods, and it's consistency starts to falter on finer settings.
There is a new espresso version of the Encore, the Baratza Encore ESP, which we review here.
Also, the Encore is very loud (a trademark of Baratza grinders). You will wake up the rest of the house with it, and you won't be able to hear yourself think while you're using it. If you can put up with the noise and the lack of features, the Baratza Encore is a reliable workhorse for non-espresso brew methods.
Pros
Great for pour-over
Easy grind adjustment
Cons
Lack of features
Loud
---
2. Baratza Virtuoso+
Baratza Virtuoso+ highlights:
40mm steel conical M2 burrs
40 grind settings
Time-based dosing
The Baratza Virtuoso+ is like Encore's more capable older brother. In fact, I tend to think of the Virtuoso+ as an upgraded Encore. They share the same basic features and capabilities, but the Virtuoso+ improves on the Encore in a few key ways.
The most important distinguishing feature of the Virtuoso+ model is its programmable time-based dosing. A screen on the front displays the current dose time in seconds, and a dial lets you adjust the time down to the tenth of a second. Time dosing can be imprecise since different grind settings will grind a different amount of coffee in the same amount of time. However, once you dial in a setting for your chosen brew method, it's a reliable and consistent system. You make grinding adjustments by turning the 8 oz. hopper to one of 40 settings.
This grinder has 40mm M2 stainless steel burrs, which are an upgraded version of the M3 burrs, and they have a sharper cutting edge along the burr's spiral teeth. This doesn't improve grind quality, but it does improve grind speed. The M2 burrs make the Virtuoso+ a very fast grinder, which is good since it, like most Baratza grinders, is very loud.
In terms of performance, the Virtuoso+ produces a consistent grind between French press and pour-over settings, with the resulting coffee being balanced and clean. However, it loses its consistency with finer settings and lacks sufficient options to dial in shots, making it unsuitable for espresso. Its grinding range lies between 200-1200 microns, making it suitable for slightly finer grinding than the Encore, but the differences are minimal.
The Virtuoso+ is under $300, making it much more expensive than the Encore, but still, a decent value for the quality of coffee it produces. Since it has a similar grind quality to the Encore, the higher price tag means you're mostly paying for the time-based dosing feature. That's valuable for ease of use and make it makes brewing easier, especially if you use one brewing method. However, you can save by using the manual dosing on the Baratza Encore.
Pros
Fast grinding
Upgrade burr design
Cons
Limited use cases
Less value for price
---
3. 1Zpresso Jx
1Zpresso Jx highlights:
48mm stainless steel conical burrs
120 grind settings
35g capacity
The 1Zpresso JX is a powerful yet affordable manual coffee grinder capable of meeting all brewing needs, from French press to espresso.
This grinder boasts large 48mm stainless steel burrs, which produce an impressive grind consistency. Not just on certain settings either; it holds across all of the JX's 120 grind settings. Whereas other grinders perform well in a certain grind range and poor in another, every brew method I've tried with the JX created a coffee that was balanced and clean.
The JX is also sturdy and (obviously) portable. It features a full aluminum construction that can handle bumps and scrapes, and its 6 in. long body is easy to throw in a kitchen drawer or a travel bag.
Just as the 1Zpresso JX leverages the strengths of manual grinders, However, it also suffers from the drawbacks common to hand coffee grinders. For starters, it requires physical effort to operate. A rubber ring on the body helps with grip, but you are still grinding coffee beans by hand, and that takes some work.
The adjustment mechanism is good but not intuitive. It's an internal adjustment dial under the lever, and there's no way to know the current grind setting just by looking at the dial. If you've forgotten your setting, you have to turn the dial all the way back to "0" and manually count the clicks until you reach your desired setting.
That said, the 1Zpresso JX is a great value for a capable burr grinder. For comparison, it's about the same price as the Baratza Encore but has three times as many settings, better grind consistency, and works for espresso. The tradeoff is the hands-on effort.
Pros
Versatile
Plenty of grind settings
Cons
Difficult to adjust
Limited hopper
---
4. 1Zpresso K Max
1Zpresso K Max highlights:
Makes full-bodied iced coffee
Brew up to 18 espresso drinks
Heat up time less than 40 seconds
The 1Zpresso K-Max is probably the easiest-to-use manual grinder I've seen. It's simple to adjust, easy to grip, and provides a top-tier grind consistency across its many settings.
The K-Max grinder has a sleek, modern aesthetic with a black aluminum body. It's a sturdy build and provides a visual appeal that I'm a huge fan of. Its compact size is on par with other hand grinders, and it fits neatly in a drawer or travel bag. It also features a magnetic catch cup that does away with the screw threads that's easy for coffee grounds to get stuck. It creates a clean workflow, whereas many hand grinders are prone to messiness.
At the heart of the K-Max is a set of 48mm stainless steel burrs, which provide both efficiency and consistency in grinding. The K-Max is relatively fast for a hand grinder, and the bearings provide a near-frictionless surface for a smooth grinding experience.
The 90 settings of the K-Max allow you to brew anything between espresso and French press, with each click making a 22-micron adjustment. This allows plenty of room for dialing in espresso, but the K-Max maintains consistency on coarse settings. The flavor shines through in a clean and balanced way on all brew methods.
Making an adjustment is also simple since the K-Max has an adjustment ring at the top of the grind chamber near the handle. You don't need to take off the catch cup or access the inside of the grind chamber like with other manual grinders.
However, it's more expensive than other grinders, especially for a manual grinder. For many, the affordability of a hand grinder is part of its appeal, but the K-Max is similar to an electric grinder.
You're paying for a more premium build and simpler adjustment mechanism. I think the versatility, precision, and ergonomics of the K-Max are worth it, but you can get a similar flavor profile from a more budget-friendly manual grinder.
Cons
Expensive for a hand grinder
---
5. Eureka Mignon Notte
Eureka Mignon Notte highlights:
50mm flat steel burrs
Stepless grind adjustment
Full aluminum construction
The Eureka Mignon Notte is a noteworthy espresso grinder that combines quality and affordability. It offers an excellent espresso grind comparable to Eureka's high-end grinders but at a more budget-friendly price.
The Mignon Notte has a sturdy and sleek, modern look due to its monochrome aluminum body. You can precisely dial in espresso with a stepless adjustment dial. The 50mm steel flat burrs are responsive to micro adjustments and deliver the consistency and precision needed to reliably brew espresso.
The shots also come out rich and sweet due to the burr design. Eureka designs and manufactures their grinders in Italy with a special burr design that creates a unimodal grind distribution. While it's great for brewing delicious espresso, the Mignon Notte does not excel at coarser grinds. It loses consistency and produces more fines the coarser you grind, so I don't recommend it for coarser brew methods. You might be able to get a decent pour-over from the Mignon Notte, but even that is stretching the limits of what it was designed for.
For a dedicated espresso grinder, the Mignon Notte is an excellent value. The reason is the lack of features. It doesn't have an LCD screen, programmable dosing, or sound dampening. You dose manually, and it's louder than most Eureka grinders. It's still quieter than some of its competitors (I'm looking at you, Baratza), but it's not a quiet grinder. To me, these sacrifices are worth it to get the grind quality that Eureka is known for in a more accessible price bracket.
Overall, the Eureka Mignon Notte is a top-tier espresso grinder, despite its lack of bells and whistles. If you're after a dedicated espresso grind that balances quality and cost, this grinder is an excellent choice.
Pros
Precise and consistent espresso grind
Cons
Lacks the features of other Eureka Mignon grinders
---
6. Bodum Bistro Electric
Bodum Bistro Electric highlights:
35mm stainless steel conical burrs
12 grind settings
Glass catch cup
The Bodum Bistro Electric is affordable and simple to use, but it's definitely a "you get what you pay for" situation. It has the look and feel of a premium grinder but not the performance to match.
From the outside, the Bodum Bistro Electric actually looks nicer to me than the Baratza Encore. It has a similar minimalist black design with sturdy plastic, but the red pops of color make it even more visually appealing. The coffee grounds jar is made of glass, adding an air of quality that draws you in.
Unfortunately, that appearance goes away once you use the grinder. It only has 12 settings, and counterintuitively, the finer settings are its most consistent. However, even though you might be able to get away with using a pressurized basket for an espresso shot, the Bodum Bistro Electric does not grind fine enough for consistent espresso. On coarser settings, even pour-over settings, the 35mm conical burrs create visible inconsistencies contributing to a muddy, unbalanced cup.
I will give the Bodum Bistro Electric points for having an adjustable time-based doser. That's not common at this price bracket, and the price is part of the allure of the Bistro Electric. That said, I recommend a Baratza Encore or 1Zpresso JX for more consistency at a slightly higher price.
However, as a low-cost, entry-level electric grinder, the Bodum Bistro Electric does its job. I won't say it's a good value, but it is the most affordable option for an electric burr grinder.
Pros
Affordable electric grinder
Cons
Poor grind consistency
---
7. Breville Smart Grinder Pro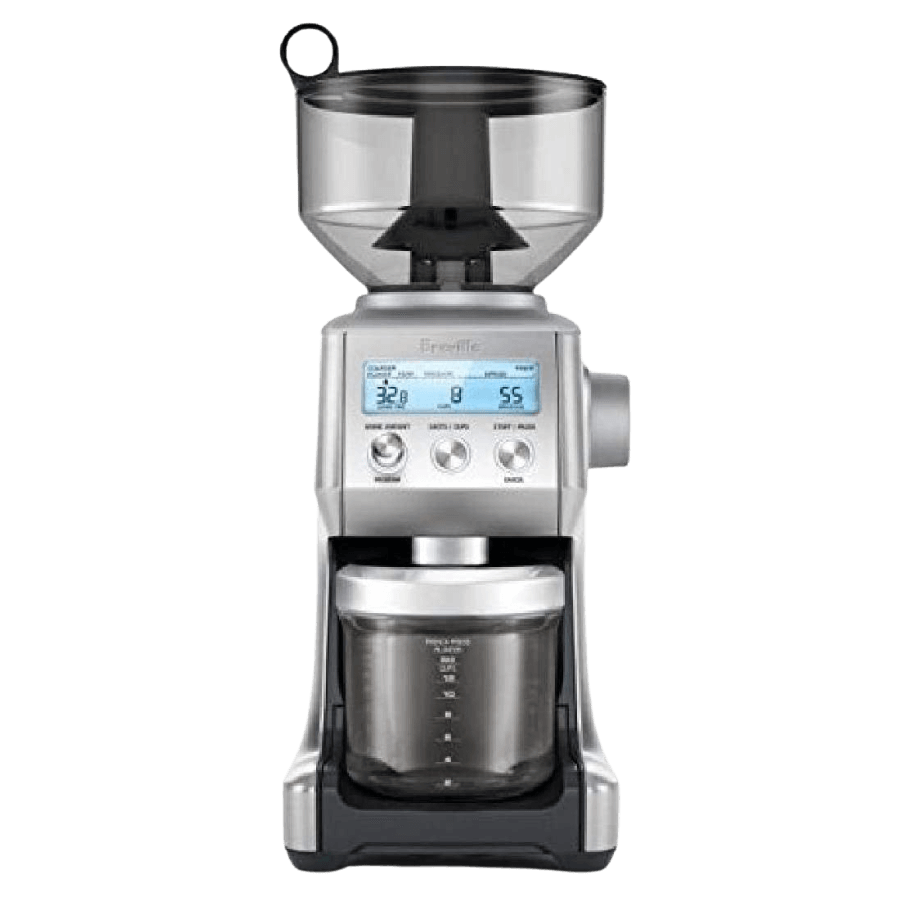 Breville Smart Grinder Pro highlights:
40mm steel conical burrs
60 Grind settings
Time-based dosing presets
The Breville Smart Grinder Pro is an excellent multipurpose, affordable grinder ideal for beginners. It was designed with the user experience in mind, and it's simple and intuitive to use.
The Breville Smart Grinder Pro features an LCD screen that displays the current grind setting and shows the recommended brew methods for that grind setting. It also allows you to program two time-based dosing presets across its 60 different grind settings. You can dose into either the included dose bin or directly into a 54mm portafilter. The Smart Grinder Pro requires very little manual input or training to use effectively.
However, its grind quality leaves something to be desired. The 40mm stainless steel conical burrs aren't as consistent as other coffee grinders on this list. You may notice some clumping at fine settings and an accumulation of fines on coarser settings. You can brew a decent espresso, pour-over, and French press, but the Smart Grinder Pro is a "jack of all trades, master of none" kind of grinder.
Also, grind retention is high for a conical burr grinder at 2 grams. Those retained grounds get stale and come into your next cup of coffee. The real draw is the Breville Smart Grinder Pro is one of the most user-friendly burr grinders out there.
It's also a good value given the ease of use and range of options, from French press to espresso. You can find better grind consistency, but its versatility and simplicity are hard to beat. I like the coffee I get from other grinders better, but I like using the Smart Grinder Pro more than other grinders.
Pros
Very user friendly
Range of settings from fine to coarse
Cons
Inconsistent grind
Coffee clumping
---
What to Consider When Buying Coffee Grinders
Burr Grinders vs. Blade Grinders
Burr grinders are superior to blade grinders in every way except cost. Even then, you can find a decent burr grinder that will rival the affordability of a blade grinder if you know where to look.
Blade grinders are essentially just blenders. They have a single metal blade that spins at high speed until you turn it off. The "grind setting" (if you can call it that) is determined by how long you let the grinder run. The chopping mechanism of the blade also results in uneven coffee grounds regardless of the setting, leading to inconsistencies in taste.
Burr grinders, on the other hand, are comprised of two revolving burrs with multiple sets of cutting teeth that spin against each other to grind coffee. You can adjust the grind setting by changing how close the burrs are to each other and thus the size of the coffee particles that are allowed to pass through the burrs. This allows for a consistent grind size distribution but also means you can make easy adjustments.
Blade grinders appear to be the budget-friendly alternative to burr grinders, but it's not worth the tradeoff in coffee quality. Even the cheapest burr grinder will have better grind consistency, repeatability, and versatility than the most expensive blade grinder.
Also, burr grinders are becoming increasingly affordable, so the price gap between blade grinders and burr grinders is shrinking. You can even find some burr grinders that are more affordable than blade grinders. A Hario Skerton, for example, is slightly cheaper than a KitchenAide blade grinder, but the Skerton will vastly outperform the KitchenAid in every aspect of grind quality.
For all these reasons, we'll always recommend using a burr grinder. I can't think of a single instance where I'd prefer a blade grinder over a burr grinder.
Burr Type
Burr grinders come in two variants: conical burr grinders and flat burr grinders. Conical burrs use gravity to draw coffee down through a funnel-like arrangement of two burrs. Flat burr grinders use a high-speed motor to push coffee between two parallel burrs.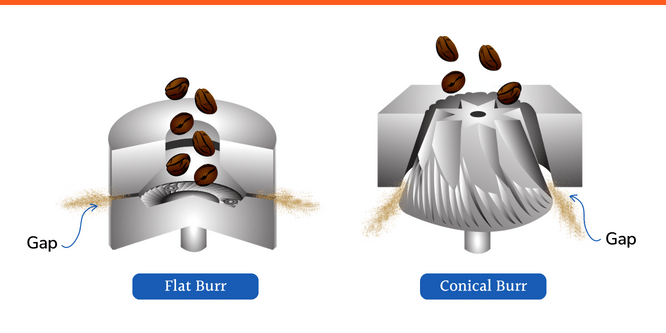 Conical burr grinders tend to be quieter than flat burr grinders because the motor doesn't spin as fast (with Baratza grinders being the exception). Conversely, the fast motor in flat burr grinders generates a lot of noise unless sound-dampening measures are built into the grinder.
A flat burr grinder also creates a unimodal grind size distribution, which is a more uniform size. This creates a more clean, balanced coffee flavor. This makes flat burr grinders better suited to espresso since minor inconsistencies can have a huge impact on the taste of a shot.
In contrast, a conical grinder creates bimodal grind size distribution, which allows for some grind inconsistencies and tends to emphasize a coffee's body. While some might say a bimodal grind distribution creates a more muddy flavor, others might perceive this flavor profile as more rich or more complex.
Where conical burr grinders excel is in grind retention. They leverage gravity to move coffee through the burr assembly, reducing the likelihood of old grounds getting trapped in the burrs. Flat burr grinders, which have to spin at high speeds, generate more static due to increased friction, which tends to increase retention. Retention causes old coffee grounds to mix with new ones, creating a stale aftertaste in both filter coffee and espresso.
Despite unique strengths, neither conical nor flat burr is inherently better than the other. The differences are mostly a matter of preference and depend on many other factors. Consider the flavor profile you're after, noise level, and grind retention.
Grind Settings and Use Cases
Your brew method dictates the grinder choice. If you prefer espresso, a grinder that's great for pour-over will be poorly suited to your needs, and vice versa.
For example, the Eureka Mignon Notte is probably the best grinder on this list…if you like espresso. For French press, the Mignon Notte is the worst grinder on this list. That's because the flat burr setup and stepless grind adjustment give it excellent consistency on espresso settings and poor consistency on French press settings.
The foundational factor in determining what brew methods are ideal for a given grinder is its grind settings. Generally, the more grind settings available, the more precise the grinder. A grinder with only a few dozen settings (like the Baratza Encore and the Breville Smart Grinder Pro) will often work better on medium and coarse settings. These settings are more forgiving when it comes to inconsistencies, and you can often still get a decent pour-over or French press, even if the grind is imprecise.
On the flip side, something like the Eureka Mignon Notte, which has a stepless grind adjustment, is well-suited to espresso. The precision and level of detail the stepless adjustment allows for are ideal for the minute changes required to dial in a precise shot.
Now, this is a general statement, as even the Smart Grinder Pro can also make a passable shot of espresso. However, the grind settings available on a given grinder, and the grind range that it excels at, is a good rule of thumb for determining if a grinder will best serve your specific brewing needs.
Manual vs. Electric
The choice between a manual and an electric coffee grinder depends on how much you value price versus effort.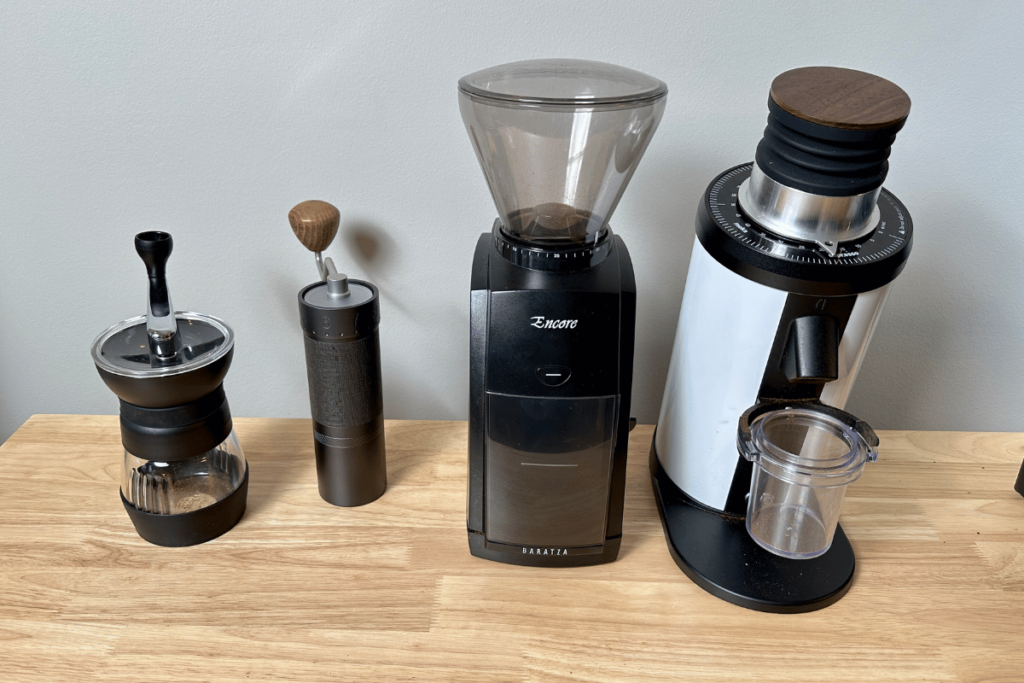 Hand grinders are unobtrusive, both in their noise level and their size. They are silent compared to electric grinders and are compact and portable. You can take them almost anywhere, making them a travel-friendly choice. Manual grinders are also generally less expensive, with fewer parts and no motor, so appealing to budget-conscious coffee enthusiasts.
Electric grinders, in contrast, prioritize convenience and ease of use. For most electric grinders, grinding is a completely hands-off process – just add coffee and press a button. No manual labor is required. Furthermore, electric grinders can be better for consistency because it's easier to find the given setting. Manual grinders are notorious for complicated grind adjustment and poorly labeled settings. That makes it much easier to switch between brew methods with an electric grinder.
If your most important considerations are cost, quiet operation, and portability, a manual grinder would be your best bet. However, if your primary concerns are ease of use, minimal manual labor, and flexibility in grind settings, an electric grinder would be a more fitting choice.
Budget
It's tempting to think that the "best" burr grinder is the most expensive, but that's not always the case. A budget-friendly grinder may be the best option for your setup.
Sometimes, a higher price tag is the product of more features that don't necessarily improve the grin quality. The Baratza Encore, for example, is cheaper than the Breville Smart Grinder Pro despite having a more consistent grind on medium and coarse settings. The cost of the Smart Grinder Pro comes from its LCD screen and programmable dosing, not from its grind quality.
If you prioritize the must-haves of your desired grinder and are willing to make sacrifices on nonessentials, you'll be able to find a burr grinder that meets your needs without breaking the bank.
FAQ
Are Burr Grinders Really Better?
Yes, because burr grinders have fixed gaps that create uniform grinds, which leads to balanced flavor in your coffee. Meanwhile, blade grinders have almost no control.
What is the Best Coffee Grinder?
The Baratza Encore is our favorite burr grinder because the M2 burrs are consistent with a wide range of use cases at a reasonable price.
Narrowing the Field
Once you've decided what you want to use your burr grinder for (e.g., pour-over or espresso), you can start to specialize even more. Read our roundups on the best grinders for espresso and French press for even more detailed guidance on choosing your next grinder.