Welcome to the ultimate showdown between two of the most popular Jura models: the E6 vs. the E8. These two espresso machines feature Jura's innovative technology, delivering an unparalleled coffee experience in the comfort of your home. Both machines promise to satisfy even the most discerning coffee enthusiasts.
Jura E8 is a great mid-tier Jura model. However, Jura redesigned the E6, so now it's another excellent value option. So, which one comes out on top? It's a tight battle, but my choice goes to Jura E6 if you want the best price-to-value and Jura E8 if a huge drink variety is your primary concern.
I'll compare both of these Jura coffee machines and cover all of their differences and similarities, so you can choose the best Jura coffee maker for you.
Note: Amazon has several listings of the Jura E8 for different styles and colors. The features are the same, and I linked the results page so you can choose what you like.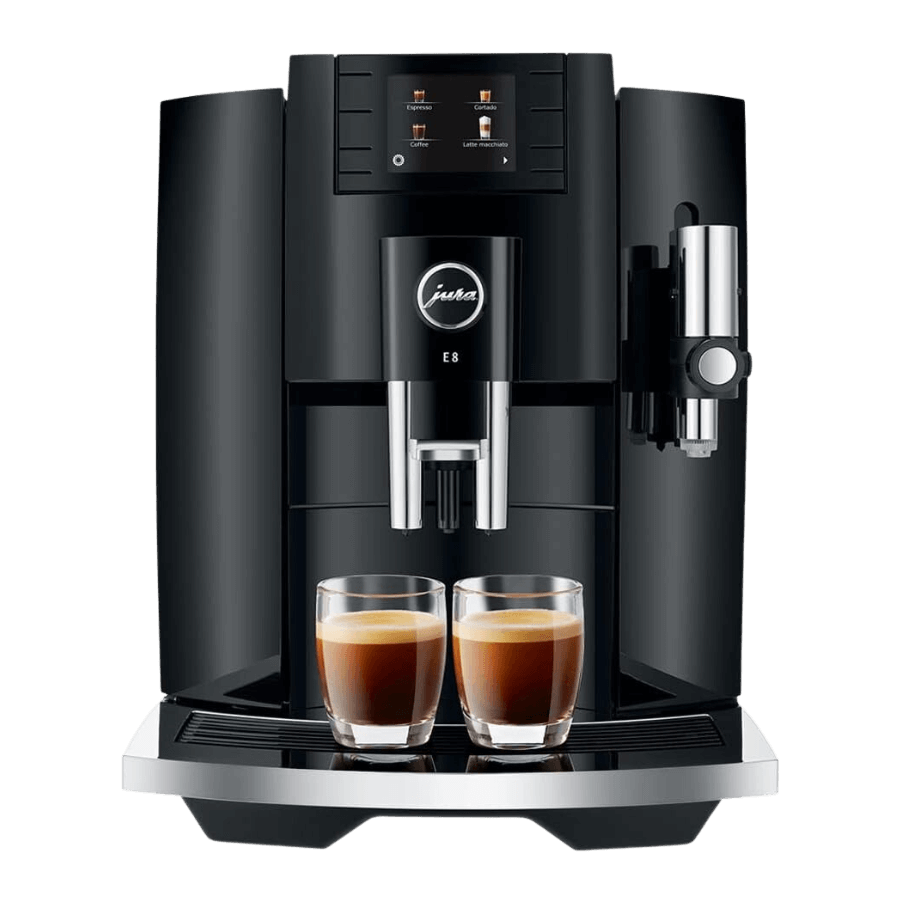 Our Pick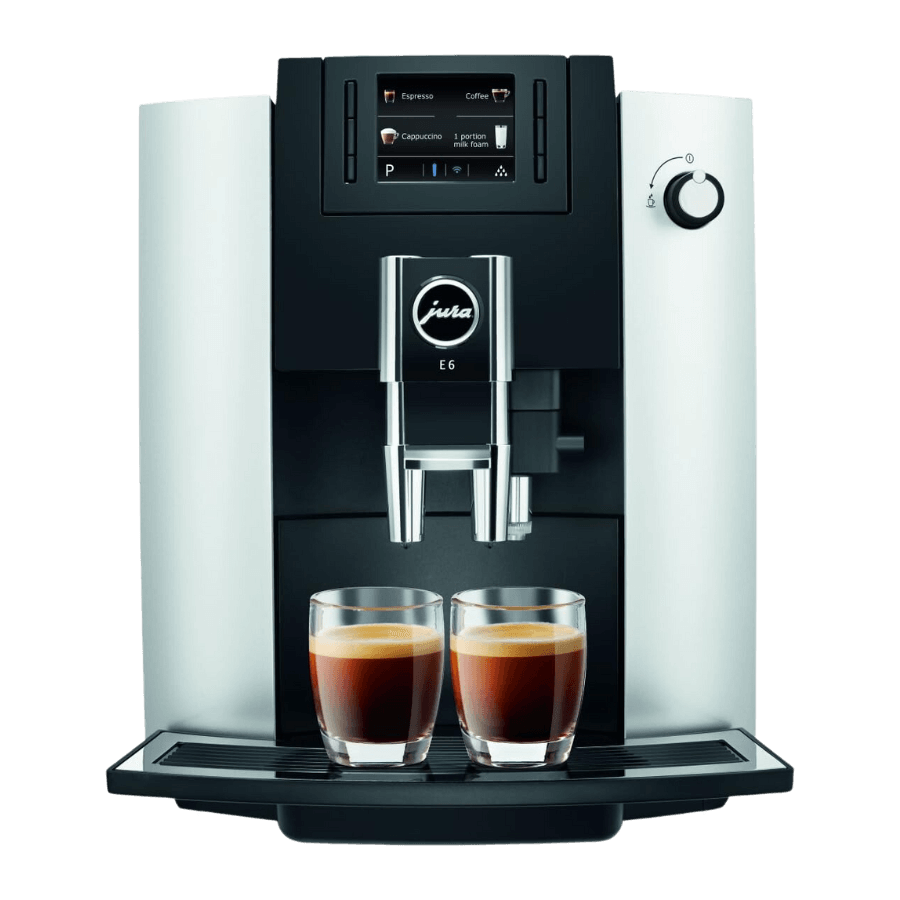 Product
Number of Specialty Coffees
Number of Specialty Coffees
17
11
Intelligent Preheating
Intelligent Preheating
Yes
Yes
Pulse Extraction Process
Pulse Extraction Process
Yes
Yes
Professional Aroma Grinder
Professional Aroma Grinder
Yes
Yes
Milk Frother
Milk Frother
HP3/CX3
HP1/CX3
Display
Display
2.8" Color
2.8" Color
Main Differences
Here are all the differences between these Jura espresso machines.
Display and Ease of Use
Remember, both of these models are super automatic espresso machines, so all you need to do is add whole beans, and the machine does the rest. The interface becomes important to operating each model, and they have slight differences.
Both Jura E8 and Jura E6 have a 2.8-inch color display that's used through buttons, so this isn't a touchscreen. The display on both machines is large enough and very bright.
You use the six buttons next to the screen to select and customize your drink before or during brewing. E8 features one-touch technology that lets you select over a dozen drinks. E6 lacks this feature, so you'll have to press a few more buttons to brew your desired drink, but it's still easy to use.
Even though the E6 doesn't have the one-touch feature, both machines are easy to use, and I had no issues getting the hang of them. The machines guide you through the brewing process, so you won't need to reach for the instruction manual.
Coffee Specialties (Drink Options)
Jura E8 wins the drink options category. It has an impressive 17 drinks compared to E6's 11. Here is a list of drinks on both:
| Drink | Jura E8 | Jura E6 |
| --- | --- | --- |
| Espresso | Yes | Yes |
| 2 x espresso | Yes | Yes |
| Coffee | Yes | Yes |
| 2 x coffee | Yes | Yes |
| Caffe Barista | Yes | Yes |
| Americano | Yes | Yes |
| Espresso Doppio | Yes | No |
| Cortado | Yes | No |
| Macchiato | Yes | Yes |
| Cappuccino | Yes | Yes |
| Cappuccino Extra Shot | Yes | Yes |
| Flat White | Yes | No |
| Flat White Extra Shot | Yes | No |
| Latte Macchiato | Yes | No |
| Latte Macchiato Extra Shot | Yes | No |
| Portion of Milk Foam | Yes | Yes |
| Hot Water | Yes | Yes |
There are more differences than the table suggests at first glance. If you take a closer look at E6, you'll notice that despite its claim to 11 beverages, it actually only makes four distinct drinks: espresso, coffee, macchiato, and cappuccino (it can only produce one style of milk). The rest of the menu consists of double brews, hot water, and milk foam. These E6 drink options could be all you really need. Many coffee lovers (myself included) stick to one to two drinks anyway.
If you want more flexibility, Jura E8 has 17 drink options, including multiple milk textures, which covers a lot more bases. So, if you like to mix things up and try a different drink every day, or if you have friends and family that all prefer different drinks, the E8 is a better option.
Another difference is how you get the machine to make these drinks. On the E6, the milk and hot water are measured automatically but dispensed manually. You need to twist a dial to pour both hot water and frothed milk into your cup and then twist the dial back to stop dispensing when the machine notifies you that it's done. Most other automatic machines (including the E8) do this automatically.
The E6 also uses the same spout for both milk and hot water, with an attachable nozzle that slows down the flow of hot water to keep it from splashing when dispensing. It's annoying to switch all the time, and using the same spout with just a different nozzle carries the risk of cross-contamination between milk and water, especially if the spout isn't cleaned properly. However, switching the nozzle isn't mandatory. If you want to use the same nozzle for both milk and hot water, you can, just expect some splashes.
Jura E8 works somewhat differently. The milk frother is located to the side as a separate spout from the hot water spout. If you want to make milk-based beverages, place the cup under the milk frother, then move to the coffee spout, and vice versa. There's also a separate coffee spout directly behind the milk frother that lets you pour both milk and coffee without moving the cup, which is helpful for a drink like a cappuccino.
Milk Frother
One of the major differences between the Jura E6 vs. E8 is the two different milk frothing systems. The milk frothing system is a stainless steel coated pipe that carries the milk from a separate cup to the machine, where it's frothed and dispensed into a drink. It's called HP1 in Jura E6 and HP3 in Jura E8.
You have more control over the E8 frother. The wand has a dial design that lets you adjust the milk texture easily, so you can manually texture the milk. The E8 also has a fine foam frother feature, which lets you make microfoam. This is an important feature considering how many milk-based coffee drinks E8 has. Overall, you can be as much or as little involved in the milk frothing process as you want. If you don't want to be hands-on, the Jura E8 can whip up the foam with a single button, so it needs very little involvement from you to froth milk.
The location of the milk spout is different on both machines. It's located right behind the coffee spout on the Jura E6, so it's easy to place the cup under the spout and get both coffee and milk without having to move your cup. On the E8, the milk frother is located on the right-hand side, which is the common location for the wand on most machines.
Cleaning and Maintenance
Jura coffee machines are easy to clean. They have automatic rinse, clean, and descaling programs. Both Jura E6 and E8 let you know when it's descaling time. This usually happens one to two months, depending on how often you use your Jura coffee machine.
Note: You don't have to descale the machines if you're using the CLARIS smart filter cartridge.
Want More Coffee Tips?
Join the email list for exclusive coffee insights and deals that only subscribers get. You'll get two coffee discounts just for joining.
No spam, ever. We respect your privacy and unsubscribe anytime.
After you've made 80 coffees, the espresso machine will prompt you to clean it. Make sure your water tank is filled, press the clean button and the start button, and add the cleaning tablet when prompted. The cleaning program takes about 20 minutes.
Finally, the daily maintenance is straightforward. You should empty the puck bin and the drip tray and rinse them. You should also remove the milk dispenser nozzle and clean it to make sure there's no curdled milk.
Note: You can't clean the brew group on the Jura espresso machine because it's fixed. But Jura claims their cleaning process keeps the group in great condition, and I didn't see any reviews saying otherwise, so let's take their word for it.
The primary difference between the two machines when it comes to cleaning is with the milk frother. You should regularly clean the milk frother after making milk-based drinks. Otherwise, the milk will go dry in the spout, go bad, and your next drink will taste awful. This can also damage the machine over time.
The One Touch Milk Cleaning System, available only on the E8, is much more automated than the E6. On the Jura E6, you must add one press of Jura's mini tablets for the milk system in a two-part container. Then you need to press several buttons to clean the milk system while manually emptying and refilling a cleaning pitcher.
You also need to add the mini tabs on the Jura E8, but the cleaning system is more automated on the E8, so it's easier to clean the frother.
Value
My opinion is that Jura E6 is better value for money. You have all the advanced features as on the E8 coffee machine at a significantly lower price. E6 lets you program the drink according to your preference and has the same display and brewing system as the E8. You get the same coffee flavor for a lower price.
However, E8 has more drink options and a more advanced milk frother. If you like variety, especially in good lattes or other milk-based drinks, you should consider paying more for the E8. It's also a better option if share your espresso machine with coffee drinkers with different preferences.
Main Similarities
E6 recently underwent an upgrade, so now it's extremely similar to E8. Here are all the machine similarities.
Espresso Brewing
Both machines brew espresso the same way, which means you'll have the same coffee flavor. Jura uses a lot of innovative technology (and loves to give it fancy names), so let's go into each feature.
E6 and E8 have a P.E.P (Pulse Extraction Process). The espresso machine pulses hot water through coffee grounds in short intervals rather than forcing all the water through the grounds in one pour. This results in a richer flavor, due since the pulse pours utilize IPBAS, or the Intelligent Pre-Brew Aroma System, which is pre-infusion. The puck is wet under low pressure, so the coffee beans can bloom, and you have a more flavorful espresso.
Both machines also have the Professional Aroma Grinder, which is quieter and more precise than the previous Aroma G3. According to Jura, the Professional Aroma Grinder has a better quality of grind, is more consistent, and has an aroma increase of 12.2%.
Note: Only adjust the grinder while it is running to avoid damaging it. Turn the grinder adjustment switch from fine to coarse, as needed.
Another feature they have in common is thermoblock heating. It's efficient and makes the machines ready to start brewing quickly. Also, these aren't dual boiler machines which means you can't steam and brew simultaneously. However, thermoblock lets you quickly switch between actions without losing heat.
Finally, both machines have a chute for pre-ground coffee, which is handy if you want decaf.
Programming and Special Features
Both the Jura E6 and E8 let you customize brew strength, temperature, and amount of water and milk foam. Both machines have ten levels of coffee strength, three brewing temperatures, and three hot water temperatures you can choose from.
Both machines also have intelligent preheating, which compensates for the lost heat that happens when water travels through the machine. In other words, water is always at the optimal brewing temperature when it reaches coffee grounds, which ensures the best flavor extraction.
Another feature both machines have is the 3D brewing technology. It's a fancy name for saying the water flows through the grounds evenly. Once again, this ensures maximum extraction of flavors.
There's also a Wi-Fi connection. You install the Jura app on your phone and control the coffee machine from your smart device. You can navigate the coffee menu, choose the rinsing program, and the power mode. If your cup is placed under the spout, you can even brew coffee from anywhere. Simply press the drink button you want, choose the temperature and strength, and the desired volume.
Another useful feature of the app is user profiles. These aren't available on the machine but only on the app. If you share your machine with other coffee lovers, it means everyone can save custom coffee recipes on their phones, so there's no fighting over coffee volume and strength.
Finally, the app lets you impress your guests with a drink queue function. You can add drinks to an order, and the Jura coffee machine will make them one by one.
Note: The Wi-Fi Connect is an extra feature that is compatible with both the E6 and E8 but must be purchased and installed separately. Wi-Fi Connect is not included in the base purchase of either machine from Jura.
Design and Build
Both Jura E6 and E8 have similar designs and build. Both machines have plastic bodies with chrome accents and a grooved water tank. The only major visible difference is that the milk frother is located on the right of the E8.
The machines have identical dimensions: 11 x 13.8 x 17.6 in, a 64 oz water reservoir, and a 9.9 oz bean hopper.
Another major difference between the machines is the cup clearance under the spots. Jura E6 has 4.4 in of space, while the E8 has 4.4 in under the coffee/hot water spout but 6.6 in under the milk spout. Essentially, if you're frothing milk on E8, you can use a taller cup.
Our Recommendation
My vote for the winner of the Jura E6 vs. E8 showdown goes to E6, for the better value. Its recent upgrades mean it has all the same technology that E8 comes with at a significantly lower price. The coffee flavor is the same, thanks to the Professional Aroma Grinder, P.E.P, IPBAS, and Intelligent Water System.
However, it's a close call. The E8 has an advantage with its manual milk texture control and more drink options. If you mostly make lattes, you want to choose the E8.
The choice is up to you. If you like to have variety, go for the E8. Otherwise, it doesn't make much sense to pay more for the same features as on the E6.
Alternative Options to Consider:
ENA 8
ENA 8 Features:
2.8" TFT color display
Intelligent Water System
Only 10.7" wide, 12.7" high and 17.5" deep
ENA 8 is Jura's lower-end model, so it's a more affordable machine, although it is still slightly more expensive than the E6. It has only 10 drink options. It can brew ristretto, espresso, coffee, espresso doppio, macchiato, cappuccino, flat white, latte macchiato, a portion of milk foam, and hot water.
ENA 8 doesn't have intelligent preheating or Wi-Fi connectivity. However, it has 3D brewing technology and P.E.P. Just like E8; it also has a one-touch function (which the E6 lacks). It also has the same programmability as the E8 and E6 (adjustable amount of water, brew strength, amount of milk foam, and brewing temperature).
Compared to the E6 and E8, its main downside is the basic milk frother (HP1/CX1). This is one of the simpler Jura milk frothers that makes one kind of foam texture suitable for cappuccinos.
Finally, it has the smallest water reservoir, at 37.2 oz, and the smallest bean container, at 4.4 oz.
S8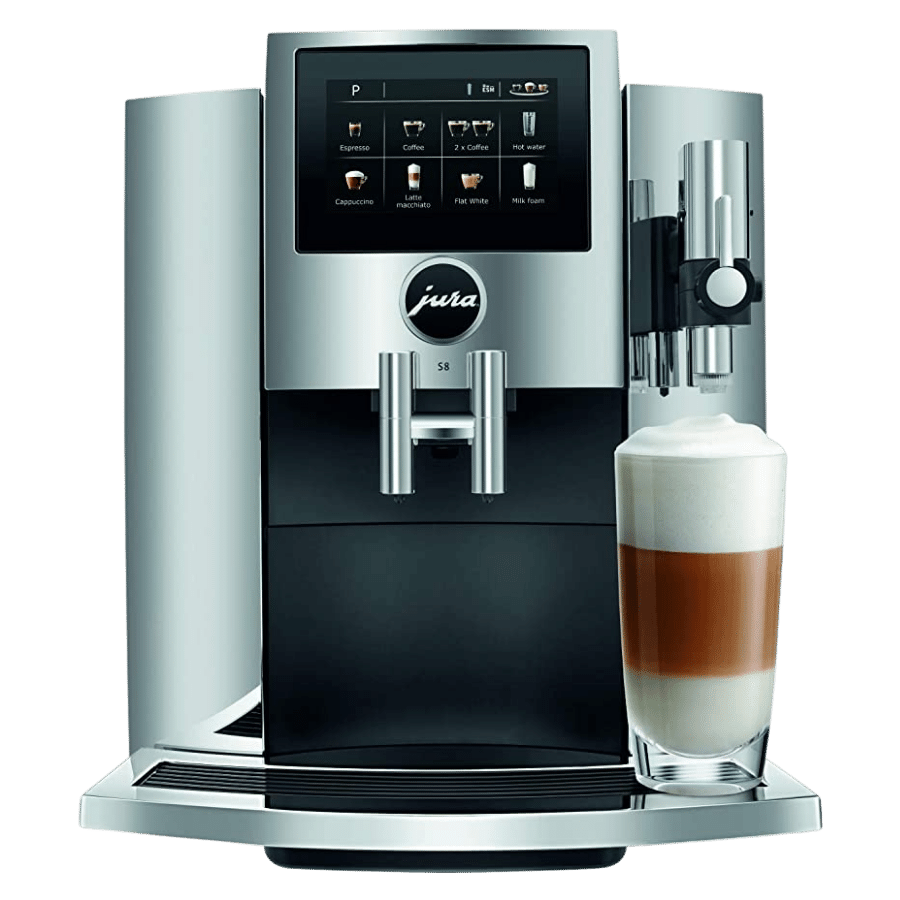 Jura S8 Features:
Super-automatic coffee machine
Aroma G3 grinder
Pulse extraction process
S8 is Jura's high-end model. It has a 4.3 in. touchscreen color display, so there aren't any buttons. The S8 can make 15 drinks. When comparing the Jura S8 vs E8, it can make caffe latte, ristretto, 2x ristretto, and hot water for green tea but lacks doppio, cortado, and Americano.
S8 is also more programmable than E8 and E6. You can program two presets for one drink, which is great if you share your machine with users who like different drinks. You can rename the drinks, copy, delete, and add new recipes.
Another important difference is that S8 lacks the intelligent preheating and 3D brewing that both E6 and E8 have. I found this surprising, considering its high price tag (this probably reflects a slightly older design than the others).
Finally, S8 has the same milk frother as the E8. However, the milk frother on this Jura machine doesn't have an automatic cleaning option. E8 remains the only machine with this feature.
Overall, the S8 is the most expensive version, and to be honest, I don't think it's worth it. You get more advanced features with E8 and E6, and on the S8, it seems you're mostly paying for a touch screen.
Should You Choose Jura E6 or E8?
While I think the E6 is the better choice for the money, the E8 may still suit your needs. If you prefer a wider variety of coffee drinks and the self-cleaning milk frothing feature, the E8 may be the superior choice. The E6 has all the same basic functionality as the E8 at a much lower price point, but the E8's extra drinks and manual milk frothing are nice additional features if you're willing to spend the money on them.
If you want to see more Jura options, check out our round-up of the best Jura machines (with a buying guide).