If you're on the lookout for a new espresso machine, you can't go wrong with Jura, especially the two machines in Jura's mid-range lineup: Jura E8 vs S8. You may think they are the same machine when checking their specs. However, there are a few notable differences between the two.
Both of these machines have Pulse Extraction Process, Intelligent Water System, and automatic milk frothers that make Jura machines a delight to use. But, there are some differences between the two, such as the number of pre-selected drinks, S8's touch screen, and the E8's pre-infusion.
I'll cover all the similarities and differences between these two coffee machines, and I'll explain why I think Jura E8 is the better choice.
Note: Amazon has multiple Jura E8 listings for each style option. The features are the same, and I linked to the results page so you can choose the one you like most.
Our Pick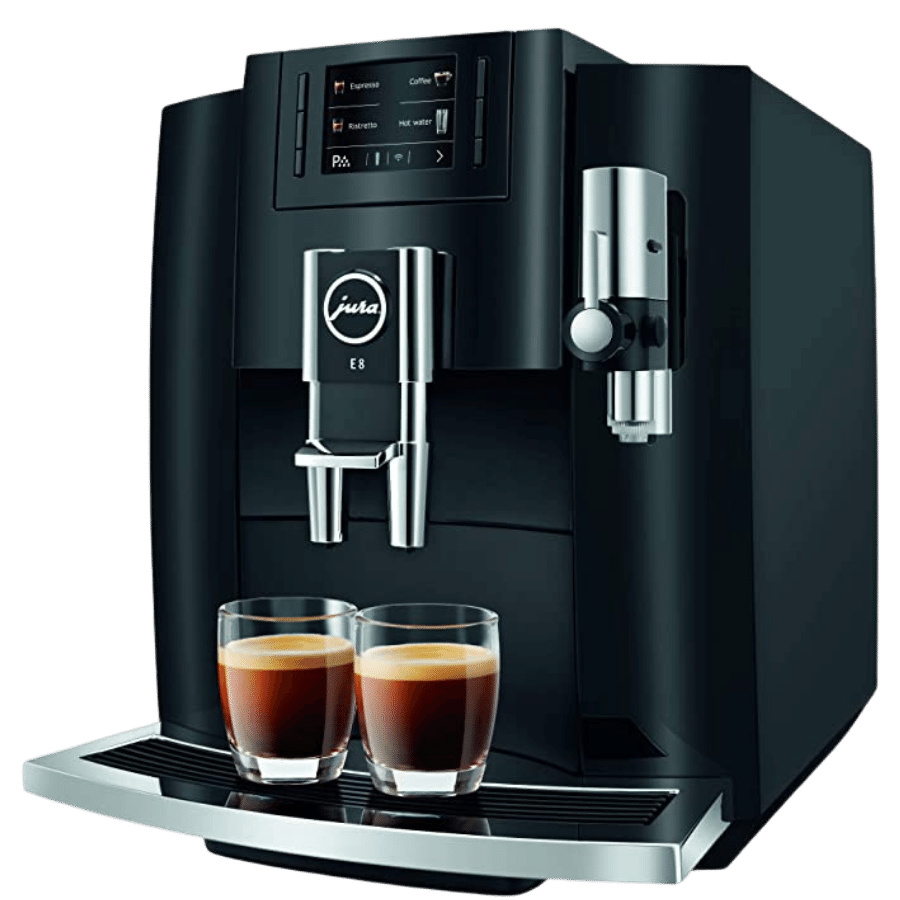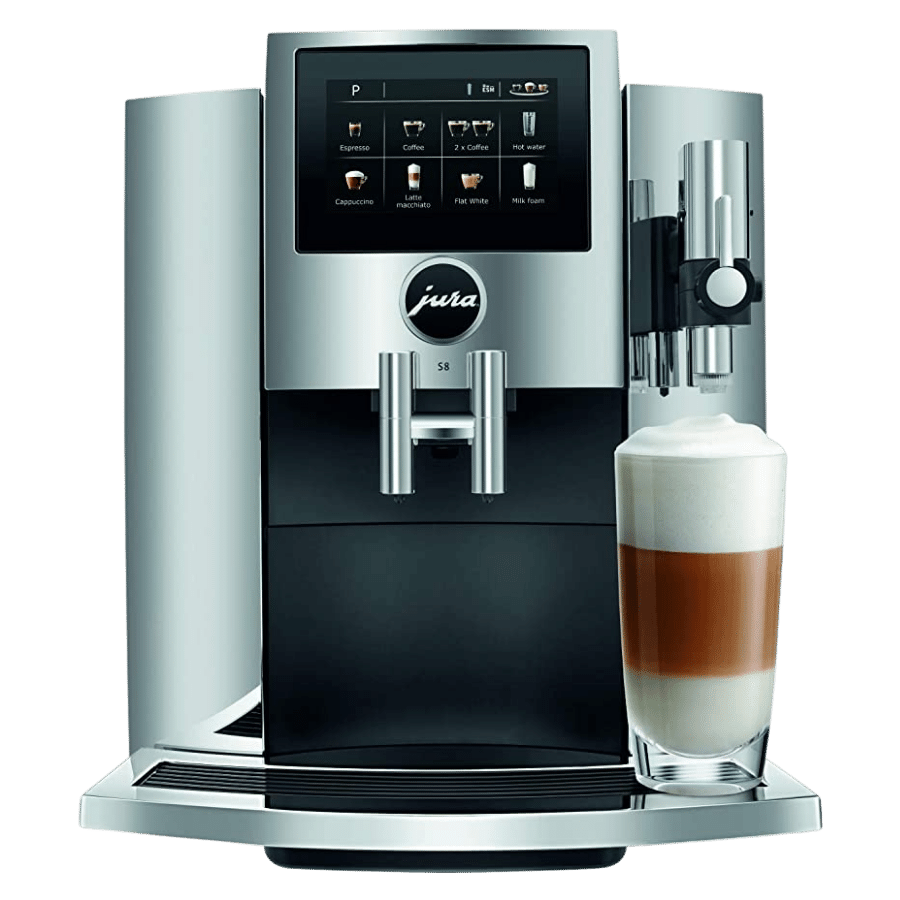 Product
Dimension
Dimension
11 x 13.8 x 17.6 in
11 x 13.8 x 17.3 in
Number of Specialty Coffees
Number of Specialty Coffees
17
15
Inteligent Pre-Heating
Inteligent Pre-Heating
Yes
No
Pulse Extraction Process
Pulse Extraction Process
Yes
Yes
Aroma G3 Grinder
Milk Frother
Milk Frother
HP3/CX3
HP3/CX3
Display
Display
2.8" Color
4.3" Touchscreen Color
Value
Value
Better value with more drink options
Higher price for the color screen
Main Differences
Display and Ease of Use
The display is one of the biggest differences between Jura E8 and Jura S8. Jura S8 has a 4.3" touchscreen color display. There aren't any buttons or a rotary switch.
Jura E8 display is a smaller — 2.8" TFT color display, which means it isn't a touchscreen. There are six buttons and a rotary dial interface.
Both machines are easy to use, and I had no issue getting the hang of Jura's bells and whistles. The machines guide you through the brewing process nicely — you can select and customize your drink before or during the brewing process. Both devices have One Touch technology that allows you to choose over a dozen coffee drinks with a push of one button.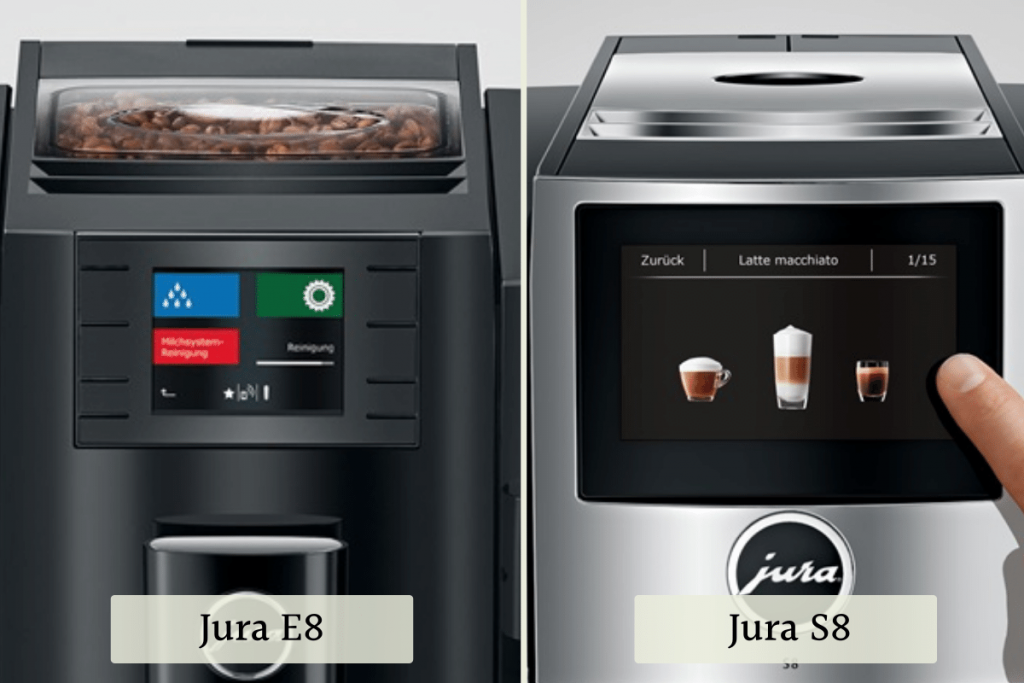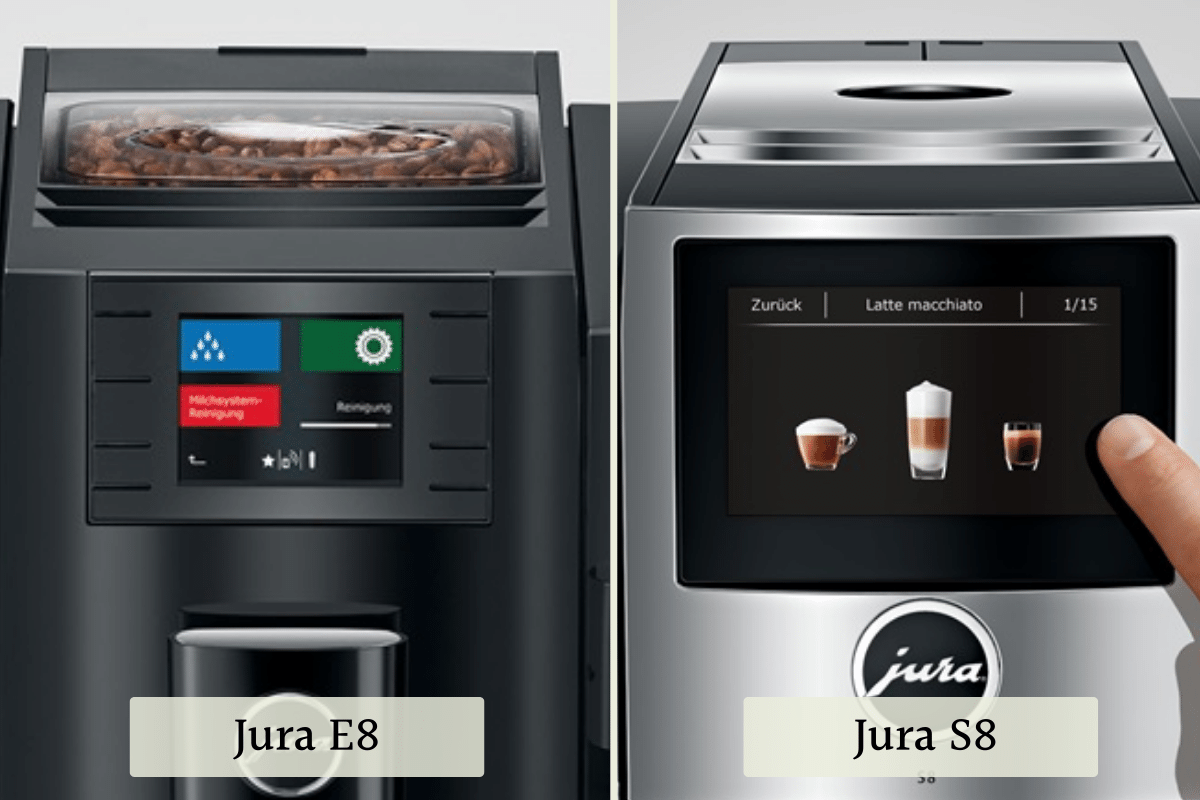 However, Jura S8 does have a more fancy appearance because of the touchscreen, and it feels more modern. Also, Jura S8 has Operating Instructions, which let you know how to position the Fine Foam Frother's dial based on which coffee drink you want. This makes the use extra convenient. You don't have to memorize how to set the dial or write it down.
Coffee Specialties (Drink Options)
Jura E8 has slightly more coffee drinks — 17 compared to S8's 15.
Jura E8 lets you brew:
Espresso
Double Espresso
Coffee
Double coffee
Cappuccino
Cappuccino with an extra shot
Cafe Barista
Americano
Espresso doppio
Macchiato
Latte Macchiato
Latte Macchiato with an extra shot
Cortado
Flat White
Flat White with an extra shot
Milk foam
Hot water
Jura S8 lets you brew:
Espresso
Double espresso
Ristretto
Coffee
Double coffee
Cappucino
Latte
Macchiato
Latte macchiato
Flat white
Milk foam
Hot milk
Hot water
Hot water for green tea
The main difference is that S8 doesn't have Doppio (double the grind for two espressos at one time) and Cafe Barista options. On the other hand, the E8 doesn't have an option for the standard latte. The E8 brews a latte macchiato, where the only difference is the lack of the top layer of milk foam that comes with a traditional latte.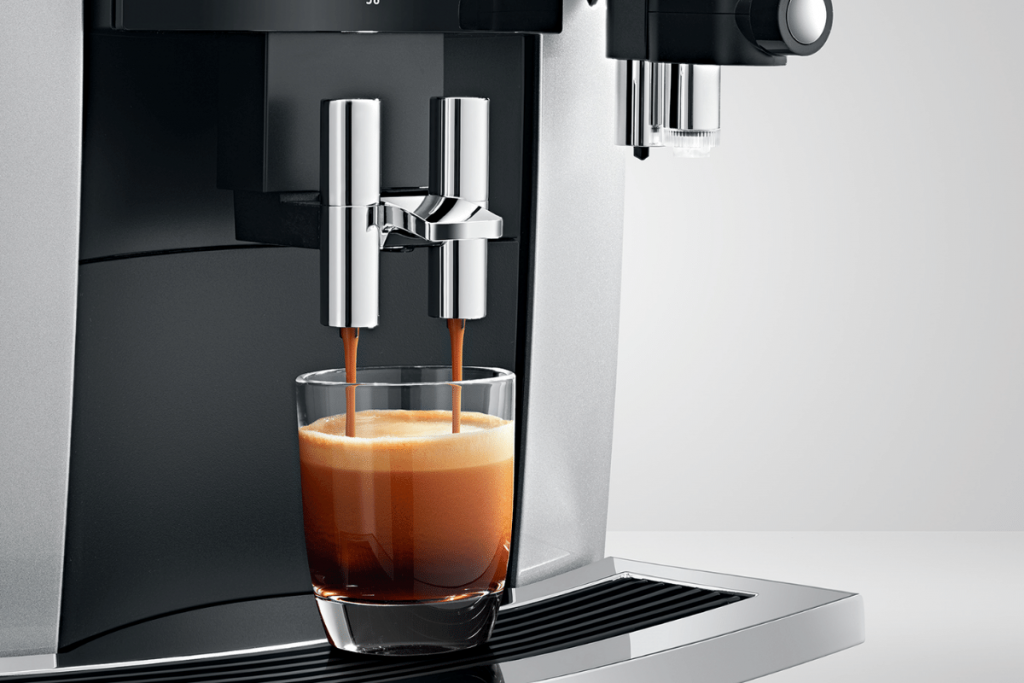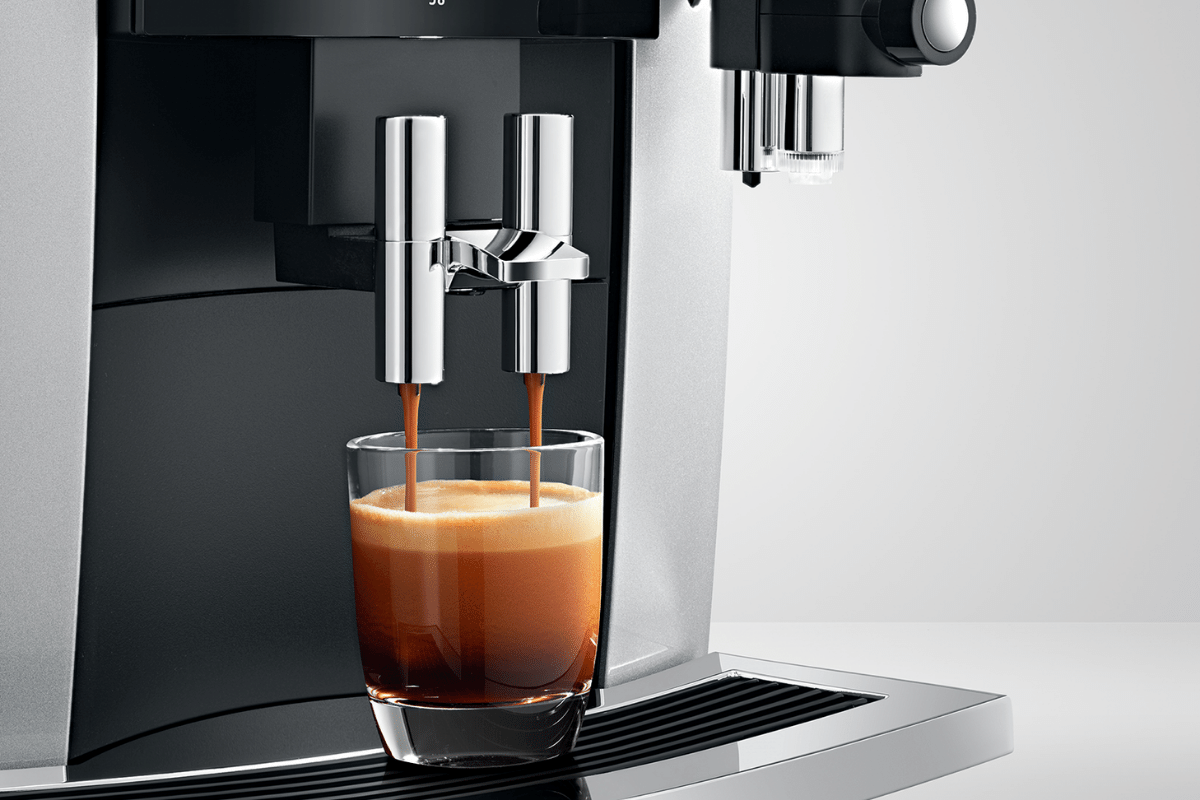 Honestly, there's virtually no difference between the drink options on these two machines. There's plenty to choose from and you'll be modifying it quickly enough, which leads to…
Programming and Special Features
I mentioned that Jura E8 has 17 drink options. 16 of these are programmable, and all 15 drinks on Jura S8 are programmable. Overall, Jura E8 and S8 have the same level of programmability, but S8 lets you save, copy, and personalize your drinks.
Here's what changes you can make to the espresso and milk-based coffee drinks:
Three levels of temperature settings for both machines
Ten coffee strengths in Jura S8 and eight in Jura E8
Choose the kind of milk (froth or steam)
Adjust coffee volume from 5g up to 16g dose
Jura S8 is slightly more programmable and user-friendly as it lets you program two different presets for one drink. This is useful if you share your coffee machine with people who prefer their drinks with more or less milk. Jura S8 also allows you to rename drinks, copy, delete, or add new recipes.
Intelligent Pre-Heating System on the Jura S8
One important feature where these coffee machines differ is the Intelligent Pre-Heating, which only Jura E8 has.
The pre-heating function keeps the coffee machine hot and ready to start brewing at a moment's notice. It keeps the entire machine warm so water doesn't lose its optimum temperature as it flows from the reservoir to the pump. The Intelligent pre-heating is essentially a PID for the entire espresso machine.
Overall, pre-heating makes a difference in ultimate coffee quality, and it's a shame that S8 doesn't have it, especially considering its higher price point.
Want More Coffee Tips?
Join the email list for exclusive coffee insights and deals that only subscribers get. You'll get two coffee discounts just for joining.
No spam, ever. We respect your privacy and unsubscribe anytime.
Cleaning and Maintenance
Both Jura E8 and Jura S8 are easy to clean and maintain. These coffee machines have Jura's integrated cleaning programs. Both machines automatically rinse when you turn them on and off. The coffee machines come with Jura's cleaning tablets, which you should use after 200 drinks.
Also, both devices have fixed brew groups, where leftovers can gather and interfere with espresso flavor. Although fixed brew groups aren't ideal, Jura's automatic rinsing successfully deals with coffee ground leftovers.
Another thing that's in common is the Intelligent Water System, which uses RFID technology and Claris Smart filter to keep the water clean. As long as you use Jura filters, you won't need to descale, which is impressive.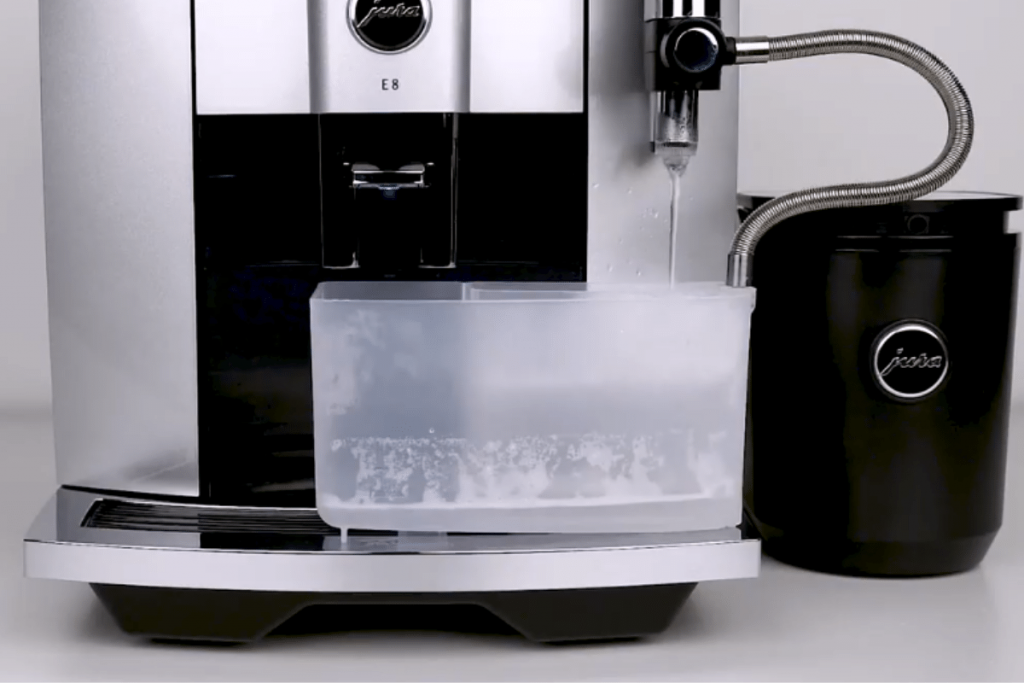 But, there's one difference: Jura E8 has an automatic one-touch milk cleaning system. You should clean the milk frother after each use, or you risk milk collecting and curdling. You can even program E8 to prompt you to start cleaning when you're done frothing.
Milk goes bad very quickly when left on stainless steel or plastic surface, so this feature saves a lot of time and prolongs the shelf life of the coffee machine and the milk frother. Jura S8 doesn't have an automatic milk frother cleaning function, so you need to rinse the milk system after each use in the S8.
Milk Frothing
The milk frothing here is more similar than different. However, the difference is the S8 has a dial to set your texture for any drink option. So, if you want more of a microfoam on a cappuccino, you can turn the dial to the right to do so. Or maybe you want a flat white with a thick foam top, so turn the dial to the left.
Meanwhile, the E8 texture level is set for each drink. If you want a creamier microfoam, choose a latte macchiato instead of a cappuccino. The E8 used to have a dial for texture control, but that feature was jettisoned during a model refresh.
That said, the milk frothing still is more similar than different. Both Jura E8 and S8 produce solid milk froth. These coffee machines have HP3/CX3 milk system with an interchangeable milk spout. This isn't a traditional steam wand but a tube system. The frothing system picks up milk from the container via a tube and deposits it into the frother, where it's frothed according to your preferences.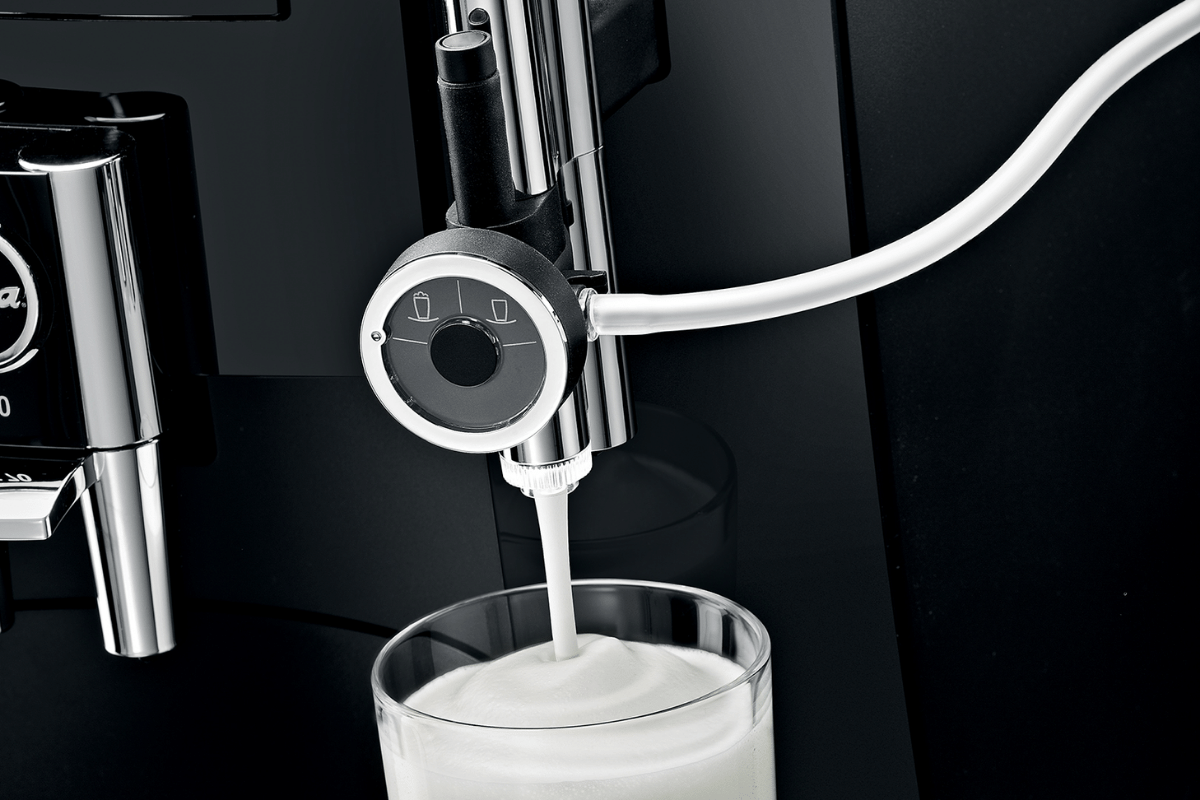 You can choose between several milk foam textures, which give you impressive control over the frothed milk. These espresso machines are the only ones I've used that create airy froth for cappuccinos, microfoam for lattes, or thin flat white froth.
You can also opt for plain hot milk if you feel like it.
As I mentioned, the only difference is that Jura E8 has automatic one-touch milk cleaning, while you have to detach and clean the frother on the Jura S8 manually.
Price and Value
Both of these machines come with a heavy price tag, but Jura S8 is about $500 more expensive than Jura E8. Is it worth $500 more? It's up to you.
Jura S8 is pretty much Jura E8 with a touchscreen. It has some minor differences, such as the ten coffee strength settings instead of E8's eight and active bean monitoring, which tells you when to refill the bean hopper.
On the other hand, Jura E8 has some pretty major features that S8 doesn't. Yes, there are 17 coffee drinks, compared to S8's 15. But, Jura E8 also has the Intelligent pre-heating system, which keeps the machine at a consistent temperature, so you get consistent extraction when leaving the machine on between drinks.
If you're looking for a wider range of Juras, we reviewed the top Jura coffee machines, which include lower models like the ENA line and the GIGA models for a very high-end option (for an office setting).
---
Main Similarities Between Jura E8 vs S8
Espresso Brewing
Both coffee machines have a similar espresso brewing process, which starts with the Aroma G3 grinder. This is a stainless steel conical burr grinder, which crushes the coffee beans gently to preserve the flavor. The ceramic blades disperse the heat created during the grinding process, which ensures there's no over-extraction.
S8's grinder is somewhat quieter than E8's, and it has seven settings to choose from, compared to E8's six. You should change the grinder settings only when the grinder is running to not damage it.
Each super-automatic espresso machine doses up to 16g of beans in a single grind cycle, which is equivalent to commercial coffee machines.
Both Jura coffee machines have thermoblock heating, which ensures consistent temperatures for both brewing and steaming.
Another important feature that both machines have is the Pulse Extraction Process, which is unique to Jura. The coffee machine forces water through the ground coffee beans in multiple short bursts (pulses). This process infuses the ground coffee, so it expands, and you get better flavor extraction.
Overall, I was satisfied with the espresso flavor and the efficiency of the brewing process on both devices.
Design and Build
In terms of design and build, there aren't many differences. Jura E8 is available in chrome, piano black, and white, while Jura S8 comes in silver chrome finish. Design is a matter of personal preference, but I thought both machines look sleek and modern.
Both Jura S8 and Jura E8 have a 64oz water tank and 9.9oz bean hopper capacity with a chute for pre-ground coffee.
The drip tray and puck container are removable in both machines, which makes maintenance easy.
The espresso machines are also similar in terms of dimensions: Jura E8 is 11 x 13.8 x 17.6 in, while Jura S8 is 11 x 13.8 x 17.3 in.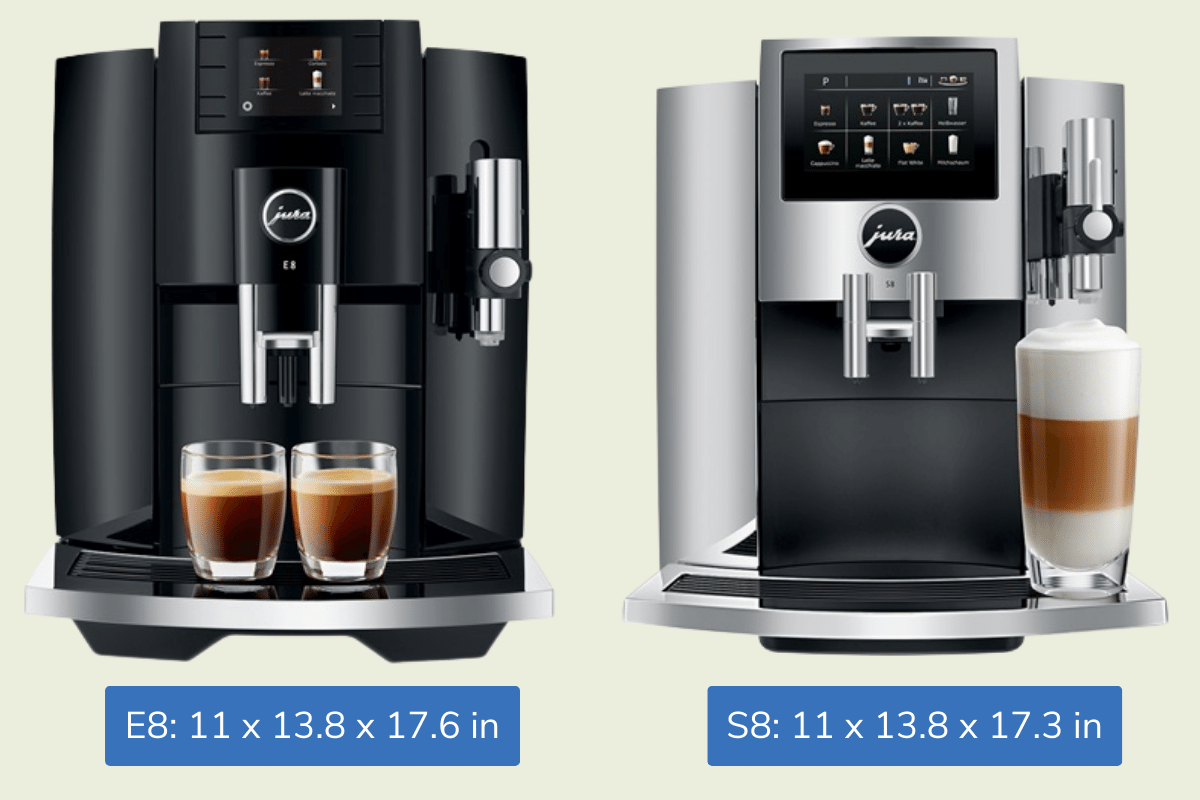 Finally, I found Jura S8 to be somewhat quiet than the Jura E8, especially when grinding, but I don't think the difference is too big, and this shouldn't be a huge issue if you opt for E8.
---
Our Recommendation
My vote for the best coffee machine goes to Jura E8. Ever since Jura redesigned the machine in 2019, the features are superior to other mid-range options. Jura E8 has more drinks compared to Jura S8. It's easier to maintain and clean, thanks to the automatic milk frothing cleaning system.
Plus, Jura E8 has Intelligent Pre-Heating, which wets the ground coffee, so you get better extraction. Jura S8 lacks all of these.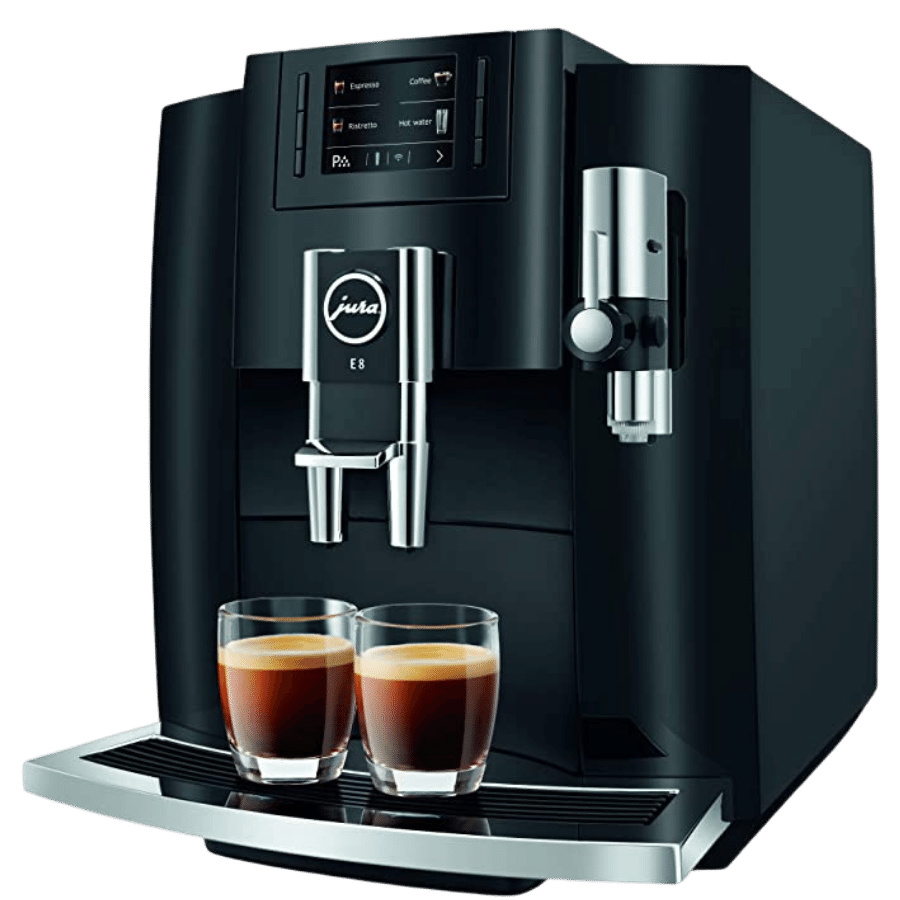 Jura E8 Features:
Super-automatic espresso machine
Automatic milk frothing
LED color display
Aroma G3 stainless steel conical burr grinder
Pulse extraction process
17 coffee specialties
Pre-ground coffee chute
The Jura S8 is still a great machine. In fact, you'll get flavorful espresso every time. You also get a nicer touch screen on the Jura S8. But, in terms of features and price, the Jura E8 espresso machine is a better choice. You'll save around $500 and get more for your money.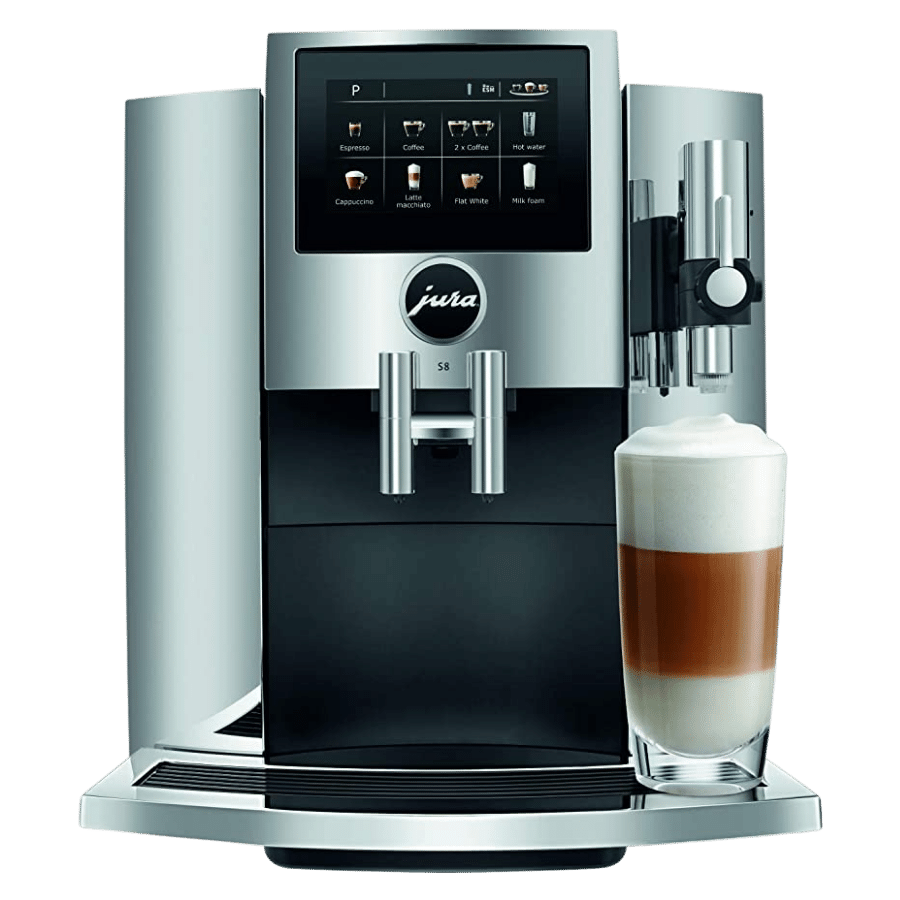 Jura S8 Features:
Super-automatic coffee machine
Aroma G3 grinder
Pulse extraction process
Thermoblock boiler
15 programmed coffee drinks
3 temperature control levels
Ten coffee strength settings
Jura E8 vs. S8: Final Thoughts
No matter which Jura coffee machine you go for, you won't make a mistake. These are top-notch devices with smart technology such as the Fine Foam Frother, Intelligent Water System, and Pulse Extraction Process. Together with the Aroma G3 grinder, these create flavorful espresso drinks.
That being said, I do give Jura E8 a slight advantage because it has more specialty coffee drinks and Intelligent Pre-Heating, which ensures better extraction. Plus, you'll spend less and get more features.
If you'd like to learn more about these machines, we have an in-depth Jura E8 and Jura S8 review.