Espresso making process hasn't changed that much since its invention. Sure, we've seen upgrades in heating technology and steaming and brewing times, but the process of pulling a shot remains largely the same. Leave it to the Swiss brand Jura to introduce innovations.
Jura E8 is one of the best super-automatic espresso machines I've used. In this Jura E8 review, I'll explain the machine's G3 Aroma Grinder, the Pulse Extraction Process, and Intelligent Water System that work together to brew a delicious cup of espresso. But, I'll also explain why I'm not too thrilled with Jura E8's build material.
Here's everything you should know about this espresso machine, plus how it compares to similar Jura coffee machines.
Note: I linked all of Amazon's listings for the Jura E8, since Jura has different listings for different styles. The features are the same, and it's a style and price difference.
Jura E8 Product Overview
If you want a bean to cup machine that'll make a flavorful cup of espresso with minimal work required on your part, we recommend Jura E8. It has enough bells and whistles to satisfy demanding coffee drinkers, but it's still very easy to use.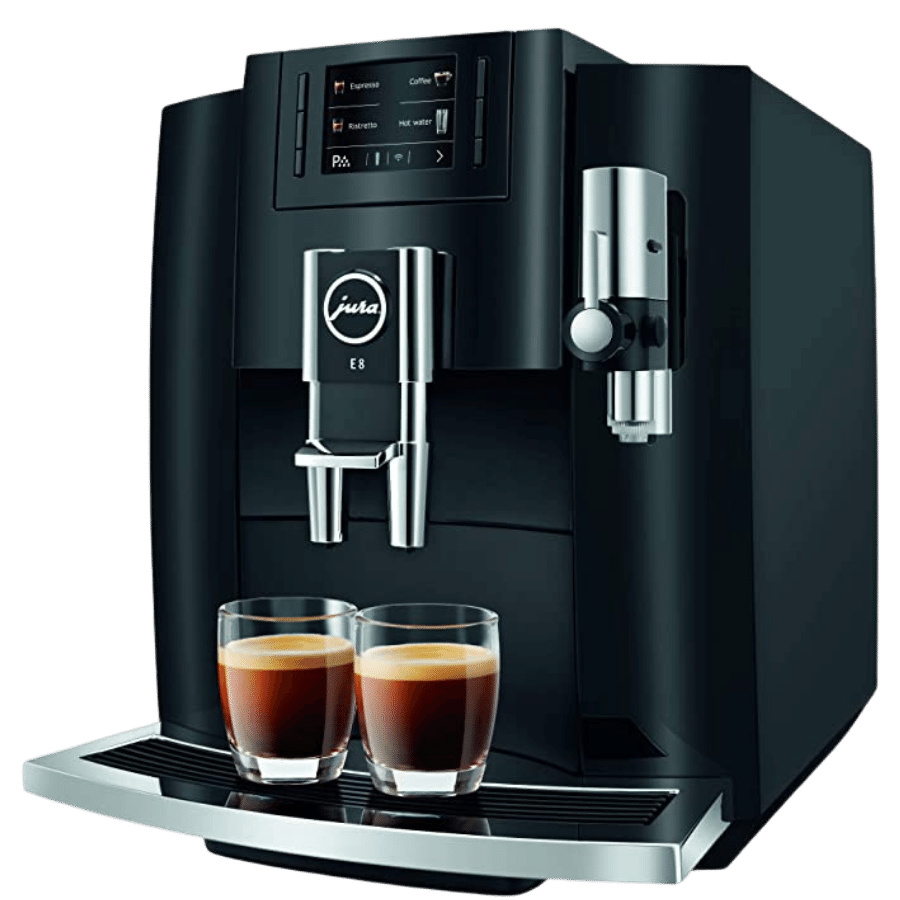 Jura E8 Features:
Super-automatic espresso machine
Automatic milk frothing
LED color display
Aroma G3 stainless steel conical burr grinder
Pulse extraction process
17 coffee specialties
Pre-ground coffee chute
Jura E8: Craft Coffee Spot Rating
Espresso Quality & Brewing System
9.5
Pros
Pulse extraction extracts maximum flavors from the coffee beans
Puck container holds 16 pucks
Six grinder settings allow good customization
Large LCD panel for ease of use
Compatible with Jura's app for brewing coffee remotely
Cons
Single boiler for brewing and steaming
Fingerprint magnet
More expensive compared to comparable espresso machines from other brands
My favorite features of the Jura E8 include an automatic milk frother, multiple coffee recipes, a powerful grinder, and an easy-to-use LCD display (more on all of these later).
To understand where E8 falls in the Jura coffee machines lineup, you have to know how Jura labels its machines: each espresso machine has a letter and a number in its name.
The letters say where a machine fits in the product range — from entry, mid-level, to high-end machines. A, as the first letter in the alphabet, is entry-level, and only very high-end machines have Z in their name.
This espresso machine is E — which puts it somewhere in the low to mid-range category. It's not a basic device that can't even froth milk, such as Jura A1, but it's also not one of their high-end machines for which you'll have to shell out thousands of dollars.
Jura has been manufacturing E8 for several years, and the espresso machine underwent some changes in 2019. The 2019 upgrade got the G3 aroma grinder, that's twice as fast and has a 12% increase in the aroma compared to the older model.
Other upgrades include a larger water tank, more coffee connoisseur options, and more colors (chrome, piano black, and white).
Want More Coffee Tips?
Join the email list for exclusive coffee insights and deals that only subscribers get. You'll get two coffee discounts just for joining.
No spam, ever. We respect your privacy and unsubscribe anytime.
Another significant upgrade is the milk system, which got Professional Fine Foam technology. There's no more dial on the auto-frother but a switch that you use to adjust the microfoam's texture.
Jura E8 Review of Main Features
Jura E8 has many special features as the higher-end Jura machines, such as Pulse Extraction Process (P.E.P), G3 aroma grinder, smart milk frothing, and more. Here's an overview of them and how they work in Jura E8.
Design and Build
Super-automatic coffee machines can be huge beasts. That's not the case with Jura E8. Its dimensions are 11 × 13.8 × 17.6 in, which is smaller or on par with other coffee machines in this range.
My Jura E8 was the chrome one, and while I liked its sleek look, it's a huge fingerprint magnet, even on the dual-outlet spout. While I found the chrome design eye-catching, it's impossible not to leave fingerprints.
Moreover, there were often coffee smears and milk residue visible on the edge of the frother. I ended up keeping a cloth next to it and wiping it down a few times a day.
Fingerprints aside, I liked the dual spouts. One of the spouts was for ristretto, espresso, and coffee, and the other was for brewing milk-based drinks. I liked that both are adjustable, so I could fit different mugs.
Another thing I liked about the machine's design is the 64 oz water tank, although it could be even bigger considering how much water Jura E8 goes through. 64 oz isn't small by any means, but Jura E8 has its own automatic cleaning system, which purges extra water after every shot.
That means the water gets spent very quickly, and I had to refill it often.
The machine has an LED screen that makes use easy. It lets you know when you should clean the device, empty the used coffee puck container, and nicely guides you through the programming functions. Six buttons correspond to the display selections. I even preferred using the buttons, as they leave fewer fingerprints compared to the LCD.
The bean hopper has a capacity of 10oz of whole coffee beans, so I could preload the whole bag of beans. I didn't have to worry about the beans' freshness, as there's a silicone gasket that seals nicely. There's also a pre-ground coffee chute, which comes in handy when you want decaf.
Espresso Brewing
Jura E8's espresso brewing starts with the "Intelligent Pre-Brew Aroma System," or IPBAS. IPBAS means the espresso machine measures the amount of coffee you use and automatically dispenses the right amount of water, so your coffee has consistent flavor and strength.
We can't talk about Jura E8 espresso brewing without mentioning the Pulse Extraction Process (P.E.P). The coffee machine forces water through the ground beans in several short bursts (pulses).
I could even hear a faint pulsing noise during the extraction. I admit I was skeptical about how successful this is, but it really makes a difference.
The P.E.P pre-infuses the coffee grounds, so they expand, and you have better flavor extraction. The brewing process is somewhat longer than other coffee machines, but it produces a thick frothy crema and a rich espresso texture.
Overall, the flavor was delicious, and it had a rich mouthfeel that many other automatic espresso machines can't produce.
The machine automatically rinses itself with hot water before brewing each cup of coffee. This prevents coffee residue from spoiling your espresso, and it also warms the group head so the temperature stays consistent.
Jura E8 comes with a single thermoblock heating system, so switching between steaming and brewing takes some time. This wait time isn't too long, but it would be better if the machine had dual heaters considering its price point.
Finally, there's an Aroma G3 grinder. Jura E8 doses up to 16g of beans in a single grind cycle, which is more than other espresso machines and is equivalent to what commercial coffee machines use. This also means you can have a double espresso or two cups of coffee after one grind cycle, which isn't the case with standard espresso machines.
The grinder has ceramic blades that disperse the heat created during the grinding process, so there's no over-extraction or bitter espresso.
You don't have to open the bean hopper to access the grinder, which is the case with almost every other super-automatic espresso machine I've used.
Instead, you access it via a dial behind a flap that locks in place. Jura E8's grinder has six settings, which is on the lower side and doesn't leave much place to experiment, but I didn't have issues finding the setting that works for me.
Here's some more information on Jura's key technologies:

Drink Options
Jura E8 has 17 drink options. These include espresso, double espresso, coffee, double coffee, cappuccino, extra shot cappuccino, cafe barista, Americano, doppio, cortado, macchiato, latte macchiato, latte macchiato extra shot, flat white extra shot, milk foam, hot water.
You can brew a double by pressing the brew button twice or steam and froth milk by pushing a button. The milk spout doubles as a hot water dispenser for tea and Americano.
Milk Frothing
The Jura E8 milk frother is automatic and uses the Professional Fine Foam technology as Jura calls it. The Jura foamer has two chambers: one to aerate the milk and a second where the milk is frothed again. The second chamber collapses any bubble so you get a controllable and consistent foam.
The milk froth and the espresso pour out together from both the milk outlet and an additional spout, so there's no need to move your cup when making milk-based espresso drinks.
Only coffee without milk is dispensed from the central outlet. This also means you can brew two espressos at once, but not two milk-based beverages.
Jura uses a flexible silicone hose to froth milk. You have to attach one end to the frother and the other end to the milk jug.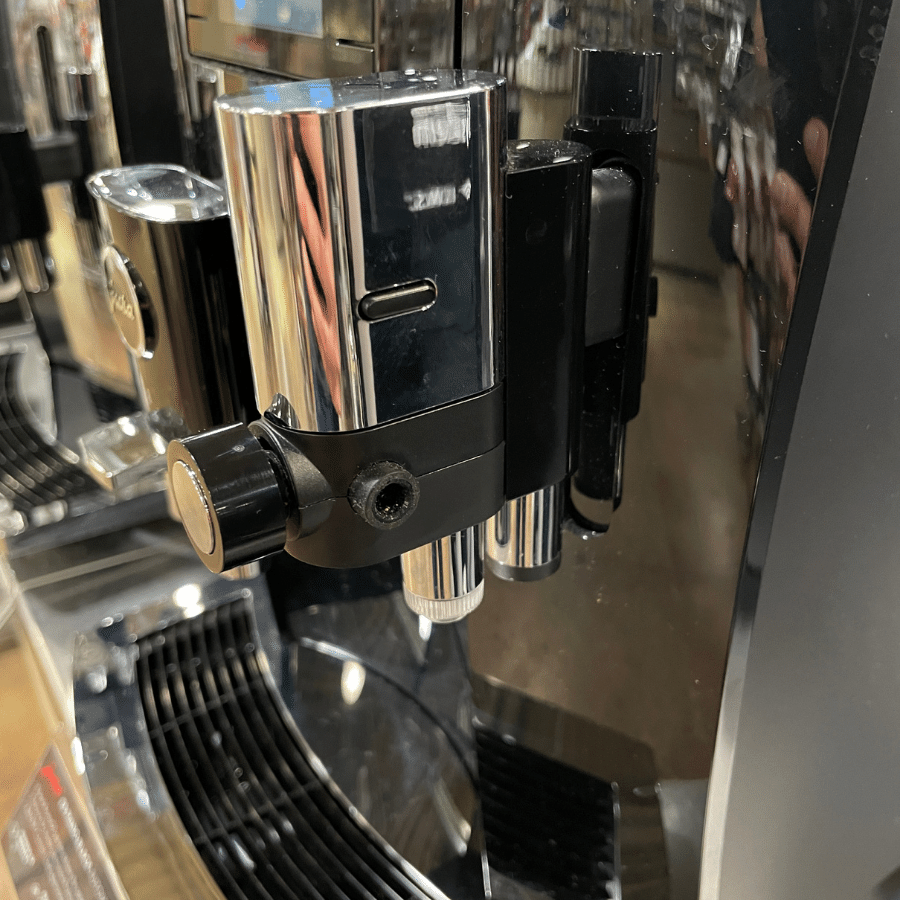 I soon got tired of using Jura's milk container and just put the other end of the tube straight into our milk jug. I admit it's a lazy approach but it also meant there are no milk leftovers or mess. The hose draws out the milk, steams and froths it, and dispenses directly into your mug. The milk frother creates rich, dense foam.
Jura also sells separately thermally insulated containers with built-in refrigeration. I don't think you need these, but they can be handy if you want/need to keep your milk cold without putting it in the fridge.
The older version of the E8 had a dial on the frother to adjust the texture for any drink. Jura removed this feature during the refresh. That said, you can get the texture you need by choosing the appropriate drink, where a flat white will give the smoothest microform, while a cappuccino will have the most aerated texture.
Ease of Use
Jura E8 is very easy to use and gives you impressive control and customization options.
You can choose between 8 coffee strengths, going from a 5g dose up to a 16g dose. You can customize grind size, brew temperature, and shot and milk volumes for milk-based beverages.
You can even choose the interval length between pouring the milk for a latte and cappuccino and adding espresso. The longer you delay between milk and espresso being poured, the drier the foam.
The programs are easy to customize: hold down the brew button and wait for the "enough coffee" to appear. Then press any button to save your setting. The LCD display has even more programming options, and you can change the settings before and during the brewing cycle.
Overall, the Jura E8 coffee machine allows you to brew with a touch of a button, and it's easily programmable. You can have your favorite drinks according to your exact preferences.
Another feature that makes the espresso machine easy to use is the Smart Connect wireless attachment. You can download a Jura app on your mobile device and connect it to the espresso machine. Then customize and brew coffee as long as your Bluetooth is enabled.
Sounds nice, I know. In reality, I'm not sure how useful it is. I didn't use it much. I only used this when I wake up and want to have my coffee ready by the time my bathroom routine is done.
The app, named Hover, is convenient. It also lets you save your personalized coffee settings and give it any name and image you want, so it's easy to find your preferred drink first thing in the morning.
Cleaning and Maintenance
Jura coffee machine automatically rinses each time you turn it on and off. Luckily, it comes with a large receptacle that catches the liquid.
The coffee machine also comes with cleaning tablets, which you should use after about 200 drinks. Place a cleaning tablet in the rinsing receptacle. The E8 will dispense the hot water, which dissolves the tablet and is then sucked up the milk tube. This ensures your machine will be in the good as new condition every day. But, a drawback is that it goes through a lot of water quickly.
One part that made the cleaning difficult was the fixed brew group. There are always some coffee ground leftovers in the brew group, which can interfere with your espresso flavor and create bacteria. Unfortunately, you can't remove the brew group from E8 and rinse it underwater.
The coffee machine also has rinsing and cleaning functions for espresso and milk frother, which need to be cleaned after every use. You can program the machine to prompt you to start the purge if you're afraid you'll forget to do it.
Milk can collect in the hose and curdle, so you should unscrew it and put it in the dishwasher, or put a hose into a container in which you previously poured 250 ml of cleaning solution. Place another container under the frothing nozzle to catch the wastewater and run the clean cycle.
Jura says there's no need to descale thanks to their Intelligent Water System. The espresso machine uses water filters that have RFID tags that filter out limescale and other substances, regardless of how hard your water is.
You won't need to descale as long as you use Jura filters. Otherwise, the machine will let you know when it's time to descale, which takes about 40 minutes, so plan the descaling when you don't use the Jura espresso machine.
Finally, you should regularly empty the drip tray and the container puck box. It doesn't have to be daily, but every couple of days.
Jura does lock you into using their cleaning solutions and filters, but you'll have a machine that will run for years.
Value
Jura E8 comes with a heavy price tag. But, considering everything the machine offers, I don't think it's unreasonable. It looks stylish and has innovative Jura technology such as P.E.P, an Intelligent Water System, and Professional Fine Foam.
Most importantly, it produces flavorful espresso better than other super-automatic espresso machines I've tried.
Also, it offers an impressive range of drinks, programmable settings, intuitive operation, and automatic cleaning programs, which all make the use easy.
Overall, this coffee machine has a Swiss build quality and reliable use that make it worth the hefty price tag. You get the latest Jura tech found in Jura's most expensive machines at a lower price.
However, it's not a device for all budgets. If you're on a tight budget, there are other decent, affordable options. Also, consider a refurbished option for a lower price.
Lastly, check around for different prices, where a 5-10% difference matters for a high-ticket purchase like this. Seattle Coffee Gear is another retailed that offers a price match.
Alternatives: Comparing Jura E8 vs. S8 and Jura E8 vs. ENA8
Jura E8 and ENA8 are extremely similar coffee machines with a similar price point. One of their main differences is the water tank — E8 has a larger water tank (64oz vs. 37oz). ENA8 comes with a diamond-patterned cylindrical water tank which looks more stylish compared to E8. However, the water tank design doesn't make a big difference in how the machine functions.
Another part that's significantly smaller on ENA8 is the bean hopper — 4.4 oz compared to 10 oz on E8.
Another notable difference is that E8 has two spouts while ENA8 has one. This means you can brew two drinks at the same time on E8, which can't be done on ENA8. Also, the number of drinks is different. E8 can brew 17 drinks, while ENA8 brews 10.
Overall, ENA8 is a smaller device, and it's a good choice if you want a device with a compact footprint.
Another machine similar to E8 is S8. Both have a P.E.P extraction process, pre-ground bypass, programmable drinks, an automatic cleaning, and a fine foam milk frother. The bean hopper and water tank sizes are the same — 10 oz and 64 oz.
The biggest difference is the display. S8 has a larger touchscreen color display, while E8 has a TFT display plus buttons.
S8 is a little more advanced compared to E8 in that it has 10 coffee strengths instead of 8 and 3 temperature settings instead of 2.
As for the brewing process, it's the same in both devices. E8 is a more budget-friendly machine compared to S8, while S8 has a more high-end look thanks to the touch screen.
| | ENA8 | E8 | S8 |
| --- | --- | --- | --- |
| Water tank | 37oz | 64oz | 64oz |
| Bean hopper | 4.40z | 10oz | 10oz |
| Drink options | 10 | 17 | 15 |
| Display | TFT color display | TFT color display | 4''3 in touchscreen |
| Grinder | Aroma G3 grinder with 5 settings | Aroma G3 grinder with 6 settings | Aroma G3 grinder with 7 settings |
| Milk frothing | Automatic fine foam frother | Automatic fine foam frother | Automatic fine foam frother |
| Cleaning | Self-cleaning mechanism | Self-cleaning mechanism | Filter detection system |
| App | Yes | Yes | Yes |
| Dimensions | 10.7 x 12.7 x 17.5 in | 11 × 13.8 × 17.6 in | 11 × 13.8 × 17.3 in |
| Weight | 24 lbs | 21 lbs | 22 lbs |
Recommendation: Who Is It For?
Jura E8 is a good choice if you want a mid-range high-quality super-automatic espresso machine.
Also, if user-friendliness and drink programmability are important to you, Jura E8 is a great choice. It has an LCD panel that lists all the available drinks, so all you have to do is press a button and get your chosen beverage. You can also control the grind size, shot volume, temperature, and frothing levels, so the drink is made according to your preferences.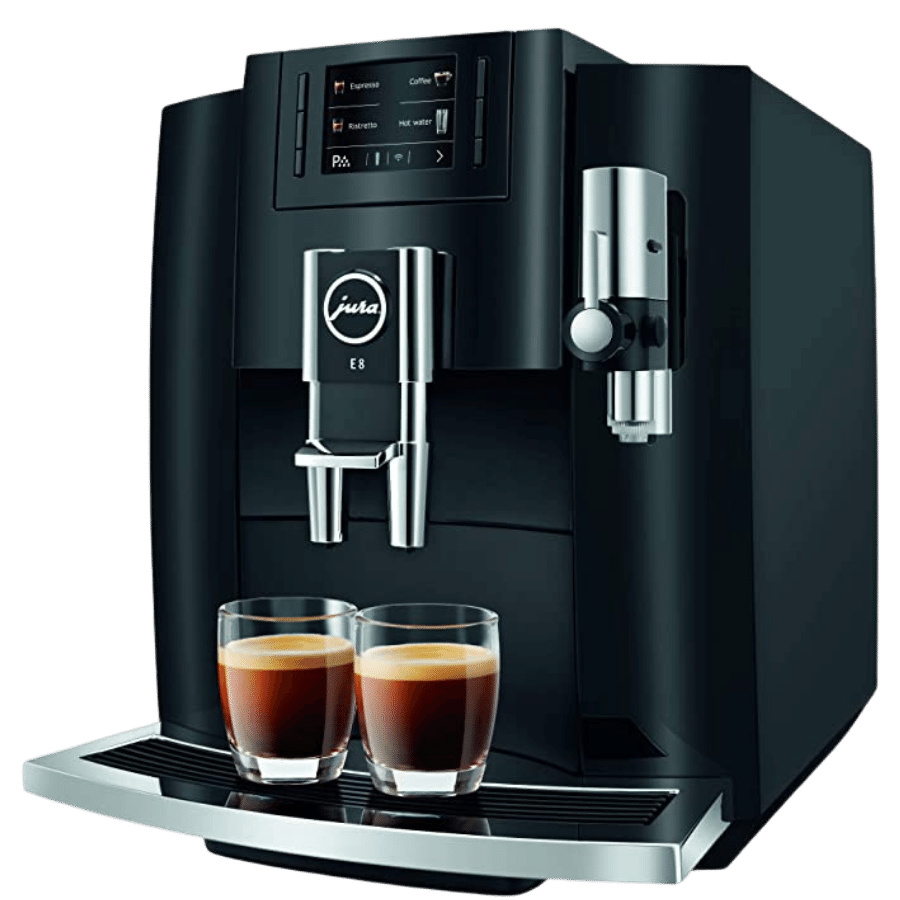 The Jura E8 is a great pick for a premium super-automatic espresso machine. It includes the Aroma G3 grinder, and Pulse Extraction Process for consistent espresso. There are 17 drink options to choose from. The machine is quiet, easy to use, and easy to maintain.
Overall, if you want an automated machine that pulls excellent espresso and milk-based drinks that's easy to use, you'll love Jura E8.
Jura E8 Review: Final Thoughts
Jura E8 brews an impressive 17 drinks, from basic espresso to milk-based beverages. The two coffee spouts, programmable settings, and Jura's innovative technology contribute to a higher price tag. If you want a super-automatic coffee machine that makes drinks with a press of a button and even self-cleans, you won't go wrong with Jura E8.
Another excellent choice is Jura S8. We compared it head-to-head against the E8 above, but you can also check out our full Jura S8 review, so you can decide what's the better choice for you.