Breville has become a well-known name in the world of espresso machines with a full lineup of semi-automatic espresso machines. At the mid to high end there are two comparable machines: Breville Barista Pro vs Touch.
In my opinion, there's no clear winner between Barista Pro vs Touch. The Barista Touch is an upgrade pick with a nice touch display and an automatic steam wand at a higher price. The Barista Pro has a manual steam wand and a simpler (yet still very good) LCD display. Both machines have Breville's Thermojet heating systems and built-in grinders, so you'll get quality espresso. It's really about how much you want to pay for convenience for the Barista Touch.
I've used and tested countless automatic and semi-automatic espresso machines, including the Breville Barista range. In this Breville Barista Pro vs. Touch review, I'll go into detail about all differences and similarities between these two machines, so you can decide which one better suits your needs.
Key Differences
Let's start with the differences that separate these two machines. The main point is the different displays, as the ease of use for making espresso drinks sets these two apart. The aesthetics, steam wand, and drink options are also somewhat different.
Design and Ease of Use
The biggest difference between these two machines is in display screens. Breville Barista Pro has a basic blue backlit LCD screen with buttons, while the Barista Touch has a color touch screen.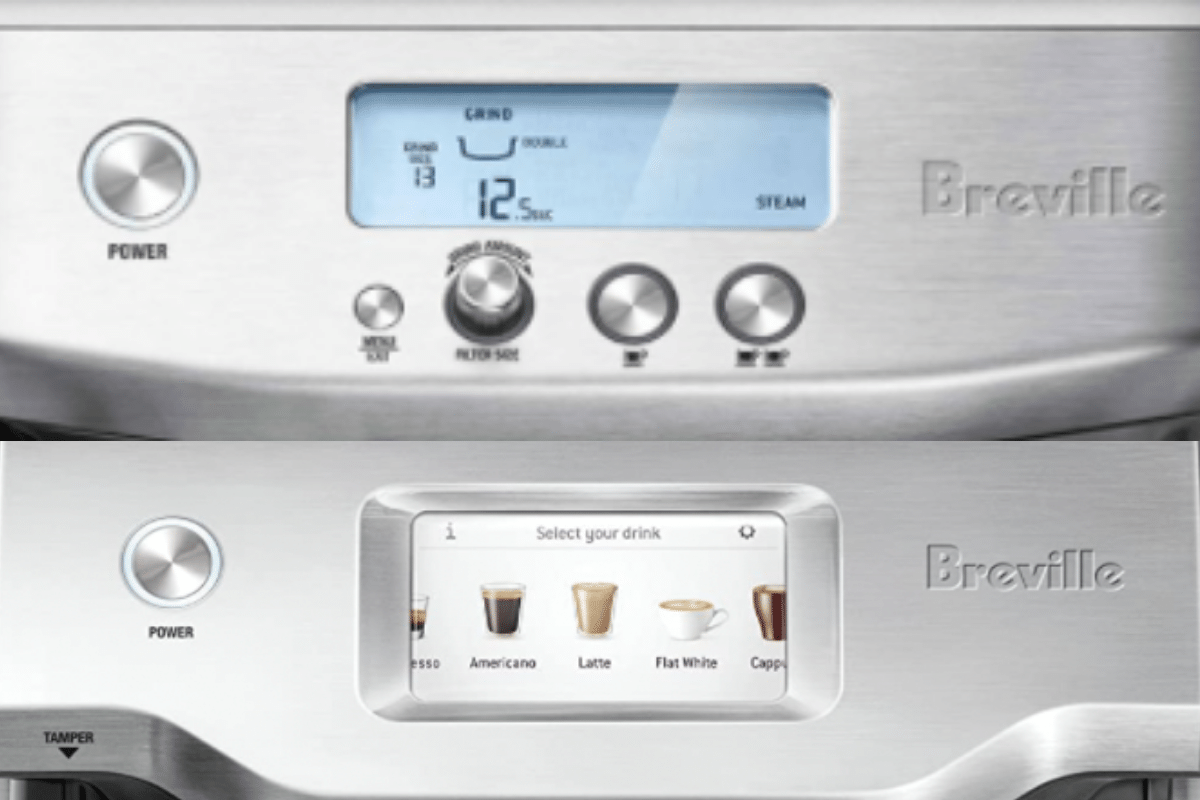 It's worth going through both displays individually:
Barista Touch: Full "Touch" Capabilities
As the name already says, Breville Barista Touch has a full-color touchscreen with more customization options than Barista Pro. The Barista Touch screen allows you to choose espresso strength, milk temperature, and create eight saved drink profiles. These personalized espressos can have individual images and names.
I personally liked the eight customizable drink profiles, as my partner has different preferences. This will come in handy if you plan to use this espresso machine in a shared environment, such as a family home or an office.
Barista Pro: LCD Digital Display
Breville Barista Pro LCD lets you see the info about the grinding time, grind size, one or two espresso shots, and extraction controls (water temp and pre-infusion time). You navigate the screen using the grind amount dial, as the screen is not interactive.
You can program the Barista Pro's one and two-shot settings, including a longer pre-infusion time. The pre-infusion customization is nice as a longer pre-infusion leads to a better puck and avoids channeling issues. You cannot alter the pre-infusion time on the Touch.
Aside from the one and two-cup controls, there's no more customization. Since it's a manual steam wand, there's definitely no cappuccino nor latte control like the Barista Touch.
Who Has The Best Display? Barista Touch.
Personally, I preferred the Breville Barista Touch display. If you love a modern touchscreen and want to be able to save different coffee drink preferences, go for the Barista Touch.
If you already know how to brew espresso and like traditional control in the form of buttons, go for the Barista Pro. The Pro is also easy to program, as discussed in our full Barista Pro review.
Overall, both Breville espresso machines are easy to use and are suitable for beginners and baristas looking to further their craft.
Drink Options
When it comes to drink options, Barista Touch is the winner. There are customizable settings for a latte, flat white, and more. I mentioned you can choose the level of ground coffee according to your preferences. You can also adjust the coffee strength, milk temperature, and texture.
There's also more room to customize the water temperature on the Barista Touch as it has 10 different settings (going from -5 to +5). The steam wand also has 10 texture settings and granular control for temperature too. You can set it at 8-10 for an airy cappuccino foam, or 1-3 for a steamed flat white.
The one thing I didn't care for on the Touch display was the customization by time instead of by volume. Usually, you want to order a certain size of coffee, like one or two ounces, not a 20-second or 30-second drink. Most machines, including the Pro, are programmed by volume, which I like.
Apart from having the option to save eight drink recipes, the Barista Touch comes with five pre-programmed drinks: espresso, Americano, cappuccino, flat white, and latte, plus a hot water option for making teas.
Barista Pro doesn't come with this option. That's not because you can't make different espresso drinks. You certainly can. However, the Pro is a more "classic" semi-automatic espresso machine where you make the espresso and steamed milk by hand.
The Barista Pro has a few advantages. First, it's simple, and simple is easy in this case. Also, the Pro has better custom shot programming because it is set by volume. Meanwhile, the Touch is preset by time. A volume-based setting is much more optimal for pulling espresso. After all, you order a one or two-ounce espresso at a coffee shop, not a 20-second or 30-second one. I recommend using a scale when making a custom drink on the Touch, instead of relying on how long it takes.
Aesthetics
Both Barista Pro and Barista Touch have very similar aesthetics. These machines have brushed stainless steel exteriors. However, the Barista Touch only comes in silver and black options, while Pro comes in five different color options.
Both machines have modest footprints. Breville Barista Pro dimensions are 13.9 x 16.1 x 16 inches, weighing 20 pounds. Meanwhile, the Breville Barista Touch dimensions are 12.7 x 15.5 x 16 inches, and it's somewhat heavier at 26.8 pounds. Barista Touch is wider, while Barista Pro is deeper and bulkier, as it has thicker parts. Both of these should be able to fit in your kitchen without taking up a lot of kitchen real estate.
The biggest difference between the two is that the Breville Barista Touch has a touchscreen (as discussed), which makes it look more modern compared to the Barista Pro.
Both of these espresso machines come with a built-in burr grinder, steam wand, drip tray, and a water tank with a 67oz capacity. The water tank is removable in both machines, so there's no need to use a pitcher for refilling. Plus, the water tank is easier to clean and maintain.
Steam Wand: Manual Milk Frothing (Barista Pro) Vs Automatic (Barista Touch)
The next Breville Barista Pro vs. Barista Touch difference is in these espresso machines' steam wands.
Barista Pro has a manual steam wand, which creates good microfoam milk for your lattes and cappuccinos. This steam wand is more hands-on. You should hold the milk container and keep an eye on the frothing. You'll be able to create latte art, but there's a learning curve if you've never done it before.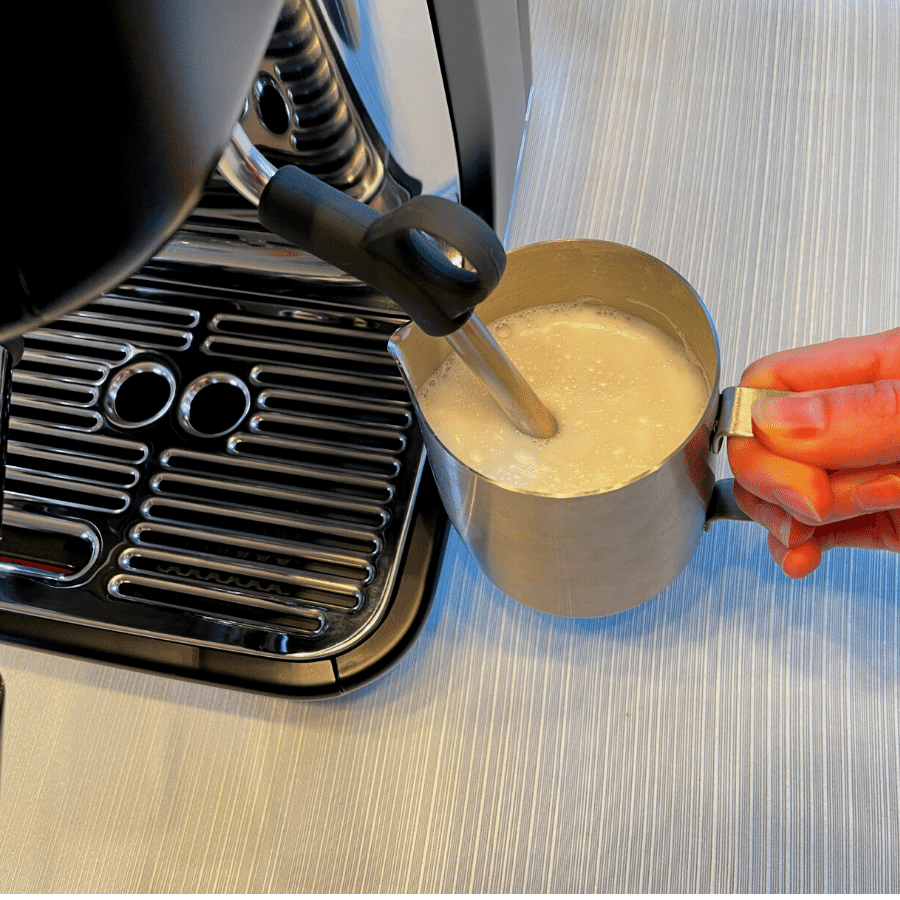 The Breville Barista Touch has a more advanced, automatic steam wand. The drip tray has a built-in thermometer, which allows you to create microfoam based on your temperature and milk texture settings.
The Touch steam wand is easier to use as it's more hands-free when it creates the microfoam for milk-based drinks. You can set the temperature and texture level, walk away, and let the steam wand do its thing.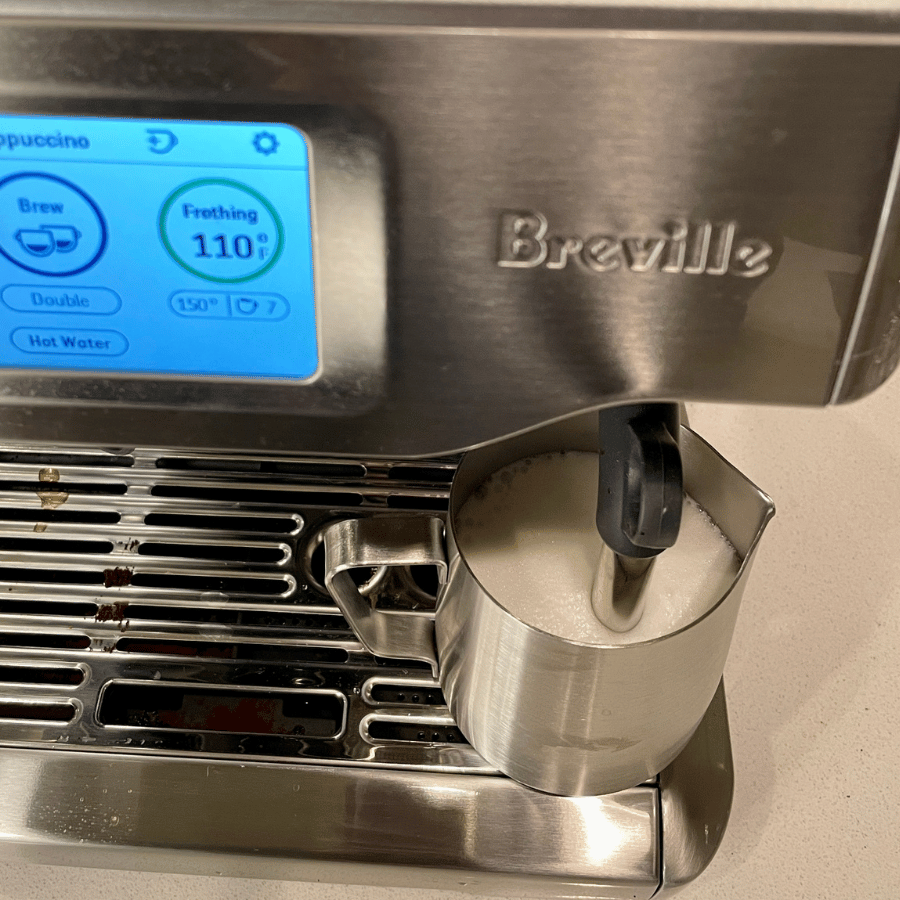 However, always make sure the milk pitcher on the Barista Touch is sitting on the temperature sensor. Otherwise, the wand won't register the temperature, and it'll keep frothing and trying to heat the milk. I walked away from it once without appropriately setting the milk jug, and when I came back, there was milk everywhere.
The rotation is different on the two machines. The steam wand only goes up and down on the Barista Touch, while the Barista Pro has a ball joint that rotates (almost) 360 degrees. That makes it easy to do manual steaming on the Pro, while you'll have to stick with the automatic options on the Touch.
the Barista Pro steam wand has four holes on the tip and a wide radius to generate high pressure so that it can aerate milk for a nice microform without a problem.
Overall, you can create latte art with both machines. That is, both steam wands can make the right microfoam, but you'll have to learn to pour the latte art 🙂
Price and Value: Pay More for the Barista's Touch Advanced Features
Both Barista Touch and Barista Pro are fairly priced espresso machines. In absolute terms, both machines are significant investments. That said, we've always found in our espresso reviews that you get what you pay for.
In terms of value, both espresso machines are worth it. They have a built-in grinder for coffee beans, fast heating technology, and high-quality steam wands. The stainless steel is extremely durable, so you can expect these machines to last for years.
The Barista Pro is the cheaper of the two machines:
In terms of price, the Barista Touch coffee machine is roughly two hundred dollars more expensive than the Barista Pro. With Barista Touch, you'll get an interactive touchscreen, eight pre-programmed recipes, and a powerful automatic steam wand.
Is the price difference worth it? It's up to you. Do you really need a touchscreen, or are you fine with using toggle buttons? What about the pre-programmed coffee recipes? It's nice to have, but if this won't make a big difference in your daily coffee machine usage, you don't need it, so there's no need to pay extra for it.
Breville sometimes discounts the Barista Touch, so we recommend checking prices over time at different retailers. Also, check Breville's site for more color options like Truffle Black.
---
Key Similarities: Both Make Excellent Espresso with High Quality Burr Grinders
I talked a lot about the crucial differences between these top-rated espresso machines. Here are the two biggest similarities.
Espresso Quality/Internals
Both Breville Barista Touch and Barista Pro have a thermojet heating system, which has the water ready for brewing in 3 seconds. It's much faster than most other espresso machines and the thermocoil system on the Breville Barista Express. The fast heating time extends to both brewing and steaming temperatures.
It took me about 45 seconds from the time I pressed the power button to the time I could take my first sip of espresso. If you're like me and can't function first thing in the morning without a dose of caffeine in your system, you'll love this.
Apart from thermojet technology, both machines have digital temperature control with a PID. The PID is a sensor that makes sure water temperature is consistent. Thanks to PID, the water temperature won't go up and down, and you won't have boiling water come out of the machine. The PID ensures a consistent temperature for optimal brew extraction. As a result, you'll have a flavorful and bold espresso every time you pull the shot.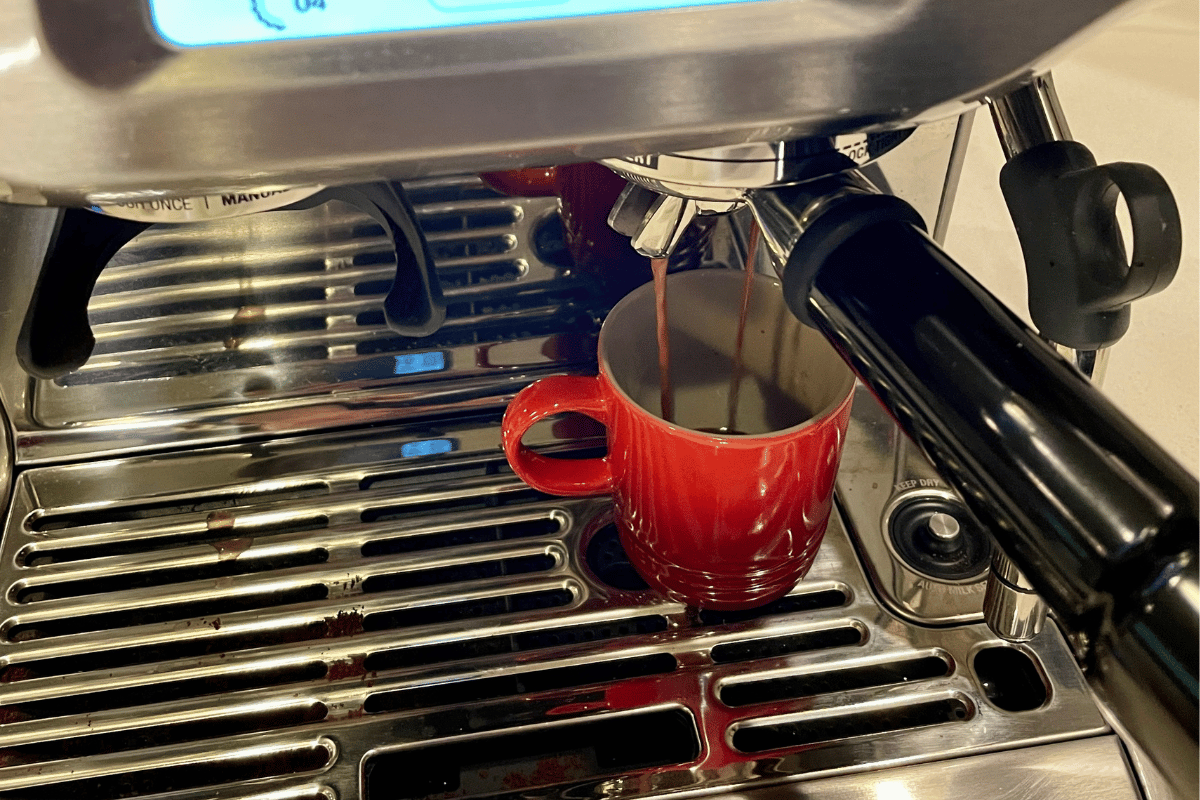 Also, keep in mind that these machines have thermoblock heating systems. You can't brew and steam the milk simultaneously. However, the wait time between these two operations is negligible thanks to the extremely fast heating time with Thermojet.
Finally, another factor that contributes to high-quality espresso shots is the low-pressure pre-infusion. Both machines have a pre-infusion option. This wets the grounds at low pressure before water is forced through the coffee at high pressure. Pre-infusion evens out the coffee puck, which means the water flows more evenly for better extraction and espresso flavor.
Integrated Burr Grinder
Another similarity between Breville Barista Touch and Breville Barista Pro is the integrated burr grinder. Both machines have a conical burr grinder that lets you choose how fine you want the ground coffee to be and how much coffee grounds you want. Burr grinders create consistent grind size, which helps achieve optimum extraction of flavors and aromas.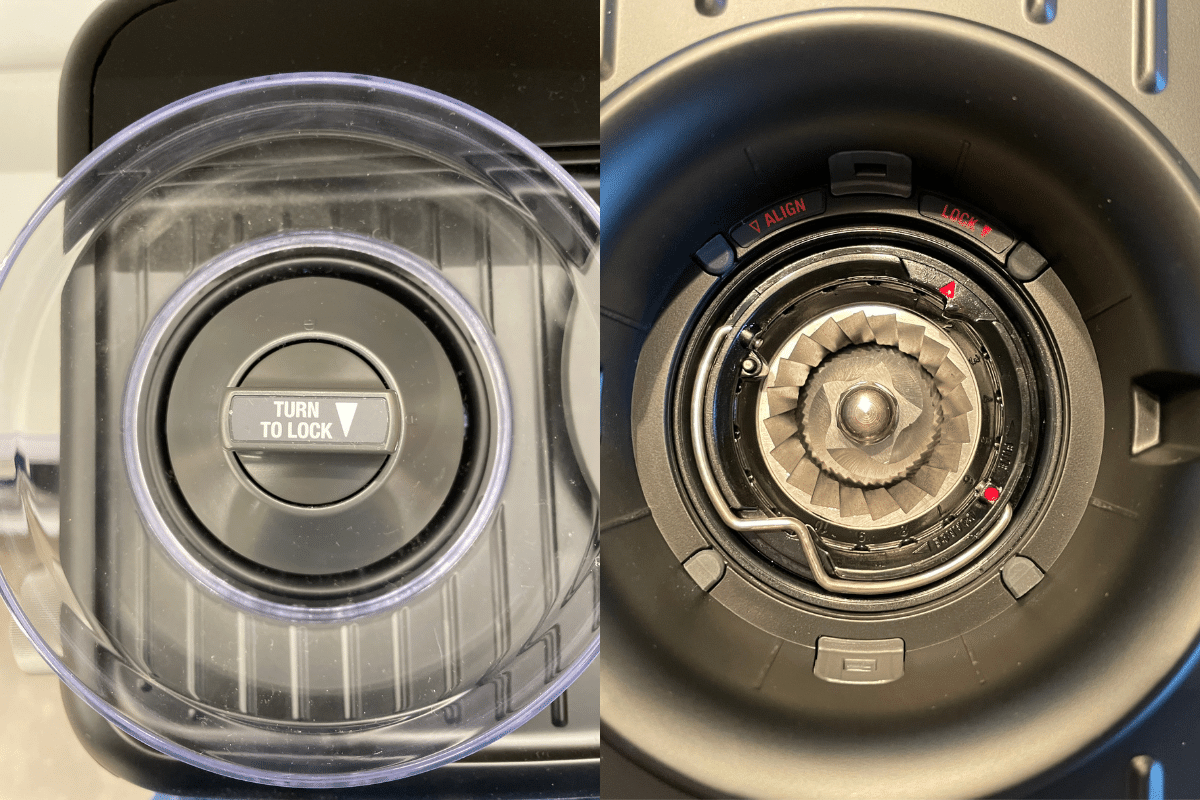 Both grinders have 30 sizes, which gives you more room to dial-in the right setting. It's important to get the right grind size for coffee, particularly for espresso. The right grind size varies by bean, and Breville's 30 settings make it easy to get the best espresso flavor.
You can also set the amount of ground coffee per serving with each grinder. Place the portafilter under the grinder, hit the button to start, and you'll get a full basket. It's easier to measure each portion and setting the portafilter leaves less of a mess.
Recommendation: It Depends On The Buyer
Both the Breville Barista Pro and Barista Touch are great semi-automatic espresso machines. The Thermojet system, powerful steam wands, and integrated burr grinder make excellent espresso or latte drinks.
However, the two machines have different advanced features and different price points. The right choice depends on your preference for ease of use (Touch) vs price (Pro).
With that big caveat in place, I'll give separate recommendations in terms of who each machine is best for.
Breville Barista Touch Buyer
Breville Barista Touch is more automated compared to Breville Barista Pro. There's a lower learning curve thanks to the pre-programmed espresso recipes and a high level of customization, as the parameters can be adjusted.
Barista Touch also has automated milk texturing, which makes creating microfoam easier.
Buy the Barista Touch if:
You're a beginner. The Barista Touch is easier to use, comes with pre-programmed drinks, and allows you to get your espresso with a touch of a button
You want an espresso machine for an office or household. The Barista Touch can save eight different profiles.
Breville Barista Touch is an extremely easy-to-use espresso machine. The touch screen makes it easy to choose from five pre-programmed drinks, set your own options, and even save eight different customized drink settings. It uses the latest Thermojet heating, an integrated burr grinder, and an automatic steam wand. A great option for a household or an office.
---
Breville Barista Pro Buyer
The Breville Barista Pro has a more classic brewing system and manual steam wand. It has some learning curve, and it's slightly less suited for beginners.
Buy the Barista Pro if:
You want a machine that lets you be more hands-on with espresso.
You prefer the physical buttons instead of a touch screen.
You are on a budget and want a cheaper option.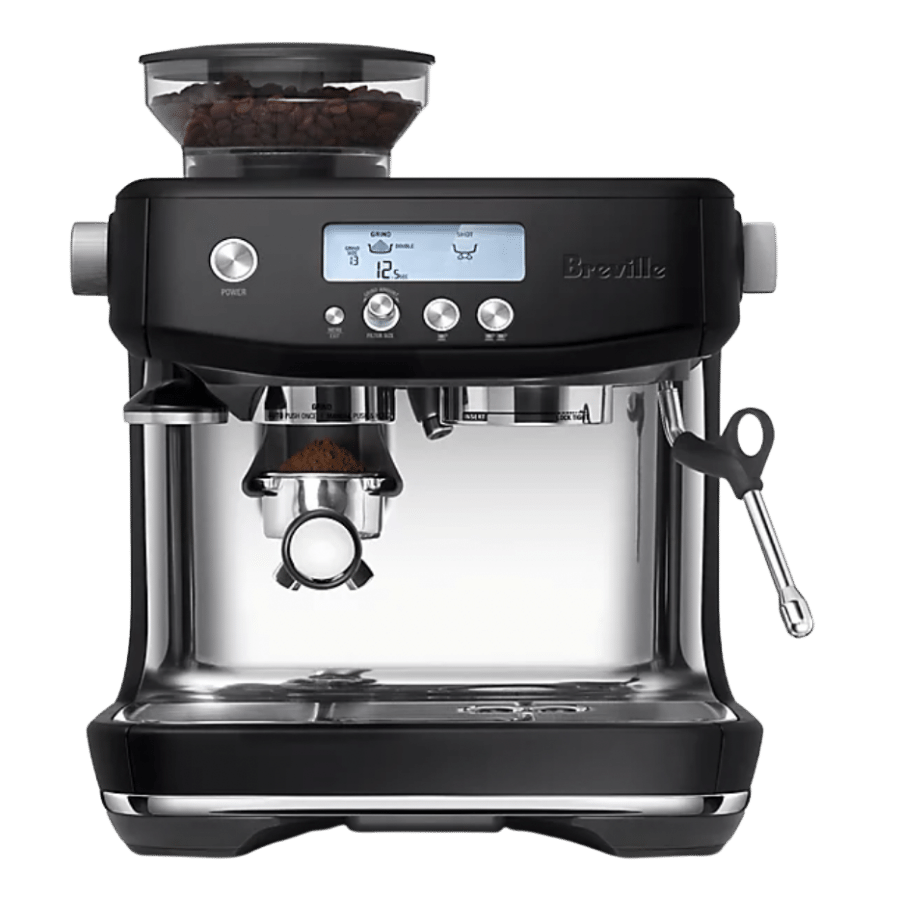 Barista Pro is one of our favorite Breville espresso machines. It uses the latest Thermojet technology, an integrated burr grinder, and a manual four-hole steam wand. The LCD display is easy to program across multiple inputs.
---
Breville Barista Pro vs. Breville Barista Touch: Final Thoughts
Deciding a winner between Breville Barista Pro. vs. Breville Barista Touch really depends. Ultimately, it comes down to your budget and preferences, but whichever of these machines you choose, you'll get a high-quality coffee device that will last for years.
You can also see the full lineup of Breville espresso machines, where we summarize the different features of every single machine.