Nespresso Gran Latissima combines the convenience of a Nespresso machine with DeLonghi's one-touch milk technology. The result is a premium coffee machine that lets you create barista-quality drinks.
So, what makes the Gran Lattissima grand? Some of its biggest features are the one-touch brewing system and the ability to make nine recipes. If you want a hands-free coffee brewing process and to do as little work as possible, Gran Lattssima is a strong contender.
Today, I'll explain everything I did and didn't like about Gran Lattissima, including the machine's design, features, and where it falls within the Lattissima lineup, so you can decide if this is the Nespresso machine for you.
Nespresso Gran Lattissima Product Overview
Nespresso Gran Lattissima is a Nespresso pod coffee machine. It belongs to the OriginalLine of Nespresso devices, so it uses OriginalLine pods (the pods are all the same size and smaller compared to Vertuo ones).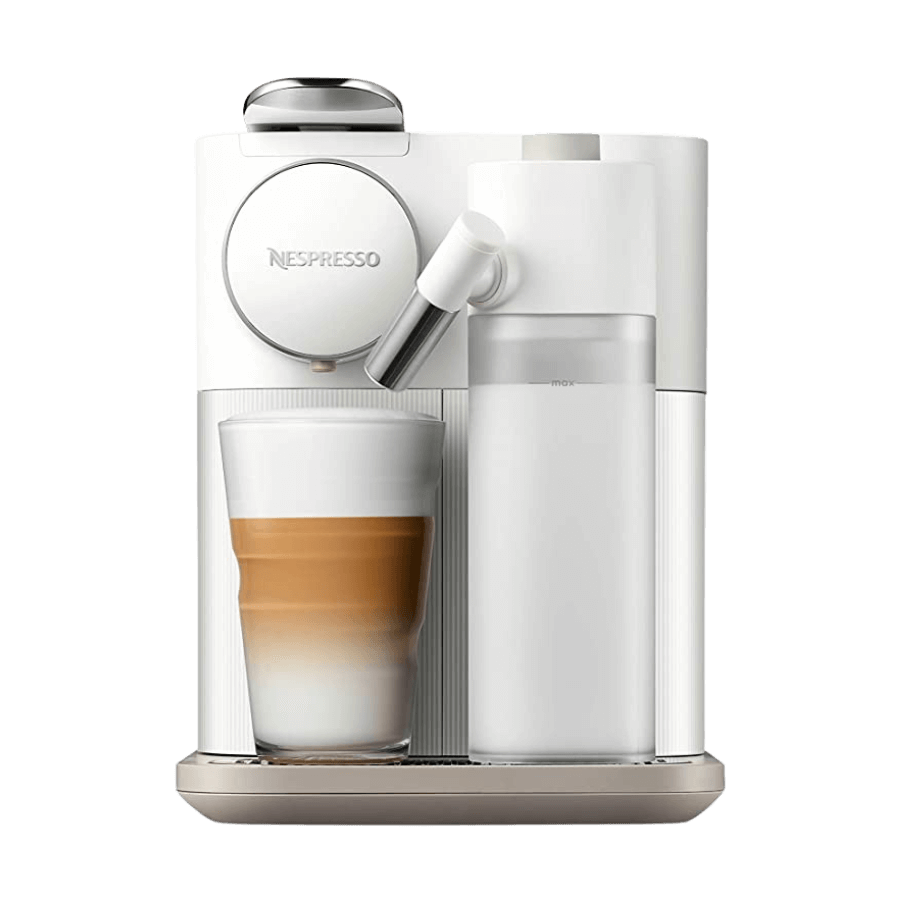 Gran Lattissima highlights:
OriginalLine device
Brews 9 coffee drinks
Rapid Cappuccino milk system
Customizable coffee volume and milk foam
43.9 oz water tank
14 capsules container capacity
19 bar brewing pressure
Nespresso Gran Lattissima: Craft Coffee Spot Rating
Espresso Quality & Brewing System
8
Gran Lattissima is a collaboration between Nespresso and DeLonghi. The machine uses Nespresso brewing technology, which means the convenience and simplicity of Nespresso pods. DeLonghi adds an automatic milk frothing system.
The milk frothing is what sets Gran Lattissima apart from other Nespresso machines. Not only is it automatic, but the entire drink is made at once. Gran Lattissima brews the espresso, froths the milk, and dispenses the milk froth into your cup. It can make milk-based coffee drinks, such as latte macchiato, cappuccino, flat white, and others. All you have to do is tap one of the buttons.
Pros
One-touch espresso drinks and frother milk
Programmable drink volumes
Large capsule container capacity
Compatible with third-party capsules
Fast heat-up time
Cons
No hot water outlet
No water or milk temperature customization
Requires constant cleaning
---
Gran Lattissima Feature Breakdown
Design and Build
Nespresso Gran Lattissima is available in white and black versions, with touches of chrome. The rounded edges make both versions look modern. Personally, I prefer the white version because the smudges and dirt are less noticeable. Also, the top of the machine tends to get dusty, which is less noticeable in the white version.
Gran Lattissima is a compact machine. Its dimensions are 7.9 x 14.4 x 10.8 in (WxDxH), so it should fit on most kitchen counters and under cabinets.
The machine has some stainless steel accents with high gloss finishes. The top of the machine has a glass touch panel with nine buttons. The buttons make it easy to prepare each of the nine drinks (two are for hot milk and milk froth, so they aren't technically seven coffee drinks). The power button, descaling, and clean LED alerts are also on top in the back.
The front of the machine has a large round coffee dispenser, which makes the Lattissima recognizable.
The Rapid Cappuccino System is the milk frother, which is next to the coffee outlet. It is a large rectangular milk container with a spout on the side and tubing inside to froth milk (slightly different from a traditional steam wand).
I liked there's a stand to elevate small espresso cups. This means the coffee travels less between the dispenser and the cup. Your espresso will be hotter with less chance of spills.
The removable water tank is located at the back of the machine. It has a capacity of 44 oz, which lets you brew several drinks before refilling. It's transparent, so you can monitor the water level.
Overall, Gran Lattissima looks compact and modern thanks to the premium materials and finishes.
Ease of Use
Nespresso Gran Lattissima is easy to use thanks to the nine one-touch buttons, seven of which represent different coffee drinks and two buttons for hot milk and milk froth. This means this coffee machine prepares specialty coffee drinks with a press of a button.
The machine froths the milk automatically, so you don't even have to pour the milk or move the cup to a milk dispenser. All you have to do is switch the milk frothing to the froth position to make foamed milk recipes.
Here's how to make a drink: insert the pod and choose the type of coffee you want. If you've chosen a milk drink, fill the milk container to the max level and attach it to the machine. Rotate the spout so it's at the center of the cup, and turn the milk froth knob to the froth setting. Finally, press the button for the coffee you want, and the machine will do the work for you.
You can program the machine, so it makes your preferred brews. You can customize the coffee, milk, and froth volume by holding the button corresponding to the drink you want to make for at least three seconds. The brewing will run as long as you hold the button. Release the button once the volume is right for you, and the machine will save the brew size for future drinks.
The same goes for milk drinks. Hold the button for at least three seconds, and release it when the desired amount of milk foam has been released into your cup. You know the Nespresso Gran Lattissima has saved your preferences when the drink button flashes three times.
Gran Lattissima takes about thirty seconds for the water to heat and another thirty seconds for the milk, thanks to the Thermoblock heating system. The buttons blink while the machine heats up, and once they stop, it's ready to go. Overall, you can have your drink in about two to three minutes from turning on the machine. This is much faster compared to semi-automatic espresso machines, some of which need 20 minutes or more to warm up.
Finally, the only part of the machine that's not so easy is the setup and the maintenance. The setup involves disassembling the Rapid Cappuccino System, washing all the components, drying, then reassembling the system and attaching it to the machine. Moreover, you'll have to do this every time you clean the milk frothing system, which is fairly often (more in the maintenance section).
Rapid Cappuccino System (Milk Frothing)
Nespresso Gran Lattissima's milk frothing system is called Rapid Cappuccino System.
Remember, this isn't a steam wand. Instead, it's a milk container that has an air frothing system. You don't have any influence over the milk frothing, which means there's no way to make latte art. Keep this in mind if you hope to work on your latte art skills.
It can dispense hot milk and milk foam. Flat milk recipes include latte and flat white. However, this is an automatic milk frother, so it doesn't create microfoam. The milk texture for flat white and latte is the same. You can also make foamed milk for a cappuccino and a latte macchiato.
I liked that you could detach the 16.9 oz removable milk container and store it in the fridge. This was very handy, as I didn't have to pour the milk back into the milk jug or throw it away. You detach the milk container and close the sliding cap to cover the steam connector hole. This keeps the Nespresso Gran Lattissima looking stylish even without the container.
Note: You can't customize milk textures or temperatures with Gran Lattissima. You get hot milk or milk froth at a single temperature, and that's all. Traditional espresso machines with a steam wand (and Nespresso Creatista) give you more control over the milk texture than the Gran Lattissima.
Cleaning & Maintenance
Cleaning is one area where I wasn't thrilled: the Gran Lattisima requires constant cleaning, particularly for the frother. Automatic milk frothing means easier frothing for you, but it also means more cleaning.
The milk frother has several inner parts where the milk circulates. The tube where the heated air combines with the milk gets crusted and can clog the machine, so thorough cleaning is extremely important. Otherwise, you risk your machine breaking or becoming full of bacteria.
A common user complaint is the Rapid Cappuccino System stops functioning. For those users, the machine sputters hot water instead of milk, and the temperature is inconsistent. However, these issues are almost always due to poor cleaning.
You should clean the Rapid Cappuccino System after every use. This system is self-cleaning (to an extent). After frothing the milk, move the knob to the "Clean" setting. Water will run through the frother tubes, so there's no milk crust.
However, the milk frothing system also needs a more thorough cleaning after regular use, which can be done in two ways:
In a dishwasher — Disassemble all six parts of the milk frothing system and place them in the dishwasher. Once they are clean, reassemble them.
By hand — If you don't have a dishwasher, you need to clean the Rapid Cappuccino System by hand. Disassemble it, and soak it in hot water with mild soap for half an hour. Dry and reassemble.
Here's how to clean the rest of the Nespresso Gran Lattissima:
Remove and rinse the capsule container, the drip tray, the cup support, and the drop collector. You should do this every few days, depending on your use. All components are dishwasher safe.
Rinse and refill the water tank each time it gets empty.
Rinse the coffee outlet by pressing the lungo button (put an empty container under the coffee outlet).
Descale when the descaling alert is on.
All the cleaning takes a lot of time, even running the automatic rinse of the milk frother. That's a downside for me, especially because the milk frother can clog up and stop working easily, which would ruin its main selling point.
Coffee Drinks: Quality and Options
Nespresso Gran Lattissima can brew the following nine drink options:
Ristretto
Espresso
Lungo
Cappuccino
Flat white
Latte macchiato
Cafe latte
Hot milk
Hot foam
This covers the main drinks that you'd find in your local coffee shop. You get three espresso drinks, four milk-based beverages, and hot foam and hot milk.
The coffee drinks are good quality. Gran Lattissima has a powerful 19-bar pump, the same as other Nespresso OriginalLine machines. The pump ensures there's good coffee extraction during the brewing and that espresso has a nice crema. 
For milk-based drinks, the machine adjusts the frothed milk texture to match the proper recipe of the respective drink. So for a cappuccino, you get a thicker foam with larger air bubbles. Meanwhile, for a flat white, the milk is less textured and more heated, so it blends in well with the espresso. The Gran Lattisima does an excellent job on this part.
Plus, OriginalLine machines are compatible with third-party coffee pods, which widens your coffee selection. You aren't limited to Nespresso pods, but you can try Starbucks, Lavazza, and others. You can try different blends until you find flavorful coffee you like.
Value
Nespresso Gran Lattissima provides good value for your money. It has a fast heating system, an automatic milk frother with a removable milk container, and is compatible with both Nespresso and third-party capsules.
This is a good choice if you want the convenience of single-serve capsule machines, espresso drinks, and milk-based drinks. Also, if you want a machine that makes coffee fast, you won't regret getting Nespresso Gran Lattissima.
However, this isn't a good investment if you don't plan to drink milk drinks or don't need perfect convenience.
Alternative Lattisima Options: Comparing the Lineup
The Lattissima lineup consists of four devices with varying features. Gran Lattissima is the newest model and has the most drink options and the biggest capsule container. I like the Gran Lattisima most, and that's mostly because of the extra drink options and stylish design.
Here's how all models differ, so you can choose the best one for you.
Lattissima One
Lattissima One is the basic model in the Lattissima lineup, so it's the most affordable. Here are its specs and how it differs from Nespresso Gran Lattissima:
Lattissima One differences:
It's more affordable than Gran Lattissima.
Makes espresso, lungo, cappuccino, and latte, while Gran Lattissima has nine options.
Lattissima One has a plastic body, three buttons, and smaller milk and water containers than Gran Lattissima (34 oz vs. 44 oz water tank, and 4 oz milk container capacity vs. 17 oz).
Lattissima One's used capsule capacity is only eight pods.
Lattissima Touch
Here's how Lattissima Touch differs from Gran Lattissima:
Lattissima Touch differences:
Nespresso Gran Lattissima has nine preset drinks, while Lattissima Touch has six.
Gran Lattissima milk container has a capacity of 17 oz, while Lattissima Touch is a 12 oz capacity.
Gran Lattissimla has a touch panel interface, while the Touch uses buttons and no glass panel.
Lattissima Pro
These are the biggest differences between the Lattissima Pro and Gran Lattissima:
Lattissima Pro differences:
Gran Lattissima has nine pre-programmed drinks, while Lattissima Pro has six.
Gran Lattissima has a glass touch panel, plus nine buttons on top. Lattissima Pro uses a color touchscreen.
The used capsule container on the Lattissima Pro fits 13 capsules, and 14 on the Gran Lattissima.
Lattissima Pro has foamed milk density or texture settings, which Gran Lattissima lacks.
Lattissima One vs. Lattissima Touch vs. Lattissima Pro vs. Gran Lattissima: Comparison Table
| | Lattissima One | Lattissima Touch | Lattissima Pro | Gran Lattissima |
| --- | --- | --- | --- | --- |
| Water reservoir | 34 oz | 44 oz | 44 oz | 44 oz |
| Used capsule container | 8 | 10 | 13 | 14 |
| Milk container capacity | 4 oz | 12 oz | 16 oz | 17 oz |
| Display | Buttons | Buttons | Touch display | Glass display and buttons |
| Pre-programmed drinks | 4 | 6 | 6 | 9 |
| Dimensions (WxHxD) | 6.1 x 12.8 x 10.1 in | 10.17 x 13.47 x 8.08 in | 7.6 x 13 x 14 in | 7.9 x 14.4 x 10.8 in |
| Weight | 9.3 lbs | 10 lbs | 12.6 lbs | 11.4 lbs |
Recommendation For The Gran Lattisima
Nespresso Gran Lattissima is a grand choice for coffee lovers who want espresso or a latte macchiato with a touch of a button. If you don't want to go through the hassle of using a traditional espresso machine (grinding, tamping, frothing the milk), you'll love Nespresso Gran Lattissima.
It's a good choice if you want convenience and practicality, a variety of drinks, and you don't want to learn how to operate a steam wand. If you don't mind, you won't be able to make latte art, and you can invest time in cleaning the milk frother; this is the machine for you.
Finally, I'd recommend this machine for beginners and busy coffee lovers who want ease of use and convenience. 
Should You Get Nespresso Gran Lattissima?
If you like both espresso and milk-based drinks, you'll love Gran Lattissima. It makes seven different drinks, plus hot milk and milk froth. The milk frother is completely automatic, which means you insert the pod, choose the drink, and the machine froths and pours the milk for you. You have milk beverages with a press of a single button.
But, if you want more control over the milk frothing system, to work on your latte art, and an easier cleaning process, check out our review of Nespresso Creatista Plus.