I have a soft spot for Nespresso. There's just something about pressing a button and getting coffee without any work involved. Nespresso recently released a new model — Breville Nespresso Vertuo Creatista — that combines an integrated milk frother with Vertuo pods for the first time.
The Breville Nespresso Vertuo can brew a wide range of espresso, coffee, and milk drink thanks to the Vertuo pods and powerful steam wand. This machine has a 100% stainless steel design, customizable features and comes with the recognizable Nespresso ease of use. The wide range of drinks and ease of use are what I really like about this model.
In this Breville Vertuo Creatista Review, I'll explore its features, performance, and the flavors it brings to your cup, so you can decide if this is the best Nespresso machine for you.
Breville Nespresso Vertuo Creatista Product Overview
Breville Nespresso Vertuo Creatista highlights:
Centrifusion brewing technology
Compatible with Vertuo pods
Hands-free milk frothing with three temperature and texture settings
Stainless steel construction
Wi-Fi compatible
Breville Vertuo Creatista
Design and Functionality
9
What usually comes to mind with Nespresso are compact, one-touch machines that brew espresso. The new Breville Nespresso Vertuo looks nothing like this. It's much larger, made of stainless steel, and can froth milk.
Breville Nespresso Vertuo Creatista is unique as it is compatible with the Vertuo pods, which means it uses Nespresso centrifusion technology (more on this below).
Most importantly, it comes with a built-in automatic steam wand. There is control settings for temperature and texture that allow you to customize your milk-based drinks. From testing this wand on other models, I found it works really well and creates a smooth texture and consistent temperature.
Until recently, if you wanted to froth milk with your Nespresso machine, you had to get a separate milk frother called Aeroccino. Or, you could get one of the Lattissima or Creatista machines (manufactured by DeLonghi and Breville), which are exclusively compatible with OriginalLine pods.
The new Breville Nespresso Vertuo Creatista fills a large gap in the market — a Nespresso machine that can steam milk and is compatible with Vertuo pods.
Pros
Built-in automatic milk frother
Sturdy build and elegant design
Lots of coffee and milk drink options
Cons
Not compact
Loud operation
Expensive
---
Breville Nespresso Vertuo Creatista Feature Breakdown
Design and Build
The Breville Nespresso Vertuo Creatista coffee machine comes in one color option — brushed stainless steel. Straight away, it's remarkably different compared to other Nespresso machines, which are usually molded plastic. The stainless steel finish looks high-end and modern.
However, it easily marks with fingerprints. This could be the Virgo in me talking, but I found fingerprints all over the machine annoying. This doesn't affect your coffee machine's performance, but if you want to keep it looking pristine, you'll need to have a cloth nearby and buff it up regularly.
In terms of design and components, there's a large magnetic removable drip tray with a red float marker that lets you know it's time to empty it. The left side of the espresso machine has a spout under which there's a cup tray. You can place the cup tray on the drip tray or choose between two higher levels, which makes it ideal for fitting different-sized mugs. I could even fit my travel mug easily.
The brew head with the capsule container is located on the left. It has a spring-loaded lid that you unclip, place the capsule inside, then push down and clip the lid into place. What's nice is the used pods automatically drop into a used capsule container when you open it. The downside is the lid takes two hands to close and clip back. It will pop open and dispose of your capsule if you don't close it all the way.
The right side is also reserved for the automatic milk frother. It looks like a regular barista-style wand, but it's fully automated. You can see the temperature sensor in the base that regulates it.
Want More Coffee Tips?
Join the email list for exclusive coffee insights and deals that only subscribers get. You'll get two coffee discounts just for joining.
No spam, ever. We respect your privacy and unsubscribe anytime.
One downside is this model is quite loud. It sounds like you're on an airplane with a steady rumbling noise as it brews the coffee. Milk frothing is quieter, and the entire machine is still quieter than other espresso machines and grinders we've tested at Craft Coffee Spot.
Finally, the espresso machine even has Wi-Fi connectivity, which I didn't find particularly useful. It gives some coffee-making tips and walks you through cleaning and maintenance. You can also order new pods via the app, and that's pretty much it. You can't program the machine to make a drink while you're away.
Overall, this could be the biggest Nespresso coffee maker I've reviewed, at dimensions 8.9 x 16.4 x 12.6 in. You'll need to dedicate a fair chunk of your counter space to the coffee machine. On the plus side, Breville Nespresso Vertuo Creatista feels premium; it's full of features and resembles a regular espresso machine more than a Nespresso coffee maker. In fact, if I didn't know better, I never would've guessed this is a capsule coffee maker.
Espresso Quality
Breville Nespresso Vertuo Creatista uses Nespresso Vertuo capsules, so you consistently get good espresso-style drinks without having to measure, grind, and tamp. Note I said espresso–style drinks because they don't taste the same as a regular espresso maker. The taste is closer to a strong, dark-roasted coffee than espresso's bold taste. However, it's as close as it gets from a pod. And, if you use your espresso as the base for milk-based drinks, you probably won't even notice the difference.
Nespresso Vertuo capsule coffee machines use centrifusion technology. The Vertuo capsules always have a barcode printed on the edge. You unlock the machine by pushing the lever to the left, insert the pod, and lock it by pushing down before pressing the coffee button. The machine reads the barcode and automatically adjusts the brewing parameters (the drink size, amount of water, temperature, etc.). The pod spins up to 7,000 times a minute, and coffee exits the side, which creates rich crema.
The process is as easy as that. There's only one coffee button, regardless if you're making a double espresso or an 18 oz carafe.
The machine has a Thermoblock heating system and takes about a minute to heat up. A single espresso shot takes about 50 seconds, which is longer compared to a traditional espresso maker. Expect you'll wait just under two minutes to get your coffee fix, which isn't as quick as other Nespresso makers, but it's not too long either.
Note: You can't adjust the brew settings, meaning you can't make the coffee hotter or stronger. Also, the brew temperature is around 160 degrees, which is a little cooler than I'd like but hot enough.
Milk Frothing
Breville Nespresso Vertuo Creatista uses the Auto MilQ steam wand, which is an integrated, automatic steam wand. It functions similarly to the one on the Breville Bambino Plus, where you place the milk jug on a sensor underneath the wand and leave it there while the wand creates milk foam. The process is completely automatic, so you don't need to tilt the jug to incorporate the steam into the milk and learn how to get the exact froth you want.
The machine comes with a stainless steel milk jug with a capacity of 8 fl oz. There are a few marks on the inside, so you can create milk foam for one or two coffees, depending on what you need.
The Breville Vertuo Creatista wand has a "Q tip," which is especially intended for steaming plant-based milks. It's always harder to create foam on these than on cow milk, so Breville came up with the Q tip, which is great if you want your oat or almond lattes.
You can choose between three milk temperature settings and three milk texture levels, so you can get the exact foam you prefer.
Personally, I like froth on the lower temperature settings, as over 160 degrees leads to an unpleasant and burnt taste.
Note: The machine froths the milk automatically, but you have to pour it into the cup. This is where you get to play barista and even try some latte art.
Finally, I loved the finger loop at the top of the wand, which lets me tilt it forward and backward when the wand is hot. This is a nice touch and shows Breville thought of the smallest details.
Drink Options and Brewing/Customization Options
This is a Vertuo machine, so you can make drinks using Vertuo pods. Vertuo pods come in several drink sizes:
Espresso
Double espresso
Cold brew
Americano
5 oz, 8 oz, and 12 oz coffee
Carafe (18 oz)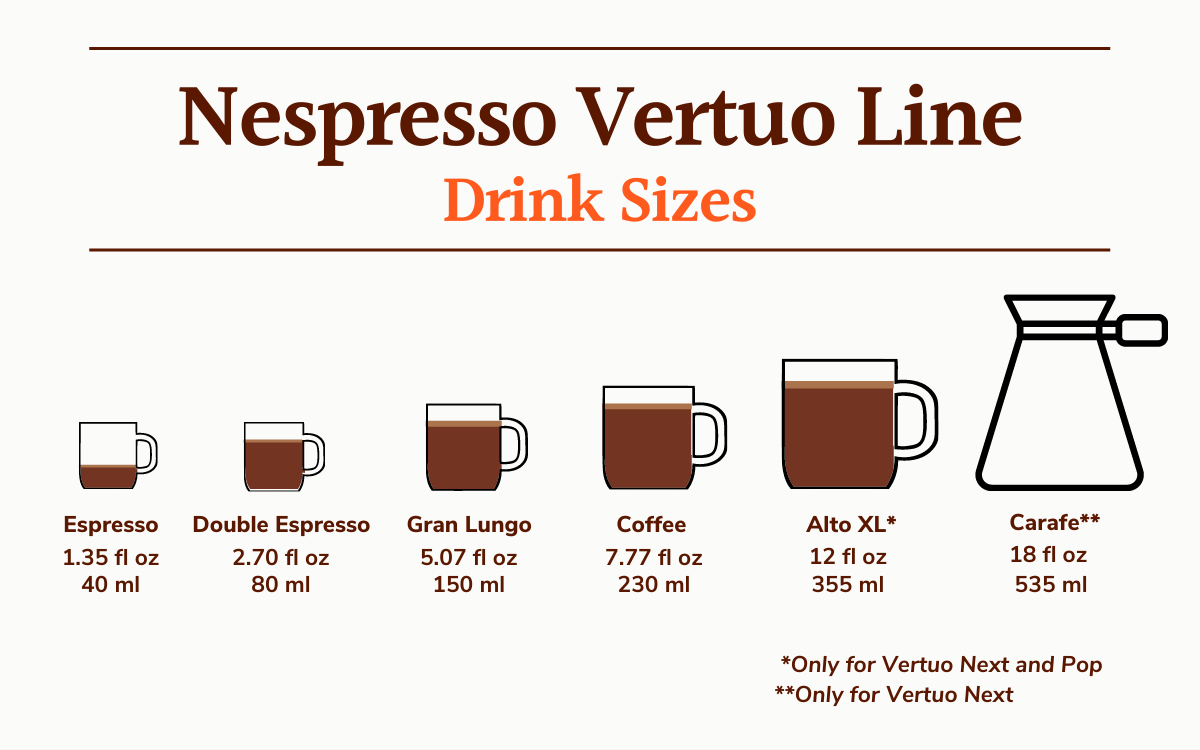 Overall, you can make everything from espresso to regular coffee and even an 18 oz carafe. However, you can't make a ristretto. You can also make pretty much any milk-based drink thanks to the built-in milk frother. There are even some Vertuo cold brew pods for your cold coffee cravings.
The Vertuo pods are the main reason why you get so many options and why I like this machine. All other Nespresso machines with milk frothers use the Original pods, which can only brew a single and double espresso option. You can't make a real coffee with any of these.
The Vertuo Creatista actually makes the widest range of coffees within the Nespresso Vertuo family. You can brew 12 oz or even 18 oz pods.
On top of this, you can also brew any pod as a double espresso size; double tap the brew button to do so. I like this feature since you can take a large pod and make it a much more concentrated drink for a powerful flavor, with or without milk. Until now, this feature was only on the Vertuo Pop.
Cleaning & Maintenance
The cleaning and maintenance process is fairly easy and straightforward on all Nespresso machines. Once you've brewed a pod, you don't have to remove it straight away. Instead, the next time you unlock the brew head, the used capsule is automatically ejected into the used capsule bin, which holds between six to ten pods, depending on their size.
My favorite cleaning part is that the steam wand is self-cleaning. It automatically purges leftover milk when the machine is done steaming. All you need to do is wipe it down.
You need to empty the drip tray when full, and the machine will alert you when you need to run a maintenance cycle and descale it.
Finally, it bears repeating that the high-end machine looks unkempt fairly easily. You'll need to wipe down the fingerprints daily to keep it looking pristine.
Value
If you like Nespresso pod drinks and want lattes and cappuccinos, this is good value for money. The machine has a premium build, is durable, and comes with an advanced milk-frothing system. It's easy to clean and maintain, and you can try out various Vertuo pods.
However, it's on the expensive side. You're essentially paying more for the premium Breville design and the advanced milk frother. If the design isn't your main priority, or you don't drink milk-based drinks, there's no need to pay this much.
Alternative Options: Comparing The Creatista Lineup
Here's how Breville Nespresso Vertuo Creatista compares to other it's closest machines.
Product Title
Pod type
Pod type
Vertuo
Original
Vertuo
Automatic Milk Frother
Automatic Milk Frother
Yes
Yes
No
Drink options
Drink options
Many, from espresso to milk drinks to large coffee
Espresso and milk drinks
Espresso and coffee only
Breville Nespresso Vertuo vs. Creatista Plus
The main difference between the Breville Nespresso Vertuo Creatista and Creatista Plus is that Creatista Plus uses OriginalLine pods, while the Breville Vertuo Creatista is only compatible with the Vertuo pods.
The Creatista Plus has a steam wand you use to make lattes and cappuccinos. It's also an automatic steam wand. It's a swivel arm wand with a temperature sensor. You pour the milk into the stainless steel milk jug, place it on the sensor, choose a texture, and you'll get frothed milk in seconds.
Finally, both machines are made of stainless steel, but the Creatista Plus heats up in only three seconds, which is faster than the Vertuo Creatista. Finally, the Plus has a TFT display on top, while the Breville Vertuo model has buttons to choose from three settings for milk temperature and texture. It leads to more or less the milk texture, but the color display is nicer on the Plus model.
Breville Nespresso Vertuo vs. Nespresso Vertuo Plus
Both of these Breville Nespresso machines use Vertuo capsules but are significantly different. Unlike the Breville Vertuo Creatista, which is made of stainless steel, the Vertuo Plus is made of plastic. The Plus doesn't have a milk frother, so you need to buy it separately if you want milk-based drinks. The lack of integrated milk frother is the biggest difference between these models.
Vertuo Plus is much more compact compared to the Breville Creatista. However, it also has a much smaller water tank — 40 oz (or 60 oz with the Deluxe model). Another difference is the lid design. The Plus has a motorized lid that you gently push up, and it opens. It requires much less strength compared to the Vertuo Creatista.
The Vertuo brews at a hotter temperature than the Creatista, which improves the extraction and leads to hotter coffee drinks. I found you can get a richer coffee on the Vertuo Plus.
Overall, Vertuo Plus is a good choice if you want a more compact and affordable machine and if you only drink espresso or coffee without milk. You don't need to pay for the integrated milk frother.
Who is Breville Vertuo Creatista Best for?
Breville Vertuo Creatista is best for coffee lovers who want a variety of coffee and milk drinks made easily. You can't beat the range of coffee options (up to 18 oz pods) along with multiple automatic milk texture levels. It's a lot easier than mastering a semi-automatic espresso machine, and still creates good regular coffee.
However, if you only drink espresso or coffee and have a limited budget, this isn't the best choice for you. There are much more affordable Nespresso models that brew the same drinks as the Breville Creatista.
Breville Nespresso Vertuo Creatista: Final Thoughts
Breville Nespresso Vertuo Creatista has a lot going for it. It's the first Nespresso machine that uses Vertuo pods and has an integrated milk frother. It can make everything from espresso to latte macchiato. Moreover, it looks incredibly stylish and modern. However, this comes at a high price tag.
If you aren't set on a machine with a milk frother, want more Nespresso machine options, especially more affordable ones, check out our round-up of the best Nespresso machines.