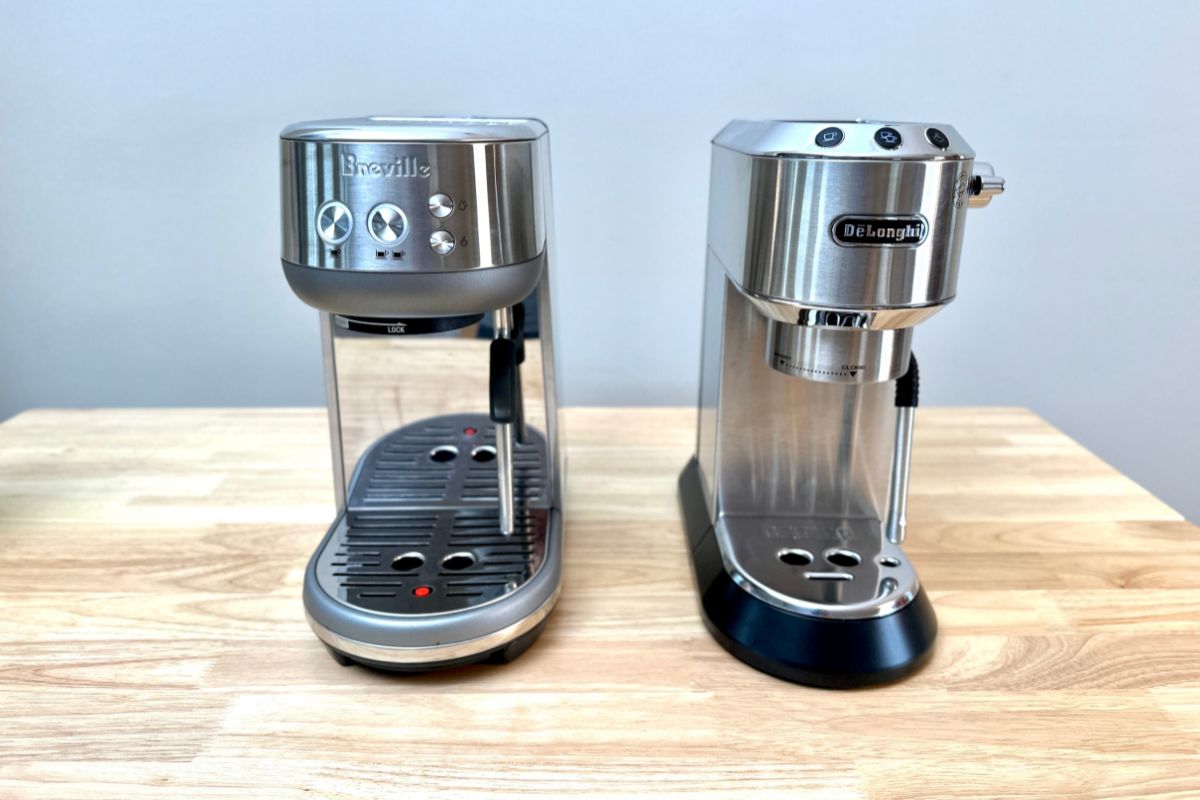 The Breville Bambino and the DeLonghi Dedica are compact powerhouses that will make your mornings come alive with the aroma of freshly brewed espresso.
These espresso machines have fast heat-up times, pre-infusion, and powerful steam wands. However, there are small variations between them that make a big difference in everyday use and coffee quality. Spoiler alert: Bambino is a slightly better choice, but Dedica is also a strong contender, especially if you upgrade the portafilter basket.
I'll cover everything from their build quality, who has better accessories, heat-up times, and more so you can choose the best compact machine for you.
Our Pick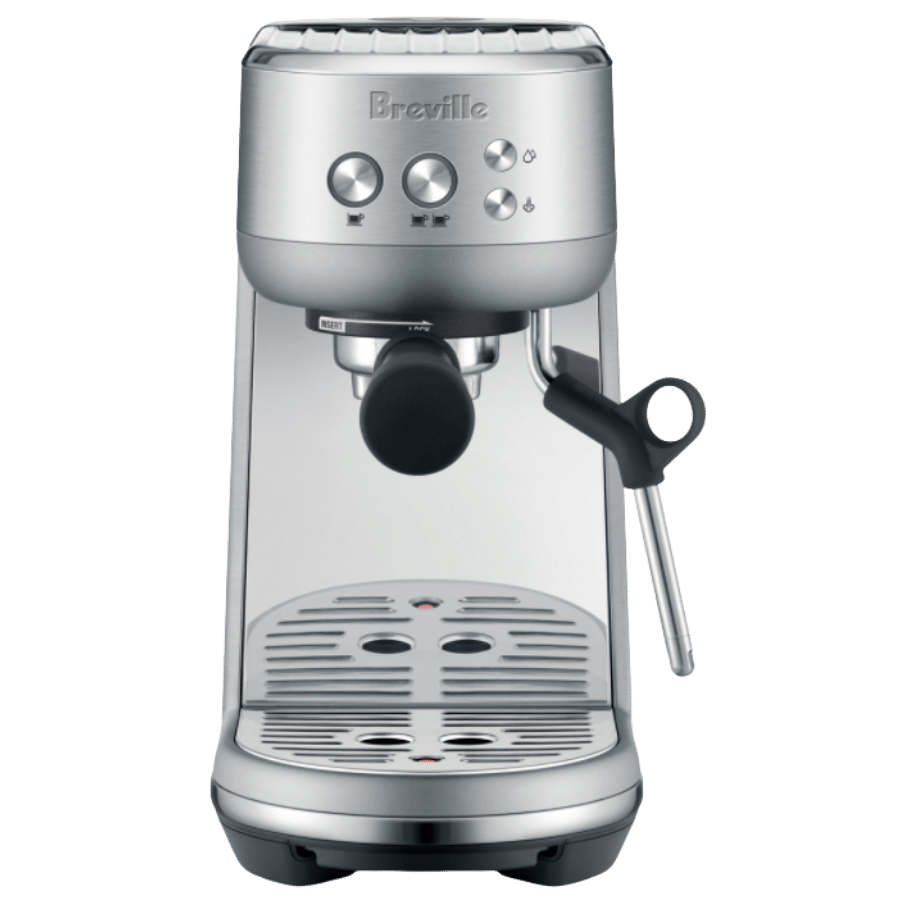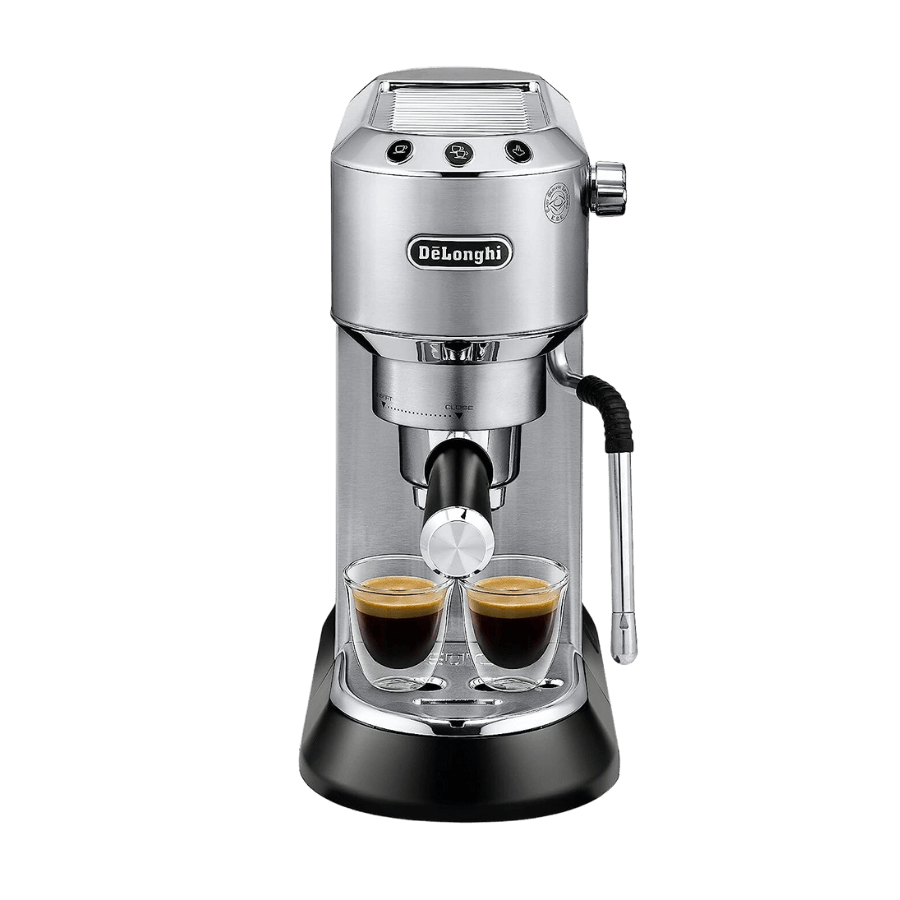 Product
Dimensions (WxDxH)
Dimensions (WxDxH)
7.7 in x 12.6 in x 12.2 in
5.8 x 13 x 12 in
Heating System
Heating System
ThermoJet
Thermoblock
Espresso quality
Espresso quality
High-quality espresso with low-pressure pre-infusion
Close quality espresso
Steam wand
Steam wand
Slower steam wand with more rotation
More powerful steam wand
Non-pressurized baskets included?
Non-pressurized baskets included?
Yes (but depends on retailer)
No (can buy separately)
Other accessories
Other accessories
Milk jug, plastic tamper, cleaning kit
Metal tamper, cleaning kit
Feature Comparison
Here's exactly how these two espresso machines are similar and different.
Design and Build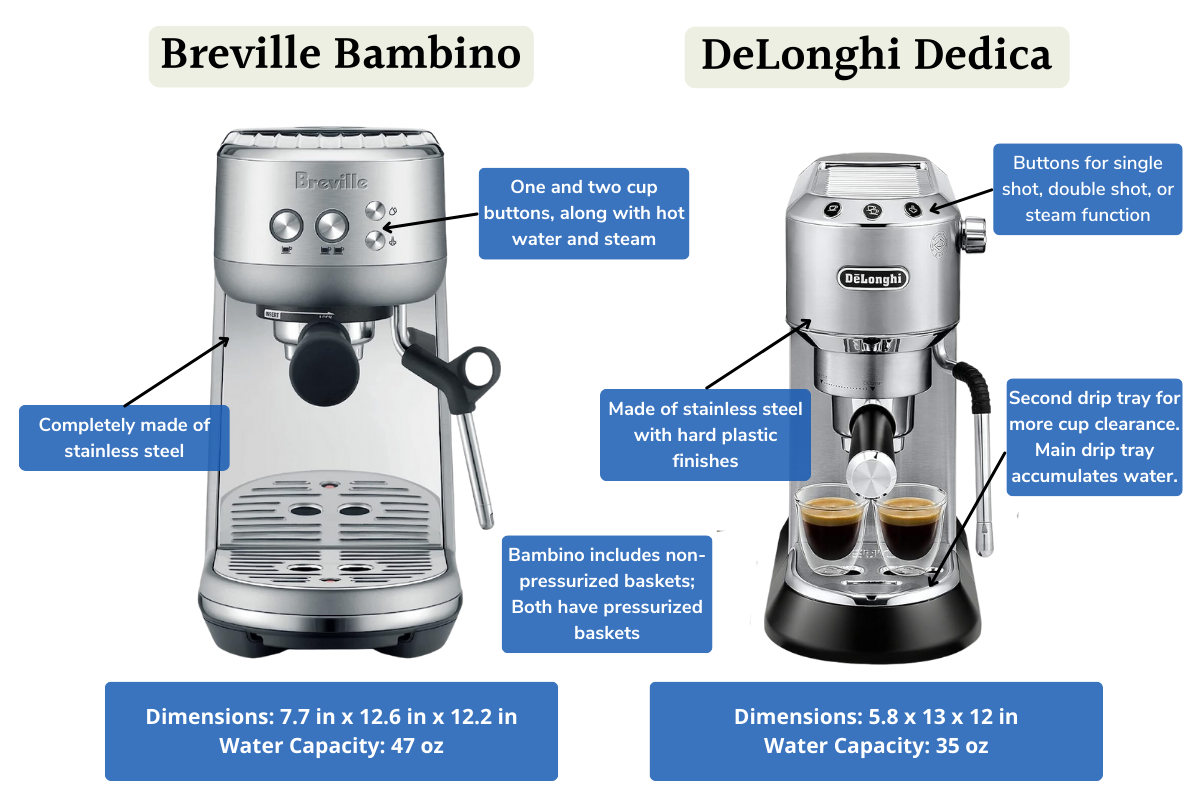 The DeLonghi Dedica espresso machine measures 5.8 x 13 x 12 in (WxDxH). It's one of the most compact espresso machines you can get. Unlike the Bambino, it's made of hard plastic with stainless steel finishes. This makes it very light for an espresso machine (8 lbs). The light weight causes one of my frustrations with the machine — you need to hold the machine in place when locking the portafilter. Otherwise, the whole machine will move. It's the price you pay for such a light model.
Dedica's design is straightforward. The machine has three buttons on top. You use these for pulling a single or a double shot or for steam function. I liked that the buttons glow or blink, depending on if the machine is heating or ready to use.
The drip tray is a mixed bag. One design feature I especially liked is the double drip tray. You remove the main tray, and there's another one under it, which is great for fitting taller glasses. However, the primary drip tray (which you'll mostly use) is a flat metal with few grates. Water quickly accumulates on it a lot, and it doesn't function well as a drip tray should.
The Breville Bambino espresso machine is slightly larger than the Dedica, with dimensions 7.7 in x 12.6 in x 12.2 in. Unlike the Dedica, the Bambino is completely made of stainless steel, so it's heavier and more durable. The design is very similar to the Dedica — there's a brew head in the middle with a steam wand to the right.
The buttons are similar, with clearly labeled one and two-cup buttons, along with hot water and steam. The Bambino doesn't have a double drip trip, but there's more cup clearance anyway. Also, it functions a lot better with significantly more grates, which lets more water through.
The Bambino's water tank is also located in the back of the machine and is larger than the Dedica (47 oz vs. 35 oz), which means less frequent refilling.
Accessories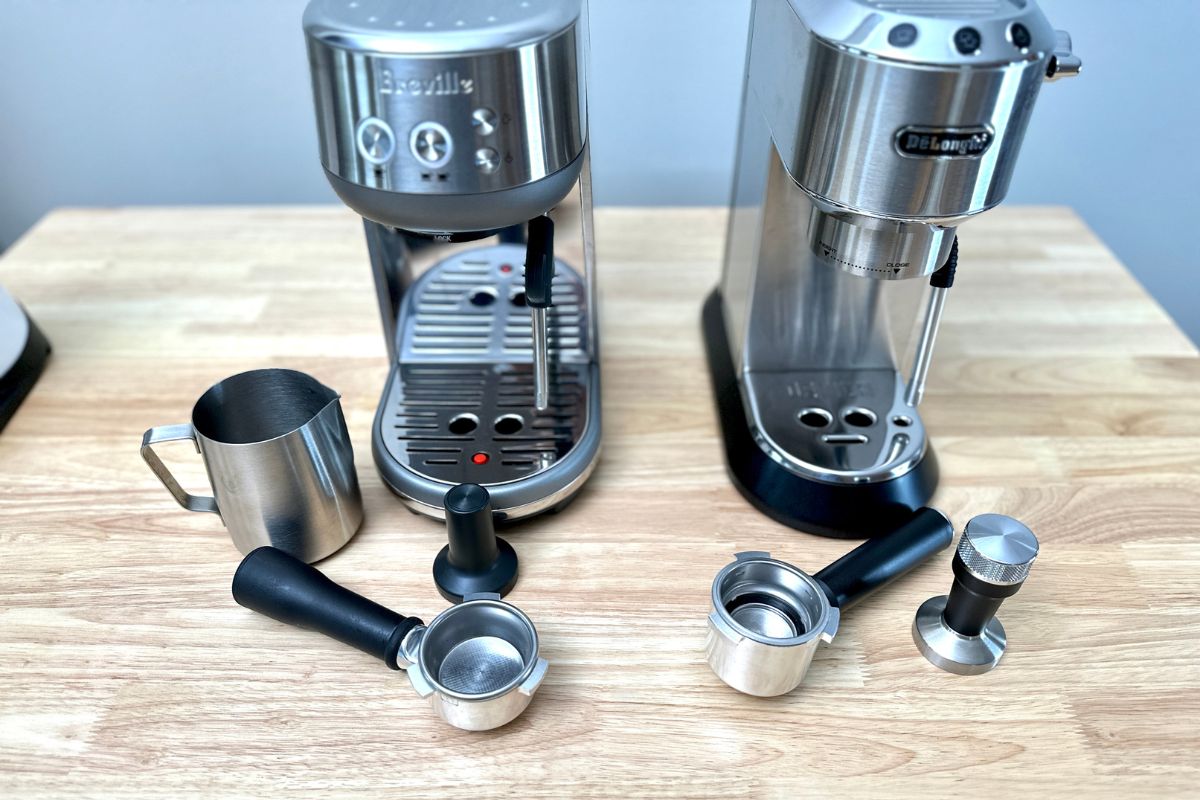 Both machines come with pressurized baskets. These baskets are easier to use, but have limited espresso quality. The Bambino comes with standard non-pressurized baskets, although that can vary on the retailer. When I bought my Bambino at Bed, Bath, and Beyond (RIP), it only came with pressurized baskets. However, Amazon and Breville will include both types of baskets.
However, Bambino comes with a flimsy plastic tamper, which I recommend upgrading. On the other hand, Dedica comes with a nice metal tamper that makes a flat puck. On the other hand, the Dedica doesn't have a milk jug, which is obviously needed for lattes. I can understand why DeLonghi may exclude non-pressurized baskets, but a milk jug is beyond me.
You should get a better tamper with the Bambino, and a milk jug and a non-pressurized basket with the Dedica. Here are good options (at good prices):
Note: Dedica Arte also has a filter basket for ESE pods, while Bambino doesn't. I don't use ESE pods, so this doesn't matter to me.
Also, neither machine has a built-in espresso grinder, so you'll have to invest in a good burr grinder for quality shots. Read our recommended espresso grinders for options.
Espresso Performance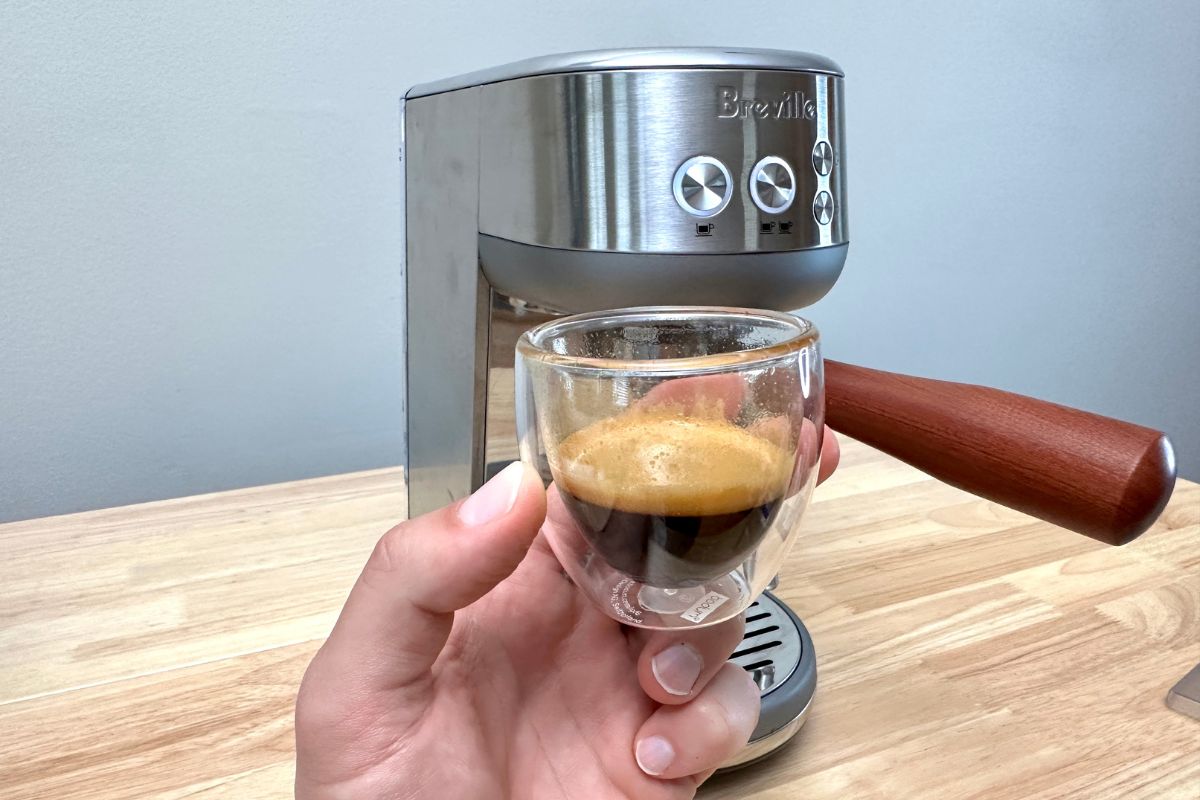 After brewing a lot of espresso on each machine, the Bambino makes better espresso. The ThermoJet heating system has better temperature stability, and a bigger basket size leads to more even extraction. My espresso was more flavorful on the Bambino. But the Dedica wasn't far off. I'll explain both more below.
Dedica has a Thermoblock heating system, which heats up the machine in 30 seconds. My advice is to pull a blank shot to warm up the portafilter and the brew group before brewing espresso so you have a hotter drink.
The portafilter size on the Dedica is 51 mm, and this causes the main issue with espresso quality. This size is narrower than most espresso machines. A narrower size means a taller basket. The result is over-extracted top and bitter shots. Dedica isn't the only DeLonghi machine with this issue. I had the same problem with the La Specialista Prestigio.
Also, Dedica only comes with a pressurized filter basket, which is another issue. A pressurized, or a dual-wall basket, has a second wall with only one hole on the outside. The purpose of the second wall is to create pressure (on non-pressurized baskets, the puck itself creates pressure). The advantage of pressurized baskets is it's more forgiving on grind size, which masks a lot of issues with the puck prep. Still, you get better shots with non-pressurized baskets. I recommend upgrading, as mentioned.
Dedica also has pre-infusion, sort of. Pre-infusion is a great feature, as it wets your coffee grounds at low pressure before extracting at full pressure, which results in more flavor in your espresso. However, the Dedica's pre-infusion is different than other espresso machines. It runs at full pressure for three seconds, stops for three seconds, then goes back to full pressure. This doesn't steadily soak the coffee like the Bambino's
Want More Coffee Tips?
Join the email list for exclusive coffee insights and deals that only subscribers get. You'll get two coffee discounts just for joining.
No spam, ever. We respect your privacy and unsubscribe anytime.
All of this may sound like the Dedcia has issues, but it's honestly not bad. My Dedica shots with a pressurized basket were mostly fine, with a solid taste and some crema. Plus, you'll immediately notice a huge difference in your shot quality with non-pressurized baskets.
The Breville Bambino has a Thermojet heating system that heats the machine in an impressive three seconds. This thermocoil a thin metal that quickly transfers heat. It's the fastest start time I've seen, and some interesting engineering.
Unlike Dedica's "quasi pre-infusion," the Bambino has true low-pressure pre-infusion. You can extend the pre-infusion to 7 seconds, which helps further soak the puck. Moreover, the Bambino has PID temperature control, which is a big upgrade compared to the Dedica. A PID constantly monitors and adjusts the temperature. Coffee water temperature is more stable, and you have a consistent espresso flavor.
I mentioned the Bambino also comes with pressurized filters. However, they are slightly larger than the Dedica's (54 mm vs. 51 mm), which means the puck is wider, so water spreads more evenly across the surface. Again, I recommend switching them out to non-pressurized baskets for best results.
However, the fast start has a downside: you need to run a blank shot to heat the brew head, as only the heating system heats in three seconds, not the machine. You should run water through the brew head on both machines to pre-heat everything.
Steam Wand and Milk Frothing
Here, the steam wand is comparable on both machines. You can get nice, textured milk in about a minute with each machine. There are nuances that different people will prefer.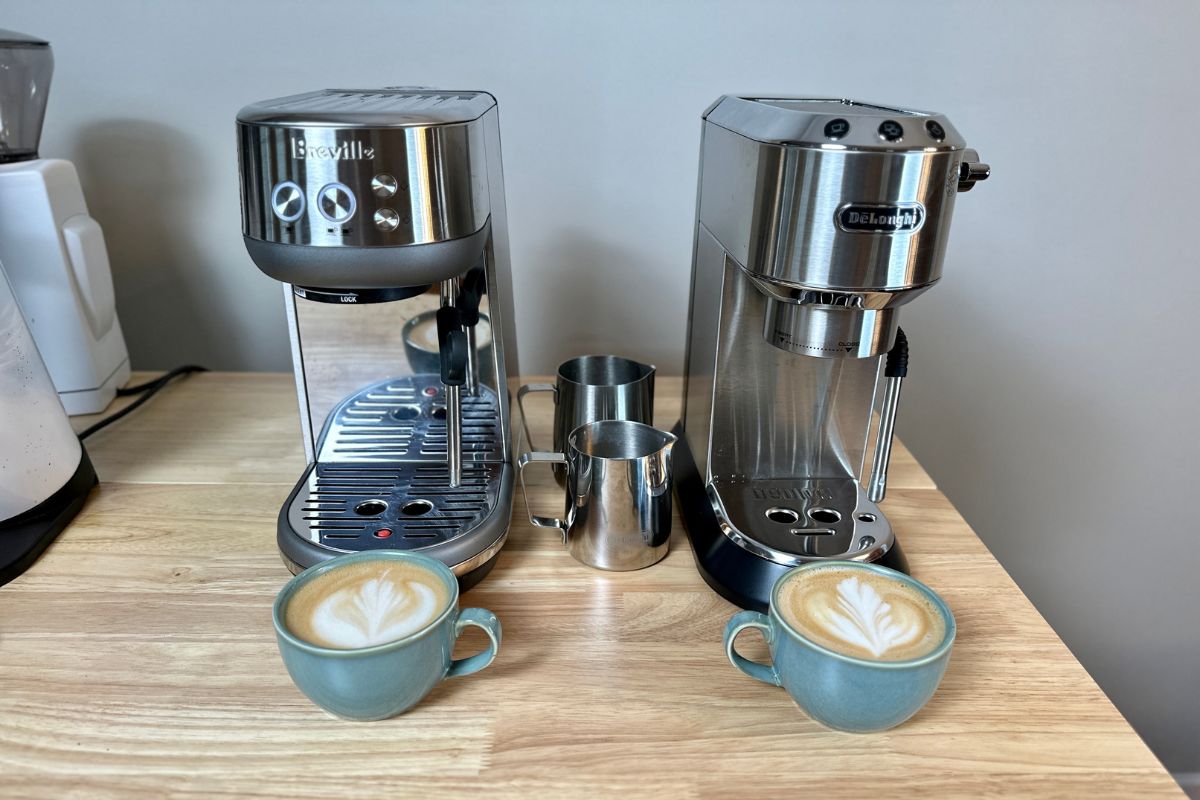 Unlike the previous Dedica models, the Dedica Arte 885 has an upgraded steam wand. The Arte has a professional wand called MyLatteArt. This fully steel, single-tip wand has enough power to make textured milk foam for latte art. 
The steam wand doubles as a hot water dispenser, so you can use it to make Americanos.
Another great thing is the Dedicae Arte steam wand has a plastic interior. This insulates the wand to reduce burns, and it's easier to clean the wand immediately after use.
On the downside, the Dedica wand lacks mobility. You can barely angle it, which makes it hard to create that vortex in the milk jug, which is necessary to properly froth milk.
The Bambino also has a barista-quality wand. The steam wand on the Bambino is powerful, and I had excellent microfoam results. The wand is on a ball joint for full 360-degree rotation, which makes it easy to place into the pitcher.
Moreover, I mentioned that Bambino uses Thermojet heating technology. This means there's hardly any wait time between brewing espresso and frothing milk. On the other hand, Dedica enters a cooling cycle after steaming, and you have to wait for the machine to lower the boiler temperature after steaming so you can brew again.
However, the wand on the Bambino isn't insulated. You need to be more careful when handling the Bambino's frother. Also, milk will crust on the wand unless you wipe it immediately.
Overall, both Breville Bambino and DeLonghi Dedica have powerful, commercial-style steam wands. You can get a nice microfoam on both, although they have a learning curve, which means you'll need to learn how to froth milk. Which one is "better" depends on your preference.
If you think this is too much work, check out our Breville Bambino vs. Bambino Plus review to learn about the automatic steam wand on the Bambino Plus. 
Ease of Use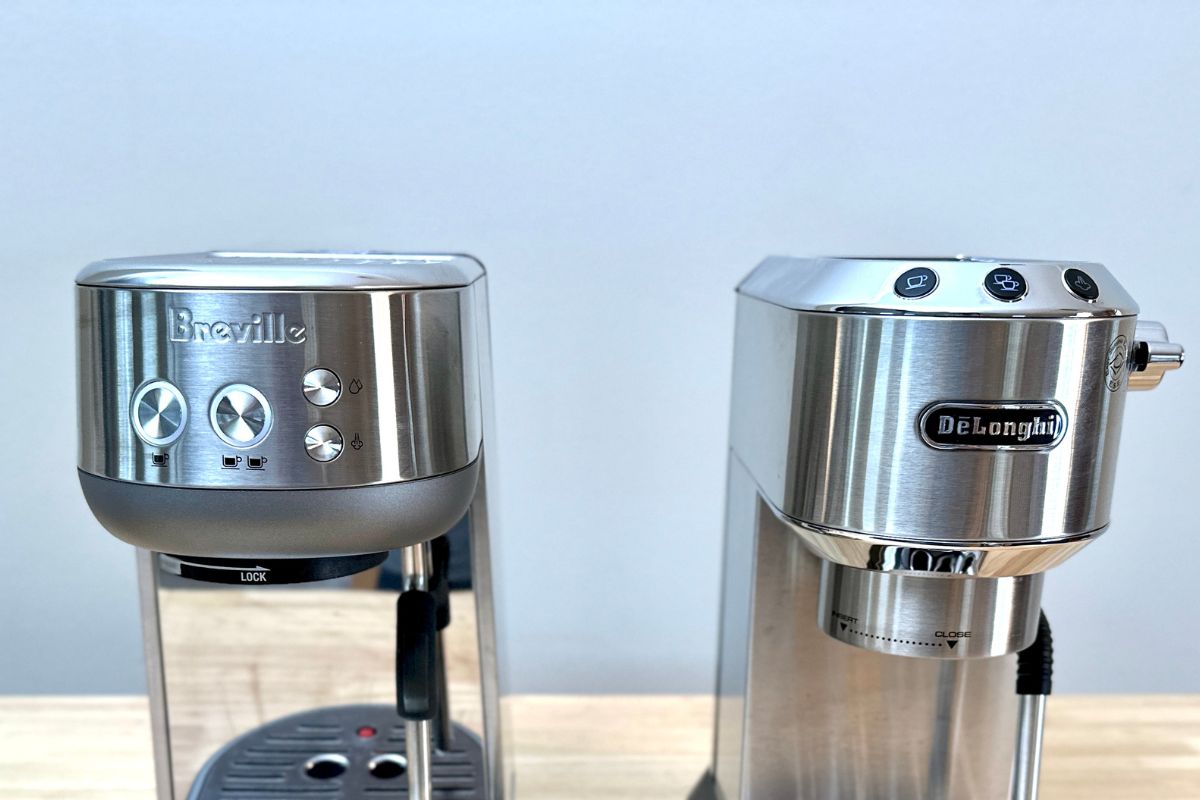 Both Dedica and Bambino are easy to use. These machines have few bells and whistles to learn. You prepare the puck, lock in the portafilter, and press the single or double brew button. That's it.
You can run a manual shot on the Bambino by holding either one of the buttons. You can even extend the pre-infusion time to seven seconds, which helps your espresso. You can also reprogram the volume by holding both buttons, then the next shot will dispense manually with the volume saved.
The Dedica can be reprogrammed by holding either the one or two-cup button for a manual shot. Simple.
On top of that, you can modify the brew temperature on both machines. I like this feature as water temperature can be an underappreciated tweak to improve espresso flavor. Use a hotter setting for light roasts and a cooler for dark roasts.
Lastly, both machines are easy to maintain. Follow basic maintenance by cleaning the portafilter after each shot, empty the drip tray, and wipe down the brew head. Finally, release some steam after milk frothing to clean the wand and wipe down its exterior.
Overall, the use is straightforward and intuitive, and the maintenance quickly becomes part of the brewing routine.
Value
Both machines cost a very similar amount. The difference comes down to specifically what you want. Most of Dedica's value comes from the steam wand, as it's one of the best you can get at this price point.  
The Bambino is about the better build and espresso quality. Considering it has a larger portafilter, better pre-infusion, and a PID, the larger price tag is more than worth it. 
Frankly, both of these machines are excellent value. Paired with a nice espresso grinder, you can make some very good espresso for under $500.
---
Recommendation: Which Is Better?
I recommend the Breville Bambino, as it makes better espresso with proper low-pressure pre-infusion and optimal water temperature for both brewing and steaming. At the end of the day, you're getting an espresso machine for the espresso and the Bambino wins here.
It starts faster, so you don't have to wait between brewing and steaming. The PID keeps the temperature stable, and the steam wand is powerful enough to create latte art.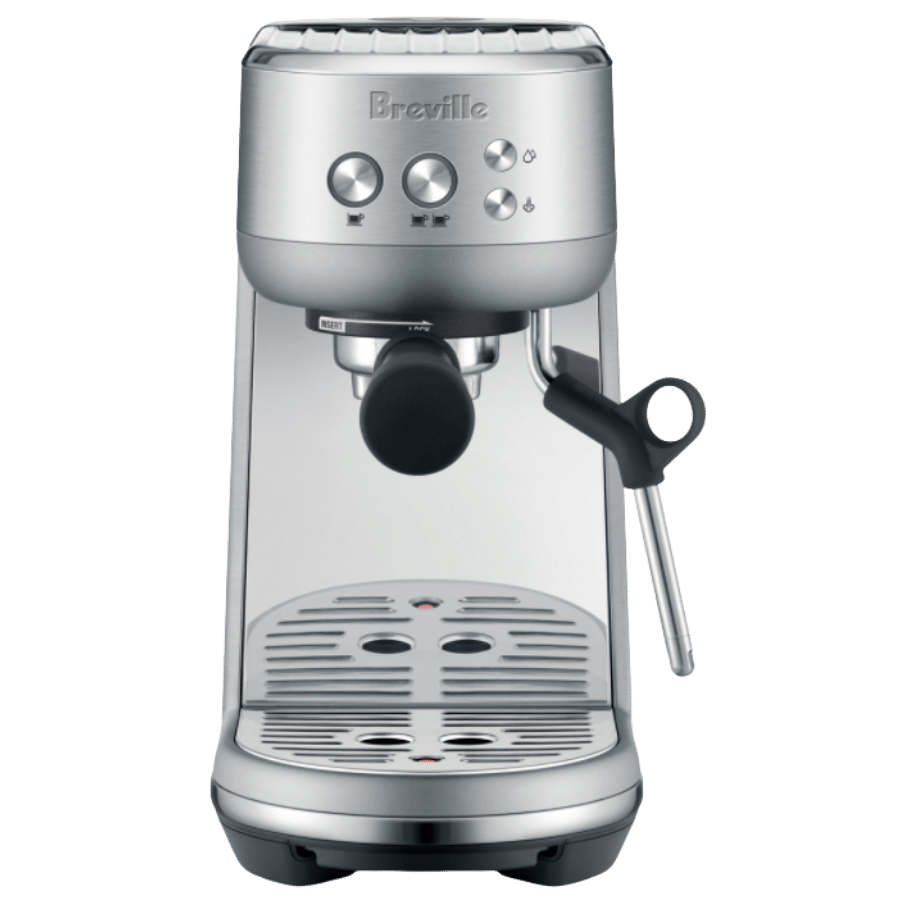 Breville Bambino highlights:
7.7 in x 12.6 in x 12.2 in
Thermocoil
High-quality espresso with low-pressure pre-infusion
Check Amazon
Check Breville
Meanwhile, DeLonghi Dedica is also good value for money. I like the insulated steam wand the most. And you can get comparable espresso with a new portafilter. But, I don't like the 51mm diameter, and the drip tray annoys me. 
Bambino vs. Dedica: What's the Best Machine for You?
Bambino takes the lead in this competition. However, that's not to say Dedica isn't a solid choice. If you like milk-based drinks, you'll be happy with both of these. But if you're an espresso addict, choose the Bambino.
Still not sold on either of these? Luckily, there's no end to espresso machines available nowadays. Check out our best Breville machine round-up and the best DeLonghi machine round-up for more solid espresso machine choices.